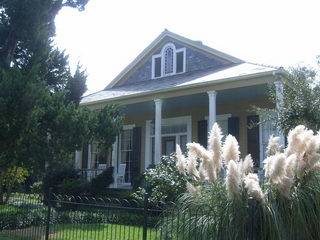 242 St. Charles Street
National Register ID: 80002240
Area Of Significance: Architecture
Architectural Classification: Colonial Revival
Period Of Significance: 1875-1899
Date Listed: 11/25/1980
Location: 242 St. Charles Street, Bay St. Louis, MS
Statement of Significance
This house is the best preserved example in Bay St. Louis of the Colonial Revival style cottage with gable-on-hip roof. Palladian motif gable window, central entrance and square columns with capitals. The fact that this house type is not frequently found in Bay St. Louis, the shotgun and Creole cottage types being predominant, also contributes to its architectural significance on a local context: Thought to have been constructed ca. 1895 by painter, Paul Surcouf, this was the first house on this part of St. Charles Street. It was purchased in 1913 by Trudy B. Carre who also owned the surrounding land and sold and subdivided it in 1926 creating the present St. Charles subdivision.
Architectural Description
1-1/2-story, 5x2-bay rectangular plan with rear addition constructed on brick piers. Wood frame. Clapboard siding. Gabled-on-hip roof with shingled pediment facing street. Palladian motif window with shutter on sides, colored glass. Red, gray, green slate shingles. Undercut porch with rectangular wood columns with capitals. Central entrance with multi- lit transom, sidelights. Chimney.
Additional Notes
ALTERATIONS: 2 additions old-front and rear-1976 addition and west side.
OUTBUILDINGS: 2 rear.
LANDSCAPE FEATURES: Cedar trees in front.
VERBAL BOUNDARY DESCRIPTION: Lots 8, 9, 10 of the St. Charles Subdivision in Ward 4.


(Details and text copied from National Register nomination form)