Main Street Historic District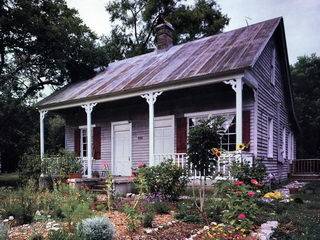 534 Main Street
National Register ID: 80002241
Area Of Significance: Architecture
Architectural Styles: Bungalow/Craftsman, Other
Period Of Significance: 1875-1899, 1900-1924
Date Listed: 11/25/1980
Location: Zone 16, E 274660, N 3355910
Verbal Boundary Description: The Main Street Historic District is a rectangular-shaped area comprising approximately one acre. District boundaries correspond with the boundaries outlined on the city plat map.
Description
Main Street Historic District contains a linear row of one-story vernacular dwellings located on the south side and toward the western end of Main Street. The district contains two Creole cottages and three shotgun cottages dating from the last quarter of the nineteenth century, and one Bungalow-style cottage of ca. 1920 construction. All are one-story dwellings and, with the exception of the Bungalow, which is clad with stucco, all are frame. Gable roofs predominate. The low scale and vernacular character of these dwellings contrasts sharply with the modern commercial development just west and north of the district.
Significance
Main Street Historic District possesses outstanding examples of vernacular shotgun and Creole house types dating from the last quarter of the nineteenth century. While what may be considered Creole cottages one-story gable-roofed houses with undercut galleries, two entrances onto the porch, and a four-bay facade can be found throughout Mississippi, the Creole cottages represented in this district are the classic type with central chimneys, which evolved from the French building tradition and are found in Mississippi only along the coast. Buildings within the district maintain much of their original architectural detailing and serve as a visual record of what this section of Main Street looked like in the late 1800s, when Main Street was the principal thoroughfare leading west to the Pearl River and New Orleans.
(Details and text copied from National Register nomination form)