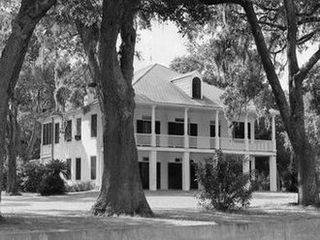 Elmwood Manor
No longer standing and de-listed on 7/16/2008
National Register ID: 86003820
Area Of Significance: Architecture
Architectural Classification: French Colonial
Period Of Significance: 1800-1824, 1825-1849
Date Listed: 11/21/1986
Location: 902 North Beach Boulevard, Bay St. Louis, MS
Statement of Significance
The construction of Elmwood Manor began before 1812 and was completed in 1828. It is one of the earliest extant buildings in the community. Not only is Elmwood Manor a significant example of the French Colonial style of architecture, but the infrastructure of its roof is also an important illustration of early nineteenth century timber frame construction.
Architectural Description
2-1/2-story 5x5-bay brick dwelling with pyramidal hip roof, front and rear undercut galleries, and gabled dormers enriched with colonettes. Door with transom located in middle bays provide access to gallery on each of three floors.
(Details and text copied from National Register nomination form)