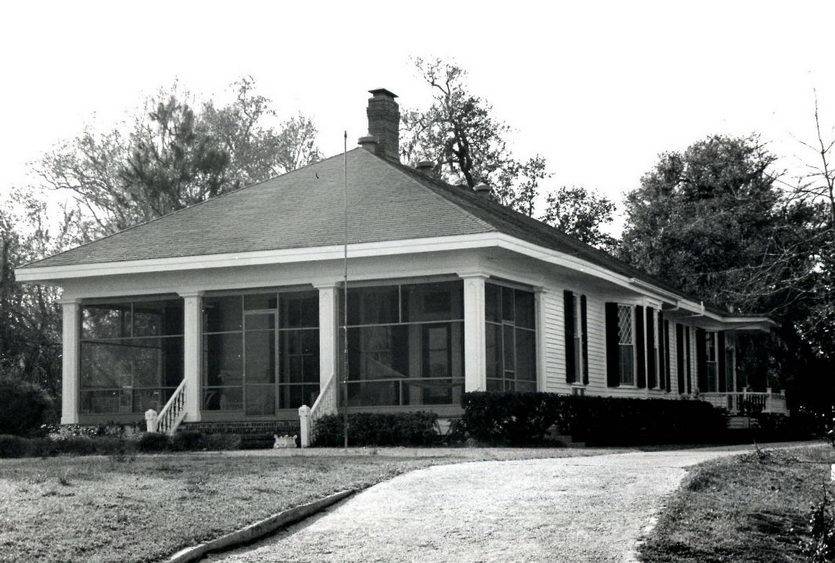 Taylor House
No longer standing and de-listed on 7/16/2008
National Register ID: 80002240
Area Of Significance: Architecture
Architectural Classification: Eclectic
Period Of Significance: 1900-1924
Date Listed: 11/21/1986
Location: 808 North Beach Blvd., Bay St. Louis, MS
Statement of Significance
The Taylor House is a significant illustration of the persistent use of an antebellum building form being employed as late as the turn of the century. Although the house features such design elements as three-sided bays and a corbelled brick chimney, its basic form and such elements as the box columns are quite similar to those of surviving antebellum residences in Bay St. Louis.
Architectural Description
This one story, five bay wide, clapboard house is capped by a steep, hip roof with broad, overhanging eaves. The undercut, full-width, front porch features box columns accented by Gothic motifs. The windows in the porch area are floor-length 4/4 double hung sash. The front entrance has a transom and is located in the second bay from the north end of the porch. The predominant window form is 4/4 double hung sash. The north façade features a three-sided bay with multi diamond-shaped lights, 4/4 double hung sash windows and a small porch with a balustrade. Located in this side porch area are french doors with a segmental arched transom and an overdoor. Interior corbelled brick chimney.
Additional Notes
ALTERATIONS: Modern, rear addition as large as the original building.
OUTBUILDINGS: There are no outbuildings located on this property, except for a small garage. It is not being counted as a contributing element.
LANDSCAPE FEATURES: The house faces the bay, as do the other buildings along Beach Boulevard. There has been no serious attempt at landscaping the grounds.
VERBAL BOUNDARY DESCRIPTION: Lot 126 (part of Parcel #20012-00) in the first Ward of Bay St. Louis as recorded in the Hancock County Land Roll in Re-appraisal Office in Bay St. Louis.


(Details and text copied from National Register nomination form)