Houses in the Historic Districts
There are five Historic Districts listed on the National Register for Hancock County, all of them located within the city limits of Bay Saint Louis.
The Department of Archives & History had originally nominated five districts in 1977, with four of those added to the register in November of 1980. Unfortunately, on August 29, 2005, hurricane Katrina struck and destroyed 227 of the existing 728 buildings. The Beach Boulevard District suffered the greatest loss, with only 17 buildings out of 70 remaining.
As a part of its responsibilities under Section 106 of the National Historic Preservation Act, FEMA reevaluated the existing historic district boundaries. It then proposed a new district, "Old Bay St. Louis", that includes the extant sections of the Beach Boulevard District, as well as a large residential area to the west of the old district boundaries. This western expansion absorbs most of the Washington Street District as well as other buildings previously excluded from historic district designation.
Use the "Historic Districts" menu to browse all 960 listings by street name.
Structures designated on the National Register are classified according to the following system:
C - Contributing Element
The building contributes to the historic character of the district.

NC - Non-Contributing Element
The building does not contribute to the historic character of the district.
(Note: houses that are less than 50 years old automatically receive an NC rating.)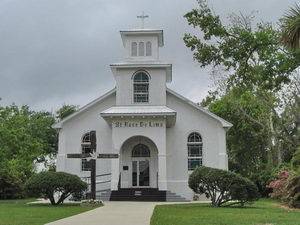 St. Rose de Lima church on Necaise Avenue
Note: Some of the older listings use the now deprecated classifications of:
P - Primary Significance (The building retains its architectural integrity and is a key element of the streetscape.)
M - Marginal (The building has some detracting features but not enough to be considered intrusive or maintains the scale, and incompatible alterations are reversible.)
I - Intrusive (The building has been altered to such a degree that the original character is irretrievably obscured and/or scale and materials are incompatible.)
For an explanation of the architectural terms used, refer to the Glossary of Architectural Terms.
To browse Pre-Katrina listings, refer to our archived copy of the 1977 Register.