Private cemetery from the St. Augustine Seminary. The oldest grave dates back to 1929.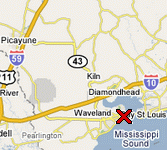 Directions:
From I-10 take the 603 South (= exit 13). Drive to Hwy 90 (about 5.4 miles) and go left. Follow Hwy 90 for 3 miles, then turn right on Seminary Drive. After 0.2 miles you will see the cemetery to your right. It's about a 100 yards from the street.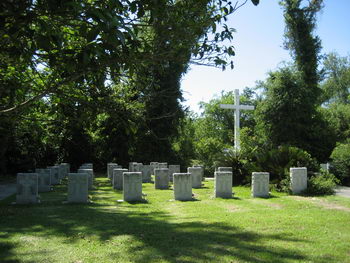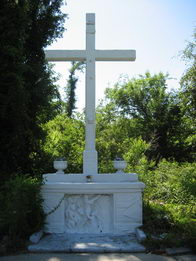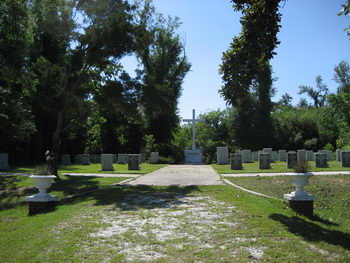 Cemetery layout:
The cemetery is divided into a North and a South section. Row numbering starts from the back, graves are numbered from the center pathway outward.


Graves (
74

):
| # | Last Name | First Name | Birth | Death | Comment |
| --- | --- | --- | --- | --- | --- |
| n1-1 | Moeller | Alfrid | 1877 | 1942 | brother; professed 1906 |
| n1-2 | Wilson | George | 1909 | 1985 | reverend; professed 1935; ordained 1941 |
| n1-3 | Washington | Curtis | 1917 | 1985 | reverend; professed 1943; ordained 1949 |
| n1-4 | Howard | Clarence | 1907 | 1985 | reverend; professed 1931; ordained 1937 |
| n1-5 | Rousseve | Maurice | 1906 | 1985 | reverend; professed 1928; ordained 1934 |
| n2-1 | Mathis | Clement | 1911 | 1988 | reverend; professed 1933; ordained 1938 |
| n2-2 | Alles | Theophane | 1899 | 1989 | brother; professed 1929 |
| n2-3 | Powell | Elmer S. | 1919 | 1989 | reverend; professed 1948; ordained 1955 |
| n2-4 | Weber | Clarence G. | 1898 | 1989 | reverend; professed 1928; ordained 1933 |
| n2-5 | Balthazar | James W. | 1913 | 1990 | brother; professed 1948; final profession 1954 |
| n3-1 | Gasper | John H. | 1902 | 1991 | reverend; professed 1923; ordained 1929 |
| n3-2 | Figaro | Mark | 1921 | 1992 | reverend; professed 1943; ordained 1949 |
| n3-3 | De Boer | Piet | 1908 | 1992 | reverend; professed 1930; ordained 1935 |
| n3-4 | Dauphine | John | 1910 | 1993 | reverend; professed 1933; ordained 1938 |
| n3-5 | Tran | Joseph Thang Minh | 1962 | 1993 | reverend; professed 1985; ordained 1991 |
| n3-6 | Ecimovich | Francis | 1915 | 1994 | reverend; professed 1938; ordained 1943 |
| n4-1 | Wahl | Stillfried | 1909 | 1997 | brother; professed 1931 |
| n4-2 | Oliver | William | 1928 | 1997 | reverend; professed 1950; ordained 1958 |
| n4-3 | Etienne | Clifton R. | 1937 | 1998 | reverend; professed 1957; ordained 1979 |
| n4-4 | Charles | Frank | 1930 | 1999 | reverend; professed 1962; ordained 1967 |
| n4-5 | Winters | Arthur | 1916 | 2000 | reverend; professed 1939; ordained 1945 |
| n4-6 | Dixon | Francis Alvin | 1943 | 2001 | reverend; professed 1965; ordained 1969 |
| n5-1 | Morton | Lawrence | 1914 | 2001 | brother; professed 1939 |
| n5-2 | Gootee | Stanley J. | 1917 | 2002 | reverend; professed 1939; ordained 1944 |
| n5-3 | Theobald | Vincent | 1919 | 2002 | reverend; professed 1941; ordained 1949 |
| n5-4 | Kelley | William J. | 1940 | 2002 | reverend; professed 1962; ordained 1967 |
| n5-5 | Keller | Bernard C. | 1928 | 2003 | reverend; professed 1948; ordained 1955 |
| n5-6 | Lengyel | Paul | 1923 | 2003 | brother; professed 1945 |
| n5-7 | Smits | Peter Anthony | 1916 | 2004 | reverend; professed 1937; ordained 1941 |
| n6-1 | Lewis | Carlos Ambrose | 1918 | 2004 | bishop; professed 1943; ordained 1949; ordained bishop 1965 |
| n6-2 | Pung | Robert E. | 1916 | 2006 | reverend; professed 1939; ordained 1944 |
| n6-3 | Simon | Joseph D. | 1932 | 2007 | reverend; professed 1953; ordained 1961 |
| n7-1 | Gregory | Joseph | 1908 | 1930 | |
| n7-2 | Hurd | Anthony | 1914 | 1933 | |
| n7-3 | Edelen | Charles | 1929 | 1946 | |
| n7-4 | Farve | W. Scott | 1941 | 1957 | |
| n7-5 | Henry | Charles | 1915 | 1974 | |
| n7-6 | Johnson | Howard W. | 1916 | 1981 | |
| n7-7a | Merrifield | Roger | 1937 | 2003 | |
| n7-7b | Merrifield | Robbie | 1938 | 2004 | |
| s1-1 | Christmann | Matthias | 1887 | 1929 | reverend; ordained 1912 |
| s1-2 | Wolf | Charles | 1873 | 1937 | reverend; ordained 1901 |
| s1-3 | Hoenderop | John | 1870 | 1938 | reverend; ordained 1899 |
| s1-4 | Chachere | George | 1909 | 1939 | reverend; ordained 1939 |
| s1-5 | Schneider | Cosmas | 1886 | 1947 | reverend; ordained 1913 |
| s1-6 | Reichelt | Frederick | 1875 | 1950 | reverend; ordained 1903 |
| s2-1 | Stieg | Gerard | 1891 | 1951 | reverend; ordained 1917 |
| s2-2 | Megan | Thomas | 1899 | 1951 | reverend; ordained 1926 |
| s2-3 | Baltes | Francis | 1884 | 1955 | reverend; ordained 1909 |
| s2-4 | Hagen | Herman | 1883 | 1958 | reverend; ordained 1921 |
| s3-1 | Koehler | Joseph | 1903 | 1963 | reverend; ordained 1931 |
| s3-2 | Stoecke | William | 1877 | 1963 | reverend; ordained 1908 |
| s3-3 | Oswald | Peter | 1888 | 1962 | reverend; ordained 1913 |
| s3-4 | Windolph | Charles | 1896 | 1962 | reverend; ordained 1927 |
| s3-5 | Jacobs | Anthony | 1882 | 1960 | reverend; ordained 1913 |
| s3-6 | Kempinski | Joseph | 1898 | 1960 | reverend; ordained 1926 |
| s3-7 | Holken | Joseph | 1887 | 1959 | reverend; ordained 1911 |
| s4-1 | Chenevert | Bonaventure | 1920 | 1980 | brother; professed 1942 |
| s4-2 | Williams | Maxine | 1911 | 1978 | reverend; ordained 1941 |
| s4-3 | Wade | Francis | 1894 | 1976 | reverend; ordained 1934 |
| s4-4 | Martin | Leander | 1905 | 1974 | reverend; ordained 1941 |
| s4-5 | Kist | John | 1910 | 1969 | reverend; ordained 1939 |
| s4-6 | Zimmermann | John | 1883 | 1966 | reverend; ordained 1910 |
| s5-1 | Sheeran | John | 1925 | 1995 | reverend; professed 1948; ordained 1955 |
| s5-2 | Hoefler | Leonard | 1918 | 1995 | reverend; professed 1942; ordained 1947 |
| s5-3 | Haines | Jerome | 1905 | 1985 | reverend; professed 1929; ordained 1935 |
| s5-4 | Maddox | Joseph | 1913 | 1985 | brother; professed 1938 |
| s5-5 | Haines | Arthur | 1908 | 1985 | reverend; professed 1931; ordained 1937 |
| s5-6 | Kehrer | Joseph | 1906 | 1984 | reverend; professed 1934; ordained 1939 |
| s5-7 | Hannaher | John | 1915 | 1983 | reverend; ordained 1942 |
| s7-1 | Enis | Jos. Canon | 1860 | 1939 | V. reverend; ordained 1903 |
| s7-2 | Usher | Thomas L. | 1952 | 1992 | reverend; ordained 1976 |
| s7-3 | Boyer | Junius M. | 1917 | 2004 | brother; june 20, 1917 - feb 20, 2004 |
| s7-4 | Bates | Donald | 1932 | 1958 | frater; professed 1952 |