Brothers of the Sacred Heart Cemetery
Private cemetery belonging to the Brothers of the Sacred Heart Order. Oldest grave is that of Brother Oraus, who died in September 1867. All headstones are alike: a white stone cross, made and maintained by the brothers themselves.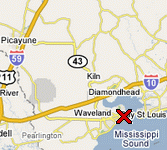 Directions:
From I-10 take the 603 South (= exit 13). Drive to Hwy 90 (about 5.4 miles) and go left. Follow Hwy 90 to Washington Street (1.2 miles), take a slight right turn there. Turn left on Hancock Street after approximately 1.6 miles. The cemetery will be on the left side of the road, between Bookter Street and Union.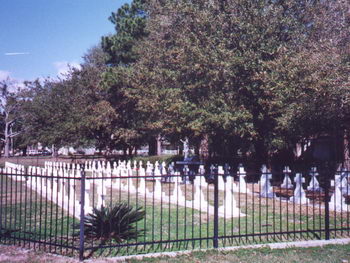 Graves (
168

):
| # | Last Name | First Name | Birth | Death | Comment |
| --- | --- | --- | --- | --- | --- |
| 001 | Adalbert | Brother | 1827 | 1910 | |
| 002 | Adalbert | Brother | 1878 | 1925 | |
| 003 | Adeland | Brother | 1878 | 1949 | |
| 004 | Albert | Brother | 1909 | 1997 | |
| 005 | Albert | Brother | 1821 | 1905 | |
| 006 | Albert | Brother | 1921 | 2005 | |
| 007 | Alcuin | Brother | 1915 | 1998 | |
| 008 | Alexis | Brother | 1898 | 1978 | |
| 009 | Alfred | Brother | 1867 | 1895 | |
| 010 | Aloysius | Brother | 1873 | 1917 | |
| 011 | Alphonse | Brother | 1853 | 1929 | |
| 012 | Alphonse | Brother | 1910 | 1972 | |
| 013 | Alvin | Brother | 1912 | 1961 | |
| 014 | Ambrose | Brother | 1878 | 1945 | |
| 015 | Ambrosius | Brother | 1846 | 1885 | |
| 016 | Andrew | Brother | 1862 | 1939 | |
| 017 | Andres | Brother | 1918 | 1979 | |
| 018 | Antnon | Brother | 1917 | 1995 | |
| 019 | Anton | Brother | 1945 | 2000 | |
| 020 | Aqumas | Brother Sr. | 1908 | 1979 | |
| 021 | Armand | Brother | 1913 | 1977 | |
| 022 | Arnold | Brother | 1871 | 1943 | |
| 023 | Arsenius | Brother | 1866 | 1938 | |
| 024 | Athanasius | Brother | 1822 | 1905 | |
| 025 | Augustin | Brother | 1859 | 1919 | |
| 026 | Babriel | Brother | 1846 | 1877 | |
| 027 | Barrel | Brother | 1926 | 2001 | |
| 028 | Basil | Brother | 1903 | 1979 | |
| 029 | Benedict | Brother | 1907 | 1959 | |
| 030 | Benet | Brother | 1912 | 1940 | |
| 031 | Bennet | Brother | 1931 | 1994 | |
| 032 | Bernard | Brother | 1848 | 1922 | |
| 033 | Bernon | Brother | 1910 | 1995 | |
| 034 | Blaise | Brother | 1911 | 1996 | |
| 035 | Bonnette | Brother S.C. Hubert | 1924 | 2007 | |
| 036 | Bowers | Brother William | 1925 | 1980 | |
| 037 | Brian | Brother | 1955 | 1997 | |
| 038 | Bumanture | Brother | 1887 | 1972 | |
| 039 | Carlos | Brother | 1922 | 1969 | |
| 040 | Carol | Brother | 1907 | 1970 | |
| 041 | Charles | Brother | 1855 | 1917 | |
| 042 | Christopher | Brother | 1906 | 1992 | |
| 043 | Claude | Brother Jean | 1825 | 1911 | |
| 044 | Clement | Brother | 1868 | 1908 | |
| 045 | Clement | Brother | 1912 | 1991 | |
| 046 | Clothaire | Brother | 1844 | 1867 | |
| 047 | Collin | Brother | 1932 | 1997 | |
| 048 | Columban | Brother | 1881 | 1955 | |
| 049 | Commagere | Foster | 1887 | 1950 | |
| 050 | Conrad | Brother | 1822 | 03/15/1898 | Born in Munster, Westphalia, Germany |
| 051 | Constantius | Brother | 1841 | 1925 | |
| 052 | Cordian | Brother | 1920 | 1983 | |
| 053 | Cosmas | Brother | 1914 | 1944 | |
| 054 | Cosmas | Brother | 1928 | 1987 | |
| 055 | Cyprian | Brother | 1872 | 1988 | |
| 056 | Cyran | Brother | 1863 | 1987 | |
| 057 | Damian | Brother | 1874 | 1932 | |
| 058 | David | Brother | 1815 | 1889 | |
| 059 | Donald | Brother | 1917 | 2002 | |
| 060 | Edmund | Brother | 1898 | 1959 | |
| 061 | Edward | Brother | 1868 | 1945 | |
| 062 | Edward | Brother | 1846 | 1887 | |
| 063 | Elbert | Brother | 1913 | 1985 | |
| 064 | Emiliam | Brother | 1873 | 1897 | |
| 065 | Emmanuel | Brother | 1887 | 1939 | |
| 066 | Ephram | Brother | 1909 | 1978 | |
| 067 | Eugene | Brother | 1911 | 1979 | |
| 068 | Fabian | Brother | 1865 | 1949 | |
| 069 | Faustus | Brother | 1849 | 1937 | |
| 070 | Felician | Brother | 1914 | 1995 | |
| 071 | Felix | Brother | 1859 | 1935 | |
| 072 | Fernand | Brother | 1872 | 1936 | |
| 073 | Firmin | Brother | 1910 | 2000 | |
| 074 | Flavian | Brother | 1921 | 1999 | |
| 075 | Florian | Brother | 1896 | 1963 | |
| 076 | Foster | Brother | 1924 | 1988 | |
| 077 | Francis | Brother | 1853 | 1933 | |
| 078 | Francis | Brother | 1833 | 1867 | |
| 079 | Francis | Brother | 1833 | 1867 | |
| 080 | Frederick | Brother | 1898 | 1970 | |
| 081 | Gabriel | Brother | 1846 | 1877 | |
| 082 | Ganinaus | Brother | 1910 | 2002 | |
| 083 | Gaudin | Brother Adrian | 1933 | 2008 | |
| 084 | George | Brother Joe | 1907 | 1987 | |
| 085 | Gerald | Brother | 1899 | 1979 | |
| 086 | Germain | Brother | 1854 | 1942 | |
| 087 | Golman | Brother | 1908 | 1971 | |
| 088 | Gonazga | Brother | 1889 | 1908 | |
| 089 | Graham | Robert | 1926 | 1990 | |
| 090 | Green | Brother Louis | | | |
| 091 | Gregory | Brother | 1918 | 1993 | |
| 092 | Gunther | Brother | 1912 | 2001 | |
| 093 | Heney | Brother | 1880 | 1965 | |
| 094 | Henry | Brother William | 1904 | 1951 | |
| 095 | Hilbert | Brother | 1917 | 1987 | |
| 096 | Howard | Brother | 1919 | 1986 | |
| 097 | Hugh | Brother | 1826 | 1908 | |
| 098 | Hugh | Brother | 1912 | 1982 | |
| 099 | Humbert | Brother | 1874 | 1962 | |
| 100 | Ilbertus | Brother | 1874 | 1965 | |
| 101 | John Baptist | Brother | 1812 | 1884 | |
| 102 | Joseph | Brother | 1878 | 1940 | |
| 103 | Jules | Brother | 1916 | 1968 | |
| 104 | Julius | Brother | 1892 | 1977 | |
| 105 | Justinian | Brother | 1878 | 1951 | |
| 106 | Klinieke | Brother Roy | 1916 | 2007 | |
| 107 | Kolb | Brother S.C. Alfred | 1917 | 2007 | |
| 108 | Lambert | Brother | 1876 | 1950 | |
| 109 | Lawrence | Brother | 1827 | 1901 | |
| 110 | Lawrence | Brother | 1886 | 1955 | |
| 111 | Leo | Brother | 1872 | 1906 | |
| 112 | Leo | Brother | 1914 | 1991 | |
| 113 | Leon | Brother | 1925 | 1997 | |
| 114 | Linus | Brother | 1906 | 1980 | |
| 115 | Lloyd | Brother | 1917 | 1983 | |
| 116 | Louis | Brother | 1863 | 1927 | |
| 117 | Louis | Brother | 1913 | 1990 | |
| 118 | Luke | Brother | 1906 | 1976 | |
| 119 | Luke | Brother | 1816 | 1869 | |
| 120 | Magarius | Brother | 1871 | 1948 | |
| 121 | Marion | Brother | 1912 | 1990 | |
| 122 | Martin | Brother | 1904 | 1991 | |
| 123 | Martinian | Brother | 1885 | 1959 | |
| 124 | Masse | Joseph | 1876 | | |
| 125 | Matthews | Brother | 1913 | 1989 | |
| 126 | Maurice | Brother | 1873 | 1967 | |
| 127 | Max | Brother | 1914 | 1991 | |
| 128 | Mike | Brother | 1912 | 1992 | |
| 129 | More | Brother | 1932 | 1983 | |
| 130 | Mundy | Brother F.E. | 1845 | 1919 | |
| 131 | Norman | Brother | 1921 | 2001 | |
| 132 | Odon | Brother | 1853 | 1920 | |
| 133 | Odon | Brother | 1886 | 1968 | |
| 134 | Orans | Brother | 1833 | 1867 | |
| 135 | Osmond | Brother | 1851 | 1919 | |
| 136 | Oswald | Brother | 1884 | 1958 | |
| 137 | Pascal | Brother | 1910 | 1996 | |
| 138 | Paul | Brother | 1883 | 1951 | |
| 139 | Peter | Brother | 1889 | 1948 | |
| 140 | Pieora | Brother Galixto | 1900 | | |
| 141 | Pierre | Brother | 1925 | 2000 | |
| 142 | Quintin | Brother | 1910 | 1991 | |
| 143 | Quintinus | Brother | 1842 | 1898 | |
| 144 | Raaker | Brother | 1907 | 1982 | |
| 145 | Ralph | Brother | 1909 | 1987 | |
| 146 | Raymond | Bro | 1856 | 1933 | |
| 147 | Rehnard | Brother | 1907 | 1978 | |
| 148 | Remigius | Brother | 1888 | 1904 | |
| 149 | Remigus | Brother | 1913 | 1996 | |
| 150 | Rene | Brother | 1925 | 2000 | |
| 151 | Rian | Brother | 1925 | 2004 | |
| 152 | Robert | Brother | 1884 | 1947 | |
| 153 | Rodolph | Brother | 1865 | 1939 | |
| 154 | Rodrigue | Brother Gasdpard | 1910 | 2006 | |
| 155 | Roland | Brother | 1911 | 1978 | |
| 156 | Saen | Brother Felix | 1881 | 1899 | |
| 157 | Schaeffer | John | 1902 | | |
| 158 | Stanslaus | Brother | 1843 | 1932 | |
| 159 | Stephen | Brother | 1848 | 1921 | |
| 160 | Stock | Brother Agnes L. | 1899 | 1981 | |
| 161 | Sylvius | Brother | 1852 | 1939 | |
| 162 | Theodore | Brother | 1853 | 1915 | |
| 163 | Theodosius | Brother | 1870 | 1924 | |
| 164 | Vila | Luis | 1890 | 1906 | |
| 165 | Vincent | Brother | 1937 | 1998 | |
| 166 | Wilfred | Brother | 1863 | 1956 | |
| 167 | Zozimus | Brother | 1818 | 1905 | |
| 168 | Kuhn | Brother Ray (Honore) | 1942 | 2008 | |