The cemetery became the property of the City of Bay St. Louis in three separate deeds at different times. It is on the list of historical graveyards. Our own Kate Lobrano is buried here, and several of the town's important citizens. The oldest grave is that of E. Meggs, date of death 05/15/1815, but the marker is gone. The Hancock County Historical Society organizes a Halloween tour every year to collect donations for repair of tombstones.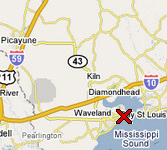 Directions:
Cedar Rest Cemetery is located in downtown Bay Saint Louis, at 200 South Second street, just one block away from the Historical Society. From I-10 take the 603 South (= exit 13). Drive to Hwy 90 (about 5.4 miles) and go left. Follow Hwy 90 to Main street (about 2 miles), turn right. Turn right on South Second street after about a mile. The cemetery will be on your right hand side on the next block. (And if you turn in to Court street, then left on Cue street you can come visit us, too.)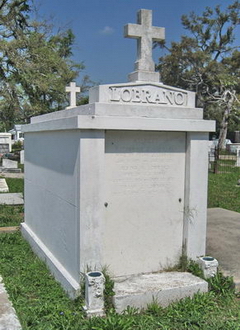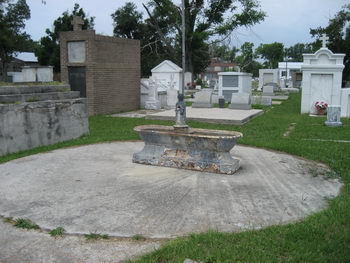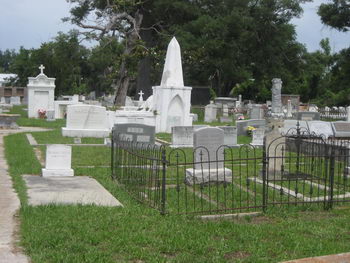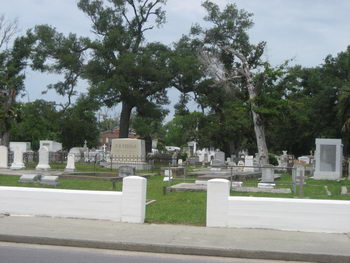 Cemetery layout:
Cedar Rest is divided into a North and South section. The row numbering starts at Second Street. The grave numbers in the South section start from the center of the cemetery, and the grave numbers in the North section run in the same direction, starting from the right hand side.


Graves (
2418

):
| # | Last Name | First Name | Birth | Death | Comment |
| --- | --- | --- | --- | --- | --- |
| N01-01 | Pouyadoux | Andrew L. | 03/01/1875 | 08/01/1950 | |
| N01-02 | Mitchell | Lilly Pouyadoux | 06/03/1920 | 04/12/1965 | |
| N01-03 | Pouyadoux | Leroy | | | |
| N01-04 | Pouyadoux | Irene | 1889 | 03/09/1950 | |
| N01-05a | McArthur | Edna Pouyadou | 1907 | 1936 | wife of Ora McArthur |
| N01-05b | McArthur | Marie | 1935 | 1936 | |
| N01-06 | Pouyadoux | Brenda | 01/22/1951 | 08/23/1954 | |
| N01-07 | Poydeaux | Gaston | 04/26/1903 | 08/20/1952 | |
| N01-08/09 | (Unmarked) | | | | |
| N01-10 | Trawick | Mary Lou Keith | 1874 | 1931 | |
| N01-11 | Trawick | Harold Scanlan | 1896 | 1899 | |
| N01-12 | Trawick | Mary Lawrence | 1897 | 1909 | |
| N01-13 | Trawick | Dr. Whitford Chace | 1870 | 1916 | |
| N01-14 | Vassali | Dora D. | 1882 | 1955 | |
| N01-15 | Vassali | Alfred P. Sr. | 1877 | 1925 | |
| N01-16 | Vassali | infant | | | infant of Alfred & Dora Vassalli |
| N01-17 | Sanger | Frank | | 01/18/1936 | Saddler 114 AM TM 39 Div |
| N01-18/19 | Taconi | brothers | | | |
| N01-20 | Egloff | Marie V. | | | (reserved) |
| N01-21 | Egloff | Thomas W. | 02/07/1909 | 07/24/1978 | |
| N01-22 | Vassali | David | | | |
| N01-23 | Vassali | Joseph | | | |
| N01-24 | Vassali | Louise | | | wife of Pasquel |
| N01-25 | Vassali | Pasquel | | 1878 | |
| N01-26 | (Unmarked) | | | | |
| N01-27 | Breath | Alice Perre | 1871 | 1908 | mother |
| N01-28 | Breath | James | 1900 | 1903 | |
| N01-29 | Breath | Claire | 1904 | 1905 | |
| N01-30 | Breath | Henrietta | 1906 | 1910 | |
| N01-31 | Breath | Anthony | 1908 | 1908 | |
| N01-32 | Saucier | Henry | | | |
| N01-33 | Saucier | Victoire Toulme | | 02/17/1895 | Wife of Henry Saucier |
| N01-34 | Tudury | Ida Saucier | 12/25/1865 | 09/02/1963 | wife of Peter Tudury, daughter of Henry & Victoire Toulme Saucier |
| N01-35 | Tudury | Peter B. | 11/19/1857 | 11/09/1938 | |
| N01-36 | Tudury | Vernon | 08/29/1920 | 03/25/1930 | |
| N01-37 | Tudury | Lyne Sylvester | | 06/18/1971 | |
| N01-38 | Tudury | Clarence J. | | 09/08/1975 | 85 yrs |
| N01-39 | Garcia | Stella Marie | 06/16/1903 | 02/16/1976 | mother |
| N01-40 | Tudury | Lillian Marie | 08/26/1900 | 08/29/1978 | aunt |
| N01-41 | Saucier | J. H. (John Henry) | 1846 | 1929 | Co. A wms Batt, Ala Inf CSA; son of Henry & Victoire Toulme Saucier |
| N01-42 | Colson | A May | 05/18/1896 | 09/20/1971 | |
| N01-43 | Colson | S. Ella Ford | 01/19/1876 | 01/06/1972 | |
| N01-44 | Colson | Thomas J. | 1874 | 1930 | |
| N01-45 | Mitchell | Florence S. | 05/26/1896 | 05/27/1985 | |
| N01-46 | Mitchell | Charles J. | 08/13/1889 | 05/28/1941 | |
| N01-47 | (Unmarked) | | | | |
| N01-48 | Arbo | Mary | 10/10/1848 | 11/30/1895 | |
| N01-49 | Arbo | Julia E. | 04/10/1865 | 05/08/1927 | WOW stone |
| N01-50 | Arbo | George | 07/15/1845 | 11/30/1907 | Native of Canada; mason |
| N01-51 | Fayard | Fred E. Sr. | 03/31/1893 | 05/26/1973 | Ms Pvt US Army WWI |
| N01-52 | Fayard | Alphonse | 1859 | 1906 | |
| N01-53 | Fayard | Almieda | 1861 | 1914 | |
| N01-54a | Fayard | E. Alphonse | 1925 | 1926 | |
| N01-54b | Fayard | Justin C. | 1934 | 1934 | |
| N01-54c | Fayard | baby | | 1937 | |
| N02-01 | (Unmarked) | | | | |
| N02-02 | Weir | Pearl E. | 1891 | 04/29/1943 | |
| N02-03 | Moran | Emma Weir | 1903 | 03/08/1987 | |
| N02-04 | Moran | William Arthur | 1900 | 1960 | husband of Emma Weir |
| N02-05 | Olson | Josephine Boardman | 1892 | 1984 | Daughter of William Tyler and Henrietta Leonhard Boardman |
| N02-06 | Olson | Osmond Carl | 1882 | 1943 | |
| N02-07 | Toulme | Marie L. | | 04/24/1902 | age 34 |
| N02-08 | Luft | Elizabeth | 11/01/1852 | 02/13/1937 | |
| N02-09 | Lips | John Frank | 06/22/1880 | 12/14/1924 | Masonic stone |
| N02-10 | Michel | Nancy Lindsey | 02/17/1869 | 02/04/1940 | |
| N02-11 | Fayard | Mrs. Alphonse | | 06/04/1901 | 78 yrs (info from obit SCE) |
| N02-12 | Kachler | Anice Fayard | 01/17/1861 | 01/27/1934 | wife of Frank Kachler |
| N02-13 | (Unmarked) | | | | |
| N02-14 | Fayard | Thomas | 1854 | 1917 | |
| N03-01 | Redding | James B. | 12/01/1917 | 01/03/1975 | SSgt US Army WWII Korea |
| N03-02 | Redding | Ruth Snodgrass | 08/21/1925 | 05/18/1999 | |
| N03-03a | Redding | Caroline G. | 1887 | 1918 | |
| N03-03b | Redding | James E. | 1879 | 1952 | |
| N03-04 | Boh | Charles William | 06/11/1928 | 08/02/1934 | son of Roger and Rita Breath Boh |
| N03-05 | Breath | Rita Leonhard | 03/07/1868 | 11/16/1939 | Henrietta "Rita" Agatha Mary Ann Leonard; 1st husband William T Boardman; 2nd husband Charles A Breath; buried 17 Nov 1939 |
| N03-06 | Breath | Charles Alfred Sr. | 1874 | 1941 | |
| N03-07a | Boh | Rita Antoinette Breath | 06/06/1900 | 05/24/1974 | wife of Roger Boh; daughter of Charles A. and Rita Leonhard Breath |
| N03-07b | Boh | Roger Milton | 11/15/1894 | 07/22/1977 | |
| N04-01a | Solomon | Robert Mark | 03/29/1922 | 11/23/1982 | Lt. US Army WWII |
| N04-01b | Solomon | Robert Ramsey | | | father of Robert Mark Solomon |
| N04-02a | Saucier | Clarence A. Sr. | 08/10/1898 | 06/04/1980 | |
| N04-02b | Saucier | Roselie M. | 09/01/1909 | 10/21/1974 | |
| N04-03a | Saucier | Edward P. | 06/06/1875 | 02/10/1953 | |
| N04-03b | Saucier | Euranie | 11/13/1872 | 05/31/1950 | |
| N04-03c | Saucier | Edna | | | Baby daughter Edna |
| N04-04 | Diettel | Frederick W. | 03/29/1914 | 03/17/1971 | La. Pfc 1408 Base Unit AAF WWII |
| N04-05a | Diettel | Mary Huber | 10/20/1847 | 11/07/1910 | |
| N04-05b | Diettel | William Rudolph Jr. | 08/01/1886 | 04/04/1937 | |
| N04-05c | Diettel | William Rudolph Sr. | 08/30/1860 | 11/20/1941 | |
| N04-06 | Diettel | Rudolph L. | 02/05/1917 | 11/14/1976 | |
| N04-07 | Diettel | Elmire Laurent | 01/08/1886 | 03/02/1960 | |
| N04-08 | De Rocha | David Anthony | 03/23/1951 | 06/20/1978 | |
| N04-09 | Sange | Otto | 02/06/1850 | 03/15/1916 | native of Germany |
| N04-10a | Capdepon | Ella Garcia | 02/26/1889 | 07/25/1975 | |
| N04-10b | Capdepon | Anthony F. | 01/17/1895 | 02/16/1964 | |
| N04-11 | Pouyadoux | Elodie Mary | 1878 | 1938 | |
| N04-12 | Capdepon | Joseph C. | 1866 | 1932 | |
| N04-13a | De Rocha | Leontine C. | 09/15/1917 | 08/06/2002 | |
| N04-13b | De Rocha | Raymond Earl | 08/31/1899 | 11/12/1987 | |
| N04-14 | Mattox | H. F. | 1861 | 1929 | |
| N04-15 | Mattox | Carrie N. | 1863 | 1951 | |
| N04-16 | Guerra | J. R. | 1864 | 1903 | |
| N04-17 | Conway | Thomas J. | 07/27/1868 | 12/28/1933 | |
| N04-18 | Hoffmann | Annie Mary | 02/01/1853 | 03/07/1922 | wife of Thos. J. Conway |
| N04-19 | Weir | William Jessie | 1855 | 05/08/1934 | father, husband of Fannie B. Weir |
| N04-20 | Dabos | Eugenie Helene | 12/23/1850 | 08/09/1852 | born New Orleans |
| N04-21 | Manar | E. W. | | 10/1918 | M.D. |
| N04-22 | (Unmarked) | | | | |
| N04-23 | Toulme | Walters U. | | 06/20/1852 | 1 yr |
| N04-24 | Toulme | John B. | | 09/25/1867 | 12 years; son of J.V. and Martha Carr Toulme |
| N04-25 | Toulme | Martha E. Carr | 02/25/1831 | 05/31/1878 | 1st wife of John Victor Toulme |
| N04-26 | Toulme | John Victor | 08/11/1827 | 05/10/1901 | |
| N04-27 | Toulme | Clementina R. | 09/29/1849 | 09/25/1892 | 2nd wife of John Victor Toulme |
| N04-28 | Toulme | Maria Theresa Shansy | 10/12/1862 | 03/19/1930 | 3rd wife of John Victor Toulme |
| N04-29 | Toulme | Marie Ella | 06/30/1886 | 05/21/1887 | daughter of J.V. & C.W. Toulme |
| N04-30 | Gray | Cora | 04/06/1884 | 07/28/1909 | |
| N04-31 | Cospelich | Allie B. | | | (reserved) |
| N04-32 | Cospelich | Alfred | 02/05/1916 | 05/15/1972 | |
| N04-33 | Poillion | Henry C. Jr. | 12/03/1924 | 12/06/1944 | |
| N04-34 | (Unmarked) | | | | |
| N04-35 | Marshall | Carl | 1884 | 1950 | |
| N04-36 | Marshall | Lillian Chapman | 1891 | 1982 | |
| N04-37 | Marshall | Charles | 1848 | 1928 | |
| N04-38 | Marshall | Lillie Willis | 1854 | 1930 | |
| N05-01 | Carrio | Seymour E. | 02/26/1898 | 01/26/1918 | son of Seymour & Mgt Kilbride; born in Waveland, died in France |
| N05-02 | Carrio | Seymour | 06/25/1865 | 01/13/1933 | WOW stone |
| N05-03 | Carrio | Margaret K. | 1861 | 1940 | mother |
| N05-04a | Carrio | Joseph "Pepe" | 02/1826 | 1908 | Born in Ireland |
| N05-04b | Carrio | Mary Ann Crowley | 1829 | 08/06/1894 | wife of Joseph "Pepe" Carrio; Born in Ireland |
| N05-05a | Koerner | Leonard P. | 10/25/1888 | 09/04/1969 | |
| N05-05b | Koerner | Marietta M. | 08/29/1898 | 09/13/1969 | |
| N05-05c | Koerner | Iris M. | 07/02/1919 | 11/07/1983 | |
| N05-06 | Koerner | Joseph L. | 06/10/1922 | 06/08/1943 | Pvt. COD 387 Inf. |
| N05-07a | Koerner | Clyde Cyrial | 02/18/1925 | | (reserved) |
| N05-07b | Koerner | Scivine Patsy | 05/17/1928 | 07/26/2003 | |
| N05-08 | Monti | John Lewis | 1874 | 1942 | |
| N05-09 | Dillmann | Annie M. | 05/30/1877 | 06/02/1916 | |
| N05-10a | Farve | Evelyn M. | 08/13/1906 | 12/06/1996 | |
| N05-10b | Farve | Joseph | 11/13/1909 | 10/28/1965 | Miss. Tec4 HQ Btry 15 FA Obsr Bn WWII |
| N05-11a | Johnston | Frank E. | 1874 | 1953 | |
| N05-11b | Johnston | Kenneth W. | 1913 | 1940 | |
| N05-11c | Johnston | Arthur R. | 1881 | 1945 | |
| N05-12a | Johnston | Victoria Caldwell | | 11/12/1936 | age 93 |
| N05-12b | Johnston | George W. | | 04/30/1899 | age 59 |
| N05-13a | Luxich | John J. | 1809 | 1884 | |
| N05-13b | Luxich | Mary | 1824 | 1909 | |
| N05-14a | Witter | Denise | 01/09/1955 | | (reserved) |
| N05-14b | Witter | Valmae M. | 06/12/1915 | 10/14/2003 | |
| N05-14c | Witter | Franklin E. | 09/28/1908 | 09/08/1977 | |
| N05-15 | Bookter | Elizabeth | 05/24/1796 | 07/31/1852 | wife of Alexander Bookter; daughter of James Wicks |
| N05-16 | Bookter | Alexander | 09/05/1807 | 07/02/1879 | husband of Emma L. Bookter |
| N05-17 | Weir | Fannie Bookter | 1858 | 1930 | wife of William Jessie Weir |
| N05-18 | Bookter | Emma L. | 1834 | 1914 | |
| N05-19 | Lewis | Deborah Victor | 07/24/1850 | 02/27/1852 | |
| N05-20 | Glover | Hermione Perkins | 12/06/1904 | 12/04/1936 | |
| N05-21 | Perkins | Corinne Ruth | 12/10/1909 | 03/05/1946 | |
| N05-22 | Perkins | Cecily | 07/26/1945 | 08/06/1945 | |
| N05-23 | Perkins | R. R. | 04/29/1869 | 12/10/1915 | |
| N05-24 | Perkins | Tempie Lott | 04/11/1880 | 09/26/1927 | |
| N05-25 | Perkins | H. Grady | 11/21/1902 | 02/05/1966 | |
| N05-26 | Perkins | Mary L. | 08/26/1900 | 05/15/1978 | |
| N05-27 | Perkins | Gertrude C. | 07/17/1906 | 12/12/1992 | |
| N05-28a | Talbot | Estella | 1887 | 1963 | |
| N05-28b | Talbot | George Jr. | 1879 | 1945 | |
| N05-29 | Gray | Ellen J. | 05/1855 | 04/1913 | WOW stone |
| N05-30a | Ortte | Evelyn Conner | 1896 | 1967 | |
| N05-30b | Ortte | Allen Manuel | 03/30/1901 | 09/03/1981 | U.S. Coast Guard WWII |
| N05-31 | Conner | Robert E. | 12/01/1913 | 05/17/1952 | Ms 1st Lt 274 Inf 70 Inf Div WWII BSM & OLC Ph |
| N05-32 | Arnold | Alfred Jr. | 10/26/1910 | 05/20/1938 | |
| N05-33a | Dillmann | John | | | Born in Italy & Germany |
| N05-33b | Dillmann | Mrs. John | | | Born in Italy & Germany |
| N05-34 | Arnold | Carl | | | |
| N05-35 | Arnold | Stella A. | 01/29/1878 | 05/10/1949 | |
| N05-36 | (Unmarked) | | | | |
| N06-01 | Johnston | Henry J. | 1878 | 1935 | |
| N06-02 | Johnston | Annie M. | 1880 | 1942 | |
| N06-03a | Johnston | Ella Mae | | 08/30/1930 | 18 yrs. |
| N06-03b | Adams | Val Mae Johnston | | 10/09/1959 | 39 yrs |
| N06-04a | Ramsey | Betty Barbara | | | |
| N06-04b | Johnston | baby | | | |
| N06-05 | Douglas | Anna | | | |
| N06-06 | Maynard | Rebecca Jane Douglas | 05/01/1849 | 12/04/1929 | |
| N06-07 | Taconi | Lillian Maynard | 12/17/1905 | 10/30/1947 | |
| N06-08 | Maynard | Robert Edward, Sr. | | 03/16/1944 | 75 yrs. |
| N06-09 | Perre | Hypolite A. | 1852 | 1930 | |
| N06-10 | Perre | Marie Tomasick | 1858 | 1898 | wife |
| N06-11 | Perre | Anna Seuzeneau | 1881 | 07/21/1948 | (dod from obit) |
| N06-12 | Perre | Emile | 1872 | 06/15/1952 | |
| N06-13 | Quintini | Elise P. | 1890 | 1974 | |
| N06-14 | Banderet | Zoe Perre | 1893 | 1984 | |
| N06-15 | Perre | Julian | 09/19/1884 | 10/24/1946 | |
| N06-16 | Banderet | William C. | 09/10/1915 | 03/31/1961 | Tec 5 Co G, 410 Inf WWII |
| N06-17 | Perre | Eugene Clay | 07/23/1889 | 07/17/1966 | Pfc 304 Bkry Co. QMC WWI |
| N06-18 | Perre | Augustin | 1824 | 1873 | |
| N06-19 | Perre | Christine Vonau | 1832 | 1900 | widow |
| N06-20 | Perre | Augustine | 1858 | 1886 | |
| N06-21 | Vonau | Ignais | 1800 | 1868 | |
| N06-22 | Tomasich | Francoise Perre | 1855 | 1932 | |
| N06-23 | Grandmont | Elsie Perre | 1864 | 1954 | |
| N06-24 | Perre | Katie | 11/1888 | 11/1918 | |
| N06-25 | Perre | August Sr. | 10/1879 | 10/02/1979 | |
| N06-26 | Perre | August Jr. | 09/1906 | | (reserved) |
| N06-27 | Manieri | Gereldine | 1919 | 1921 | |
| N06-28 | Manieri | Sidney A. | 1888 | 1959 | |
| N06-29 | Manieri | Amelia M. | 1891 | 1977 | |
| N06-30 | Ford | Elvira Mary Manieri | | 06/21/1988 | age 71 |
| N06-31 | Fayard | Alfred Achille | 01/22/1888 | 02/01/1927 | WOW sovereign |
| N06-32 | Nick | Jules Theodore III | 07/05/1941 | 04/10/1980 | |
| N06-33 | Mioton | Mary Agnes Poillion | 09/01/1905 | 07/24/1934 | wife of Henry V Mioton |
| N06-34 | Poillion | William A. | | 09/04/1929 | Ms Pvt 14 QMC Batt N 39 Div |
| N07-01 | Call | Eulalie Guardia | 1872 | 1914 | |
| N07-02/04 | (Unmarked) | | | | |
| N07-05a | Lilius | Ann Julian | 1826 | 12/26/1907 | |
| N07-05b | Smith | Henry | 1857 | 1941 | |
| N07-05c | Marques | Marguerite | 1855 | 1942 | |
| N07-06 | Chandler | W. B. | 12/18/1855 | 05/02/1879 | |
| N07-07 | Chandler | William | 05/06/1793 | 09/28/1877 | |
| N07-08a | Tait | Venie H. | 1892 | 1964 | |
| N07-08b | Tait | William W. | 1881 | 1967 | |
| N07-09a | Boudreaux | Richard Sr. | 12/21/1902 | 06/14/1969 | |
| N07-09b | Boudreaux | Rita K. | 02/14/1905 | 01/08/1987 | |
| N07-09c | Boudreaux | Roy | 10/18/1939 | 01/24/1941 | |
| N07-09d | Boudreaux | Dorothy Ann | 03/16/1933 | 11/22/1934 | |
| N07-09e | Boudreaux | Richard Jr. | 02/02/1926 | 05/02/1927 | |
| N07-10a | Hoffman | Conrad | | 10/19/1883 | native of Badin Germany; age 65 |
| N07-10b | Hoffman | Agnes | | 08/17/1902 | age 77 |
| N07-11a | Hart | Alvina U. Hoffman | 1868 | 1952 | |
| N07-11b | Hart | Archibald R. | 1861 | 05/17/1958 | |
| N07-12 | (Unmarked) | | | | |
| N07-13a | Telhiard | Raoul Louis | 12/03/1850 | 1903 | dob: exact date from Passport application #2315A dated Nov 10, 1888 |
| N07-13b | Ladner | Aristide H. | 1873 | 1931 | |
| N07-14 | Telhiard | Marie Alice Petit | 1855 | | Birth date from 1880 census; Name from birth record for son Leon. |
| N07-15 | Telhiard | Gaston | | 01/31/1841 | Birth date from WWI draft registration; died New Orleans, LA |
| N07-16 | Rocher | Hence | | | |
| N07-17 | Rocher | Victorie Luc | 12/14/1894 | 09/13/1929 | wife of Hence Rocher |
| N07-18 | Ryals | Robert Raymond | 05/21/1966 | 05/21/1966 | |
| N07-19 | Piernas | Louis Joseph | 03/19/1856 | 07/25/1954 | 98 yrs |
| N07-20a | Piernas | Louis | 03/18/1812 | 02/20/1870 | Born in Maiteinzos, Cuba |
| N07-20b | Piernas | Adelle | 06/10/1820 | 09/22/1896 | wife of Louis Piernas |
| N07-21 | (Unmarked) | | | | |
| N07-22a | Fayard | babies of L. & M. | | | |
| N07-22b | Gilbert | baby of L. & B. | | | |
| N07-22c | Roth | Edwin E. | 07/05/1894 | 12/24/1966 | |
| N07-22d | Roth | Hattie V. Fayard | 10/23/1890 | 10/06/1969 | |
| N07-23a | Johnson | Lena Asher | 12/22/1854 | 10/17/1934 | |
| N07-23b | Couret | infant | | | Infant of Mr. and Mrs. Adolph |
| N07-24 | Johnson | Willie J. N. | | 05/18/1920 | 62 yrs |
| N07-25 | Fayard | Lovance | 1892 | 1954 | |
| N07-26 | Arnold | James J. | 12/20/1919 | 01/04/1962 | Ms Sgt Hq Co 129 Inf WWII BSM & OLC |
| N07-27 | Jebens | Lucy | 1856 | 05/06/1932 | wife of Charles Sanger |
| N07-28 | Sanger | Charles | 1853 | 1935 | |
| N08-01 | Hansen | Jacob N. | 03/17/1846 | 08/02/1915 | |
| N08-02 | (Unmarked) | | | | |
| N08-03 | Schreck | William A. | 1907 | 1940 | |
| N08-04 | Schreck | Gladys O. | 1913 | 1939 | |
| N08-05 | Schreck | Elizabeth F. | 1875 | 1960 | Masonic emblem |
| N08-06 | Schreck | Karl A. Rudolph | 1864 | 1954 | Masonic emblem |
| N08-07 | Perrone | Armantine Roth | 1886 | 1935 | mother |
| N08-08 | Perrone | Paul S. Eugene | 1883 | 1941 | father |
| N08-09a | Perrone | Joseph. child | | | |
| N08-09b | Perrone | Louise. child | | | |
| N08-10 | Garcia | Victorine | | 04/22/1911 | |
| N08-11 | Garcia | Joseph | | | (reserved) |
| N08-12 | Garcia | Louise | | | (reserved) |
| N08-13 | Fayard | Philomine | | 06/14/1917 | mother |
| N08-14 | Piernas | Armatine Labatt | | 06/03/1904 | sister |
| N08-15 | (Unmarked) | | | | |
| N08-16 | Labat | Inez Rita | 12/15/1891 | 03/15/1986 | |
| N08-17 | Labat | Joseph Sr. | 1868 | 1947 | |
| N08-18 | Labat | Leonore | 1873 | 1930 | |
| N08-19 | (Unmarked) | | | | |
| N08-20 | Monti | Gladys G. | 09/15/1905 | 06/22/1971 | |
| N08-21a | Monti | Albert T. Sr. | 02/02/1881 | 02/28/1960 | |
| N08-21b | Monti | Victoria Dillman | 10/07/1884 | 05/04/1959 | wife of Albert T. Sr. |
| N09-01a | Luc | Mitchell | 03/20/1857 | 06/21/1933 | |
| N09-01b | Luc | Josephine Guzman | | 12/10/1927 | wife of Mitchell Luc; 66 yrs |
| N09-02 | Luc | Royal | | 10/26/1918 | age 17 |
| N09-03 | Cox | Edith Luke | 1924 | 1977 | |
| N09-04 | Cox | Laurence P. | 02/21/1922 | 12/02/1985 | |
| N09-05 | Peterson | Dan | | | |
| N09-06a | Peterson | Warren | | | |
| N09-06b | Peterson | Betty Lou | | | |
| N09-06c | Peterson | Helen | | | |
| N09-07/09 | (Unmarked) | | | | |
| N09-10 | Favre | Clotilde Roth | 1847 | 1906 | mother; wife of Jules Favre |
| N09-11 | Favre | Joe | 1877 | 1894 | |
| N09-12 | Favre | Jules | 1846 | 1921 | father |
| N09-13 | Favre | Alcide | 1885 | 1947 | |
| N09-14 | Carver | Harold | | | |
| N09-15 | Carver | Irma | | | child |
| N09-16 | Carver | still born child | | | |
| N09-17a | Carver | Myrtle | 1911 | 1911 | |
| N09-17b | Carver | John A. | 1886 | 1946 | |
| N09-17c | Carver | Clotilde D. | 1890 | 1954 | |
| N09-18 | Carver | Celeste | 01/27/1858 | 10/10/1925 | |
| N09-19 | Carver | Louise | | 11/20/1907 | age 19 |
| N09-20 | Bourgeois | Cyril | | | |
| N09-21 | Bourgeois | Mrs. Cyril | | | |
| N09-22 | Slade | Alma Bourgeois | | | |
| N09-23 | Slade | Elmer Estus | 02/24/1901 | 03/27/1933 | Ms Ship's cook 4 CL Navy |
| N09-24 | Necaise | Reno J. | 01/29/1909 | 01/30/1950 | |
| N09-25 | Necaise | Reno J. Jr. | 12/19/1935 | 12/28/1971 | Ms Pvt Marine Korea |
| N10-01 | Luc | Ethel | 10/23/1908 | 12/08/1911 | |
| N10-02 | Ward | Juanita Luc | 11/07/1910 | 02/12/1979 | |
| N10-03 | Ward | Harry C. | 1891 | 1971 | |
| N10-04 | Netto | Cecil | 1903 | 1910 | |
| N10-05 | Netto | John C. | 1870 | 1934 | |
| N10-06 | Netto | Leona Peterson | 1876 | 1954 | |
| N10-07 | Crisler | John Wesley | 11/26/1921 | 12/26/1946 | La Seaman 1 CL US Coast G. |
| N10-08a | La Fontaine | Margaret L. | 01/28/1920 | 04/17/2004 | |
| N10-08b | La Fontaine | Woodrow J. Sr. | 05/12/1913 | 02/22/1979 | US Army |
| N10-09 | (Unmarked) | | | | |
| N10-10 | Foster | Kiney S. | 05/15/1878 | 10/25/1953 | Co. M LSC Inf. Sp Am War |
| N10-11 | (Unmarked) | | | | |
| N10-12 | Dahlberg | Oscar L. | | | Co. F 6 Ill. Inf. Sp Am War |
| N10-13 | Lawler | Thomas V. | | | Co. C US vol Inf. Sp Am War |
| N10-14 | Livingston | Benjamin F. | | | Hosp Corps |
| N10-15 | Jones | Edward | 1869 | 02/27/1957 | |
| N10-16 | Jones | Ruby Mary | 1868 | 1947 | |
| N10-17 | Mitchell | Sarah C. | 09/29/1837 | 02/04/1920 | |
| N10-18 | Taconi | August | | | |
| N10-19 | Taconi | Ida Margret | | 10/03/1955 | 64 yrs. |
| N10-20a | Morel | Laura P. | 1858 | 1947 | |
| N10-20b | Morel | Charles F. | 1859 | 1907 | |
| N10-21 | (Unmarked) | | | | |
| N10-22 | Carver | Peter | 02/21/1822 | 01/17/1901 | |
| N10-23 | Carver | Dudley | 04/02/1866 | 06/07/1932 | |
| N10-24 | Carver | Edmond | 03/01/1849 | 02/13/1923 | |
| N10-25 | Bourgeois | Mary Nazile | | 10/16/1871 | wife of Peter Carver; age 45 yrs |
| N10-26 | Schmertz | Percy | 1892 | 11/17/1955 | |
| N10-27 | (Unmarked) | | | | |
| N10-28 | Seube | Henry | 1881 | 1945 | |
| N10-29 | Seube | Rita | 1882 | 1958 | |
| N10-30a | Weinberg | James | 1907 | 1908 | |
| N10-30b | D'Angelo | Giovanni | 07/30/1996 | 07/30/1996 | |
| N11-01 | Mioton | Anthony Paul | 1896 | 1980 | US Army WWI |
| N11-02 | Hill | Jennie Kimmel | 09/01/1881 | 01/28/1953 | |
| N11-03 | Mioton | Sarah Hill | 10/08/1907 | 10/17/1969 | |
| N11-04 | Mioton | Alma Poillion | 02/09/1931 | 05/08/1998 | |
| N11-05 | Mioton | Raymond Sr. | 01/29/1923 | 02/12/1980 | US Coast Guard |
| N11-06 | Mioton | Earl | 10/15/1910 | 05/08/1945 | Miss Pfc 161 Inf. WWII |
| N11-07 | Nunn | Wellington C. | 01/04/1892 | 06/20/1952 | Texas 2nd Lt Sanitary Corp WWI |
| N11-08 | Nunn | Nell M. | 1887 | 1966 | |
| N11-09 | Hanson | Gertrude Favre Carvin | 10/17/1900 | 01/15/1960 | |
| N11-10 | Favre | Marie Araurelie Garcia | 1871 | 1954 | mother |
| N11-11 | Favre | Lucien Joseph | 1865 | 1940 | father |
| N11-12/14 | (Unmarked) | | | | |
| N11-15 | Knoblock | Kenneth T. | 1898 | 1946 | WOW headstone |
| N11-16 | Heitzman | Edward Sr. | 1884 | 1947 | |
| N11-17 | Heitzman | Lottie R. | 12/24/1891 | 08/18/1973 | wife of Edward Heitzman |
| N11-18 | (Unmarked) | | | | |
| N11-19 | Baldwin | Mrs. E. N. | | 01/23/1876 | |
| N11-20 | Sones | John Horren | | 10/01/1867 | Brother of Andrew Jackson Sones |
| N11-21 | Sones | Lott M. | | 11/30/1864 | Lt. Adj 3rd MS Inf CSA - KIA Franklin, TN |
| N11-22a | Sones | D. B. | | 01/17/1858 | |
| N11-22b | Sones | Ben | | | |
| N11-22c | Sones | Rebecca McArthur | | 02/08/1897 | wife of Ben Sones; 80 yrs |
| N11-23 | Karl | Margie Saucier | 02/23/1921 | 10/21/1958 | |
| N11-24/26 | (Unmarked) | | | | |
| N11-27 | Combel | Lucie Angelique Paganetto | 12/24/1833 | 06/09/1857 | wife of P. E. Combel |
| N11-28/32 | (Unmarked) | | | | |
| N11-33 | Carver | Gilmore | 01/09/1889 | 08/27/1963 | Ms Pvt Co D 20 Engr WWI |
| N11-34a | Carver | George Washington | 1855 | 1917 | |
| N11-34b | Carver | Helen Marie | 1860 | 1936 | |
| N12-01a | Tartavoulle | Gus A. | 06/29/1881 | 09/06/1965 | |
| N12-01b | Tartavoulle | Eva Favre | 01/18/1888 | 04/16/1952 | |
| N12-02 | Lindsay | Agnes Ladner | | | |
| N12-03 | Bourgeois | Tabitha Marie | 07/03/1978 | 11/17/1978 | |
| N12-04 | Ellis | Pearl Marie Bourgeois | 10/28/1929 | 11/27/1984 | |
| N12-05 | Bourgeois | Vionita | 1933 | 1938 | |
| N12-06a | Bourgeois | Irene V. | 05/23/1896 | 07/21/1974 | |
| N12-06b | Bourgeois | Andrew Sr. | 02/18/1878 | 07/24/1948 | |
| N12-07 | Holmes | Ella | | 06/24/1849 | daughter of John & Martha Holmes |
| N12-08 | (Unmarked) | | | | |
| N12-09 | Cospolich | Joe | | | |
| N12-10 | Cospolich | Adele | | | |
| N12-11 | Saucier | Embrozine | 1851 | 1895 | mother |
| N12-12/13 | (Unmarked) | | | | |
| N12-14 | Peterson | Jennie Foegele | 09/16/1861 | 03/04/1952 | |
| N12-15/16 | (Unmarked) | | | | |
| N12-17 | Fayard | Alphonse | 1877 | 1949 | |
| N12-18 | (Unmarked) | | | | |
| N12-19a | Turcotte | Robert | 1848 | 1912 | father |
| N12-19b | Turcotte | Margaret | 1857 | 1907 | mother |
| N12-19c | Etienne | Lottie T. | 1896 | 1951 | |
| N12-20a | Turcotte | Roger | 1890 | 1907 | |
| N12-20b | Turcotte | George | 1894 | 1963 | |
| N12-20c | Turcotte | Jessie | 1875 | 1890 | |
| N12-21/26 | (Unmarked) | | | | |
| N12-27a | Weinberg | Pearl E. Kingston | 06/15/1913 | 05/24/1985 | |
| N12-27b | Weinberg | Laton John, Sr. | 1911 | 02/27/2009 | |
| N12-27c | Weinberg | Laton J. Jr. | | | (reserved) |
| N12-27d | Kingston | Veronica | 1829 | 1899 | |
| N12-28a | Poillion | Lillian | 09/12/1924 | 10/20/1929 | niece of Henry Poillion |
| N12-28b | Poillion | James L. "Wimpy" | 12/27/1936 | 03/21/2001 | |
| N12-29 | Poillion | Lorena R. | 01/21/1899 | 10/12/1988 | |
| N12-30 | Poillion | Henry C. | 01/31/1902 | 10/12/1979 | |
| N12-31a | Fayard | Marie | 01/25/1892 | 02/08/1930 | |
| N12-31b | Caron | Mamie | 11/27/1870 | 03/24/1936 | |
| N12-31c | Caron | William N. | 1866 | 1937 | |
| N12-31d | Caron | Napoleon N. | 03/03/1842 | | dod 08/26/19??, year illegible |
| N12-31e | Caron | Eliza | 03/24/1843 | 03/09/1916 | |
| N12-31f | Caron | Arthur | 04/19/1898 | 06/23/1926 | |
| N12-31g | Mioton | Matilda Caron | 1881 | 1964 | |
| N12-32 | Ladner | Francois | 05/04/1790 | 04/05/1853 | |
| N12-33 | Hosmer | Emilie (Fifi) | | | |
| N12-34 | Ladner | infant | | | |
| N13-01 | (Unmarked) | | | | |
| N13-02 | Tartavoulle | Herbert J. | 04/12/1919 | 10/01/1973 | |
| N13-03 | Tartavoulle | Elsie L. Bourgeois | 03/14/1919 | 08/06/1983 | "Pinkey" |
| N13-04/06 | (Unmarked) | | | | |
| N13-07 | La France | Edgar Joseph | 10/15/1911 | 12/15/1977 | US Army; Field Art. |
| N13-08 | (Unmarked) | | | | |
| N13-09 | Korner | Mary M. Heiderhoff | 07/08/1846 | 02/10/1919 | wife of Henry T. Korner |
| N13-10 | Korner | Henry T. | 06/12/1840 | 11/16/1904 | |
| N13-11 | Heiderhoff | Napolina Kampf | 11/29/1804 | 10/20/1883 | |
| N13-12 | Korner | Regina Alvera | 10/30/1885 | 08/24/1888 | |
| N13-13 | Korner | Henry Theodore | 06/27/1880 | 07/12/1952 | |
| N13-14 | Korner | Lena Debora | 11/09/1871 | 01/27/1928 | |
| N13-15 | (Unmarked) | | | | |
| N13-16a | Weatherspoon | Eugene | 11/09/1921 | 06/28/1945 | Miss Sgt 314 AAF Base |
| N13-16b | Fayard | Bernice W. | | | wife |
| N13-17 | Telhiard | Leon Marcel Fernand | 10/15/1881 | 06/03/1944 | Died New Orleans, LA, LA birth records show his birthdate as 15 Oct 1883 |
| N13-18 | Telhiard | Ida A. | 03/12/1888 | 08/21/1955 | wife of Leon Marcel Telhiard |
| N13-19 | Ladner | Paul | | 10/16/1918 | Ms Pvt 150 Inf |
| N13-20 | Ladner | Ursin | 1852 | 1931 | husband of Martha L. |
| N13-21a | Turcotte | Mary L. | 1890 | 1914 | |
| N13-21b | Turcotte | John W. | 1881 | 1956 | |
| N13-22 | Turcotte | Robert | | 09/15/1913 | |
| N13-23 | Fayard | Raymond | | 1861 | |
| N13-24 | Bourgois | Lucy R. | 1880 | 1934 | wife of Sam Carver |
| N13-25 | Carver | Betty L. | 10/28/1932 | 03/28/1934 | |
| N13-26 | Carver | Sam | 12/14/1869 | 08/26/1956 | |
| N13-27 | (Unmarked) | | | | |
| N13-28 | Saucier | Victoria Favre | | 08/1936 | |
| N13-29 | Cain | Audrey Favre | | | 1 mo old; baby of Lillian Favre Cain |
| N13-30 | Bandaret | Cecil Capdepon | 04/20/1874 | 09/08/1966 | |
| N13-31 | Bandaret | Charles Albert | 09/09/1891 | 08/21/1984 | |
| N13-32 | Bandaret | F. Sr. | 12/17/1863 | 12/25/1930 | |
| N13-33 | Osoinach | Anthony G. | 1874 | 1941 | |
| N13-34 | Osoinach | Bessie M | 1877 | 1913 | |
| N13-35 | Carco | Robert A. | 02/21/1889 | 01/06/1968 | |
| N13-36 | Carco | Henry | | | Co F 3 Miss Inf CSA |
| N13-37 | Carco | Francis | | | |
| N14-01a | Guardia | Sebastian | 01/20/1841 | 12/06/1914 | |
| N14-01b | Guardia | Aniase | 01/06/1839 | 07/10/1923 | |
| N14-02 | (Unmarked) | | | | |
| N14-03a | Garcia | Matthew | 06/13/1886 | 01/28/1958 | Miss Cook co. 4 BN US Guard WWII |
| N14-03b | Garcia | Nora Yarbough | 1861 | 11/07/1950 | |
| N14-03c | Beal | Aline | | | (reserved) |
| N14-03d | Beal | Marion | 02/01/1913 | 02/03/1986 | Masonic stone |
| N14-04 | Garcia | William Roger | 03/12/1899 | 05/21/1944 | husband of Lesta Thurman |
| N14-05 | Myrac | Ella Mae | | 10/28/1974 | age 68 years |
| N14-06 | Von Drozhowsky | Samuel | 1867 | 1919 | Masonic emblem |
| N14-07 | Von Drozhowsky | Fred W. | 1894 | 1914 | |
| N14-08 | Garziano | Ester C. | 11/15/1915 | 02/08/1973 | mother |
| N14-09 | Cox | Elliot A. | 08/05/1919 | 07/23/1944 | son |
| N14-10 | Cox | Lillie E. | 03/05/1897 | 01/06/1968 | mother |
| N14-11 | Cox | August A. | 12/30/1893 | 01/08/1959 | father |
| N14-12 | Besancon | Gladys Mary | | 04/04/1969 | 52 yrs |
| N14-13 | Heitzmann | George | 09/21/1880 | 06/25/1953 | WOW stone |
| N14-14 | Heitzmann | Cedric Elmo | 04/09/1912 | 11/25/1983 | Vet M |
| N14-15a | Heitzmann | Pauline | 04/26/1883 | 02/08/1977 | |
| N14-15b | Conrad | ? | | | + sister to Pauline |
| N14-16 | Rhodes | Samatha Cameron | 06/22/1847 | 06/19/1917 | |
| N14-17 | Capdepon | Christine | 07/12/1882 | 10/23/1965 | |
| N14-18 | Capdepon | Leon B. | 08/17/1871 | 03/21/1948 | |
| N14-19 | Price | Leopold | 12/18/1841 | 04/03/1907 | |
| N14-20 | Crespo | Ella Fayard | 12/27/1891 | 10/18/1966 | |
| N14-21a | Myther | Christopher | | 1875 | age 27 |
| N14-21b | Myther | Rosa Lena | | 1875 | age 16 |
| N14-21c | Myther | Margaret | | 1875 | age 48; native of Germany |
| N14-22 | Fayard | Anthony J. | 02/10/1896 | 11/21/1962 | |
| N14-23 | Fayard | Rosie B. | 09/11/1876 | 12/25/1947 | |
| N14-24a | Fayard | Frank | 1854 | 1915 | |
| N14-24b | Fayard | Ola | 1898 | 1918 | |
| N14-24c | Fayard | Nola | 1856 | 1946 | |
| N14-25 | Carco | Corine | | 07/15/1939 | |
| N15-01 | Guardia | Forest F. | 07/01/1876 | 12/13/1931 | |
| N15-02 | Guardia | Thelma Theresa | 11/29/1911 | 03/03/1912 | |
| N15-03a | Carver | Grace Mary | 03/16/1917 | 07/18/1973 | |
| N15-03b | Carver | Victor Stanislaus | | | husband of Grace Mary Carver |
| N15-04a | Carver | Beverly | 12/04/1945 | 01/04/1952 | daughter of Grace Mary Carver |
| N15-04b | Carver | Victor Aloysious | 09/19/1911 | 12/25/1979 | father of Grace Mary Carver |
| N15-05 | Poolson | Cornelious C. | 1897 | 1947 | |
| N15-06 | Poolson | Della Matilda Moran | | 07/03/1988 | age 91 |
| N15-07/08 | (Unmarked) | | | | |
| N15-09 | Thompson | M. A. | | 01/21/1885 | Born in Copenhagen, Denmark; 65 years |
| N15-10 | Thompson | Euphrosine | | 09/07/1914 | wife; born BSL; 75 years |
| N15-11 | Thomas | Gustave Daniel | 12/10/1914 | 02/02/1977 | |
| N15-12 | Luc | Ernest P. | 04/17/1898 | 10/13/1918 | WOW stone |
| N15-13 | Necaise | Jean Baptiste | 1802 | 1860 | |
| N15-14 | Necaise | Marinas Favre | 1814 | | wife of jean Baptiste (+ Indian) |
| N15-15/18 | (Unmarked) | | | | |
| N15-19 | Carver | George | 02/29/1884 | 04/06/1942 | |
| N15-20 | Carver | Mary V. | 06/08/1893 | 11/07/1954 | |
| N15-21 | Dunn | James J. | 09/25/1882 | 08/25/1917 | WOW stone |
| N15-22 | Crawford | baby | 11/11/1923 | 02/05/1925 | |
| N15-23 | Crawford | baby | | | |
| N15-24 | Fayard | Earl C. | 12/24/1910 | 11/23/1971 | SP3 Coast Guard WWII |
| N15-25 | (Unmarked) | | | | |
| N15-26 | Fayard | Sullivan F. | 09/26/1885 | 10/12/1953 | |
| N15-27 | Fayard | Elizabeth | 11/24/1889 | 10/05/1967 | |
| N15-28 | Kingston | William F. | 1855 | 1917 | |
| N15-29a | Kingston | Kate Herman | 1856 | 1911 | |
| N15-29b | Kingston | baby | | | son of Dave & Kate |
| N15-30 | Kingston | Thomas William Sr. | 1890 | 02/18/1965 | |
| N15-31 | Kingston | Agnes Bordage | 1893 | 1980 | |
| N15-32 | Bouis | Charles J. Jr. | 11/07/1930 | 09/29/1979 | husband of Inez Bouis; Maj. Army, Korea, Vietnam |
| N15-33 | Bouis | Inez Kingston | | 04/09/1998 | age 66; married Charles J. |
| N15-34 | Bouis | David A. Jr. | | 12/18/1979 | |
| N15-35 | Kingston | Ida L. Laurent | | | 1st wife of Thomas W. Kingston |
| N15-36 | Kingston | Arthur J. | 1919 | 1920 | |
| N15-37 | Kingston | Thomas William Jr. | 1911 | 1968 | |
| N15-38a | Bouis | Armanda Marie | | 05/02/1982 | |
| N15-38b | Colon-Soto | Juan A. | | 1973 | grandson of Irwin & Barbara; 4 mos |
| N15-39a | Kauffman | John L. | 01/26/1871 | 10/19/1927 | |
| N15-39b | Kauffman | Edward A. | 07/09/1899 | 01/12/1919 | |
| N15-40 | Kauffman | Clara Sedonia | | | wife of John Kauffman |
| N15-41 | Quintini | Frank X. Sr. | 08/05/1884 | 11/05/1972 | WOW stone |
| N15-42 | Quintini | Marie E. | 10/10/1911 | 01/29/1982 | Hancock Co. Chancery Clerk 1964-1971 |
| N15-43a | Tomasich | Anthony | 1831 | 09/17/1897 | father |
| N15-43b | Tomasich | Melanie | 1832 | 1885 | mother |
| N15-44 | Tomasich | Jules J. | 02/16/1871 | 03/25/1940 | |
| N16-01 | Guardia | Raphael | 04/19/1874 | 10/28/1909 | |
| N16-02 | (Unmarked) | | | | |
| N16-03 | Cospelich | Herman A. | 05/08/1919 | 01/11/1936 | |
| N16-04 | Cospelich | Leona R. | 02/28/1895 | 02/11/1920 | |
| N16-05 | Cospelich | Stella | 1918 | 1918 | |
| N16-06 | Cospelich | Harold E. | 03/28/1916 | 04/04/1977 | Cpl US Army WWII |
| N16-07 | Van Court | Lawrence P. | 04/02/1926 | 08/29/1945 | La Sig US Navy WWII |
| N16-08 | Van Court | Della H. Carver | 1891 | 1962 | mother |
| N16-09 | Van Court | George E. | 1892 | 1970 | father |
| N16-10/13 | (Unmarked) | | | | |
| N16-14 | Woodcock | Thomas J. | 1869 | 1942 | |
| N16-15 | Woodcock | Caroline E. | 1884 | 1982 | |
| N16-16a | Habicht | William John | | 07/10/1923 | 68 yrs. |
| N16-16b | Habicht | Elizabeth | | | |
| N16-17 | Sharp | Sterling Brown | 1881 | 05/23/1954 | |
| N16-18 | Sharp | Bertha H. | 1896 | 1981 | |
| N16-19 | Briggs | Minna Williams | 09/30/1873 | 07/07/1959 | |
| N16-20 | Crawford | ?. L. | 11/11/1923 | 02/05/1925 | |
| N16-21/22 | (Unmarked) | | | | |
| N16-23 | Favre | James C. | 01/1869 | 10/1926 | |
| N16-24 | (Unmarked) | | | | |
| N16-25a | Koolsbergen | Louis | 1823 | 1897 | |
| N16-25b | Koolsbergen | Evelna | 1889 | 1908 | |
| N16-25c | Bourgeois | Lena | 1859 | 1945 | |
| N16-26 | Marengo | L. L. Sr. | 1895 | 1942 | |
| N16-27 | (Unmarked) | | | | |
| N16-28 | Besancon | Marie Augustine | 1862 | 1905 | |
| N16-29 | Besancon | Alfred | | | |
| N16-30/31 | (Unmarked) | | | | |
| N16-32 | Dietzway | John | | 08/20/1917 | |
| N17-01 | McArthur | Minnie Louise | 1890 | 1974 | |
| N17-02 | Finhold | Matilda Eulia | 1875 | 01/27/1924 | |
| N17-03 | McArthur | Monroe | 01/07/1917 | 10/27/1933 | Patrol leader Troop 209 Pass Christian |
| N17-04 | McArthur | John M. | 1882 | 1947 | |
| N17-05 | Bourgeois | John T. | 08/25/1867 | 09/30/1900 | |
| N17-06 | Bourgeois | Dorothy Mae | 03/11/1926 | 04/09/1927 | |
| N17-07/08 | (Unmarked) | | | | |
| N17-09 | Bourgeois | Henry L. | 04/23/1888 | 07/21/1965 | |
| N17-10 | Bourgeois | Armanda L. | | | (reserved) |
| N17-11 | King | Alfred Owen | 04/08/1926 | 04/12/1945 | W. Va. SI US Navy WWII |
| N17-12 | Favre | John | 08/19/1874 | 03/17/1938 | |
| N17-13 | Coble | Joni Ann | 11/19/1957 | 02/07/1958 | |
| N17-14 | Favre | wife ? | | 07/19/1917 | |
| N17-15 | Favre | Earl J. | 08/31/1909 | 01/02/1958 | Miss Pvt 411 Base Unit AAF WWII |
| N17-16 | Favre | Sylvan John | | 04/10/1917 | Miss Apprentice Seaman US Navy |
| N17-17 | (Unmarked) | | | | |
| N17-18 | Windom | Zelia Farve | 06/05/1864 | 12/10/1938 | |
| N17-19/20 | (Unmarked) | | | | |
| N17-21 | Fayard | Lawrence A. | 12/19/1916 | 04/18/1975 | Pvt US Army WWII |
| N17-22 | Fayard | Asa J. Sr | 11/15/1885 | 10/15/1963 | husband of Viola Fayard |
| N17-23 | Fayard | Viola H. Favre | 09/11/1886 | 02/09/1949 | wife of Asa Fayard |
| N17-24 | Fayard | Christie | 01/24/1888 | 12/22/1933 | |
| N17-25 | Fayard | Jessie Anthony | 02/16/1892 | 03/07/1943 | |
| N17-26 | Fayard | Anatol | 03/05/1852 | 05/09/1924 | |
| N17-27 | Cullerton | Mary Redding | 09/27/1853 | 02/16/1920 | Wife of James Cullerton, Sr. |
| N17-28 | Allen | baby girl | | 06/25/1970 | |
| N17-29 | Schwall | Harold J. Sr | | 04/02/1968 | 60 yrs |
| N17-30a | Schwall | Mildred | | | (reserved) |
| N17-30b | Schwall | Arthur | | | (reserved) |
| N17-31a | Ladner | M. | | | |
| N17-31b | Ladner | wife of M. | | | |
| N17-32 | Gillan | Wendl Peter | 01/25/1925 | 01/07/1979 | US Marine Corp 2 Div |
| N17-33 | Ladner | Florence G. | 07/21/1886 | 07/14/1970 | |
| N17-34 | Duker | Zelda Gillan | 05/05/1911 | 09/05/1980 | |
| N17-35 | Ladner | Robert J. | 02/11/1869 | 09/02/1953 | |
| N18-01 | Bush | Ruth E. | 1922 | 1993 | |
| N18-02 | Bush | Michael J. | 1945 | 1948 | |
| N18-03 | Bush | Joe B. | 1922 | | (reserved) |
| N18-04 | Farve | Lemuel J. | 05/27/1893 | 05/27/1970 | |
| N18-05 | Favre | Daniel C. | 12/12/1894 | 01/11/1970 | Miss Pvt Army WWI |
| N18-06 | Favre | Rosalie C. | 1868 | 02/14/1953 | |
| N18-07 | Favre | Lemuel D. | 1862 | 1925 | |
| N18-08 | Cospelich | Milliann F. | 1889 | 1937 | |
| N18-09 | Floyd | Nellie Cospelich | 12/07/1918 | 10/22/1993 | |
| N18-10 | Saucier | Isabelle | | 1915 | headstone gone |
| N18-11 | Adam | Thomas | | | headstone gone |
| N18-12 | Pucheu | Sedonie S. | 1880 | 1920 | |
| N18-13 | Pucheu | Augustin D. | 1876 | 1961 | |
| N18-14 | Adam | John S. | 1874 | 1946 | |
| N18-15 | Adam | Mary Bourgeois | 1880 | 12/18/1958 | mother |
| N18-16 | Kimmel | Charles H. | 07/28/1957 | 07/14/1977 | |
| N18-17 | (Unmarked) | | | | Believed to be the grave of Orelia Luc Favre |
| N18-18a | Favre | Blanche | 09/29/1889 | 06/16/1951 | |
| N18-18b | Favre | Xavier | 10/04/1885 | 03/09/1956 | |
| N18-19 | Ellis | Lawrence S. | 08/11/1918 | 07/07/1979 | Sgt US Army |
| N18-20 | Jeanfreau | Theresa | 08/22/1912 | 11/19/1979 | |
| N18-21 | Jeanfreau | Arthur | 12/10/1904 | 03/22/1988 | |
| N18-22 | Saput | Jim | | | infant; headstone gone |
| N18-23 | Saput | Paul | | 08/02/1905 | father; age 39; headstone gone |
| N18-24 | McDonald | Katie Saput | 04/05/1894 | 03/01/1928 | mother |
| N18-25/27 | (Unmarked) | | | | |
| N18-28 | Price | Edward J., Sr. | 09/26/1898 | 01/15/1982 | US Army WWI |
| N18-29 | Price | Mildred Gallup | 01/10/1904 | 06/06/1997 | |
| N18-30 | Holden | William T. | 1856 | 1936 | father |
| N18-31 | Holden | Frances A. | 1861 | 1942 | mother |
| N18-32 | Holden | Daisy M. | 1893 | 1929 | sister |
| N18-33 | Holden | Lee | 1900 | 1930 | brother |
| N18-34 | (Unmarked) | | | | |
| N18-35 | Oliver | May B. | 01/16/1884 | 06/11/1950 | |
| N19-01 | Cospelich | Rosalie Favre | 1892 | 1937 | |
| N19-02 | Cospelich | Joseph | 1880 | 1959 | |
| N19-03/04 | (Unmarked) | | | | |
| N19-05 | Favre | Joe Buckskin | | | |
| N19-06 | Favre | Sarah | | | wife of Buckskin |
| N19-07 | Herrin | Willie | 07/14/1896 | 05/09/1953 | Ms Pvt Co. C 162 Depot Brig WWI |
| N19-08 | Hilliard | Vernon Otis | 01/24/1928 | 12/12/1988 | |
| N19-09/10 | (Unmarked) | | | | |
| N19-11 | Saucier | Joseph | | | |
| N19-12 | Saucier | Joseph's son | | | |
| N19-13 | Favre | Robert B. | 10/08/1878 | 01/07/1918 | WOW stone |
| N19-14/19 | (Unmarked) | | | | |
| N19-20 | Favre | Simon | | | Co. F3 Miss Inf. CSA |
| N19-21/23 | (Unmarked) | | | | |
| N19-24 | Luxich | John | 1853 | 1911 | |
| N19-25 | Luxich | Armace Favre | 1859 | 1908 | wife |
| N19-26 | Luxich | Lillian | 1898 | 1942 | |
| N19-27 | (Unmarked) | | | | |
| N19-28 | Gallup | William J. | 1868 | 1943 | |
| N19-29 | Gallup | Theresa M. | 1880 | 1919 | |
| N19-30/31 | (Unmarked) | | | | |
| N19-32 | Eager | Charles | | 07/05/1863 | 3rd Miss Reg; 20yrs |
| N19-33 | Eager | Fincher | 06/22/1851 | 12/19/1868 | |
| N19-34 | Eager | Robert | 06/04/1818 | 05/25/1869 | Mason emblem |
| N19-35 | (Unmarked) | | | | |
| N19-36 | Oliver | Edward E. | 03/03/1879 | 11/11/1948 | |
| N20-01 | Joyner | R. A. | | | Captain, Co. F3 Ms CSA |
| N20-02/05 | (Unmarked) | | | | |
| N20-06 | La Fontaine | Roland John | 05/30/1899 | 10/04/1964 | |
| N20-07 | La Fontaine | Eva Mary Fayard | 08/07/1906 | 05/08/1970 | |
| N20-08 | Fayard | Calvin | | | father of Eva Mary La Fontaine |
| N20-09 | Fayard | Chester | | | son of Calvin Fayard |
| N20-10/11 | (Unmarked) | | | | |
| N20-12 | La Fontaine | Lydia | 02/12/1914 | 12/25/1987 | |
| N20-13 | La Fontaine | Ory L. | 10/31/1901 | 06/09/1970 | |
| N20-14 | La Fontaine | LeRoy R. | 01/13/1930 | 08/12/1950 | Miss Pvt 14 Engr Combat BN Korea PH |
| N20-15 | Garcia | Paul | | | |
| N20-16 | Sick | William Conrad Sr. | 08/31/1890 | 08/29/1960 | father |
| N20-17 | Sick | Alice Adams | 04/07/1897 | 08/08/1970 | mother |
| N20-18 | Sick | Louise Eldenie | 1919 | 12/13/1921 | |
| N20-19 | McShan | William P. | 07/05/1817 | 04/14/1879 | |
| N20-20 | Favre | Ruth Bennett | | | mother |
| N20-21/22 | (Unmarked) | | | | |
| N20-23 | Luxich | Antonia Ladner | 1879 | 1938 | |
| N20-24 | (Unmarked) | | | | |
| N20-25 | Ladner | Rogers H. | 01/23/1894 | 07/25/1947 | |
| N20-26/27 | (Unmarked) | | | | |
| N20-28 | Webb | Rose Ann | 1952 | 1958 | |
| N21-01a | Necaise | Angeline Carver | | | |
| N21-01b | Necaise | child | | | |
| N21-02a | Carver | Edwin | | | son of Angeline |
| N21-02b | Necaise | Close | | | 2nd husband |
| N21-03 | Henry | Thomas J. | 11/02/1909 | 11/22/1965 | |
| N21-04 | Cospelich | Matthew | 1915 | 1939 | |
| N21-05 | Favre | Nancy McArthur | | 09/28/1929 | wife of G. Favre |
| N21-06/07 | (Unmarked) | | | | |
| N21-08 | Farve | Henery Sr. | | | |
| N21-09 | (Unmarked) | | | | |
| N21-10 | Favre | Mary Lionise | 06/22/1907 | 01/31/1949 | |
| N21-11 | Favre | Louisa L. | | | (reserved) |
| N21-12 | Favre | Albert Jr | 02/16/1886 | 04/27/1965 | |
| N21-13/14 | (Unmarked) | | | | |
| N21-15 | Luxich | Hermogene | 03/25/1843 | 04/16/1919 | father |
| N21-16 | Luxich | Louise | | | 61 yrs; dod 04/02/????, year illegible |
| N21-17 | Dolan | William Allen | 1892 | 01/18/1954 | husband of Janie Lucille Saucier Dolan Canter |
| N21-18 | Estapa | Alvin A. | 05/19/1924 | 05/19/1976 | SC 3 US Navy WWII |
| N21-19 | Webre | Bert | 1878 | 1946 | |
| N21-20 | Webre | Mary "Tony" | 1868 | 1951 | |
| N21-21 | Estapa | John | 1842 | 1913 | |
| N21-22 | Estapa | Roger A. | 1893 | 1965 | |
| N21-23 | Favre | Sarah | 1888 | 1947 | |
| N21-24 | Davis | Daisy Belle Favre | 03/04/1902 | 09/17/1938 | wife of Lionel Davis |
| N21-25 | Favre | John | 1873 | 1946 | father |
| N21-26 | Favre | baby | | | |
| N21-27 | Bourgeois | Walter Henry | 04/08/1898 | 03/12/1970 | Miss Pfc Co. C 162 Depot Brig WWI |
| N21-28 | Bourgeois | Viola Angelena Westbrook | 12/18/1863 | 10/26/1938 | wife of John Bourgeois |
| N21-29 | Bourgeois | John Simon | | 03/20/1917 | husband of Viola Westbrook; 53 yrs |
| N22-01 | Favre | Henery | 02/11/1889 | 02/12/1949 | |
| N22-02 | Favre | Eliza | | | mother of Henery Favre |
| N22-03 | List | William B. | | 10/22/1878 | Mason; 44 yrs |
| N22-04 | List | Eleanor | | 12/03/1879 | 2 yrs |
| N22-05 | Bourgeois | Vital L. | 06/15/1888 | 03/07/1960 | Ms Pvt 27 Co. 162 Depot Brig WWI |
| N22-06 | Bourgeois | Ida Virginia | | 07/21/1985 | Fahey |
| N22-07a | Bourgeois | Bertha Caroline | 03/12/1934 | 09/1934 | |
| N22-07b | Terrell | R. W. | 04/15/1945 | 04/17/1945 | |
| N22-07c | Moore | C. R. | 06/25/1946 | 06/28/1946 | |
| N22-07d | Carlat | baby | | 08/10/1966 | |
| N22-08 | Bourgeois | Frances | 05/30/1915 | 10/24/1918 | |
| N22-09/10 | (Unmarked) | | | | |
| N22-11 | Favre | J. P. | 01/17/1848 | 06/25/1919 | |
| N22-12a | Bourgeois | Charles | | 08/16/1915 | 49 yrs |
| N22-12b | Bourgeois | Raymond | 04/16/1903 | 09/25/1960 | |
| N22-13a | Bourgeois | Clarice | | 09/07/1910 | mother; wife of Simon Bourgeois; 64 yrs |
| N22-13b | Bourgeois | Louise | 03/15/1868 | 07/30/1950 | |
| N22-13c | Ladner | Marietta Bourgeois | | | (reserved) |
| N22-14a | Bourgeois | Simon | | 02/21/1907 | father; 73 yrs |
| N22-14b | Bourgeois | Corine | | 10/13/1918 | sister; 36 yrs |
| N22-14c | Bourgeois | Cora | 06/30/1886 | 01/14/1957 | |
| N22-14d | Ladner | Nathan Joseph | 04/01/1922 | 05/01/1985 | |
| N22-15 | Gannon | James W. | 1848 | 1914 | |
| N22-16 | Gannon | Lucy M. | 1878 | 1878 | |
| N22-17 | Gannon | Paul W. | 1886 | 1890 | |
| N22-18 | Attaway | Lucy Walker | 1815 | 1887 | |
| N22-19 | Gannon | Mary H. | 1857 | 1938 | |
| N23-01 | Dubuisson | Cecile Ladner | 09/02/1863 | 07/11/1933 | |
| N23-02 | Ladner | Mrs. Delmas | 12/12/1833 | 10/15/1891 | |
| N23-03 | Ladner | Delmas | 09/01/1830 | 01/29/1913 | |
| N23-04 | Ladner | Lovance | | 05/25/1890 | 20 yrs |
| N23-05 | Ladner | Marie Rosala | | 01/18/1868 | 15 yrs |
| N23-06 | Ladner | Xavier | 12/25/1876 | 04/17/1901 | |
| N23-07 | Ladner | Emma | 08/22/1861 | 07/20/1936 | |
| N23-08 | Ladner | Cyril | 04/03/1874 | 09/25/1935 | |
| N23-09 | (Unmarked) | | | | |
| N23-10a | Luxich | Josephine R. | 1889 | 1985 | |
| N23-10b | Luxich | Mary Jean | 1928 | 1929 | |
| N23-11a | Luxich | Rodney J. | 1886 | 1950 | |
| N23-11b | Luxich | Rodney A. | 1910 | 1930 | |
| N23-12 | Favre | ? | 01/08/1875 | 03/08/1929 | father |
| N23-13 | Favre | ? | 09/12/1883 | 09/04/1956 | mother |
| N23-14 | (Unmarked) | | | | |
| N23-15 | Alvin | John | | 09/15/1886 | Born in Chili, South America; res. of Miss. 20 yrs |
| N23-16 | Ellis | George W. | 07/27/1885 | 01/05/1963 | |
| N23-17 | Albin | Mary Frizine | 07/05/1863 | 06/11/1910 | |
| N23-18 | Ellis | Amelia M. | 07/23/1893 | 03/31/1960 | |
| N23-19/20 | (Unmarked) | | | | |
| N23-21 | Bourgeois | Joseph S.(Boyd) | | | |
| N23-22/23 | Bourgeois | family | | | |
| N24-01 | Favre | Sylvester T. | | 12/08/1965 | 85 yrs |
| N24-02 | Tanguie | Beatrice Bertha Favre | | 03/28/1982 | 72 yrs |
| N24-03/07 | (Unmarked) | | | | |
| N24-08a | Arnold | Justine | | | mother |
| N24-08b | Arnold | Ezra | | | son |
| N24-09 | Arnold | Alfred J. | 06/07/1878 | 05/10/1940 | |
| N24-10a | Arnold | Tina | | | daughter |
| N24-10b | Arnold | son of Thomas | | | |
| N24-11 | Arnold | Thomas | | 06/19/1975 | |
| N24-12/14 | (Unmarked) | | | | |
| N24-15 | MacCorry | Frances C. | 05/07/1857 | 11/20/1938 | |
| N24-16 | Cutchin | Marion Jane MacCorry | 06/05/1859 | 06/15/1910 | wife of Nathaniel E. Cutchin |
| N24-17/19 | (Unmarked) | | | | |
| N24-20 | MacCorry | Mary McGrady | 08/11/1823 | 02/26/1872 | |
| N24-21 | MacCorry | Harry Stuart | 02/02/1820 | 02/17/1875 | |
| N24-22 | Ogden | Oswald | 06/14/1871 | 11/18/1938 | husband of Alys MacGill Drewry; son of Judge Robert Nash Ogden and Sara Beattie |
| N24-23 | Ogden | Alys MacGill Drewry | 04/18/1875 | 02/18/1935 | wife of Oswald Ogden; daughter of Samuel Davies Drewry M.D. and Alice MacGill |
| N24-24a | Ogden | Hilaire du Bertrand Jr., M.D. | 1896 | 05/14/1965 | |
| N24-24b | Ogden | Hilaire du Bertrand III | 1927 | 08/10/1976 | his son |
| N24-24c | Ogden | Rebecca Gillespie | | | his wife |
| N24-25 | Ogden | Charlton Beattie | 01/04/1866 | 11/13/1883 | |
| N24-26 | Ogden | Samuel Davis Drewry | 06/01/1897 | 10/30/1971 | Pvt Co. H 83 Inf WWI |
| N24-27 | Idallis | Nick | 1874 | 1938 | husband of Corine Bourgeois; born in Athens, Greece |
| N24-28/30 | (Unmarked) | | | | |
| N24-31 | Bourgeois | | | | base stone only |
| N25-01/04 | (Unmarked) | | | | |
| N25-05a | Favre | Leon Joseph | 07/06/1891 | 04/09/1965 | |
| N25-05b | Favre | Ida May Cuevas | | 1968 | wife |
| N25-05c | Favre | Anna Turk | 10/27/1873 | 1894 | |
| N25-06 | Chadwick | Elizabeth Arnold | | 02/11/1870 | wife of C. Chadwick; 50 yrs |
| N25-07 | Favre | John Matthew | | | |
| N25-08 | Favre | Victor Eugene Sr. | | | |
| N25-09 | Favre | Elizabeth Conley | | | |
| N25-10 | Favre | Victor Jr. | | | 1 yr |
| N25-11 | Givens | George Haven | 11/22/1919 | 01/25/1970 | Ms SO 2 Coast Guard WWII |
| N25-12 | Givens | Rowena B. | | 07/28/1981 | 98 years |
| N25-13/14 | (Unmarked) | | | | |
| N25-15 | Fayard | Elenore | 1881 | 1955 | |
| N25-16 | Fayard | John | 1870 | 1943 | |
| N25-17 | (Unmarked) | | | | |
| N25-18 | Fayard | Henry T. Sr. | 04/28/1881 | 06/08/1947 | father |
| N25-19 | Fayard | Louise Gazzo | 02/12/1885 | 07/22/1964 | mother |
| N25-20a | Tubbs | Norma Louise Favre | | 10/24/1983 | 53 yrs |
| N25-20b | Favre | Charles Anatole | | | |
| N25-21a | Favre | Hilda | | 1918 | child of John L. and Lucille Favre |
| N25-21b | Favre | Lucy | | 1920 | child of John L. and Lucille Favre |
| N25-22 | Bourgeois | Virginia Carrio | 10/10/1859 | 07/04/1918 | wife of Lucien Bourgeois |
| N25-23 | Edel | Mary Ada Bourgeois | 09/02/1899 | 08/15/1970 | |
| N25-24 | Edel | Frank | 04/28/1890 | 08/04/1965 | La Pfc 29 Balloon Co. Air Service WWII |
| N25-25 | Edel | Anthony | 11/07/1888 | 09/29/1953 | La Cook 64 Field Artillery, WWI |
| N25-26 | Bourgeois | Lucien | 1854 | 01/06/1931 | |
| N25-27 | Johnston | Mary | | 1953 | |
| N25-28 | Johnston | Thomas Joseph | | 09/27/1967 | |
| N25-29 | Johnston | Richard Lester | 05/29/1909 | 08/04/1975 | |
| N25-30 | Johnston | Dorothy Mae Fayard | | 06/21/1983 | 62 yrs |
| N25-31 | Carver | Celina Bourgeois | 03/26/1850 | 03/19/1882 | wife of Oscar Carver |
| N26A-01 | (Unmarked) | | | | |
| N26A-02 | Bell | Gilbert | 1866 | 06/13/1927 | |
| N26A-03 | (Unmarked) | | | | |
| N26A-04 | Smith | Jessie | | | Mason |
| N26B-01/04 | (Unmarked) | | | | |
| N26B-05 | Williams | Alfred O. | 01/31/1910 | 02/21/1957 | Ms Stmi USNR WWII |
| N26B-06 | Favre | David | | | husband; born 01/30/???? otherwise dates illegible |
| N26B-07/15 | (Unmarked) | | | | |
| N26B-16 | Bourgeois | Margaret McGinty | 01/31/1892 | 09/21/1956 | |
| N26B-19a | Lizanna | Louise | 02/15/1907 | 1975 | wife |
| N26B-19b | Lizanna | Jules | | | father |
| N26B-20 | Lizanna | Eugenia | | | mother |
| N26B-21a | Farve | Henry S. | | | (reserved) |
| N26B-21b | Farve | Charles | | | (reserved) |
| N26B-22a | Farve | John L. | 1893 | 1978 | |
| N26B-22b | Farve | Barbara A. | 1944 | 1946 | |
| N26B-23a | Farve | Emma V. | 1908 | 1981 | |
| N26B-23b | Farve | Terriel J. | 1939 | 1945 | |
| N26B-24/27 | (Unmarked) | | | | |
| N26B-28 | Griffin | Mary A. | 12/25/1862 | 12/25/1933 | |
| N26B-29 | Griffin | William | | | Corp Co. B 84 US Inf CLD |
| N26B-30 | Moseley | Freddy | 1873 | 1921 | |
| N26B-31 | Moseley | Ferdnand | 1924 | 10/26/1937 | |
| N27-01 | Attaway | Richard | 12/15/1862 | 10/01/1916 | WOW Sovereign |
| N27-02/03 | (Unmarked) | | | | |
| N27-04 | Lanaux | Henry | 01/15/1891 | 12/03/1938 | |
| N27-05 | Walker | John | 01/13/1900 | 06/13/1961 | |
| N27-06 | Walker | Harrison | 08/28/1870 | 08/20/1938 | |
| N27-07 | Burke | James W. | 1802 | 1870 | 68 yrs |
| N27-08/09 | (Unmarked) | | | | |
| N27-10 | Walker | Mildred | | | wife of Alexander |
| N27-11 | Walker | Alexander | 05/10/1899 | 06/19/1957 | Ms S2 US Navy WWI |
| N27-12/14 | (Unmarked) | | | | |
| N27-15 | Jacobs | Gladys Jenkins | 03/09/1887 | 03/03/1976 | |
| N27-16/17 | (Unmarked) | | | | |
| N27-18 | Jenkins | Julius | 06/28/1890 | 06/08/1959 | Ms Pfc D 329 SVC BN QMC WWI |
| N27-19a | Tartavoulle | Stella E. | 06/24/1914 | 05/20/1974 | |
| N27-19b | Tartavoulle | Carl Marshall | | 12/05/1983 | 73 yrs |
| N27-20 | Brady | Kerry Carla | 06/12/1970 | 04/27/1986 | |
| N27-21 | Farve | Henry Joseph | 03/04/1809 | 06/19/1987 | |
| N27-22 | Caspolich | Alex | 03/03/1898 | 10/17/1963 | Ms Cpl 61 Guard Co. AEF WWI |
| N27-23 | Caspolich | Alexander Joseph | | 02/19/1989 | 56 yrs |
| N27-24 | (Unmarked) | | | | |
| N27-25 | Favre | Ethel | 04/1905 | | (reserved) |
| N27-26 | Favre | Joseph R. | 02/1877 | 05/1946 | |
| N28-01 | Favre | Sarah Byas | 03/05/1883 | 02/11/1934 | wife of J. R. Favre |
| N28-02 | Favre | Marvin A. | 06/09/1911 | 01/04/1912 | |
| N28-03 | Jones | Frank | 1899 | 1967 | |
| N28-04 | Jones | Gertrude C. | 1902 | 09/18/1975 | |
| N28-05a | (Unmarked) | | | | |
| N28-05b | Jones | Edgar | 05/26/1925 | 07/28/1986 | |
| N28-06 | Lizanna | Bernard | 1892 | 1947 | |
| N28-07/08 | (Unmarked) | | | | |
| N28-09 | Williams | Ulrich Earl | | | son of Charles and Alice |
| N28-10 | Barthe | Ernest U. | 1896 | 1950 | nephew |
| N28-11 | Brinkley | Etoile P. | | 02/13/1945 | mother |
| N28-12a | Ross | Amanda | | 08/21/1907 | |
| N28-12b | Ross | M. B. | | 02/11/1896 | |
| N28-12c | Jenkins | Lela | | 08/08/1919 | |
| N28-12c | Turner | Lela | | 10/10/1940 | |
| N28-13 | (Unmarked) | | | | |
| N28-14a | Lewis | Dorothy Mae | 1933 | 1979 | |
| N28-14b | Lewis | Jessie | | | (reserved) |
| N28-15 | (Unmarked) | | | | |
| N28-16 | Young | Louise | 02/17/1915 | 11/1967 | |
| N28-17a | McKay | Andrew | | | |
| N28-17b | Huff | Alma | | | |
| N28-18 | (Unmarked) | | | | |
| N28-19 | Bell | Minima | | | |
| N28-20 | Bell | Clarence Rudolph Sr | 1922 | 1981 | S Sgt US Army WWII |
| N29-01 | Saucier | Theresa | | | |
| N29-02 | Saucier | Victor | | | |
| N29-03 | Sylvester | Herman | 09/03/1893 | 11/18/1976 | US Army WWI |
| N29-04 | Sylvester | Amanda Q. | 07/10/1900 | 09/30/1986 | |
| N29-05 | Wallace | Phalba C. | 04/10/1931 | 07/14/1973 | |
| N29-06 | Wallace | Johnny Jr. | | | (reserved) |
| N29-07/10 | (Unmarked) | | | | |
| N29-11 | Kelley | William | | | |
| N29-12 | Whalon | Joseph P. | 03/17/1876 | 05/25/1925 | Grave unmarked, info provided by family. |
| N29-13 | Whalon | Lillian Fayard | 07/14/1880 | 04/1959 | Dates illegible, info provided by family. |
| N29-14/15 | Whalon | Sadie | 09/12/1900 | 05/1901 | Grave unmarked, info provided by family. |
| N29-16 | Kennedy | Lillian | 1897 | 1983 | |
| N29-17 | Kennedy | Thaddeus Lorenza | 1893 | 1952 | |
| N29-18 | Price | David. | 01/01/1894 | 04/13/1965 | |
| N30-01 | (Unmarked) | | | | |
| N30-02 | Poolson | Louis J. | 04/14/1899 | 07/07/1899 | |
| N30-03 | Francois | Claude | 01/01/1900 | 12/25/1955 | |
| N30-04 | (Unmarked) | | | | |
| N30-05 | Wright | Emma C. | 09/20/1898 | 11/14/1980 | |
| N30-06a | Clark | Jake | | | age 77; CUO of IOOF, Lodge 1704 |
| N30-06b | Ruffin | Luvenia | 03/09/1895 | 06/21/1982 | |
| N30-07 | Clark | Orelia | | 09/15/1940 | born in Woodville, Ms |
| N30-08 | Clark | Orelia | 09/30/1885 | 03/06/1954 | mother |
| N30-09 | Clark | James J. | 12/08/1889 | 10/27/1957 | |
| N30-10a | Curry | Albert Jr. | | 1961 | |
| N30-10b | Butler | Lucinda Clark | | 06/04/1977 | age 104, daughter of James Jacob "Jake" Clark and Orelia Thompson |
| N30-10c | Nelson | James | | | |
| N30-11 | Vontour | Willie | | | |
| N30-12 | Whavers | Roberta R. | 1919 | 1974 | |
| N30-13 | (Unmarked) | | | | |
| N30-14 | Vontoure | Romain T. | 1897 | 1929 | |
| N30-15 | Vontoure | Edna | 1899 | 1954 | |
| N30-16 | Bell | Lucy P. | 03/27/1889 | 09/1965 | |
| N30-17 | Cotton | Laura W. | | | |
| N30-18 | (Unmarked) | | | | |
| N30-19 | Davis | Thomas | | | dob 07/25/????, dod 04/10/????, years illegible |
| N30-20 | (Unmarked) | | | | |
| N31-01/02 | (Unmarked) | | | | |
| N31-03 | Pouyadou | Victor | 12/16/1878 | 04/1914 | |
| N31-04 | (Unmarked) | | | | |
| N31-05 | Dovale | Hazel | | | |
| N31-06 | Curry | Edward | | | |
| N31-07 | (Unmarked) | | | | |
| N31-08 | Bernard | Alice | 11/22/1884 | 05/11/1927 | 43 yrs |
| N31-09 | (Unmarked) | | | | |
| N31-10 | Vonture | Romain T. Jr. | 1922 | 1975 | US Army WWII |
| N31-11 | White | Jennie | 1891 | 1971 | |
| N31-12 | White | Edmond | 1872 | 1953 | |
| N31-13 | Prudeau | Elizabeth Benoit | | | |
| N31-14 | Prudeau | Pierre | | 03/15/1915 | age 78 years |
| N31-15 | Proffit | Goldie Dokes | 08/20/1891 | 01/28/1942 | wife of Walter Proffit |
| N31-16 | Proffit | Leonard | | | Ms Pfc Co. D 390 Engr Reg WWII |
| N31-17 | Miley | Sophronia | | 09/29/1954 | |
| N31-18 | Johnson | Fred | 10/02/1897 | 06/29/1917 | Pvt Army WWII |
| N31-19 | Miltonness | W. | 08/08/1902 | 05/11/1934 | |
| N31-20 | (Unmarked) | | | | |
| N31-21a | Meggs | Thomas B., Sr. | 1910 | 1986 | |
| N31-21b | Meggs | Margaret A. | 1918 | | (reserved) |
| N31-22 | (Unmarked) | | | | |
| N31-23 | Meggs | Ellestine | | 05/15/1815 | |
| N31-24 | (Unmarked) | | | | |
| N31-25 | Ware | John | | 03/1923 | husband |
| N31-26 | Ware | Erma | | 12/1936 | wife |
| N31-27 | Keith | Vivian Ware | | 11/1938 | daughter; 28 yrs |
| N32-01 | Lampkins (?) | Dorothy | | | |
| N32-02 | Harrington | Jennette S. | 12/07/1951 | 05/21/1983 | |
| N32-03 | Saucier | Marguerite Louise | 09/14/1945 | 10/20/1987 | |
| N32-04 | Cook | Nathan | | 10/10/1933 | |
| N32-05/06 | (Unmarked) | | | | |
| N32-07 | Smith | Albert | | 07/21/1986 | |
| N32-08 | Williams | Augustine | 10/16/1879 | 04/03/1953 | |
| N32-09 | Warren | Willie | 1912 | 1976 | US Army WWII |
| N32-10 | Lanaux | Daniel L. | 10/21/1932 | 05/26/1964 | Ms Sp5 HQ Trp 4 Cav 1 Inf Div |
| N32-11 | (Unmarked) | | | | |
| N32-12a | Singleton | Ralph | 12/23/1919 | 03/28/1939 | |
| N32-12b | Singleton | Johnny | 01/30/1921 | 09/07/1984 | |
| N32-13a | Lewis | Warren P. | 10/05/1923 | 12/30/1964 | |
| N32-13b | Lewis | Jessie Willis Sr. | 12/10/1895 | 01/21/1983 | |
| N32-14 | Lewis | Agnes | 02/13/1897 | 07/01/1979 | |
| N32-15/16 | (Unmarked) | | | | |
| N32-17 | Graves | Wilfred | 09/16/1903 | 03/30/1966 | |
| N32-18a | Graves | Willie | | 07/18/1922 | |
| N32-18b | Williams | May Burke | | 12/15/1946 | |
| N32-18c | Graves | Helena | | 03/16/1962 | |
| N32-19 | Simmons | Eugene | | 12/08/1928 | IOOF, Lodge 1740 |
| N32-20 | Simmons | Mary | 1880 | 1948 | |
| N32-21 | Simmons | Mat | | | IOOF, Lodge 1740; born in Martinville, Parish |
| N32-22 | Robinson | Joseph Edward | 12/28/1893 | 06/14/1894 | |
| N32-23a | Meggs | Henrietta | 02/19/1922 | 10/13/1981 | |
| N32-23b | Meggs | Allen H. | 07/01/1930 | 11/20/1965 | |
| N32-23b | Meggs | Arthur F. | 03/01/1924 | 02/10/1974 | |
| N32-24a | Meggs | Marshall | 1879 | 1949 | |
| N32-24b | Meggs | Myrtle | 1888 | 1938 | |
| N32-24c | Meggs | Leonard | 1920 | 1938 | |
| N32-25 | (Unmarked) | | | | |
| N32-26 | Burks | Grace | 12/24/1849 | 01/26/1909 | |
| N33A-01/02 | (Unmarked) | | | | |
| N33A-03 | Franklin | William Sr. | 08/12/1877 | 02/28/1937 | father |
| N33A-04 | Franklin | Marie C. | | 11/20/1948 | |
| N33A-05 | Payne | Milton S. | 1920 | 1982 | US Army WWII |
| N33A-06/08 | (Unmarked) | | | | |
| N33A-09 | Caspolich | Marion | 12/11/1889 | 08/03/1937 | |
| N33A-10 | Caspolich | Johnne | | | |
| N33B-01/02 | (Unmarked) | | | | |
| N33B-03 | Jushaway | Joe Louis | 01/12/1948 | 12/21/1974 | |
| N33B-04 | Payne | Anthony | 09/09/1957 | 12/19/1978 | |
| N33B-05 | Johnson | Victoriam | 08/03/1877 | 07/10/1955 | |
| N33B-06 | Smith | Irmar | 07/18/1903 | 10/06/1971 | |
| N33B-07 | Smith | Loucious J. | 08/25/1903 | 12/11/1971 | |
| N33B-08 | Payne | Keith | 1952 | 1979 | An US Navy, Vietnam |
| N33B-09 | Overstreet | Susie | 05/28/1888 | 05/06/1958 | |
| N33B-10/11 | (Unmarked) | | | | |
| N33B-12 | Ernse | Rosa | | 04/24/1957 | child |
| N33B-13 | Daniels | Florian A. | 10/05/1919 | 02/04/1965 | son |
| N33B-14 | Daniels | Elsie V. | 1878 | 1957 | mother |
| N33B-15 | Daniels | Wiley A. | 12/21/1877 | 10/31/1967 | father |
| N33B-16 | Daniels | Genieve | | 01/15/1984 | daughter; age 80 |
| N33B-17/18 | (Unmarked) | | | | |
| N33B-19 | White | Oscar | 02/15/1887 | 09/24/1974 | |
| N33B-20 | Gilliam (?) | Charles | | | |
| N33B-21a | Bouchee | Dud | 10/27/1880 | 03/25/1937 | |
| N33B-21b | Bouchee | Lee | 1910 | 1984 | |
| N33B-22 | Barthe | Sterling | | 10/07/1918 | La Pvt 161 Depot Brig |
| N33B-23 | Bouchee | Carrie Bolton | 02/14/1910 | 03/30/1989 | |
| N33B-24/25 | (Unmarked) | | | | |
| N33B-26 | Holmes | Clementine | | | age 35 |
| N33B-27 | Young | Howard | 05/22/1914 | 09/29/1973 | Ms Pvt US Army WWII |
| N33B-28 | (Unmarked) | | | | |
| N33B-29 | (Illegible) | | | | |
| N34A-01 | Labat | Roland C. | 11/1915 | 08/1935 | |
| N34A-02 | Labat | Rogers F. | 03/24/1918 | 10/21/1981 | |
| N34A-03 | Labat | Mamie H. | 01/24/1891 | 03/15/1986 | |
| N34A-04 | Benjamin | family | | | |
| N34A-05 | (Unmarked) | | | | |
| N34A-06 | Johnson | Olivia | 04/03/1904 | 06/28/1924 | |
| N34A-07/11 | (Unmarked) | | | | |
| N34B-01/04 | (Unmarked) | | | | |
| N34B-05 | Fairconeture | Ernest | 08/07/1896 | 12/03/1974 | |
| N34B-07 | Acker | Syretta Renee | 02/08/1981 | 11/16/1985 | |
| N34B-08/12 | (Unmarked) | | | | |
| N34B-13 | Bailey | Samuel B. | 1859 | 1944 | |
| N34B-14 | Pollard | Jas. H. | | | (reserved) |
| N34B-15 | Pollard | Ada M. | | | (reserved) |
| N34B-16 | Burke | Charles | | | Co. B 75 USC Inf. |
| N34B-17 | Fairconetue | Arthur | 06/08/1901 | 02/25/1956 | |
| N34B-18 | (Unmarked) | | | | |
| N34B-19 | Banks | Allena M. | 03/14/1906 | 05/22/1965 | |
| N34B-20 | Porken | James L. | 06/02/1919 | 07/13/1988 | |
| N34B-21a | Parker | Turner | 10/26/1900 | 10/09/1976 | |
| N34B-21b | Parker | Henry ? | | | 75 years; dod 09/09/????, year illegible |
| N34B-22 | Parker | Gladys | 04/20/1903 | 05/27/1973 | |
| N34B-23 | (Unmarked) | | | | |
| N34B-24a | Parker | Jessie | 11/13/1886 | 10/11/1938 | |
| N34B-24b | Black | Baby Herbert III | | 09/18/1976 | |
| N34B-25 | Jackson | Lou | | 02/15/1913 | age 72 yrs |
| S01-01 | (Unmarked) | | | | |
| S01-02 | Burrow | Carlton Gary | 11/08/1944 | 09/02/1985 | 41 yrs |
| S01-03 | Burrow | Lesa E. | 1911 | 1950 | |
| S01-04 | Brunson | Jane Craig Ingraham | 11/30/1834 | 01/21/1911 | wife of A. S. Brunson |
| S01-05 | Wallace | William Lyon Jr. | 08/26/1913 | 08/11/1915 | son of Wm. Lyon & Jane Brunson-Wallace |
| S01-06 | Brunson | A. L. | 03/25/1843 | 09/05/1908 | |
| S01-07 | (Unmarked) | | | | |
| S01-08 | Maynard | Mabel Maples | 08/27/1882 | 11/10/1953 | |
| S01-09 | Maynard | Duncan Walter | 10/06/1877 | 11/15/1946 | |
| S01-10a | Lobrano | Katherine C. Maynard | 01/03/1871 | 01/19/1921 | wife of Frank J. Lobrano |
| S01-10b | Borne | Alvina K. Lobrano | 06/22/1901 | 04/19/1929 | wife of C. J. Borne |
| S01-10c | Lobrano | Frank J. | 10/04/1870 | 09/15/1935 | |
| S01-11 | Maynard | George W. | | | Co. C 2 Ark Cav CSA |
| S01-12 | Maynard (?) | Josie | | 09/14/1908 | 'Our darling Josie'; age 5 |
| S01-13a | Zimmerman | Andrew | | | |
| S01-13b | Johnston | William W. | | 12/23/1970 | |
| S01-14a | Zimmerman | Katherine | | 12/16/1921 | wife of Andrew Zimmerman; 67 yrs |
| S01-14b | Johnston | Albert | | 11/07/1967 | 62 yrs |
| S01-15 | Johnston | Andrew Joseph | | 08/18/1966 | 61 yrs |
| S01-16b | Johnston | Melvin Paul | | 12/06/1967 | 50 yrs |
| S01-17a | Fayard | Charles A. | | | |
| S01-17b | La Fontaine | Antoinette A. | | | |
| S01-18 | La Fontaine | Daniel J. | | 07/10/1953 | |
| S01-19 | Fayard | Emma | 02/05/1864 | 12/22/1944 | |
| S01-20 | Baughman | Emma Jane | | | |
| S01-21 | Bourgeois | Evariste E. | 03/01/1852 | 03/22/1935 | |
| S01-22 | Bourgeois | Rosa White | 11/23/1859 | 08/26/1907 | wife of E. V. Bourgeois |
| S01-23 | Bordages | Sarah Bourgeois | 04/09/1889 | 06/02/1936 | wife of A. J. Bordages |
| S01-24 | Bordages | Alcide John | 09/02/1889 | 09/24/1948 | |
| S01-25 | Bordages | Theresa | 03/26/1928 | 06/05/1992 | |
| S01-26 | Perre | H. R. | 1877 | 1919 | |
| S01-27 | Perre | Augusta Sanger | | 05/20/1951 | |
| S01-28 | Beyer | Frances C. | 1900 | 1954 | |
| S01-29 | Carver | Allen F. | 08/22/1909 | 07/03/1955 | |
| S01-30 | Carver | Florence | 07/10/1914 | 11/04/1976 | |
| S01-31 | Kern | Bernice A. | 09/24/1904 | 01/22/1986 | |
| S01-32 | Kern | Joseph A. | 01/22/1900 | 03/21/1980 | |
| S02-01 | (Unmarked) | | | | |
| S02-02 | Proulx | Christopher Noel | 10/15/1964 | 05/24/1987 | |
| S02-03 | Garner | Nina M. | 02/01/1903 | 07/12/1985 | |
| S02-04 | Garner | Fred C. | 11/23/1906 | 07/18/1970 | Ms Cpl 1803 SVC Comd Unit WWII |
| S02-05 | Craft | Hattie B. | | 08/30/1965 | age 73 |
| S02-06 | Craft | John | | 09/10/1955 | |
| S02-07 | Craft | Roy J. | | 06/05/1975 | |
| S02-08a | Blaum | Edith Alexander | 12/12/1891 | 05/28/1973 | |
| S02-08b | Blaum | Frank B. | 05/28/1892 | 12/22/1974 | Cpl US Army |
| S02-09 | Roland | Ernestine Frances Boardman | 1893 | 1985 | Wife of James Sr.; Daughter of William Tyler and Henrietta Leonhard Boardman |
| S02-10 | Roland | James Clarence Sr. "Doc" | 1885 | 1978 | |
| S02-11 | (Unmarked) | | | | |
| S02-12 | Roland | James Clarence Jr. | 10/17/1914 | 06/26/1996 | (reserved) |
| S02-13 | Roland | Jeannie di Benedetto | 01/20/1912 | | (reserved) |
| S02-14/17 | (Unmarked) | | | | |
| S02-18 | Seuzeneau | George L., Sr. | 01/10/1888 | 04/13/1977 | (exact dates from obit) |
| S02-19 | Seuzeneau | Myrtle Pieri | 1888 | 07/14/1947 | (exact dates from obit) |
| S02-20 | (Unmarked) | | | | |
| S02-21 | Toulme | Millard E. or Fillmore | 11/01/1897 | 06/27/1966 | Ms Cpl Co. F 114 Ammo Train, WWI; son of Robert W. and Clementina Toulme |
| S02-22 | Jordy | Heloise W. | 1889 | 1962 | |
| S02-23 | Graham | Edward | 1909 | 1965 | |
| S02-24 | (Unmarked) | | | | |
| S02-25 | Saucier | Edna B. | 05/27/1893 | 12/25/1948 | |
| S02-26 | Saucier | Alcine E. | 03/11/1889 | 02/09/1973 | |
| S02-27 | Strong | Albert | | 03/13/1920 | age 41 |
| S02-28 | Strong | Louise C. | 1846 | 1915 | |
| S02-29 | Strong | Charles M. | 01/16/1845 | 04/20/1901 | |
| S02-30/31 | (Unmarked) | | | | |
| S02-32 | Hewitt | James C. | 08/17/1808 | 11/17/1881 | uncle; born in Baltimore, Maryland |
| S02-33 | Seal | Jacob | 1793 | 1883 | |
| S02-34 | Seal | Catherine | 1800 | 1884 | wife of Jacob |
| S02-35 | Newman | Helen | 12/25/1815 | 05/25/1864 | mother |
| S02-36 | Seal | Joan Newman | 08/04/1848 | 10/06/1915 | wife of D. B. Seal |
| S02-37 | Seal | Daniel B. | 02/24/1835 | 06/19/1916 | |
| S02-38 | (Unmarked) | | | | |
| S02-39 | Strong | Urith H. | | | (reserved) |
| S02-40 | Strong | William D. | 1891 | 1969 | |
| S02-41 | Strong | Cora | 12/18/1893 | 02/08/1926 | wife of Willie Strong |
| S02-42 | Cameron | Alexander F. | 02/15/1839 | 12/17/1905 | native of Ontario, Canada |
| S03-01/03 | (Unmarked) | | | | |
| S03-04 | Posey | D. D. | | | Masonic emblem |
| S03-05 | (Unmarked) | | | | |
| S03-06 | Ziegler | Daniel | 1844 | 1919 | |
| S03-07b | Burratine | Frank J. | 06/20/1877 | 08/06/1877 | |
| S03-07c | Burratine | Henry C. | 11/09/1878 | 05/01/1879 | |
| S03-08 | Bragg | Velma Garrett | 04/10/1899 | 12/03/1963 | mother |
| S03-09 | Bragg | Oscar Roe Sr. | 10/14/1895 | 01/15/1964 | father |
| S03-10 | Stoltz | infant boy | | 06/02/1983 | |
| S03-11 | Stoltz | Olga Albertine | 01/12/1901 | 10/06/1985 | |
| S03-12/13 | (Unmarked) | | | | |
| S03-14 | Gerlach | Augusta M. | 1853 | 1906 | |
| S03-15 | Carrio | Herbert J. | 1879 | 1924 | |
| S03-16 | Carrio | Louanne W. | 1888 | 01/11/1982 | |
| S03-17 | Carpenter | Augusta A. | 1908 | 1966 | |
| S03-18 | Carpenter | Doris E. | 1936 | 1966 | |
| S03-19 | Gex | W. J. Sr. | 1878 | 1937 | |
| S03-20 | Gex | Amanda Von Gohren | 1881 | 1948 | |
| S03-21 | Phillips | Wena Gex | 1901 | 1950 | |
| S03-22 | Gex | Stella A. | 1909 | 1973 | |
| S03-23 | Boudin | George | 1908 | 1949 | |
| S03-24 | Boudin | Louise Fayard | 1901 | 1933 | wife of George Boudin |
| S03-25/26 | (Unmarked) | | | | |
| S03-27 | Fayard | E. M. | | | |
| S03-28/30 | (Unmarked) | | | | |
| S03-31a | Fayard | Norvin J. | 08/10/1915 | 08/01/1973 | |
| S03-31b | Portage | Genieve | 1957 | 1963 | |
| S03-32a | Fayard | Walter Fabin | 02/26/1956 | 01/19/1975 | |
| S03-32b | Favre | Natalie Luc | 06/22/1893 | 08/10/1936 | |
| S03-33 | Luc | Edward | 1909 | 1936 | WOW emblem |
| S03-34 | Luc | Agnes | 1877 | 1939 | |
| S03-35/36 | (Unmarked) | | | | |
| S03-37 | Hillen | Pauline L. Wagerle | 03/09/1846 | 07/04/1902 | wife of Charles Hillen, native of Horfigheim, Wurtemburg, Germany |
| S04-01 | Bourgeois | Alice Gaines | 10/22/1901 | 12/01/1974 | |
| S04-02 | Bourgeois | William Douglas | 08/19/1899 | 08/23/1962 | |
| S04-03 | Laizer | Aurelic | | 03/17/1906 | |
| S04-04/05 | (Unmarked) | | | | |
| S04-06 | Manieri | Catherine S. | 1846 | 1899 | |
| S04-07 | (Unmarked) | | | | |
| S04-08 | Manieri | Andrew T. | 1871 | 1945 | |
| S04-09 | Manieri | Catherine Luxich | 1865 | 1951 | |
| S04-10 | Hobbs | Clifford H. | | 12/08/1919 | Ga Pvt 151 M.G.Batn N, 42 Div |
| S04-11 | Hobbs | James T. | 09/24/1893 | 09/17/1917 | |
| S04-12 | Thompson | Mae Luc | 05/05/1895 | 05/05/1971 | |
| S04-13 | Thomas | Gustave D. | 03/13/1881 | 07/23/1929 | WOW emblem |
| S04-14 | Thomas | Albert I. | 1921 | 1928 | |
| S04-15/16 | (Unmarked) | | | | |
| S04-17 | Pucheu | Charles R. | 08/26/1924 | 01/01/1975 | GM 2 US Navy |
| S04-18 | Everland | Mary | | | |
| S05-01 | Bangard | Alice Cromler | 04/08/1878 | 10/1905 | wife of John Bangard |
| S05-02 | Bangard | Madelaine? | | 11/12/1915 | wife of Leopold Bangard |
| S05-03 | (Unmarked) | | | | |
| S05-04 | Cameron | Sallie C. | 03/09/1843 | 05/30/1897 | wife of Alexander F. Cameron |
| S05-05 | Cameron | Frank St. C. | | | |
| S05-06 | Cameron | Herbert A. | 03/10/1873 | 11/15/1878 | |
| S05-07 | Taconi | Myrtle A. | 04/07/1914 | 07/05/1976 | |
| S05-08 | Taconi | Mary Frances | 02/14/1872 | 01/30/1937 | mother |
| S05-09 | Taconi | James A. | 01/31/1878 | 10/22/1944 | |
| S05-10a | Taconi | John | | 1904 | |
| S05-10b | Taconi | Nemoie | | 1912 | |
| S05-10c | Taconi | Ruth | | 1924 | |
| S05-10d | Taconi | Joe Jr. | | 1926 | |
| S05-10e | Nelson | E. J. | | 1953 | |
| S05-11 | Joyner | Cuthbert Isiah | 04/02/1882 | 04/23/1945 | father |
| S05-12a | Joyner | Minnie McLeon | 09/25/1880 | 10/21/1943 | wife of C. I. Joyner |
| S05-12b | Joyner | infant son | | | infant son of Minnie M. & C. I. Joyner |
| S05-13 | Duffy | Frederick P. F., Rev. | | 03/11/1916 | Masonic emblem |
| S05-14 | Hill | Dave Rufus | 05/30/1875 | 10/27/1931 | |
| S05-15 | Hill | Emily | | | |
| S05-16 | Hill | David A. | | 1934 | child |
| S05-17 | Wandel | Ethel McDaniel | 11/19/1891 | 02/17/1972 | |
| S05-18 | McDaniel | William Henry | 04/04/1858 | 08/17/1941 | |
| S05-19 | McDaniel | Warren W. | 10/04/1893 | 10/27/1967 | La Pfc Med Dept WWI |
| S05-20 | Dillmann | Frank Phillip | 1888 | 1961 | |
| S05-21 | Dillmann | Pearl Emily | 1893 | 1925 | |
| S05-22/23 | (Unmarked) | | | | |
| S05-24 | Bangard | Lulu B. | | | (reserved) |
| S05-25 | Bangard | Murray T. | | | (reserved) |
| S05-26 | Toulme | Robert W. | 1859 | 1934 | son of J.V Toulme and Martha Carr, source 1870 census |
| S05-27 | Toulme | Antionetta A. | 05/1865 | 1944 | Birth month from 1900 Census; daughter of J.V and Martha Carr Toulme |
| S05-28 | Toulme | John F. | 1889 | 1932 | son of Robert W. and Clementina Toulme |
| S05-29 | Toulme | Jerald L. | 1896 | 1896 | |
| S05-30 | Hardee | Edna Toulme | 1882 | 1918 | |
| S05-31 | (Unmarked) | | | | |
| S05-32 | Landrieu | Melanie Claude LeMoyne | 1810 | 1886 | born in France |
| S05-33 | Landrieu | Stanislaus Geoffries | 02/08/1798 | 1870 | born in France; birthdate from Ancestry.com |
| S05-34 | (Unmarked) | | | | |
| S05-35 | Landrieu | Henri W. | 04/1848 | | Birthdate from 1900 census |
| S05-36 | (Unmarked) | | | | |
| S05-37 | Lewis | Milton Alexander | 12/19/1863 | 12/08/1963 | father |
| S05-38 | Lewis | Minnie Lee Beason | 06/05/1879 | 10/31/1956 | mother |
| S05-39 | Christy | James P. | 08/11/1872 | 05/22/1945 | |
| S05-40 | Christy | Nellie L | 02/18/1877 | 12/19/1963 | |
| S05-41 | Christy | Alvin J. | 01/07/1897 | 01/28/1966 | La Pvt Hq Co 17 Div WWI |
| S05-42 | Delcuze | Lydia M. | 06/15/1871 | 02/17/1947 | mother |
| S05-43 | Delcuze | Eugene H. | 03/18/1869 | 08/15/1902 | |
| S05-44 | Delcuze | Arthur J. | 03/19/1897 | 01/30/1980 | Pvt US Army WWI |
| S06-01 | Cromler | Carrie Loed | 01/13/1853 | 07/16/1922 | wife of William Cromler |
| S06-02 | Bangard | Leopold | 12/22/1853 | 06/12/1922 | |
| S06-03 | Bing | William Melvin | 01/27/1870 | 09/09/1932 | father, Postman-Poet-Member Branch 33, N.A.L.C. |
| S06-04 | (Unmarked) | | | | |
| S06-05 | Anthony | James Monroe | | | actual grave; misplaced stone on row S9#6 |
| S06-06a | Fricke | Charles | | | |
| S06-06b | Fricke | Carolyn | | | wife |
| S06-07a | Hood | Amelia F. | | | |
| S06-07b | Hood | Rob | | | husband |
| S06-08 | Noto | Anthony J. | 10/04/1904 | 03/30/1983 | |
| S06-09 | Noto | Robert | 09/07/1929 | 09/09/1929 | |
| S06-10 | (Unmarked) | | | | |
| S06-11 | Schultz | Claud | 03/20/1933 | 12/26/1934 | |
| S06-12/14 | (Unmarked) | | | | |
| S06-15 | Pucheu | Gertrude Findhold | 02/06/1899 | 09/16/1961 | |
| S06-16 | Pucheu | John Marion | 11/25/1862 | 11/30/1945 | |
| S06-17 | Green | Agnes P. | 1904 | 1960 | |
| S06-18 | Green | William H. | 1899 | 1975 | |
| S06-19 | De Lappe | Campbell K. | 08/16/1851 | 06/21/1906 | |
| S06-20 | De Lappe | Mrs. C. K. | 10/23/1855 | 12/19/1913 | nee Jeanne de Montluzin du Sauzay |
| S07-01 | Pettibone | Harold Erwin | 01/27/1915 | 01/30/1915 | |
| S07-02 | Pettibone | Charles Frederick | 08/22/1916 | 03/27/1917 | |
| S07-03 | Thompson | Charles Q. | 1872 | 1949 | |
| S07-04 | Thompson | Anna H. | 1872 | 1947 | |
| S07-05/06 | (Unmarked) | | | | |
| S07-07 | Osoinach | Zelida | 05/22/1861 | 06/24/1944 | |
| S07-08 | Osoinach | Belle | 03/22/1869 | 06/19/1961 | |
| S07-09 | Schultz | Chester L. | 11/12/1917 | 07/19/1962 | father |
| S07-10 | Schultz | Frances Elvira | 02/15/1897 | 08/20/1944 | |
| S07-11 | Schultz | Louis Joseph | 09/27/1891 | 09/28/1942 | |
| S07-12 | Osbourn | Edwina | 1890 | 1975 | |
| S07-13 | Osbourn | Mae Bell | 1882 | 1948 | |
| S07-14 | Davis | Edith K. | | 01/25/1940 | wife of P. Pem G. Davis |
| S07-15 | Davis | Pemberton G. | 04/23/1885 | 04/13/1948 | |
| S07-16 | Davis | P. Pem | 1853 | 1919 | |
| S07-17 | Camden | Jane Priestly | | 09/12/1885 | wife of John B. Camden |
| S07-18 | Smith | Margrette | | | age 74 years |
| S07-19 | Rhodes | Levin Lane | 08/08/1864 | 01/28/1898 | son of Rufus & Margaret Rhodes |
| S07-20 | Bragg | E. G. | 07/16/1877 | 03/11/1933 | |
| S07-21 | Crawford | Louise A. | 01/08/1880 | 10/30/1965 | |
| S07-22 | Crawford | Louise D. | 01/12/1888 | 09/17/1969 | |
| S07-23 | Crawford | C. Owen | 1878 | 1941 | |
| S07-24 | Crawford | Mary Louise | 1917 | 11/02/1935 | |
| S07-25 | (Unmarked) | | | | |
| S07-26 | Joyce | Frank | 06/23/1888 | 08/29/1900 | son of J.F. & M.E. Joyce |
| S07-27 | Joyce | Mary E. | 08/01/1859 | 08/25/1943 | |
| S07-28 | Joyce | John F. | 03/01/1857 | 02/10/1900 | WOW emblem |
| S07-29 | Delcuze | Paul V. | 1866 | 1956 | |
| S07-30 | Delcuze | Beulah White | 03/29/1871 | 10/30/1959 | |
| S07-31a | Delcuze | Pressly F. | | 08/01/1894 | |
| S07-31b | Delcuze | Beulah P. | 04/13/1905 | 10/06/1907 | |
| S07-32 | Delcuze | Ruth | 05/26/1907 | 10/18/1920 | |
| S07-33/35 | (Unmarked) | | | | |
| S07-36 | Peyroux | Nolan P., Major | 1897 | 1943 | Masonic emblem |
| S07-37 | Peyroux | A., DDS | 1873 | 1910 | Masonic emblem |
| S07-38 | Browne | William P. Rev | 08/15/1850 | 01/17/1928 | |
| S07-39 | Browne | Mary J. | 03/14/1857 | 08/09/1941 | |
| S07-40 | Strong | Sidonia C. | 02/07/1896 | 04/20/1972 | |
| S07-41 | Strong | Edward L. | 04/23/1881 | 02/01/1943 | |
| S08-01 | Radulović | Đuro (Djuro) | 05/22/1810 | 05/20/1850 | son of Spiro and Simana (maiden name Režić), born in Europe, at Adriatic Sea in town Novi of Boka Kotorska (Kotor Bay); He lived according to the law of the Eastern Church of Jerusalem; (marked on tombstone in Old Church Slavonic script) |
| S08-02 | (Unmarked) | | | | |
| S08-03 | Carver | Etta Leona | 09/05/1902 | 10/18/1926 | |
| S08-04 | (Unmarked) | | | | |
| S08-05 | Soldinie | William | 11/11/1867 | 01/18/1925 | WOW emblem |
| S08-06 | Soldinie | Julia | 1872 | 1952 | |
| S08-07 | Bordages | Louis N. | 07/31/1864 | 11/08/1938 | |
| S08-08/09 | (Unmarked) | | | | |
| S08-10 | Prevou | Russell Leo | 12/11/1914 | 11/10/1955 | Ms Pvt Co B 23 Bn 1 RTC WWII |
| S08-11 | Prevou | Blanche Ladner Schwall | 1885 | 1950 | our mother |
| S08-12 | Grather | Vivian | 1905 | 1981 | mom |
| S08-13 | Grather | Walter Sr. | 1904 | 1960 | dad |
| S08-14a | (Unmarked) | | | | |
| S08-14b | Schwall | Daniel M. | 09/05/1921 | 06/09/1959 | Ms Pfc 450 Ord Ham Co WWII |
| S08-15a | Schwall | Zodie | 10/21/1886 | 01/23/1964 | |
| S08-15b | Schwall | Julius J. Sr. | 07/25/1876 | 04/02/1957 | |
| S08-16/17 | (Unmarked) | | | | |
| S08-18 | Johnson | Jamie J. | 10/14/1876 | 10/14/1878 | |
| S08-19/22 | (Unmarked) | | | | |
| S08-23 | Ladner | Sylvan J.Sr. | | 08/01/1935 | 57 yrs |
| S08-24 | Ladner | Jeanne Adele | | | 79 yrs |
| S08-25 | Ladner | John J. Sr. | | 12/19/1937 | 27 yrs |
| S08-26 | Ladner | Sylvan J. Jr. | | 02/06/1990 | Hancock County sheriff for 16 years |
| S08-27a | Osoinach | Anthony G. | 1826 | 1904 | |
| S08-27b | Osoinach | Carolina L. | 1835 | 1907 | |
| S08-27c | Meek | William H. | 1820 | 1907 | |
| S08-27d | Meek | Mary E. | 1837 | 1915 | |
| S08-27e | Osoinach | John | 1864 | 1938 | |
| S08-27f | Ballard | Ethel O. | 1904 | 1940 | |
| S08-27g | Osoinach | Lou Meek | 1872 | 1951 | |
| S08-28 | Norris | Joseph L. | 01/19/1820 | 03/16/1902 | |
| S08-29 | Von Gohren | Mrs. Ada | 09/08/1897 | | date of death illegible |
| S08-30 | Delamain | Ernest Von Gohren | | 09/22/1935 | age 31 |
| S08-31 | Von Gohren | Herman Ludvic | | 08/31/1906 | mon pere; from Saxony, Germany; 64 yrs. |
| S08-32a | Von Gohren | Caroline Beret | | 10/26/1908 | bonne mere; from Vasslaune, France |
| S08-32b | Johnson | Clarence | | 07/14/1891 | 87 yrs; ashes |
| S08-33 | Jenks | Paula | 1871 | 12/12/1957 | |
| S08-34 | Gex | Ethel H. | 03/31/1903 | 02/07/1980 | |
| S08-35/36 | (Unmarked) | | | | |
| S08-37 | Spence | Florence D. | 07/18/1900 | 09/29/1985 | |
| S08-38 | Spence | Robert E. | 1901 | 1965 | |
| S08-39a | Jaquillard | Arthur J. Jr. | 01/25/1965 | 01/27/1965 | |
| S08-39b | Jaquillard | Melissa A. | 03/09/1966 | 03/10/1966 | |
| S08-39c | Jaquillard | Chuck J. | 10/09/1968 | 10/10/1968 | |
| S08-40 | (Unmarked) | | | | |
| S08-41 | Garcia | Albert | 02/18/1908 | 11/22/1943 | |
| S08-42 | Ziegler | Leontine B. | 1886 | 1976 | |
| S08-43 | Ziegler | Daniel J. | 1878 | 1954 | |
| S08-44 | Robertson | Powhattin | | 10/01/1820 | died in Shieldsboro |
| S08-45a | Summers | Maurice | 07/21/1885 | | birthdate from WWI draft registration |
| S08-45b | Summers | Izettie | | | wife of Maurice; first name from 1930 census |
| S08-46 | Summers | George | 1922 | | son; birth date from 1930 census |
| S08-47 | Munch | John A. | 08/03/1894 | 05/03/1982 | |
| S08-48 | Munch | Sarah C. | 04/04/1908 | 05/01/1975 | |
| S08-49 | Munch | Regina | | 05/25/1902 | age 54; mother of John |
| S08-50 | Munch | John A. | 02/21/1868 | 01/14/1909 | |
| S09-01 | Mc Arthur | Mary Rose | 12/24/1901 | 11/03/1953 | |
| S09-02 | Nielsen | Niels Peter | 03/05/1874 | 07/22/1956 | Born: Noland, Denmark |
| S09-03 | Brune | Eunice N. | 10/07/1922 | 01/06/1981 | |
| S09-04 | (Unmarked) | | | | |
| S09-05 | Oliver | James Ray | 01/04/1954 | 01/04/1954 | |
| S09-06 | Anthony | James Monroe | | | stone misplaced; actual grave is row S6#5 |
| S09-07 | Bennett | Mary A. | 12/30/1892 | 04/06/1978 | mother |
| S09-08 | Bennett | Robert J. | 03/28/1887 | 10/22/1960 | father |
| S09-09 | Bofill | Eulalie Antoinette | 02/12/1817 | 12/10/1856 | born in New Orleans |
| S09-10/11 | Avenius | ? | | | name in coping around graves |
| S09-12 | Cooper | Emma P. | 1893 | 1976 | |
| S09-13a | Phillips | Annie | 1865 | 1910 | |
| S09-13b | Phillips | Peter | 1868 | 1956 | |
| S09-14 | Phillips | Louis J. | 04/10/1896 | 07/20/1964 | La Pvt US Army WWI |
| S09-15 | Phillips | Lionel L. | 05/30/1901 | 09/03/1978 | Pvt US Army |
| S09-16 | Kimmel | Laura E. | 11/02/1889 | 09/07/1966 | |
| S09-17 | Kimmel | Edward C. | 04/14/1884 | 12/19/1967 | |
| S09-18 | Knowles | Mary E. | | 07/22/1948 | infant |
| S09-19 | Smith | Doris V. | 04/04/1927 | 12/29/1933 | daughter of E. & M. Smith |
| S09-20 | Titus | Margaret Ellis | 09/08/1907 | 11/14/1955 | |
| S09-21 | Luther | Nathaniel | | 08/15/1847 | 63 yrs; of Fall River, Mass. |
| S09-22 | Delcuze | Alcidie | | 09/20/1908 | our parents |
| S09-23 | Delcuze | Albert | | 04/17/1923 | our parents |
| S09-24 | Vandrell | Edward W. | | 09/07/1953 | age 62 |
| S09-25 | Vandrell | Lollie A. | | 09/08/1966 | age 71 |
| S09-26 | Pucheu | Odelia M. | 1889 | 1958 | |
| S10-01 | Erwin | Juanita J. | 02/12/1912 | 03/25/1976 | |
| S10-02 | Erwin | J. Ernest | 01/22/1905 | 05/24/1968 | |
| S10-03 | Damborino | Alec | | | husband of Lena Damborino |
| S10-04 | Damborino | Mrs. Lena | 10/01/1869 | 11/28/1926 | |
| S10-05 | Dambrino | John Lawrence | 12/10/1906 | 12/10/1987 | |
| S10-06 | (Unmarked) | | | | |
| S10-07 | Schneider | Angeline | 1891 | 1936 | |
| S10-08a | Schneider | Martin Sr. | 1879 | 1964 | |
| S10-08b | Schneider | Martin Jr. | | 1995 | as ashes on grave 10-8a |
| S10-09 | Luc | Victor | 1885 | 1934 | father; WOW emblem |
| S10-10a | Luc | Katie D. | 01/12/1890 | 01/13/1979 | |
| S10-10b | Luc | Catherine R. | 05/16/1923 | 04/01/1943 | |
| S10-10c | Luc | Douglas A. | 01/05/1930 | 07/24/1931 | |
| S10-11/12 | (Unmarked) | | | | |
| S10-13a | Remy | Emily G. | | 1928 | |
| S10-13b | Remy | John H. | | 1931 | |
| S10-13c | Remy | John N. | | 1934 | |
| S10-13d | Nicholas | Rosalie | 1851 | 1944 | |
| S10-14a | Remy | Dale Joseph | 03/31/1956 | 06/03/1979 | |
| S10-14b | Remy | Edwin A. | 03/18/1911 | 12/29/1986 | |
| S10-15 | (Unmarked) | | | | |
| S10-16 | Arnold | Oliver T. | 12/25/1865 | 07/29/1941 | |
| S10-17 | Arnold | Ethel Jane | 11/13/1886 | 07/14/1958 | |
| S10-18 | Martin | Catherine Cooper | 07/24/1865 | 01/08/1949 | |
| S10-19 | LaGroue | Vincent J. | 08/06/1905 | 08/02/1964 | |
| S10-20/21 | (Unmarked) | | | | |
| S10-22 | Graham | Annie Adams | | 07/23/1991 | 84 yrs.; wife of William Bryan Graham |
| S10-23 | Graham | William Bryan | 07/23/1896 | 07/23/1954 | Ms F2 SSNRF WWI |
| S10-24 | Denyer | Sherwood Albert | 11/27/1856 | | husband of Mary Laften; dod 12/16/????, year illegible |
| S11-01 | LaFontaine | Sylvanie Bourgeois | 01/10/1870 | 01/26/1958 | mother |
| S11-02 | La Fontaine | Oscar | 1864 | 1936 | father |
| S11-03 | La Fontaine | Harry | | 04/06/1922 | MS Pvt 140 M.C. Battn |
| S11-04 | La Fontaine | Corine B. | 02/28/1905 | 12/30/1982 | |
| S11-05 | La Fontaine | Theodore J. | | | (reserved) |
| S11-06 | Toulme | Jean Baptiste | | 01/17/1831 | 81 yrs (in French); Masonic emblem |
| S11-07 | Gleises | Marie Charlotte | | 09/10/1839 | nee Guedon; age 69 yrs |
| S11-08 | Breath | Madeline V. Toulme | | 11/03/1905 | 72 yrs; 1st husband Evariste V. Saucier; 2nd husband John Anthony Breath, marriage: 22 Jun 1874 |
| S11-09 | Saucier | William E. | 10/14/1860 | 10/22/1946 | |
| S11-10 | Saucier | Claudius E. | 09/13/1856 | 05/12/1916 | |
| S11-11 | Eagan | Lydia S. | 1865 | 1954 | |
| S11-12 | Saucier | Edwige J. | 1868 | 1919 | |
| S11-13 | (Unmarked) | | | | |
| S11-14 | McArthur | Laura | 12/26/1875 | 12/05/1944 | |
| S11-15 | (Unmarked) | | | | |
| S11-16 | Favre | Alcide | 1872 | 1954 | |
| S11-17 | Favre | Edwina | 1887 | 1945 | |
| S11-18 | Banderet | Manvella C. Kirst | 06/14/1890 | 02/19/1976 | |
| S11-19 | Banderet | F. C. (Fred) | 05/21/1889 | 03/08/1954 | |
| S11-20 | Rulh | Marie Angelique Hortence Latour | | 04/17/1848 | spouse of J. M. B. Victor Ruhl; 44 yrs; French inscription |
| S11-21 | Molitor | Nicholas H. | 06/09/1820 | 05/26/1850 | |
| S11-22 | (Unmarked) | | | | |
| S11-23 | Cardin | Retta G. | 09/26/1930 | 04/17/2005 | |
| S11-24 | Cardin | J. Herbert | 05/22/1925 | 04/19/1981 | |
| S11-25 | Willard | Fred M. | 08/05/1909 | 02/21/1963 | Masonic emblem |
| S11-26 | (Unmarked) | | | | |
| S11-27 | Ladner | Curtis V. | 1917 | 1937 | son |
| S11-28 | Ladner | Gaston A. | 1893 | 1969 | |
| S11-29 | Ladner | Alcide | 1867 | 1948 | |
| S11-30 | Ladner | Mrs. Alcide | 1873 | 1927 | |
| S11-31 | Ladner | Emarita | 03/22/1912 | 06/24/1914 | |
| S11-32 | Ritter | Anna Patty | 1850 | 10/10/1938 | |
| S11-33 | Oliver | Mark Otis | | 05/23/1983 | 90 yrs |
| S11-34 | Oliver | Ed F.? | | | |
| S11-35 | Burns | Mary E. Gardebled | | 10/20/1946 | mother |
| S11-36 | Gardebled | Gaston G. | 02/02/1871 | 07/08/1913 | WOW stone |
| S11-37 | Driver | Ella M. | | 07/08/1908 | age 24 |
| S11-38 | Driver | Annie Melugin | 11/26/1848 | 06/08/1929 | native of Covington, Tenn. |
| S11-39 | Driver | H. Wilbur | 1880 | 1951 | Mason and RAM, chapter 121 Gulfport |
| S11-40 | Price | Arthur Thomas Sr. | 1848 | 07/26/1921 | |
| S11-41 | Price | Alice S. | 1859 | 1939 | |
| S11-42 | (Unmarked) | | | | |
| S11-43 | Graham | Wade Hampton | | | |
| S11-44 | Graham | Eliza F. | 1843 | 1923 | |
| S11-45 | Graham | Hector McKenzie, Cpt. | 02/02/1837 | 05/08/1907 | Co E 23 Ala, Inf CSA; native of Monroeville, Ala. |
| S12-01 | Grenner | Ester Petit | 07/1809 | 07/1835 | spouse of D. Hilaire Grenner (in French) |
| S12-02 | (Unmarked) | | | | |
| S12-03 | Stiglet | John J. | | | (reserved) |
| S12-04 | Stiglet | Lillie A. | 01/31/1904 | 07/22/1943 | |
| S12-05a | Manzey | Henry | | | |
| S12-05b | Manzey | William F. | | | |
| S12-06 | Manzey | Mary Jane Mitcherson | 03/14/1860 | 06/23/1930 | mother |
| S12-07 | Manzey | Louis | | | husband of Mary Jane |
| S12-08a | Carr | Mary Hansford | 06/17/1869 | 12/14/1948 | |
| S12-08b | Carr | Grace Daisy | 02/13/1905 | 06/03/1957 | |
| S12-08c | Carr | Hugh Turner Sr. | 01/28/1896 | 02/12/1984 | |
| S12-09/10 | (Unmarked) | | | | |
| S12-11 | Ruhr | Generosa Lester | 02/13/1884 | 02/13/1938 | |
| S12-12 | Ruhr | August T. | 02/09/1881 | 02/18/1948 | |
| S12-13 | Ruhr | Ella Katherine Jones | 1852 | 02/01/1924 | |
| S12-14 | Ruhr | Wilheim H. | 1852 | 1931 | |
| S12-15a | Holland | Lazaro Patrick Sr. | 12/29/1914 | 07/09/1971 | Ms S Sgt 346 Ord MM Co WWII |
| S12-15b | Lutzzi | Pasqual | | | |
| S12-16a | Holland | Albreta Hobbs | 09/17/1914 | 10/09/1969 | |
| S12-16b | Hobbs | Louise | | | mother of Albreta Hobbs Holland |
| S12-17 | Sones | Lois H. | 1910 | 1974 | |
| S12-18 | Sones | Floyd F., Sr. | 1912 | 1978 | |
| S12-19 | (Unmarked) | | | | |
| S12-20 | Muller | Marie Biedermann | 09/11/1871 | 09/20/1895 | wife of Gottfried Muller; born in Switzerland |
| S12-21 | Saucier | Odelle Jr. | | 12/06/1955 | baby |
| S12-22 | Malassagne | Arthur D. | 1875 | 1940 | |
| S12-23 | Malassagne | Clara M. | 1881 | 1948 | |
| S12-24 | Schoonmaker | Samuel H. | | 10/17/1967 | 57 yrs |
| S12-25 | Schoonmaker | S. H. B. | | | Com Sgt, 156 NY Inf |
| S12-26 | Mitchell | Mary Etta | 12/18/1963 | 04/07/1966 | |
| S12-27 | Mitchell | Norietta (?) | | 08/30/1966 | |
| S12-28 | Carver | George Felix | | 01/17/1952 | 73 yrs; "brother" |
| S12-29 | Carver | Adeline | | | mother |
| S12-30 | Carver | Mary L. | | | sister |
| S12-31/33 | (Unmarked) | | | | |
| S12-34a | Cuevas | Ardell Ealy | 09/05/1879 | 10/21/1966 | |
| S12-34b | Cuevas | Wilson Victor | 07/31/1871 | 12/16/1939 | husband of Ardell Cuevas |
| S12-35 | Bernard | Charles M. | 1898 | 1975 | |
| S12-36 | Bernard | Jessie L. | 1899 | 1977 | |
| S12-37a | Pavolini | Lea Ann | 01/03/1979 | 11/03/1979 | |
| S12-37b | Bernard | LeRoy | | | infant |
| S12-37c | Bernard | Charles Jr. | | | infant |
| S12-38 | Watts | Gertrude Moon | 1881 | 1966 | |
| S12-39 | Watts | James William | 1856 | 1944 | |
| S12-40 | Watts | Anna May | 1906 | 1952 | |
| S12-41 | Watts | Virginia Chapman | 1909 | 1969 | |
| S12-42 | Watts | Angeline Giles | | | |
| S12-43 | Tucker | George Daniel | | | Died ca. 1920, anywhere between 84 and 91 years old. |
| S12-44 | Gardner | Mattie | | | |
| S12-45 | Ladner | Leontine | 1872 | 02/18/1957 | |
| S12-46 | Fiers | Cecilia Ladner | | 10/31/1990 | 76 yrs.; wife of Edwin Fiers |
| S12-47 | Fiers | Edwin F. | 03/19/1914 | 10/02/1982 | |
| S13-01 | Soldinie | Gloria Grace | 07/05/1928 | 11/19/1932 | daughter of Wm.T. & Cora Ladner Soldinie |
| S13-02/03 | (Unmarked) | | | | |
| S13-04 | Banderet | Elsie Perre | 12/29/1900 | 12/21/1970 | |
| S13-05 | Banderet | Louis J. | 04/20/1898 | 12/02/1968 | Ms Pvt US Army WWI |
| S13-06 | Mistler | Vera Cecile Banderet Mehaffey Blaize | 09/21/1920 | 02/08/2002 | |
| S13-07 | (Unmarked) | | | | |
| S13-08a | Prevou | Rosie Colson | 11/03/1899 | 03/17/1972 | wife and mother |
| S13-08b | Prevou | Irvin Leo | 07/03/1930 | 05/08/2002 | |
| S13-09 | Prevou | Edwin T. | 11/18/1897 | 08/31/1951 | Ms Cpl 114 Engr 39 Div WWI & WWII |
| S13-10 | Griffith | Edith Nye | 1882 | 1937 | |
| S13-11 | Griffith | David Cooper | 1882 | 1960 | |
| S13-12a | Estapa | Bert Eugene | 10/06/1995 | 02/25/1922 | |
| S13-13 | Holmes | Rose Abby | 07/05/1847 | 07/18/1849 | born in Shieldsborough |
| S13-14 | Estapa | Mary M. | 1900 | 1979 | wife of Roger Estapa; daughter of Martha Moran |
| S13-15 | Moran | Martha | | 1925 | 69 yrs; mother of Mary M. Estapa |
| S13-16 | Pepperdene | Estelle Mary | 1921 | 12/26/1937 | |
| S13-17 | Pepperdene | Muriel M. | 1890 | 12/18/1937 | Mrs. Kenneth Wilson Sr. |
| S13-18 | Thurston | Harry Joseph | 09/11/1881 | 02/20/1920 | |
| S13-19 | Pepperdene | Kenneth Wilson Sr. | 04/04/1890 | 10/25/1963 | native of England |
| S14-01a | Asher | Charles Russell | | 06/13/1944 | 4 mos |
| S14-01b | (Unmarked) | | | | |
| s14-02a | (Unmarked) | | | | |
| S14-02b | Grogin | Cindy Sue | | 12/23/1976 | infant |
| S14-03 | Damborino | John V. | | 08/14/1928 | Ms Corp 3 HDY Inf 85 Div |
| S14-04a | Damborino | Joseph Austin | | 08/1930 | father |
| S14-04b | Damborino | Annette Adam | | | mother |
| S14-04c | Damborino | Thomas | | 01/1936 | |
| S14-05 | Covacevich | Louise | 1895 | 1950 | |
| S14-06 | Grandich | Antonio | | 04/09/1918 | 56 yrs |
| S14-07 | Covacevich | Victor | | 10/10/1918 | 38 yrs |
| S14-08 | Grandich | Clara Covacevich | | 09/04/1923 | 50 yrs; wife of Antonio Grandich |
| S14-09 | Rogers | A. E. | 1867 | 1918 | |
| S14-10 | Rogers | Alvin A. | 1913 | 1916 | son of A. E. Rogers |
| S14-11 | Ulman | Ellen McDonald | | 03/31/1889 | 63 yrs |
| S14-12 | Henderson | Clara Ulman | 1885 | 1914 | |
| S14-13 | Henderson | William H. | 1851 | 1941 | |
| S14-14 | Henderson | Clara | 1884 | 1965 | |
| S14-15 | Henderson | J. A. (Dr) | 1881 | 1959 | |
| S14-16a | Nicholson | John H. | | 11/25/1870 | 57 yrs |
| S14-16b | Ulman | Alfred A. | | 06/24/1893 | 47 yrs |
| S14-16c | Ulman | Emma W. N. | | 10/16/1895 | 83 yrs |
| S14-16d | Ansley | Myric E. | | 02/11/1934 | 61 yrs |
| S14-16e | Ansley | Mary E. | | 12/26/1937 | 69 yrs |
| S14-17 | Bolton | Ben R., Jr. | | 08/05/1945 | |
| S14-18 | Dillmann | Frank | 12/22/1854 | 09/03/1906 | |
| S14-19a | Hill | Rosalie Ann | | | |
| S14-19b | Hill | Lisa Lynn | | | |
| S14-20a | Hill | Elsie | | | |
| S14-20b | Hill | Rufus | 02/01/1900 | 07/05/1956 | |
| S14-20c | Hill | Lisa Cospolich | | 1960 | 34 yrs |
| S14-21 | Nixon | Joseph | 09/18/1897 | 08/30/1920 | Sovereign WOW |
| S14-22a | Rovira | Joaquin | | 07/10/1855 | native of Spain; 52 yrs |
| S14-22b | Rovira | Mary | | 12/11/1883 | native of France; age 66 |
| S14-22c | Rovira | Joaquin | | 12/12/1872 | age 37 |
| S14-23 | Bangard | Forest E. | 1881 | 1941 | |
| S14-24 | Thompson | Josephine Bangard | 1882 | 1955 | |
| S14-25 | Hale | J. Edward | 1857 | 1936 | |
| S14-26 | Hale | Margaret | | | |
| S14-27 | Hale | Jack | | | |
| S14-28a | Worsley | Katherine Surget Hunter | 06/1859 | 05/14/1956 | wife of Charles; married 1889, dob from 1900 census |
| S14-28b | Worsley | Charles A. | 05/1851 | | dob from 1900 census |
| S14-29 | Heitzmann | Margaret Louise Riehlmann | 09/29/1860 | 08/14/1927 | mother |
| S14-30 | Heitzmann | Jacob | 03/31/1856 | 11/06/1925 | father; husband of Margaret Louise Riehlmann |
| S14-31 | Webb | R. W. | 1872 | 1925 | |
| S14-32 | Rishton | ? | | | |
| S14-33 | Rishton | Robert B. | 10/23/1891 | 02/14/1952 | La Pfc Base Hsp 24, WWI |
| S15-01 | Stechmann | Edris Claire Vairin | 07/24/1912 | 12/05/1987 | wife of Theodore Stechmann; daughter of James and Ellen Humphries Vairin |
| S15-02 | Stechmann | Theodore G. Sr. | | 07/16/1975 | 67 yrs |
| S15-03/04 | (Unmarked) | | | | |
| S15-05 | Whitfield | Horace | 10/27/1902 | 05/11/1932 | |
| S15-06 | Whitfield | Jack J. | 05/08/1924 | 05/11/1932 | |
| S15-07 | (Unmarked) | | | | |
| S15-08 | O'Neil | Henry | | 02/22/1853 | |
| S15-09 | Robira | Isidore | | 06/25/1842 | |
| S15-10 | Sherges | Pierre | | 08/07/1880 | 35 yrs |
| S15-11 | Cox | Edris E. | | | (reserved) |
| S15-12 | Cox | Alvin E. | 1897 | 1964 | |
| S15-13 | Favre | Lilly | 01/21/1906 | 06/10/1951 | daughter |
| S15-14 | Favre | Frank | | | father |
| S15-15 | Dorr | Mamie | | | age 57; wife of Capt. J. M. Dorr |
| S15-16/17 | (Unmarked) | | | | |
| S15-18 | Erwin | Florence Edney | 11/15/1883 | 02/06/1956 | wife of James Earnest Erwin Sr. |
| S15-19 | Erwin | James Ernest | 1878 | 1925 | |
| S15-20 | Toulme | Nancy McGinty | | | wife of John E. Toulme; 60 yrs |
| S15-21 | Toulme | John E. | | | |
| S15-22 | Telhiard | Myrtle McGinty Saucier | | 1937 | 46 yrs; wife of Gaston Telhiard |
| S15-23a | Parker | Maym | 1894 | 1935 | |
| S15-23b | Parker | Emily | 1899 | 1969 | |
| S15-24a | Strickland | Nancy | 1861 | 1926 | |
| S15-24b | McGinty | Corine | 1896 | 1961 | |
| S15-25 | Demoran | John E. Jr. | 01/19/1938 | 09/22/1975 | US Navy |
| S15-26 | Demoran | Kathryn | | 09/21/1985 | 69 yrs |
| S15-27 | Wilson | Frances B. | 05/12/1909 | 02/07/1949 | Ms Pvt AF WWII |
| S15-28 | Sanford | Jack W. | 07/03/1926 | 06/12/1941 | Scout Troop 208 |
| S15-29 | Allison | Alexander | 04/28/1851 | 01/25/1947 | |
| S15-30 | Allison | Elizabeth Bartlett | 04/10/1854 | 07/10/1936 | wife of Alexander Allison |
| S15-31 | Favre | John A. Sr. | 01/29/1885 | 07/19/1958 | husband of Mary Perrillous Favre, son of Mr. and Mrs. John Favre |
| S15-32 | Favre | Mary P. | 11/03/1905 | 07/25/1958 | |
| S15-33 | Favre | John A. Jr. | 10/01/1937 | 02/02/1944 | |
| S15-34 | Millinery | Mabel Curet | | 07/16/1982 | 75 yrs |
| S15-35 | Millinery | Phillip | | | husband |
| S15-36 | Mollere | Gertrude S. | 1900 | 1966 | |
| S15-37 | Mollere | John D. | 04/10/1896 | 11/21/1968 | Ms Pvt US Marine Corps WWI |
| S16-01 | Heitzmann | James E. | 07/07/1913 | 04/18/1915 | |
| S16-02 | Heitzmann | Virginia G. | 04/12/1918 | 01/29/1919 | |
| S16-03 | Crawford | Edward O. | 12/07/1885 | 12/03/1960 | |
| S16-04 | Crawford | Lelia Heitzmann | 07/08/1887 | 01/20/1968 | Lillian Louise (known as Lelia) |
| S16-05 | North | Fred G. | 06/11/1895 | 06/25/1940 | Fla Pvt 306 Am Tr 81 Div |
| S16-06 | Kachler | Odelia | 02/28/1883 | 10/03/1943 | mother |
| S16-07 | Kachler | John J. | 10/22/1880 | 12/30/1948 | father |
| S16-08 | Tillman | John P. | 1876 | 1952 | |
| S16-09 | Cuevas | James | | | Co F Ms Inf CSA |
| S16-10 | Cuevas | Raymond | | | |
| S16-11 | Wong | C. | | | child; name in coping |
| S16-12 | Ansley | Michael L. | | 05/15/1892 | 49 yrs; tall obelisk on grave |
| S16-13/15 | (Unmarked) | | | | |
| S16-16 | Poolson | William B. | 06/20/1868 | 04/23/1937 | |
| S16-17 | Poolson | Alice Favre | 06/26/1869 | 04/08/1942 | |
| S16-18 | Poolson | Maebell | 04/27/1926 | 03/07/1928 | child |
| S16-19 | (Unmarked) | | | | |
| S16-20 | Martin | John | 12/28/1803 | 09/27/1876 | |
| S16-21 | Leddy | Isabelle Celeste | 1883 | 1974 | |
| S16-22 | Leddy | John Thomas | 1878 | 1947 | |
| S16-23 | Benoit | Pansy K. | 08/03/1887 | 02/05/1943 | |
| S16-24 | Benoit | William B. | 03/01/1882 | 03/09/1948 | NY Pvt 27 Inf |
| S16-25 | Mitchell | James | 03/08/1818 | 09/25/1855 | Born in North Carolina |
| S17-01 | Comilucci | Angelo | 10/14/1860 | 08/14/1933 | |
| S17-02 | Latour | Corinne | 07/22/1889 | 03/03/1951 | |
| S17-03 | Comilucci | Eliza Carver | 1862 | 1930 | married Angelo Comilucci 24 Dec 1895 |
| S17-04a | Carver | Azalie | 1873 | 1931 | |
| S17-04b | Carver | Alfred | 1861 | 1941 | |
| S17-05a | Carver | Victoria | 1876 | 1950 | |
| S17-05b | Meyers | Ernest | 1887 | 1930 | |
| S17-06 | Carver | Edwin | | | CO F 18 Ms. Inf. CSA |
| S17-07 | Carver | Chas C. | 01/20/1947 | 06/12/1988 | Cpl US Marine Vietnam |
| S17-08 | Carver | Elihu | 01/06/1777 | 12/31/1855 | Maj. 18 Miss Militia war 1812 |
| S17-09 | Mollere | John P. | | | |
| S17-10 | Mollere | Felicie Deville | 04/28/1839 | 01/09/1918 | widow; born in Metz, France |
| S17-11 | Mollere | Abagail | | | |
| S17-12 | Carver | Charles C. | | | |
| S17-13 | Mollere | Vivian Ruhr | 12/23/1906 | 11/14/1948 | |
| S17-14 | Poolson | John David | 03/19/1906 | 04/29/1971 | |
| S17-15 | Jewell | Ethel Lillian Favre Poolson | 03/24/1901 | 11/11/1980 | |
| S17-16 | Poolson | William F. | 02/14/1895 | 02/21/1943 | |
| S17-17/22 | (Unmarked) | | | | |
| S17-23a | Osbourn | Edna Tomasich | 1892 | 1950 | |
| S17-23b | Osbourn | Edwin | 1890 | 1966 | |
| S17-23c | Vaccarella | Betty Osbourn | 01/07/1934 | 02/02/2009 | daughter of Ed & Edna |
| S17-24 | (Unmarked) | | | | |
| S17-25a | McDonald | Carl C. Sr. | 03/24/1896 | 08/18/1979 | |
| S17-25b | McDonald | William Albert II | 10/13/1921 | 10/15/1921 | |
| S17-25c | Kittrell | Mary Mosson McDonald | 04/25/1899 | 01/03/1924 | wife of Dr. John M. Kittrell |
| S17-25d | McDonald | William Albert | 01/16/1866 | 01/18/1944 | |
| S17-25e | McDonald | Edna Stephenson | 02/27/1870 | 01/13/1967 | |
| S17-25f | McDonald | Katrina Overall | 06/09/1897 | 12/13/1985 | |
| S17-26 | (Unmarked) | | | | |
| S17-27 | Tricon | Ben R. | 1890 | 1901 | |
| S17-28 | Baumgartner | Seraphine Hepp | 1827 | 1909 | |
| S17-29 | Tricon | Mary Baumgartner | 1857 | 1941 | |
| S17-30 | Rocco | Julia LeGrand | 08/05/1890 | 03/11/1955 | |
| S17-31 | LeGrand | Josephine | | 12/02/1916 | mother; 47 yrs |
| S17-32 | Saul | Mary Azaline | 08/27/1900 | 08/17/1952 | sister |
| S17-33 | LeGrand | Jules | | 08/15/1925 | father; 83 yrs |
| S18-01 | Osoinach | Carrie M. | 1870 | 1950 | |
| S18-02a | Luxich | Mildred Rita Carver | 05/07/1921 | 12/25/1987 | |
| S18-02b | Carver | Dianne | 07/1945 | 1950 | child |
| S18-03a | Luxich | Earl H. | 03/02/1915 | 10/31/1988 | |
| S18-03b | Carver | Azline | | 03/1943 | |
| S18-03c | Carver | Alcee (Petit) | | 01/01/1945 | husband |
| S18-04a | Saucier | Louise Carver | | 05/08/1932 | |
| S18-04b | Carver | Thomas | | | son of Alcee |
| S18-05a | Carver | Jerry Jos | | 01/24/1989 | 47 yrs |
| S18-05b | Carver | Delphine | 12/20/1957 | 12/21/1957 | |
| S18-05c | Kay | Lelia Carver | | 06/06/1945 | |
| S18-06 | Kay | Louis Joseph | 05/19/1935 | 08/23/1966 | |
| S18-07 | (Unmarked) | | | | |
| S18-08 | Backus | Mrs. C. D. | | 01/19/1920 | age 70 |
| S18-09 | Chapman | Henry Buckley | 02/13/1893 | 10/13/1968 | La 2nd Lt US Army WWII |
| S18-09a | Chapman | Margarita Lopez Lamb | 07/31/1908 | 03/28/1988 | |
| S18-09b | Chapman | Lawrence Yeoman Sr. | 06/16/1902 | 01/01/1987 | |
| S18-10 | Chapman | Caroline Buckley West | 1868 | 08/29/1950 | 82 yrs |
| S18-11 | Chapman | Benjamin John | 1898 | 1898 | |
| S18-12 | Chapman | William Joseph | 1854 | 1917 | |
| S18-13 | Chapman | William West | 1889 | 05/26/1935 | |
| S18-14/15 | (Unmarked) | | | | |
| S18-16 | Rocco | Rene | | | |
| S18-17 | Rocco | Catherine | | | |
| S18-18/19 | (Unmarked) | | | | |
| S18-20 | Carver | Ella Ester (?) | 10/18/1896 | 11/09/1972 | |
| S18-21 | Moore | Walter | | | |
| S18-22a | Campe | Mary Walker | | 11/16/1889 | wife of A. Campe, born in Ireland; 73 yrs |
| S18-22b | Campe | Christiann | | | age 8 mos |
| S18-23 | Fayard | Edward G. Sr. | 08/25/1907 | 11/21/1968 | son |
| S18-24 | Fayard | Eddie T. | 12/05/1886 | 08/29/1954 | father |
| S18-25 | Gleason | Margaret Fayard | 04/08/1890 | 12/21/1966 | mother |
| S18-26 | Capdepon | Joseph Bernard | 02/26/1928 | 07/28/1962 | |
| S18-27 | (Unmarked) | | | | |
| S18-28 | Brandao | Ethel | 1899 | 1965 | |
| S18-29 | (Unmarked) | | | | |
| S18-30 | Gager | Joe | | | |
| S18-31/32 | (Unmarked) | | | | |
| S18-33 | Posey | Maude | | 09/15/1900 | 15 yrs, 7 mos |
| S18-34 | Posey | Zoe | 1867 | 02/26/1964 | |
| S18-35 | Posey | Benjamin Lane | 1827 | 1888 | Co K 38 Inf Regt |
| S18-36 | Posey | Frances | | 02/20/1881 | wife of Ben lane Posey |
| S18-37 | Dabney | Helen Posey | 1875 | 1914 | wife of Frank Dabney |
| S18-38 | Dabney | Margaret T. | 1909 | 1977 | |
| S19-01 | (Unmarked) | | | | |
| S19-02 | Straughan | Emily Alice | | | |
| S19-03/04 | (Unmarked) | | | | |
| S19-05 | Dedeaux | Roger | | 01/01/1934 | Ms Sgt QMC 3 Bakery Co |
| S19-06 | Smith | William Hollie | 08/14/1880 | 03/05/1940 | husband of Lena Beckman |
| S19-07 | Smith | Lena C. Beckman | 01/27/1881 | 03/27/1934 | wife of W. H. Smith |
| S19-08 | Smith | Horace Audrain | 08/1911 | 03/1922 | |
| S19-09/11 | (Unmarked) | | | | |
| S19-12 | Smith | Lester Joseph | 1898 | 09/04/1952 | |
| S19-13 | Smith | Maybell Vaughan | 10/13/1900 | 10/16/1964 | |
| S19-14 | Capdepon | Flora E. | 08/25/1892 | 06/10/1951 | |
| S19-15 | La Fontaine | Alice | 1892 | 1959 | |
| S19-16 | Brandao | Mamma | | | |
| S19-17 | Brandao | Edna | | | |
| S19-18 | Brandao | Georgette | | | |
| S19-19 | Cosmich | Andrew | 04/04/1898 | 07/29/1898 | |
| S19-20 | Cosmich | Carolina | 07/22/1915 | 11/18/1915 | |
| S20-01a | Ioor | John B. | | 07/11/1908 | 70 yrs |
| S20-01b | Ioor | Peter | | 03/08/1917 | 70 yrs |
| S20-02 | (Unmarked) | | | | |
| S20-03 | Givens | R. | | | |
| S20-04/05 | (Unmarked) | | | | |
| S20-06 | Taconi | Charles P. | 1870 | 1944 | father; WOW emblem |
| S20-07 | Taconi | Anita Robert | 1881 | 1941 | |
| S20-08a | Jordan | Harriett B. | 12/17/1887 | 03/04/1985 | 97 yrs |
| S20-08b | Williams | Joseph | 10/11/1907 | 06/09/1945 | |
| S20-08c | Williams | Clarence | | | |
| S20-09 | Benoit | Clarence | 08/18/1911 | 05/13/1974 | |
| S20-10 | Nicholas | Merdesse Y. | 10/04/1925 | 08/14/1976 | |
| S20-11 | Benoit | Edgar C. | 1914 | 1975 | TEC 5 US Army WWII |
| S20-12 | Benoit | Walter | 1879 | 08/07/1941 | 62 yrs |
| S20-13a | Benoit | Bertha | 11/30/1882 | 04/15/1941 | wife of Walker Benoit; age 59 |
| S20-13b | Holmes | Eretta | 05/11/1905 | 01/16/1980 | 74 yrs |
| S20-14 | Gilmore | Harold | 1902 | 1968 | |
| S20-15 | (Unmarked) | | | | |
| S20-16 | Demoran | John A. | 1871 | 1944 | |
| S20-17 | Demoran | Christine Bruno | 10/11/1876 | 02/20/1961 | |
| S20-18 | Demoran | Elroy | 05/18/1909 | 02/28/1920 | |
| S20-19 | Bueheer | Andrew | 09/08/1886 | 07/08/1906 | |
| S20-20 | (Unmarked) | | | | |
| S20-21a | Ham | Charlie | | | child of Marguerite & Charles Ham |
| S20-21b | Ham | Willie | | | child of Marguerite & Charles Ham |
| S20-22 | Ham | Marguerite | 10/24/1850 | 04/12/1934 | |
| S20-23 | Ham | Charles E. | | | Co B 13 NY H.A. |
| S20-24 | Shipp | Bettie Boyd | 1878 | 1967 | |
| S20-25 | Shipp | Cyrus Martin, M.D. | 1880 | 1964 | |
| S20-26/27 | (Unmarked) | | | | |
| S20-28a | Benvenutti | Anthony D. Jr. | | | |
| S20-28b | Benvenutti | Mary McCabe | | | |
| S20-28c | Benvenutti | Helen Ruth | | | |
| S20-29a | Benvenutti | Anthony D. Sr. | | | |
| S20-29b | Benvenutti | Catherine Dedominicich | | | |
| S20-30a | Benvenutti | Frank B. Sr. | | | |
| S20-30b | Benvenutti | Louise Desply | | | |
| S20-30c | Benvenutti | Frank B. Jr. | | | |
| S20-31 | Edwards | Katie | 08/19/1870 | 02/17/1905 | Born in New Orleans, La |
| S20-31a | Edwards | John Keefe | | | |
| S20-31b | Edwards | Emma | | | |
| S20-31c | Hicks | May Edwards | | | |
| S20-31d | Edwards | Ida Jane | | | |
| S20-31e | Edwards | George Hicks Sr. | | 09/29/1962 | 87 yrs. |
| S20-32 | Edwards | Catherine Keefe | | 06/14/1925 | a native of England; died Bay St. Louis, Ms |
| S20-33 | Edwards | John | 11/08/1827 | 02/06/1901 | Born at Plymouth, England |
| S20-34 | Posey | Benjamin L. | 1883 | 1920 | |
| S20-35/36 | (Unmarked) | | | | |
| S20-37 | Posey | Hilliary H. | 1874 | 1926 | |
| S20-38/39 | (Unmarked) | | | | |
| S20-40 | Bowers | Lulu G. | 1876 | 1953 | |
| S20-41 | Bowers | Eaton Jackson | 1865 | 1939 | |
| S21-01/02 | (Unmarked) | | | | |
| S21-03 | Demoran | Alphonse | | 11/27/1930 | Ms Inf Pvt 4 Div 3 |
| S21-04 | (Unmarked) | | | | |
| S21-05 | Peterson | Estelle D. | | 07/24/1897 | |
| S21-06 | Power | Sarah Abraham | 1884 | 05/16/1954 | |
| S21-07 | Abraham | Effie G. | 1849 | 1938 | |
| S21-08/13 | (Unmarked) | | | | |
| S21-14 | Ladner | Irvy Willie | 10/05/1920 | 08/29/1978 | MM2 US Navy WWII |
| S21-15a | Lizana | J. W. "Bill" | 11/24/1890 | 02/17/1968 | |
| S21-16 | (Unmarked) | | | | |
| S21-17 | Evans | Grace M. | 1884 | 1955 | |
| S21-18 | Evans | John W. | 02/12/1881 | 1930 | |
| S21-19a | Vairin | Horace Herbert | 02/02/1906 | 10/10/1973 | US Coast Guard; son of James and Ellen Humphries Vairin |
| S21-19b | Vairin | Evelyn | | | |
| S21-19c | Vairin | James | 1868 | 1936 | husband |
| S21-19d | Vairin | Ellen Alice Humphries | | 08/22/1949 | 81 yrs; wife of James Vairin |
| S21-19e | Vairin | baby | | | |
| S21-20 | Vairin | Mary Lottie Turner | 10/14/1902 | 04/04/1988 | |
| S21-21 | Vairin | Edwin William | 03/20/1894 | 02/12/1958 | Ms S2 USNRF WWI; son of James and Ellen Humphries Vairin |
| S21-22 | Hill | stillborn baby | | 1909 | |
| S21-23 | Hill | stillborn baby | | 1920 | |
| S21-24 | Hill | baby | | | |
| S21-25 | (Unmarked) | | | | |
| S21-26 | Weber | Wilheminia | 1863 | 1903 | |
| S21-27 | Moon | William T. | | | |
| S21-28 | Moon | Francis O. | | | |
| S21-29 | Moon | infant | | | |
| S22-01 | Williams | Rosine | 08/14/1886 | 09/05/1961 | |
| S22-02 | Williams | Paul | 03/10/1882 | 01/07/1939 | |
| S22-03 | (Unmarked) | | | | |
| S22-04a | Williams | Catherine | | | |
| S22-04b | Wilkerson | Mary | | | |
| S22-05 | Dakin | Sherman Harry | 01/30/1869 | 10/08/1960 | |
| S22-06 | Dakin | Eliza Elizabeth Johnson Thornton | 08/02/1889 | 01/13/1963 | |
| S22-07 | Hountha | Jules | 04/17/1871 | 04/10/1942 | |
| S22-08/09 | (Unmarked) | | | | |
| S22-10 | Ellis | Joseph | 1880 | 1938 | |
| S22-11 | Ellis | Martha | 1873 | 1936 | |
| S22-12 | Bennett | Joseph | 05/12/1855 | 11/09/1941 | |
| S22-13 | Bennett | Coburn A. | 11/15/1913 | 02/04/1950 | |
| S22-14/15 | (Unmarked) | | | | |
| S22-16a | Pieri | A. Gino | | 03/19/1907 | father |
| S22-16b | Pieri | Mary Cuevas | | 04/21/1941 | mother |
| S22-17 | Crawford | Florence Pieri | | 12/17/1934 | mother |
| S22-18 | Ansley | Leila Watts | 01/01/1881 | 07/08/1906 | |
| S22-19a | Ansley | M. Luther | 07/23/1884 | 12/13/1952 | |
| S22-19b | Ansley | Dulcie Veazey | 03/06/1889 | 07/14/1986 | |
| S22-19c | Ansley | Roland Edgar | 02/11/1914 | 07/13/1914 | |
| S22-19d | Ansley | Terence Earl | 02/09/1917 | 01/01/1934 | |
| S22-19e | Hoover | Gladys Ansley | 08/10/1897 | 05/21/1991 | |
| S22-20/21 | (Unmarked) | | | | |
| S22-22a | De Montluzin du Sauzay | Ludovic A. | 12/02/1827 | 12/26/1909 | native of Luneville, Lorraine, France |
| S22-22b | De Montluzin du Sauzay | Reine Helluy | 06/12/1833 | 01/19/1910 | native of Luneville, Lorraine, France |
| S22-22c | De Montluzin du Sauzay | Louis Georges Roger, Dr. | 07/19/1863 | 01/16/1914 | |
| S22-22d | De Montluzin du Sauzay | Joseph Alfred | 12/22/1850 | 02/05/1928 | native of Luneville, Lorraine, France |
| S22-22e | Lewis | Corinne de Montluzin | 08/31/1870 | 03/22/1945 | |
| S22-22f | De Montluzin | Venie L. Word | 04/04/1887 | 05/07/1956 | |
| S22-22g | De Montluzin du Sauzay | Jean Rene | 12/02/1865 | 02/18/1959 | |
| S22-23 | Scott | James Denton | 10/12/1895 | 10/18/1895 | son of Arecion W. & Mary Nina Scott |
| S22-24 | Grimes | Annie Lynn Smith | 12/10/1849 | 08/30/1902 | |
| S23-01 | Lee | Namon | 1884 | 1917 | |
| S23-02 | Lee | Eliza | 1886 | 1917 | |
| S23-03/08 | (Unmarked) | | | | |
| S23-09 | Case | W. E. | 1876 | 1950 | |
| S23-10 | Brighenti | mother | | | |
| S23-11 | (Unmarked) | | | | |
| S23-12 | Sylvester | Mrs. Howard Monroe | 02/18/1892 | 03/22/1946 | |
| S23-13 | Sylvester | Howard Monroe | | 01/21/1943 | Ms Pvt 152 Inf 38 Div |
| S23-14a | Little | Willie A. | 06/22/1892 | 04/12/1948 | |
| S23-14b | Little | Elector Bennett | | | |
| S23-15a | Thibeaux | Wilmer John | | 04/30/1977 | 60 yrs |
| S23-15b | Thibeaux | Elma Little | | 02/15/1966 | 50 yrs |
| S23-16 | Michel | Ivy Pieri | | 12/21/1983 | 91 yrs |
| S23-17 | (Unmarked) | | | | |
| S23-18 | Favre | Sadie | 03/1907 | 07/1952 | |
| S23-19 | Hill | Angel Lynn | 10/13/1970 | 09/20/1971 | |
| S23-20 | Marshall | Samuel | 07/04/1852 | 11/12/1923 | Born in Franklin, Tenn |
| S23-21/25 | (Unmarked) | | | | |
| S23-26a | Howard | Louella | 01/26/1884 | 06/13/1965 | |
| S23-26b | Ingman | Nora Hill | | | |
| S23-27 | Pucheu | Florian | 01/19/1884 | 12/01/1969 | |
| S23-28 | (Unmarked) | | | | |
| S23-29 | Dean | S. W. H. | | | Son of Simon A. and Alice O. Dean |
| S23-30 | (Unmarked) | | | | |
| S23-31 | Roberts | Hardie Lee | 1884 | 1945 | |
| S23-32 | Roberts | Alicia Catherine Moran | 1890 | 1963 | |
| S23-33 | Roberts | Thelma J. | 1910 | 1969 | |
| S24-01 | Valentine | Deborah E. | 02/19/1898 | 02/26/1953 | |
| S24-02 | Buchanan | Maude | 1871 | 1956 | |
| S24-03 | Buchanan | Thomas | 1870 | 1948 | |
| S24-04/05 | (Unmarked) | | | | |
| S24-06a | Barbino | Louise | | | |
| S24-06b | Barbino | Emily | | | |
| S24-07 | Alexander | Marguerite Louise | 02/11/1920 | 06/11/1984 | |
| S24-08 | Barabino | Oscar | 1888 | 1927 | |
| S24-09 | Collins | John L. | | | |
| S24-10 | Collins | Laura A. | 07/07/1876 | 08/31/1900 | Dau. of John L. and L.M. Collins |
| S24-11 | Collins | Oscar | | | |
| S24-12 | Raymond | Elizabeth Himes | | | Stone deep in ground |
| S24-13 | Himes | John G. | 08/26/1807 | 06/28/1877 | |
| S24-14 | Dunn | Ann | | 03/10/1860 | Age 30 yrs. |
| S24-15 | Weir | Elizabeth G. | 08/19/1827 | 08/06/1877 | |
| S24-16 | (Unmarked) | | | | |
| S24-17 | Mioton | Edward | | 10/17/1923 | Ms Pvt 4 Batt,US Guards |
| S24-18 | Mioton | Seymour | 01/24/1870 | 04/20/1948 | |
| S24-19 | (Unmarked) | | | | |
| S24-20a | Robert | Louis | | | |
| S24-20b | Robert | Martha | | | |
| S24-21 | Robert | Albert E. | 03/05/1909 | 12/02/1909 | |
| S24-22 | Robert | George | | 11/21/1922 | 36 yrs |
| S24-23 | (Unmarked) | | | | |
| S24-24a | Johnston | James Allen | | 1957 | baby |
| S24-24b | Johnston | George | | 1961 | baby |
| S24-25a | Johnston | George Wallace | 1903 | 1958 | |
| S24-25b | Johnston | Anne Marie | | 1935 | baby |
| S24-25b | Johnston | Whitney Faith | | | removed from cemetery in 1988 |
| S24-26 | Johnston | Agnes A. | 1902 | 1968 | |
| S24-27 | Dormally | Charles Alexander | 11/10/1856 | 03/30/1904 | Born In Gallipolis, Ohio |
| S24-28 | Craft | James | | 07/11/1903 | Child? |
| S24-29 | Blakemore | John D. | | | |
| S24-30 | (Unmarked) | | | | |
| S24-31 | Buckley | Conrad Carmen | 09/14/1888 | 12/10/1913 | |
| S25-01/03 | Marshall | John & family | | | |
| S25-04 | (Unmarked) | | | | |
| S25-05 | Fricke | John C. Sr | 12/13/1908 | 06/02/1975 | Father |
| S25-06 | Fricke | Leonie V. | | | Mother |
| S25-07a | Fricke | Donnie Alberta | 09/27/1956 | 10/04/1956 | |
| S25-07b | La Fontaine | Shirley Elenora Fricke | 10/31/1933 | 02/07/1988 | |
| S25-08 | Fricke | baby boy | | 10/03/1966 | |
| S25-09 | Fricke | baby boy | 07/21/1982 | 07/21/1982 | |
| S25-10 | Fricke | Leroy Ray | 07/19/1945 | 05/23/1974 | |
| S25-11 | Fricke | James Joseph | 03/09/1942 | 04/26/1949 | |
| S25-12 | Sylvester | William O. | 05/25/1884 | 06/13/1957 | Ms Pvt Co C 114 Engr WWI |
| S25-13 | Pledger | Sydney. S. | 11/16/1888 | 08/15/1906 | |
| S25-14 | Pledger | Hugh Lawson W. | 03/02/1837 | 10/25/1917 | Corp Co B Miss Inf CSA |
| S25-15 | Pledger | Kate Wheeler Sylvester | 03/02/1855 | 03/11/1923 | Wife of Hugh L W Pledger; daughter of James and Emily Myles Sylvester (exact dates from obit SCE) |
| S25-16 | Sylvester | William O. Sr. | | 10/31/1926 | WOW slab |
| S25-17 | Sylvester | Walter Agee | 09/05/1907 | 12/24/1908 | |
| S25-18 | Sylvester | Lorna Speer | 04/18/1865 | 02/28/1903 | wife of William O. Sylvester |
| S25-19 | Sylvester | Susan Patrick | 1870 | 1943 | Wife of W. O. Suyvester |
| S25-20 | Weir | James Melton | 10/07/1882 | 12/29/1920 | WOW |
| S25-21 | Weir | Ida Beatrice Sylvester | 02/15/1857 | 06/02/1924 | Wife of J. D. H. Weir |
| S25-22 | Boardman | Sadler | | | |
| S25-23 | Boardman | William Tyler | 06/13/1834 | 11/26/1894 | |
| S25-24a | Boardman | Louis Leonhard | | 06/17/1894 | 29 days |
| S25-24b | Boardman | W. T. | | | |
| S25-25 | Bobbitt | W. A. | | 05/07/1825 | Born in Carthage, Miss on 03/16/???? (year illegible) |
| S25-26 | Saucier | Alice Bobbitt | | 1945 | Wife of W. A. Bobbitt |
| S26-01 | Holmes | J. W. | | | |
| S26-02 | Holmes | Ellen | | | |
| S26-03 | Holmes | Louis Oscar | | | |
| S26-04 | Lofton | Levita | | | |
| S26-05 | Collins | Anita | | | |
| S26-06 | Dahl | Alvin George | | 09/30/1980 | |
| S26-07 | Dahl | Mary Bertha | 06/17/1905 | 12/03/1982 | |
| S26-08 | Dahl | Fred Sr. | | | 62 yrs; dod 07/29/????, year illegible |
| S26-09 | Oliver | Velma D. | 09/08/1909 | 06/25/1973 | |
| S26-10 | Oliver | Standord E. | 11/30/1910 | 08/11/1974 | US Army WWII & Korea |
| S26-11 | Tarver | Alf | 1861 | 1932 | |
| S26-12 | (Unmarked) | | | | |
| S26-13 | Aldridge | Alma | | | |
| S26-14a | Collins | Martin | | 08/22/1983 | 38 yrs |
| S26-14b | Collins | Rene | | | |
| S26-15a | Collins | Amelia L. | 08/09/1909 | 09/14/1969 | |
| S26-15b | Collins | Milton | | | |
| S26-16 | Sylvester | Wallace Russell | 03/10/1895 | 11/18/1955 | |
| S26-17 | Price | Gerald V.Sr. | 1900 | 1970 | |
| S26-18 | Price | Lillian S. | 1902 | 1975 | |
| S26-19a | Sylvester | Emily Myles | 05/04/1833 | 05/17/1903 | mother |
| S26-19b | Sylvester | James H. A. | 07/04/1831 | 12/18/1901 | father |
| S26-20 | Sylvester | James Henry Asberry | 01/18/1903 | 12/26/1965 | |
| S26-21 | Sylvester | Lovie Allyne | | 02/15/1983 | 80 yrs |
| S26-22 | Sylvester | Milton Robert | 08/20/1905 | 07/22/1954 | Ms Pvt 3704 Base U AAF WWII |
| S26-23 | Sylvester | Oswell Leo | 05/20/1899 | 06/20/1899 | child |
| S26-24 | Sylvester | James Howard | 08/03/1861 | 06/02/1928 | husband of Cornelia Colly |
| S26-25 | Sylvester | Cornelia Colly | 11/22/1869 | 08/24/1936 | |
| S26-26 | Rees | John H. | 12/16/1844 | 06/03/1887 | |
| S26-27 | Rees | Mary E. | 05/20/1846 | 06/04/1906 | |
| S26-28/31 | (Unmarked) | | | | |
| S26-32 | Walden | Lowd | 09/02/1837 | 08/24/1880 | Native of New Orleans |
| S27-01 | (Unmarked) | | | | |
| S27-02a | Bourgeois | Peter O. | 1871 | 1936 | Husband of Mary Carver |
| S27-02b | Bourgeois | Marie | | | |
| S27-02c | Bourgeois | Peter J. | | | |
| S27-03a | Ladner | Thelma M. | 12/20/1909 | 11/10/1924 | niece |
| S27-03b | Sylvester | Onedia | | | |
| S27-03c | Sylvester | Eliza | | | |
| S27-03d | Sylvester | Mary | | | |
| S27-04/07 | (Unmarked) | | | | |
| S27-08 | Sylvester | Lawrence | 12/06/1895 | 05/01/1987 | |
| S27-09 | (Unmarked) | | | | |
| S27-10 | La Fontaine | Linda Jean | 08/08/1952 | 08/08/1952 | |
| S27-11 | La Fontaine | Gaynell | 08/10/1941 | 05/1956 | 15 yrs |
| S27-12 | La Fontaine | Carl Joseph | 06/30/1949 | 09/1949 | 3 mos. |
| S27-13 | La Fontaine | Bobbie Lee | 02/27/1940 | 02/27/1940 | |
| S27-14 | La Fontaine | Lillian A. Oliver | 12/06/1916 | 10/16/0000 | Wife of George E.; dod Oct 16, ???? (illegible) |
| S27-15 | La Fontaine | George Elvis | 10/01/1913 | 07/07/1983 | 69 yrs |
| S27-16 | La Fontaine | Julia Ann | 09/21/1964 | 10/19/1964 | 26 days |
| S27-17 | La Fontaine | David A. | 02/01/1963 | 10/16/1991 | |
| S27-18 | Oliver | Albert | 12/1906 | 08/08/1935 | |
| S27-19 | Oliver | Rosie B. | 06/24/1897 | 11/23/1971 | |
| S27-20a | Johnston | Joseph Allen | | | |
| S27-20b | Johnston | George Wallace | | | |
| S27-21 | White | Lewis | 01/01/1903 | 09/18/1984 | |
| S27-22 | White | Thelma | 1905 | | (reserved) |
| S27-23 | (Unmarked) | | | | |
| S27-24a | Little | Laura | | 09/11/1911 | |
| S27-24b | Little | Nathan | 04/08/1882 | 06/19/1969 | |
| S27-25 | Gaines | Lawrence | | 09/14/1939 | La Pvt 1st C. 307 Btn |
| S27-26 | Talbert | Blaine | 01/06/1897 | 05/28/1964 | |
| S27-27/29 | (Unmarked) | | | | |
| S27-30 | Collins | J. C. | | 08/23/1983 | |
| S27-32 | (Unmarked) | | | | |
| S27-33 | Joseph | Martha M. | | 02/14/1940 | |
| S27-34/38 | (Unmarked) | | | | |
| S27-39 | Davis | A Ray | 1913 | 1969 | |
| S27-40a | Young | Shelton V. | 08/23/1888 | 06/19/1967 | |
| S27-40b | Young | Jestine | 01/06/1888 | 09/28/1952 | |
| S27-40c | Bell | Harold W. | 02/24/1949 | 10/03/1970 | |
| S27-40d | Young | Shelton | 1919 | 1979 | Tec 5 US Army WWII |
| S27-40e | Simms | Mary Ellen | 01/03/1910 | 11/08/1988 | |
| S27-41 | Matheson | Orville G. | 03/25/1924 | 01/07/1947 | Pvt 551 AAA AW BN CAC WWII |
| S27-42 | (Unmarked) | | | | |
| S27-43 | Robertson | Nathan | | | |
| S28-01 | Bennett | Horace | 06/30/1923 | 09/26/1957 | Ms Pvt Co E Inf. WWII BSM PH |
| S28-02 | Bourgeois | Joseph L. | | | |
| S28-03 | Toomey | Edward H. Jr. | 02/03/1925 | 01/04/1935 | |
| S28-04 | Mineville | Leona M. Bourgeois | 03/08/1902 | 03/04/1943 | Wife of C. Mineville |
| S28-05/06 | (Unmarked) | | | | |
| S28-07a | (Unmarked) | | | | |
| S28-07b | Rosemond | Antoine | 08/02/1907 | 10/13/1986 | |
| S28-08 | (Unmarked) | | | | |
| S28-09 | Rosemond | family W.M. | | | |
| S28-10 | Prater | Laura R. | 11/19/1906 | 03/30/1980 | |
| S28-11 | (Unmarked) | | | | |
| S28-12a | Mendez | Richard | | 06/23/1924 | Age 70; postmaster of BSL |
| S28-12b | Mendez | Alice | | | sister |
| S28-13 | (Unmarked) | | | | |
| S28-14 | Williams | Tremaine | 12/09/1972 | 04/24/1982 | |
| S28-15 | Williams | Victor H. | 02/10/1919 | 08/30/1979 | Tec 5 US Army |
| S28-16 | Williams | Bertha M. | 05/24/1920 | 08/19/1979 | |
| S28-17 | Williams | Willemena | 01/24/1948 | 11/13/1984 | |
| S28-18 | Williams | Thomas J. | 10/11/1946 | 06/05/1969 | Ms Cpl Co D 12 Inf 4 Inf Div Vietnam BSM P.H. |
| S28-19 | Vonture | James Lawrence | 1910 | 1913 | |
| S28-20a | Richards | Georgia Ivory | | | |
| S28-20b | Ivory | Agnes | | | |
| S28-21a | Richards | Mary | | | |
| S28-21b | Richards | Maggie | | | |
| S28-22 | Lewis | Arthur | | | |
| S28-23/25 | (Unmarked) | | | | |
| S28-26 | Collins | Edna C. | | | (reserved) |
| S28-27 | Collins | Jefferson C. | 1908 | 1963 | |
| S28-28 | Burney | Peter | 1898 | 1967 | |
| S28-29 | Burney | Alice L | 1868 | 1947 | |
| S29-01 | (Unmarked) | | | | |
| S29-02 | Favre | Lena | | 07/29/1980 | 73 years |
| S29-03 | Bullock | Evelyn | | | |
| S29-04 | Bullock | Clayton L. | 12/07/1896 | 10/25/1972 | |
| S29-05a | Thomas | Isaac | | 1954 | |
| S29-05b | Ladner | Rosie | | 1956 | |
| S29-06 | Usner | Leona | | 1973 | |
| S29-07 | Favre | Georgia | | 1974 | |
| S29-08 | Bourgeois | S. J. | 06/16/1888 | 08/08/1954 | father |
| S29-09/14 | (Unmarked) | | | | |
| S29-15 | Hudson | Booker T. | 06/20/1924 | 12/22/1977 | |
| S29-16 | Brown | John | | | |
| S29-17 | Brown | Celeste | | 08/14/1924 | Age 38 |
| S29-18 | Curry | Joseph | | 07/18/1930 | |
| S29-19 | Samson | Gertrude | 11/03/1913 | 09/05/1953 | |
| S29-20 | (Unmarked) | | | | |
| S29-21 | Givens | Bertha R. | 01/02/1898 | 05/21/1983 | |
| S29-22 | Phillips | Lena | 08/04/1976 | 09/10/1983 | |
| S29-23 | Alexander | Cora Palmer | 04/06/1900 | 08/05/1985 | |
| S29-24 | Lewis | Arthur | | | (reserved) |
| S29-25 | Lewis | wife of Arthur | | | (nor dead) |
| S29-26 | Sherman | Jesse | 05/15/1923 | 05/03/1970 | Ms Pvt 636 QM Laundry WWII |
| S29-27a | Roth | Phillip | | 1932 | |
| S29-27b | Lang | Joseph | | 1910 | |
| S29-28 | Dambrino | Rita | | | |
| S29-29 | Dambrino | Joe J. | | | |
| S29-30 | Tirado | George | 1861 | 1934 | |
| S29-30/33 | (Unmarked) | | | | |
| S29-31 | Tirado | Consuello | 1896 | 1969 | |
| S29-32 | Roth | Augusta | 11/14/1868 | 06/24/1936 | |
| S29-33a | Dorsey | Abram | | | father |
| S29-33b | Brown | Alice | | | daughter |
| S29-34 | Stepney | L. | 1878 | 1972 | |
| S30-01/04 | (Unmarked) | | | | |
| S30-05 | McLane | James | | 11/09/1900 | Mason; husband of Kittie McLane; age 56 |
| S30-06 | Holden | James | 12/25/1874 | 11/19/1919 | |
| S30-07 | Holden | Jesse | | | |
| S30-08/09 | (Unmarked) | | | | |
| S30-10 | Brown | George W. | 1868 | 1928 | |
| S30-11a | Bennett | Alfonse | | | |
| S30-11b | Bennett | Ella | | | wife |
| S30-12a | Bennett | Royal | | | grandson |
| S30-12b | Bennett | Muriel | | | daughter |
| S30-13/15 | (Unmarked) | | | | |
| S30-16 | Fox | Thomas Philip | 08/26/1877 | 05/21/1925 | |
| S30-17a | Jacobs | Eliza | | | |
| S30-17b | Jacobs | Newton | | | |
| S30-18 | Fairconnetue | Helen | | 1944 | |
| S30-19 | (Unmarked) | | | | |
| S30-20a | Dennis | Christine Viola | 09/22/1887 | 08/09/1968 | |
| S30-20b | Dennis | Clara | | | |
| S30-20c | Dennis | Willie | | | |
| S30-21/22 | (Unmarked) | | | | |
| S30-23 | Whavers | Edward Charles Sr. | 1912 | 1976 | Pvt US Army WWII |
| S31-01 | Egloff | Paul A. | 11/30/1895 | 11/04/1974 | |
| S31-02 | Egloff | Amelia J. | 07/10/1901 | 01/09/1962 | |
| S31-03 | Albrest | Margaret E. | 03/14/1903 | 12/28/1978 | |
| S31-04/05 | (Unmarked) | | | | |
| S31-06 | Fox | Ernest L. (Bro) | 11/18/1898 | 05/06/1984 | |
| S31-07 | Adams | | | | illegible; husband of ? |
| S31-08 | Fox | Priscilla | | | Mother |
| S31-09 | Fox | Alex | | | Co B 1974 US GI |
| S31-10 | Madison | Olive | 1886 | 1976 | |
| S31-11 | Palmore | Bertha | | | Mother |
| S31-12 | Palmore | G. W. (Rev) | 1876 | 1941 | |
| S31-13 | Meggs | Elvira | | | |
| S31-14 | Fairconnetue | Belle | | | |
| S31-15/16 | (Unmarked) | | | | |
| S31-17 | Fairconnetue | Paul | | | |
| S31-18/20 | (Unmarked) | | | | |
| S31-21 | Bell | John Xavier | 06/11/1961 | 12/02/1987 | |
| S31-22 | Gilbert | James | 07/31/1886 | 12/29/1918 | Ms Cook 529 Engr Serv BN |
| S31-23 | Gilbert | Lloyd | | | |
| S31-24 | (Unmarked) | | | | |
| S31-25 | Nauman | Jospha | | 01/24/1913 | 30 years |
| S31-26 | Walker | Parthenia | 11/26/1905 | 05/17/1973 | Ms Tec US Army WWII |
| S31-27 | Talbert | Wilbert B. | 04/06/1918 | 06/08/1970 | Ms Tech 4 US Army WWII |
| S31-28 | Brown | John | | 12/25/1926 | Lodge 4740 CUO of OF, Age 39 yrs |
| S31-29 | Cleggett | Alma | 07/10/1800 | 09/30/1896 | |
| S31-30 | Talbert | Oswald George | | 12/19/1980 | |
| S31-31 | Vontoure | Mary E. | | 02/19/1971 | |
| S32-01 | Peterson | Amelia | | | |
| S32-02 | Hall | Authalia | 01/21/1899 | 02/05/1987 | |
| S32-03 | Lasage | Peter | | 04/04/1925 | 55 years |
| S32-04 | Maurice | Etna | 02/08/1878 | 04/25/1966 | |
| S32-05/06 | (Unmarked) | | | | |
| S32-07 | Barabino | Maurice | 12/23/1866 | 08/05/1940 | |
| S32-08 | Barabino | Amie | | | |
| S32-09 | Barabino | Eugean | | | |
| S32-10 | Barabino | Eugenia | | | |
| S32-11 | Rosenburg | Atain | | | |
| S32-12 | Price | Angeline | 07/04/1900 | 08/22/1972 | |
| S32-13 | Daniels | Annie C. | 1908 | 1973 | |
| S32-14 | Curry | Albert Sr. | 04/05/1882 | 05/11/1947 | |
| S32-15 | (Unmarked) | | | | |
| S32-16 | Egloff | Marie Surcouf | 05/06/1876 | 01/27/1943 | |
| S32-17 | Egloff | Ferdinand H. | 04/10/1869 | 11/18/1942 | |
| S32-18/23 | (Unmarked) | | | | |
| S32-24a | Singleton | Vivian | | | |
| S32-24b | Singleton | Merdis | | | |
| S32-24c | Singleton | Chalmain | | | |
| S32-25 | Singleton | Moses Sr | 1893 | 1970 | |
| S32-26 | Fretz | Charles | 11/06/1904 | 05/14/1961 | |
| S32-27 | Hicks | Rose Marie | 08/21/1948 | 01/09/1988 | |
| S32-28/30 | (Unmarked) | | | | |
| S32-31 | Holmes | Anatole J. Sr. | 01/17/1902 | 03/19/1964 | |
| S32-32 | Holmes | Eoline Ruth | 09/25/1967 | 06/03/1984 | |
| S32-33/37 | (Unmarked) | | | | |
| S32-38 | Walker | Albert E. | 11/30/1899 | 06/11/1975 | |
| S33-01/06 | (Unmarked) | | | | |
| S33-07 | Williams | Norman | 01/10/1870 | 03/15/1940 | |
| S33-08 | Williams | Rosie | | | Wife of Norman Williams |
| S33-09/10 | (Unmarked) | | | | |
| S33-11 | Bennett | James | | | US Navy |
| S33-12 | (Unmarked) | | | | |
| S33-13 | Hamilton | Alien | 10/08/1818 | 12/29/1897 | |
| S33-14 | Saucier | Emiline | 1876 | 1926 | |
| S33-15 | Curry | Celestine | | 10/16/1952 | |
| S33-16/17 | (Unmarked) | | | | |
| S33-18 | Fox | William | 07/13/1875 | 12/24/1926 | |
| S33-19 | Fox | Clara F. | 1880 | 1959 | |
| S33-20 | Fox | Dollie | 1884 | 1928 | |
| S33-21 | Armend | Felix L | 02/04/1911 | 02/03/1959 | |
| S33-22 | Almond | Alcide Sidney | 1913 | 1979 | Pvt US Army WWII |
| S33-23 | (Unmarked) | | | | |
| S33-24 | Chapman | Robert | | | Pvt US Army WWII |
| S33-25/34 | (Unmarked) | | | | |
| S33-35 | Chadwick | Charles | | | Maj. 38th Iowa Inf. |
| S33-36 | Weston | Modena R. | 08/03/1816 | 11/25/1898 | Born Albany, NY; US Army nurse 1861-1865 |
| S33-37a | Chadwick | Mary | 06/08/1839 | 11/02/1918 | |
| S33-37b | Chadwick | Modena | 05/08/1875 | 12/18/1896 | |
| S33-37c | Bourgeois | Abigail C. | 1879 | 1952 | |
| S33-38 | Bourgeois | William Lucien | 1874 | 01/06/1957 | |
| S33-39 | Coffer | June Breath | 1935 | 04/13/1983 | |
| S33-40 | (Unmarked) | | | | |
| S33-41 | Gilbert | Walter H. | | 11/24/1922 | Lodge 1740 |
| S33-42 | (Unmarked) | | | | |
| S33-43 | Dorsey | Emily | | | |
| S33-44 | Dorsey | Evelyn | | | |
| S33-45 | Dorcey | Henery | | | |
| S33-46 | Ramsey | Willis | | | |
| S33-47 | Ramsey | Augusta | | | |
| S34-01a | Butler | Louis | 04/19/1889 | 01/24/1919 | |
| S34-01b | Lanaux | Elvira Butler | 10/18/1885 | 11/26/1971 | |
| S34-02 | (Unmarked) | | | | |
| S34-03 | Clark | Adele | 11/01/1882 | 06/25/1951 | |
| S34-04 | Clark | Jefferson | | 05/08/1922 | 44 yrs; Lodge 4740 |
| S34-05 | Clark | Joseph H. | 06/20/1909 | 05/02/1945 | |
| S34-06/07 | (Unmarked) | | | | |
| S34-08 | Frye | Lela | 06/09/1881 | 05/04/1965 | |
| S34-09 | Davis | Frances W. | 07/04/1892 | 09/07/1979 | |
| S34-10 | (Unmarked) | | | | |
| S34-11 | Fairconeture | Ophelia | 11/17/1904 | 03/09/1985 | |
| S34-12 | Roy | Rosalie | 09/22/1925 | 04/05/1965 | |
| S34-13 | Fairconeture | James | 07/27/1899 | 06/13/1931 | |
| S34-14/17 | (Unmarked) | | | | |
| S34-18 | Chadwick | Joseph A. | 1873 | 1884 | |
| S34-19 | Bourgeois | Alfred | 1900 | 1900 | |
| S34-20 | Bourgeois | Horace | 1903 | 1904 | |
| S34-21 | Attaway | Alice | 1866 | 1894 | |
| S34-22 | Attaway | Charles A. | 1890 | 1902 | |
| S34-23 | Attaway | Edward | 1894 | 1894 | |
| S34-24 | McCall | James W. | | 04/10/1927 | 78 yrs. |
| S34-25 | McCall | Elizabeth Dudley | 12/19/1844 | 07/1922 | Wife of Daniel McCall |
| S34-26 | Bourgeois | Paul C. | 01/14/1913 | 01/27/1970 | Ms MOMM 2 US Coast Guard WWII |
| S34-27/29 | (Unmarked) | | | | |
| S34-30 | Harris | Anita | 11/27/1893 | 11/22/1946 | |
| S34-31 | Harris | Willie | 10/26/1893 | 08/17/1968 | |
| S34-32 | (Unmarked) | | | | |
| S35-01 | Jones | Mary R. | 07/02/1908 | 03/29/1968 | |
| S35-02/03 | (Unmarked) | | | | |
| S35-04 | Lanaux | Rosa | | 02/11/1919 | |
| S35-05 | Lanaux | Sylvester | 04/17/1885 | 12/02/1960 | |
| S35-06a | Go(?) | Gloria Jean | 1943 | 1979 | |
| S35-06b | (Unmarked) | | | | |
| S35-07/10 | (Unmarked) | | | | |
| S35-11 | Lezana | Claris | 1860 | 04/12/1910 | |
| S35-12 | (Unmarked) | | | | |
| S35-13 | Robinson | John | | 08/30/1918 | 81 yrs; Lodge 4740 |
| S35-14 | Curry | ? | | | (reserved) |
| S35-15 | Curry | Lois | 1933 | 1976 | |
| S35-16 | Curry | Stella | 1914 | 1964 | |
| S35-17 | Williams | James | | | |
| S35-18 | (Unmarked) | | | | |
| S35-19 | Williams | L. S. | 04/08/1814 | 12/26/1866 | Mason |
| S35-20/21 | (Unmarked) | | | | |
| S35-22 | Fennel | Rose | | 10/13/1935 | Mother; 86 yrs |
| S35-23 | Fennel | Alex | | 04/21/1919 | Father; 68 yrs |
| S35-24 | Fennel | Alexander Jr. | | 03/13/1983 | 93 yrs |
| S35-25 | Bennoitt | Lillie | | 06/06/1949 | |
| S35-26 | Bennoitt | Peter | | 02/27/1957 | |
| S35-29 | Glaspie | Betsie | 03/06/1877 | 02/15/1927 | |
| S35-30 | Augustine | Mary | 01/25/1854 | 12/23/1944 | |
| S35-31 | Blake | Gladys | 01/07/1896 | | niece; date of death illegible |
| S35-32 | (Unmarked) | | | | |
| S35-33a | Meggs | Estella | 01/28/1878 | 06/03/1931 | Ruth # 1749 |
| S35-33b | Meggs | Henry | | | husband |
| S35-33c | White | Bertha Meggs | | | |
| S35-34 | (Unmarked) | | | | |
| S35-35 | Murray | Catherine Edwina | 07/23/1928 | 10/13/1988 | |
| S35-36 | (Unmarked) | | | | |
| S35-37 | Tillman | Murray | 03/18/1920 | 11/11/1987 | |
| S35-38 | Bridges | Walker | | 07/09/1984 | 60 yrs |
| S36-01 | (Unmarked) | | | | |
| S36-02 | Holland | Mamie Estelle | | | |
| S36-03/06 | (Unmarked) | | | | |
| S36-07 | Morgan | William | | 1934 | 63 yrs; employee of W.A. McDonald family who provided memorial |
| S36-08 | Chews | Priscilla | | 03/10/1895 | mother; native of Virginia; 85 yrs |
| S36-09 | (Unmarked) | | | | |
| S36-10 | James | Mrs. Richard | 05/13/1887 | 11/1935 | native of N.O., La |
| S36-11 | James | Richard | | | |
| S36-12/14 | (Unmarked) | | | | |
| S36-15 | Watson | Lillian E. | 02/23/1905 | | (reserved) |
| S36-16 | Watson | Alton James | | 10/18/1985 | 84 yrs |
| S36-17 | Saucier | Carrie | 1892 | 1940 | |
| S36-18 | Jefferson | William | | 10/18/1918 | Ms Pvt US Army |
| S36-19/27 | (Unmarked) | | | | |
| S36-28 | Adams | Julian | | 09/13/1878 | native of Liverpool, N.Y.; 42 yrs |
| S36-29/31 | (Unmarked) | | | | |
| S36-32 | Gilbert | Oswald P. | 12/18/1897 | 09/12/1957 | Ms Pfc Trp 19 Cavalry WWI |
| S36-33/34 | (Unmarked) | | | | |
| S36-35 | Patterson | Frank | 1935 | 1936 | |
| S36-36 | (Unmarked) | | | | |
| S36-37 | Herrington | Cardell | 03/26/1954 | 07/02/1971 | |
| S36-38 | (Unmarked) | | | | |
| S36-39/42 | (Unmarked) | | | | |
| S37-01a | Williams | Victor | | | |
| S37-01b | Williams | Josephine Rieux | | | |
| S37-02 | Jones | George Washington Sr. | | 09/07/1982 | 81 yrs |
| S37-03 | Govan | Earl C. | 02/06/1910 | 10/30/1982 | 72 yrs |
| S37-04 | Roberts | Lonnie L. | | 05/1939 | Fla Sgt 318 Labor Bn |
| S37-05 | Young | George A. | 07/04/1865 | 10/17/1929 | |
| S37-06/07 | (Unmarked) | | | | |
| S37-08 | Wright | Mary Jain | 1854 | | wife of Amor Wright; date of death unknown or illegible |
| S37-09/10 | (Unmarked) | | | | |
| S37-11 | Powell | George T | 09/23/1861 | 07/27/1899 | Mason; husband of S.E. Powell |
| S37-12 | Powell | George T. (Jr.)? | | 09/24/1931 | Ms Pvt 806 Pioneer Inf |
| S37-13/14 | (Unmarked) | | | | |
| S37-15 | Coleman | William Joseph | 06/21/1930 | 03/01/1975 | SN US Navy |
| S37-16 | Peters | Louis W. | 11/26/1914 | 06/29/1934 | |
| S37-17 | Alexander | Emanuel | 12/25/1886 | 01/21/1960 | |
| S37-18 | Godfrey | Emma | 05/20/1928 | 10/10/1958 | |
| S37-19 | Alexander | Blanche E. | | 08/05/1977 | |
| S37-20+21 | Reed? | family | | | |
| S37-23 | Edwards | Mary | | 07/27/1914 | |
| S37-24 | Bryant | Paul | 1871 | | date of death unknown or illegible |
| S37-25 | Bryant | Leonicia | 1870 | | date of death unknown or illegible |
| S37-26 | (Unmarked) | | | | |
| S37-27a | Montgomery | Corrine | | | |
| S37-27b | Montgomery | Sam | | | husband |
| S37-27c | Montgomery | Jesse | | | son |
| S37-28 | Curry | Joseph A. | 1916 | 1961 | |
| S37-29 | Sayles | Elijah | 1908 | 1978 | US Army |
| S37-30 | Williams | Edmund L. | 07/30/1922 | 08/26/1986 | |
| S37-31 | Lock | Mary | 12/10/1897 | 10/07/1926 | |
| S37-32 | Jones | Robert H. | | | Co F SUS CLD Vol Inf ? Spanish American War |
| S37-33/36 | (Unmarked) | | | | |
| S38-01/04 | (Unmarked) | | | | |
| S38-05 | Alfred | Irene | 01/20/1881 | 01/15/1968 | |
| S38-06/12 | (Unmarked) | | | | |
| S38-13 | Williams | David | 1932 | 1975 | Pfc US Army, Korea |
| S38-14 | Davis | Julian J. | 07/27/1979 | 06/06/1982 | |
| S38-15 | Davis | William | 04/05/1911 | 06/11/1982 | Pvt US Army WWII |
| S38-16 | Butler | J. M. | 1870 | 1922 | |
| S38-17 | Meggs | Etta C. Butler | | 08/11/1949 | |
| S38-18 | Plummer | Francis | 1870 | | |
| S38-19 | Plummer | Tena | 1868 | 1938 | |
| S38-20 | Coleman | Elbertha | 1911 | 1960 | |
| S38-21 | Plummer | Stanley | 1907 | 1977 | |
| S38-22/24 | (Unmarked) | | | | |
| S38-25a | Hawthorne | Jane T. | 07/18/1850 | 03/06/1935 | |
| S38-25b | Bank | O. D. | 05/10/1910 | 08/03/1982 | |
| S38-26 | Jones | Ella | 11/23/1880 | | dod 02/10/19??, year illegible |
| S38-27 | Joseph | Willie Mae | 12/25/1900 | 01/14/1977 | |
| S38-28 | Banks | Robert P. | 06/13/1965 | 01/31/1970 | |
| S38-29 | Allen | Mable | 03/05/1897 | 09/25/1978 | mother |
| S38-30 | Abrams | Jessie | | 09/29/1976 | |
| S38-31 | Montgomery | Wallace | | | |
| S38-32a | Williams | P. | 08/09/1922 | 08/20/1957 | |
| S38-32b | Lanaux | Ronald S. | 02/07/1899 | | age 79; dod 10/25/????, year illegible |
| S38-33 | Lanaux | L. | 11/25/1903 | 10/29/1938 | |
| S38-34/35 | (Unmarked) | | | | |
| S38-36a | Hamilton | Alija | | 10/08/1918 | Ms Pvt 161 Depot Brig |
| S38-36b | Hamilton | Frank (Tim) | 05/12/1908 | 02/18/1982 | |
| S38-37 | (Unmarked) | | | | |
| S38-38 | Knight | John | | 08/20/1934 | Ms Pvt 340 Serv Bn QMC |
| S39-01 | Young | Bedford C. | 12/10/1918 | 12/17/1952 | Ms Tec 5 1214 SVC Comd Unit WWII |
| S39-02a | Lowe | H. H. (Bro) | | 04/10/1934 | Lodge 4740 G.U.O. of OF |
| S39-02b | Lowe | Leila Martin | | | wife |
| S39-03 | Greenwood | James | 07/03/1918 | 03/19/1949 | |
| S39-04 | Williams | Sarah | 1859 | 1945 | |
| S39-05/06 | (Unmarked) | | | | |
| S39-07 | Lionell | Susan | | | |
| S39-08 | Anderson | Aline | | 12/08/1926 | |
| S39-09 | Johnson | Joseph | | 12/09/1924 | native of N.O., La; age 51 |
| S39-10 | Johnson | Annie | | 09/20/1934 | 68 yrs |
| S39-11 | Rose | Mamie | 1894 | 1941 | |
| S39-12 | Smith | William H. | 1858 | 1942 | |
| S39-13/18 | (Unmarked) | | | | |
| S39-19a | Davis | Elizabeth | 10/16/1865 | 12/26/1915 | Household of Ruth # 1748 |
| S39-19b | Labat | Gregory Ruben | 02/25/1956 | 10/02/1988 | |
| S39-20/21 | (Unmarked) | | | | |
| S39-22 | Harris | Susan | 12/25/1868 | 09/28/1944 | |
| S39-24a | Hampton | Leroy | | 04/20/1908 | |
| S39-24b | Hampton | Rosie | | | |
| S39-25 | Tucker | Helen H. | 11/08/1913 | 10/03/1984 | |
| S39-26 | Colly | John G. | | | 2nd Lt. Co F 3 Ms Inf CSA |
| S39-27 | Colly | Caider C. | | 11/25/1876 | 1st Lt. Robert Co Tex MTD Inf Mexican War |
| S39-28/37 | (Unmarked) | | | | |
| S39-33 | (Unmarked) | | | | |
| S39-38 | Wilder | Olivia A. Kinchen | | 01/10/1873 | wife of Wm. H. Wilder; age 41 |
| S40-01a | Gayle | Ada | 09/28/1818 | 01/22/1911 | |
| S40-01b | Gayle | Leo | | | son of Ada Gayle |
| S40-02a | Morris | Lee W. (Rev) | 08/06/1897 | 04/17/1984 | 86 yrs; Pvt US Army WWI |
| S40-02b | Haynes | I. R. (Rev) | | | |
| S40-02c | Haynes | Josephine | | | |
| S40-03 | (Unmarked) | | | | |
| S40-04 | Hiland | Sally | | | |
| S40-05a | Henry | Allen B. | | | |
| S40-05b | Henry | Mrs. Allen B. | | | |
| S40-06/12 | (Unmarked) | | | | |
| S40-13a | Johnson | Michael Sr. | 09/25/1949 | 03/01/1987 | |
| S40-13b | Johnson | Michael Jr. | 08/18/1974 | 11/15/1974 | |
| S40-14/15 | (Unmarked) | | | | |
| S40-16a | Mosley | Augustine | | | |
| S40-16b | Mosley | Floyd | | | |
| S40-17 | Mosley | Earnestine | 08/05/1873 | 11/14/1945 | |
| S40-18 | Whitley | Virginia | 1873 | 1930 | |
| S40-19 | Patrick | Joseph J. | 1905 | 1976 | Tec 4 Army Air Force WWII |
| S40-20 | (Unmarked) | | | | |
| S40-21 | Robinson | Chris | 09/25/1880 | 08/12/1930 | Lodge 1740 |
| S40-22/25 | (Unmarked) | | | | |
| S40-26 | Murphy | James | 1873 | 1930 | N.O., La |
| S40-27 | Nick | Elizabeth | 09/03/1908 | 05/18/1972 | |
| S40-28a | Barthe | Lillian | 07/30/1896 | 05/1974 | |
| S40-28b | (Unmarked) | | | | |
| S40-29 | Adolph | Mattie Dell | | 04/09/1987 | 83 yrs |
| S40-30 | Taylor | Kenneth C. | | 04/15/1987 | 4 yrs |
| S40-31 | Robinson | Albert, Sr. | 12/08/1908 | 11/29/1988 | |
| unk | Garcia | Winnie Maude | | 11/27/1970 | 84 yrs. |
| unk | Johnson | Linot (Mrs. C.O.) | | 07/18/1976 | 70 yrs. |
| Unknown | Avery | Annie E. | | 04/11/1898 | |
| Unknown | Bangard | John Mrs. | | 10/11/1907 | age 29 |
| Unknown | Banks | Grace Harris | | 08/13/1989 | |
| Unknown | Baumgartner | John | | 04/24/1908 | age 60 |
| Unknown | Bermond | Frank D. | | 03/14/1935 | age 72 |
| Unknown | Bordage | infant son of John | | 12/04/1897 | |
| Unknown | Bordages | Ernest Wilfred | | 09/21/1918 | age 24 |
| Unknown | Bordages | Ester D. | | 12/28/1915 | age 18 |
| Unknown | Bordages | Marie Saucier | | 02/01/1909 | age 92 |
| Unknown | Bordages | Mrs. J. J. | | 06/03/1911 | age 20 |
| Unknown | Bourgeois | Angeline Carver | | 03/14/1909 | age 59; married to Leon Bourgeois |
| Unknown | Bourgeois | Jean Claudia | | 10/13/1938 | age 4 |
| Unknown | Bourgeois | Monita | 1933 | 1938 | |
| Unknown | Brandao | Julia Donovan | | 05/12/1929 | age 70 |
| Unknown | Carlson | Frederick | | 04/30/1908 | age 61; native of Norway |
| Unknown | Carlson | Pauline | | 07/02/1919 | age 76 |
| Unknown | Combel | Henry I., Dr. | | 03/24/1904 | age 27; surgeon US Army; Spanish American War |
| Unknown | Curry | Orelia | | 03/09/1954 | |
| Unknown | Darnou | Mrs. Jules | | 06/25/1911 | age 52 |
| Unknown | DeBlieux | Benjamin | | 03/30/1897 | age 72; Capt. Civil War; Judge |
| Unknown | Deramee | Mrs. Susie | | 10/28/1904 | age 22 |
| Unknown | Egloff | Henry | | 03/29/1917 | age 75 |
| Unknown | Egloff | infant | | 12/1897 | |
| Unknown | Evans | Lelia Mary | | 08/1910 | |
| Unknown | Favre | John Sylvanus | | 04/10/1917 | age 26; died in Naval Hsp, Great Neck, Ill |
| unknown | Favre | Orelia Luc | | 09/08/1935 | age 84; wife of Lawrence Favre; mother of Xavier and Amelia; might be buried in grave N18-17 |
| Unknown | Favre | Sadie Roberson | | 11/02/1989 | age 79; native of Heratio, Ark.; wife of Lucien Favre |
| Unknown | Fush | Margaret Hagelberger | | 05/08/1898 | age 84; wife of I. J. |
| Unknown | Garaudy | Delphine Claudia | | 12/17/1897 | 59 yrs; sister of Capt. J. V. Toulme |
| Unknown | Geurand | Charles, Capt. | | 09/22/1907 | age 80; native of France; husband of Marie Suriman |
| Unknown | Guarharda | Manvella | | 02/13/1932 | native of Italy |
| Unknown | Gugliard | John J. | | 04/02/1908 | age 19; native of Italy |
| Unknown | Harvey | Mariana Ann | | 09/27/1989 | age 21 |
| Unknown | Hereford | Mrs. Walter | | 11/30/1907 | age 19 |
| Unknown | Hunter | Jan Mina | | 04/25/1944 | |
| Unknown | Hunter | Jennie | | | |
| Unknown | Hunter | Miss Zadie | | 12/10/1935 | Sister of Jane Mina Hunter and Mrs. C.A. Worsley. |
| Unknown | Joyner | Albert Eugene | | 08/30/1935 | age 62 |
| Unknown | Koernes | Mary | | 02/09/1919 | age 73 |
| Unknown | Koningslow | J. L. | | 04/21/1896 | |
| Unknown | Little | Daisy | | | |
| Unknown | Luxich | Margaret | | 05/08/1904 | age 47; wife of John |
| Unknown | McCrackon | Georgia C. | 08/06/1870 | 04/28/1945 | Born in SC; widow of George B. McCrackon; daughter of Nathaniel and Fannie Osbon. |
| Unknown | Mioton | Mary | | 06/06/1929 | age 60 |
| Unknown | Mitchell | Ettie Garnett Bookter | | 04/08/1935 | Source: obituary |
| Unknown | Mollere | Paul Louis | | 07/31/1938 | age 51; husband of Martha Chadwick |
| Unknown | Munton | James | | 06/08/1929 | native of England; husband of Mary Baggott |
| Unknown | Muzeau | Mrs. Henri | | 02/03/1897 | Age 81; native of France |
| Unknown | Necaise | Antionette | 1827 | 1904 | |
| Unknown | Nick | Major | | 06/25/1989 | age 88 |
| Unknown | Noll | Albert Peter | | 10/23/1917 | age 71 |
| Unknown | Reviere | Nuna | | 04/19/1909 | |
| Unknown | Reyer | Mrs. A. | | 12/1897 | |
| Unknown | Richardson | Martin Van Buren | | 05/15/1909 | age 30 |
| Unknown | Richardson | Mrs. Carrie Fricke | | 02/07/1917 | age 28; wife of J. R. |
| Unknown | Roscher | Mrs. Ada Morris | | 11/13/1929 | age 65 |
| Unknown | Roscher | Mrs. Victoria Luc | | 09/19/1929 | age 34; wife of Cleveland |
| Unknown | Sadler | Caswell B. | | 04/04/1908 | age 75 |
| Unknown | Savage | Anna Norris | | 01/23/1910 | age 82 |
| Unknown | Savage | Fanny Morris | | 06/12/1916 | nom de plume "Pearlita" |
| Unknown | Schwall | Annie Marie | | 06/05/1916 | |
| Unknown | Smelker | infant | | 08/26/1905 | 7 mos |
| Unknown | Smelker | Jefferson | | 03/12/1910 | husband of Florence Gardebled |
| Unknown | Summers | Janie F. Bradford | | 11/12/1905 | 45 yrs; wife of C.T. Summers; info from funeral notice |
| Unknown | Sunderland | Capt. William | | | |
| Unknown | Thomas | Cora Lee | | 09/18/1987 | reported in SCE |
| Unknown | Toulme | Mrs. E. D. | | 12/09/1903 | wife of E. D. |
| Unknown | Vairin | Rosalie Darnou | | 06/19/1917 | age 25 |
| Unknown | Webre | John | | 11/19/1903 | age 52 |
| Unknown | Wilson | Catherine McDaniel | | 06/20/1916 | age 81 |
| Unknown | Yenni | Elizabeth Ann | | 12/01/1917 | age 58; wife of W. H. |
| Unknown | Posey | Kate | 1850 | 12/25/1900 | Widow of Benjamin Lane, mother of Maude. (info obtained from obit SCE. Probably buried in one of the unmarked graves S18-31 or 32) |
| Unknown | White | Samuel | 11/30/1957 | 04/11/1967 | son of Francis White & Andrew Dallas; from LA death certificate |
| Unknown | Williams | Margurite | 10/20/1940 | 12/16/1983 | dau of Francis White & James Williams; from LA death certificate |
| S21-15b | Lizana | Loretta Roemer | 12/26/1891 | 08/29/1990 | Reinterred by family. |
| S21-15c | Ladner | Nola Lizana | 10/11/1913 | 05/18/1992 | Reinterred by family. |