Indian burial grounds. Overgrown and no visible evidence of any graves present.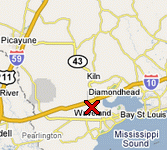 Directions:
Located between Harbor Drive and Tequila Drive in the Choctaw Oaks subdivision, which is located west of the 603 and south of I-10. Indian burial grounds, but there is no visible evidence of graves.
Unfortunately, this cemetery has not yet been indexed.