Catahoula Little Providence Cemetery
This cemetery is situated in a large clearing just up the road from Catahoula Little Providence Baptist Church in the central part of the county. The gravel road leading to it is blocked by a large metal gate that is usually locked but allows access on foot.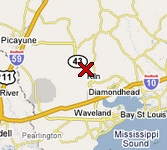 Directions:
From I-10 take the 603 North (= exit 13), then turn left on State Road 43. After about 5.1 miles, you will see the Little Providence Baptist Church on the right hand side. Continue another 300 yards or so until you see the entrance in the woods on the left side of the road. It is marked by a yellow metal gate. If locked, you would have to walk about 300 yards to reach the gravesite.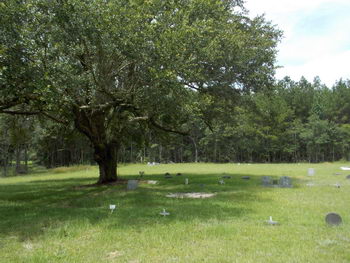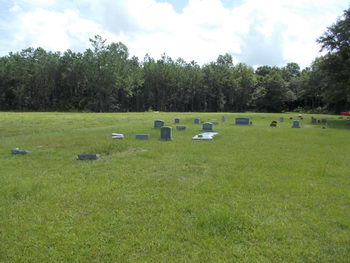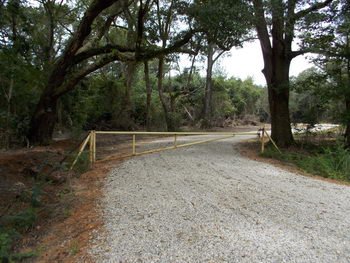 Cemetery layout:
Row numbers go from left to right. Sections A-D go from the front to the back. Section E is the middle section starting from the front. Section F is almost to the back.


Graves (
101

):
| # | Last Name | First Name | Birth | Death | Comment |
| --- | --- | --- | --- | --- | --- |
| A01-01 | Sellers | Evangeline Cain | 1896 | 1993 | crypt |
| A01-02 | Sellers | Willie Thomas | 08/16/1892 | 07/28/1983 | |
| A01-03 | Sellers | Edward | 1893 | 1964 | |
| A01-04 | (Unmarked) | | | | white wooden cross |
| A02-01 | Sellers | William T. | 06/24/1927 | 02/19/1967 | Mississippi PVT 318 Base Unit AAF World War II |
| A02-02 | (Unmarked) | | | | white wooden cross |
| A03-01 | (Unmarked) | | | | white wooden cross |
| A03-02 | Sellers | Rupert C. | | 03/02/1975 | PVT US Army Korea |
| A04-01 | (Unmarked) | | | | white wooden cross |
| A04-02 | Hawthorne | Maguerite Leola Sellers | 08/27/1930 | 10/24/2004 | |
| A05-01 | Bridges | Jason | 08/14/1978 | 09/21/1995 | |
| A05-02 | Bridges | Earline | 10/14/1952 | 06/04/2016 | age 65 |
| A06-01 | Thomas | Linda Mayfield | 11/07/1948 | 08/23/2006 | age 57 |
| A06-02 | Bridges | Gwendolyn Sellers Keys | 10/31/1920 | 05/02/2011 | |
| A07-01 | Bonner | Lillie Beatrice | 11/04/1956 | 03/23/2013 | |
| A08-01 | Hampton | Helen Gertrude Sellers | 04/13/1924 | 11/09/2015 | |
| B01-01 | (Unmarked) | | | | broken white cross |
| B02-01 | (Unmarked) | | | | broken white cross |
| C01-01a | Gillum | Novella | 05/05/1923 | 12/06/1989 | |
| C01-01b | Gillum | Latrice Renee | 04/27/1984 | 12/06/1989 | |
| C02-01 | Foster | Adliene | 03/24/1915 | 04/24/2006 | |
| C02-02a | Lewis | Howard | 05/03/1872 | 09/30/1956 | |
| C02-02b | Lewis | Margaret G. | 08/15/1890 | 04/11/1984 | |
| C02-03 | Lewis | Wilmer | 08/02/1918 | 02/21/1971 | |
| D01-01 | Nelson | Evon | 05/27/1958 | 10/27/2015 | |
| E01-01 | Simpkins | Willie Rufus | 04/20/1920 | 02/13/1991 | US Army World War II |
| E01-02 | (Unmarked) | | | | white wooden cross |
| E01-03 | (Unmarked) | | | | white wooden cross |
| E02-01a | Newkirk | Rev. Thomas J | 1879 | 1965 | |
| E02-01b | Newkirk | Mary Ellen Sellers | 1898 | 1957 | |
| E02-02 | Cooley | Lillie Maseline Newkirk | 12/05/1917 | 08/02/1945 | not Legible |
| E02-03 | Newkirk | Esther B. | 05/24/1929 | 11/28/1984 | |
| E02-04 | Newkirk | Lester Thomas | 05/30/1927 | 06/27/2005 | US Coast Guard World War II |
| E02-05 | Newkirk | Jaedyn Emily | 05/28/2006 | 05/28/2006 | |
| E02-06 | Newkirk | Matthew Thomas | 11/10/1994 | 07/03/2016 | |
| E02-07 | (Unmarked) | | | | slab + cross |
| E02-08 | (Unmarked) | | | | slab + cross |
| E02-09 | (Unmarked) | | | | slab + cross |
| E02-10 | (Unmarked) | | | | slab |
| E02-11 | (Unmarked) | | | | slab |
| E03-01 | Newkirk | John Thomas | 04/21/1936 | 06/13/2016 | |
| E03-02 | Newkirk | Evelyn J. James | 02/11/1943 | 06/19/2006 | |
| E03-03 | Bell | Dorothy Mae Newkirk | 02/03/1939 | 04/08/2014 | |
| E04-01 | (Unmarked) | | | | |
| E04-02 | (Unmarked) | | | | funeral home marker |
| E04-03 | (Unmarked) | | | | white wooden cross |
| E04-04 | Harris | W. H. | | 04/23/1985 | no dob, age 65 |
| E04-05 | (Unmarked) | | | | unmarked tombstone |
| E04-06 | (Unmarked) | | | | white wooden cross |
| E04-07 | (Unmarked) | | | | white wooden cross |
| E04-08 | James | Lula Roberta | | | dates not given or too weathered |
| E04-09 | Benton | Rose Lee Sellers | 06/05/1934 | 02/27/1996 | |
| E05-01 | Young | Ruth E. | 04/24/1925 | 03/24/1988 | |
| E05-02 | (Unmarked) | | | | funeral home marker |
| E06-01 | Baker | Dora Lee Harris | 08/27/1927 | 05/01/1952 | |
| E06-02 | (Unmarked) | | | | white wooden cross |
| E06-03 | (Unmarked) | | | | white wooden cross |
| E06-04a | Acker | Leola J. | 08/24/1884 | 04/21/1978 | |
| E06-04b | Acker | Lolo | 08/17/1880 | 11/08/1957 | |
| E06-05 | (Unmarked) | | | | white wooden cross |
| E06-06 | (Unmarked) | | | | white wooden cross |
| E06-07 | Acker | Herbert | 05/25/1923 | 01/27/1964 | Mississippi PVT US Army World War II |
| E06-08 | Paige | Nancy A. | 03/23/1903 | 04/24/1983 | |
| E06-09 | (Unmarked) | | | | remnants of cross |
| E06-10 | (Unmarked) | | | | funeral home marker |
| E06-11 | Acker | Sherman L. | 11/05/1929 | 08/17/1998 | US Army Korea |
| E07-01a | Acker | Freddie | 04/24/1913 | 07/09/2006 | |
| E07-01b | Acker | Alice P. | 05/21/1913 | 01/18/1966 | |
| E07-02 | Acker | R C | 04/04/1927 | 10/26/2006 | US Army World War II & Korea |
| E07-03 | Jones | Bertina A. | 1892 | 1985 | stone sunken, dates buried |
| E07-04 | Stacks | Bulah | | 07/13/1969 | practically illegible |
| E07-05 | (Unmarked) | | | | funeral home marker (empty) |
| E07-06 | Stacks | Berry | | 11/1941 | practically illegible |
| E07-07 | Gardner | Verna Marge(?) Prior | 03/25/1935 | 02/11/1955 | age 19 |
| E07-08 | Prior | James W | 08/19/1933 | 10/31/1973 | funeral home marker |
| E07-09 | Prior | Alton | 07/22/1936 | 07/01/1977 | PFC US Army |
| E07-10 | Craft | Mary Frances | 06/07/1924 | 06/17/1996 | (not certain, funeral marker hard to read); Age: ? years 0 months 10 days |
| E08-01 | Soul | Bertena (Mrs) | 07/18/1910 | 11/30/1972 | very hard to read |
| E08-02 | Soul | Manuel (Mr) | 08/21/1911 | 03/19/1972 | very hard to read |
| E08-03 | (Unmarked) | | | | white wooden cross |
| E08-04 | (Unmarked) | | | | |
| E08-05 | James | Gloria "Jeannie" | 04/05/1940 | 01/25/2005 | |
| E08-06 | James | Dorothy Ann | 11/01/1943 | 07/29/1961 | (Illegible) |
| E08-07a | James | Henry F | 07/02/1889 | 03/17/1984 | |
| E08-07b | James | Emma W | 02/24/1899 | 11/08/1999 | |
| E08-08 | James | Freddie J | | | AM3 US Navy World War II |
| E08-09 | James | Hattie Bell | 10/25/1927 | 04/05/1947 | both old and new tombstone |
| E08-10 | Franklin | Ruth James | 05/30/1920 | 04/29/1998 | |
| E09-01 | Johnson | Charlotte Maudine | 11/07/1922 | 08/16/2003 | |
| E09-02 | Johnson | Louis | 1925 | 1999 | PFC US Army, World War II |
| E09-03 | Coney | Hettie | 07/07/1907 | 07/10/1989 | |
| E10-01 | Payne | Terry O'Landon | 09/22/1958 | 05/25/2010 | |
| E10-02 | Farve | Chase Davis | 07/12/2007 | 07/12/2007 | stillborn |
| E10-03 | Flowers | Johnny C. | | | CPL US Army World War II, dates sunken |
| E10-04 | Flowers | Minnie R. | 08/25/1928 | 07/11/1994 | |
| E11-01 | Goff | Chris | 11/12/1981 | 02/21/2003 | |
| E11-02 | Goff | Earnestine "Necie" | 08/24/1957 | 03/27/2002 | |
| F01-01 | (Unmarked) | | | | white wooden cross |
| F01-02 | Devaughn | Fred | | | PVT, no dates or sunken |
| F01-03 | (Unmarked) | | | | funeral home marker |
| F01-04 | (Unmarked) | | | | funeral home marker |