Currently located in Pearl River County, Gipson Cemetery was part of Hancock County until 1890.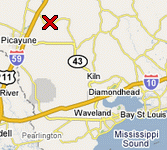 Directions:
From I-10 take the 603 North (= exit 13), then turn left on State Road 43 after about 5.7 miles. Turn right on Leetown Road after about 7.4 miles, then left at Caesar Necaise Road after 5.7 miles. Follow this road, and continue on West Union Road (it changes name at the intersection with Bouie Road). After approximately 4.1 miles, and not a 100 yards past the Caesar Road intersection, the cemetery is on the right hand side.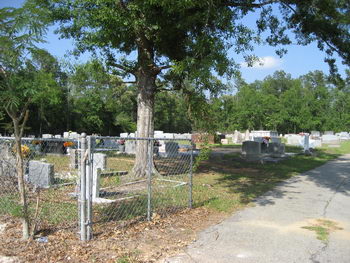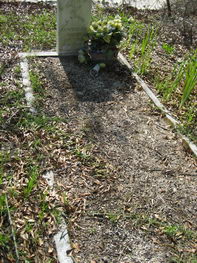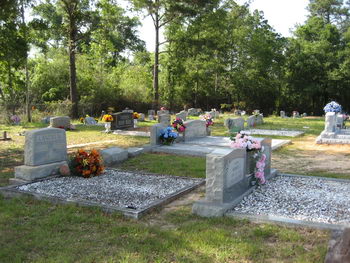 Cemetery layout:
Gipson cemetery was originally divided into four sections. Newer records have been added but the location of most of these graves is unknown. Sections A and B are divided into rows. Row numbers run from east to west. Graves are numbered from the center road out towards the perimeter.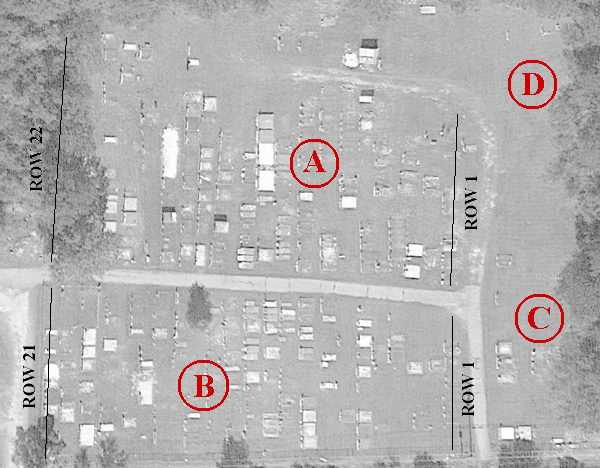 Graves (
703

):
| # | Last Name | First Name | Birth | Death | Comment |
| --- | --- | --- | --- | --- | --- |
| A16-03 | Mitchell | Vermon | 05/25/1907 | 04/25/1908 | |
| A20-07 | Brogdon | Arminda D. | 01/14/1909 | 05/23/1948 | |
| A20-06 | Brogdon | J. Denson | 07/28/1912 | 08/09/1956 | |
| A11-01 | Gibson | James Allen | 04/09/1900 | 02/14/1975 | m. Stella S |
| A11-02 | Gibson | Stella Smith | 02/22/1899 | 04/11/1975 | m. James A |
| A12-04 | Gipson | Alford | 10/31/1903 | 08/14/1904 | |
| A12-03 | Gipson | Eliza Ann Smith | 12/29/1859 | 02/03/1937 | |
| B19-03 | Gipson | Eva Awilda Mitchell | 05/26/1885 | 06/03/1930 | m. Joseph J. |
| unk-15 | Gipson | Gertrude | 10/29/1903 | | |
| B19-01 | Gipson | Infant | 01/12/1919 | 01/12/1919 | son of J.J. & E.A. |
| B14-01 | Gipson | Infant daughter | 11/09/1919 | 11/09/1919 | dau of J.E. & I.J. |
| A12-02 | Gipson | John Elbert Sr | 06/05/1850 | 06/16/1925 | same person as A11-03 |
| B19-04 | Gipson | Joseph J | 01/11/1878 | 10/08/1963 | m. Eva Awilda; son of J.E. Gipson & Eliza Ann Smith |
| A12-01 | Gipson | Levi A | 11/22/1888 | 10/28/1953 | |
| A14-12 | Jordan | Rodger Dale | 08/21/1972 | 02/07/1988 | |
| A19-09 | Landrum | Agnes V. | 1899 | 1967 | m. Luler Q. |
| A19-08 | Landrum | Luler Q. | 1894 | 1958 | m. Agnes V. |
| A20-05 | McKellip | Irese L. | 08/03/1919 | 03/12/2008 | m. Kenneth G. |
| A20-04 | McKellip | Kenneth G. | 04/14/1922 | 12/22/1977 | m. Irese L. |
| unk-34 | Pigott | Alma | 1903 | 1990 | funeral home marker |
| A22-01 | Smith | C. S. | 01/06/1845 | 03/03/1930 | confederate soldier (18th MS Cav.) |
| A13-01 | Smith | Jordan | 05/06/1886 | 05/25/1973 | w. Gertrude |
| A12-08 | Spiers | Andrew Jackson | 1876 | 1945 | |
| A12-09 | Spiers | Mary Gipson | 1882 | 1963 | |
| A12-05 | Spiers | Nyra | 06/29/1903 | 07/29/1904 | |
| A18-08 | Wilkinson | J. L. | 02/23/1907 | 03/20/1907 | dod hard to read |
| A01-01 | Fincher | Naomi Christina Lee | 10/02/1889 | 06/07/1956 | |
| A01-02 | Pippin | Myra Jo | 12/08/1936 | 04/11/2004 | Cpl US MC |
| A01-03 | Pippin | Woodrow J | 01/08/1913 | 06/25/1979 | |
| A01-04 | Pippin | Naomi Edith F | 09/12/1912 | 03/02/2006 | |
| A01-05 | Pippin | Wanda Elizebeth | 08/10/1945 | 07/29/1964 | |
| A01-06 | Jarrell | Hugo Leo | 1930 | 1976 | S Sgt US Army Korea |
| A01-07 | Jarrell | Hugo Leo II | 07/04/1969 | 04/21/2007 | |
| A01-08 | Bass | Dewey George | 08/13/1906 | 09/12/1995 | |
| A01-09 | Bass | Nora Cordy | 05/31/1908 | 02/20/1971 | |
| A01-10 | Jenkins | John E II | 10/05/1973 | 10/29/1995 | |
| A01-11 | Silverwood | Lorrian M | 1918 | 1969 | |
| A01-12 | Terry | Thomas Tony "Ole Man" | 06/27/1924 | 09/03/1994 | |
| A01-13 | Terry | Danny L "Phydeaux" | 12/28/1957 | 05/25/1992 | |
| A01-14 | White | Robert Everett | 1941 | | (res); m. Brenda S. 12/23/1966 |
| A01-15 | White | Brenda Summers | 04/29/1943 | 05/25/2009 | m. Robert E. 12/23/1966 |
| A02-01 | Bounds | Floyd W. | 1916 | 1964 | |
| A02-02 | Bounds | John W. | 06/24/1888 | 04/22/1967 | |
| A02-03 | Bounds | John C. | 1928 | 1974 | |
| A02-04 | Manko | Michael Richard | 06/14/1949 | 10/07/2005 | SP4 US Army Vietnam |
| A02-05 | Manko | Joseph Jr | 12/07/1916 | 09/11/1983 | Pvt US Army |
| A02-06 | Manko | Joyce Rebecca Fincher | 01/19/1925 | 11/08/1991 | |
| A02-07 | King | Susan D | 05/27/1952 | 06/23/2003 | |
| A03-01 | Smith | James | 11/28/1889 | 04/04/1965 | w. Clarice |
| A03-02 | Smith | Clarice Glydewell | 09/20/1911 | 02/15/1998 | w. James |
| A03-03 | Smith | Loran Laverne | 07/23/1937 | 10/21/2008 | Sp5 US Army, MS NG |
| A03-04 | Smith | Freda Valzena | 01/20/1965 | 04/25/1967 | |
| A04-01 | Burge | John Averise | 10/03/1932 | 03/17/1973 | Ms Sp2 US Army Korea; m. 6/26/1953 |
| A04-02 | Burge | Marilyn R | 10/06/1936 | | |
| A04-03 | Smart | Gladys Burge | 1922 | 1993 | |
| A04-04 | Barron | Margaret Burge | 1928 | 1993 | |
| A04-05 | Jenkins | Glynell Burge | 12/25/1930 | 09/28/1989 | |
| A04-06 | Burge | Turner S | 07/23/1907 | 12/18/1980 | |
| A04-07 | Burge | Callie B | 11/07/1911 | | (res) |
| A04-08 | Glydewell | Rubert L "Dee" | 08/25/1930 | 06/17/1999 | S Sgt USAF Korea |
| A04-09 | Glidewell | Wilmer Verlee | 12/08/1913 | 04/02/1996 | |
| A04-10 | Glydewell | Maynard J "Joe" | 10/24/1917 | 08/17/1969 | Ca Sgt US MC WW II |
| A04-11 | Glydewell | Edith Rae Wheat | 10/11/1922 | 11/07/2003 | |
| A05-01 | Doan | Samuel Whan | 01/11/1913 | 02/09/1972 | Pa Major US Army WW II; m. Verna Roche 11/18/1944 |
| A05-02 | Doan | Verna Roche | 04/25/1916 | 08/17/1989 | 1st Lt US Army WW II; m.Samuel Whan 11/18/1944 |
| A06-01 | Davis | James Otha | 11/14/1904 | 03/13/1984 | mason;w. Maude Tate |
| A06-02 | Davis | Maude Tate | 09/22/1907 | 10/20/1969 | w. James Otha |
| A06-03 | Davis | Derwood E | 10/12/1927 | 02/23/1974 | mason;w. Winnifred |
| A06-04 | Davis | Winnifred C | 1927 | | (res);w. Derwood E. |
| A06-05 | Roche | Fred Harold | 12/22/1929 | 01/19/2003 | m. Bernadine Ray |
| A06-06 | Roche | Bernadine Ray "Bini" | 03/21/1931 | 02/26/2010 | m. Fred Harold |
| A06-07 | Tuttle | Harold L Sr | 11/16/1928 | 10/24/2009 | Cpl US Army Korea; m. Marie A. 5/21/1949 |
| A06-08 | Tuttle | Marie Allred | 10/14/1931 | 06/01/2001 | m. Harold L 5/21/1949 |
| A06-09 | Langley | Marvin Leonard | 04/29/1912 | 12/12/1991 | Cpl US Army WW II |
| A06-10 | Langley | Obie L | 1900 | 1983 | |
| A06-11 | Little | Charles W | 01/27/1923 | 12/13/1988 | m. Janett MacDonald |
| A06-12 | MacDonald | Janett | 05/20/1920 | 08/18/1985 | m. Charles W. Little |
| A06-13 | Porter | Patricia Ann | 05/14/1948 | 10/07/2008 | |
| A06-14 | Roberts | Fred | 05/14/1924 | 12/08/2004 | Tec5 US Army WW II |
| A06-15 | Diez | Norman Patrick III | 10/26/1968 | 12/25/1993 | "Bubby" |
| A06-16 | Little | Willie Matthew | 06/03/1925 | 06/01/2001 | Pfc US MC; above ground crypt |
| A06-17 | Little | Elizabeth Ann "Betty" | 10/01/1942 | 08/21/2003 | above ground crypt |
| A07-01 | Smith | Martha Rachelle | 04/02/1969 | 04/08/1969 | |
| A07-02 | Bounds | Louis A. | 07/10/1897 | 03/18/1992 | |
| A07-03 | Bounds | Eva L. | 12/10/1901 | 09/06/1992 | |
| A07-04 | James | Harold Benjamin | 11/30/1921 | 04/12/1990 | mason; S2 US Navy WW II |
| A07-05 | James | Edna A | 02/14/1922 | | |
| A07-06 | James | Charles Howard | 05/13/1942 | 11/23/2005 | AB US AF |
| A07-07 | Gamble | Beatrice | 07/28/1892 | 11/27/1982 | |
| A07-08 | Gamble | Charles A | 1903 | 1962 | |
| A07-09 | Treadaway | David H | 08/27/1960 | 11/13/1976 | |
| A07-10 | McCall | Herman M. | 03/12/1910 | 08/20/1985 | |
| A07-11 | McCall | Mary Florence | 12/15/1919 | 01/21/1996 | (Edmond Fayhe FHM, Bay St. Louis, MS) |
| A07-12 | Mace | Edward C | 03/20/1915 | 01/20/1983 | EM2 US Navy WW II |
| A07-13 | Mace | Leona Mae | 06/12/1917 | 04/21/2005 | |
| A07-14 | Chessher | Floyd | 06/12/1935 | 05/01/2005 | |
| A07-15 | Stockstill | Bobby Joe | 10/01/1933 | 10/14/2007 | m. Betty Lee |
| A07-16 | Stockstill | Betty Lee | 1935 | | (res); m. Bobby Joe |
| A08-01 | Davis | Mizel | 07/03/1880 | 06/18/1965 | |
| A08-02 | Davis | Corene | 02/14/1883 | 10/05/1970 | |
| A08-03 | Davis | Cecil A | 04/08/1906 | 01/31/1966 | |
| A08-04 | Davis | Fannie Carroll | 09/06/1913 | 01/12/1991 | |
| A08-05 | Marquez | Charles L | 12/12/1906 | 04/14/1986 | |
| A08-06 | Marquez | Mae Davis | 05/21/1909 | 07/27/2005 | |
| A08-07 | Penton | Donald | 01/08/1926 | 07/26/1979 | m. Rose D. |
| A08-08 | Penton | Rose D | 09/27/1932 | 10/04/1976 | m. Donald |
| A08-09 | Skaggs | Donna Louise | 04/26/1956 | 04/12/2001 | |
| A08-10 | Collins | Charlotte Case | 08/15/1954 | 01/11/1984 | |
| A08-11 | Varnado | Raven Storm | 1993 | 1993 | |
| A08-12 | Case | Alvin L | 09/16/1927 | 07/07/1995 | |
| A08-13 | Case | Dorothy Plake | 10/17/1928 | | (res) |
| A08-14 | Chessher | Butch | 11/29/1963 | 03/22/2006 | |
| A08-15 | Chessher | Mary G | | | (res) |
| A09-01 | Seals | Hubert C Sr | 12/14/1911 | 03/02/2002 | mason; m. Edna Earl |
| A09-02 | Seals | Edna Earl | 08/06/1912 | 03/06/2004 | m. Hubert C. Sr |
| A09-03 | Seals | Margania | 12/03/1882 | 09/14/1968 | m. Griffin |
| A09-04 | Seals | Griffin | 03/13/1881 | 05/06/1945 | mason; m. Margania |
| A09-05 | Seal | George | 02/05/1905 | 04/26/1963 | mason; w. Ida D. |
| A09-06 | Seal | Ida Dossett | 11/26/1902 | 02/25/1979 | w. George |
| A09-07 | Seals | Joseph D Jr | 03/02/1963 | 03/02/1963 | |
| A09-08 | Seals | Joseph Daniel | 06/05/1940 | 02/12/1969 | |
| A09-09 | Seals | Robert Earl Sr | 11/24/1942 | 04/29/1972 | |
| A09-10 | Spence | Johnie M Sr | 04/02/1931 | 03/20/2004 | US Army Korea |
| A09-11 | Spence | Ryan | 01/24/1988 | 01/24/1988 | |
| A09-12 | Wheat | Mary Kathleen | 12/24/1956 | 05/11/1988 | |
| A09-13 | Wheat | Cody | 05/28/1987 | 07/26/1987 | |
| A09-14 | Faye | Roger | 09/24/1952 | 07/26/1983 | |
| A09-15 | Faye | Joseph B Sr | 11/14/1921 | 11/04/1989 | Pvt US Army WW II |
| A09-16 | Faye | Joyce P | 03/22/1923 | 09/09/2002 | |
| A10-01 | Matthews | Lillie B | 06/15/1875 | 06/21/1951 | |
| A10-02 | Beall | William P | 09/30/1866 | 03/03/1949 | |
| A10-03 | Beall | Nancy Elizabeth | 02/03/1887 | 11/05/1955 | |
| A10-04 | Beall | Infant daughter | 01/07/1914 | 01/07/1914 | dau of Mr & Mrs W.P. Beall |
| A10-05 | Beall | Thomas Ray | 08/09/1919 | 12/25/1992 | Pvt US Army WWII |
| A10-06 | Beall | Helen R | 02/22/1915 | 12/21/1998 | |
| A10-07 | Beall | Hilda Faye | 07/21/1945 | 04/04/1993 | |
| A10-08 | Burge | Karen Darlene | 08/19/1954 | 05/10/1964 | |
| A10-09 | Burge | Bonnie Lou | 03/20/1925 | 04/30/1928 | |
| A10-10 | Burge | Rayford Elijah | 08/17/1902 | 06/02/1956 | |
| A10-11 | Spiers | Eva Burge | 11/09/1902 | 07/04/1991 | |
| A10-12 | Spiers | Samuel M | 07/30/1895 | 07/03/1982 | |
| A10-13 | Burge | W H | 09/07/1897 | 10/30/1913 | |
| A10-14 | Burge | James Ira | 04/01/1871 | 03/09/1930 | |
| A10-15 | Burge | Callie A (Doll) | 09/04/1880 | 04/18/1964 | |
| A10-16 | Davis | Essie C Burge | 08/11/1919 | 08/28/1998 | w. Benton H |
| A10-17 | Davis | Benton H | 07/23/1912 | 05/19/2005 | w. Essie C |
| A10-18 | Palmisano | Frank R | 11/14/1933 | 06/03/2007 | |
| A10-19 | Candies | Kalee Joshua | 11/30/2006 | 02/16/2007 | |
| A10-20 | Boyd | Harmon M. | 09/25/1915 | 12/25/2000 | |
| A10-21 | Boyd | Clara L. | 12/25/1913 | 08/29/1992 | |
| A10-22 | Ladner | John P | 07/28/1938 | 08/13/2000 | Pfc US Army |
| A11-03 | Gipson | John Elbert Sr | 06/05/1850 | 06/16/1925 | same person as A12-02 |
| A11-04 | Spiers | Andrew | 11/05/1950 | 12/07/1950 | Age 1 mo., 2 days |
| A11-05 | Spiers | Jackson Philmore | 1937 | 1956 | |
| A11-06 | Pigott | Bertha L | 03/27/1895 | 06/09/1984 | m. Benton T. 1/10/1914 |
| A11-07 | Pigott | Benton T | 05/28/1893 | 05/25/1967 | m. Bertha L. 1/10/1914 |
| A11-08 | Roche | Mattie L Pigott | 12/15/1921 | 12/15/1921 | |
| A11-09 | Roche | Curtis M | 06/23/1917 | 07/20/1956 | |
| A11-10 | Happ | Esther Pigott | 10/30/1924 | 11/30/1987 | |
| A11-11 | Boutwell | James Allen | 03/22/1912 | 04/01/1992 | Pfc US Army WWII;Purple Heart; m. Marie P. |
| A11-12 | Boutwell | Marie Pigott | 01/28/1920 | 08/14/1982 | m. James A. |
| A11-13 | Penton | Lawrence | 03/06/1923 | 02/14/2010 | m. Mildred Rose 2/1/1947 |
| A11-14 | Penton | Mildred Rose Pigott | 07/11/1915 | 01/01/1997 | m. Lawrence 2/1/1947; Colonial Dames of 17th Century and DAR Emblems |
| A11-15 | Bruns | Robert E III | 02/11/1940 | 02/06/2006 | |
| A11-16 | Bruns | Rose Marie P | 1942 | | (res); m. Robert E. III 12/12/1985 |
| A12-06 | (Unmarked) | | | | child |
| A12-07 | Smith | Lora | 12/12/1901 | 03/29/1920 | wife of Wm. F. |
| A12-10 | (Unmarked) | | | | |
| A12-11 | Pigott | Dan | 01/30/1896 | 07/16/1961 | m. Margarette Burge |
| A12-12 | Burge | Margarette | 02/20/1900 | 07/13/1939 | wife of Dan Pigott |
| A12-13 | Pigott | Infant son | 08/04/1919 | 08/04/1919 | son of Mr & Mrs Dan Pigott |
| A12-14 | Johnson | Celeste P | 06/07/1918 | 03/05/1982 | |
| A13-02 | Smith | Gertrude P. | 10/29/1903 | 1987 | w. Jordan |
| A13-03 | Smith | Daniel H | 01/06/1900 | 05/26/1954 | m. Louella |
| A13-04 | Smith | Louella S. | 01/06/1901 | 05/30/1967 | m. Daniel H. |
| A13-05 | Cooper | Infant son | 08/15/1902 | 08/15/1902 | son of H.A & M.L. |
| A13-06 | Cooper | Infant son | 10/29/1901 | 10/29/1901 | son of H.A & M.L. |
| A13-07 | Smith | J M | 07/16/1890 | 08/30/1965 | abobe ground crypt; m. Mina |
| A13-08 | Smith | Mina | 02/05/1900 | 06/20/1962 | abobe ground crypt; m. J.M. |
| A13-09 | Smith | Luvena | 12/25/1909 | 01/06/1910 | dau of Monroe & Menerva |
| A13-10 | Dubuisson | Earl J | 07/10/1911 | 06/12/1995 | m. Zelma P 9/18/1934 |
| A13-11 | Dubuisson | Zelma P | 09/24/1912 | 09/19/1995 | m. Earl J 9/18/1934 |
| A13-12 | Pigott | Eugene C. (Rev.) | 04/05/1880 | 02/22/1971 | mason; m. Eliza Jane |
| A13-13 | Pigott | Eliza Jane | 04/15/1883 | 02/23/1945 | m. Rev. Eugene C. |
| A13-14 | Pigott | Eugene Carlos Jr | 07/30/1922 | 11/28/1986 | Pfc US Army WW II |
| A13-15 | Smith | Ansel | 05/17/1909 | 04/17/1986 | m. Alma A. |
| A13-16 | Smith | Alma A | 07/30/1909 | 10/10/1990 | m. Ansel |
| A13-17 | Bourdeu | Paul Henri | 04/01/1928 | 06/23/1988 | w. Delainne Y. |
| A13-18 | Bourdeu | Delainne Y | 09/01/1931 | 07/06/1995 | w. Paul Henri |
| A13-19 | Bourdeu | David William | 03/18/1957 | 10/07/2004 | |
| A13-20 | Murphy | Nanette | | | on same headstone as David William Bourdeu |
| A14-01 | Mitchell | Rufus A | 01/05/1905 | 12/02/1993 | m. Louisa L. 12/23/1928 |
| A14-02 | Mitchell | Louisa L | 11/05/1902 | 03/27/1991 | m. Rufus A. 12/23/1928 |
| A14-03 | Mitchell | Hayward J. "Buster" | 09/14/1929 | 03/15/2001 | |
| A14-04 | Mitchell | Carolyn Entrekin | 1934 | 07/03/2012 | |
| A14-05 | Mitchell | Jackson E | 03/21/1880 | 06/06/1932 | mason; m. Mamie |
| A14-06 | Mitchell | Mamie | 09/16/1886 | 06/19/1962 | m. Jackson E. |
| A14-07 | Mitchell | Pauline | 09/25/1932 | 10/03/1933 | |
| A14-08 | Mitchell | Clayford | 09/08/1912 | 12/11/1964 | m. Prudent |
| A14-09 | Mitchell | Prudent | 03/30/1913 | 02/05/1999 | m. Clayford |
| A14-10 | Mitchell | Rayford | 01/24/1908 | 03/03/1975 | m. Eunice F. 1/27/1927 |
| A14-11 | Mitchell | Eunice Farmer | 01/11/1907 | 09/29/1990 | m. Rayford 1/27/1927 |
| A14-13 | Smith | Ezra Andrew | 04/24/1928 | 02/22/1995 | Cpl USAF WW II |
| A14-14 | Smith | Charline L | 09/12/1934 | | |
| A14-15 | Manning | Wilbur L | 01/10/1927 | 11/01/2004 | m. Alma G. 3/4/1951 |
| A14-16 | Manning | Alma G | 10/21/1932 | 12/19/2001 | m.Wilbur L. 3/4/1951 |
| A15-01 | Mitchell | Herman | 05/25/1907 | 12/01/1964 | |
| A15-02 | Parker | Edward L | 09/20/1915 | 01/01/1996 | |
| A15-03 | Davis | George W | 11/16/1923 | 06/01/1996 | w. Clairece M. |
| A15-04 | Davis | Clairece M | 1926 | | (res);w. George W. |
| A15-05 | Mitchell | Benjamin Franklin | 02/17/1851 | 05/11/1926 | m. Aby D. |
| A15-06 | Mitchell | Abay Delilah Stanford | 08/19/1850 | 11/03/1920 | m. Ben. F. |
| A15-07 | Frierson | Huey P | 12/23/1935 | 03/05/2000 | |
| A15-08 | (Unmarked) | | | | child |
| A15-09 | Dillard | Henry D | 04/01/1864 | 07/09/1944 | m. Sarah E. |
| A15-10 | Dillard | Sarah E | 08/09/1873 | 12/21/1953 | m. Henry D. |
| A15-11 | Spiers | Mittie Dillard | 1907 | 1930 | |
| A15-12 | Pearson | Mildred D | 10/13/1914 | 03/21/1943 | |
| A15-13 | Dillard | Ervin N | 01/17/1911 | 12/07/1989 | m. Helen P |
| A15-14 | Dillard | Helen P | 05/22/1920 | 04/15/1994 | m. Ervin N. |
| A15-15 | Haislip | Thomas H | 07/30/1936 | | dod not visible; m. Sarah N |
| A15-16 | Haislip | Sarah Nell | 12/13/1930 | 2002 | dod not visible; m. Thomas H |
| A15-17 | Albers | A J | 06/02/1935 | 09/03/2000 | w. Alice V. |
| A15-18 | Albers | Alice V | 03/24/1938 | | (res); w. A.J. |
| A15-19 | Clifton | Mary R | 03/26/1902 | 09/09/1988 | |
| A15-20 | Pitre | Linda LaVigne | 09/15/1949 | 03/31/2009 | |
| A16-01 | Pearson | Maude D Mitchell | 12/07/1900 | 09/23/1995 | |
| A16-02 | Mitchell | Thadeus Melvin | 07/11/1884 | 12/14/1960 | |
| A16-04 | Mitchell | William | 05/1897 | 01/29/1905 | son of E.S. & Martha P. |
| A16-05 | Mitchell | Mrs M R | 12/08/1866 | 10/01/1901 | |
| A16-06 | Mitchell | Edward Sanders | 03/04/1863 | 01/28/1939 | |
| A16-07 | Mitchell | Martha Ardella Seal | 07/07/1879 | 08/15/1973 | above ground crypt |
| A16-08 | Mitchell | William Ilos | 07/27/1904 | 05/28/1973 | above ground crypt |
| A16-09 | Mitchell | Veda Mae Bryant | 09/09/1926 | 01/03/1944 | |
| A16-10 | Mitchell | Angela | 01/01/1944 | 01/01/1944 | |
| A16-11 | Wright | Joseph Benjamin | 09/11/1887 | 12/28/1930 | |
| A16-12 | Dillard | Stanley D E | 05/31/1943 | 11/16/1943 | |
| A16-13 | Dilliard | Yvonne | 04/23/1951 | 10/31/1996 | T Sgt USAF |
| A16-14 | Dillard | R V | 05/15/1909 | 09/13/1985 | |
| A16-15 | Dillard | Carrie Bell Wright | 12/26/1912 | 08/14/1987 | |
| A16-16 | Dillard | Flora Beth | 03/02/1945 | 03/02/1945 | |
| A17-01 | Stockstill | Willie T | 01/23/1888 | 12/18/1945 | m. Mary E. |
| A17-02 | Stockstill | Mary E | 10/09/1888 | 08/01/1971 | m. Willie T. |
| A17-03 | Williamson | Earl E | 03/24/1911 | 09/09/1988 | w. Layvone F. |
| A17-04 | Williamson | Layvone F | 09/17/1921 | 08/05/1990 | w. Earl E. |
| A17-05 | Alcorn | Kathy | 06/27/1957 | 11/18/1983 | |
| A17-06 | Stockstill | William T "Tommy" | 08/18/1946 | 06/27/1972 | |
| A17-07 | Stockstill | Bertha V | 10/14/1922 | 02/05/1971 | |
| A17-08 | Stockstill | Alvie E | 04/01/1930 | 06/06/1996 | S Sgt US Army |
| A17-09 | Glover | Thyra Elizabeth | 05/02/1959 | 05/02/1959 | stillborn dau of Bobby & Cathy |
| A17-10 | Stockstill | Neila Mac | 02/01/1949 | 01/01/1959 | |
| A17-11 | Bryant | Walter | 06/22/1913 | 01/12/2004 | Cpl US Army WWII |
| A17-12 | Bryant | Vonzel S | 08/04/1924 | 12/02/2004 | |
| A17-13 | Bannister | Larry | 08/19/1951 | 12/01/2003 | Pfc US Army |
| A17-14 | Bannister | Martha Ann | 07/04/1946 | 12/17/2009 | |
| A17-15 | Phares | Henry William | 11/19/1914 | 10/23/1985 | US Army WW II |
| A17-16 | Rayborn | Joseph Elijah | 06/04/1927 | 01/02/1996 | |
| A17-17 | Rayborn | Lillian S. | 01/02/1928 | | |
| A17-18 | Stockstill | William Hollief | 11/02/1914 | | |
| A18-01 | Allen | Lucy Ann | 03/15/1832 | 04/23/1917 | Between rows 17 and 18 |
| A18-02 | (Illegible) | child | 05/10/1901 | 04/25/1903 | broken headstone |
| A18-03 | Bounds | Morris E. | 01/21/1900 | 08/30/1980 | |
| A18-04 | Bounds | Ineta L. | 09/23/1906 | 01/19/1996 | |
| A18-05 | Lee | C J | 05/03/1933 | 08/20/2007 | Sgt US Army Korea |
| A18-06 | Lee | Melva Landrum | 1937 | | |
| A18-07 | Cavaliere | Mark Robert | 12/29/1999 | 12/29/1999 | |
| A18-09 | Landrum | Arvy P. | 09/17/1899 | 05/30/2001 | mason; US Navy WWII; m. Hazel J. |
| A18-10 | Landrum | Hazel J. | 12/31/1909 | 10/17/1990 | m. Arvy P. |
| A18-12 | Lambert | Joseph Thomas | | | mason; m. Crystal Gail 1976; (res) |
| A18-13 | Lambert | Crystal Gail | 10/27/1952 | 04/09/2008 | m. Joseph Thomas 1976 |
| A18-14 | Alligood | James Ira | 02/07/1940 | 11/17/1993 | Sp4 US Army Vietnam |
| A18-15 | Davis | Nathan Chad | 06/06/1971 | 09/02/1996 | son of Kenneth & Glenda |
| A19-01 | Landrum | Lucius L. | 1855 | 1940 | m. Emeline |
| A19-02 | Landrum | Emeline | 1867 | 1939 | m. Lucius L. |
| A19-03 | Spiers | Pascal | 1910 | 1950 | |
| A19-04 | Gordon | Eugenia | 01/28/1889 | 05/05/1977 | |
| A19-05 | Landrum | Fred L. | 03/29/1925 | 11/21/1944 | S Sgt 565 AAF Bomb SQ WW II |
| A19-06 | Landrum | Elmer A. | 1891 | 1971 | m. Ellen S. 4/20/1915 |
| A19-07 | Landrum | Ellen S. | 1895 | 1989 | m. Elmer A. 4/20/1915 |
| A19-10 | Gauthreaux | Easter L. | 06/17/1916 | 12/22/1979 | |
| A19-11 | Landrum | James E. | 12/19/1918 | 11/04/1973 | Ms Pfc US Army WW II |
| A19-12 | Landrum | Wilkie M. | 01/21/1917 | | |
| A19-13 | Russell | George J. Jr | 07/16/1912 | 10/30/1974 | |
| A19-14 | Davis | Curtis Elbert | 1933 | | (res) w. Margurite Penton |
| A19-15 | Davis | Margurite Penton | 02/05/1927 | 06/30/2002 | w. Curtis Elbert |
| A19-16 | Penton | James Truly | 08/27/1955 | 10/06/1996 | |
| A19-17 | LaVigne | Albert J. "Shorty" | 07/14/1960 | 11/21/1993 | shares grave w/ Jon Trevor |
| A19-18 | Best | Rhonda M. Davis | 07/08/1966 | 12/18/1992 | dau of Mickey & Shiree Davis |
| A19-19 | Creel | Alice Lavigne | 08/29/1952 | 08/02/2008 | |
| A19-20 | Williamson | Jessie J. | 06/20/1932 | 06/16/1993 | Sfc US Army Vietnam |
| A20-01 | (Unmarked) | | | | |
| A20-02 | Westbrook | Martin Dwayne "Hollywood" | 03/30/1923 | 05/06/1989 | |
| A20-03 | Hunt | Juan Ellen McKellip | 02/05/1946 | 07/12/2008 | |
| A20-08 | Malone | Robert C. Jr | 01/19/1936 | 09/28/1987 | |
| A20-09 | Malone | Mary Maude S. | 09/10/1933 | | |
| A20-10 | Chadwick | Emaline W. | 01/10/1919 | 09/15/1993 | Cpl US Army Air Co WW II |
| A20-11 | Chadwick | George E. | 12/06/1918 | 07/16/1969 | Tec5 Svc Co 194 Glider Inf WW II |
| A20-12 | Smith | Peter Andrew | 11/18/1913 | 12/26/1983 | w. Thelma C. |
| A20-13 | Smith | Thelma C. | 12/01/1916 | 10/31/1985 | w. Peter Andrew |
| A20-14 | Smith | Infant | | | |
| A20-15 | Smith | Infant | | | |
| A20-16 | Smith | James Arthur | 06/12/1939 | 12/25/1939 | |
| A20-17 | Hartfield | Hillary S. | 1910 | | (res); mason; m. Fannie A |
| A20-18 | Hartfield | Fannie A. | 1918 | 1982 | star; m. Hillary |
| A21-01 | Ladner | William Rankin | 04/14/1923 | 07/17/1973 | m. 11/30/1944 |
| A21-02 | Ladner | Coletia Chadwick | 12/30/1924 | | |
| A21-03 | Ladner | Infant | 09/23/1947 | 09/23/1947 | |
| A21-04 | (Unmarked) | | | | |
| A21-05 | Wolf | Joseph W. | 09/03/1873 | 01/28/1962 | KY PVT CO D1 REGT KY INF Spanish American War |
| A21-06 | Wolf | Willie B. | 04/06/1887 | 03/15/1983 | |
| A21-07 | (Unmarked) | | | | adult |
| A21-08 | Varnado | Roy Von | 07/15/1934 | 11/04/1939 | next to unmarked/illegible |
| A21-09 | (Unmarked) | | | | child |
| A21-10 | Westbrook | George E. | 04/06/1874 | 11/22/1942 | w. Vernon May |
| A21-11 | Westbrook | Vernon May | 01/08/1890 | 12/21/1979 | w. George E. |
| A21-12 | Williamson | Tom | 12/25/1921 | 12/23/1979 | |
| A21-13 | Stockstill | Decatur T. | 06/13/1898 | 07/08/1964 | w. Emma L. |
| A21-14 | Stockstill | Emma L. | 02/08/1895 | | w. Decatur T. |
| A21-15 | Varnado | Marrietta L. | 04/27/1950 | 12/26/1978 | |
| A21-16 | Breeland | Ricky Joe | 05/12/1965 | 04/23/1989 | |
| A21-17 | Breeland | Faitha Mae | 12/24/1923 | 08/28/1997 | |
| A21-18 | Westbrook | Audrey G. | 08/28/1915 | 09/02/1918 | |
| A21-19 | Westbrook | Ruby Grace | 06/16/1914 | 06/16/1914 | |
| A22-02 | Glidewell | Frank | 12/15/1876 | 02/28/1963 | |
| A22-03 | Glidewell | Adrienne | 05/04/1890 | 09/08/1979 | |
| A22-04 | (Unmarked) | | | | |
| A22-05 | Dillard | Infant | 11/16/1933 | 11/16/1933 | son of Mr & Mrs Hugo |
| A22-06 | Dillard | Barbara Gayle | 11/10/1956 | 05/12/1965 | |
| A22-07 | Conerly | Jack Edward | 11/19/1950 | 12/19/2008 | |
| A22-08 | Conerly | Jody Belinda | | | (res) |
| A22-09 | Dillard | Hugo | 09/20/1908 | 03/01/1966 | La Pfc US Army WW II |
| A22-10 | Dillard | Otelia W. | 05/03/1912 | 08/08/1967 | |
| A22-11 | Smith | J. Loach | 04/04/1908 | 01/08/1984 | w. Roxlee W. |
| A22-12 | Smith | Roxlee W. | 03/31/1915 | 10/19/1980 | w. J. Loach |
| A22-13 | Williamson | Henry W. | 11/01/1908 | 07/25/1970 | |
| A22-14 | Williamson | Eugene "Bud" | 11/15/1886 | 06/27/1941 | m. Martha L. |
| A22-15 | Williamson | Martha Lucinda | 03/31/1889 | 09/05/1963 | m. Eugene |
| A22-16 | LaVigne | Hooper | 07/20/1943 | 10/03/2006 | m. Janie R. |
| A22-17 | LaVigne | Janie R | 03/19/1948 | 01/15/2004 | m. Hooper |
| A22-18 | LaVigne | Hannah Marie | 03/16/1991 | 09/24/1992 | dau of Hooper & Janie Ruth |
| A22-19 | Williamson | James K. | 07/31/1912 | 01/28/1987 | m. Augusta C. 12/22/1934 |
| A22-20 | Williamson | Augusta C. | 08/01/1917 | 01/07/2005 | m. James K. |
| A22-21 | Geraci | Betty G | 09/17/1935 | 07/24/2003 | |
| A22-22 | Geraci | Arasimo C | 04/20/1932 | 07/23/2006 | |
| A22-23 | Glidewell | Talmadge | 01/13/1916 | 11/28/1994 | m. 2/2/1935 |
| A22-24 | Glidewell | Lois | 08/01/1918 | | |
| A22-25 | Smith | Charles Julius | 05/25/1918 | 03/16/1987 | Pvt US MC |
| B01-01 | Smith | Wilma Joyce | 07/10/1940 | 10/22/2001 | m. Gary Ronald 7/3/1981; has 2 headstones |
| B01-02 | Smith | Gary Ronald | 01/27/1948 | 08/24/2010 | m. Wilma Joyce 7/3/1981 |
| B01-03 | Smith | Patricia Annalyn | 10/28/1944 | 10/28/1944 | |
| B01-04 | Reid | Felix Grant | 12/08/1881 | 01/24/1965 | Al Pvt Co G21 REGT INF |
| B01-05 | Reid | Ethel Irene | 04/08/1899 | 08/05/1978 | dod from funeral home marker |
| B01-06 | Hendricks | Aline | 1901 | 1972 | |
| B01-07 | Kelly | Estelle Dorothy | 03/15/1906 | 11/09/1973 | from old records |
| B01-08 | Eaves | Lily Downing | 06/13/1877 | 03/15/1966 | |
| B01-09 | Eaves | William P | 02/12/1871 | 03/03/1945 | |
| B02-01 | Smith | Isabel A | 01/06/1901 | 11/06/1973 | w. Joseph W. |
| B02-02 | Smith | Joseph W | 04/04/1886 | 06/17/1977 | w. Isabel A. |
| B02-03 | (Unmarked) | | | | |
| B02-04 | Eaves | Paul H | 12/01/1904 | 12/03/1959 | |
| B03-01 | Johnson | Beedie A | 05/11/1911 | | star; m. J. Fred 1/7/1937 |
| B03-02 | Johnson | James Fred | 08/05/1906 | 05/30/1983 | mason; Pfc US Army WW II; m. Beedie A. 1/7/1937 |
| B03-03 | Nelson | Viola B | 06/12/1899 | 03/20/1981 | |
| B03-05 | Eaves | Lois B | 05/28/1919 | | (res) m. Leo G. |
| B03-06 | Eaves | Leo G | 11/03/1909 | 06/29/1969 | m. Lois B |
| B04-01 | Martin | Baby Girl | 1959 | 1959 | |
| B04-02 | Johnson | Helga Liselotte "Judy" Habenicht | 11/30/1929 | 08/25/2010 | m. Edward L. |
| B04-03 | Johnson | Edward L "Cotton" | 09/17/1937 | 01/12/2002 | m. Helga H. |
| B04-04 | Johnson | Stella | 07/14/1913 | 02/13/1999 | star; m. Johnnie Edward 11/9/1933 |
| B04-05 | Johnson | Johnnie Edward | 04/23/1913 | 01/25/1978 | mason; m. Stella 11/9/1933 |
| B05-01 | Johnson | Agnes Arseal | 01/20/1927 | | |
| B05-02 | Johnson | Luther C "Buck" Jr | 09/24/1920 | 08/19/1990 | |
| B05-03 | Johnson | Minnie S | 02/07/1907 | 08/03/1999 | |
| B05-04 | Lockard | Marion Lee | 12/20/1936 | 10/12/2002 | |
| B05-05 | Lockard | David A | 12/06/1891 | 01/22/1958 | |
| B05-06 | (Unmarked) | | | | concrete marker |
| B05-07 | Eaves | Dewey Edison | 02/13/1914 | 01/16/1993 | |
| B06-01 | Johnson | James Edward | 04/30/1935 | 07/15/2009 | |
| B06-02 | Anderson | Shirley D. | 11/25/1941 | 05/06/2004 | |
| B06-03 | Johnson | Rhoda Lynn | 05/11/1965 | 05/11/1965 | |
| B06-04 | Johnson | Esther Ann Kahl | 03/26/1934 | 09/10/2010 | m. Ernest C. 7/21/1952 |
| B06-05 | Johnson | Ernest C | 06/07/1931 | 06/08/1974 | m. Esther Ann 7/21/1952 |
| B06-06 | Johnson | Cora Elizabeth Frazier | 02/26/1901 | 02/27/1986 | m.Ernest A.; info from funeral marker |
| B06-07 | Johnson | Ernest A | 1900 | 1960 | m. Cora E. |
| B06-08 | Bilbo | Lillie L | 06/30/1898 | 04/29/1990 | m. Artis 8/18/1915 |
| B06-09 | Bilbo | Artis J | 05/02/1891 | 01/05/1974 | m. Lillie 8/18/1915 |
| B06-10 | Mitchell | Effie M | 06/06/1901 | 05/22/1987 | m. Joseph A. 8/6/1922 |
| B06-11 | Mitchell | Joseph A | 05/06/1897 | 01/21/1986 | m. Effie M. 8/6/1922 |
| B06-12 | Landrum | Mary J | 05/20/1928 | | |
| B06-13 | Landrum | Olan Marceil | 09/25/1927 | 12/26/2011 | Cpl US Army AF WW II; m. 8/5/1945 |
| B06-14 | Mitchell | Betty L Saucier | 08/19/1931 | 06/29/2007 | m. Joseph K. |
| B06-15 | Mitchell | Joseph K | 10/20/1931 | 02/21/1998 | m. Betty L. 6/22/1951 |
| B07-01 | Lee | RT Estes | 03/12/1923 | 11/23/2001 | m. Velma V. |
| B07-02 | Lee | Velma V | 12/09/1916 | 08/28/1986 | m. RT Estes |
| B07-03 | Courtney | Joseph Alvin | 09/22/1897 | 07/10/1985 | m. 7/26/1930 |
| B07-04 | Courtney | Cordelia M | 07/30/1901 | 01/08/1976 | |
| B08-01 | Smith | Cola K | 11/24/1897 | 03/18/1984 | w. Boyd A. |
| B08-02 | Smith | Boyd A | 09/19/1890 | 09/12/1953 | w. Cola K. |
| B08-03 | Smith | Lymon | 06/05/1910 | 01/17/1983 | |
| B08-04 | (Unmarked) | | | | older grave |
| B08-05 | Miller | Brutus | 1911 | 1947 | |
| B08-06 | Mitchell | Carley L | 08/13/1969 | 08/13/1969 | inf of Carley & Patsy; twin of Janice L. |
| B08-07 | Mitchell | Janice L | 08/13/1969 | 08/13/1969 | inf of Carley & Patsy; twin of Carley L. |
| B08-08 | Folse | Joyce M | 09/25/1968 | 10/16/2002 | |
| B09-01 | Smith | Eunice P | 11/21/1903 | 01/08/1975 | m. Bruce E. |
| B09-02 | Smith | Bruce E | 06/26/1900 | 05/12/1981 | m. Eunice P. |
| B09-03 | Duke | Edith Tate Jordan | 03/08/1908 | 09/11/1968 | |
| B09-04 | Dickerson | Wallace | 12/16/1920 | 03/19/1973 | m. Lois 5/8/1951 |
| B09-05 | Dickerson | Lois | 06/06/1928 | 04/04/1987 | m. Wallace 5/8/1951 |
| B09-06 | Mitchell | Leonard I | 05/17/1876 | 08/18/1945 | m. Martha D. |
| B09-07 | Mitchell | Martha D | 06/12/1884 | 08/04/1968 | m. Leonard I. |
| B09-08 | Mitchell | Harvey Isaac | 01/04/1917 | 08/04/2008 | m. Flora Bilbo 4/15/1936 |
| B09-09 | Mitchell | Flora A Bilbo | 09/15/1918 | 12/25/1999 | m. Harvey Isaac 4/15/1936 |
| B09-10 | Gipson | Allie F | 1873 | 1964 | m. William |
| B09-11 | Gipson | William | 1874 | 1948 | m. Allie F. |
| B09-12 | Miller | Lula | 11/06/1882 | 07/17/1947 | m. Robert H. |
| B09-13 | Miller | Robert H | 06/03/1885 | 03/30/1945 | m. Lula |
| B09-14 | Mitchell | Cora L | 02/25/1917 | 12/16/2001 | m. Hollis J. 2/15/1936 |
| B09-15 | Mitchell | Hollis J | 04/21/1913 | 02/14/1974 | m. Cora L. 2/15/1936 |
| B10-01 | Tate | Joseph W | 09/25/1858 | 08/06/1884 | |
| B10-02 | Tate | Morris A | 07/14/1879 | 07/30/1964 | mason; m. Mary Ella |
| B10-03 | Tate | Mary Ella | 11/17/1879 | 11/08/1948 | star; m. Morris A. |
| B10-04 | Gipson | Opal M | 1909 | 1991 | m. J. Lovie |
| B10-05 | Gipson | J Lovie | 1902 | 1986 | m. Opal M |
| B10-06 | (Unmarked) | | | | child |
| B10-07 | Holloway | Iduma Davis | 06/09/1898 | 05/19/1974 | d/o James Madison Davis & Mary Jane Smith |
| B10-08 | Holloway | Andrew Judson | 12/04/1897 | 12/27/1960 | |
| B10-09 | Jones | Pamela M | 01/12/1954 | 04/18/1998 | |
| B10-10 | Jones | David E | 08/21/1954 | | |
| B10-11 | Collins | Ruth | 01/20/1904 | 01/03/1985 | w. Eli |
| B10-12 | Collins | Eli | 01/18/1894 | 04/22/1969 | w. ruth |
| B10-13 | Holloway | Bettie M | 03/01/1870 | 03/11/1958 | |
| B10-14 | Holloway | L N | 02/08/1861 | 08/21/1926 | same type stone as Bettie M |
| B10-15 | Mitchell | Myrtle Holloway | 12/11/1907 | 10/26/2002 | m. W. Ernest |
| B10-16 | Mitchell | W Ernest | 05/05/1903 | 10/11/1973 | m. Myrtle H. |
| B11-01 | Tate | Joe | 09/24/1882 | 12/20/1915 | |
| B11-02 | Bourne | Leander | 03/18/1861 | 04/29/1936 | m. Jefferson T. Smith |
| B11-03 | Smith | Jefferson T | 11/29/1861 | 03/13/1936 | m. Leander Bourne |
| B11-04 | Smith | Bertha | 1892 | 1984 | m. Jimmie |
| B11-05 | Smith | Jimmie | 1888 | 1956 | m. Bertha |
| B11-06 | Davis | Etta Tate | 07/09/1903 | 07/13/1967 | |
| B11-07 | Davis | William D | 08/29/1892 | 07/22/1971 | |
| B11-08 | Davis | William | 12/10/1830 | 07/07/1922 | |
| B11-09 | Davis | Bertie L Lee | 06/08/1923 | 09/02/2001 | |
| B11-10 | Davis | Daniel Chalmus | 12/08/1918 | 12/27/2000 | T Sgt US Army WWII |
| B11-11 | Brady | Infant daughter | 02/12/1919 | 02/13/1919 | dau of E.M. & Eliza |
| B11-12 | Brady | Eliza D | 09/27/1876 | 03/20/1945 | |
| B11-13 | Brady | Emmet M | 08/23/1872 | 02/26/1948 | |
| B11-14 | Thigpen | Iona C | 09/15/1920 | 06/26/1984 | |
| B12-01 | Davis | Leander Maud | 01/18/1899 | 08/03/1905 | |
| B12-02 | Davis | Flora Tate | 07/12/1881 | 08/03/1954 | |
| B12-03 | Davis | Leonard W | 12/01/1873 | 11/01/1957 | |
| B12-04 | Carrier | Mattie Davis | 10/09/1900 | 05/19/1992 | |
| B12-05 | Carrier | William M | 02/01/1898 | 09/18/1974 | mason |
| B12-06 | Davis | Warren A "Fred" | 05/25/1903 | 03/21/1991 | |
| B12-07 | Davis | Mary J | 04/06/1855 | 02/27/1934 | m. J.M. |
| B12-08 | Davis | J M | 08/22/1854 | 12/31/1930 | m. Mary J. |
| B12-09 | Hennes | Mary Magdalene | 06/01/1886 | 11/11/1909 | m. W.M. 11/9/1909 |
| B12-10 | Davis | Ida Tate | 07/29/1893 | 11/20/1968 | w. Henry |
| B12-11 | Davis | Henry M | 03/17/1888 | 05/02/1967 | w. Ida |
| B12-12 | Davis | Roy Errol | 1939 | 1998 | son of J. Leon & Ossie Mae Landrum;m. Carolyn Sue Brooks |
| B12-13 | Davis | Infant | 10/12/1911 | 10/12/1911 | of Mr & Mrs D.T. Davis |
| B12-14 | Davis | Infant | 09/10/1914 | 09/16/1914 | of Mr & Mrs D.T. Davis |
| B12-15 | Davis | Elizabeth M | 09/27/1882 | 12/07/1963 | |
| B12-16 | Davis | Jesse A | 05/03/1878 | 03/30/1956 | |
| B12-17 | Davis | Infant son | 03/10/1912 | 03/10/1912 | son of Jesse A. & M.E or F. |
| B12-18 | Davis | Ossie Mae Landrum | 03/08/1921 | 01/24/1987 | m. J. Leon |
| B12-19 | Davis | J Leon | 02/13/1917 | 09/17/1995 | m. Ossie Mae Landrum 6/26/1937 |
| B12-20 | Richardson | Miranda Dawn | 12/28/2004 | 01/05/2005 | |
| B13-01 | Sanders | James Patrick | 01/27/1953 | 07/11/2004 | between rows 12+13 |
| B13-02 | McDuffie | Thelma D | 03/24/1909 | 12/08/1996 | m. Hugh Archie |
| B13-03 | McDuffie | Hugh Archie | 08/02/1907 | 01/05/1969 | m. Thelma D. |
| B13-04 | Whitfield | Dana R | 12/28/1963 | 01/06/2010 | |
| B13-05 | Davis | Ruby D | 01/30/1915 | 06/08/1987 | w. Hollis W. |
| B13-06 | Davis | Hollis W | 02/18/1921 | 02/21/1995 | w. Ruby D. |
| B13-07 | Sanderson | Edith D | 09/06/1911 | 02/21/2001 | w. Richard C. |
| B13-08 | Sanderson | Richard C | 10/05/1909 | 12/13/1976 | w. Edith D. |
| B13-09 | Davis | Elijah Thomas | 12/13/1880 | 02/25/1968 | |
| B13-10 | Davis | Genevia Mitchell | 02/25/1884 | 03/10/1961 | |
| B13-11 | Davis | Joseph Auburn | 10/03/1907 | 11/23/1933 | |
| B13-12 | Mitchell | Lucille M | 07/23/1912 | 03/01/1986 | m. 11/29/1933 |
| B13-13 | Mitchell | Morris | 02/18/1909 | 03/02/1979 | |
| B13-14 | Mitchell | Mizzle | 02/03/1922 | 12/20/1929 | son of W.C. & L.J. |
| B13-15 | Mitchell | Lela J | 03/26/1893 | 01/23/1945 | |
| B13-16 | Mitchell | W C | 04/01/1887 | 03/24/1965 | |
| B13-17 | Mitchell | Angeline | 06/14/1852 | 12/02/1935 | |
| B13-18 | Mitchell | Rutilious | 01/31/1850 | 02/16/1925 | |
| B13-19 | McLemore | Agnes Gipson | 03/13/1924 | 06/03/1998 | m. Edgar 7/30/1938 |
| B13-20 | McLemore | Edgar | 06/05/1915 | 07/07/2007 | m. Agnes G. 7/30/1938 |
| B14-02 | (Unmarked) | | | | |
| B14-03 | Gipson | Infant son | 06/18/1948 | 06/18/1948 | son of Herschel & Donnie |
| B14-04 | Gipson | Mack Eldred | 12/04/1937 | 12/05/1937 | son of Herschel & Donnie |
| B14-05 | Gipson | Infant | 09/21/1917 | 09/21/1917 | inf of Mack & Hester |
| B14-06 | Gipson | Hester Wheat | 02/09/1888 | 11/04/1962 | m. Mack |
| B14-07 | Gipson | Mack | 02/18/1884 | 08/29/1962 | m. Hester Wheat |
| B14-08 | Gipson | Donnie J | 01/04/1920 | 05/09/2008 | m. Herschel E. 10/12/1935 |
| B14-09 | Gipson | Herschel E | 06/07/1915 | 03/28/1998 | m. Donnie J. 10/12/1935 |
| B14-10 | Wheat | Mary Jane Miller | 08/22/1862 | 10/27/1912 | m. Hezekiah |
| B14-11 | Wheat | Hezekiah | 08/20/1857 | 01/16/1942 | m. Mary Jane |
| B14-12 | Wheat | Ernest | 03/17/1902 | 05/04/1968 | |
| B14-13 | Miller | R J | 03/05/1870 | 05/27/1943 | m. Ginno E. |
| B14-14 | Miller | Ginno E | 01/10/1879 | 05/25/1940 | m. R.J.; old headstone still there also as Mrs. R.J. w. dod 5/24/1940 |
| B15-01 | Bounds | Florence Louise Mitchell | 04/07/1874 | 08/22/1960 | |
| B15-02 | Bounds | John Romles | 06/07/1872 | 11/12/1920 | |
| B15-03 | Bounds | Mazie Marie | 10/27/1907 | 04/17/1943 | |
| B15-04 | Bounds | M. J. "Bill" | 07/04/1904 | 03/15/1990 | |
| B15-05 | Bounds | Lorean | 1902 | 03/26/1937 | |
| B15-06 | Parris | Eula L | 04/08/1915 | 06/18/1994 | |
| B15-07 | Bounds | Virginia Pearl | 12/31/1889 | 04/05/1976 | |
| B15-08 | Bounds | Fred William | 05/17/1896 | 01/02/1968 | |
| B15-09 | Malley | Roger E | 01/01/1959 | | res. |
| B15-10 | Hartzog | Callie Louise | 03/1885 | 09/1927 | previously unmarked |
| B15-11 | Malley | Beatrice J | 12/17/1902 | 12/11/1981 | m. Charley E. |
| B15-12 | Malley | Charley E | 10/07/1904 | 06/15/1982 | m. Beatrice J. |
| B15-13 | Malley | Edna L | 07/04/1933 | | m. 12/21/1956 |
| B15-14 | Malley | Winston | 04/09/1936 | 12/23/1984 | |
| B15-15 | Davis | Velma Temple | 06/11/1908 | 01/04/1990 | |
| B16-01 | Smith | Smantha | | 01/05/1983 | last w/o Andrew |
| B16-02 | Sanford | Huron C | 06/30/1922 | 09/22/1957 | |
| B16-03 | Johnson | Luther C | 08/22/1853 | 02/20/1934 | m. Louise |
| B16-04 | Johnson | Louise | 02/07/1875 | 02/01/1960 | m. Luther C. |
| B16-05 | Johnson | J C | 03/29/1914 | 03/16/1937 | |
| B16-06 | Roberts | Celeste Malley | 12/05/1934 | 04/30/1992 | m. 4/30/1992 |
| B16-07 | Burge | Edna Earline | 03/03/1926 | 11/27/1927 | dau of Mr & Mrs O.L. |
| B16-08 | Burge | Oyt Loyd | 05/25/1923 | 05/27/1958 | son of Mr. & Mrs. Oscar Burge |
| B16-09 | Burge | Eunice M | 11/03/1898 | 03/19/1982 | |
| B16-10 | Burge | Oscar L | 03/17/1900 | 06/20/1972 | |
| B17-01 | Parker | Little B | | | Co H 1 New Orleans Inf |
| B17-02 | Parker | Caroline E | 10/06/1831 | 12/20/1927 | |
| B17-03 | Allen | Lawrence | 08/06/1873 | 12/06/1931 | |
| B17-04 | Allen | Lela | 04/09/1878 | 09/10/1950 | |
| B17-05 | Allen | Fred | 07/05/1903 | 10/04/1982 | mason |
| B17-06 | Penton | Randall | 1871 | 1939 | |
| B17-07 | Penton | Addie Smith | 1878 | 1954 | |
| B17-08 | Penton | Gleness | 06/10/1943 | 08/08/2011 | |
| B17-09 | Penton | Donald V | 07/21/1911 | 02/24/1968 | |
| B17-10 | Boutwell | Elvie S | 09/28/1919 | 06/06/2004 | m. 6/1/1940 |
| B17-11 | Boutwell | G Lamar | 04/07/1910 | 11/13/1991 | |
| B17-12 | Deere | John H | 07/01/1912 | 03/13/1973 | m. Lenora B |
| B17-13 | Deere | Lenora B | 02/03/1916 | 01/16/1993 | m. John H |
| B17-14 | Lee | Marion J Jr | 11/15/1969 | 11/17/1969 | |
| B17-15 | Daehnke | Henry Leroy Sr | 01/09/1917 | 09/12/1983 | Ax1 US Navy |
| B18-01 | (Unmarked) | | | | |
| B18-02 | Phillips | John H | 06/06/1933 | 06/21/1933 | |
| B18-03 | Phillips | Bill | 01/27/1894 | 11/22/1966 | w. Celia |
| B18-04 | Phillips | Celia | 03/27/1899 | 08/12/1981 | w. Bill |
| B18-05 | Bounds | Yvonne M. | 01/25/1933 | 06/19/1999 | |
| B18-06 | Bounds | Charles Ray | 01/08/1928 | 08/28/1997 | SSGT U. S. Air Force |
| B18-07 | Magnon | Willie Phillips | 10/19/1937 | 05/29/2003 | |
| B18-08 | Simmons | James Leslie | 11/26/1918 | 11/01/1989 | Pfc US Army WW II |
| B18-09 | Simmons | Alice M | 05/18/1897 | 04/16/1928 | |
| B18-10 | Simmons | James C | 09/11/1894 | 09/27/1929 | |
| B18-11 | Pullens | Eloise W | 02/17/1926 | 11/26/1995 | |
| B18-12 | Clingan | Remy Ray | 07/31/1961 | 03/26/2011 | |
| B18-13 | Maxwell | Ladell | 04/24/1920 | 12/18/1977 | m. Louie Wilson 12/18/1937 |
| B18-14 | Maxwell | Louie Wilson Sr | 04/15/1916 | 06/16/1994 | m. Ladell 12/18/1937 |
| B19-02 | (Unmarked) | | | | infant |
| B19-05 | McClinton | Robert C | 06/01/1910 | 05/11/1972 | mason; m. Lois S. |
| B19-06 | McClinton | Lois S | 03/18/1912 | 04/13/1988 | star; m. Robert C. |
| B19-07 | Fleming | Ford | 11/04/1897 | 03/27/1981 | m. Maluvy L 9/19/1919 |
| B19-08 | Fleming | Maluvy L | 07/16/1904 | 05/23/1995 | m. Ford 9/19/1919 |
| B19-09 | Westbrook | Lavada Fleming | 11/17/1942 | | m. 6/20/1958 |
| B19-10 | Westbrook | Charles Sherman | 1940 | 1974 | |
| B19-11 | Whitfield | Mary Jo Tedder | 09/26/1933 | 11/24/1977 | star; m. Forest Leroy |
| B19-12 | Whitfield | Forest Leroy | 11/05/1919 | 06/02/1976 | mason; m. Mary Jo |
| B19-13 | Parker | John Hinton Jr | 09/22/1937 | 09/12/2007 | A2C US AF Korea |
| B19-14 | Parker | John Hinton III | 10/13/1964 | 12/27/1999 | son of J.H Jr |
| B19-15 | Seale | Melba K | 01/04/1932 | 03/27/2000 | |
| B19-16 | Futch | Marie T | 08/03/1922 | 07/19/1991 | |
| B19-17 | Futch | Otis Edward | 07/03/1917 | 09/29/1985 | |
| B19-18 | Clark | Joann Futch | 01/28/1942 | 12/05/1970 | |
| B20-01 | Mitchell | Hollis E | 12/31/1916 | 05/06/1972 | Ms Pfc Co F 254 Inf WW II |
| B20-02 | Mitchell | Jordan R | 12/23/1889 | 06/12/1975 | m. Lena S. |
| B20-03 | Mitchell | Lena S | 07/22/1896 | 08/11/1985 | m. Jordan R. |
| B20-04 | Mitchell | Elgin | 05/21/1920 | 07/01/1996 | |
| B20-05 | Carroll | Waldon | 04/06/1932 | 09/27/2002 | Cpl US Army Korea |
| B20-06 | Russell | Baxter | 10/16/1905 | 08/26/2003 | w. Ruth |
| B20-07 | Russell | Ruth | 12/08/1907 | 01/17/1981 | w. Baxter |
| B20-08 | Russell | Gerald LaRue | 08/31/1945 | 08/31/1945 | |
| B20-09 | Russell | Ernest Baxter Jr | 06/22/1941 | 06/22/1941 | |
| B20-10 | Palmer | Mary A | 01/20/1893 | 04/05/1977 | m. William J. |
| B20-11 | Palmer | William J | 07/25/1891 | 05/30/1972 | m. Mary A. |
| B20-12 | Palmer | Millard Ray | 09/04/1920 | 06/11/1984 | |
| B20-13 | Palmer | Ostra Bonnita | 01/03/1922 | 09/04/1978 | |
| B21-01 | Mitchell | Dorothy Flowers | 05/05/1925 | 12/11/1983 | |
| B21-02 | Mitchell | Edward H | 05/05/1937 | 07/11/1988 | |
| B21-03 | Deemes | Maudie Lee Alice | 08/20/1903 | 02/22/1978 | |
| B21-04 | Jones | Ariel Rebecca | 10/26/2005 | 10/26/2005 | |
| B21-05 | Dillard | Maxie Vernon | 02/21/1941 | 11/07/1999 | |
| B21-06 | Dillard | Vernon Earl | 07/02/1965 | 10/23/1970 | |
| B21-07 | (Unmarked) | Infant | | | |
| B21-08 | Bonham | Mary Russell | 03/20/1903 | 03/18/1947 | |
| B21-09 | Holden | Wanda Russell | 02/26/1932 | 07/10/2010 | |
| B21-10 | Russell | Arthur | 06/06/1900 | 01/15/1947 | |
| B21-11 | Russell | Percy | 06/17/1875 | 02/11/1939 | w. Nellie |
| B21-12 | Russell | Nellie | 02/22/1877 | 07/13/1962 | w. Percy |
| B21-13 | LaVigne | Jason Joseph | 10/06/1978 | 02/15/1979 | |
| B21-14 | Lavigne | Veronica Paige | 06/07/1962 | 09/11/1980 | |
| B21-15 | LaVigne | Margie Kay | 02/21/1958 | 04/24/1989 | |
| B21-16 | LaVigne | Robert Henry | 02/22/1918 | 11/08/1980 | m. Ena Mae |
| B21-17 | LaVigne | Ena Mae | 02/10/1919 | 01/20/1996 | m. Robert Henry |
| B21-18 | LaVigne | Addie Mae | 10/21/1956 | 09/26/2007 | |
| C-01 | Mitchell | Vesta | 11/18/1914 | 04/06/1975 | m. Estus |
| C-02 | Mitchell | Estus | 09/06/1906 | 01/31/1998 | m. Vesta |
| C-03 | Gill | J D | 03/30/1908 | 09/10/1979 | mason |
| C-04 | Gill | Gladys J | 04/04/1910 | | (res) |
| C-05 | Pearson | Bruce | 07/17/1904 | 07/09/1977 | m. 11/30/1922 |
| C-06 | Pearson | Clara | 01/02/1902 | 08/26/1988 | |
| C-07 | Jarrell | Edward W | 07/22/1915 | | |
| C-08 | Jarrell | Mary C | 05/04/1943 | | |
| C-09 | Collier | James David Sr | 12/17/1936 | 11/16/1992 | Sp3 US Army Korea |
| C-10 | Collier | Patsy L Jenkins | 06/24/1941 | 03/25/1996 | |
| C-11 | Jaco | Clinton Leon | 11/28/1918 | 03/06/2000 | m. 10/23/1945 |
| C-12 | Jaco | Hannah Waters | 07/15/1922 | 12/22/1975 | m. 10/23/1945 |
| C-13 | Perrin | W J "Pete" | 02/23/1925 | 08/22/1976 | |
| C-14 | Perrin | Mamie B | 09/02/1929 | | |
| C-15 | Ray | Christopher C. | 1940 | 1989 | (McDonald FHM) |
| C-16 | Dees | David Leo | 01/23/1961 | 08/09/1986 | son of Ernest L & May G. |
| C-17 | Dees | May Gonzales | 05/27/1926 | 05/20/2002 | |
| C-18 | Maples | Susan | 10/31/1978 | 10/31/1978 | |
| C-19 | Mitchell | Otho E "Mitch" | 12/09/1934 | 08/23/1996 | |
| C-20 | Capooth | William Kent | 12/18/1960 | 09/01/2010 | SN US Navy |
| C-21 | Lee | Elvin Ora | 09/09/1919 | 04/05/1988 | Tec 4 US Army WW II; m. Easter B. |
| C-22 | Lee | Easter B | 02/02/1928 | 06/22/1996 | m. Elvin Ora |
| C-23 | Davis | James Durwood | 04/16/1937 | 08/16/2007 | Pfc US MC Korea |
| C-24 | Stockstill | Alvin L "Curly" | 01/29/1920 | 07/17/2012 | w. Mary P. |
| C-25 | Stockstill | Mary P | 01/15/1921 | 11/18/2006 | w. Alvin L. |
| C-26 | Mooney | Jason R | 11/27/1977 | 08/18/1979 | |
| C-27 | Bates | Beatrice S | 09/17/1910 | 12/19/1979 | |
| C-28 | Boster | Juanita | 01/07/1931 | 01/16/1986 | m. Ed 7/12/1953 |
| C-29 | Boster | Ed | 12/09/1917 | | m. Juanita 7/12/1953 |
| C-30 | Carroll | John Cornelius | 06/14/1919 | 05/21/1980 | Pfc US Army WW II |
| C-31 | Cook | Carl Henry | 12/18/1938 | 09/26/1992 | |
| C-32 | Cook | Patsy Jeffcoat | 11/19/1936 | | (res) |
| C-33 | Jarrell | Gordon Lee | 09/05/1947 | 08/28/2001 | Pfc US Army Vietnam |
| C-34 | Jarrell | Daniel C | 10/24/1924 | 01/12/1993 | |
| C-35 | Jarrell | Daniel C Jr | 02/05/1945 | 02/18/2009 | |
| D-01 | Futch | Jack R | 06/19/1950 | 06/10/2008 | |
| D-02 | Simmons | Bonita B | 10/17/1919 | 09/29/2003 | |
| D-03 | Simmons | Clarence E "Goose" | 02/07/1941 | 01/09/2000 | |
| D-04A | Roland | Clifford | 1936 | 1999 | |
| D-04B | Roland | Vivian P | 1936 | 2007 | |
| D-05 | Purvis | Otis E | 12/19/1904 | 03/10/1983 | |
| D-06 | Thompson | Hailey Breanna | 01/08/2002 | 01/08/2002 | |
| D-07 | Parks | Benwood J Jr | 06/28/1949 | 07/13/2004 | paw paw "fix it" |
| D-08 | Southern | Abby Danielle | 1993 | 1994 | |
| D-09 | Fretwell | Sammy Gene | 1933 | 1996 | (Picayune FHM) |
| D-10 | Bounds | Don C "Porky" | 09/12/1955 | 12/15/2007 | |
| unk-01 | Bryant | C J | 1942 | | |
| unk-02 | Bryant | Gail Lois | 1945 | | |
| unk-03 | Carroll | Nellie Ruth Russell | 01/10/1935 | 10/05/2012 | |
| unk-04 | Clingan | Bobby J | | | |
| unk-05 | Clingan | Cathy E | | | |
| unk-06 | Cooper | Charles Keith Jr | 05/08/1981 | 07/23/2006 | "Big Coop" |
| unk-07 | Davis | Julian D. "Bud" Sr | 04/26/1929 | 12/29/2012 | |
| unk-08 | DeLaney | Arthur Joseph | 12/11/1950 | 03/14/2007 | Pvt US Army Vietnam |
| unk-09 | Dema | Jane Manning | | | |
| unk-10 | Dema | Michael A | | | |
| unk-11 | Dillard | Hershel Leland Sr | 1941 | 2009 | |
| unk-12 | Dillard | Karen I | 1949 | | |
| unk-13 | Dillard | Luther Benjamin | 1947 | | |
| unk-14 | Dillard | Natha L | 1945 | | |
| unk-16 | Johnson | Johnnie L | 1934 | | |
| unk-17 | Johnson | Julia B | 1937 | | |
| unk-18 | Kemper | Patrick Huey "Skipper" | | | |
| unk-19 | LaVigne | Georgia P | 1948 | | |
| unk-20 | LaVigne | Harold | 07/20/1943 | 05/14/2000 | QMSN US Navy Vietnam |
| unk-21 | LaVigne | Jon Trevor | 06/08/1982 | 06/08/2000 | shares grave w/ Albert J. |
| unk-22 | Malley | Tonya R | 1968 | 2001 | |
| unk-23 | Manning | Paula B | | | |
| unk-24 | Manning | Wayne L | | | |
| unk-25 | Martin | Joyce Attebery | 1927 | 2009 | |
| unk-26 | Martin | Lambert L "Red" | 1924 | | |
| unk-27 | McBeth | Ernestine R | 1932 | | |
| unk-27 | Mitchell | Irene B | 1931 | | |
| unk-28 | McBeth | Frank | 1929 | 2009 | |
| unk-28 | Mitchell | Lena Ruth | 10/22/1952 | 11/18/2012 | |
| unk-29 | Mitchell | Lois Marie Lizana | 06/10/1937 | 06/26/2013 | |
| unk-30 | Mitchell | Onra | 1929 | | |
| unk-31 | Mitchell | William Edgar | | | |
| unk-32 | Moody | Miles E | 1946 | | |
| unk-33 | Moody | Patty D | 1943 | 2007 | |
| unk-35 | Pigott | Thomas Benton | 05/28/1893 | 05/25/1967 | |
| unk-36 | Roberts | James C | 1940 | 2002 | |
| unk-37 | Simmons | Eric Travis | 06/03/1983 | 01/08/2012 | |
| unk-38 | Smith | Aaron Wesley "Big Daddy" | 09/04/1928 | 03/12/1984 | |
| unk-39 | Smith | Aubrey Jayde | 10/05/2009 | 06/01/2012 | dau of Amanda & T.J. |
| unk-40 | Smith | Cleo V | 1932 | | |
| unk-41 | Smith | Easter L | 1929 | | |
| unk-42 | Smith | Mollie L | 12/15/1918 | 06/10/2010 | |
| unk-43 | Smith | Sedric W Sr | 1919 | 2011 | |
| unk-44 | Spence | Mary S | 1934 | | |
| unk-45 | Weldy | Clarice | | 02/15/1998 | age 86 |
| unk-46 | Westbrook | Lola Mae | 1930 | | |
| unk-47 | Westbrook | Patsy Davis | 1931 | | |
| unk-48 | Westbrook | Wesley Gene | 1929 | 2006 | |
| unk-49 | Whitfield | Doyle | 1930 | 2012 | |
| unk-50 | Williamson | Henry W. | 10/15/1857 | 10/22/1940 | |
| unk-51 | Willis | Larry L | 1944 | | |
| unk-52 | Willis | Theresa C | 1943 | 2006 | |
| unk-53 | Wright | Angel | 2007 | 2007 | |
| unk-54 | Wright | Annice L | 1932 | 2011 | |
| unk-55 | Wright | Bennie H. | 1930 | 2012 | |