Private cemetery of the Holden family, now owned by the Thompson family. Located close to the Jourdan River, it is a very picturesque spot. There are several confederate and War of 1812 soldiers buried here. The oldest (marked) grave dates back to 1827.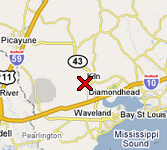 Directions:
From I-10 take the 603 North (= exit 13). Turn left on Texas Flat Road. You can also simply follow the signs to the McLeod State Park. Go past the Park office entrance - on the right hand side - and take the next road to your right. It is a dirt road, no pavement, do not travel after heavy rains. Follow this very picturesque, winding road for about 1/2 a mile and you will see the cemetery on your right.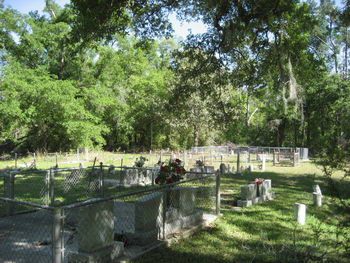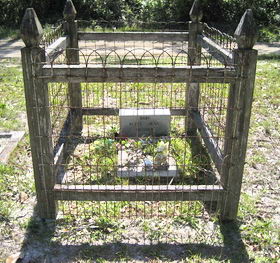 Cemetery layout:
Row numbering starts at the road and graves are numbered left to right. See diagram for layout.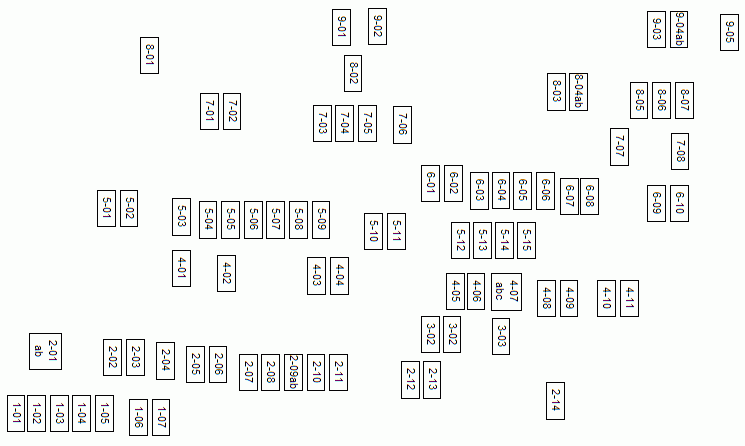 Graves (
81

):
| # | Last Name | First Name | Birth | Death | Comment |
| --- | --- | --- | --- | --- | --- |
| 1-01 | Lind | Lillie M. | 10/19/1920 | 07/09/2004 | |
| 1-02 | Lind | Cornelius M. | 04/30/1923 | 03/02/2001 | |
| 1-03 | Lind | Michael J., Jr. | 10/03/1910 | 12/08/1985 | |
| 1-04 | Lind | Ellen L. | 07/21/1885 | 03/03/1968 | "Mother" |
| 1-05 | Lind | Michael J., Sr. | 10/13/1884 | 12/26/1967 | "Father" |
| 1-06 | Lind | Vivian N. | 07/22/1915 | 04/01/1989 | |
| 1-07 | Lind | Victor E. | 12/21/1918 | 07/13/1985 | Us Army World War II |
| 2-01a | Faye | Willie | | | Crypt, not marked (2008) |
| 2-01b | Faye | Sarah Lind | | | Crypt, not marked (2008) |
| 2-02 | Holden | Oneita Howard | 03/04/1927 | | |
| 2-03 | Holden | Elder Moses T. Jr. | 05/07/1924 | 05/25/1999 | |
| 2-04 | Schwartz | Doris Elizabeth Holden | 02/02/1920 | 11/22/1995 | Mother and Grandmother |
| 2-05 | Holden | Christybell Lee | 11/11/1933 | 12/16/2000 | |
| 2-06 | Holden | Aaron James Sr. | 02/05/1929 | 01/07/1994 | |
| 2-07 | Holden | Leona Estapa | 06/1900 | 03/16/1929 | |
| 2-08 | Holden | Moses Thomas | 01/24/1891 | 08/20/1955 | WW I |
| 2-09a | Lang | Charles A. | 1916 | 2004 | |
| 2-09b | Holden | Audrey | 1917 | 2005 | |
| 2-10 | Holden | Sarah | 09/14/1861 | 02/07/1953 | Age: 92 yrs, 4 mos, 23 days |
| 2-11 | Holden | Victor | 05/20/1861 | 07/15/1927 | "Father"; Husband of Sara Holden |
| 2-12 | Lind | Betty Jean | | | Baby; daughter of Ozzie Lind |
| 2-13 | (Unmarked) | small child | | | |
| 2-14 | (Unmarked) | baby | | | |
| 3-01 | (Unmarked) | | | | |
| 3-02 | (Unmarked) | | | | |
| 3-03 | Zamsky | Mary Nelson | 03/07/1919 | 02/15/1988 | "Mother and Wife" |
| 4-01 | McGowen | John | 05/14/1845 | 05/15/1929 | |
| 4-02 | McGowen | Wade | | 10/07/1982 | Can't find, date not certain |
| 4-03 | Holden | Nancy Ann Springfield | | | can't find |
| 4-04 | Holden | Mahlon, Jr. | 1839 | 07/12/1858 | can't find |
| 4-05 | Nelson | child Christian | | | No longer marked, in Nelson fence |
| 4-06 | Nelson | child Peter | | | No longer marked, in Nelson fence |
| 4-07a | Nelson | Mary | 05/1853 | 07/15/1926 | "Mother", Wife of Peter |
| 4-07b | Nelson | Peter | 1888 | 01/16/1932 | "Father", Husband of Mary |
| 4-07c | Nelson | baby | | | No longer marked, in Nelson fence |
| 4-08 | Holden | Manuel | 1877 | 1914 | |
| 4-09 | Lloyd | Clara Holden | 1897 | 1972 | |
| 4-10 | L. | J. | | | |
| 4-11 | L. | Ilmo J. | | | |
| 5-01 | Campbell | Joanne Higginbotham | 10/05/1930 | 06/07/1989 | Age 58 |
| 5-02 | Campbell | Wilbur Guy | 03/31/1915 | 05/15/1989 | Age 73 |
| 5-03/06 | (Unmarked) | | | | |
| 5-07 | Williams | Allen | | 07/30/1960 | age 60 yrs, 2 mos, 29 days |
| 5-08 | Williams | Catherine Holden | | | can't find; buried with Jack Williams |
| 5-09 | Williams | Jack Family | | | Jack Williams Family |
| 5-10 | Williams | Frances Holden | 07/03/1867 | 12/06/1939 | age 66 yrs |
| 5-11 | Williams | Moses | 11/18/1859 | 01/06/1933 | |
| 5-12 | Lott | Joshua, Sr. | 10/08/1847 | 11/30/1920 | brother of Susan Lott Holden |
| 5-13 | Lott | Jesse "Bully" | 05/28/1834 | 03/19/1923 | brother of Susan Lott Holden |
| 5-14 | Lott | Catherine Dawsey | 07/25/1844 | 01/08/1904 | wife of Jesse Lott |
| 5-15 | Lott(?) | Edward | 10/20/1879 | 02/28/1912 | |
| 6-01/02 | (Unmarked) | | | | |
| 6-03 | Holden | Mary Ann Pullum | 08/20/1836 | 03/06/1928 | |
| 6-04 | Holden | Gideon | 1831 | 06/29/1881 | CSA; 50 yrs old |
| 6-05 | Holden | William | | 1948 | date of death ??/09/1948, month illegible |
| 6-06 | Holden | Simon | 1787 | 1827 | |
| 6-07 | Holden | Catherine Nichols | 1790 | 1853 | |
| 6-08 | Holden | Mahlon, Sr. | 1788 | 1846 | war of 1812 |
| 6-09 | Tate | Abigail Holden | 1793 | 1861 | |
| 6-10 | Tate | James S. | 03/18/1782 | 06/20/1861 | War of 1812 |
| 7-01 | Johnson | Horace C. | 07/17/1921 | 06/20/1968 | Miss Pfc 157 Inf 45th Inf Div Co World War II |
| 7-02 | Johnson | Willie | 1888 | 10/04/1925 | Age 37 |
| 7-03 | Ladner | Agnes | 06/16/1902 | 03/08/1917 | |
| 7-04 | Ladner | David | 06/06/1868 | 07/19/1933 | |
| 7-05 | Ladner | Lenora Holden | 03/12/1872 | 03/01/1917 | wife of David Ladner |
| 7-06 | Holden | John (???) | | | CSA |
| 7-07 | (Unmarked) | | | | |
| 7-08 | (Unmarked) | | | | Army Eagle 12 star |
| 8-01 | Faye | Donald Bond | 03/11/1949 | 05/18/1996 | Age 47 |
| 8-02 | (Unmarked) | | | | |
| 8-03 | Dunhurst | Leon Stanley | 06/15/1928 | 10/20/1986 | Msgt Us Air Force Korea, Vietnam |
| 8-04a | Warrick | Christopher Allen | 03/19/1988 | 02/06/2007 | |
| 8-04b | Dunhurst | Christopher W. | 03/19/1988 | 02/06/2007 | |
| 8-05 | (Unmarked) | | | | Army Eagle 12 star |
| 8-06 | (Unmarked) | | | | Army Eagle 12 star |
| 8-07 | (Unmarked) | | | | Army Eagle 12 star |
| 9-01/02 | (Unmarked) | | | | |
| 9-03 | Kenmar | John | | | Note: grave is in the swamp at some distance, stone gone |
| 9-04a | Kenmar | Elizabeth | 08/25/1838 | 10/30/1856 | Note: grave is in the swamp at some distance |
| 9-04b | Kenmar | Samuel Alexander | 08/28/1856 | 10/28/1856 | Note: grave is in the swamp at some distance |
| 9-05 | (Unmarked) | mother + baby | | | 1700's; graves in the woods; can't find |