Private family cemetery in the old Logtown area, located where the Koch house once stood before Nasa relocated this entire area in 1964.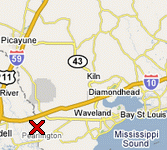 Directions:
Head west on Highway 90, and continue on the 607. Turn left on the 604. After about 1.7 miles, make a right hand turn, more of a Y actually. It is a paved road but has no name. Follow this road for another 0.5 miles until you see a fence to your right. Past the fence, it's about a quarter of a mile walk from the road. Veer left when you get to the cluster of large oak trees.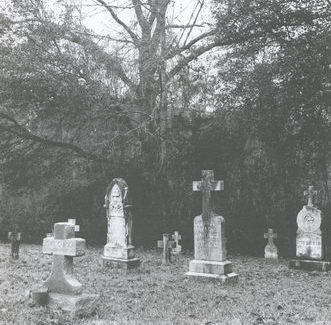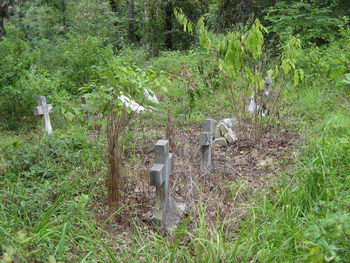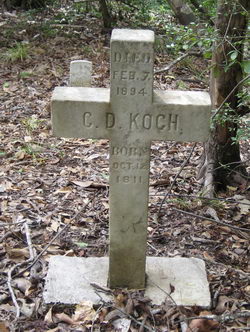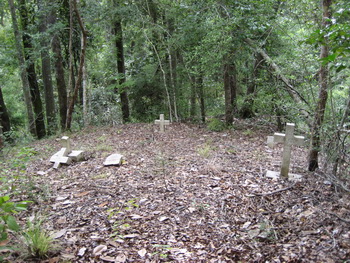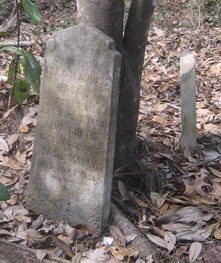 Cemetery layout:
Rows start numbering at the gate in the front. Row 5 is located about 75 feet behind and downhill from the other graves. The three Russ children, and the oldest graves in the cemetery, are to the left and separated from the other graves.


Graves (
42

):
| # | Last Name | First Name | Birth | Death | Comment |
| --- | --- | --- | --- | --- | --- |
| 1-01 | Gomez | James (Jimmy) | 09/26/1953 | 11/15/1956 | Infant son of Anthony and Joann Gomez |
| 1-02 | Miller | Annie Koch | 09/06/1908 | 12/09/1945 | daughter of Emil Koch Jr. and Olla Myrtle Daniels |
| 1-03 | Koch | Loyal E. | 07/23/1914 | 02/24/1933 | son of Emil Koch Jr. and Stella Daniels |
| 1-04 | Koch | Thomas J. | 09/20/1903 | 11/07/1931 | son of Emil Koch Jr. and Olla Myrtle Daniels |
| 1-05 | Baxter | John F., Jr. | 08/30/1926 | 05/21/1931 | son of John Francisco Baxter and Edith D. Koch |
| 1-06 | Daniels | Ola Myrtle | 06/21/1884 | 02/10/1912 | 1st wife of Emil Koch, Jr.; daughter of Jerome Daniels and Stella Atkins |
| 1-07 | Koch | Emil, Sr. (Rasmus?) | 11/22/1845 | 04/03/1931 | husband of Annie; son of Christian D. Koch and Annette Netto |
| 1-08 | Koch | Annie Summers | 12/15/1848 | 06/03/1902 | wife of Emil Sr.; daughter of Willams Summers and Rebecca Marrs |
| 1-09 | Koch | George S., Jr. | 05/02/1908 | 11/10/1909 | son of George S. Koch and Susie B. Adams |
| 1-10 | Koch | John H. | 05/15/1911 | 10/13/1911 | |
| 1-11 | Biering | Dorothy Meta | 12/01/1909 | 12/18/1911 | daughter of Oliver Biering and Anne May Koch |
| 1-12 | Koch | John C. | 12/10/1876 | 01/25/1959 | son of Emil Koch Sr. and Annie Summers |
| 1-13 | Koch | Rebecca A. | 09/22/1872 | 03/31/1969 | daughter of Emil Koch Sr. and Annie Summers |
| 1-14 | Koch | Susie B. Adams | 08/10/1892 | 10/23/1977 | wife of George S.; daughter of Thomas B. Adams and Rosella Pirry. |
| 1-15 | Koch | George S. | 10/23/1882 | 09/23/1978 | husband of Susie; son of Emil Koch Sr. and Annie Summers |
| 2-01 | Koch | Stella D. | 10/15/1892 | 10/14/1980 | 2nd wife of Emil Jr.; daughter of Jerome Daniels and Stella Atkins |
| 2-02 | Koch | Emil, Jr. | 05/26/1870 | 01/29/1964 | husband of Stella; son of Emil Koch Sr. and Annie Summers |
| 2-03 | Koch | Frank A. | 12/16/1851 | 12/08/1894 | husband of Sarah; son of Christian D. Koch and Annette Netto |
| 2-04 | Koch | Sarah F. | 05/26/1856 | 02/01/1930 | wife of Frank; daughter of William Summers and Rebecca Marrs |
| 2-05 | Brown | Marie Koch | 08/08/1881 | 07/07/1910 | wife of H.W. Brown. daughter of Frank A. Koch and Sarah Summers |
| 2-06 | Koch | Christian D. | 04/04/1879 | 01/10/1919 | son of Frank A. Koch and Sarah Summers |
| 3-01 | Netto | Caroline | 04/09/1833 | 01/04/1922 | widow of Gipson Williams; daughter of Francisco A. Netto and Florentine F. Doby |
| 3-02 | Netto | Pierre | 1827 | 06/17/1903 | son of Francisco A. Netto and Florentine F. Doby |
| 3-03 | Koch | Annette (Aunt Nettie) | 04/20/1861 | 08/25/1955 | daughter of Christian D. Koch and Annette Netto |
| 3-04 | Koch | H.P. (Peter) | 05/16/1863 | 03/13/1893 | son of Christian D. Koch and Annette Netto |
| 3-05 | Koch | John Buntzen | 08/01/1855 | 06/15/1931 | son of Christian D. Koch and Annette Netto |
| 3-06 | Lutken | Otto | 05/02/1863 | 01/21/1898 | husband of Lucy; son of Carl Lutken and Hanna Jurgensen; born in Nyckjobing, Denmark. WOW stone, Luther Weston Camp # 66 |
| 3-07 | Lutken | Lucie Koch | 12/18/1858 | 09/17/1911 | wife of Otto Lutken; daughter of Christian D. Koch and Annette Netto |
| 3-08 | Lutken | Thomasine | 09/22/1892 | 02/13/1952 | daughter of Otto Lutken and Lucy Koch |
| 4-01 | Koch | Laurentze Marie | 04/10/1858 | 09/02/1943 | also known as Bessemoer; wife of Gustav; daughter of Stanley Koch and Hanna Aagaard (Denmark) |
| 4-02 | Koch | Gustav Adolph Stanley | 12/13/1849 | 09/02/1902 | also known as Bessefaer; husband of Laurentze; son of Christian D. Koch and Annette Netto |
| 4-03 | Koch | Hanne | 04/23/1880 | 11/05/1909 | daughter of Gustav and Laurentze Koch |
| 4-04 | (Illegible) | | | | |
| 5-01 | Koch | Christian Ditlev Thorvaldzen | 10/12/1811 | 02/07/1894 | husband of Annette; son of H. C. Elers Koch & Laurentze Buntzen; born in Denmark |
| 5-02 | Koch | Annette (Antoinette) Netto | 03/08/1825 | 11/14/1886 | wife of C. D. Koch; daughter of Francisco A. Netto and Florentine F. Doby; born in Pearlington |
| 5-03 | Koch | Annette | | | small tombstone, most likely daughter of Christian D. Koch and Annette Netto who died at birth |
| 5-04 | Koch | "Little" Annette (Nettie) | 09/04/1875 | 01/08/1887 | daughter of H. Peter G. Koch and Laurentze M. Koch |
| 5-05 | Koch | Annette Netto | 09/07/1888 | 11/02/1888 | daughter of Gustav and Laurentze Koch |
| 5-06 | Koch | Hans Christopher Elers | 03/27/1844 | 05/16/1866 | son of Christian D. Koch and Annette Netto |
| 6-01a | Russ | Rosa A. | | 08/25/1850 | Child of Asa & M.A. Russ; twin sister of Ella A. A small marker just below the headstone reads: R.A.R.-A.C.R.-B.M.R. |
| 6-01b | Russ | Alva Curtis | | 08/20/1852 | child of Asa & M.A. Russ. A small marker just below the headstone reads: R.A.R.-A.C.R.-B.M.R. |
| 6-01c | Russ | Basil Manly | | 11/02/1856 | child of Asa & M.A. Russ. A small marker just below the headstone reads: R.A.R.-A.C.R.-B.M.R. |