Logtown was located on the banks of the Pearl River. It had the largest sawmill in the world until June 1930. In 1964, the entire town was "relocated" by Nasa because of its proximity to the rocket engine test facility. The cemetery is now all that remains. 12 Graves from the Gainesville cemetery were reinterred here.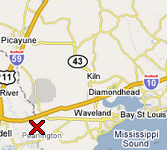 Directions:
Head west on Highway 90, and continue on the 607. Turn left on the 604. After about 1.7 miles, make a right hand turn, more of a Y actually. It is a paved road but has no name. Follow this road for another 1.7 miles and you will see the cemetery to your right, a bit away from the road. The picturesque clearing with the trees in front of the cemetery was the site of the old Logtown Church. Bring a picnic basket, it's a gorgeous spot.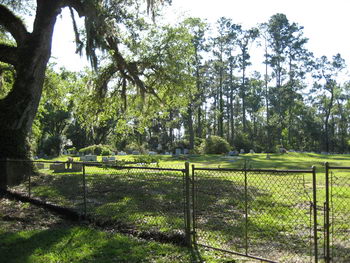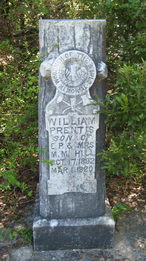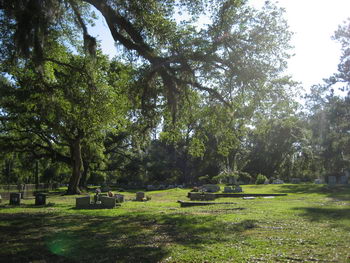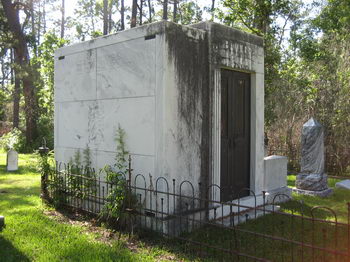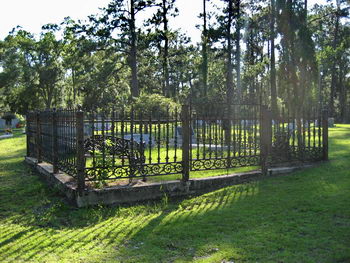 Cemetery layout:
Row numbers go from right to left. Grave numbers start at the front fence. If a row has an A or B behind it, it means that that row does not start at the fence but further towards the woods. "A" means it will be to the right of that row, "B" means to the left.


Graves (
435

):
| # | Last Name | First Name | Birth | Death | Comment |
| --- | --- | --- | --- | --- | --- |
| 01-01 | Harvey | Bertha | 03/07/1941 | 08/24/2002 | |
| 01-02 | Barber | Gladys Ruffin | 04/06/1925 | 12/31/1999 | |
| 01-03 | Barber | Paul Raymond | 02/04/1919 | 06/08/1995 | AC US Air Force WW II |
| 01-05 | Moss | Tammy Jean | 08/26/1970 | 01/20/1993 | |
| 01-06 | Moss | Samantha Anna | 08/08/1972 | | |
| 01-07 | Savage | Luke | 05/08/1831 | 11/08/1853 | Reinterred by Nasa from the Gainesville cemetery #177 |
| 01-08 | Gause | ?? | | | Reinterred by Nasa from the Gainesville cemetery #182; can't find |
| 01-09 | Gause | ?? | | | Reinterred by Nasa from the Gainesville cemetery #181; can't find |
| 01-10 | Gause | Dougherty | | | Reinterred by Nasa from the Gainesville cemetery #180; can't find |
| 01-11 | Roberts | Artimetia A. | 11/10/1836 | 08/04/1881 | Reinterred by Nasa from the Gainesville cemetery #139; can't find |
| 01-12 | Roberts | Joseph W. | 06/26/1827 | 03/20/1875 | Reinterred by Nasa from the Gainesville cemetery #140; can't find |
| 01-13 | (Unmarked) | | | | |
| 01-14 | Weaver | Thomas W. | 03/28/1935 | 07/28/1995 | |
| 01-04a | Wilkerson | Barbara Smith | 09/16/1950 | | reserved |
| 01-04b | Wilkerson | Buddie C. | 01/09/1933 | 06/04/1995 | |
| 02-01 | Gause | Alice Olivia | 07/19/1873 | 04/24/1875 | Reinterred by Nasa from the Gainesville cemetery #176 |
| 02-02 | Gause | Rosa | 03/31/1854 | 05/17/1855 | Reinterred by Nasa from the Gainesville cemetery #175; daughter of D. & A. Gause |
| 02-03 | Gause | Eugene | 08/23/1867 | 02/14/1881 | Reinterred by Nasa from the Gainesville cemetery #178 |
| 02-04 | Gause | Amelia L. P. | 03/01/1814 | 12/04/1886 | Reinterred by Nasa from the Gainesville cemetery #179; relict of Dougherty Gause |
| 02-05 | Batte | Philander Chase | 06/20/1831 | 06/13/1853 | Reinterred by Nasa from the Gainesville cemetery #068; can't find |
| 02-06 | Hoffman | Florence Louise | 10/30/1852 | 07/09/1853 | Reinterred by Nasa from the Gainesville cemetery #170 |
| 02-07 | Pacheco | Margarette L. | 04/26/1991 | 09/13/1991 | |
| 03-01 | Carver | Margaret J. | 07/19/1925 | 10/16/1998 | |
| 03-02 | Carver | Arnold E. | 05/16/1920 | 03/12/1996 | US Army WW II Purple Heart |
| 03-03 | Lichtenstein | Robert Becnel | 11/16/1966 | 11/15/2003 | |
| 04-01 | Hodgin | Wilbur L. Sr. | 01/06/1918 | 10/21/1995 | |
| 04-02 | Hodgin | Louise T. | 12/06/1919 | 07/03/1997 | |
| 04-03 | Pearson | Ruby Ismel "Rip" | 08/26/1923 | | reserved |
| 04-04 | Pearson | Mary Edwin Davis | | | (reserved) |
| 04-05 | McArthur | Robert Alison | 11/28/1952 | 01/23/2002 | |
| 04-06 | McArthur | Wilbur Joseph | 04/28/1928 | 02/14/2000 | "Captain Mac" |
| 04-07 | McArthur | Alma M. Thigpen | 08/14/1929 | | reserved |
| 04-08 | Lichtenstein | Kristy Ann | 12/02/1995 | 03/09/1996 | |
| 04-09 | Lichtenstein | Kathleen Kay | 05/23/1988 | 05/23/1988 | |
| 05-01 | Young | Thomas C. | 01/24/1931 | | reserved |
| 05-02 | Young | Naomi D. | 04/17/1937 | 07/02/1989 | |
| 06-01 | McArthur | Martin Wallace | 11/19/1924 | 08/05/2003 | |
| 06-02 | McArthur | Ona Mae Luxich | 10/06/1935 | 05/23/1995 | |
| 07-01 | Holden | Ora | 11/30/1906 | 10/20/1983 | |
| 07-02 | Holden | Corrine C. | 03/05/1909 | 12/09/1991 | |
| 07-03 | Hardy | Eula M. | 02/10/1887 | 05/22/1973 | |
| 07-04 | Cagle | Morlan | 11/03/1933 | 11/24/2005 | |
| 07-05 | Kardes | Claude V. | 04/20/1910 | 04/01/1969 | |
| 07-06 | Kardes | Ruth C. | 02/25/1916 | 01/09/1976 | |
| 07-07 | Parker | Walter B. | 12/07/1896 | 04/15/1964 | |
| 07-08 | Parker | Irene B. | 10/01/1896 | | |
| 07-09 | Parker | Betty Fornea | 09/10/1928 | | |
| 07-10 | Parker | James "Jim" W. Sr. | 01/31/1923 | 10/15/1994 | US Army Air Corps WW II |
| 07-11 | Adams | Joel Burns | 12/31/1931 | 06/30/1974 | Mason; Cpl US Army |
| 07-12 | Lemoine | Margarett C. W. Bello | 07/26/1947 | 02/11/2006 | margarett christine whittington bello |
| 07-13 | Whittington | (Illegible) | 09/13/1920 | 11/24/2001 | |
| 07-14 | Whittington | ? | | 12/17/1990 | |
| 07-15 | Carver | Larry Bruce | 09/28/1948 | 12/08/1996 | SP4 US Army |
| 07-09a | Parker | Gertrude Burke | 01/22/1936 | 08/08/1999 | 1st Lt US Air Force |
| 08-01 | Baxter | Joseph Clay | 08/17/1890 | 03/11/1963 | |
| 08-02 | Stromeyer | Catherine Henrietta | 11/06/1894 | 10/29/1988 | wife of Joseph Clay Baxter |
| 08-03 | Baxter | Joseph C. Jr. | 10/03/1918 | | reserved |
| 08-04 | Baxter | Lillian S. | 03/11/1923 | | reserved |
| 08-05 | Baxter | Herman M. | 02/08/1921 | 10/16/1944 | Ms. 1st Lt Infantry WW II; son of J.C. Clay & C.H. Stromeyer |
| 08-06 | Woods-Hill | Frances Theresa Sinclair | 1894 | 1969 | |
| 08-07 | Brown | Anne Sinclair | 04/02/1900 | 10/27/1984 | |
| 08-08 | Brown | James M. | 06/04/1898 | 05/26/1961 | |
| 08-09 | Brown | Eleanor Ellis | 03/21/1925 | 03/21/1994 | |
| 08-10 | Yarborough | Olive Kelly | 05/19/1900 | 03/27/1973 | |
| 08-11 | Yarborough | Eldridge Henry | 04/16/1898 | 01/01/1971 | |
| 08-12 | Sacerdote | Annie Casanova | 1886 | 1959 | |
| 08-13 | Sacerdote | David Rene | 1882 | 1969 | |
| 08-14 | Yarborough | (?) Howard | 01/13/1923 | 05/06/1979 | Tec4 US Army WW II |
| 09-01 | Murphy | Edward G. | 09/28/1907 | 10/19/1970 | |
| 09-02 | Murphy | El Louise | 08/01/1917 | | |
| 09-03 | Lesieur | Kenneth J. | 09/24/1923 | 06/07/1993 | SOM2 US Navy WW II |
| 09-04 | (Unmarked) | | | | |
| 09-05 | Giveans | Tammy E. | 06/12/1969 | 12/12/1969 | |
| 09-06 | Carver | Aron Leroy | 05/13/1918 | 06/13/1983 | |
| 09-07 | Carver | Eula Lee | 04/09/1924 | 11/19/2005 | |
| 09-08 | Carver | Aron Leroy Jr. | 05/09/1944 | 05/14/1969 | |
| 09-09 | Johnson | Minnie Wheat | 09/16/1876 | 09/07/1956 | |
| 09-10 | Johnson | Wallace B. | 02/04/1901 | 1958 | |
| 09-11 | Mantranga | Louius Paul | 01/02/1930 | 04/16/1975 | |
| 09-12 | Cugin | Victor J. | 06/15/1869 | 12/09/1956 | |
| 09-13 | Smith | Mercedes C. | 1900 | 1977 | |
| 09-14 | Smith | Alvin R. | 1902 | 1986 | |
| 09-15 | Yarborough | Stanley H. | 12/15/1920 | 12/23/1995 | |
| 09-16 | Yarborough | Elizabeth M. | 06/04/1916 | 02/12/1989 | |
| 09-17 | Yarborough | Stanley Carl (Mickey) | 04/24/1942 | 03/11/1958 | |
| 09-18 | Kelly | Gertrude C. | 04/08/1910 | 01/17/1994 | |
| 09-19 | Kelly | Edward G. | 08/13/1905 | 07/09/1982 | |
| 09-20 | Johnson | Nellie E. | 09/10/1906 | 03/30/1979 | |
| 10-01 | Mangum | Bobby W. | 06/24/1930 | 05/07/1987 | |
| 10-02 | Mangum | Johnnie K. | 07/16/1929 | 11/02/1996 | |
| 10-03 | Kostella | Joseph John | 05/06/1930 | 11/20/1984 | Ssgt US Air Force Korea |
| 10-04 | Oller | Jesse J. | 05/08/1922 | 01/04/1979 | |
| 10-05 | Oller | Jessie K. | 09/08/1927 | 02/16/1980 | |
| 10-06 | Griffith | Evelyn Spence | 04/04/1911 | 08/24/1968 | |
| 10-07 | Griffith | William Whitfield | 03/16/1910 | 08/30/1981 | |
| 10-08 | Kelly | Rita A. | 06/19/1903 | 04/05/1993 | |
| 10-09 | Cuevas | Irma Kelly | 08/10/1908 | 09/14/1980 | |
| 11-01 | Ruffin | Willie E. | 09/09/1913 | 07/23/1976 | |
| 11-02 | Ruffin | Mary Ann | 01/27/1922 | 05/08/1991 | |
| 11-03 | Osterholm | Seth Aaron | 12/22/1989 | 04/15/1998 | |
| 11-04 | Carver | Michael Christian | 06/24/1962 | | son of ruth carver |
| 11-05 | Carver | Dennis | 1950 | 2007 | |
| 11-06 | Carver | Leo Paul | 10/11/1954 | 06/28/1991 | son of Velma Louise Carver |
| 11-07 | Carver | Velma Eloise | 05/14/1924 | 03/23/1985 | mother of Leo Paul Carver |
| 11-08 | Carver | Roselena Page | 03/01/1892 | 01/09/1960 | |
| 11-09 | Carver | Bartholomew U. (Bat) | 06/09/1890 | 06/07/1964 | |
| 11-10a | Baxter | Betty Erline Carter | 08/23/1937 | | reserved; born Natchez, Ms |
| 11-10b | Baxter | Robert Henry | 11/05/1930 | | reserved; born Logtown, Ms |
| 11-11a | Larroux | Virginia Baxter | 02/13/1914 | 06/24/1996 | |
| 11-11b | Larroux | Edwin Gueydan | 09/21/1912 | 03/03/1989 | |
| 11-12 | Baxter | Roy Jr. | 04/02/1917 | 09/09/1998 | son of Roy Sr. and Gladys Whichard Baxter |
| 11-13a | Baxter | Gladys Whichard | 08/17/1891 | 10/22/1980 | |
| 11-13b | Baxter | Roy Sr. | 10/12/1882 | 04/16/1961 | |
| 11-14a | Moran | Leo Norwood | 03/28/1930 | | reserved; mason |
| 11-14b | Moran | Mary Catherine | 10/19/1927 | 02/10/2006 | |
| 11-15 | Bennett | Isaac F. | 04/25/1897 | 11/08/1957 | |
| 11-16 | Bennett | Ruby Osbourn | 02/08/1896 | 05/25/1995 | |
| 11-17 | Kelly | Hubert J. | 04/30/1876 | 08/01/1959 | |
| 11-18 | Kelly | Edward Sr. | 06/16/1874 | 05/27/1961 | |
| 11-19 | Kelly | Paul T. | 04/22/1899 | 12/03/1967 | La. MM1 USNRF WW I |
| 11-20 | Duhon | Robert J. | 1898 | 1970 | |
| 11-21 | Duhon | Pearl Mae | 1900 | 1978 | |
| 12-01a | Wheat | Virginia B. | 12/23/1931 | | reserved |
| 12-01b | Wheat | Frank Ray | 07/18/1936 | 04/04/2001 | United Methodist Clergy |
| 12-02 | Spence | James Leroy Sr. | 04/06/1919 | 01/09/1992 | mason |
| 12-03 | Spence | Sarah "Blondie" | 03/26/1922 | 01/08/1997 | |
| 12-04 | Brewer | Ida (?) Marie | | 05/30/1990 | |
| 13-01 | Percle | Laura M. | 08/08/1949 | 12/24/1990 | |
| 13-02 | Percle | Anthony J. | | 12/24/1979 | baby |
| 13-03 | McKean | Felicia O. | 1894 | 1958 | |
| 13-04a | Carter | Erline Bradley | 08/03/1919 | | reserved |
| 13-04b | Carter | Lofton Arvle | 01/20/1913 | 08/27/1991 | |
| 13-05 | Summers | Annie Louise | 03/13/1896 | 06/07/1970 | |
| 13-06 | Wright | Lollie Bell | 02/08/1899 | 01/08/1970 | |
| 13-07 | Wright | Charles Edward | 09/25/1904 | 07/21/1969 | |
| 13-08 | Summers | T. Forrest | 07/17/1907 | 08/31/1973 | |
| 13-09 | Summers | Eldora F. | 10/21/1916 | 08/19/1986 | |
| 14-01 | Bourque | Alice Mary Humphreys | 12/15/1897 | 12/18/1966 | mother |
| 14-02 | Bourque | Felican | 10/19/1889 | 10/02/1965 | father |
| 14-03 | Chapman | William West | 10/29/1924 | 11/21/1965 | |
| 14-04 | Rousseaux | Asa G. | 12/04/1939 | 01/31/1989 | US Air Force Vietnam |
| 14-05 | Rousseaux | Pearl Weston | 06/19/1887 | 12/06/1967 | |
| 14-06 | Rousseaux | Rev. John Cude | 05/06/1885 | 02/12/1965 | mason |
| 14-07 | Devidts | Bettye L. | 10/03/1912 | 03/16/1999 | US Army WW II |
| 14-08 | Parker | Eunice Osbourn | 01/26/1880 | 08/12/1959 | |
| 14-09 | Parker | Jules Franklin Jr. | 02/06/1893 | 02/08/1970 | |
| 14-10 | Otis | Sidney | 12/02/1891 | 05/08/1968 | |
| 14-11 | Otis | Mamie Howze | 08/27/1902 | 09/25/1987 | |
| 14-12 | Otis | Thelma Carre | 07/22/1928 | 10/14/1978 | |
| 15-01 | Stephens | Janice | 11/25/1959 | 08/30/1961 | |
| 15-02 | Nelson | Gussie | 08/15/1895 | 09/12/1958 | |
| 15-03 | Nelson | John | 09/29/1869 | 08/09/1958 | |
| 15-04 | Nelson | Hannah | 03/04/1871 | 10/16/1955 | |
| 15-05 | Nelson | Jens | 12/12/1892 | 06/21/1981 | |
| 15-06 | Nelson | Daisy C. | 10/28/1906 | 07/09/1999 | |
| 15-07 | Deboer | Pearl B. | 10/11/1894 | 08/18/1984 | |
| 15-08 | Deboer | Edward | 02/09/1878 | 09/24/1955 | mason |
| 15-09 | Fountain | Shirley Rillma | 03/16/1927 | 05/15/1997 | |
| 15-10 | Fountain | Calvin W. Sr. | 11/26/1871 | 11/13/1962 | |
| 15-11 | Parker | Grace Rillma | 06/06/1885 | 02/26/1964 | wife of Calvin W. Fountain Sr. |
| 15-12 | Parker | Beulah Alma | 02/23/1903 | 03/31/1988 | |
| 15-13 | Fountain | Calvin W. Jr. | 01/27/1917 | 09/17/1953 | |
| 15-14 | Otis | Minnie | 09/05/1915 | 03/26/1955 | daughter of Lamar and Bettye Otis |
| 15-15 | Otis | Lamar | 01/23/1890 | 12/31/1972 | husband of Bettye Weston Otis |
| 15-16 | Otis | Bettye Weston | 12/29/1889 | 04/18/1992 | wife of Lamar Otis |
| 15-17 | Otis | Henry L. | 09/04/1919 | 09/02/2000 | RM2 US Navy WW II |
| 15-18 | Otis | Ruth Stanford | 06/30/1923 | 10/30/1953 | |
| 16-01 | Klinner | Ollie M. Standridge | 08/15/1930 | 03/03/1999 | |
| 16-02 | Carver | Bessie L. | 1906 | 1992 | |
| 16-03 | Standridge | John Henry | 08/09/1928 | 05/14/1988 | |
| 16-04 | Carver | Leo | 04/27/1895 | 08/07/1960 | MS Pvt Mg Co 327 Inf 82 Div WW I |
| 16-05 | Koch | Charles W. "Bill" | 05/21/1919 | 09/14/1983 | son; CMM US Navy WW II |
| 16-06 | Koch | Leona Mae | 02/10/1897 | 12/11/1955 | mother |
| 16-07 | Koch | Charles Dudley | 05/04/1891 | 10/22/1976 | |
| 16-08 | Griffin | Nettie Koch | 05/14/1917 | 06/12/1997 | |
| 16-09 | Kostella | Joseph J. Jr. | 07/20/1955 | 06/11/1977 | |
| 17-01 | Koch | Baby Edna Rebecca | 03/27/1924 | 10/18/1925 | |
| 17-02 | Parent | Doris Maryetta | 08/03/1906 | 04/07/1907 | infant daughter of J.W. & R.H. Parent |
| 17-03 | Mitchell | James R. | 1860 | 1934 | WOW |
| 18-01 | Osbourn | David C. | 08/16/1909 | 03/11/1911 | |
| 18-02 | Osbourn | Alice B. | 08/31/1907 | 10/09/1908 | |
| 18-03 | Osbourn | Carrie | 09/10/1915 | 07/18/1922 | |
| 18-04 | Davis | John P. | 03/04/1877 | 11/20/1935 | |
| 18-05 | Whitfield | Infant Son | 07/02/1948 | 07/03/1948 | infant son of Sam & Ada Whitfield |
| 18-06 | Whitfield | Infant Twin Daughters | 02/05/1943 | 02/07/1943 | daughters of of Sam & Ada Whitfield |
| 19-01 | Campbell | Alexander | 02/23/1877 | 07/28/1928 | |
| 19-02 | Morris | Robert U. | 09/18/1853 | 07/18/1923 | born in Rapides parish, La. |
| 19-03 | Davis | Herbert A. Sr. | 05/25/1919 | 09/01/1982 | |
| 19-04 | Carver | John B. | 1861 | 1931 | |
| 19-05 | Carver | Onelia E. | 1862 | 1931 | |
| 19-06 | Osbourn | Douglas | 12/30/1898 | 03/22/1899 | son of Douglas & C.C. Osbourn |
| 19-07 | Osbourn | Ruthe | 02/08/1896 | 08/15/1896 | daughter of Douglas & C.C. Osbourn |
| 19-08 | Perry | Marvin | 06/10/1917 | 03/02/1926 | son of J.P & E.C. Osbourn |
| 19-09 | Weston | Robert | 05/10/1896 | 08/07/1896 | infant of D.R. Weston and P.M. Gosselin |
| 19-10 | Weston | Clement W. | 03/10/1900 | 04/06/1981 | US Navy WW I |
| 19-11 | Weston | Maia Morgan | 08/19/1901 | 04/08/1999 | |
| 19-12 | Weston | Oliver Gordon | 11/17/1904 | 02/29/1920 | |
| 20-01 | Waites | Hunter J. | 1910 | 1999 | |
| 20-02 | Waites | Lou J. S. | 1914 | 1984 | |
| 20-03 | Mason | Infant | 11/12/1917 | 11/13/1917 | infant of C.W. and Minnie Mason |
| 20-04 | (Unmarked) | Infants | | | appears to be several in brick coping |
| 20-05 | (Unmarked) | Baby | | | |
| 20-06 | (Unmarked) | Baby | | | |
| 20-07 | Orbourn | Carrie C. | 01/30/1859 | 05/21/1931 | |
| 20-08 | Osbourn | Douglas S. | 03/06/1848 | 11/27/1925 | |
| 20-09 | Weston | Harold Baxter | 1901 | 1977 | |
| 20-10 | Weston | John Henry | 02/23/1876 | 06/11/1938 | mason; born Logtown; son of Henry & Lois Weston |
| 20-11 | Weston | Amelia B. | 01/02/1872 | 06/24/1965 | |
| 20-12 | Weston | David Robert | 05/13/1872 | 11/25/1946 | |
| 20-13 | Weston | Pauline G. | 09/22/1871 | 12/03/1972 | |
| 20-14 | Weston | J. Roland | | 05/28/1971 | unmarked |
| 20-15 | (Unmarked) | | | | |
| 20-16 | Baxter | Carrie S. | 12/28/1839 | 12/10/1898 | wife of Enos D. Otis |
| 20-17 | Weston | Carie A. | 09/05/1885 | 09/04/1887 | |
| 20-18 | Weston | Henry O., Dr. | 12/08/1883 | 11/27/1906 | mason; WOW Camp 507 Bay St Louis; son of A.S. & M.E. Weston |
| 20-19 | Otis | Enos D. | 11/13/1834 | 10/18/1918 | husband of Carrie S. Baxter |
| 20-20 | Weston | Caro L. | 1895 | 1947 | |
| 20-21 | Chapman | Gladys Weston | 1897 | 1978 | |
| 21-01 | Spence | Joseph J. | 1884 | 1948 | |
| 21-02 | Broussard | Lue Tishly (Spence) | 1880 | 1943 | wife of Joseph J. Spence |
| 21-03 | Wilkerson | Martha Crawford | 1903 | 1971 | |
| 21-04 | Crawford | Andrew J. Sr. | 10/02/1901 | 04/22/1930 | |
| 21-05 | Crawford | Charles J. | 11/14/1926 | 12/29/1983 | |
| 21-06 | Crawford | Helen S. | 02/17/1929 | 05/18/1997 | |
| 21-07 | Stiller | Muriel Louise | 01/08/1921 | 12/08/1928 | |
| 21-08 | Kennedy | Annie | 01/06/1871 | 02/26/1924 | wife of Daniel Cony Weston |
| 21-09 | Weston | Daniel Cony | 06/05/1866 | 04/13/1923 | husband of Annie Kennedy; mason |
| 21-10 | Weston | Lois | 12/27/1895 | 11/01/1896 | baby daughter of D.C. Weston & Annie Kennedy |
| 21-11 | Weston | Rebecca Rollins | 01/10/1910 | 09/19/2005 | |
| 21-12 | Weston | Horatio Coburn | 07/23/1908 | 07/28/1983 | |
| 21-13 | Weston | Irene | 07/17/1897 | 09/15/1974 | |
| 21-14 | Weston | Lucille | 10/10/1901 | 09/19/1945 | |
| 21-15 | Givens | Helen Cude | 06/19/1910 | 11/10/1915 | |
| 21-16 | Givens | Lonnie | 02/02/1902 | 07/22/1903 | son of James M. Givens & Zou Rousseaux |
| 21-17 | Rousseaux | Zou A. | 1881 | 1938 | wife of James M. Givens |
| 21-18 | Givens | James M. | 1861 | 1937 | mason; husband of Zou Rousseaux |
| 21-19 | Weston | Adoie(?) Eliza | 10/01/1859 | 02/09/1922 | wife of D.H. Snow |
| 21-20 | Weston | Carrie | 03/14/1868 | 03/21/1869 | |
| 21-21 | Weston | Lois A. | 12/15/1839 | 09/24/1877 | |
| 21-22 | Weston | Henry | 01/09/1823 | 10/29/1912 | |
| 21-23 | Weston | Horatio S. | 01/08/1833 | 05/29/1866 | 1 Sgt Co 9 Miss Cav CSA |
| 21-24 | (Unmarked) | | | | broken headstone |
| 21-25 | Weston | Asa Sidney | 07/21/1861 | 02/20/1922 | mason; husband of Marion Edith Otis |
| 21-26 | Otis | Marion Edith | 02/17/1863 | 08/16/1937 | wife of Asa Sidney Weston |
| 21-27 | Baxter | Ben F. | 02/20/1849 | 11/19/1917 | |
| 21-28 | Holleman | Infant | | | child of Mr. & Mrs. Holleman |
| 22-01 | McCarty | Wayne S. | 11/05/1948 | 07/28/1968 | |
| 22-02 | Casanova | Pearl A. | 03/25/1884 | 11/27/1953 | wife of Samuel D. McCarty |
| 22-03 | McCarty | Samuel Dale | 05/02/1871 | 08/05/1950 | husband of Pearl A. Casanova |
| 22-04 | Morrison | Walter McCarty | 12/16/1949 | 09/28/1974 | Pfc US Army Vietnam |
| 22-05 | Casanova | Joseph Elliott Jr. | 06/10/1925 | 08/11/1985 | |
| 22-06 | Casanova | Eunice D. | 05/23/1903 | 04/23/1972 | |
| 22-07 | Casanova | J. Eliot | 12/06/1900 | 01/14/1960 | |
| 22-08 | Moran | Gertrude E. Casanova | 06/03/1894 | 06/19/1955 | |
| 22-09 | Casanova | Eulalie | 06/12/1896 | 05/02/1939 | wife of Oswald Ladner |
| 22-10 | Baxter | Austin G. | 02/24/1916 | 08/12/1981 | US Navy WW II |
| 22-11 | Koch | Emma | 10/23/1876 | 07/30/1963 | wife of Harry Baxter |
| 22-12 | Baxter | Harry | 09/27/1875 | 12/11/1936 | mason; husband of Emma Koch |
| 22-13a | Otis | John Sidney | 12/25/1858 | 05/07/1928 | |
| 22-13b | Otis | Viola A. Carre | 10/28/1858 | 03/22/1943 | |
| 22-14 | Otis | Henry | 12/03/1886 | 02/15/1905 | son of J.S. and V.A. Otis |
| 22-15 | Otis | Thelma | 12/08/1936 | | infant of Mamie & Sidney Otis |
| 23-01 | Dunaway | Lloyd Johnnie Sr. | 03/15/1934 | 03/24/2007 | |
| 23-02 | Dunaway | Gloria "Diggie" M. | 01/22/1939 | | reserved |
| 23-03 | Evans | Thomas L. | | | no dates |
| 23-04 | Mars | Albert | 1910 | 1983 | "Dad" |
| 23-05 | Mars | Jules Albert | 08/23/1964 | 08/23/1964 | son of Albert & Julia Mars |
| 23-06 | Mars | Julia "Judy" M. | 1927 | 1973 | |
| 23-07 | Smith | Elmer McCarty | 08/03/1904 | 06/23/1929 | wife of A.E. "Ford" Smith |
| 23-08 | McCarty | Samuel Lee | 11/05/1911 | 02/02/1931 | |
| 23-09 | McCarty | Russell S. | 03/30/1915 | 10/28/1968 | Ms. Pvt 8 Service Cmd WW II |
| 23-10 | Jopes | V. Mae | 11/16/1899 | 10/10/1998 | |
| 23-11 | Jopes | Pearl W. | 06/28/1873 | 02/11/1969 | |
| 23-12 | Jopes | Jeff D. | 06/26/1861 | 09/03/1932 | mason |
| 23-13 | Marquez | Hester | 01/05/1878 | 11/14/1950 | |
| 23-14 | Marquez | Charles L. | 11/28/1872 | 10/16/1932 | mason |
| 23-15 | Casanova | Albertha | 02/02/1888 | 01/02/1960 | |
| 23-16 | Casanova | Julia | 04/16/1890 | 09/24/1935 | |
| 23-17 | Asher | Margaret | 03/17/1860 | 10/04/1932 | wife of Joseph A. Casanova |
| 23-18 | Casanova | Joseph A. | 12/12/1851 | 09/02/1925 | husband of Margaret Asher |
| 23-19 | McCracken | Heloise L. | 12/31/1875 | 02/12/1963 | |
| 23-20 | McCracken | R. T. | 01/31/1872 | 04/18/1912 | |
| 23-21 | Baxter | John W. | 06/28/1841 | 02/13/1925 | husband of Lou Huddleston |
| 23-22 | Huddleston | Lou | 04/23/1853 | 01/01/1939 | wife of John W. Baxter |
| 23-23 | Baxter | Sarah T. | 04/17/1880 | 07/31/1908 | wife of C.W. Fontain |
| 23-24 | Swetman | James A. | 02/17/1831 | 10/09/1882 | mason |
| 23-25 | Swetman | Margaret Vermeli E. | 05/10/1836 | 09/10/1889 | "mother" |
| 23-26 | Carre | Henry | 09/03/1823 | 12/01/1901 | mason; husband of Viola Batte |
| 23-27 | Batte | Viola L. (Carre) | 03/06/1838 | 06/24/1909 | wife of Henry Carre |
| 23-28a | Baxter | Lionel Francis | 07/16/1916 | | crypt; son of Joseph Clay Baxter (1890-1963) and Catherine Henrietta Stromeyer (1894-1988) |
| 23-28b | Rice | Mae Frances | 09/12/1915 | | crypt; daughter of Clarence E. Rice (1890-1957) and Clara F. Batton (1888-1987) |
| 23-29 | Baxter | Jefferson L. | 11/30/1885 | 10/14/1886 | son of Marion F. & E. Baxter |
| 23-30 | Baxter | Willie L. | 04/10/1874 | 01/22/1885 | son of Marion F. & E. Baxter |
| 23-31 | Crawford | Margaret | 01/19/1812 | 01/27/1890 | wife of Jerry Osbourn |
| 23-32 | Baxter | M. F. | 09/25/1847 | 06/18/1928 | mason; Co E 20 Ms. Inf CSA |
| 23-33 | Osborne | Elizabeth M. | 07/11/1852 | 12/16/1901 | wife of J. M. Baxter |
| 23-34 | Baxter | F. M. Jr. | 11/09/1883 | 11/02/1946 | mason |
| 24-01 | Miller | Barbara Ann McArthur | 07/22/1935 | 01/13/1988 | |
| 24-02 | McArthur | Wilbur W. | 10/23/1899 | 10/20/1983 | "father" |
| 24-03 | McArthur | Abbie I. | 06/22/1897 | 02/11/1980 | "mother" |
| 24-04 | McCowan | George C. | 09/10/1871 | 03/26/1918 | |
| 24-05 | McGee | Thomas J. | 01/02/1844 | 08/23/1917 | |
| 24-06 | Russ | Ernest | 07/19/1853 | 03/31/1928 | husband of Florence Moye |
| 24-07 | Moye | Florence | 01/27/1855 | 04/03/1914 | wife of Ernest Russ |
| 24-08 | Russ | Pauline Abbie | 06/23/1913 | 07/22/1959 | |
| 24-09 | Russ | David Luther | 01/14/1875 | 10/27/1939 | mason; husband of Lois Abbie Mead |
| 24-10 | Mead | Lois Abbie | 09/04/1881 | 08/29/1946 | wife of David Luther Russ |
| 24-11 | Russ | John Luther | 06/07/1911 | 12/17/1913 | son of David L. Russ and Lois A. Mead |
| 24-12 | Gale | Angie | 09/05/1880 | 10/31/1948 | born in Pearlington |
| 24-13 | Tartavoulle | Alyne | 08/28/1901 | 01/02/1903 | daughter of Pedro & Angie (Baxter) Tartavoulle |
| 24-14 | Tartavoulle | Pedro Dominique | 12/04/1874 | 02/15/1911 | husband of Angie Baxter |
| 24-15 | Moss | Mary Amanda | 09/06/1836 | 09/04/1917 | wife of J.B. Fountain |
| 24-16 | Johnson | Annie C. | 1860 | 1950 | |
| 24-17 | Johnson | J. A. | 1819 | 1880 | |
| 24-18 | W(?) | Leonard Kimbel | 1854 | 10/15/1868 | Last name illegible; stone says Logtown |
| 24-19 | Leonard | William H. | 12/09/1856 | 10/20/1878 | |
| 24-20 | Porter | Martin V. | 08/11/1836 | 10/20/1878 | born in St. Taminy Parish, La. |
| 24-21 | Seal | Susan Porter | 1838 | 1908 | |
| 25-01 | Wilkinson | "Mannie" Marks Woodrow | 04/19/1918 | 01/28/2000 | husband of Dorothy Sarah |
| 25-02 | Wilkinson | Dorothy Sarah | 02/15/1921 | 09/02/2004 | wife of Mannie Wilkinson |
| 25-03 | Wilkinson | Infant Daughter | | 05/04/1957 | daughter of Mr. & Mrs. Harold Wilkinson |
| 25-04 | (Unmarked) | | | | |
| 25-05 | Wilkinson | Blanche P. | 1905 | 1922 | |
| 25-07 | (No Last Name) | Emmett | | | son of Philip & Alberta; stone sunken, rest not visible |
| 25-08 | Lott | Emily Margaret | 04/17/1880 | 02/14/1947 | "mother" |
| 25-09 | Lott | Samuel David | 11/20/1874 | 10/23/1921 | "father"; mason |
| 25-10 | Lott | Samuel Alva | 12/16/1919 | 03/11/1985 | |
| 25-11 | Lott | Arvilla Hoyt | 03/21/1917 | | reserved? |
| 25-12 | Jones | Edith Ada | 02/02/1888 | 04/17/1989 | "daughter" |
| 25-13 | Jones | Virginia L. | 03/14/1892 | 03/06/1959 | "daughter" |
| 25-14 | Jones | Martha Louisia | 02/28/1859 | 09/01/1936 | "mother" |
| 25-15 | Jones | Freeman | 11/20/1853 | 06/19/1937 | "father" |
| 25-16 | McArthur | Ronald Edmond | 03/20/1950 | 10/06/1950 | |
| 25-17 | (Unmarked) | | | | broken headstone |
| 25-06a | Carver | Articia E. | 04/20/1913 | 05/30/1938 | wife of Herbert L. Wilkinson |
| 25-06b | Wilkinson | Allen Brooks Sr. | 12/30/1935 | 04/11/2001 | US Navy |
| 25a-01 | Champlin | Charlie C. | 03/06/1870 | 01/12/1894 | son of Dr. Charles C. & Nettie Cruthirds Champlin; broken headstone |
| 25a-02 | Champlin | Maggie | 08/31/1868 | 10/02/1878 | daughter of C.C & Nettie Champlin |
| 25a-03 | Bagley | Elizabeth M. | 12/05/1825 | 04/02/1878 | |
| 26-01 | (Unmarked) | Baby | | | |
| 26-02 | (Unmarked) | Baby | | | |
| 26-03 | Bennett | Pryor J. | 1845 | 1930 | |
| 26-04 | Bennett | Elizabeth S. | 12/27/1864 | 06/22/1916 | WOW memorial |
| 26-05/8 | (Unmarked) | | | | assumed graves, marked by flowers |
| 26-09 | Lott | Jodie E. | 05/23/1877 | 02/20/1902 | |
| 26-10 | Williams | Anazile | 1878 | 1950 | |
| 26-11 | (Unmarked) | | | | 4 unmarked slabs |
| 26-12 | Dorr | Andrew W. | 1874 | 1951 | |
| 26-13 | Dorr | Eva Ellis | 05/28/1901 | 03/05/1964 | "mother" |
| 26-14 | Dorr | Lovell | 09/22/1898 | 11/27/1984 | "daddy" |
| 26-15 | Biondolino | Philip J. | 03/11/1915 | 02/20/1970 | La. A M1 Us Navy WW II |
| 26-16 | Biondolino | Margie Dorr | 04/02/1924 | 09/04/1989 | "mama" |
| 26-17 | Ledet | Aily J. Jr. | 07/15/1945 | 03/08/2007 | US Navy |
| 27-01 | Bastiansen | Bernt Fredrik | 09/30/1922 | 08/29/2005 | |
| 27-02 | Bastiansen | Evelyn Maryann | 01/14/1908 | 03/14/1991 | |
| 27-03 | Smith | Nettye Mae | 1916 | 1946 | |
| 27-04 | Wilkinson | Jesse P. | 04/22/1880 | 04/16/1949 | |
| 27-05 | Wilkinson | Edelise P. | 12/30/1882 | 03/24/1966 | |
| 27-06 | Wilkinson | Ruth Mary | 10/21/1912 | 11/23/1998 | |
| 27-07 | Lott | Margret | 02/20/1925 | 02/25/1925 | daughter of S.D. & Eran Lott |
| 27-08 | G. | A. C. | | | footstone only |
| 27-09 | Mitchell | Daniel W. | 04/18/1947 | 12/14/2005 | |
| 27-10 | Mitchell | Daniel "DJ" William Jr. | 10/07/1972 | 11/09/2002 | husband of Tracey Haffey |
| 27-11 | Haffey | Tracey Lynn (Mitchell) | 12/16/1975 | | reserved; wife of Daniel Mitchell |
| 27-12 | Mitchell | Nellie | 03/09/1918 | 06/14/1931 | |
| 27-13 | Mitchell | Lee | 02/01/1921 | 05/02/1921 | |
| 27-14 | McArthur | Mary Mitchell Wyman | 04/13/1868 | 05/12/1935 | |
| 27-15 | Scarbrough | Sarah E. | 06/02/1891 | 03/14/1942 | wife of Clarence Wyman |
| 27-16 | Wyman | Clarence J. | 04/02/1890 | 02/27/1962 | husband of Sarah Scarbrough |
| 27-17 | Wyman | Clarence Jr. (Capt.) | 11/16/1927 | 12/30/2004 | |
| 27-18 | Marshall | Arthur E. | 1895 | 1955 | |
| 27-19 | Marshall | Ethel Anazile | 1900 | 1978 | |
| 27-20 | Dorr | Louis C. | 07/26/1904 | 01/07/1984 | "father" |
| 27-21 | Dorr | Mary W. | 08/15/1908 | 07/24/1925 | "mother" |
| 27-22 | Dorr | Maggie | | | no dates, age 51 yrs; wife of Capt. John M. Dorr |
| 27-23 | Dorr | John M. (Capt.) | 06/07/1877 | 12/01/1963 | |
| 27-24 | Earl | Florine D. | 02/06/1908 | 08/18/1996 | |
| 27-25 | Earl | Carl O. | 08/17/1909 | 01/23/1982 | |
| 27-26 | Besancon | Mary E. | 09/11/1952 | 04/22/2003 | daughter of Lois & Elliot |
| 27-27 | Besancon | Louis C. | | 01/27/1948 | son of Lois & Elliot |
| 27-28 | Besancon | Elliot J. | 06/10/1916 | 10/07/1983 | "father" |
| 27-29 | Besancon | Lois D. | 06/01/1925 | 04/04/2002 | "mother" |
| 28-01 | Lott | Asa P. | 1905 | 1966 | |
| 28-02 | Mitchell | Hettie Stockstill | 1877 | 1952 | |
| 28-03 | Mitchell | Oscar Frank | 1867 | 1936 | |
| 28-04 | Miller | Edward Noel | 01/16/1907 | 01/23/1907 | |
| 28-05 | Asher | Christena | 01/12/1833 | 05/17/1910 | |
| 28-06 | Mitchell | Herman Ira | 10/23/1916 | 02/10/1920 | |
| 28-07 | Casanova | Henry A. | 11/28/1888 | 03/11/1952 | |
| 28-08 | Casanova | Jules V. | 10/02/1876 | 01/18/1933 | |
| 28-09 | Casanova | Mary Louise | 1868 | 1938 | |
| 28-10 | Casanova | Thomas L. | 1860 | 1928 | |
| 28-11 | Casanova | William Robert | 1926 | 1936 | |
| 28-12 | Casanova | Edna Mae Gill | 05/28/1906 | 06/15/1964 | wife of William |
| 28-13 | Casanova | William X. | 05/12/1896 | 03/26/1967 | La. Sgt US Army WW I |
| 28-14 | Litchfield | Isabella Annette | 10/02/1849 | 07/22/1891 | wife of Edward Bulloch |
| 28-15 | Bulloch | Carrie Isabelle | 02/11/1875 | 07/10/1890 | |
| 28-16 | Litchfield | Isabella Netto | 08/18/1831 | 01/22/1884 | |
| 28-17 | (Unmarked) | | | | headstone broken, upper part gone |
| 28-18 | Casanova | Katie Estell Byrd | 10/04/1904 | 03/03/1990 | |
| 28-19 | Casanova | Roy J. | | | dob 02/22/197?, dod 12/04/19?3, hard to read |
| 28b-01 | Giveans | Samuel S. | 11/17/1915 | 12/17/1975 | AS US Navy WW II |
| 28b-02 | Giveans | Lucile Louise | 05/14/1920 | 05/18/1990 | |
| 28b-03 | Giveans | Roger Philip | 05/27/1951 | 10/08/1984 | |
| 28b-04 | Guzman | Corinne J. | 09/12/1897 | 1945 | wife of Patrick Connolly; date of death ??/21/1945, month illegible |
| 28b-05 | Litchfield | Annie F. | 08/23/1858 | 01/09/1895 | wife of W.F. Gause |
| 28b-06 | Litchfield | Martha C. | 1862 | 1905 | wife of John A. Guzman |
| 28b-07 | Guzman | John A. | 1854 | 1929 | husband of Martha C. Litchfield |
| 28b-08 | Parker | Jules Franklin | 05/02/1859 | 01/13/1938 | husband of Rosa Alberta Casanova |
| 28b-09 | Casanova | Rosa Alberta | 09/14/1871 | 08/22/1928 | wife of Jules. F. Parker |
| 29-01 | Lott | Russell E. | 1901 | 1948 | mason |
| 29-02 | Calderaro | Peter | 1822 | 01/29/1899 | |
| 29-03 | Maffe | Maximo (Fritz) | 1897 | 1954 | |
| 29-04 | Maffe | Adele M. Giveans | 1900 | 1979 | |
| 29-05 | Mitchell | Leo | 10/15/1902 | 10/24/1918 | |
| 29-06 | Mitchell | Ida E. Lee | 07/13/1913 | 12/19/1914 | |
| 29-07 | Hill | Erwin P. | 1849 | 1928 | |
| 29-08 | Hill | Mrs. E. P. | 11/28/1872 | 03/13/1925 | |
| 29-09 | Hill | William Prentis | 10/17/1892 | 03/01/1920 | son of E.P. & Mrs. M.M. Hill |
| 29-10 | Nelson | John | 06/18/1891 | 11/01/1891 | |
| 29-11 | Kochler | John | 03/06/1829 | 08/23/1896 | |
| 29-12 | Kochler | Augusta H. | 09/15/1836 | 11/09/1902 | |
| 29-13 | Casanova | Ferdinand | 1883 | 1927 | father of Roy Ray Louis |
| 29-14 | Miller | Vera S. | 04/02/1886 | 08/08/1922 | wife of Jules M. Casanova |
| 29-15 | Casanova | Jules M. | 11/12/1863 | 08/07/1906 | WOW memorial; husband of Vera Miller |
| 29-16 | Casanova | Virginia E. | 1845 | 1897 | |
| 29-17 | Casanova | Adele S. | 1819 | 1902 | |
| 29-18 | Casanova | Francis G. | 1861 | 1893 | |
| 29-19 | (Unmarked) | | | | |
| 29-20 | Casanova | Bernadette B. | 02/27/1887 | 04/14/1985 | |
| 29-21 | Casanova | Francise | 03/11/1880 | 03/14/1943 | |
| 29-22 | Casanova | Joseph | 09/05/1911 | 02/18/1997 | |
| 29-23 | (Reserved) | | | | |
| 29-24 | Pounds | Virginia Nell | 09/07/1924 | 07/05/1992 | |
| 29-25 | Ladner | Doris R. | 09/08/1926 | 03/03/2005 | |