Large cemetery of the old town of Napoleon. Marguerite Favre (1812-1908), daughter of Simon Favre, is buried here.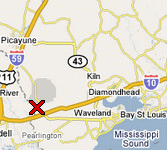 Directions:
From I-10 take the 607 north (= exit 2). Turn left after about 1.3 miles. This is a paved road, even though it won't seem that way for the first part. Stay on this road for 1.1 miles (it will veer to the left), then take a right hand turn at the next dirt road. It will have two posts and a small gate. After about 0.3 miles you will see the cemetery on the left hand side.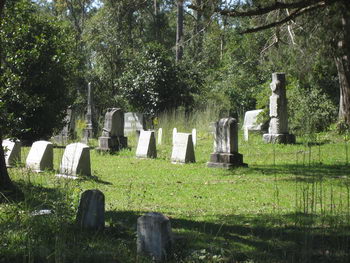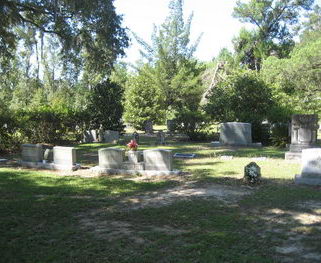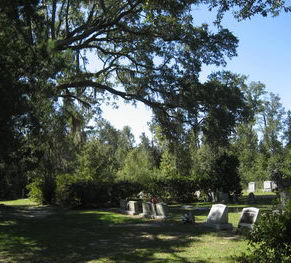 Cemetery layout:
Rows are numbered from left to right (or east to west), grave numbering starts at the front gate. If a row has an A or B behind it, it means that that row does not start at the fence but further towards the woods.


Graves (
218

):
| # | Last Name | First Name | Birth | Death | Comment |
| --- | --- | --- | --- | --- | --- |
| 01-01 | Witter | Michael Neville | 01/22/1914 | 02/05/1968 | husband of Lucille Evelyn Murphy |
| 01-02 | Witter | Lucille M. | 09/02/1917 | 01/06/2006 | |
| 01-03 | Mitchell | Kimberly Ann | 01/17/1969 | 03/27/1989 | |
| 01-04 | Murphy | Clara Russ | 01/31/1908 | 03/13/1977 | wife of 1st Carver, 2nd Clifton Eugene Murphy |
| 01-05 | Murphy | Clifton Eugene | 10/13/1911 | 06/02/1978 | "Button"; husband of 1st Ruby Blackmon, 2nd Clara Russ; child of David Jhue Murphy & Emma Delia "Honey" Daniels |
| 01-06 | Hover | Mary M. (Mitchell) | 03/18/1893 | 09/22/1970 | wife of Joseph David Sr. Hover; child of Benjamin Ira Mitchell Sr, & Melissa Aby Miller |
| 01-07 | Hover | Joseph David Sr. | 09/01/1887 | 04/16/1974 | husband of Mary M. Mitchell; child of Joseph Chandler Hover & Nancy Jane Bennett |
| 01-08 | Smith | Leona (Boyet) | 09/05/1896 | 06/08/1980 | wife of Fonza Smith; child of John A. Boyet & Isabella Christian "Cricket" Bennett |
| 01-09 | Day | Richard Paul | 12/05/1969 | 04/28/2001 | child of DeWitte Talmadge Reynolds III & |
| 01-10 | Hover | Eva Pearl (Daniels) | 04/22/1897 | 02/04/1994 | wife of James William Hover Sr.; child of Jerome Ceylon Daniels Sr. & Ostella Austin "Stella" Atkins |
| 01-11 | Hover | James William Sr. | 07/24/1895 | 10/20/1977 | "Willie"; husband of Eva Pearl Daniels; child of Joseph Chandler Hover & Nancy Jane Bennett |
| 02-01 | Ladner | Chad Michael | 01/12/1973 | 01/14/1973 | son of George Edward Ladner Jr. & Kathleen Ankelshein |
| 02-02 | Lloyd | son | | | Illegible, son of James & ___ Lloyd(?) |
| 02-03 | Lloyd | Smabida Adline | 06/17/1883 | 02/28/1913 | wife of James Lloyd |
| 02-04 | Lloyd | James W. | 08/06/1877 | 05/29/1920 | husband of Addie Lloyd (headstone says "Loyd") |
| 02-05 | Bennett | Ruby | 05/12/1906 | 07/08/1906 | |
| 02-06 | Smith | William | 08/15/1864 | 02/08/1902 | |
| 02-07 | Smith | Ivey | 10/11/1889 | 03/29/1902 | |
| 02-08 | Davis | Steve A. Sr. | 06/20/1946 | 06/20/1994 | husband of Linda Turan |
| 02-09 | Kemmor | Oler | 08/03/1902 | 05/06/1912 | |
| 02-10 | Holden | Annie | 01/14/1915 | 05/06/1915 | infant of Sarah Holden |
| 02-11 | Kenmar | Sarah A. | 12/23/1894 | 1918 | |
| 02-12 | Jones | Cary | 09/17/1889 | 07/01/1902 | Son of F & L Jones |
| 02-13 | Hover | Joseph Brent | 07/25/1961 | 08/16/1972 | son of Stephen Dexter Hover & Lillie Mae |
| 02-14 | Reynolds | Dewitte Talmadge Jr. | 02/05/1920 | 01/05/1967 | "D.T."; husband of Stella Loomis Hover; child of DeWitte Talmadge Reynolds Sr. & Callie |
| 02-15 | Reynolds | Stella Loomis (Hover) | 11/15/1921 | 05/16/2002 | wife of Dewitte Talmadge Reynolds Jr. |
| 02-16 | Hughes | Glenda G. | 11/01/1966 | 05/19/1988 | dau of Bill & Ann Hughes; died of cancer |
| 02-17 | Leonard | Thomas (Dr.) | | 07/23/1872 | age 63; Native of Brunswick County, NC |
| 02-18 | Leonard | Annie M. | 01/27/1860 | 03/04/1877 | only daughter of Dr. Thomas & Sue Leonard; born in Amite County, MS |
| 02-19 | Mitchell | Susan | 09/27/1831 | 02/07/1907 | wife of Dr. Thomas Leonard |
| 02-20 | Leonard | J. W. | 01/14/1862 | 10/24/1908 | WOW stone; Luther Weston Camp #66 |
| 02-21 | Miller | Pretronia | 11/19/1867 | 09/24/1920 | wife of J. W. Leonard |
| 02-22 | Leonard | John N. | 01/22/1898 | 09/21/1944 | |
| 02-23 | Murphy | Eva Leonard | 01/05/1888 | 04/07/1958 | wife of Samuel Rayford Murphy |
| 02-24 | Aube | Alice Leonard | 11/01/1907 | 04/28/1979 | |
| 02-25 | Leonard | Bonnie D. | 06/07/1904 | 08/19/1992 | S Sgt U.S. Army WWII |
| 02-26 | Breland | Donald Lloyd | 01/20/1938 | | reserved; husband of Ruth Anne Mitchell |
| 02-27 | Breland | Ruth Ann Mitchell | 01/30/1939 | 02/22/2001 | wife of Donald Lloyd Breland; child of William Boyd Mitchell & Avis Mattie Mitchell |
| 03-01 | Ladner | Margaret Ann | 06/01/1954 | 06/03/1954 | child of George Edward Ladner & Margaret Ann Murphy |
| 03-02 | Ladner | Paul Michael | 11/11/1955 | 05/19/1956 | child of George Edward Ladner & Margaret Ann Murphy |
| 03-03 | Coote | Michael (Mike) D. | 01/01/1958 | 12/18/1994 | U.S. Army; husband of Andrea Geryl Ladner |
| 03-04 | Callas | Barbara Lucille | 11/24/1923 | 05/14/2004 | |
| 04-01 | Murphy | Charles Boyet | 02/18/1922 | 11/07/1993 | husband of Betty Taylor; child of Charles Brown Murphy & Mary Elizabeth Starks |
| 04-02 | Murphy | Betty Taylor | 11/24/1923 | | reserved; wife of Charles Murphy |
| 04-03 | Jackson | Barber | 05/30/1906 | 04/11/1913 | |
| 05-01 | Murphy | Joseph "Rod" Rodfrick | 11/25/1929 | | reserved; husband of Dorothy Besancon |
| 05-02 | Murphy | Dorothy Besancon | 04/07/1926 | 02/11/2008 | wife of Joseph Rodfrick |
| 05-03 | Stanford | Nathan Green | 12/08/1843 | 06/05/1914 | husband of Sarah Anne Bennett; child of Noah Stanford & Elizabeth Lowe "Betsy" Felder |
| 05-04 | Murphy | Robert Michael | 08/08/1935 | 11/22/2005 | married Jane Jefferson 12/19/1982 |
| 05-05 | Murphy | Jane Jefferson | 05/01/1949 | | reserved; married Robert Michael 12/19/1982 |
| 05-06 | Murphy | Nancy | 06/23/1919 | 08/29/2005 | |
| 06-01 | Everett | Edna Murphy | 02/24/1894 | 12/27/1995 | 2nd wife of James R. Murphy |
| 06-02 | Murphy | James R. | 05/03/1880 | 11/29/1960 | Mason; husband of 1st Eva Boyet, 2nd Edna Everett |
| 06-03 | Murphy | Loyol | 09/10/1910 | 09/15/1910 | child of David Jhue Murphy & Emma Delia "Honey" Daniels |
| 06-04 | Murphy | David Jhue | 11/27/1878 | 05/20/1963 | "papa"; husband of Emma Delia Daniels; child of Simon Favre Murphy & Nancy Elizabeth Boyet |
| 06-05 | Murphy | Emma Delia Daniels | 02/18/1877 | 08/21/1970 | "Honey"; wife of David Jhue Murphy; child of Jerome Ceylon Daniels Sr. & Ostella Austin "Stella" Atkins |
| 06-06 | Murphy | Kenneth Shelby | 02/05/1904 | 11/28/1958 | husband of Leah Lundy; child of David Jhue Murphy & Emma Delia "Honey" Daniels |
| 06-07 | Murphy | Leah Lundy | 09/02/1903 | 01/06/1976 | wife of Kenneth Shelby Murphy |
| 06-08 | French | John J., Jr. | 09/25/1928 | 05/23/1975 | Y3 US Navy |
| 07-01 | Murphy | Simon | 09/25/1894 | 04/23/1985 | 9th child of Simon Favre Murphy & Nancy Elizabeth Boyet; husband of Ernestine Stuart |
| 07-02 | Murphy | Ernestine Stuart | 08/28/1901 | 07/17/1979 | wife of Simon Murphy |
| 07-03 | Murphy | Joseph Favre | 12/10/1888 | 10/24/1965 | 10th child of Simon Favre Murphy & Nancy Elizabeth Boyet; husband of Claude McElroy |
| 07-04 | Murphy | Claude McElroy | 03/16/1896 | 06/26/1965 | wife of Joseph Favre Murphy |
| 07-05 | Murphy | Charles Brown | 10/27/1891 | 04/02/1972 | 8th child of Simon Favre Murphy & Nancy Elizabeth Boyet; husband of Mary Elizabeth Starks |
| 07-06 | Murphy | Mary (Elizabeth) Starks | 12/31/1895 | 01/28/1977 | wife of Charles Brown Murphy; child of Samuel Patrick "Cyril" Starks & Isabelle Alice Latimer |
| 07-07 | Murphy | Calvin Neil | 05/08/1926 | 11/25/1926 | son of Charles Brown Murphy & Mary Elizabeth Starks |
| 07-08 | Murphy | Eva Boyet Finney | 02/03/1884 | 10/05/1911 | wife of 1st Harry Finney, 2nd James R. Murphy; child of Silas L. Boyet & Hopgood |
| 07-09 | Murphy | Lucille | 07/31/1911 | 10/31/1911 | Infant |
| 07-10 | Murphy | Edwin | 12/16/1913 | 01/14/1914 | |
| 07-11 | Murphy | Edward R. | 12/16/1913 | 08/05/1936 | |
| 07-12 | Murphy | Neta Redmond | 03/25/1885 | 07/04/1931 | wife of Samuel Rayford Murphy |
| 07-13 | Murphy | Samuel Rayford | 03/23/1885 | 01/12/1975 | 7th child of Simon Favre Murphy & Nancy Elizabeth Boyet; husband of 1st Neta Redmond, 2nd Eva Leonard |
| 08-01 | Farrington | Laura L. (Daniels) | 03/16/1878 | 06/11/1963 | "Mother"; wife of 1st Joseph M. Downs, 2nd Farrington; child of Jerome Ceylon Daniels Sr. & Ostella Austin "Stella" Atkins |
| 08-02 | Farrington | Curtis Eugene | 12/13/1901 | 12/30/1920 | U.S.N.; child of Farrington & Laura L. Daniels |
| 08-03 | Daniels | Ostella Austin Atkins | 05/12/1857 | 03/05/1899 | "Stella"; wife of Jerome Ceylon Daniels; child of Lewis Atkins & Hanna |
| 08-04 | Daniels | Jerome Ceylon Sr. | 02/02/1842 | 1912 | Sgt. CoI. 76 N.Y. INF; husband of Ostella Austin Atkins; child of Mahlon Daniels & Rosetta Van Guilden |
| 08-05 | Vaughn | Kittie Anderson | 1875 | 1953 | |
| 08-06 | Murphy | Francie Anderson | 12/03/1876 | 06/14/1966 | wife of William A. Murphy |
| 08-07 | Murphy | William Arthur | 03/17/1882 | 08/29/1910 | 6th child of Simon Favre Murphy & Nancy Elizabeth Boyet; husband of Francis Anderson |
| 08-08 | Murphy | Henry Boyet | 03/08/1874 | 12/05/1905 | Mason; 2nd child of Simon Favre Murphy & Nancy Elizabeth Boyet |
| 08-09 | Murphy | Simon | 11/14/1845 | 11/24/1919 | 3rd child of James Murphy & Marguerite L. Favre; grandson of Simon Favre; husband of Nancy Elizabeth Boyet |
| 08-10 | Murphy | Nancy (Elizabeth) Boyet | 04/14/1854 | 01/26/1927 | wife of Simon Murphy (m. 01/31/1873); child of Jhue John Boyet & Nancy Elizabeth Cooper |
| 08-11 | Murphy | Murtis | 08/29/1908 | 06/07/1916 | daughter of A. S. & H. E. Murphy |
| 08-12 | Murphy | Allas L. | 11/23/1903 | 03/21/1904 | |
| 08-13 | Murphy | Samuel Patrick | 07/01/1924 | 01/01/1995 | husband of Carol Stevens; child of Charles Brown Murphy & Mary Elizabeth Starks |
| 08-14 | Murphy | Verda Jones Warren | 04/08/1923 | 12/11/1991 | "Skeets" |
| 08-15 | Davis | Harriett R. Stanford | 05/04/1842 | 04/30/1915 | wife of Richard N. Davis; child of Noah Stanford & Elizabeth Lowe "Betsy" Felder |
| 08-16 | Davis | Richard N. | 11/18/1841 | 07/14/1931 | husband of Harriett R. Stanford; child of Davis & Nancy |
| 08-17 | Bass | Hosea Josiah "Jasiere" | 02/10/1892 | 08/16/1939 | husband of Leila Boyet; child of Jasper Newton Bass & Donna Stringer |
| 08-18 | Galloway | Leila Boyet (Bass) | 05/1891 | 1961 | wife of 1st Hosea J. Bass, 2nd Galloway; child of John A. Boyet & Isabella Christian "Cricket" Bennett |
| 08-19 | Breland | Earl | 08/09/1907 | 09/18/1981 | 2nd hus. of Mittie Odelia Landrum; Retired mail carrier from Bogalusa, LA |
| 08-20 | Breland | Mittie (Odelia) Landrum | 09/17/1911 | 01/15/1984 | wife of 1st Stanley Strahan, 2nd Earl Breland; child of Rupert Landrum & Martha C. Boyet |
| 09-01 | Daniels | Sarah | 1889 | 1939 | child of Jerome Ceylon Daniels Sr. & Ostella Austin "Stella" Atkins |
| 09-02 | Daniels | Jerome C.(G?) Jr. | 12/1890 | 1932 | child of Jerome Ceylon Daniels Sr. & Ostella Austin "Stella" Atkins |
| 09-03 | Downs | Joseph M. | 01/1867 | 12/1948 | "Uncle Joe"; husband of Laura L. Daniels |
| 09-04 | Landrum | John Ehrman | 10/28/1908 | 11/29/1979 | son of Rupert "Dad" Landrum; husband of Lena Pearl Miller |
| 09-05 | Landrum | Lena Pearl (Miller) | 10/01/1915 | 03/05/2002 | wife of John Erhman Landrum; child of Charles Sylvester Miller & Mary Idumia "Dumie" Hover |
| 09-06 | Landrum | Jerry Glenn | 07/31/1940 | 08/13/1991 | son of John Ehrman Landrum & Lena Pearl Miller |
| 09-07 | (Illegible) | | | | |
| 09-08 | Landrum | Rupert | 07/25/1885 | 03/27/1952 | Mason; 1st husband of Martha C. Boyet |
| 09-09 | Boyet | Martha C. | 08/18/1888 | 06/06/1972 | wife of 1st Rupert Landrum, 2nd Charles P. Lowe; child of John A. Boyet & Isabella Christian "Cricket" Bennett |
| 09-10 | Lowe | Charles P. | 08/27/1885 | 04/01/1958 | 2nd husband of Martha C. Boyet |
| 09-11 | Hover | Roland Eugene | 07/23/1913 | 06/15/1915 | child of Archie Dell Hover & Mary Florence Smith |
| 09-12 | Hover | Mary (Florence) Smith | 12/26/1888 | 07/26/1919 | wife of Archie Dell Hover; child of Samuel Smith & Mary Field |
| 09-13 | Hover | Archie Dell | 03/19/1889 | 12/06/1973 | husband of 1st Victoria, 2nd Mary Florence Smith; child of Joseph Chandler Hover & Nancy Jane Bennett |
| 09a-01 | Boyette | John A. | 09/1857 | 1945 | husband of Isabelle Bennett; child of Jhue John Boyet & Nancy Elizabeth Cooper; stone reads Boyette, children changed the spelling when they ordered the headstone |
| 09a-02 | Boyette | Isabella (Christian) Bennett | 04/11/1860 | 12/26/1937 | "Cricket"; wife of John A. Boyette (m. 01/13/1881); child of Daniel Bennett & Mary Ann Myrick; sis of George Bennett (she was reported to be of Indian descent) |
| 09a-03 | Boyet | Daniel Ambras | 11/08/1886 | 12/01/1916 | WOW stone; son of John A. Boyet & Isabella Christian "Cricket" Bennette |
| 09a-04 | Odom | baby girl | 1908 | 1908 | child of James Francis Odom & Jane Ruth Hover |
| 09a-05 | Odom | baby girl | 1907 | 1907 | child of James Francis Odom & Jane Ruth Hover |
| 09a-06 | Odom | Joseph Calvin | 08/23/1923 | 10/21/1923 | child of James Francis Odom & Jane Ruth Hover |
| 09a-07 | Odom | James Francis | 04/12/1877 | 04/06/1944 | husband of Jane Ruth Hover; child of James William Odom & Louisa Lenoir |
| 09a-08 | Odom | Jane Ruth (Hover) | 12/18/1884 | 07/13/1962 | wife of James Francis Odom; child of Joseph Chandler Hover & Nancy Jane Bennett |
| 09b-01 | Wright | Walter C. | 11/05/1881 | 06/20/1966 | Husband of Panola Murphy |
| 09b-02 | McGuire | Panola Murphy | 11/27/1877 | 03/27/1962 | wife of Walter C. Wright, 1st McGuire; child of Samuel A. Murphy Sr. & Mary L. Howze |
| 09b-03 | Murphy | Medora "Dora" | 05/14/1868 | 10/10/1949 | wife of John R. Hardy; 2nd child of Samuel A. Murphy Sr. & Mary L. Howze |
| 09b-04 | Murphy | Mary Ellen | 08/05/1866 | 12/23/1950 | Wife of Henry Hardy; 1st child of Samuel A, Murphy Sr. & Mary L. Howze |
| 09b-05 | (unmarked) | | | | |
| 09b-06 | (unmarked) | | | | |
| 09b-07 | Howze | Isaac Hunter | 06/29/1836 | 06/01/1917 | husband of Mary Huber |
| 09b-08 | Howze | Mary Huber | 12/27/1857 | 11/08/1940 | wife of Isaac Hunter Howze |
| 10-01 | Boutwell | Rev. Julian Raymond | 03/14/1908 | 07/1980 | 2nd husband of Della Reynolds |
| 10-02 | Reynolds | Della Louise | 1919 | | reserved; wife of 1st B. Freeland Reynolds, 2nd Rev. J.R. Boutwell |
| 10-03 | Reynolds | B. Freeland | 1918 | 1951 | 1st husband of Della Boutwell Hover; child of DeWitte Talmadge Reynolds Sr. & Callie |
| 10-04 | Murphy | Stanley C. | 02/28/1870 | 11/17/1927 | WOW memorial; husband of Lena Ann Fagot; 3rd child of Samuel A. Murphy Sr. & Mary L. Howze |
| 10-05 | Murphy | Emma G. | 1874 | 03/22/1922 | |
| 10-06 | Murphy | Samuel A. Sr. | 11/14/1838 | 12/31/1928 | 2nd child of James Murphy & Marguerite L. Favre; grandson of Simon Favre; husband of Mary L. Howze |
| 10-07 | Howze | Mary L. | 03/31/1838 | 01/04/1896 | wife of Samuel A. Murphy (m. 10/29/1863) |
| 10-08 | Mitchell | Georgia Odom | 01/1891 | 1956 | wife of Marting Mitchell; child of John Washington Odom & Missouri Adeline Bennett |
| 10-09 | Odom | John Washington | 06/20/1860 | 12/11/1922 | husband of Missorria Adeline Bennett; child of Albert Odom & Elizabeth Myrick |
| 10-10 | Odom | Missorria Adeline (Bennett) | 10/02/1867 | 07/30/1921 | wife of John Washington Odom; child of Daniel Bennett & Mary Ann Myrick |
| 10-11 | Odom | Charley Brasco | 03/24/1886 | 11/07/1901 | son of John Washington Odom & Missouri Adeline Bennett |
| 10-12 | Odom | Thomas | 10/11/1895 | 10/16/1895 | |
| 10-13 | Odom | Wyott | 10/11/1895 | 12/14/1895 | |
| 10-14 | Odom | daughter & 2 sons | | | children of John Washington Odom & Missouri Adeline Bennett |
| 10-15 | (Unmarked) | | | | |
| 10-16/17 | (Unmarked) | | | | |
| 10-18 | Odom | Hugh Hiliary | 11/24/1910 | 12/31/1997 | US Army WWII; child of James Francis Odom & Jane Ruth Hover |
| 11-01 | Miller | Mary Idumia (Hover) | 10/25/1880 | 11/22/1966 | "Dumie"; wife of Charles Sylvester Miller; child of Joseph Chandler Hover & Nancy Jane Bennett |
| 11-02 | Miller | Charles Sylvester | 02/16/1877 | 11/07/1929 | husband of Mary Idumia Hover; child of Sylvester Miller & Mary Riley |
| 11-03 | Miller | Ira Earl | 05/24/1905 | 08/28/1923 | |
| 11-04 | Miller | Joseph J. | 1903 | 1961 | child of Charles Sylvester Miller & Mary Idumia "Dumie" Hover |
| 11-05 | Bennett | Jane Nancy | 09/05/1854 | 03/27/1931 | wife of Joseph Chandler Hover; child of Daniel Bennett & Mary Ann Myrick |
| 11-06 | Hover | Joseph Chandler | 01/13/1856 | 07/06/1921 | husband of Jane Nancy Bennett; child of John Brown Hover Jr. & Mary Louise Murphy |
| 11-07/10 | (Unmarked) | | | | |
| 11-11 | Hover | John Simon | 11/25/1853 | 06/24/1909 | WOW memorial - Luther Weston Camp 66; husband of Laura Favre; child of John Brown Hover Jr. & Mary Louise Murphy |
| 11-12 | Hover | Laura E. Favre | 02/11/1859 | 1878 | wife of John Simon Hover; child of Augustin Ventress Favre & Margaret E. Howze |
| 11-13/15 | (Unmarked) | | | | |
| 11-16 | Murphy | Louisa | 11/16/1864 | 09/22/1865 | daughter of Samuel A. Murphy Sr. & Mary L. Howze |
| 11-17 | Murphy | Mary Butlar Lenore | 11/16/1854 | 02/28/1910 | wife of James Murphy; m. 06/13/1874; "Mamie" |
| 11-18 | Murphy | James (Moses) | 08/06/1835 | 05/22/1916 | 1st child of Marguerite L. Favre & James Murphy; grandson of Simon Favre; husband of 1st Sarah Epps Hover, 2nd Mary Butlar Lenore |
| 11-19 | Murphy | Catherine Pearl (Boyet) | 04/14/1858 | 05/21/1924 | "Kate"; wife of Henry A. Boyet (m. 09/02/1875); 1st child of James Moses Murphy & Sarah Epps Hover |
| 11-20 | Boyet | Henry Ambross | 03/10/1851 | 04/12/1920 | Mason; husband of Catherine Pearl Murphy; child of Jhue John Boyet & Nancy Elizabeth Cooper |
| 11-21 | (Unmarked) | | | | |
| 11-22 | Bennett | Wyatt William | 09/11/1852 | 08/03/1926 | "brother"; child of Daniel Bennett & Mary Ann Myrick |
| 11-23 | Bennett | George F. | 08/1858 | 1905 | husband of Leona Stanford; child of Daniel Bennett & Mary Ann Myrick |
| 11-24 | Bennett | Leona Stanford | 06/1874 | 1944 | wife of George F. Bennett |
| 11a-01 | (unmarked) | | | | |
| 11a-02 | (unmarked) | | | | |
| 11a-03 | Murphy | Ransom | 04/24/1862 | 07/30/1865 | son of James Moses Murphy & Sarah Epps Hover; grave no longer marked |
| 11a-04 | Murphy | Mary Ellen (Nellie) | 11/24/1859 | 07/23/1865 | daughter of James Moses Murphy & Sarah Epps Hover; grave no longer marked |
| 11a-05 | Hover | Sarah Epps | 11/29/1831 | 01/11/1868 | 1st wife of James Murphy (m. 02/22/1858); child of John Brown Hover Sr. & Martha Epps Dowdle |
| 11a-06 | Boyet | Unnamed Twin | 1879 | 1880 | unmarked; Infant son of Henry Ambross Boyet & Catherine Pearl "Kate" Murphy |
| 11a-07 | Boyet | Unnamed Twin | 1879 | 1880 | unmarked; infant daughter of Henry Ambross Boyet & Catherine Pearl "Kate" Murphy |
| 11a-08 | Russ | Augusta "Gussie" | 10/16/1902 | 02/02/1905 | child of Charles Albert Russ Sr. & Ella Potivent Boyet |
| 11a-09 | Miller | James W. | 03/03/1873 | 02/19/1928 | |
| 11a-10 | Miller | Ettie B. | 1881 | 1935 | wife of James Miller |
| 12-01 | Hover | Lena Treutel | 10/08/1871 | 09/03/1957 | wife of James Murphy Hover |
| 12-02 | Hover | James Murphy | 03/03/1862 | 06/17/1924 | husband of Lena Treutel; child of John Brown Hover Jr. & Mary Louise Murphy |
| 12-03 | Hover | Pearl Louisa | 12/03/1876 | 12/23/1915 | wife of Walter H. Scott; child of Joseph Chandler Hover & Nancy Jane Bennett |
| 12-04 | Leger | Ida Hover | | 03/18/1954 | "Mama"; child of John Brown Hover Jr. & Mary Louise Murphy; no longer marked? |
| 12-05 | Scott | Dovie B. | 09/13/1909 | 05/20/1910 | child of Walter H. Scott & Pearl Louisa Hover |
| 12-06 | Scott | Infant | 08/08/1902 | 08/08/1902 | infant son of Walter H. Scott & Pearl Louisa Hover |
| 12-07 | Hover | Mamie Wood | 1872 | 1954 | wife of David Brennard Hover |
| 12-08 | Hover | David Brennard | 02/1858 | 1927 | husband of Mamie Wood; child of John Brown Hover Jr. & Mary Louise Murphy |
| 12-09 | Murphy | James "Moses" | 1801 | 06/21/1867 | husband of Marguerite L. Favre; headstone has 1870 as year of death |
| 12-10 | Murphy | Marguerite L. Favre | 01/17/1812 | 02/06/1908 | Marguerite L. Favre; wife of James Murphy; daughter of Simon Favre & Celeste Rochon; dates on headstone incorrect? |
| 12-11 | Bulloch | Mary Adeline "Addie" Murphy | 12/14/1864 | 06/05/1934 | 3rd child of James Moses Murphy & Sarah Epps Hover |
| 12-12 | Cook | Family(?) | | | only name on headstone |
| 12-13 | Cook | Sallie Boyet | 03/03/1882 | 10/11/1966 | wife of Charles Robert Cook; child of Henry Ambross Boyet & Catherine Pearl "Kate" Murphy |
| 12-14 | Boyet | Annie Idumia | 06/16/1891 | 01/29/1960 | wife of Charles E. Boykin II; child of Henry Ambross Boyet & Catherine Pearl "Kate" Murphy |
| 12-15 | Boykin | Charles E. Jr. | 1912 | 1935 | son of Charles E. Boykin II & Annie Idumia Boyet |
| 13-01 | Hover | Dorothy Ann | 10/13/1939 | 01/16/1940 | Baby |
| 13-02 | Hover | Loretta Frances | 1921 | 1923 | Daughter of George & Ruby Hover |
| 13-03 | Shubert | Francis Joseph Sr. | 10/05/1926 | 06/09/2004 | "married 06/20/1954" |
| 13-04 | (unmarked) | | | | reserved |
| 13-05 | Shubert | Francis Joseph Jr. | 11/30/1956 | 09/25/1992 | husband of 1st Marcia Paul, 2nd Meri Maniscalo; child of Francis Joseph Shubert Sr. & Carrol Neomie Moran; "Love Merl Dominica Courtney" |
| 13-06 | Moran | Ralph Emmit | 07/06/1915 | 12/08/1915 | son of Alfred Joseph Moran & Eugenia "Epps" Hover |
| 13-07 | Moran | Eugenia "Epps" Hover | 10/14/1892 | 02/04/1987 | wife of Alfred Joseph Moran; child of Joseph Chandler Hover & Nancy Jane Bennett |
| 13-08 | Moran | Alfred Joseph | 05/17/1890 | 07/11/1954 | Mason; "Big Joe"; husband of Eugenia Hover; child of Victor Moran & Caroline Williamson |
| 13-09 | Moran | Edgar Burton Sr. | 11/26/1916 | 09/16/1985 | husband of 1st Geraldine Green, 2nd Lavaun Thomas Hammond; child of Alfred Joseph "Big Joe" Moran & Eugenia "Epps" Hover |
| 13-10 | McCarty | Laura M. | 04/07/1883 | 08/03/1908 | wife of J.A. Boyet; child of Charles W. McCarty & Emma M. Hursey |
| 13-11 | Boyet | James August | 08/10/1878 | 03/02/1968 | husband of 1st Laura M. McCarthy, 2nd Nancy Viola Boyet; child of Henry Ambross Boyet & Catherine Pearl "Kate" Murphy |
| 13-12 | Boyet | Nancy Viola | 07/10/1894 | 10/26/1974 | wife of James August Boyet; child of John A. Boyet & Isabella Christian "Cricket" Bennett |
| 13-13 | Boyet | Howard | 1915 | 1922 | son of James August Boyet & Nancy Viola Boyet |
| 13-14 | Pittman | Bonnie Winnifred Boyet | 10/08/1892 | 12/28/1946 | "Winnie"; wife of Albert Edgar Pittman; child of Henry Ambross Boyet & Catherine Pearl "Kate" Murphy |
| 13-15 | Pittman | Albert Edgar | 12/07/1885 | 06/08/1962 | Married Sunday, Oct 9 1913 to Bonnie Winnifred Boyet |
| 13-16 | Boyet | Nellie | 06/08/1888 | 05/25/1964 | wife of Wortham W. Poole; child of Henry Ambross Boyet & Catherine Pearl "Kate" Murphy |
| 13-17 | Poole | Wortham W. | 09/21/1894 | 12/15/1960 | husband of Nellie Boyet |
| 13-18 | Sharp | Aaron Wade | 05/18/1980 | 04/28/1982 | child of Donovan Sharp & Lynn Sally Ward |
| 14-01 | Hover | John Brown "Jay" | 09/20/1878 | 01/11/1960 | husband of Mary L. Jones; child of Joseph Chandler Hover & Nancy Jane Bennett |
| 14-02 | Hover | Mary Lou (Jones) | 01/13/1880 | 06/12/1966 | wife of John Brown Hover; child of Freeman Jones & Liza Lee |
| 14-03 | Phillips | Malissia Hover | 02/06/1907 | 10/08/1956 | wife of Lawrence Phillips; child of John Brown "Jay" Hover & Mary Lou Jones |
| 14-04 | Hover | Edith Virginia | 02/14/1915 | 12/30/1935 | daughter of John Brown "Jay" Hover & Mary Lou Jones |
| 14-05 | Hover | Cecil Freeman | 09/14/1903 | 12/24/1947 | Mason; husband of Pearl Davis; child of John Brown "Jay" Hover & Mary Lou Jones |
| 14-06 | Hover | Pearl Davis | 09/07/1903 | 03/14/1995 | wife of Cecil Freeman Hover; child of Richard Columbus Davis & Martha Louise "Pet" Murphy |
| 14-07 | McGilvray | Cecil Martin | 10/11/1957 | 10/11/1957 | child of Will McGilvray & Margaret Carol Hover |
| 14-08 | Davis | Martha Murphy | 03/14/1867 | 07/16/1955 | "Pet"; wife of Richard Columbus Davis; 4th child of James Moses Murphy & Sarah Epps Hover |
| 14-09 | Davis | Richard Columbus | 03/30/1875 | 07/25/1946 | husband of Martha Louise Murphy; child of Richard N. Davis & Harriett R. Stanford |
| 14-10 | Ward | Theodore J. "Ted" | 03/24/1950 | | reserved; married Ruby Alice 10/13/1991 |
| 14-11 | Ward | Ruby Alice | 03/21/1947 | | reserved; married Theodore J. "Ted" 10/13/1991 |
| 14-12 | Ward | Wendell Lewis | 06/18/1923 | | reserved; married Evelyn Russ 03/08/1946 |
| 14-13 | Ward | Evelyn Russ | 08/18/1927 | 11/08/2006 | married Wendell Lewis 03/08/1946 |
| 14-14 | Russ | Charles Albert Jr. | 02/04/1905 | 08/27/1962 | child of Charles Albert Russ Sr. & Ella Potivent Boyet |
| 14-15 | Russ | Nancy (Ostella) Murphy | 08/22/1913 | 04/08/1991 | "Nank"; wife of Charles Albert Russ Jr.; child of David Jhue Murphy & Emma Delia "Honey" Daniels |
| 14-16 | Turley | Martin Cissaro | 11/15/1910 | 05/21/1965 | husband of Katherine Murphy |
| 14-17 | Turley | Katherine M. | 01/12/1916 | 09/07/2007 | wife of Martin Murphy |
| 14-18 | Murphy | Dana Keith | 11/02/1920 | 01/30/1966 | married to Myrtis Aby Hover; child of David Jhue Murphy & Emma Delia "Honey" Daniels |