Necaise Crossing Cemetery
Hebrew Ladner and his wife Angeline donated this land for their descendants in 1882.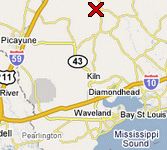 Directions:
From I-10 take the 603 north (= exit 13). Stay on this road for 18.5 miles, then turn left on Caesar-Necaise Road. After almost a mile, take a slight right on Earl C. Ladner Road. This road will dead-end at the cemetery (on a hill).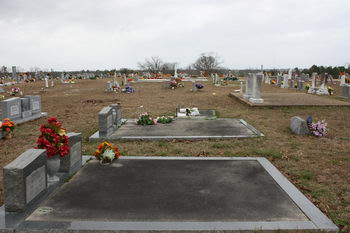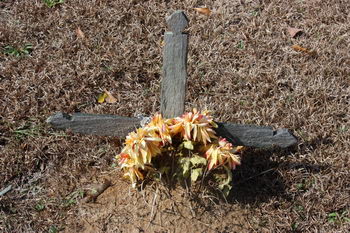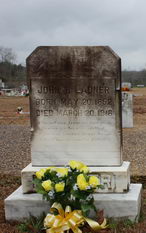 Cemetery layout:
Graves number from left to right and rows start away from the entrance. (Note: There is an elaborate layout sheet of this cemetery with all individual graves marked. Too large to display here, but it is available at the Lobrano House to view and copy.)


Graves (
427

):
| # | Last Name | First Name | Birth | Death | Comment |
| --- | --- | --- | --- | --- | --- |
| 01-01a | Peters | Eugene G. | 06/30/1924 | | (reserved) |
| 01-01b | Peters | Alan Joseph | 05/16/1962 | 12/24/1976 | |
| 01-01c | Peters | Martha A. | 05/08/1931 | | (reserved) |
| 01-02a | Hudson | Robert E. | 06/29/1920 | 05/27/1997 | |
| 01-02b | Hudson | Eloise F. | 10/21/1919 | 06/17/1997 | |
| 01-03 | (unknown) | Frank H. | 09/14/1898 | 11/13/1980 | |
| 01-04 | (unknown) | Cathrine J. | 03/24/1896 | 10/02/1974 | |
| 01-05a | Lizana | Elaine E. | 06/02/1939 | | (reserved) |
| 01-05b | Lizana | Howard J. | 05/20/1939 | 08/04/1998 | |
| 01-06a | Cox | Linda Lizana | 02/02/1944 | 07/08/1987 | |
| 01-06b | (Unmarked) | | | | |
| 01-07a | Lizana | Clarence A. | 07/18/1914 | 1998 | day and month not visible on picture |
| 01-07b | Lizana | Louis Preston | 01/06/1955 | 12/25/1965 | |
| 01-07c | Lizana | Ethel P. Lizana | 09/05/1914 | 11/02/2003 | |
| 01-08 | Jordan | James Virgil Jr. | 06/11/1970 | 06/17/1970 | |
| 01-09 | Grover | Jennifer Nicole | 04/08/1984 | 03/29/1999 | |
| 01-10a | Cuevas | Oliver J. | 12/15/1906 | 01/20/1968 | |
| 01-10b | Cuevas | Ouida Mae | 03/08/1914 | 12/31/1981 | |
| 01-11 | Cuevas | Bonnie Lou | 03/09/1933 | 11/02/1987 | |
| 01-12 | Ladner | Mark A. | 07/19/1963 | 07/20/1963 | |
| 01-13a | Ladner | Brenda A. | 03/09/1940 | 05/08/2007 | |
| 01-13b | Ladner | Odie J. | 10/31/1934 | | (reserved) |
| 01-14 | Mills | Cathy Evelyn | 09/18/1953 | 08/29/2002 | |
| 02-01a | Spiers | Gordon William | 01/14/1938 | 03/01/2002 | m. 4/28/1962 Dorella Cuevas |
| 02-01b | Spiers | Dorella Cuevas | 08/26/1939 | | (reserved); m. 4/28/1962 Gordon Spiers |
| 02-02a | Lizana | Mary Jane | 01/14/1945 | | (reserved) |
| 02-02b | Lizana | Lonnie G. | 07/13/1946 | 03/16/2004 | |
| 02-03a | Ladner | Louise L. | 02/14/1942 | | (reserved) |
| 02-03b | Ladner | Mary Elizabeth | 10/31/1961 | 10/31/1961 | |
| 02-03c | Ladner | Slade P. | 07/15/1937 | 09/27/1981 | |
| 02-04 | Jordan | Bruce Preston | 12/17/1951 | 12/31/1951 | |
| 02-05a | Shaw | L. Ted | 10/11/1925 | 01/25/2007 | |
| 02-05b | Shaw | Jeanette C. | 09/09/1927 | 07/06/1999 | |
| 02-06 | Saucier | James Edward | 12/26/1925 | 03/07/1973 | Pfc US Army WWII |
| 02-07 | Saucier | Jeverly E. | 1897 | 1985 | |
| 02-08 | Saucier | Ethel G. | 1906 | 1990 | |
| 02-09a | Necaise | James A. | 05/29/1912 | 12/24/1964 | |
| 02-09b | Necaise | Melva M. | 08/23/1924 | | (reserved) |
| 02-10a | Necaise | Ivy J. | 03/09/1911 | 09/28/1984 | m. 12/24/1963 Pearl |
| 02-10b | Necaise | Pearl | 12/30/1913 | 05/23/1992 | m. 12/24/1963 Ivy J. |
| 03-01 | Shaw | Larry | 11/20/1945 | 11/20/1945 | |
| 03-02 | Shaw | Berry | 09/21/1953 | 09/28/1953 | |
| 03-03a | Shaw | F. H. Carl | 11/14/1927 | 03/09/1993 | m. 2/10/1945 Fay L. |
| 03-03b | Shaw | Fay L. | 09/17/1926 | 10/07/2001 | m. 2/10/1945 F. H. Carl |
| 03-04a | Necaise | Bernie John | 04/07/1919 | 01/29/1997 | US Army WWII; m. 5/7/1947 Dora S. |
| 03-04b | Necaise | Dora S. | 12/07/1932 | | (reserved); m. 5/7/1947 Bernie John |
| 04-01a | Necaise | Sylvester R. | 06/09/1921 | 08/22/1984 | Pfc US Army WWII; m. 12/24/1945 Doris M. |
| 04-01b | Necaise | Doris M. | 04/20/1928 | | (reserved); m. 12/24/1945 Sylvester R. |
| 04-02a | Ladner | Eula Ree | 06/28/1937 | | (reserved) |
| 04-02b | Ladner | Earl Clinton | 01/29/1929 | 11/22/2000 | |
| 04-03 | Ladner | Arthur | 1898 | 11/20/1960 | |
| 04-04a | Dedeaux | Leslie B. | 03/06/1924 | 12/23/1990 | m. 2/16/1946 Annie C. |
| 04-04b | Dedeaux | Annie C. | 01/18/1927 | 12/11/1989 | m. 2/16/1946 Leslie B. |
| 04-05a | Dedeaux | Joseph A. | 07/28/1890 | 03/16/1946 | |
| 04-05b | Dedeaux | Sylvenia | 05/31/1893 | 09/11/1950 | |
| 04-06a | Garriga | Mary Frances | 08/05/1958 | 08/06/1958 | |
| 04-06b | Garriga | Catherine Ann | 04/13/1959 | 04/14/1959 | |
| 04-07 | Ladner | Louie M. Jr. | 07/20/1969 | 07/20/1969 | |
| 04-08 | Ferrill | John Mark "Bruno" | 08/13/1964 | 07/15/2001 | |
| 04-09 | Ferrill | Willie E. | 01/29/1915 | 02/26/1976 | |
| 04-10 | Ferrill | Tina Marie | 06/04/1963 | 06/06/1963 | |
| 04-11 | Ferrill | Brenda | | | (reserved) |
| 04-12 | Ferrill | Johnny | | | (reserved) |
| 04-13 | Ladner | Curtis A. | 01/31/1971 | 10/10/1998 | |
| 05-01a | Peterson | Tamela A. | 04/01/1965 | 04/01/1965 | |
| 05-01b | Peterson | Angela M. | 10/11/1963 | 10/11/1963 | |
| 06-01a | Ladner | Horace | 11/27/1920 | 04/13/1985 | Pfc US Army WWII |
| 06-01b | Ladner | Jeanette S. | 10/06/1925 | 06/03/2002 | |
| 06-02a | Ladner | Roger Dean | 07/11/1948 | 09/26/2003 | m. 12/27/1966 Joyce Ann |
| 06-02b | Ladner | Joyce Ann | 12/08/1950 | | m. 12/27/1966 Roger Dean |
| 06-03a | Ladner | Arnold Lee | 12/15/1950 | 11/20/2006 | m. 11/2/1974 Charlotte Phelps |
| 06-03b | Ladner | Charlotte Phelps | 02/26/1951 | | (reserved); m. 11/2/1974 Arnold Lee |
| 06-04 | Lusich | Evan C. Jr. | 02/20/1950 | 02/10/1972 | Miss. Cpl US Marine Co. Vietnam |
| 06-05a | Peterson | Oscar J. | 03/16/1916 | 09/17/1990 | |
| 06-05b | Peterson | Elodie L. | 03/23/1922 | 03/18/1988 | |
| 06-06a | Ladner | Willie | 11/01/1893 | 03/07/1964 | |
| 06-06b | Ladner | Beatrice | 05/09/1895 | 06/10/1970 | |
| 06-06c | Ladner | William Lamont | 06/19/1931 | 12/09/1966 | |
| 06-07a | Cuevas | Olige H. | 05/20/1921 | | (reserved) |
| 06-07b | Cuevas | Pauline S. | 03/23/1925 | 05/26/1973 | |
| 06-08a | (Unmarked) | | | | |
| 06-08b | Ladner | Glen | 10/30/1934 | 10/02/2004 | m. 7/3/1954 |
| 06-09a | Ladner | Aaron Joseph | 10/08/1911 | 04/07/1981 | father |
| 06-09b | Ladner | Wendell Larry | 10/06/1948 | 06/24/1975 | son |
| 06-09c | Ladner | Ollie Mae | 07/12/1914 | 06/09/1977 | mother |
| 06-10 | Ladner | James Kyle | 08/29/1970 | 08/29/1970 | infant son of Burnell & Linda Ladner |
| 07-01a | Necaise | Lugis O. Sr. | 07/13/1912 | 01/01/1972 | |
| 07-01b | Necaise | Bertha Smith | 07/25/1912 | 12/19/1963 | |
| 07-02a | Ladner | Darryl C. | 01/21/1945 | | (reserved); m. 7/29/1961 Lynell N. |
| 07-02b | Ladner | Lynell N. | 05/09/1942 | 08/01/1997 | m. 7/29/1961 Darryl C. |
| 07-03 | Ladner | Doris M. | 08/07/1932 | 04/03/2002 | |
| 07-04 | Ladner | Lois Marie | 01/25/1954 | 01/25/1954 | |
| 07-05 | Cuevas | Walter John | 04/30/1923 | 04/18/1998 | |
| 07-06 | Cuevas | R. C. | 03/10/1927 | 02/01/1985 | |
| 07-07a | Cuevas | Rudolph | 08/01/1897 | 01/12/1980 | |
| 07-07b | Cuevas | Evelyn S. | 07/20/1907 | 02/17/1980 | |
| 07-08 | Cuevas | Hilma | | | infant daughter; no date |
| 07-09 | Cuevas | Hubert | 12/24/1924 | 02/11/1925 | infant son |
| 07-10 | Ladner | Francois Simon | 03/25/1856 | 04/24/1924 | son of Joseph and Louise |
| 07-11 | Ladner | Rosay | 1883 | 12/30/1956 | 73 yrs |
| 07-12 | Kirkland | Mose | 05/03/1906 | 11/12/1966 | |
| 07-13a | Malley | Luvie | 08/18/1926 | 09/18/1926 | |
| 07-13b | Malley | Phillip | 05/26/1890 | 07/31/1928 | |
| 07-13c | Malley | Victoria L. | 08/26/1894 | 08/04/1965 | |
| 07-14a | Ladner | Bridgette E. | 12/17/1962 | | (reserved) |
| 07-14b | Ladner | Vernon Dale | 02/13/1960 | 06/29/2006 | |
| 07-15a | Ladner | Lavern C. | 1931 | 1997 | |
| 07-15b | Ladner | Ella Faye | 1939 | 1964 | |
| 07-16 | Pace | Carl Dennis | 12/19/1956 | 08/23/1988 | |
| 07-17a | Cuevas | Betty N. | 04/03/1932 | | (reserved); m. 4/29/1949 Hilden L. |
| 07-17b | Cuevas | Hilden L. | 03/19/1930 | 11/17/2008 | m. 4/29/1949 Betty N. |
| 07-18 | Cuevas | August | 08/07/1908 | 04/20/1952 | |
| 07-19/22 | (Unmarked) | | | | (reserved) |
| 07-23 | Spiers | Rolan Ray | 08/19/1935 | 11/09/1993 | Pfc US Army |
| 07-24a/b | (Unmarked) | | | | |
| 07-25 | Spiers | Rolan R. Jr. | 03/27/1963 | 10/14/1982 | |
| 07-26a | Spiers | Carver "Foots" | 12/15/1940 | | (reserved); m. 5/27/1986 Aloyse |
| 07-26b | Spiers | Aloyse "Ga Ga" | 01/05/1938 | 01/06/2006 | m. 5/27/1986 Carver |
| 08-01 | Ladner | Tazie | 05/09/1875 | 04/26/1956 | |
| 08-02 | Ladnier | Cornelia Cuevas | 04/12/1895 | 10/27/1955 | |
| 08-03 | Cuevas | Sebasti | | | no dates |
| 08-04 | (Unmarked) | | | | |
| 08-05 | Melton | Alverty | 04/02/1919 | 04/02/1919 | |
| 08-06/07 | (Unmarked) | | | | |
| 08-08 | Ladner | Louise | | 04/30/1900 | wife of Joseph Ladner |
| 08-09/11 | (Unmarked) | | | | |
| 08-12 | Cuevas | Mathema | 06/22/1867 | 04/06/1925 | |
| 08-13 | Cuevas | Hartesia | 03/07/1856 | 03/29/1925 | |
| 08-14 | Cuevas | Curvis | 06/02/1914 | 02/15/1937 | |
| 08-15 | Ladner | Goldie Lee | 08/12/1932 | 05/14/1934 | |
| 08-16 | Ladner | Clarence | 12/15/1914 | 12/18/1938 | |
| 08-17a | Ladner | Albert | 05/05/1891 | 12/22/1965 | |
| 08-17b | Ladner | Ovelia | 02/25/1893 | 04/10/1971 | |
| 08-18 | Ladner | Nelson | 04/22/1919 | 07/25/1986 | Tec 5 US Army WWII |
| 08-19 | Necaise | Mable Marie Ladner | 06/06/1929 | 11/17/1987 | |
| 08-20 | Cuevas | Effie M. Ladner | 03/14/1927 | 08/03/2003 | |
| 08-21 | Necaise | Louis Renalder | 12/09/1919 | 02/13/1947 | Miss. Pvt 453 AAA AW BN CAC WWII |
| 08-22a | Jones | Marvin E. | 11/04/1933 | 08/11/1973 | |
| 08-22b | Jones | Jo Ree S. | 08/31/1935 | | (reserved) |
| 08-23 | Jones | Mary Ann | 01/23/1953 | 01/23/1953 | |
| 08-24/27 | Jones | | | | (reserved) |
| 08-28a | Heidelberg | John Lundie Jr. | 06/05/1941 | 05/20/1997 | m. 2/13/1982 Audrey Ladner |
| 08-28b | Heidelberg | Audrey Ladner | 01/15/1954 | | (reserved); m. 2/13/1982 John Lundie Jr. |
| 09-01a | Spiers | Marshall | 01/05/1908 | 09/10/1989 | |
| 09-01b | Spiers | Mildred | 04/01/1911 | 06/16/1984 | |
| 09-02 | Spiers | Billy Gene | 12/19/1932 | 08/23/1936 | |
| 09-03 | Spiers | Elsie Jean | 08/16/1931 | 11/17/1931 | |
| 09-04a | Spiers | Hollis E. | 02/08/1935 | | (reserved) |
| 09-04b | Spiers | Yvonne G. | 05/28/1935 | | (reserved) |
| 09-05 | Ladner | Grover C. | 07/1918 | 07/1918 | |
| 09-06 | Cuevas | Marsline L. | 04/22/1929 | 08/21/1999 | |
| 09-07 | Ladner | Josephine | | 07/19/1942 | 74 yrs; wife of Lorance Ladner |
| 09-08 | Ladner | Cleveland L. | 07/28/1899 | 10/30/1972 | |
| 09-09 | Ladner | Mary | 08/11/1872 | 10/03/1893 | Wife of Lorance Ladner |
| 09-10 | Ladner | Lorance | | 06/27/1924 | 65 yrs |
| 09-11a | Ladner | Sylves | | 09/15/1905 | |
| 09-11b | Ladner | Lucian L. | | 05/04/1904 | |
| 09-11c | Ladner | Leona N. | | 04/22/1914 | |
| 09-12a | Necaise | Wilton J. | 04/22/1930 | | (reserved) |
| 09-12b | Necaise | Bernice N. | 03/28/1934 | 12/14/1979 | |
| 09-13 | Necaise | W. J. | | | (reserved) |
| 09-14a | Spiers | Marvin | 05/14/1906 | 12/11/1981 | |
| 09-14b | Spiers | Albertha L. | 06/08/1913 | 02/17/1984 | |
| 09-14c | Spiers | Marria Mae | 12/19/1930 | 12/19/1930 | Infant daughter of Mr. & Mrs. Marvin Spiers |
| 09-15 | (Unmarked) | | | | |
| 09-16 | Ladner | Linda A. | 12/23/1953 | 11/23/1994 | |
| 09-17a | Spiers | Charlie | 11/02/1909 | 11/10/1989 | |
| 09-17b | Spiers | Olian L. | 03/15/1916 | 05/16/1992 | |
| 09-18 | Spiers | Elvenia Ann | 03/25/1947 | 03/25/1947 | |
| 09-19 | Spiers | Infant son | 1933 | 1933 | Infant son of Mr. & Mrs. Charlie Spiers |
| 09-20 | Ladner | Casey Levert | 12/03/1971 | 02/10/1986 | |
| 09-21 | Spiers | | | | (reserved) |
| 09-22 | Ladner | Frank V. | 03/07/1872 | 03/28/1947 | |
| 09-23a | Peterson | Boby R. | 01/08/1939 | 08/22/1939 | |
| 09-23b | Peterson | Kemel | 02/14/1942 | 02/16/1942 | |
| 09-24a | Peterson | Renia C. | 06/22/1907 | 06/11/1959 | |
| 09-24b | Peterson | Andlous | 02/25/1907 | 11/30/1983 | |
| 09-25a | Ladner | Verina Peterson Armstrong | 07/17/1926 | 12/20/1999 | |
| 09-25b | Ladner | Vanessa | 03/25/1965 | 01/07/1976 | |
| 09-25c | Ladner | Janette C. | 02/28/1943 | | (reserved) |
| 09-25d | Ladner | Dwayne C. | 03/02/1960 | 12/02/1989 | |
| 10-01a | Necaise | Joseph F. | 01/02/1891 | 02/10/1970 | |
| 10-01b | Necaise | Rosala M. | 02/24/1892 | 02/15/1968 | |
| 10-02a | Necaise | Oluse L. | 07/22/1884 | 12/07/1966 | |
| 10-02b | Necaise | Alphonsine D. | 02/11/1888 | 06/23/1983 | |
| 10-03a/b | Necaise | | | | (reserved) |
| 10-04 | Ladner | Orvis A. | 02/24/1889 | 07/03/1960 | Miss. Pvt US Army WWI |
| 10-05 | Necaise | Lonie | 1900 | 1917 | |
| 10-06 | Necaise | Ovil | 1898 | 1917 | |
| 10-07 | Nicaise | Azaline | 01/01/1897 | 09/25/1898 | Daughter of Alsay & Louisa Nicaise |
| 10-08a | Necaise | Alsa | 1863 | 1913 | |
| 10-08b | Necaise | Louisa | 1882 | 1937 | |
| 10-09 | Necaise | Lelia Alice | 04/11/1905 | 10/19/1905 | |
| 10-10a | Necaise | Laura | 04/01/1887 | 11/21/1972 | |
| 10-10b | Necaise | Alcide | 06/05/1880 | 12/26/1963 | |
| 10-11a/b | Necaise | | | | (reserved) |
| 10-12a | Necaise | Infant daughter | 06/20/1940 | 06/20/1940 | Daughter of Mr. & Mrs. Harvey Necaise |
| 10-12b | Necaise | Winnie L. | 06/14/1910 | 10/20/1998 | |
| 10-12c | Necaise | Harvey A. | 08/25/1910 | 10/13/1976 | |
| 10-13a/b | Spiers | | | | (reserved) |
| 10-14a/b | Cuevas | | | | (reserved) |
| 10-15 | Cuevas | Donald J. | 06/03/1949 | 07/13/2000 | |
| 10-16 | Cuevas | Alexander C. | 11/11/1902 | 10/11/1976 | |
| 10-17a | Cuevas | Alexander | 06/01/1879 | 04/15/1934 | |
| 10-17b | Cuevas | Dorine | 06/05/1882 | 12/21/1968 | |
| 10-18a | Necaise | Loren | 01/04/1914 | 03/26/1972 | |
| 10-18b | Necaise | Aline C. | 12/03/1919 | | (reserved) |
| 10-19 | Necaise | Eugene W. | 02/17/1934 | 01/17/1941 | |
| 11-01 | Necaise | Baby | 09/06/1941 | 09/06/1941 | |
| 11-02 | Necaise | Olenger B. | 05/20/1901 | 08/24/1966 | Miss. Pvt Co B 17 BN IRTC WWII |
| 11-03a | Necaise | Zeno | 07/17/1858 | 12/12/1928 | husband of Rosemma |
| 11-03b | Necaise | Rosemma Moran | 05/20/1866 | 11/29/1923 | wife of Zeno |
| 11-04 | Necaise | Clarinda | 05/14/1893 | 02/13/1901 | |
| 11-05 | Necaise | Alfocene | 03/15/1886 | 02/07/1889 | Daughter of Alsay & Mary Necaise |
| 11-06 | Nicaise | Eugenie | 03/31/1853 | 10/24/1923 | Not sure about date, stone hard to read |
| 11-07 | (Unmarked) | | | | |
| 11-08a | Necaise | Jocelyn | 07/30/1877 | 12/29/1943 | |
| 11-08b | Necaise | Alicia | | | wife of Jocelyn |
| 11-08c | Necaise | Baby | | | (reserved) |
| 11-09 | Necaise | Sidney C. | 06/05/1897 | 07/29/1947 | Miss. Pvt 329 Inf 83 Div WWI |
| 11-10 | Ladner | Alezia M. | 10/02/1926 | 11/12/1988 | |
| 11-11 | Necaise | Asa | 07/02/1916 | 1923 | |
| 11-12 | Necaise | Gaston | 08/17/1924 | 1929 | |
| 11-13 | Necaise | Mary A. | 10/29/1931 | 1934 | |
| 11-14a | Necaise | Theresa | 06/01/1896 | 10/28/1949 | |
| 11-14b | Necaise | Rosaire | 06/05/1891 | 08/02/1965 | |
| 11-15a | Necaise | Joe Ann | 07/26/1937 | | mother |
| 11-15b | Necaise | Lonis Joseph | 12/13/1958 | 10/03/1982 | son |
| 11-15c | Necaise | Leslie James | 10/20/1934 | 08/23/1979 | father |
| 11-16 | Ladner | Baby | | | (reserved) |
| 11-17a | Seal | Randolph W. | 04/15/1901 | 05/03/1979 | |
| 11-17b | Seal | Luvenia C. | 08/05/1903 | 08/18/1982 | |
| 11-18 | Seal | Jean R. | 04/09/1939 | 04/28/1939 | |
| 11-19 | Seal | Infant daughter | 10/23/1921 | 10/23/1921 | daughter of Randolph & Luvenia Seal |
| 11-20a | Seal | Jack F. | 04/09/1934 | 12/11/1997 | |
| 11-20b | Seal | Lucy Ann | 02/17/1939 | | (reserved) |
| 11-21a/d | (Reserved) | | | | |
| 12-01 | Cuevas | Felder | 09/22/1940 | 01/20/1977 | |
| 12-02a | O'Neal | Sam Jr. | 12/03/1990 | | (reserved) |
| 12-02b | O'Neal | Olivia Cuevas | 10/22/1928 | 08/12/2000 | |
| 12-02c | O'Neal | Patricia Ann | 01/04/1957 | 01/05/1957 | |
| 12-03a | Cuevas | Hebrew | 06/20/1902 | 03/20/1979 | |
| 12-03b | Cuevas | Esther M. | 08/19/1909 | 09/27/1951 | |
| 12-04 | Cuevas | Bienville D. | 06/21/1932 | 05/27/1980 | |
| 12-05 | Cuevas | Lola L. | 09/08/1878 | 09/07/1905 | |
| 12-06a | Ladner | John H. | 05/20/1852 | 03/20/1916 | |
| 12-06b | Ladner | Angeline | 03/12/1859 | 01/25/1935 | |
| 12-07 | Ladner | Vetile | 1886 | 1894 | |
| 12-08 | Ladner | Sylvester | 1888 | 1889 | |
| 12-09 | Ladner | Plazel | 1890 | 1903 | |
| 12-10 | Ladner | Daze | 1878 | 01/01/1953 | 74 yrs. |
| 12-11 | Ladner | Moise H. | 09/26/1887 | 08/22/1958 | |
| 12-12 | Shaw | Monroe | 09/25/1885 | 06/24/1893 | |
| 12-13 | Shaw | Birdie | 06/27/1902 | 08/04/1917 | |
| 12-14a | Shaw | Samuel | 12/22/1853 | 02/11/1931 | husband of Astizile |
| 12-14b | Shaw | Astizile | 05/26/1858 | 01/12/1935 | wife of Samuel |
| 12-15 | Ladner | Ernestine | | 04/18/1909 | 24 yrs.; wife of E. Ladner |
| 12-16/17 | (Reserved) | | | | |
| 12-18 | Ladner | Julia | 04/12/1910 | 04/20/1910 | |
| 12-19 | Ladner | Nalyes | 03/05/1918 | 03/10/1918 | |
| 12-20 | Ladner | Lugean | 03/01/1917 | 02/02/1918 | |
| 12-21 | Ladner | Tonias | | 08/08/1923 | 34 yrs. |
| 12-22 | Ladner | Sylvenia | 12/13/1895 | 03/16/1959 | |
| 12-23 | Ladner | Milton | 09/29/1919 | 09/28/1920 | son of A.P. & S. Ladner |
| 12-24 | Ladner | A. P. | 05/05/1891 | 12/08/1927 | |
| 12-25 | Kirkland | Cevelia | 06/07/1892 | 04/16/1959 | |
| 12-26 | Ladner | Hildon A. | 07/27/1921 | 03/25/1950 | Miss. Tec 5 658 Field Arty BN WWII |
| 12-26b | Page | Bevelee M. | 02/20/1922 | | (reserved) |
| 12-27 | Ladner | Alvin | 02/12/1917 | 10/15/1971 | |
| 12-28 | Ladner | Paul | 02/01/1951 | 02/02/1951 | |
| 12-29a | Ladner | Katherine M. | 03/07/1933 | | (reserved) |
| 12-29b | Ladner | Jason J. | 03/05/1925 | 04/17/2000 | |
| 12-30 | Moran | Heuburt | 11/23/1919 | 10/05/1920 | son of L.M. & I.M. Moran |
| 12-31 | Moran | Jeanette | | | (reserved) |
| 12-32 | Moran | Margaret | | | (reserved) |
| 12-33 | Moran | Ida | 03/21/1897 | 03/21/1957 | |
| 12-34 | Moran | Lacy | 04/17/1893 | 08/22/1974 | |
| 12-35 | Paige | Rickey W. | 04/07/1953 | 08/07/2004 | |
| 12-36a | Page | Willard J. | 10/02/1917 | 11/28/1979 | |
| 12-37 | Ladner | Glenis | 05/13/1935 | 12/27/1963 | |
| 12-38 | Ladner | Terry L. | 05/19/1962 | 03/03/1991 | |
| 13-01a | Necaise | Alice M. | 10/20/1943 | 11/25/1971 | |
| 13-01b | (Reserved) | | | | |
| 13-02 | Necaise | Vonciel | 10/14/1925 | 01/17/2009 | |
| 13-03 | Necaise | Robert Bruce | 06/18/1921 | 02/19/1954 | Miss. Tec5 Co G 163 Inf WWII |
| 13-04/08 | (Reserved) | | | | |
| 13-09 | Ladner | Johnnie A. | 1896 | 1954 | |
| 13-10a | Moran | Baby | | | no dates |
| 13-10b | Moran | Baby | | | no dates |
| 13-11a | Moran | Alsia | | 05/03/1917 | 49 yrs. |
| 13-11b | Moran | Zoie | 02/17/1870 | 04/23/1952 | |
| 13-12a | Ladner | Lorance | 05/29/1860 | 04/21/1890 | husband of Harriet |
| 13-12b | Ladner | Harriet | 01/17/1862 | 07/06/1938 | wife of Lorance |
| 13-13 | Ladner | Roy F. | 01/03/1936 | 07/02/1993 | |
| 13-14 | Ladner | Felix "Bill" | 05/18/1900 | 02/13/1978 | |
| 13-15 | Ladner | Leon Jr. | 10/10/1897 | 06/07/1911 | |
| 13-16a | Ladner | Leon Sr. | 1856 | 1915 | |
| 13-16b | Ladner | Lucille | 1858 | 1934 | |
| 13-17 | Ladner | Alter | 04/14/1905 | 12/13/1926 | |
| 13-18a | Lavinghouse | Elvenia | 03/03/1907 | 05/10/1992 | |
| 13-18b | Lavinghouse | Leroy | 07/29/1900 | 08/28/1955 | |
| 13-19 | Ladner | Victaw | | 06/27/1911 | 23 yrs. |
| 13-20 | Peterson | Corelia | | 02/25/1924 | 28 yrs.; wife of O.D. Peterson |
| 13-21 | Cuevas | Fred | 04/02/1912 | 06/26/1912 | |
| 13-22a | Cuevas | Christopher | 07/25/1876 | 09/01/1915 | |
| 13-22b | Page | Ola Cuevas | 03/10/1880 | 09/04/1928 | |
| 13-23 | Perkins | Lena | 02/13/1902 | 12/14/1916 | |
| 13-24 | Page | Leroy | 07/05/1923 | 02/28/1924 | |
| 13-25 | McVay | Cora | 12/29/1907 | 07/12/1927 | |
| 13-26 | McVay | John C. | 07/09/1924 | 06/09/1966 | Miss. S Sgt 2858 Air Base GP AF WWII |
| 13-27 | Smith | Velma | 10/02/1920 | 08/25/1996 | |
| 13-28/30 | (Reserved) | | | | |
| 13-31a | Ladner | Bollis J. | 02/19/1918 | 03/28/1992 | Pfc US Army WWII |
| 13-31b | Ladner | Verlia | 11/05/1914 | 10/30/1997 | |
| 13-31c | Ladner | Lonie Mae | 01/19/1930 | 01/19/1930 | |
| 13-32a | Ladner | Hollis David | 05/06/1927 | 03/02/2007 | US Navy WWII; m. 5/4/1949 Estelle Dedeaux |
| 13-32b | Ladner | Estelle Dedeaux | 05/12/1926 | 07/25/1998 | m. 5/4/1949 Hollis David |
| 14-01a | Pearson | Francis W. | 10/20/1948 | | (reserved) |
| 14-01b | Pearson | Wanda Jean | 11/13/1946 | 02/11/1998 | |
| 14-02a | Ladner | Clifton B. | 03/30/1922 | 02/18/1993 | |
| 14-02b | Ladner | Oneitha S. | 12/01/1926 | 11/29/1969 | |
| 14-03a | Saucier | Steven | 06/25/1894 | 11/30/1972 | |
| 14-03b | Saucier | Senith | 05/15/1896 | 03/29/1946 | |
| 14-04 | Moran | S. T. | 11/25/1877 | 04/24/1926 | |
| 14-05a | Moran | Baby | | | no dates |
| 14-05b | Moran | Baby | | | no dates |
| 14-06a | Byrd | Jim | 1846 | 1946 | husband of Delphine Ladner |
| 14-06b | Ladner | Delphine | 1878 | 1928 | wife of Jim Byrd |
| 14-07 | Burge | William C. | 07/29/1931 | 04/18/1997 | |
| 14-08 | Burge | William Glenn | 02/18/1957 | 02/25/1957 | |
| 14-09 | Burge | Artemease L. | 08/20/1901 | 01/15/1974 | |
| 14-10 | Ladner | Mary A. | 10/18/1869 | 10/29/1955 | |
| 14-11 | Ladner | Claiborne | 11/03/1905 | 01/26/1928 | |
| 14-12 | Ladner | Mose S. | 1842 | 11/24/1920 | |
| 14-13 | Ladner | Maline | 05/25/1903 | 08/10/1994 | son: Curtis Ladner; daughter: Louise Ladner Eloise |
| 14-14 | Lavinghouse | Ruth M. | 04/02/1932 | 04/07/1932 | |
| 14-15a | Lavinghouse | Clarence | 10/03/1905 | 04/23/1938 | |
| 14-15b | Lavinghouse | Luvenia | 02/14/1909 | 01/06/1985 | |
| 14-16 | Montie | Lois Marie | 03/24/1929 | 11/09/1929 | |
| 14-17a | Henley | Catonia Ann | 09/03/1959 | 09/10/1959 | |
| 14-17b | Henley | Timothy Wayne | 11/10/1960 | 11/16/1960 | |
| 14-18 | Ladner | Prentiss Jr. | 09/16/1926 | 12/09/1943 | |
| 14-19a | Ladner | Dora | 04/01/1910 | 12/09/1949 | |
| 14-19b | Ladner | Prentiss J. | 02/28/1902 | 06/08/1977 | |
| 14-20 | Ladner | Percy L. | 1919 | 1978 | Pfc US Army WWII |
| 15-01a | Malley | Stevie P. | 06/10/1955 | | (reserved); m. 10/10/1981 Pamela |
| 15-01b | Malley | Pamela J. | 07/19/1961 | 02/12/2004 | m. 10/10/1981 Stevie |
| 15-02 | Malley | Linda R. | 12/31/1945 | 10/22/1946 | |
| 15-03a | Malley | Virlene S. | 08/05/1922 | 12/05/1977 | |
| 15-03b | Malley | Aaron Joseph | 08/16/1914 | 11/05/2001 | US Army WWII |
| 15-04 | Saucier | Alphoncine M. | 03/13/1894 | 02/15/1966 | |
| 15-05 | Moran | Seamon J. | 02/23/1902 | 09/30/1970 | |
| 15-06 | (Unmarked) | | | | |
| 15-07 | Davis | Cody Nathaniel | 03/30/1994 | 03/31/1994 | |
| 15-08a | Necaise | Nathan Joseph | 1928 | 1979 | Pfc US Army WWII |
| 15-08b | Necaise | Doris L. | 1932 | | (reserved) |
| 15-08c | Necaise | Sybil Ann | 1956 | 1956 | |
| 15-09 | Myrick | Kermis Joseph | 12/28/1972 | 12/30/1972 | |
| 15-10 | Ferguson | Baby girl | 07/24/1972 | 07/24/1972 | |
| 15-11 | Ferguson | Ebner R. | 10/17/1946 | 04/04/1997 | |
| 16-01/05 | (Reserved) | | | | |
| 16-06a | Ladner | Hayward V. | 05/21/1927 | | (reserved); m. 7/21/1950 |
| 16-06b | Ladner | Ethelene S. | 07/30/1931 | | (reserved); m. 7/21/1950 |
| 16-07/09 | (Reserved) | | | | |
| 16-10 | Ladner | Richard Gerald | 02/26/1954 | 03/07/1994 | SP4 US Army Vietnam; husband of Beverly Boone; children: Stacie, James, Elizabeth |
| 16-11a | Ladner | Burnis J. | 1916 | 1979 | |
| 16-11b | Ladner | Mary S. | 1919 | 2001 | |
| 16-12 | Ladner | Phillip | 11/02/1956 | 04/21/1997 | |
| 16-13a | Ladner | Infant son | 03/04/1945 | 03/04/1945 | |
| 16-13b | Ladner | Infant daughter | 05/31/1939 | 05/31/1939 | |
| 16-14a | Ladner | Joseph L. | 12/16/1892 | 11/22/1959 | |
| 16-14b | Ladner | Sedonia | 04/15/1900 | 01/01/1964 | |
| 16-15 | Ladner | Clyde | 11/30/1922 | 03/12/1983 | |
| 16-16 | Ladner | Infant son | 03/25/1977 | 03/25/1977 | son of Mr. & Mrs. Dudley Ladner |
| 16-17a | Ladner | Mary Helen | 03/27/1952 | | (reserved); m. 8/24/1973 |
| 16-17b | Ladner | Hugh Dudley | 11/02/1940 | 10/05/1982 | m. 8/24/1973 |
| 16-18a | (Reserved) | | | | |
| 16-18b | (Reserved) | | | | |
| 16-19a | Ladner | Floyd | 04/27/1936 | 06/12/2007 | m. 2/25/1967 |
| 16-19b | Ladner | Claudine N. | 10/25/1941 | | (reserved); m. 2/25/1967 |
| 16-20 | (Reserved) | | | | |
| 16-21a | Lee | Reana | 03/28/1939 | 08/17/2001 | |
| 16-21b | Lee | Vernell Angelia | 06/04/1946 | 10/11/1995 | |
| 17-01 | (Reserved) | | | | |
| 17-02 | Ladner | Lanae Lee | 09/11/1980 | 09/11/1980 | |
| 17-03a | Ladner | Mary Lee | 01/19/1936 | 10/19/1997 | m. 7/3/1951 |
| 17-03b | Ladner | Denford J. | 12/16/1930 | | (reserved); m. 7/3/1951 |
| 17-04 | Saucier | Ellis C. | 11/29/1902 | 04/09/1974 | MS Pvt US Army WWII |
| 17-05a | Cuevas | Ellis "Buck" | 03/06/1932 | | (reserved) |
| 17-05b | Cuevas | Joyce L. | 03/09/1938 | 09/15/2005 | |
| 17-06/08 | (Reserved) | | | | |
| 17-09 | Spiers | Audra M. | 04/02/1971 | 10/30/2007 | |
| 18-01a | Ladner | Norine | 01/03/1915 | 08/04/1975 | m. 9/19/1939 |
| 18-01b | Ladner | Verma S. | 07/24/1920 | 12/14/1998 | m. 9/19/1939 |
| 18-02a | Lancaster | Edward M. | 02/12/1951 | 06/11/2001 | m. 6/27/1975 |
| 18-02b | Lancaster | Mary Darlene | 02/14/1954 | | (reserved); m. 6/27/1975 |
| 18-03 | (Reserved) | | | | |
| 18-04a | Ladner | J. C. | 12/21/1931 | 06/01/1993 | US Army Korea; m. 8/12/1954 |
| 18-04b | Ladner | Joan "Lunnie" | 12/04/1937 | | (reserved); m. 8/12/1954 |
| 18-05 | Moran | Neil "Bugs" | 07/01/1955 | 10/31/1997 | |
| 18-06a | (Reserved) | | | | |
| 18-06b | Moran | Oscar John | 11/24/1919 | 01/18/1991 | |
| 18-07a | Ladner | Orease Peter | 07/25/1910 | | (reserved) |
| 18-07b | Ladner | Edith Spiers | 07/22/1913 | 03/17/1988 | |
| 18-08 | Spiers | William J. | 03/26/1885 | 04/06/1970 | |
| 18-09 | Spiers | Rosa Lee | 01/18/1889 | 10/28/1969 | |
| 18-10 | Spiers | E. J. | 07/25/1926 | 08/27/1970 | MS Pfc Co H 47 Inf WWII |
| 18-11 | Ladner | Oris | 07/20/1911 | 02/29/1972 | |
| 18-12 | Johnson | Jewel | 06/23/1939 | | (reserved) |
| 18-13 | Johnson | Jerry | 03/09/1939 | 08/30/2002 | |
| 18-14a | Johnson | Mark "Mule" A. | 10/20/1962 | 01/08/2001 | |
| 18-14b | Johnson | Veronica "Ron" J. | 11/16/1962 | 09/09/2000 | |
| 18-15 | Saucier | Edward | 01/25/1924 | 05/21/2007 | Pfc US Army WWII |
| 18-16 | Necaise | Troyce Lynn | 05/17/1945 | 10/19/2000 | |
| 18-17 | Necaise | Norvell T. | 03/20/1935 | 08/07/1989 | |
| 18-18a | Hickman | Rita Ann | 1941 | 1988 | |
| 18-18b | Hickman | John Carroll | 1928 | 1986 | |
| 6b-01a | Cuevas | Ollie C. | 03/17/1903 | 08/05/1938 | |
| 6b-01b | Cuevas | Minnie McIver | 02/06/1895 | 01/19/1979 | |
| 6b-02 | Ladner | Carvis | 06/03/1914 | 02/07/1962 | |
| 6b-03 | Ladner | Arlene | 03/05/1915 | 04/16/1940 | |
| 6b-04 | Smith | Leslie Bruce | 06/10/1926 | 03/21/2008 | Tec 4 US Army WWII |
| 6b-05a | Hoda | Raymond | 04/01/1968 | 04/01/1968 | |
| 6b-05b | Hoda | Kina Raynet | 06/01/1970 | 06/01/1970 | |
| 6b-05c | Hoda | Julie Elizabeth | 04/28/1972 | 04/28/1972 | |
| 6b-06 | Gilmore | Melba Gertrude | 08/13/1923 | 05/12/2007 | |
| 6b-07 | Necaise | Thomas C. | 09/25/1964 | 04/21/1997 | |