Smith Cemetery is a small family cemetery about half a mile south of Crane Creek church. It has a little over 50 graves, the oldest dating back to 1883.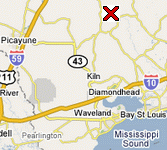 Directions:
From I-10 take the 603 North (= exit 13). Follow this road for 20.7 miles, until you reach MS-53. Turn right ( = south). After 2 miles there is a grassy lane to your left, marked by a dark wood fence on both sides. Follow this to a clearing; you'll see the cemetery to your right.
Coming from the east, you can also take I-10 exit 20 (Delisle). Go north on Kill-Delisle Rd for 2.4 miles, then turn right at Edwin Ladner Rd. After about 5 miles you'll reach Vidalia Rd. Go left and stay on this road as it turns into Standard Dedeaux Rd. Take Bell Creek Rd to the right after 2.4 miles. Follow this for 6 miles, then turn right at V-Bar Rd, then left when you reach MS-53. After about 1.8 miles you'll see the fence and grassy lane to your right.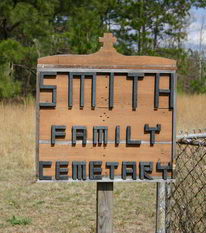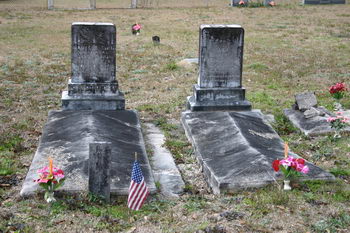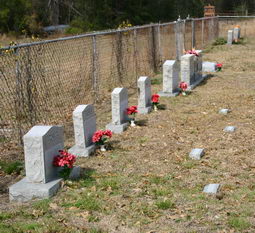 Cemetery layout:
The cemetery has a chainlink fence on two sides - front and left. Rows start at the front fence and the graves are numbered from left to right.


Graves (
52

):
| # | Last Name | First Name | Birth | Death | Comment |
| --- | --- | --- | --- | --- | --- |
| 01-01 | Smith | Missouria B. | 05/02/1875 | 03/14/1915 | |
| 01-02 | Smith | Marion | 03/09/1877 | 01/17/1963 | |
| 01-03 | Smith | infant son | | | son of Missouria & Marion Smith |
| 01-04 | Smith | Myrtle | 03/26/1907 | 09/28/1926 | |
| 01-05 | Smith | Colon | 01/25/1918 | 08/17/2004 | |
| 01-06 | Smith | Cary | 07/08/1882 | 06/10/1962 | |
| 01-07 | Smith | Zadie | 10/28/1881 | 07/27/1967 | |
| 01-08 | Smith | Bruner | 10/18/1907 | 09/27/1927 | |
| 01-09 | Smith | daughter | 11/12/1926 | 11/12/1926 | daughter of Cary & Zadie Smith |
| 01-10 | Smith | Sedris C. | 03/25/1924 | 07/23/1925 | |
| 01-11 | Smith | infant son | 01/20/1923 | 01/20/1923 | son of Cary & Zadie Smith |
| 01-12 | Smith | Ivon | 10/28/1910 | 03/23/1915 | |
| 02-01 | Necaise | Betty Smith | 03/11/1916 | 09/30/1995 | |
| 02-02 | Necaise | Theodore L. | 11/04/1909 | 03/19/1979 | |
| 02-03 | Shaw | Cora S. | 10/22/1907 | 07/17/1968 | |
| 02-04 | Smith | Lemuel Edwin | 12/01/1869 | 11/23/1943 | |
| 02-05 | Smith | Ellen | 11/30/1873 | 05/18/1941 | |
| 02-06 | Smith | Elsie | 10/04/1914 | 11/10/1916 | |
| 03-01 | (Unmarked) | | | | |
| 03-02 | Thigpen | William J. | 01/01/1906 | 02/14/1980 | |
| 03-03 | Thigpen | Beulah Smith | 07/26/1905 | 05/19/1994 | |
| 04-01 | (Unmarked) | | | | |
| 04-02 | (Unmarked) | | | | |
| 05-01 | (Unmarked) | | | | |
| 05-02 | (Unmarked) | | | | |
| 05-03 | (Unmarked) | | | | |
| 05-04 | Breland | James Harvey | 11/03/1895 | 05/28/1896 | |
| 05-05 | Page | Lottie B. | | | no dates |
| 06-01 | Shaw | Forrest | 07/04/1914 | 07/04/1914 | |
| 06-02 | Shaw | Frances Florine | 08/27/1909 | 08/27/1909 | |
| 06-03 | Smith | Henrietta | 03/09/1881 | 12/08/1883 | |
| 06-04 | (Unmarked) | infant | | | slab |
| 06-05 | (Unmarked) | infant | | | slab |
| 06-06 | Smith | infant son | 12/27/1889 | 12/27/1889 | son of Thomas & Anna |
| 06-07 | Smith | Anna | 06/15/1851 | 08/14/1927 | wife of Thomas B. Smith |
| 06-08 | Smith | Thomas R. | 01/18/1842 | 11/30/1929 | US Soldier Co G 1st Reg N.O. La. |
| 06-09 | Hariel | Reutilus | 02/14/1838 | 12/19/1887 | |
| 07-01 | (Unmarked) | | | | |
| 07-02 | Bounds | Leroy T. | | 04/30/1902 | 24 yrs. |
| 07-03 | (Unmarked) | | | | |
| 07-04 | Bounds | Mary Catherine | | 11/10/1887 | 48 yrs.; wife of William |
| 07-05 | Bounds | William | 03/19/1836 | 11/04/1917 | Co I La. Inf |
| 08-01 | (Unmarked) | | | | |
| 08-02 | (Unmarked) | | | | |
| 09-01 | (Unmarked) | | | | |
| 09-02 | (Unmarked) | | | | |
| 09-03 | Bounds | J.M. | | | |
| 09-04 | (Unmarked) | | | | |
| 10-01 | (Unmarked) | | | | |
| 10-02 | Smith | Leon | 12/24/1905 | 01/17/1907 | |
| 10-03 | Smith | John L., Jr. | 09/02/1902 | 10/18/1902 | |
| 10-04 | (Unmarked) | | | | |