Spring Branch Church Cemetery
Location of the old Spring Branch Missionary Baptist Church. NASA reinterred 141 graves here from the Gainesville Baptists Church cemetery in 1964. 110 of those relocated were unidentified. In 2008 only 12 of these original graves could be found, and only 10 of those had tombstones on them.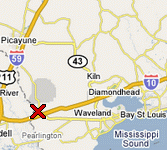 Directions:
From I-10 take the 607 North (= exit 2). Almost immediately after this exit, take the first road to the left. Follow this road for about 1.3 miles until you get to a T. Take a sharp turn to the left. After about 0.6 miles there is a dirt road to your right. Start looking for a grassy clearing / trail to the left, about 500 ft past the dirt road. Approximately 30-40 ft into the grassy trail, look to your right. About 15 feet into the woods are 2 tombstones. (#000a and #000b). Look at the layout sheet to find the other graves.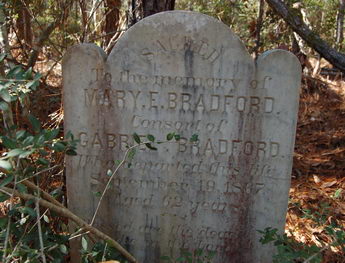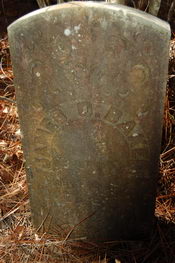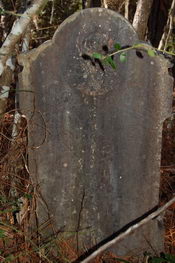 Cemetery layout:
See image below: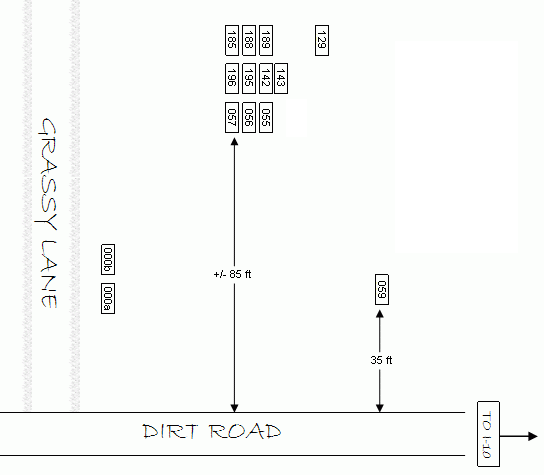 Graves (
35

):
| # | Last Name | First Name | Birth | Death | Comment |
| --- | --- | --- | --- | --- | --- |
| 000a | Clark | Owen S. | 1888 | 1961 | headstone; was existing grave when Nasa reinterred others in 1964 |
| 000b | Yeager | Thomas | 1892 | 1966 | headstone; was buried there after reinterment by Nasa |
| 001 | Hogan | John J. | 03/20/1878 | 05/28/1958 | Reinterred from Gainesville #001 |
| 002 | Hogan | Nellie E. Dawsey | 02/18/1886 | 11/17/1923 | Reinterred from Gainesville #002 |
| 003 | Dawsey | Rufus | 08/20/1837 | 05/11/1913 | Reinterred from Gainesville #003; Later moved to Turtleskin |
| 004 | Dawsey | Susan Elizabeth Painter | 08/09/1850 | 02/06/1923 | Reinterred from Gainesville #004; Later moved to Turtleskin |
| 025 | Arnold | Charles | | | Reinterred from Gainesville #025 |
| 026 | Arnold | Jane | | | Reinterred from Gainesville #026 |
| 027 | Miller | Mary Arnold | | | Reinterred from Gainesville #027 |
| 054 | Moreland | Lois Adline | 07/06/1871 | 10/18/1872 | daughter of J. & D. Moreland; Reinterred from Gainesville #054 |
| 055 | Moreland | James | 1816 | 01/14/1876 | headstone; born in Alabama; husband of Delaney Moreland; Reinterred from Gainesville #055 |
| 056 | Moreland | Delaney M. | 1839 | 02/05/1891 | no marker; wife of James Moreland; Reinterred from Gainesville #056 |
| 057 | Moreland | Henrietta | 01/20/1888 | 06/20/1889 | headstone; daughter of J. & D. Moreland; Reinterred from Gainesville #057 |
| 059 | Glover | Ed | 1872 | 1945 | headstone; Reinterred from Gainesville #059 |
| 069 | Harte | Sarah A. | | 03/30/1851 | Reinterred from Gainesville #069 |
| 078 | Wilkinson | Sarah A. | 1824 | 09/05/1848 | wife of Gen. W.H. Wilkinson; Reinterred from Gainesville #078 |
| 079 | Gaines | Ambrose | | 1910 | Reinterred from Gainesville #079 |
| 115 | Miller | Luther | | | Reinterred from Gainesville #115 |
| 129 | Davidson | Mary E. | 01/25/1807 | 08/28/1833 | headstone; consort (=wife) of G. Davidson; Reinterred from Gainesville #129 |
| 142 | Folsom | Amey Josephine | 1853 | 05/18/1855 | headstone; shared with Sarah Folsom; Reinterred from Gainesville #142 |
| 143 | Folsom | Sarah | 1825 | 10/20/1853 | headstone; shared with Amey Josephine Folsom; Reinterred from Gainesville #143 |
| 144 | Johnson | Amanda Sophia | 1855 | 11/14/1856 | Reinterred from Gainesville #144 |
| 145 | Johnson | Bennett | 1853 | 12/08/1853 | Reinterred from Gainesville #145 |
| 146 | Johnson | Joseph | 1850 | 07/11/1851 | Reinterred from Gainesville #146 |
| 147 | Johnson | Amelia Z. | 1829 | 01/16/1857 | Reinterred from Gainesville #147 |
| 185 | McGregor | Martha Eloise (Larkin) | 02/27/1825 | 10/16/1869 | headstone; wife of Rev. E. W. Larkin; Reinterred from Gainesville #185 |
| 186 | Carre | Robert B. | | | Reinterred from Gainesville #186 |
| 187 | Carre | Mrs. | | 10/05/1878 | Reinterred from Gainesville #187 |
| 188 | Bradford | Gabriel | 1795 | 12/19/1867 | headstone; husband of Mary E. Bradford; Reinterred from Gainesville #188 |
| 189 | Bradford | Mary E. | 1805 | 09/19/1867 | headstone; consort (=wife) of Gabriel Bradford; Reinterred from Gainesville #189 |
| 195 | Baker | Mrs. | | | no marker; Reinterred from Gainesville #195 |
| 196 | Baker | James O. | 05/31/1833 | 10/06/1905 | headstone; Reinterred from Gainesville #196 |
| 226 | Faezell | Magnus | | | Reinterred from Gainesville #226 |
| 306 | Nicholson | Leonard Kimball | 01/11/1881 | 10/19/1952 | Reinterred from Gainesville #306 |
| unk | (Unidentified) | | | | 110 unidentified; reinterred by Nasa from the Gainesville Baptist Church cemetery |