Turtle Skin Cemetery is located at the site of the old Corinth Baptist Church near the old town of Santa Rosa. It is now located in the Buffer Zone near the main gate. 18 Graves from the Gainesville cemetery were reinterred here by Nasa in 1964.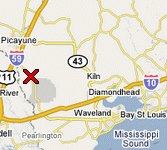 Directions:
From I-10 take the 603 north (= exit 13). Turn left on Texas Flat Road. You can also simply follow the signs to the McLeod State Park. Follow this road all the way to the end (about 13 miles), then turn left on State Road 607. After approximately 1.2 miles, you will see the cemetery on the right hand side.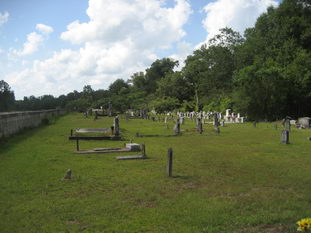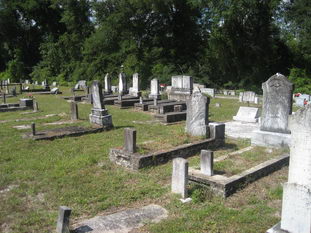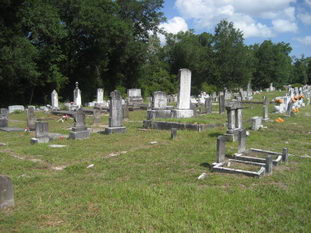 Cemetery layout:
Turtleskin Cemetery is enclosed by a stone wall with posts that are approximately 60ft apart. They divide the cemetery into 26 rectangular sections. Post #0 is the corner post on the south side (towards NASA). All posts are marked on the top or side showing a post number and the number of the last grave in that segment.
Post 0-1 = graves 1-22c
Post 1-2 = graves 23-55c
Post 2-3 = graves 56-87a
Post 3-4 = graves 88-108a
Post 4-5 = graves 109-136a (gate)
Post 5-6 = graves 137-177a
Post 6-7 = graves 178-213a
Post 7-8 = graves 214-259
Post 8-9 = graves 260-307
Post 9-10 = graves 308-340
Post 10-11 = graves 341-385
Post 11-12 = graves 386-422
Post 12-13 = graves 423-447a
Post 13-14 = graves 448-482a (gate)
Post 14-15 = graves 483-528
Post 15-16 = graves 529-584
Post 16-17 = graves 585-621
Post 17-18 = graves 622-650
Post 18-19 = graves 651-669
Post 19-20 = graves 670-691
Post 20-21 = graves 692-703
Post 21-22 = graves 704-726 (gate)
Post 22-23 = graves 727-746a
Post 23-24 = graves 747-776
Post 24-25 = graves 777-803
Post 25-26 = graves 804-834a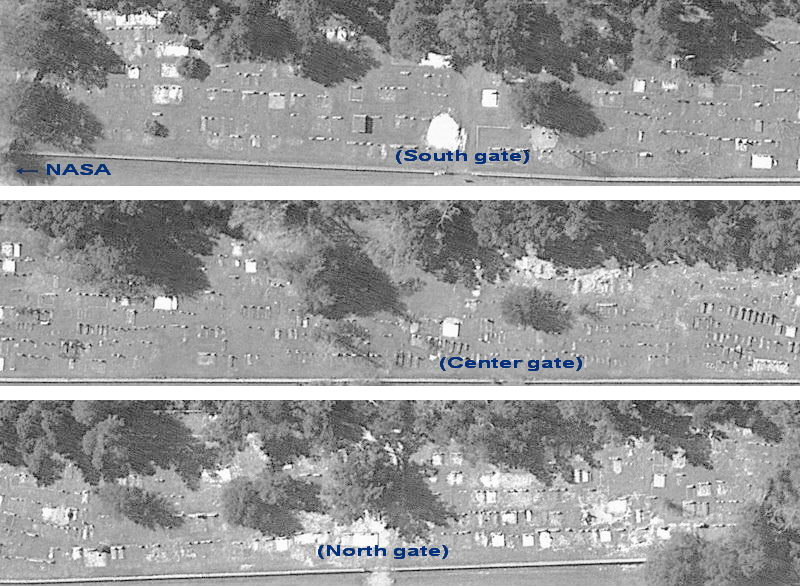 Graves (
1554

):
| # | Last Name | First Name | Birth | Death | Comment |
| --- | --- | --- | --- | --- | --- |
| unk | Cuevas | (baby boy) | 12/16/1961 | 12/16/1961 | from old records - no image |
| 086a | Pepper | Cage M | 10/28/1875 | 02/25/1947 | |
| 087 | Dawsey | Putnam Randle | 01/18/1874 | 03/18/1958 | Reinterred from Gainesville #005 |
| 087a | Dawsey | Jeanett Hill | 04/13/1881 | 11/25/1957 | Reinterred from Gainesville #006 |
| unk | Dawsey | Chester Putnam | 06/08/1917 | 06/08/1917 | Reinterred from Gainesville #007 |
| unk | Dawsey | Cynthia | 1918 | 1918 | Reinterred from Gainesville #008 |
| unk | Dawsey | Annie Ruth | 1919 | 1919 | Reinterred from Gainesville #009 |
| 099a | Dunhurst | Stanley | 1866 | | res? |
| 099b | Dunhurst | Florana R | 1876 | 1951 | |
| 104 | Dunhurst | Henry O | 02/05/1904 | 10/13/1954 | |
| 104a | Dunhurst | Leo (baby) | 01/31/1952 | 02/01/1952 | son of Mr & Mrs W.S. Dunhurst; from old recs |
| 111 | Mitchell | Mary Elizabeth | 02/22/1892 | 01/15/1975 | Mrs. Lizzie; m. Wood(?) |
| 116 | Mitchell | S B Sr | 06/14/1862 | 11/02/1949 | |
| 116 | Mitchell | William S | 02/25/1918 | 05/18/1946 | Ms Pvt 1 Cl 142 Inf |
| 127 | Kellar | Henry G | 12/25/1874 | 03/26/1947 | |
| 127 | Kellar | Josephine S | 08/30/1882 | 09/25/1969 | |
| 143 | Whitfield | Seabron Britt Jr | 12/18/1909 | 04/27/1974 | |
| 151 | Whitfield | Winnie Frierson | 06/28/1878 | 03/21/1969 | |
| 151a | Whitfield | Seabron Britt | 10/20/1873 | 06/06/1943 | |
| 153 | Taylor | James | 12/03/1912 | 02/18/1950 | Ms S2 USNR WWII |
| 159a | Krier | Henry L | 1879 | 1945 | |
| 160 | Smith | William Albert | 12/03/1867 | 12/23/1942 | |
| 291 | Bennett | Lillie | 10/07/1901 | 02/09/1926 | dau of W.M. & Susie Bennett |
| 291a | Bennett | William O | 1875 | 1930 | |
| 299 | Bennett | Susie E | 06/01/1883 | 11/24/1924 | m. W.M. Bennett |
| 374 | Martin | Ora | 04/23/1900 | 12/03/1925 | |
| 307 | Lott | Tony | 03/31/1868 | 05/22/1941 | |
| 313 | Whitfield | Carrie Pearl | 03/04/1897 | 01/03/1903 | |
| 321 | Whitfield | Lena L | 09/02/1895 | 09/02/1895 | |
| 321a | Whitfield | Will | 06/29/1867 | 11/24/1939 | William Aultman |
| 321b | Whitfield | Louisa Margaret Lott | 11/02/1865 | 11/18/1943 | |
| 328 | Thigpen | Eliza Elizabeth Frierson | 07/13/1846 | 12/15/1924 | m. Louis (Lewis) Thigpen Sr |
| 328a | Thigpen | Lewis | 07/05/1846 | 07/28/1916 | |
| 341 | Craft | Michael Hugh | | 10/24/1950 | Age 3 months |
| 334 | Craft | Ralph | 1900 | 1935 | |
| 009 | (Unmarked) | | | | |
| 364 | Kellar | Thomas Edward Sr | 09/14/1881 | 09/08/1961 | |
| 364a | Kellar | Ruby Pearl McAlphine | 08/06/1898 | 10/26/1924 | |
| 374a | Seal | George D | 10/02/1846 | 12/22/1893 | |
| 380 | Seal | Millard F | 03/08/1855 | 10/18/1914 | |
| 379 | Seal | (baby boy) | 01/30/1935 | 01/30/1935 | son of Albert and Jessie Seal |
| 386 | Miller | Lousia M | 03/01/1861 | 09/09/1893 | Wife of Robert B. Miller |
| 386a | Miller | Sarah M | 07/22/1893 | 03/18/1894 | dau of L.M. & R.B. Miller |
| 392 | Willis? | John --? | | | illegible |
| 252 | (Unmarked) | | | | |
| 398 | Kellar | Loach | 1907 | 1929 | |
| 398a | Fleming | Joseph E | | | no dates |
| 406 | Mitchell | Louiser | | 1887 | age 38; m. Joseph J. Fleming |
| 496 | Fleming | Samantha Thigpen | 08/15/1855 | 05/25/1950 | 'Aunt Mant' |
| 496a | Fleming | Wiliam Jasper Sr | 12/17/1847 | 01/05/1937 | Uncle Tip |
| 507 | Gamble | W A | 1857 | 1937 | |
| 052 | Gamble | Mary J. Thigpen | | | illegible |
| 513b | Fleming | Hosea I | 05/07/1856 | 04/05/1931 | |
| 522 | Kellar | N M | 09/12/1849 | 01/25/1934 | |
| 522a | Kellar | Henry W | 07/23/1846 | 03/30/1912 | |
| 513a | Fleming | George W | 12/1871 | 03/04/1879 | son of Arthur Daniel and Sara Jane; from old records - no image |
| 528 | Lott | Sarah E | 10/06/1878 | 08/29/1910 | m. John Lott |
| 528b | Lott | (baby boy) | 12/22/1900 | 01/08/1901 | son of John W. and Sarah E. Lott; marker broken |
| 528a | Lott | (baby) | 12/11/1901 | 12/11/1901 | dau of John W. and Sarah E. Lott |
| 528c | Lott | I W | 05/17/1896 | 09/25/1898 | |
| 536c | Johnson | Loueler Octavia | 03/22/1885 | 09/20/1901 | |
| 537a | Johnson | Lillie A | 10/07/1901 | 05/20/1902 | dau of Sidney J. & Victoria Johnson; from old records |
| 537 | Johnson | Lillie Octaviathe? | 02/08/1900 | 04/18/1910 | dau of A.J. & W.E. Johnson |
| 545 | Thigpen | Rebecca E | | 07/18/1900 | Age 27; wife of Jack Thigpen |
| 545a | Keller | Asilene | | | no dates or illegible |
| 209a | (Unmarked) | | | | |
| 552 | Craft | Henry A | 07/26/1898 | 10/13/1918 | US Army |
| 552a | Mitchell | Mary | 08/18/1882 | 03/25/1917 | wife of L.L. Albritton |
| 164 | (Illegible) | | | | |
| 584 | Murphy | Marindia A | 04/10/1870 | 11/21/1905 | m. J.H. Murphy |
| 613 | Stewart | George Garland | 06/09/1928 | 12/26/1929 | Son of Mr. & Mrs. George W. Stewart |
| 613a | Welch | Archie H | 01/14/1897 | 12/21/1930 | |
| 617 | Smith | Hillard E | 12/06/1901 | 03/06/1931 | |
| 621a | McQueen | Rebecca A. | | 09/01/1911 | wife of James A. Kellar; Age 43 |
| 629 | Kellar | James A | 01/30/1961 | 06/08/1924 | |
| 629a | Thigpen | (baby boy) | 12/08/1938 | 12/08/1938 | son of H. & Estelle |
| 688 | Curry | William Henry | 11/02/1870 | 06/08/1946 | |
| 688a | Curry | Mary Lee Bell | 03/23/1874 | 12/29/1954 | |
| 688c | Curry | Wilson L | 08/22/1892 | 11/08/1951 | Ms Cpl. 8 Regt. Usmc WWI |
| 691a | Vancil | Otto Edward | 1886 | 1950 | |
| 165 | (Illegible) | | | | |
| 600b | McQueen | Ronnie | 06/13/1946 | 06/13/1946 | |
| 699a | Kellar | John Frank | 03/22/1901 | 03/18/1956 | |
| 699b | Kellar | Samantha | 01/25/1904 | | res |
| 710 | Hasselvander | Marion T | 1945 | 1972 | |
| 711 | Hasselvander | Lula K | 02/13/1901 | 02/12/1959 | |
| 715a | Lee | Lamar Jessie | 12/18/1903 | 10/09/1974 | |
| 761 | Miller | Jerry Myre | 07/09/1879 | 02/02/1963 | |
| 772 | Kellar | Lola Cleo Alsobrooks | 02/02/1896 | 11/08/1990 | |
| 772a | Kellar | Columbus C 'Lumbia' | 02/14/1884 | 10/20/1964 | mason |
| 776 | Carbonette | Vera | 07/08/1918 | 04/04/1957 | |
| 787a | Craft | Ben W | 1900 | 1963 | |
| 791 | Kellar | James A | 04/01/1888 | 11/09/1972 | |
| 791a | Kellar | Lora M | 06/05/1893 | 03/13/1986 | |
| 796 | Kellar | Ruby Renee | 12/03/1973 | 12/04/1973 | |
| 796a | Kellar | William A | 01/10/1890 | 01/24/1979 | |
| 796b | Kellar | Dora Lee | 12/02/1890 | 05/08/1956 | |
| 803 | Stewart | George W | 02/22/1895 | 06/17/1964 | Mississippi Pfc 28 Inf Ww I |
| 803a | Stewart | Agnes N | 07/02/1891 | 07/12/1970 | |
| 815 | Pittman | Sarah E Mitchell | 03/01/1868 | 01/07/1948 | m. Hosea Pittman |
| 815a | Pittman | Hosea Clem | 08/06/1869 | 09/08/1965 | m. Sarah E. |
| 821 | Welch | Willie Roy | 11/28/1908 | 04/12/1971 | |
| 821a | Welch | Marie Kellar | 08/26/1920 | 12/01/1976 | |
| 826 | Kellar | Henry Washington | 08/25/1885 | 08/29/1965 | |
| 826a | Kellar | Beatrice McQueen | 04/07/1885 | 07/16/1966 | |
| 305a | Lott | Andrew J | 12/02/1884 | 06/27/1906 | m. Gasporine Scopas |
| 306 | Scopas | Gasporine | 10/12/1847 | 07/31/1935 | m. Jack Lott |
| 312 | Brown | Victoria E | 02/28/1877 | 08/07/1925 | wife Of John Q. Brown |
| 312b | Brown | Jesse | 11/16/1908 | 11/16/1908 | |
| 312a | Brown | John B | 10/01/1873 | 01/04/1929 | |
| 320 | Bennett | J O | 03/04/1883 | 10/20/1906 | m. S A Bennett |
| 327a | Bennett | S A | 03/31/1845 | 07/15/1920 | m. J.O. Bennett |
| 513 | Fleming | Sarah Jane | 12/24/1850 | 05/27/1929 | |
| 505 | Adams | Willie E | 02/11/1893 | 10/30/1974 | |
| 511 | Fleming | Bertha Holden | 11/18/1883 | 11/24/1957 | |
| 511a | Fleming | William Jasper Jr | 10/15/1875 | 08/10/1964 | Uncle Bill |
| 512 | Seal | Joseph E | 06/30/1865 | 09/28/1868 | |
| 516 | Malaer | Shirlie G | 1903 | 1958 | |
| 521 | (Illegible) | | 12/12/1849 | | 'Dear Mother'; dod 1/1/???? |
| 521a | Gamble | Mary J | 1868 | 1911 | |
| 527 | Kellar | Absalum M | 01/23/1872 | 01/07/1879 | son of H.W. & N.M. Kellar |
| 527a | Kellar | (baby boy) | 10/07/1894 | 10/07/1894 | son of H.W. & N.M. Kellar |
| 527b | Frierson | Winney Mahaley Seal | 05/05/1822 | 12/02/1882 | |
| 535 | Frierson | Aaron Meyers | 10/16/1820 | 05/05/1895 | |
| unk | (Illegible) | (infant) | 12/22/1871 | 12/10/1874 | from old records - no image |
| 536 | Pierce | Rebecca | 1819 | 10/31/1899 | wife of Ivy Thigpen |
| 536a | Thigpen | Lorain | 06/27/1858 | 08/24/1866 | son of Ivy & Rebecca |
| 536b | Thigpen | Ivy | 02/14/1808 | 07/07/1875 | |
| 544b | Kellar | John | 02/15/1822 | 09/08/1886 | |
| 551 | Seal | Martha E | 04/20/1825 | 08/12/1896 | m. J. Kellar |
| 578 | Mitchell | Sarah J | 01/1881 | 01/1892 | m. C.C. Mitchell; dates not certain |
| 591 | (Illegible) | (baby boy) | 11/22/1882 | 11/22/1882 | son of Jas. and M.A. (?); from old records, illegible now |
| 145b | (Unmarked) | | | | |
| 591a | McQueen | Dave S | 01/14/1883 | 12/04/1906 | |
| 598 | McQueen | William | 10/07/1890 | 06/17/1902 | |
| 318 | Nelson | (baby) | 05/1904 | 05/1904 | infant of Henry G. and Malisa A. Nelson |
| 319 | Nelson | Malisa A | 05/31/1871 | 12/22/1926 | |
| 319a | Nelson | Henry G | 07/16/1856 | 09/30/1928 | |
| 319b | Smith | William J | 02/24/1876 | 02/18/1908 | |
| 326 | Jackson | Carl Doc | | 04/22/1926 | Ms Pvt 1cl 142 Inf 36 Div |
| 327 | Jackson | Bill | 04/09/1897 | 06/10/1901 | child of W.B. & E. Jackson? |
| 326b | Jackson | W B | 09/20/1868 | 06/14/1926 | |
| 362b | Lott | Mary J | 10/08/1847 | 11/30/1923 | |
| 368b | Martin | Gladys Marie | 08/14/1920 | 12/13/1921 | dau of W.A. and Dora Martin |
| 373 | Martin | Mary E | 05/13/1871 | 12/19/1907 | |
| 373a | Miller | (baby) | 07/12/1905 | 07/12/1905 | infant of AT & MJ Miller |
| 385 | Brown | Sarah Miller | 01/10/1835 | 12/11/1920 | |
| 385a | Gipson | Rebekah | 09/15/1881 | 07/06/1901 | |
| 734 | Curry | George Lee | 04/06/1926 | 07/06/1972 | |
| 734a | Curry | Edna | 10/16/1910 | | res |
| 740 | Skelton | William | 11/24/1894 | 03/17/1964 | Ky CPT 2 Co US USFLN |
| 750 | Mitchell | Willie Ellis | 05/14/1895 | 12/29/1964 | |
| 754 | Alsobrooks | Robert Eli | 09/14/1901 | 08/31/1973 | |
| 770 | Kennedy | Alf | 12/12/1919 | 11/26/1966 | |
| 770a | Kennedy | Lois A | 09/14/1923 | 06/28/2008 | |
| 780 | Ott | John Nelson | 12/30/1947 | 04/27/1971 | |
| 780a | Ott | Judy Gayle | 12/15/1946 | | res |
| 806 | Stockstill | Arthur E | 06/08/1923 | | res |
| 806a | Stockstill | Illa Rae | 01/16/1927 | 12/11/1958 | |
| 819 | Bond | D Alger | 1904 | 1950 | |
| 819b | Altazan | Ricky | 03/02/1968 | 03/02/1968 | Bond? |
| 588 | (Unmarked) | (infant) | | | |
| 396 | Mitchell | Elsie Smith | 06/04/1897 | 03/07/1935 | |
| 403 | Miller | Lillie | 1914 | 1943 | |
| 403a | Keller | Laura Elizabeth | 03/26/1881 | 03/01/1920 | m. C.H. Miller |
| 413 | Miller | Charles H | 1875 | 1960 | |
| 413b | Miller | Charles Horace | 01/21/1927 | 04/06/1927 | from old records - no image |
| 413a | Miller | Ola R | 1902 | 1970 | |
| 409 | Keller | Lillian J | 11/04/1882 | 04/26/1952 | m. C.T. Baker |
| 419a | Baker | Gladys | 06/03/1914 | 05/21/1917 | |
| 419 | Baker | Florence | 06/03/1914 | | res |
| 419b | Baker | Tomey | 07/01/1920 | 12/17/1912 | 'little Tomey' |
| 208 | Blackmon | Sallie Elizabeth | 01/26/1854 | 01/30/1936 | |
| 208a | Blackmon | Oliver Newton | 08/31/1861 | 05/07/1924 | |
| 216 | Hoover | Victoria L Jones | 1893 | 1961 | m. Frank Blackmon |
| 216b | Blackmon | Frank | 09/22/1882 | 11/18/1919 | m. Victoria Hoover |
| unk | Tarver | Crystal | | 02/08/1937 | age 28; from old records - no image |
| unk | Shoemaker | Elmee | 12/27/1886 | 04/30/1954 | from old records - no image |
| unk | Shoemaker | Thomas B | 11/30/1884 | 09/20/1952 | from old records - no image |
| 236 | Kellar | Amanda S | 08/12/1878 | 06/13/1949 | |
| 236a | Kellar | William A | 03/10/1878 | 05/28/1919 | |
| 257a | Kellar | Harold Glen | 02/02/1938 | 02/02/1938 | |
| 102 | Kellar | Clinton A | 10/05/1918 | 12/23/1966 | PFC US Inf H Co 709th TK BN |
| 102a | Kellar | Lucille C | 07/30/1921 | | res |
| 166 | (Illegible) | | | | |
| 128a | Bennett | Joel Amos | 1909 | 1954 | m. Flora Pittman |
| 138 | Thigpen | Sarah S | 12/06/1879 | 08/06/1965 | |
| 138a | Thigpen | John A | 06/10/1886 | 10/11/1961 | |
| 189 | (Unmarked) | | | | Initials only: L.C.K. & C.A.K. |
| 182 | (Illegible) | (baby) | | | son of --? |
| 174 | McQueen | Martha B | 09/05/1905 | 09/16/1969 | |
| 174a | McQueen | Lorett K | 12/21/1904 | 07/20/1952 | |
| 179 | Carver | Petronia Elizabeth Dawsey | 12/01/1987 | 02/18/1967 | |
| 184 | Carver | Joe | 01/13/1876 | 02/08/1942 | |
| 190 | Petermann | Johnnie (Freeman) | 12/05/1915 | 01/09/1931 | |
| 361a | Smith | (baby) | 02/06/1911 | 02/06/1911 | infant of Joe Smith |
| 361 | Smith | (baby) | 12/20/1912 | 12/20/1912 | infant of Joe Smith |
| 368 | Smith | (baby) | 02/25/1913 | 02/25/1913 | infant of Joe Smith |
| 377 | Lott | Jesse | 07/30/1872 | 12/14/1933 | |
| 377a | Lott | Lena | 10/08/1870 | 07/29/1948 | |
| 382 | Seal | Eva | 09/22/1929 | 09/24/1929 | |
| 388 | Henley | Mary McQueen | 03/26/1873 | 12/10/1943 | |
| 388a | Henley | John | 09/22/1867 | 07/24/1951 | |
| 394 | Henley | Jeremiah | 1820 | 04/14/1903 | |
| 402 | Henley | Amanda Nelson | 06/30/1830 | 09/08/1891 | |
| 402a | Henley | (baby) | 05/31/1918 | 06/01/1918 | infant of John Henley; named James Fountain? |
| 278 | Evans | (baby boy) | 09/15/1941 | 09/15/1941 | son of Mr & Mrs C.C. Evans |
| 252a | (Unmarked) | | | | |
| 263 | Dawsey | Trecia Holden | 06/02/1893 | 01/01/1930 | |
| 264 | Holden | Malon Joseph | 08/01/1864 | 05/08/1942 | son of Maylon Holden, Sr. and Susanna Lott; m. Louisa V. Kenmar |
| 264a | Holden | Louisa V Kenmar | 01/30/1872 | 10/27/1949 | |
| 278a | McGehee | James Ira | 05/26/1864 | 11/25/1922 | |
| 286 | McGehee | Mary Alice | 04/30/1882 | 06/06/1952 | from old records - no image |
| 286a | McGehee | Emma | 02/27/1870 | 04/09/1922 | no image |
| 293 | Jones | Norris Hermon | 07/10/1910 | 04/13/1969 | |
| 293a | Jones | Louis N | 03/22/1865 | 07/29/1947 | |
| 293b | Jones | Otissa | 06/18/1870 | 02/28/1939 | |
| 401 | Henley | (baby boy) | 11/24/1926 | 11/30/1926 | son of J.Z. and M.E. Henley |
| 400 | Favre | William Chris | 1893 | 1938 | |
| 400a | Favre | Nellie Thompson | 1894 | 05/13/1938 | |
| 407 | Holden | Edward Joseph 'Rufus' | 1905 | 1947 | |
| 407a | Holden | Gideon | 1871 | 1935 | |
| 407b | Holden | Katherine Dorian Dawsey | 03/03/1881 | 1948 | |
| 417 | Holleman | Toulme Victor Sr | 03/13/1869 | 05/09/1948 | |
| 423 | McCarty | Mary A | 09/05/1874 | 05/05/1937 | wife of T.V. Holleman |
| 435 | Frierson | Mary Alice Lee | 07/04/1863 | 12/13/1932 | m. T.J. Frierson |
| 435a | Frierson | Thomas Jefferson | 11/21/1863 | 09/22/1937 | |
| 463 | Frierson | Benjaman Luther | 10/25/1891 | 06/26/1958 | |
| 463a | Frierson | Maude M | 03/11/1892 | 09/15/1958 | |
| 463b | Chadwick | G A | 08/09/1912 | 04/13/1937 | |
| 448 | Smith | Archie B | 01/30/1900 | 08/20/1910 | |
| 448a | Smith | Leona | 04/26/1893 | 10/14/1911 | |
| 206 | (Illegible) | | | | |
| 471 | Parker | Bonnie Lou | 10/18/1958 | 07/08/1974 | |
| 471a | Williams | Eugene | 08/02/1939 | 01/07/1972 | |
| 477 | Williams | Irma | 07/31/1931 | 11/18/1943 | |
| 213 | Frierson | (baby) | 12/27/1918 | 12/27/1918 | infant of --? & Leona |
| 491b | Williams | Buck | 08/24/1874 | 01/28/1949 | not sure, illegible, data from old records |
| 491a | Williams | Reba W | 06/02/1883 | 01/04/1958 | |
| 477a | Willis | Jim | | | no dates |
| 124 | Holden | Earl | 04/14/1910 | 06/26/1997 | |
| 124a | Holden | Oscar Louise Thigpen | 03/12/1918 | 04/09/2001 | |
| 071 | Holden | August Rev. | 08/30/1902 | 06/04/1968 | |
| 071a | Holden | Eugenia 'Didro' Kennedy | 11/13/1907 | 08/30/1996 | |
| 029 | Kellar | Simon | 06/21/1912 | 05/28/1978 | |
| 029a | Kellar | Cleo F | 08/25/1919 | 12/09/2000 | |
| 163 | Kemp | William Otho | 09/20/1911 | 08/06/1992 | |
| 163a | Kemp | Janie Kellar | 09/15/1917 | 05/05/1980 | |
| 311 | Smith | John W 'Tater Pone' | 07/29/1838 | 02/18/1916 | |
| 311a | Smith | Mary A Landrun Johnson | 08/24/1842 | 11/03/1916 | m. John W. Smith |
| 425 | Kellar | A A | 11/20/1860 | 06/01/1914 | |
| 235 | Holden | Belle | 10/15/1908 | 01/23/1939 | m. W.E. Ruffin |
| 715b | Kellar | Luther Turner | 02/19/1917 | 09/14/1978 | Pfc US Army WWII |
| 661b | Kellar | Daniel Leander | 01/08/1906 | 08/24/1976 | |
| 665a | Keller | Louise Shaw | 11/18/1916 | 10/08/1994 | m. 3/2/1932 |
| 634a | Kellar | Ethel | 08/25/1913 | 09/05/1913 | |
| 608a | Kellar | (baby) | 11/23/1922 | 11/23/1922 | Infant Of C.C. And Lola Kellar |
| 756 | Kellar | Flora Edith | 10/04/1908 | 10/23/1986 | |
| 771 | Kellar | Albert L | 09/25/1927 | 01/23/1986 | |
| 771a | Kellar | Ina L | 09/04/1935 | | res |
| 676 | Kellar | James Claude | 10/10/1924 | 03/04/1988 | Cpl Us Army Air Corps |
| 265 | Kellar | Dorothy H. | 1988 | 1988 | |
| 729 | Kellar | Annie Lenora Stewart | 07/23/1902 | 08/07/1954 | |
| 729a | Kellar | Charley Wesley | 06/29/1893 | 12/02/1982 | |
| 783 | Simmons | John W | 09/03/1920 | 03/28/1952 | Reinterred from Gainesville #023 |
| 777 | Whitfield | Olevia Ada | 01/10/1867 | 01/23/1924 | Reinterred from Gainesville #070 |
| 788a | Davis | (infant) | | | Reinterred from Gainesville #213 |
| 788b | Davis | (infant) | | | Reinterred from Gainesville #212 |
| 788 | Davis | (infant) | | | Reinterred from Gainesville #211 |
| 793 | Moolekamp | Lou | | | Reinterred from Gainesville #074 |
| 792a | Moolekamp | Frank | 03/31/1848 | 04/09/1902 | Reinterred from Gainesville #073 |
| 792 | Moolekamp | Molinda | 07/15/1848 | 12/08/1912 | Reinterred from Gainesville #072 |
| 797a | Miller | Abby Lee | 1825 | 06/23/1902 | Reinterred from Gainesville #062 |
| 797b | Miller | Mary J | 12/27/1852 | 01/27/1901 | Reinterred from Gainesville #061 |
| 804 | Miller | Sylvester | 12/22/1846 | 01/08/1877 | Reinterred from Gainesville #060 |
| 804a | Carbonette | James J | 10/24/1854 | 12/07/1937 | Reinterred from Gainesville #225 |
| unk | Dunegan | Claud T | | | from old records - no image |
| 196a | Dean | Willie H | 07/09/1895 | 12/29/1966 | bro. of Aaron |
| 197a | Dean | William Hardy | 07/25/1845 | 01/25/1924 | m. Alice Denty; vault; next to William Dean |
| 197 | Denty | Alice O | 07/28/1856 | 03/21/1926 | m. William Dean |
| 495b | Fleming | James Alexander | 07/07/1818 | 12/25/1894 | Indian & Confederate War |
| 196b | Peterman | Leo Eugene | 12/12/1914 | 12/18/1914 | Reinterred from Gainesville #219 |
| 544a | Seal | Julia Willis | 1795 | 1855 | b. Georgia |
| 628 | McQueen | Gasperine | 01/14/1877 | 03/22/1914 | m. J.A. Alsobrooks |
| 635 | Alsobrooks | John Albert | 04/27/1872 | 04/09/1938 | |
| 620d | Alsobrooks | Lorenzo Downing | 08/14/1848 | 08/28/1919 | mother Sarah Ann Parker |
| 754a | Alsobrooks | Myrtle Stewart | 10/09/1906 | 06/18/1993 | |
| 616b | Alsobrooks | T W | 02/11/1889 | 10/06/1911 | |
| 759a | Andrews | Elwood | 11/11/1927 | | res |
| 759 | Andrews | Loya Lee Alsobrooks | 05/12/1926 | 11/30/2002 | 'Shorty' |
| 211 | Mitchell | Maude D | 10/01/1888 | 03/18/1920 | m. C.L. Asher |
| 186a | Bennett | Andrew Daniel | 06/01/1865 | 03/16/1932 | m. Nancy Smith; wow |
| 180 | Bennett | Lavinia | 05/30/1895 | 02/17/1959 | |
| 186 | Smith | Nancy | 12/18/1869 | 09/24/1934 | m. A.O. Bennett |
| 079a | Billiot | Patricia Ann Dunn | 02/23/1946 | 03/14/2003 | |
| 831 | Bond | James A | 10/31/1942 | 05/23/2001 | |
| 620c | Brown | Carrie Lott | 12/31/1885 | 11/15/1939 | dau of Jesse Jr & Catherine Dawsey Lott |
| 615b | Brown | James Wilton | 08/23/1907 | 05/21/1926 | |
| 123a | Brown | Lula | 1904 | 1991 | |
| 455 | Whitfield | Mary Ann | 01/08/1844 | 03/20/1921 | m. Thornton Brown; dau of Seabron Britt |
| 728a | Brown | Media L | 05/12/1896 | 07/17/1968 | |
| 615a | Brown | Reuben Jr | 03/21/1885 | 05/21/1926 | |
| 609a | Brown | Reuben Sr | 11/15/1846 | 12/07/1925 | m. Surriller Thigpen |
| 615 | Thigpen | Surriller | 09/29/1847 | 07/17/1939 | m. Reuben Brown Sr |
| 451 | Brown | Thornton | 01/13/1833 | 04/11/1925 | m. Mary Ann Whitfield |
| 123 | Brown | Thornton A | 1904 | 1961 | |
| 460a | Brown | Willaby Thornton | 08/08/1870 | 09/26/1897 | |
| 139a | Burks | Emily E Thigpen | 12/08/1872 | 12/20/1948 | |
| 139 | Burks | Leonard Emile | 10/31/1872 | 06/02/1946 | |
| unk | Carver | Joseph Jr | 1913 | 1919 | from old records - no image |
| 656 | Casanova | Charles C | 02/07/1892 | 12/26/1955 | |
| 656a | Casanova | Emma McQueen | 02/02/1898 | 04/29/1997 | |
| 133 | Craft | Horace W | 11/24/1910 | 08/19/1973 | Pfc US Army |
| 065 | Cuevas | Chester Raymond | 02/17/1895 | 08/11/1961 | |
| unk | Cuevas | Edith Dawsey | 01/02/1928 | 10/15/1989 | from old records - no image |
| 072 | Cuevas | Elder Frank | 09/30/1920 | 10/07/1978 | Pvt US Army WWII |
| 066 | Cuevas | (baby girl) | 04/10/1951 | 04/10/1951 | dau of L.C. & Edith Dawsey Cuevas |
| unk | Cuevas | John Norris | 05/24/1896 | 03/1975 | from old records - no image; near 66? |
| 066a | Cuevas | L C Edward | 05/09/1923 | 10/23/1983 | US Navy |
| 065a | Cuevas | Madie Ella Brady | 03/10/1892 | 05/10/1971 | |
| unk | Cuevas | Pearl Floyd | 12/27/1906 | 12/15/1998 | from old records - no image; near 65? |
| 728 | Curry | Jas 'Doc' | 1902 | 1959 | |
| 823 | Davis | Lucille Marie | 02/21/1912 | 09/05/1984 | |
| 194a | Dawsey | Andrew | 10/26/1915 | 11/27/1923 | dates not certain |
| 194 | Dawsey | Elias | 07/30/1903 | 07/04/1915 | |
| 015a | Dawsey | Dallie Carver | 07/16/1906 | 05/02/1985 | |
| 072b | Dawsey | Frances Elizabeth Holden | 03/10/1883 | 12/03/1966 | 'Fanny' |
| 007 | Dawsey | Georgia Lynne | 01/15/1959 | 01/15/1959 | |
| 022 | Dawsey | James Jefferson | 03/31/1889 | 09/04/1973 | |
| 257 | Dawsey | Jessie 'Bud' | 03/23/1886 | 10/16/1949 | |
| 072a | Dawsey | John | 07/07/1893 | 05/05/1964 | Ms Pvt 8Co Recruit Depot WWI |
| 015 | Dawsey | Malon | 01/11/1896 | 09/08/1956 | |
| 055 | Dawsey | Martha E Davis | 05/13/1921 | 12/07/2006 | |
| 097a | Dawsey | Magnolia Fleming | 02/19/1905 | 03/27/1968 | |
| 022a | Dawsey | Nancy Keziah Smith | 01/19/1902 | 06/22/1972 | |
| 098a | Dawsey | Levicy Frierson | 10/15/1885 | 02/03/1969 | |
| 032 | Dawsey | Rufus | 08/20/1837 | 05/11/1913 | Originally buried in Gainesville, then reinterred by NASA in 1964 to Spring Branch, then moved to Turtleskin at an unknown date. |
| 098 | Dawsey | Leonard Rufus | 10/01/1875 | 06/13/1959 | |
| 097 | Dawsey | Rufus Leonard II | 09/20/1907 | 10/01/1990 | |
| 006 | Dawsey | Russell J | 07/21/1934 | 02/28/1991 | |
| 055a | Dawsey | Sammy J | 08/24/1907 | 06/15/1978 | |
| 032a | Dawsey | Susan Elizabeth Painter | 08/09/1850 | 02/06/1923 | Originally buried in Gainesville, then reinterred by NASA in 1964 to Spring Branch, then moved to Turtleskin at an unknown date. |
| 203 | Dawsey | Ulmon | 04/18/1913 | 12/07/1937 | |
| 193 | Dawsey | Irgel London | 01/16/1916 | 04/25/1917 | |
| 050a | Dawsey | William Whitfield "Bill" | 06/23/1880 | 08/13/1948 | |
| 050 | Dawsey | Winnie Mae Kenmar | 10/22/1898 | 11/05/1980 | |
| 196 | Dean | Aaron Otis | 12/15/1898 | 03/21/1968 | bro. of Willie |
| 189a | Dean | Harlan G 'Boogie' Sr | 05/02/1927 | 11/17/2005 | |
| 810 | Dean | Henry D | 04/06/1890 | 06/15/1981 | m. 6/13/1921 |
| 810a | Dean | Lillian P | 06/05/1902 | 08/19/1985 | m. 6/13/1921 |
| 215 | Dean | Oma Pittman | 02/05/1893 | 05/05/1932 | |
| 215a | Dean | Oscar David Sr | 03/03/1888 | 03/01/1981 | Cook US Army WWI |
| 207 | Dean | Thomas Autry | 03/07/1884 | 01/19/1954 | |
| 244(248) | Dedeaux | Louvia Frierson | 10/21/1896 | 10/30/1972 | |
| 137a | Dillard | Edith Mae Dawsey | 04/25/1922 | 05/11/1999 | |
| 137 | Dillard | Johnny Sr | 03/30/1913 | 03/12/1996 | Rev. |
| 081 | Dunn | Cyril James 'Jim' | 12/08/1924 | 06/27/1992 | US Army WWII |
| 802 | Evans | Loyola K | 1914 | 1985 | m. Yvonne |
| 074 | Ferguson | Donna Jones | 06/24/1948 | 01/03/2009 | |
| 506 | Woodcock | Eveline | 1827 | 07/1887 | m. J.A. Fleming |
| 370 | Fleming | Iyone | 11/01/1945 | 12/10/1955 | |
| 359 | Fleming | James A | 12/27/1875 | 08/28/1954 | |
| 506a | Fleming | Mary | 1864 | 06/1871 | |
| 365 | Fleming | Mary L | | 04/19/1946 | age 67 |
| 256 | Frierson | Aaron M | 11/07/1888 | 06/25/1973 | |
| 456 | Frierson | Alton 'Dot' | 10/01/1917 | 06/05/1983 | |
| 107 | Frierson | Archie | 1883 | 1960 | |
| 330 | Frierson | Carrie Angeline Thigpen | 08/01/1885 | 11/01/1972 | m. James D. |
| 762 | Frierson | Clarence P | 01/27/1893 | 03/29/1991 | |
| 082 | Frierson | Clayton | 12/18/1923 | 08/02/1987 | US Army WWII |
| 082a | Frierson | George D | 10/22/1898 | 11/06/1967 | |
| 076 | Frierson | Georgie Etta | 08/02/1958 | 11/26/1960 | |
| 076b | Frierson | Harry Lee Sr | 01/22/1935 | 12/05/1992 | |
| 230a | Frierson | Isaac M | 1893 | 1965 | mason |
| 607a | Frierson | J D | 04/26/1911 | 08/05/1930 | |
| 330a | Frierson | James Daniel | 03/03/1882 | 02/27/1969 | |
| 238a | Frierson | James G | 01/03/1853 | 02/12/1922 | m. Mary E |
| 172 | Frierson | James G | 12/10/1887 | 03/22/1952 | |
| 107a | Frierson | Jennie | 1884 | 1974 | |
| 175 | Frierson | John Edward | 09/22/1912 | 12/04/1986 | |
| 091a | Frierson | Joshua A S | 10/08/1976 | 09/15/1990 | |
| 175a | Frierson | Josie Bilbo | 03/12/1910 | 10/27/1987 | |
| 762a | Frierson | Lucy Victoria | 10/30/1897 | 09/02/1985 | |
| 230 | Frierson | Maggie M | 1901 | 1972 | |
| 238 | Frierson | Mary E | 09/12/1858 | 03/06/1938 | m. James G Frierson |
| 542a | Frierson | Mary Turner Graham | 08/06/1798 | 12/20/1890 | spelled 'Frieson' |
| 088a | Frierson | Molly M C | 02/02/1934 | 09/15/1990 | |
| 330b | Frierson | L Oneal | 03/14/1917 | 11/20/1976 | |
| 525 | Frierson | Randolph 'Ran' | 06/17/1900 | 07/12/1968 | |
| 088 | Frierson | Ray M 'Smoky' | 09/02/1929 | 09/15/1990 | |
| 256a | Frierson | Rosa J | 04/28/1894 | 04/23/1970 | |
| 542 | Frierson | William | 04/02/1797 | 01/11/1869 | spelled 'Frieson' |
| 636c | Garcia | Annette McQueen | 1906 | 1935 | |
| 689b | Garriga | Jannet M | 06/05/1940 | 02/16/2007 | |
| 606 | McQueen | Louisa | 03/13/1884 | 04/13/1906 | m. Samuel J. Haas |
| 627 | Henley | Antoney Hezekiah | 12/29/1865 | 08/14/1915 | |
| unk | Hillhouse | Minis M | | 02/25/1960 | from old records - no image |
| 022b | Hogan | John | 03/30/1878 | 05/30/1958 | |
| 022c | Hogans | Nellie Edna Dawsey | 02/18/1886 | 11/17/1923 | |
| 085 | Hover | Lester R | 08/30/1926 | 10/28/2002 | mason |
| 085a | Hover | Marietta Favre | 08/19/1927 | 02/21/1994 | |
| 085b | Hover | Mary Darline | 07/15/1965 | 07/15/1965 | |
| 091 | Howard | Pamela Ann | 02/03/1952 | 09/15/1990 | |
| 658b | Hyatt | Alma McQueen | 04/09/1911 | 03/08/1993 | |
| 304 | Whitfield | Wheeler | | | Son of Felton & Ida; dates illegible |
| 481a | Whitfield | (infant) | | | infant of S.B. & N.; no dates |
| 585 | Jarrell | Forrest | 03/06/1927 | 06/11/1994 | |
| 146 | Jarrell | Georgia Etta | 01/03/1944 | 08/17/1960 | |
| 133c | Jarrell | Horace | 03/16/1920 | 08/21/2001 | |
| 619 | Jarrell | Mentora Woods | 08/08/1928 | 02/13/1994 | |
| 273 | Jarrell | Mildred Lee | 04/29/1911 | 12/16/1989 | |
| 619a | Jarrell | William C | 09/01/1932 | 03/24/1991 | 'Cotton' |
| 133b | Jarrell | Willie Mae | 01/02/1924 | 10/29/1995 | is same as 133a |
| 707 | Johnson | Jana Jewel Dickerson | 09/14/1982 | 01/30/2008 | |
| 060 | Jones | Corbett Denton Jr | 11/02/1946 | 02/21/1971 | |
| 078 | Jones | Joe Casimere | 04/18/1889 | 1955 | |
| 078a | Jones | Malissa Rester | 04/03/1894 | 07/07/1984 | |
| 147 | Jordan | Dorothy M Thigpen | 1926 | 1961 | |
| 825a | Kellar | Dora Lee | 08/21/1931 | 01/13/2000 | |
| 621 | Kellar | Olivia 'Aunt B' | 08/06/1898 | 07/22/1994 | |
| 825 | Kellar | William H | 09/09/1926 | 05/21/2006 | |
| 820 | Kemp | Roland | 11/10/1949 | 08/21/1966 | |
| 801a | Kennedy | Ada Pearl Carver | 04/20/1926 | 01/01/1969 | |
| 302 | Kennedy | Clarence Obrey 'Toby' | 01/27/1945 | 02/14/2008 | |
| 295a | Kennedy | Pearl Thigpen | 04/15/1883 | 10/16/1967 | |
| 294a | Kennedy | Gladis Hines Miller | 1911 | 09/29/1949 | |
| 294b | Kennedy | Horace Edward | 08/08/1946 | 11/26/2003 | |
| 294 | Kennedy | James Richard 'JR' | 1928 | 1930 | |
| 295 | Kennedy | Louis Bolden | 01/23/1877 | 07/01/1926 | |
| 801 | Kennedy | Prentice Sr | 12/20/1911 | 01/05/2005 | |
| 287 | Kennedy | Ruby | 01/21/1918 | 01/08/1919 | |
| 765 | Kennedy | William Richard | 04/02/1904 | 03/1969 | |
| 820a | Kemp | Marvin Lee | 04/11/1959 | 01/20/1999 | |
| 454a | Ladner | Ervin | 03/12/1914 | | res; son of Laura Wainwright & Sylvester Ladner |
| 454 | Ladner | Mattie Elizabeth Thames | 01/23/1919 | 04/01/1967 | dau of Ruth O. McCarty & William C. Thames |
| 459a | Ladner | Norman | 11/16/1937 | 12/28/2003 | |
| 459 | Ladner | Norman Charles | 05/29/1972 | 08/21/1989 | |
| 272b | Lee | Angeline Kenmore | 12/03/1881 | 10/12/1941 | |
| 715 | Lee | Ardella K | 06/16/1911 | 06/04/1997 | |
| 277 | Lee | Bryan Howard | 12/19/1971 | 01/22/1988 | |
| 240 | Lee | Deborah L | 11/29/1964 | 01/08/1966 | |
| 161 | Lee | Durwood A | 05/15/1961 | 03/30/1982 | |
| 271 | Lee | Elijah Ezar | 05/16/1915 | 01/14/1994 | |
| 255a | Lee | Elizabeth | 1836 | 1912 | |
| 679a | Lee | Ester Esaw | 12/22/1907 | 10/04/1989 | |
| 271a | Lee | Helen Ruffin | 04/30/1919 | 05/07/1993 | |
| 280 | Lee | James Daniel | 11/25/1854 | 11/11/1941 | |
| 270 | Lee | Larry Howard | 1947 | 1968 | |
| unk | Lee | Nancy | 07/19/1807 | 1870 | from old records - no image; near 270? |
| 270a | Lee | Pearl | 1952 | 1968 | |
| 716 | Lee | Thomas Edward | 08/04/1938 | 06/14/2002 | |
| 255 | Lee | Thomas L | 1825 | 1909 | |
| 808 | Lowe | Leon Lofton | 12/23/1912 | 11/04/1999 | |
| 025a | Luxich | Chris | 08/28/1903 | 03/08/1976 | mason |
| 025 | Luxich | May Olivia Dawsey | 09/29/1905 | 03/19/2001 | |
| unk | McArthur | Emelina Cuevas | 06/22/1872 | 09/30/1939 | from old records - no image; next to 422b? |
| 422b | McArthur | Marsoline C | 05/14/1867 | 01/21/1933 | |
| 438 | McArthur | Mary Mathilda McCarty | 1834 | 1926 | |
| 430a | McArthur | Solomon Jr | 09/16/1867 | 10/20/1944 | |
| 434a | McArthur | Solomon Sr | 10/03/1834 | 11/27/1891 | Co D 17 BN Miss Cav CSA |
| 430 | McArthur | Thomas L | 1861 | 1946 | |
| 337 | McDuffie | Doris Lindsey Frierson | 06/26/1928 | 06/14/1986 | |
| unk | McGehee | Ira E | 06/16/1888 | 05/07/1966 | from old records - no image |
| unk | McGehee | Mary Alice Seal | 11/16/1891 | 09/01/1970 | from old records - no image |
| 663 | McQueen | Andrew | 06/15/1909 | 04/18/1953 | Pfc Co C 265 Engr Combat BN WWII |
| 598a | McQueen | Antonette Seal | 10/01/1859 | 03/30/1926 | |
| 650 | McQueen | Archie | 06/11/1901 | 02/22/1973 | |
| 693 | McQueen | Bob | 03/28/1910 | 06/13/1993 | |
| 607b | McQueen | Bobbie | 07/24/1930 | 01/22/1933 | |
| 689 | McQueen | Bobby | 01/11/1937 | 10/09/1980 | |
| 643b | McQueen | Clide Sylvester | 02/10/1926 | 02/13/1926 | |
| 668 | McQueen | Curtis | 1919 | 2009 | |
| 646a | McQueen | Daisy Wilson | 01/31/1921 | 07/08/2001 | |
| 673a | McQueen | Dave O | 07/07/1886 | 06/10/1969 | |
| 612b | McQueen | David O | 11/18/1863 | 05/14/1886 | |
| 655 | McQueen | Dicie Ann Frierson | 07/25/1888 | 07/19/1981 | |
| 671a | McQueen | Doris | 04/09/1925 | 03/18/2011 | |
| 642a | McQueen | Elizabeth | 1872 | 1961 | |
| 642 | McQueen | Erve | 1871 | 1966 | |
| 693a | McQueen | Eunice C | 06/06/1917 | 02/24/2010 | |
| 662a | McQueen | Evelyn P | 11/11/1926 | | res |
| 606a | Steward | Gilley A | 07/10/1852 | 08/27/1906 | m James J. McQueen |
| 735 | McQueen | Horace | 06/10/1892 | 08/13/1964 | |
| 599a | McQueen | (baby girl) | 08/18/1897 | 08/24/1897 | dau of J.T. & Josephine |
| 636 | McQueen | (infant) | 06/26/1898 | 11/04/1908 | infant of W.E. & E.L. McQueen |
| 599 | McQueen | (baby boy) | 05/03/1913 | 05/05/1913 | son of J.T. & Josephine |
| 640 | McQueen | (baby boy) | 11/11/1928 | 11/12/1928 | son of J.H. & Nora |
| 671b | McQueen | J Berkley | 08/10/1948 | 12/06/1993 | |
| 648 | McQueen | J H 'Harve' | 01/02/1904 | 10/26/1974 | |
| 638 | McQueen | James J | 1888 | 1937 | |
| 646 | McQueen | James Julius 'Sleepy' Sr | 06/13/1922 | 07/01/1980 | mason |
| 662 | McQueen | James T 'Sugar' | 02/25/1925 | 11/01/1993 | |
| 735a | McQueen | Jane A | 02/18/1896 | 09/10/1993 | |
| 612 | McQueen | Jas J | 10/30/1849 | 03/17/1914 | |
| 654 | McQueen | Johnnie Franklin | 12/09/1878 | 1945 | |
| 647b | McQueen | Mable Bernice | 08/31/1921 | 04/15/1964 | |
| 647a | McQueen | Mamie A | 02/12/1897 | 01/04/1974 | |
| 593a | McQueen | Marie J | 02/12/1930 | 01/13/1994 | |
| 592 | McQueen | Martha Reva Craft | | 12/09/1959 | from old records, sunken, info hidden |
| 612a | McQueen | Mary | 1827 | 12/03/1903 | wife of William |
| 649 | McQueen | Mary Frances Eason | 02/02/1934 | 03/27/2002 | |
| 663a | McQueen | Mary Jane S | 05/09/1892 | 03/25/1975 | |
| 648b | McQueen | Nora D | 02/27/1900 | 01/14/2001 | |
| 650a | McQueen | Opal | 09/20/1906 | 12/10/1999 | |
| 593 | McQueen | Leroy | 10/11/1922 | 08/01/1999 | |
| 607 | McQueen | Randolph | 03/01/1900 | 08/05/1930 | |
| 673 | McQueen | Revie C | 09/16/1892 | 12/09/1960 | |
| 709 | McQueen | Rod | 08/31/1916 | 09/06/2000 | |
| 663b | McQueen | Rufus J | 05/20/1886 | 05/05/1959 | |
| 647 | McQueen | Van | 06/07/1892 | 02/12/1928 | |
| 650b | McQueen | Verna M Seale | 03/07/1926 | 10/03/1965 | |
| 639 | McQueen | William Jasper 'Tobe' | 12/29/1856 | 04/13/1936 | |
| 636b | Meador | Carl | 09/03/1918 | 09/03/1918 | son of Lillie McQueen |
| 348 | Meador | Brenda 'J' | 10/31/1959 | 10/31/1959 | |
| 355 | Meador | Grace Smith Whitney | 10/09/1934 | 01/03/2003 | |
| 636a | McQueen | Lillie E | 04/28/1894 | 09/03/1918 | m. R.L. Meador |
| 018a | Miller | Arthur R | 09/04/1883 | 04/20/1961 | |
| 018b | Miller | Pearl Marguerita Holden | 02/11/1886 | 09/10/1966 | |
| 285a | Mitchell | Albert C | 07/19/1900 | 11/19/1937 | |
| 744a | Mitchell | Alice Marie | 06/26/1927 | 08/02/1992 | |
| 205 | Mitchell | Ben | 11/13/1865 | 05/05/1943 | |
| unk | Mitchell | Bessie | 1909 | 1975 | |
| 689a | Mitchell | Deborah S | 11/24/1964 | | res |
| 298 | Mitchell | Frank | 11/06/1887 | 05/06/1903 | |
| 195 | Mitchell | Harry J | 06/21/1902 | 08/22/1940 | |
| 268b | Mitchell | Henry | 04/12/1886 | 01/27/1952 | mason |
| 290 | Mitchell | Inez Lydia Williford | 08/29/1863 | 06/29/1908 | m. John W. 2/4/1885 |
| 744 | Mitchell | Ira L | 02/21/1925 | 06/19/1995 | |
| 283 | Mitchell | John William | 04/16/1861 | 04/16/1935 | |
| 285 | Mitchell | Lena | 08/08/1901 | | res |
| 275a | Mitchell | Lydia Lucy | 07/03/1912 | 11/27/1918 | |
| 268a | Mitchell | Marvin L | 07/09/1912 | 02/16/1950 | |
| unk | Mitchell | Mary C | 03/28/1870 | 09/05/1947 | |
| 750a | Mitchell | Obedia T | 10/27/1901 | 09/13/1978 | |
| 298a | Mitchell | Percy | | 09/27/1934 | Ms Pvt 1cl Med Dept |
| 275 | Mitchell | Sarah Watts | 06/18/1888 | 09/04/1948 | |
| unk | Mitchell | T J | 07/07/1885 | 10/25/1922 | |
| unk | Mitchell | Travis B. | 03/08/1870 | 10/09/1953 | |
| 189 | Necaise | Mary C Thigpen | 05/06/1934 | 11/17/1994 | |
| 053 | Norton | Barbara Sue Wood | 12/13/1957 | 12/11/2008 | |
| unk | Perry | Autry Sr | 1923 | 2006 | from old records - no image |
| 162 | Pierce | Joseph B | 07/20/1920 | 12/02/2004 | |
| 814 | Pittman | Edna Mae | 01/23/1916 | 11/22/1972 | |
| 814a | Pittman | Herbert | 06/13/1900 | 10/03/1969 | |
| 627a | Porter | Silona Henley | 02/02/1879 | 09/22/1948 | |
| 152a | Pullman | George Henry | 11/01/1928 | 08/28/2011 | |
| 077 | Rester | Rankin Thomas | 09/17/1902 | 08/19/1971 | |
| 235a | Ruffin | (baby) | 01/13/1939 | 01/13/1939 | Infant of Mr & Mrs W.E. Ruffin |
| 657 | Seale | Douglas H | 02/05/1922 | 12/09/1971 | |
| 019 | Seal | Hiram T | 01/25/1887 | 11/08/1971 | mason |
| 644 | Seal | Jessie Lucille Van Dee | 06/06/1913 | 05/07/1939 | |
| 544 | Seal | John Joseph | 1795 | 1850 | b. S.Carolina |
| 019a | Seal | Lenora L | 04/17/1893 | 11/24/1972 | star |
| 355a | Smith | Eli | 02/17/1903 | 10/10/1934 | |
| 540 | Whitfield | Frances Angaline | 1821 | 1851 | m. Jordan Smith |
| 397a | Smith | James Wiley | 01/21/1844 | 01/25/1894 | |
| 446 | Smith | Jesse Emitt | 01/21/1840 | 12/01/1922 | m. Rebecca Smith |
| 543 | Smith | Jordan | 1812 | 08/05/1886 | b. Georgia |
| 360a | Smith | Leslie Graham | 08/18/1938 | 08/23/2004 | |
| 617a | Smith | Mable Kellar | 10/15/1904 | 09/05/1993 | |
| 446a | Smith | Rebecca J Brown | 01/21/1840 | 12/04/1906 | m. E.J. Smith |
| 550 | Smith | Sarah Jane Frierson | 07/31/1831 | 01/03/1907 | |
| unk | Sones | Virginia Elizabeth | 05/1837 | 1912 | from old records - no image |
| 350a | Stockstill | Angela 'Sissy' | 07/29/1968 | 08/23/1995 | |
| 342a | Stockstill | Arvin Lee 'Dick' | 11/29/1948 | 11/04/1978 | |
| 350 | Stockstill | Arvin Adolph | 08/27/1921 | 03/19/2001 | |
| 342 | Stockstill | Sarah Frierson | 03/16/1919 | 02/08/1981 | |
| 115a | Stockstill | Virgel C | 05/03/1903 | 08/12/1993 | |
| 115 | Stockstill | Willie E | 03/16/1895 | 04/22/1975 | |
| 049a | Strahan | Ida Mae | 06/29/1904 | 04/25/1986 | |
| 049 | Strahan | June D | 06/03/1898 | 08/12/1975 | |
| 741a | Tarver | Ruby O F | 07/15/1931 | 05/18/2008 | |
| 288 | Thigpen | Albert Wilson | 02/24/1877 | 11/03/1951 | |
| 335a | Thigpen | Alice | 01/17/1906 | 12/18/1970 | |
| 148a | Thigpen | Cynthia Ellen Dean | 06/22/1892 | 04/02/1990 | |
| 329a | Thigpen | Daniel A | 03/23/1888 | 11/23/1918 | Pvt Co B 128 Inf WWI |
| 329 | Thigpen | Doc | 10/31/1908 | 01/22/1992 | |
| 258a | Thigpen | Elizabeth M | 05/01/1875 | 01/06/1945 | |
| 281 | Thigpen | Flora Victoria | 11/12/1906 | 02/10/1908 | dau of J.J. & V.M. |
| 335 | Thigpen | Fred C | 07/07/1925 | 07/24/1946 | |
| 155 | Thigpen | George W | 01/06/1914 | 01/29/1999 | |
| 336a | Thigpen | J B | 05/06/1894 | 01/23/1981 | m. Mary Louise |
| 142a | Thigpen | James T | 03/09/1878 | 11/15/1949 | |
| 142 | Thigpen | Janie M | 11/07/1889 | 02/10/1958 | |
| 288a | Thigpen | Jasper | 06/28/1845 | 02/14/1910 | |
| 273a | Thigpen | John J | 02/13/1879 | 04/09/1968 | m. Viola M. |
| 335b | Thigpen | Leo Sr | 02/20/1902 | 03/29/1980 | |
| 266a | Thigpen | Lily | 09/23/1892 | 03/09/1898 | |
| 296 | Thigpen | Mary Aseneth Frierson | 12/02/1855 | 04/29/1934 | |
| 336 | Thigpen | Mary Louise | 03/20/1898 | 05/29/1942 | m. J.B. Thigpen |
| 083a | Thigpen | Orine L | 07/31/1917 | 09/04/1968 | |
| 083 | Thigpen | Roy | 05/31/1910 | 05/14/1990 | |
| 323a | Mitchell | Sarah Adeline | 11/11/1867 | 02/07/1942 | m. WG Thigpen |
| 296a | Thigpen | Susan S | 01/30/1887 | 02/10/1900 | |
| 266 | Thigpen | Tenia | 09/21/1899 | 03/08/1976 | |
| 148 | Thigpen | Thomas Jefferson | 02/23/1888 | 07/05/1971 | |
| 273b | Thigpen | Viola M | 07/13/1881 | 05/10/1975 | m. John J. |
| 144 | Thigpen | William Arville | 09/27/1923 | 03/11/1977 | |
| 258 | Thigpen | William E | 03/27/1871 | 02/27/1968 | |
| 323 | Thigpen | William Graham | 04/23/1968 | 05/27/1939 | mason; m. Sarah Mitchell |
| 731a | Watkins | Mark Elton | 11/10/1940 | 03/10/1996 | |
| 480 | Whitfield | John Francis | 09/28/1840 | 09/27/1928 | |
| 480a | Whitfield | Josephine | 12/10/1847 | 05/19/1930 | |
| 481 | Whitfield | Nancy Bond Byrd | 1815 | 02/15/1860 | 2nd wife of Seabron Britt |
| 475a | Whitfield | Seabron Britt Sr | 02/28/1805 | 09/18/1881 | |
| 474 | Whitfield | William Aultman | 12/05/1829 | 12/30/1911 | |
| 184a | Whitney | Edwenia Carver | 10/21/1908 | 04/07/1990 | |
| 184b | Whitney | Henry Crass 'Bolse' | 02/18/1901 | 03/04/1992 | |
| 053d | Wood | Bennie R | 10/18/1961 | 05/19/1980 | |
| 053c | Wood | Gussie D | 12/13/1921 | 01/18/2000 | |
| 053b | Wood | William D | 01/02/1920 | 10/18/1978 | |
| unk | Woodcock | Jacob | 1798 | 1850 | from old records - no image |
| 368a | Woodcock | James Wiley | 02/16/1898 | 10/23/1902 | |
| unk | Woodcock | Josh | 1914 | 1952 | from old records - no image |
| 362a | Woodcock | S J | 02/04/1902 | 02/17/1902 | |
| 372 | Woodcock | Sarah Emeline | 11/04/1866 | 01/12/1900 | |
| unk | Woodcock | Sarah Maria Lewis | 1805 | | from old records - no image |
| unk | Woodcock | William Alexander | 08/1857 | 07/23/1903 | from old records - no image |
| 016 | Wood | Edith | 10/03/1944 | 01/18/1946 | |
| 016a | Woods | Jessie W Sr | 04/28/1919 | 01/04/1988 | |
| 016b | Woods | Vera E Dawsey | 05/01/1927 | 08/04/1996 | |
| 053a | Young | Janice W | 02/17/1948 | 01/25/1979 | |
| 001 | Davis | Lionel W. | 07/14/1905 | 02/27/1970 | |
| 001a | Davis | Frank Sr | 1889 | 1964 | |
| 002 | Thigpen | William L | 02/20/1894 | 11/20/1959 | |
| 002a | Thigpen | Gertrude C | 03/10/1902 | 05/10/1986 | |
| 003 | Mitchell | William A | 08/31/1874 | 01/22/1959 | |
| 003a | Mitchell | Kattie M | 01/19/1882 | 11/16/1961 | |
| 004 | Doyle | Donald Patrick Sr | 09/04/1926 | 10/05/1997 | m. 6/15/1958 |
| 004a | Doyle | Bernice W | 03/24/1924 | 03/30/1993 | m. 6/15/1958 |
| 005 | Doyle | Matthew Paul | 02/20/1989 | 02/20/1989 | |
| 006a | Dawsey | Mary L | 01/06/1940 | | res |
| 008 | Taylor | Lena Frances | 02/14/1909 | 12/31/1991 | m. 1/8/1928 |
| 008a | Taylor | Arthur Thomas | 03/29/1883 | 10/23/1958 | Ky App1 US Navy; m. 1/8/1928 |
| 010 | Carver | Elizabeth Lee | 10/28/1976 | 02/19/2010 | |
| 011 | Pervis | Bryson M | 02/26/2012 | 02/28/2012 | no image |
| 010a | Carver | Lawrence E Jr | 08/14/1958 | | res |
| 010b | Carver | Patricia Louise | 08/27/1970 | 05/12/1999 | |
| 012 | Carver | Joseph R | 09/15/1911 | 07/29/1959 | |
| 013 | Radcliffe | Norman E | 08/17/1983 | 05/14/2004 | |
| 013a | Radcliffe | Betty C | 09/10/1962 | | res |
| 013b | Carver | Lawrence E | 07/13/1937 | 03/10/1974 | Ms A2C USAF Korea |
| 014 | Sessums | Stanley Otis | | | dates buried |
| 017 | Champagne | Elodie H Davis | 08/06/1917 | 11/02/1994 | |
| 017a | Davis | Levi S | 1907 | 1943 | |
| 018 | Davis | Bonnie Jean | 07/15/1928 | 05/14/1984 | |
| 020 | Carver | Frank E | 06/30/1902 | 03/03/1990 | |
| 021 | Fischer | Adam | 12/27/1936 | 02/03/1967 | Ms S sgt Co C 39 Signal BN Vietnam |
| 023 | Davis | Frank J Jr | 02/19/1923 | 08/14/1981 | US Army WWII |
| 023a | Davis | Cora E | 06/02/1886 | 11/16/1968 | |
| 024 | Kannedy | Emma | 1873 | 1964 | |
| 024a | Kannedy | Francis | 1873 | | res |
| 024b | Davis | C J | 05/28/1946 | 01/26/2007 | |
| 026 | Davis | Jeffery W | 09/09/1966 | 11/05/2004 | "Peanut" |
| 027 | Davis | Jerry | 10/03/1985 | 10/03/1985 | |
| 027a | Davis | Jeremy | 09/08/1986 | 10/31/1986 | |
| 028 | Tracy | Felicia M | 01/19/1990 | 07/04/1992 | |
| 028a | Tracy | Donald D | 07/26/1989 | 04/04/1993 | |
| 028b | Tracy | Ashley L | 12/26/1986 | 01/16/1987 | |
| 030 | Gibson | Louis Dempsey | | | Cpl US Army WWII; dates illegible |
| 031 | Myers | Lewis Edward Jr | | 06/07/1988 | Age 33; funeral marker |
| 033 | Davis | Cornelius | 11/14/1912 | 02/21/2006 | |
| 033a | Davis | Hazel V W | 01/11/1913 | 09/26/1988 | |
| 034 | Jones | Shandi Lynn | 06/01/1988 | 08/27/1988 | |
| 035 | Davis | Ivory P | 01/20/1931 | 02/24/1965 | m. Evelyn |
| 036 | Davis | Evelyn A | 08/28/1932 | 09/10/2007 | m. Ivory |
| 037 | Vincent | Gabriel J | 08/25/1933 | | res |
| 037a | Vincent | Inez D | 03/28/1941 | 11/19/2003 | |
| 038 | Carver | Linda Sue | 10/16/1964 | 09/18/2011 | |
| 039 | Tracy | Edna S | 11/10/1944 | 05/01/2006 | |
| 039a | Fleming | Jason Michael | 11/1975 | 11/1975 | |
| 039a | Tracy | Michael C | 09/30/1931 | | res |
| 040 | Lee | Myrtle | | | no dates |
| 040a | Gibson | Gilbert | 04/12/1914 | 04/15/1962 | |
| 040b | Gibson | Cornelia | 09/07/1890 | 09/25/1974 | |
| 041 | Wilson | Frank Burton | 10/19/1938 | 03/10/1978 | US Army |
| 042 | Luc | Byron Oscar | 1919 | 10/06/1964 | Al Pfc 1FA Training Btry WW II |
| 043 | Davis | (baby girl) | 02/02/1953 | 02/02/1953 | dau of Ivory P. |
| 044 | Carver | James 'Bimbo' | 10/18/1960 | 10/04/2007 | |
| 044a | (Unmarked) | | | | res |
| 045 | Favre | Sadie E | 10/04/1910 | 10/24/1994 | |
| 045a | Favre | Alfred 'Toon' | 02/21/1894 | 05/02/1965 | |
| 046 | Herrington | Yvette C | 09/22/1977 | 06/12/2000 | |
| 047 | Young | Donald A | 12/27/1941 | 04/25/1990 | |
| 051 | Lang | M Arthur | 03/08/1919 | | res? |
| 051a | Lang | Audrey Hart D | 04/19/1921 | 12/13/2004 | |
| 052 | Hatton | Melanie Devin | 09/12/1992 | 09/12/1992 | |
| 054 | Davis | Ronnie Dale | 04/15/1944 | 07/22/1979 | |
| 054a | Davis | Gus | 03/15/1895 | 11/16/1973 | |
| 054b | Davis | Willie M | 01/31/1901 | 02/22/1975 | |
| 055b | Davis | Dave Sr | 03/04/1892 | 03/22/1968 | |
| 055c | Davis | Ruth Elizabeth | 09/10/1891 | 09/14/1970 | |
| 056 | Kenmar | Mary E | 1869 | 1957 | |
| 057 | Craft | Pauline | 1926 | 1963 | |
| 058 | Whitfield | Ray Bob | 06/14/1904 | 11/14/1956 | |
| 058a | Whitfield | Lucille Pearson | 06/29/1906 | 12/04/1984 | |
| 059 | Whitfield | Felton | 01/08/1872 | 09/21/1957 | |
| 059a | Whitfield | Ida L Harris | 11/29/1878 | 12/25/1957 | |
| 061 | Penton | Patricia Ann | 09/30/1950 | 09/30/1950 | dau of Walter & Leagon |
| 062 | Craft | Ralph | 1954 | 1965 | |
| 062a | Craft | Hugh W | 02/12/1921 | 10/22/1967 | Ms Tec4 US Army WWII |
| 063 | Whitfield | Cathy Dianne | 06/20/1951 | 06/21/1951 | dau of Doyle & Wilda |
| 063a | Whitfield | Thomas J | 02/28/1914 | 11/11/1972 | Ms MM3 US Navy WWII |
| 064 | Jones | John D Sr | 03/16/1895 | 09/15/1979 | mason |
| 064a | Jones | Gracie J | 11/09/1894 | 04/28/1975 | |
| 067 | Craft | Ray | 1956 | 1973 | |
| 067a | Craft | Letha | 07/23/1903 | 10/24/1976 | |
| 068 | Jones | Corbett | 02/13/1918 | 01/05/1994 | |
| 068a | Jones | Martha | 06/02/1922 | | res? |
| 069 | Whitfield | John Britt | 02/12/1908 | 06/28/1975 | |
| 069a | Whitfield | Violet L | 03/16/1910 | 11/04/1993 | |
| 070 | Kitchens | Timothy Dale | 01/16/1971 | 01/17/1971 | |
| 073 | Craft | J D | 05/28/1939 | 08/06/1992 | |
| 075 | Dupree | Steffan W | 02/24/1985 | 05/17/1998 | |
| 075a | Osborne | Grady J | 05/24/1947 | 01/14/2002 | US Marine Corps Vietnam |
| 076a | Frierson | Vergie C | 07/24/1938 | | res |
| 077a | Jones | Louis N | 01/17/1928 | 03/20/2000 | |
| 077b | Jones | Dorothy P | 11/25/1930 | 08/21/2005 | |
| 079 | Billiot | Phillip Adam | 11/09/1938 | | res |
| 082b | Frierson | Ester M | 07/05/1901 | 09/18/1998 | |
| 084 | Honeycutt | Ibera Jones | 01/13/1930 | 12/21/1976 | |
| 086 | Pepper | Bonnie R | 10/10/1895 | 04/01/1985 | |
| 089 | Roberson | Elvie D | 1906 | 2002 | |
| 089a | Roberson | Edna B | 1911 | 1970 | no image |
| 090 | Parker | Artis M | 12/29/1925 | 07/25/2009 | |
| 090a | Bilbo | Donnie C | 12/19/1945 | 12/30/1982 | |
| 092 | Tate | Brandy Jo | 10/01/1984 | 10/04/2009 | |
| 092a | Tate | Logan A | 12/25/2005 | 05/10/2006 | |
| 093 | Frierson | Harlon J | 11/30/1921 | 08/28/2011 | |
| 093a | Frierson | Ruth R | 11/30/1921 | | res? |
| 094 | Parker | Daniel Milburn | 08/13/1870 | 03/20/1953 | |
| 094a | Parker | Pearlie Cain | 11/19/1900 | 04/13/1998 | |
| 095 | Barnaba | Gerald A | 10/18/1924 | 09/22/1993 | |
| 095a | Barnaba | Louise W | 09/05/1933 | | res |
| 096 | Kellar | Joe Edward | 01/25/1889 | 01/05/1962 | |
| 096a | Kellar | Mary | 01/23/1886 | 01/12/1959 | |
| 099 | Dunhurst | Oreta | 07/01/1902 | 04/30/1979 | |
| 100 | Henley | James | 03/31/1941 | 04/03/1997 | |
| 100a | Henley | Joann | 02/07/1943 | 11/12/2007 | |
| 101 | Williams | Joseph E | 02/10/1948 | | dod hidden |
| 101a | Williams | Doris H | 08/15/1940 | | dod hidden |
| 103 | Slaven | Lena D | 10/10/1918 | 01/28/2006 | |
| 103 | Slaven | Chester H | 01/21/1917 | 03/16/2000 | Tec4 US Army WWII |
| 105 | Jordan | Patsy Loraine | 04/11/1950 | 01/19/1999 | |
| 105a | Jordan | James Kenneth | 05/27/1943 | 05/17/1994 | |
| 106 | Smith | Edward Sonny | 06/04/1940 | 02/28/1981 | |
| 108 | Frierson | James Leon | 08/05/1911 | 07/30/1986 | |
| 108a | Frierson | Jessie M | 12/23/1913 | 08/04/1978 | |
| 109 | Jordan | Bertie Mitchell | 03/09/1914 | 2001 | funeral marker illegible |
| 109a | Mitchell | Johnnie K | 03/31/1888 | 01/18/1973 | mason |
| 110 | McCarty | Kenneth G | 11/09/1904 | 09/01/1984 | |
| 110a | McCarty | Irene C | 09/11/1913 | 02/08/2008 | |
| 112 | Mitchell | Agnes S | 10/23/1892 | | res? |
| 113 | Varnado | Felix Isam | 01/19/1891 | 03/10/1955 | Ms Pvt US Army WWI |
| 114 | Wheat | (baby) | 01/22/1981 | 01/22/1981 | dau of Mr & Mrs Terry Wheat |
| 117 | Imbornone | Darrell David | 02/07/1942 | 10/09/1969 | La Ssg Co B 16 Inf Vietnam BSM AM ARCOM PH |
| 117a | Ahlers | Patricia Asher | 04/26/1922 | 12/21/2003 | |
| 118 | Wheat | Lenard A | 05/05/1949 | 05/06/1949 | |
| 118a | Wheat | Michael | 02/04/1957 | 12/24/1972 | |
| 119 | Mitchell | Sebron B | 1922 | 2010 | |
| 120 | Imbornone | Dominick J. III | 10/12/1945 | 07/15/2006 | |
| 120a | Hale | Chris | | | no dates |
| 120b | Hale | Helen Asher | | | no dates |
| 120c | Hale | Bruce | | | no dates |
| 121 | Parker | Virgil G | 1924 | 1985 | |
| 121a | Parker | Ava Lee | 1929 | 1977 | |
| 122 | Wheat | Iva Lee | 07/23/1930 | | res |
| 122a | Wheat | Elsie D | 04/30/1927 | 04/24/2003 | |
| 125 | Bennett | Joshua Advell | 06/09/1976 | 06/10/1976 | |
| 126 | Mitchell | Willie E Jr | 08/06/1929 | 08/07/2009 | |
| 128 | Pittman | Flora Bennett | 1917 | 2006 | m. Joel Amos Bennett |
| 129 | Craft | Leslie Tex | 08/11/1927 | 09/06/1973 | |
| 129a | Reynolds | Luther P | 04/30/1921 | 08/13/1953 | Ms Tec5 3207 OM Serv Co WWII |
| 130 | Craft | Lexie Ray | 09/14/1954 | 09/14/1954 | |
| 130a | Craft | J T | 11/15/1921 | 10/25/1944 | Ms Pfc 337 Inf 85 WWII |
| 131 | Beyer | Charles | 04/17/1887 | 08/13/1948 | |
| 131a | Whitfield | Lillie | | | m. Charles Beyer; dates hidden |
| 132 | Kellar | Sylvia Nell | 08/08/1943 | 08/08/1943 | dau of H.C. & Sallie Kellar |
| 133a | Craft | Willie Mae | 01/02/1924 | 10/29/1995 | is same as 133b |
| 134 | Bennett | Julian Wayne | 12/26/1951 | 11/12/2007 | |
| 134a | Bennett | Kathy D | 03/14/1955 | | res |
| 135 | Baham | Cleo Reynolds | 05/09/1925 | 06/24/2003 | |
| 135a | Baham | Leonard Joseph | 09/30/1925 | 02/17/1993 | Ssml3 US Navy WWII |
| 136 | Craft | John W | 09/28/1896 | 07/23/1971 | |
| 136a | Craft | Aretha M | 03/07/1901 | 05/15/1976 | |
| 140 | Whitfield | Stephen Ray | 09/24/1948 | | res |
| 140a | Whitfield | Frances Walker | 10/08/1918 | 06/18/2005 | |
| 140b | Whitfield | Willie Ray | 10/27/1911 | 01/22/1991 | |
| 141 | Willets | Edward Lee | 1883 | 1952 | |
| 141a | Willets | Bernelia B | 1889 | 1966 | |
| 145 | McQueen | Abraham | 07/01/1888 | 07/07/1955 | |
| 145a | McQueen | Lillie Josephine | 01/27/1888 | 09/18/1948 | |
| 146a | Jarrell | James Ira | 04/03/1933 | | res |
| 149 | Frierson | William L | 1869 | 1945 | |
| 149a | Frierson | Martha Ann | 1869 | | res |
| 150 | McCrory | Tressie Ainsworth | 08/13/1936 | | res |
| 150a | McCrory | Billy Everette | 03/19/1932 | 01/06/2010 | mason |
| 152 | Pullman | Karen Diane | 10/09/1951 | 06/18/2005 | |
| 152b | Pullman | Joyce H | 10/09/1926 | | res |
| 154 | Doyle | Rita Favre | 01/19/1901 | 10/16/1992 | |
| 154a | Doyle | James Joseph Jr | 08/27/1919 | 10/19/1983 | |
| 155a | Thigpen | Rosa Lee | 01/06/1921 | 08/24/2008 | |
| 156 | McArthur | Cynthia Adele | 10/03/1951 | 07/28/1968 | |
| 157 | McArthur | Wilber Joseph | 09/23/1850 | 09/25/1950 | |
| 158 | Welsh | William P | 02/16/1868 | 03/22/1942 | |
| 159 | Krier | Bertha S | 1890 | 1978 | |
| 162a | Pierce | Ellen Kemp | 04/04/1947 | | res |
| 167 | Guidry | Eloise K | 06/19/1920 | 09/01/1993 | |
| 168 | Guidry | Floyd | | | no image |
| 169 | Sellers | Myrtle McQueen | 10/27/1906 | 04/20/2001 | |
| 170 | Dawsey | Hazel K | 11/20/1932 | 09/10/1990 | |
| 170a | Kemp | Buddy Wesly | 02/02/1940 | 01/04/1945 | |
| 171 | Watson | Luther P | 03/28/1863 | 12/21/1955 | |
| 171a | Watson | Sarah E | 06/29/1853 | 03/16/1942 | |
| 172a | Frierson | Ruby C | 09/22/1897 | | res |
| 173 | Allen | James Frank | 08/17/1893 | 06/25/1942 | Al Pvt 1Cl 321 Inf 81 Div |
| 176 | Allen | Maggie | 06/10/1885 | 05/17/1945 | |
| 176a | Alsobrooks | Emma | 1876 | 1966 | |
| 177 | Reynolds | Dewitt T Sr | 1884 | 1954 | |
| 177a | Reynolds | Callie | 1889 | | res |
| 178 | Langenbacker | Frank J | 07/02/1906 | 04/06/1976 | |
| 178 a | Langenbacker | Martha Evelyn | 08/04/1921 | 10/28/2005 | |
| 181 | Allen | Rudolph | 12/29/1920 | 11/20/1981 | |
| 181a | Allen | Karen | 11/28/1950 | 11/29/1950 | |
| 183 | Langenbacker | James A | 1950 | 1951 | |
| 185 | Bennette | Easter | 03/29/1902 | 02/27/1936 | m. H. Asher |
| 187 | Asher | Janie | 12/22/1903 | 05/16/1927 | m. Lamar J. Asher |
| 188 | Welsh | Edward S | 02/10/1869 | 09/29/1920 | |
| 188a | Welsh | Emily | 08/24/1863 | 12/16/1941 | |
| 191 | Jordan | J Howard | 1914 | 1993 | |
| 191a | Jordan | Ineta B | 1917 | 1998 | |
| 191b | Jordan | James H | 1943 | 1944 | |
| 192 | Dawsey | (baby) | | 08/10/1939 | infant of A.M. & Hazel Dawsey |
| 198 | Blackmon | (infant) | | | |
| 198a | Blackmon | (infant) | | | |
| 198b | Blackmon | Nolan | 08/19/1922 | 11/19/1925 | |
| 198c | Blackmon | (infant) | 01/16/1921 | 01/16/1921 | inf of L.G. & Nancy Blackmon |
| 198d | Blackmon | (baby) | | | |
| 199 | Dawsey | Aaron | 10/03/1911 | 08/08/1941 | m. Hazel Ruffin |
| 200 | Slaven | Richard Howard | 02/07/1966 | 09/01/1990 | |
| 201 | Bilbo | Alzine | 03/07/1905 | 04/04/1937 | |
| 202 | Dawsey | Claud | 07/08/1923 | 07/27/1944 | Ms Pvt 8 Marines 2 Marine Div WWII |
| 204 | McQueen | Emily J | 1864 | 1947 | |
| 204a | McQueen | J Frank | 1857 | 1947 | |
| 204b | McQueen | James Randolph | 10/26/1883 | 02/06/1926 | |
| 205a | Mitchell | Aby | 01/23/1872 | 06/29/1931 | |
| 206a | Williams | Kimberly V | 10/25/1961 | 05/17/1965 | |
| 209 | Slaven | Christopher Michael | 04/06/1975 | 12/08/2000 | |
| 210 | McQueen | Albert S | | | dates buried; Ms WWII |
| 210a | Brown | Thomas W | 03/15/1872 | 07/18/1951 | b. London, England |
| 212 | Asher | Charles Louis | 1894 | 1968 | |
| 213a | Frierson | Leona M | 11/12/1893 | 02/03/1966 | |
| 214 | LeJune | Kevin Coon | 09/19/1954 | 01/25/1993 | |
| 215b | McDuffie | John Henry | | | dates buried; WWII |
| 217 | Asher | Janie | 06/22/1875 | 07/28/1940 | |
| 217a | Asher | Mike | 10/12/1862 | 09/11/1932 | wow |
| 218 | Carroll | Martin(?) | | 1921 | Illegible; 1921 appears to be only date |
| 218a | Carroll | Thomas J | 03/06/1885 | 1962 | Practically illegible |
| 219 | Frierson | William Wiley | 01/29/1895 | 10/17/1973 | |
| 219a | Frierson | (baby) | | | no image |
| 219b | Frierson | (baby) | | | no image |
| 220 | Kainga | Gavin Kade | 04/03/2001 | 04/10/2001 | |
| 221 | LeJeune | Jackson St Pierre | 02/23/1907 | 04/25/1973 | |
| 221a | Thigpen | Dianne Jo | 07/08/1945 | 07/08/1945 | dau of Bruce L. Thigpen |
| 222 | Mitchell | Margaret Emily | 05/26/1897 | 06/21/1968 | |
| 222a | Mitchell | Benjamin Ira | 10/11/1894 | 02/13/1935 | |
| 223 | Eastering | Alma E | 02/20/1907 | 03/21/1988 | |
| 223a | Eastering | Troy A | 03/11/1913 | 07/10/1978 | |
| 224 | Frierson | Robert R | 03/04/1929 | 03/13/1998 | |
| 225 | LeJeune | Lois L | 03/14/1920 | 11/1997 | |
| 225a | Thigpen | Bruce Lamar | 12/28/1913 | 10/23/1950 | |
| 225b | Johnson | Charles William | 03/10/1945 | 08/14/1990 | |
| 226 | McDuffie | James Carson | 12/22/1899 | | dod hidden |
| 227 | McQueen | Barbara Lee | | 1940 | dau of Lamar & Cynthia |
| 227a | McQueen | Bobby Lamar | | 1942 | son of Lamar & Cynthia |
| 228 | Mitchell | (baby boy) | 10/22/1944 | 10/22/1944 | son of Roland & Mary |
| 229 | Stewart | Robert | 11/30/1924 | 10/20/1926 | son of J.T. & Eva |
| 229a | Stewart | (infant) | | 11/23/1814 | Infant of Mr & Mrs J.T. |
| 229b | Stewart | Thelma | 01/10/1916 | 07/05/1933 | |
| 229c | Stewart | Thomas J | 06/10/1891 | 10/06/1965 | |
| 231 | Willis | Sophia K | 07/24/1847 | | dod hidden |
| 231b | Willis | Thomas E 'Champ' | 01/07/1852 | 02/18/1928 | |
| 232 | Russ | S P | 1867 | 1937 | |
| 233 | Johnson | Levi | 1902 | 1964 | |
| 233a | Johnson | Birdie Mae | 1909 | 1980 | |
| 234 | Edge | Debra D | 12/11/1961 | 12/20/1961 | |
| 239 | Willis | Savilla S | 06/08/1885 | 02/15/1919 | |
| 239a | Willis | John Lee | 04/21/1875 | 05/28/1965 | |
| 241 | McDuffie | David W Sr | 12/08/1921 | 07/09/1982 | |
| 242(246) | McQueen | Clara Frierson | 01/28/1886 | 09/17/1931 | |
| 242a(246a) | McQueen | Frank | 06/14/1882 | 12/30/1930 | |
| 243a(247a) | Frierson | (infant) | 1934 | 1934 | son of Mr & Mrs Isaac Frierson |
| 244a(248a) | Dedeaux | Earlee | 05/30/1926 | 11/30/2005 | |
| 246(250) | Ruffin | Charles | 1880 | 1964 | |
| 247 | Cooney | Neva C | 09/01/1892 | 07/23/1974 | |
| 249 | Nores | Marsha Kennedy | 10/19/1952 | 04/04/1976 | |
| 250a | Ruffin | Velma J | 1892 | 1977 | |
| 251 | (Unmarked) | | | | old funeral marker |
| 252b | (Unmarked) | | | | |
| 253 | McQueen | Leymon Odell | 07/22/1924 | 08/18/1924 | |
| 254 | Craft | Pearl | 1887 | 1919 | |
| 259 | Frierson | Randle | 08/10/1900 | 07/31/1967 | |
| 260 | Frierson | Evyonne | | | no dates |
| 260a | Frierson | (baby) | 10/15/1907 | 10/15/1907 | infant of A.M. & R.J. Frieson [sic] |
| 261 | Frierson | Barney | 06/26/1912 | 07/23/1913 | |
| 262 | Ruffin | Odelia A | 09/01/1912 | 12/01/1947 | |
| 262a | Ruffin | Harley H | 02/24/1912 | 02/05/1976 | |
| 265 | Kenmar | Lucien | 09/21/1883 | 11/11/1920 | spelled 'Kemmar' |
| 265a | Kenmar | Mary Jane | 04/29/1890 | 12/31/1971 | |
| 267 | Frierson | Rudolph | 08/01/1926 | 04/23/1937 | |
| 268 | Craft | Stonewall Jackson | 10/15/1862 | 10/10/1938 | mason |
| 269 | Frierson | Dorothy | | | no dates |
| 269a | Frierson | Donald | | | no dates |
| 272 | Kenmore | Joseph | 08/21/1886 | 11/13/1899 | |
| 272a | Kenmar | Mary A | 03/06/1844 | 10/28/1915 | |
| 274 | Craft | Magnolia W | 01/11/1862 | 04/12/1938 | |
| 274a | Craft | Ward | 06/10/1882 | 03/21/1897 | |
| 276 | Frierson | Hubert Cotton | 02/21/1928 | 04/18/1998 | US Army Korea |
| 279 | Kenmar | John A | 04/01/1865 | | res; m. Mary Carver |
| 279a | Carver | Mary | | 04/21/1939 | age 67; m. John A Kenmar |
| 280a | Moffett | Lillian Estell | 01/10/1909 | 05/28/1970 | |
| 282 | Nellums | Emit Edward | 08/14/1911 | 01/09/1912 | |
| 282a | Nellums | Bevie Audrey | 10/07/1912 | 02/18/1913 | |
| 282b | Nellums | Alonzo Boyde | 11/28/1914 | 12/24/1914 | spelled 'Nellams' on tomb |
| 284 | (Illegible) | | | | old slab, double grave |
| 289 | Nellums | Jas. Ezeakiel | 09/14/1903 | 08/14/1915 | spelled 'Nellams' on tomb |
| 289a | Nellums | Lewis E | 1918 | 1926 | |
| 292 | Burk | Michael Gene | 12/22/1964 | 12/25/1964 | |
| 292b | Burk | Elizabeth | 10/03/1936 | 11/12/1965 | dau of Willie Quave (#301) |
| 297 | Nellums | Alonzo B | 1878 | 1943 | |
| 297a | Nellums | Rebecca A | 1885 | 1947 | |
| 300 | (Unmarked) | | | | old slab |
| 301 | Quave | Willie | 02/29/1908 | 12/13/1967 | La Pvt Co D Inf BN WWII |
| 301a | Quave | Rose Ella | 04/16/1898 | 08/18/1993 | |
| 303 | (Unmarked) | | | | coping |
| 303a | (Unmarked) | | | | coping |
| 304a | (Unmarked) | | | | coping |
| 304b | (Unmarked) | | | | coping |
| 305 | (Unmarked) | | | | coping |
| 308 | Wood | Henry A | 03/14/1888 | 01/18/1964 | |
| 308a | Wood | Emily J | 09/14/1876 | 06/21/1949 | |
| 309 | Doyle | William Jackson | 11/27/1960 | 04/05/1997 | "Tink" |
| 309a | Jackson | James Carl | 07/21/1918 | 01/06/1964 | |
| 310 | (Unmarked) | | | | coping |
| 310a | Miller | Rufus | 1906 | 1937 | |
| 314 | McCarty | Andrew Buck | 11/30/1917 | 10/09/1987 | |
| 314a | McCarty | Lavon K | 09/06/1922 | 10/20/1972 | |
| 315 | Wood | Bertice | 11/03/1915 | 02/26/1918 | |
| 316 | Jackson | Harold Morgan | 10/14/1895 | 03/10/1956 | |
| 316a | Jackson | Luther Arnold | 11/05/1921 | 03/01/1951 | |
| 316b | Jackson | Mary Mildred | 11/30/1919 | 08/13/1937 | |
| 317 | Miller | Andrew | | | no dates or hidden |
| 322 | McCarty | John W | 05/17/1870 | 12/27/1958 | |
| 322a | McCarty | Eliza J | 10/22/1879 | 02/06/1959 | |
| 322b | McCarty | Harriet | 03/22/1853 | 04/11/1927 | m. Ruebin(?); spelled 'McCarthy' |
| 322c | Frierson | Mary | 03/25/1868 | 09/11/1933 | spelled 'Frieson' |
| 324 | Frierson | W G | 09/01/1913 | 12/07/1918 | |
| 325 | Stockstill | Fannie | 09/22/1903 | 12/14/1941 | |
| 326a | Jackson | (infant) | | | child of W.B. & E.; dates illegible |
| 331 | Lindsay | Douglass M | 01/01/1897 | 09/27/1898 | |
| 331a | Kellar | Sallie | 03/11/1923 | 12/01/2002 | |
| 332 | Jackson | Ellen | 09/25/1870 | 01/15/1944 | |
| 332a | Jackson | Myrtle | 10/21/1908 | 03/28/1929 | |
| 333 | Hermer | Mrs Elliott G | 06/03/1857 | 11/07/1898 | |
| 333a | (Illegible) | | | | small slab |
| 337a | Lindsey | Danny | 12/28/1960 | 05/03/2003 | |
| 338 | Frierson | Claude J | 02/22/1911 | 12/20/1928 | |
| 339 | Jackson | Leo J | 12/01/1901 | 01/31/1982 | |
| 339a | Jackson | Essie M | 02/28/1922 | | res |
| 339b | Alsobrooks | Sarah A | | | dates illegible; spelled 'Allbrooks' |
| 340 | Craft | Frances | | 12/12/1929 | dob illegible |
| 340a | Craft | Whit | 01/12/1865 | 07/1927 | |
| 343 | Frierson | (baby) | 05/20/1914 | 05/20/1914 | Infant of E.M. & S. Frieson [sic] |
| 343a | Alsobrooks | (infant) | 08/20/1918 | 01/03/1919 | top part missing |
| 343b | Alsobrooks | Range | 12/12/1908 | 06/04/1909 | |
| 344 | (Unmarked) | | | | no image |
| 344a | Frierson | Mary | 01/18/1856 | 07/21/1895 | m. J.A. Frierson |
| 345 | Guidry | Jackie J | 07/04/1948 | | res |
| 346 | Guidry | Julie S | 04/09/1954 | 02/21/2006 | |
| 347 | Meador | Thomas Jefferson | 12/24/1928 | 12/18/2011 | Pfc US Army Korea |
| 349 | Smith | Joseph H | 02/14/1901 | 08/14/1963 | Ms Pvt US Army WWII |
| 349a | Cottrell | Ellen | 05/13/1839 | 03/23/1916 | |
| 351 | Frierson | Alice Violie | 04/25/1884 | 07/19/1902 | |
| 352 | Frierson | Manuel M | 04/09/1887 | 01/24/1969 | |
| 352a | Frierson | Celia E | 09/03/1891 | | res? |
| 353 | Smith | George W | 02/22/1905 | 03/16/1974 | m. 1936 |
| 353a | Smith | Rose D | 12/18/1911 | 06/01/1997 | m. 1936 |
| 353b | Smith | Louis | 10/15/1945 | 10/15/1945 | son of George & Rose |
| 354 | Smith | Cruso | 10/23/1908 | 08/18/1962 | |
| 354a | Smith | Louise | 08/03/1915 | 03/15/1971 | |
| 354b | Smith | J P | 12/28/1932 | 11/10/1939 | |
| 356 | Smith | Joseph D | 1875 | 1943 | |
| 356a | Smith | Mary M | 1869 | 1912 | |
| 357 | Frierson | Charley | 05/19/1891 | 04/06/1907 | |
| 357a | Frierson | J A | 02/18/1848 | 09/05/1932 | |
| 358 | Frierson | Benton Jay | 03/20/1931 | | res? |
| 360 | Smith | Clinton Graham | | | date hidden; 13 months 8 days |
| 361b | Smith | (baby) | | | infant of Joe Smith; 04/08/???? |
| 362 | Smith | Henry C | 11/12/1902 | 07/10/1905 | |
| 363 | Scarbrough | Pearlie V Frierson | 05/13/1894 | 03/03/1939 | |
| 366 | (Unmarked) | | | | old funeral marker |
| 367 | Smith | Henry S | 07/01/1877 | 02/09/1942 | |
| 367a | Smith | Alzenia D | 07/15/1879 | 06/14/1941 | |
| 369 | Kellar | Joseph Cook | 08/02/1921 | 06/26/1990 | |
| 370a | Fleming | J A | 1912 | 1988 | |
| 371 | Frierson | Nancy A | 03/13/1849 | 04/12/1925 | |
| 375 | Fleming | Joseph J | 05/12/1911 | 09/19/1992 | |
| 375a | Fleming | Doris E | 04/18/1918 | 05/17/1999 | |
| 376 | Fleming | Rose Myra | 06/10/1939 | 10/26/1939 | |
| 378 | Whitfield | Frances Ann | 02/03/1864 | 08/19/1938 | m. Everett E Mitchell |
| 381 | McQueen | Charles Robert | 11/23/1947 | 11/12/1986 | mason |
| 381a | McQueen | Donna Maria Patania | 04/30/1912 | | res |
| 383 | Conerly | Frances Inez | 08/02/1915 | 03/18/1917 | dau of J.L. & Allie |
| 384 | Mitchell | Everett E | 02/12/1861 | 04/25/1927 | |
| 384a | Mitchell | Buford E | 04/04/1901 | 04/06/1916 | |
| 387 | (Unmarked) | | | | coping with sand |
| 389 | Henley | Charles A Sr | 01/21/1894 | 07/21/1950 | |
| 390 | Mitchell | Vera Elizabeth | 02/11/1888 | 05/28/1926 | m. Jordan Smith |
| 391 | Davis | Margret A | 10/30/1863 | 08/28/1895 | |
| 393 | (Unmarked) | | | | |
| 393a | (Unmarked) | | | | |
| 393b | (Unmarked) | | | | |
| 395 | (Unmarked) | | | | baby |
| 396a | (Unmarked) | | | | no image |
| 397 | Smith | Harriett | 08/02/1844 | 03/11/1924 | |
| 399 | (Unmarked) | | | | |
| 402b | Henley | Leona Victoria | | | dau of J & M Henley; no dates |
| 402c | Henley | (baby girl) | | | dau of J (or U?) & ? Henley; no dates |
| 404 | Smith | Wiley | 08/06/1873 | 05/22/1956 | |
| 404a | Smith | Josephine | 04/01/1873 | 05/06/1935 | |
| 405 | Smith | Pearl | 04/22/1895 | 04/16/1898 | |
| 408 | Pittman | Melvin | 11/18/1941 | 11/08/2011 | |
| 408a | Pittman | Timothy W | 1975 | 2009 | |
| 409a | Keyser | Walter F | 09/16/1896 | 05/30/1989 | |
| 409b | Keyser | Jewel M | 03/21/1905 | 08/21/1977 | |
| 410 | Whitfield | John E | 01/10/1824 | 03/08/1892 | mason |
| 410a | McCarty | Sarah A | 02/04/1830 | 02/09/1901 | m. John E Whitfield |
| 411 | Pittman | (baby boy) | | | son of Edgar & Esther |
| 411a | Pittman | (baby boy) | | | son of Edgar & Esther |
| 412 | Fleming | (infant) | 1886 | 1886 | infant of J.J. & L. Fleming |
| 412a | Fleming | Lourinda | 04/19/1881 | | age 15 years |
| 412b | Fleming | H L | 08/27/1875 | | age 15 years |
| 412c | McArthur | Thomas J Jr | 12/21/1870 | 11/16/1953 | |
| 414 | Whitfield | Clifton | 08/16/1904 | 12/21/1904 | |
| 415 | Smith | Rushia | 09/30/1909 | 04/09/1918 | |
| 418 | McFadden | Rebecca Cochran | 01/02/1809 | 03/13/1885 | m. Enoch McFadden |
| 418a | McFadden | Enoch | 01/08/1808 | 09/14/1872 | m. Rebecca Cochran |
| 419c | (Illegible) | Georgia --? | | | dob 1852? |
| 420 | Pittman | Elton D | 09/28/1932 | 02/17/1980 | |
| 420a | Pittman | Mary Evelyn | 07/29/1938 | 11/28/1994 | |
| 421 | Pittman | Esther C | 11/04/1909 | 12/09/1975 | |
| 421a | Pittman | Edgar | 12/27/1901 | 10/26/1975 | |
| 422 | Dossett | Alice R | 1865 | 1919 | |
| 422a | Dossett | Alexander | 1864 | 1941 | |
| 424 | Carre | Amelia Wingate | | 10/24/1862 | age 71 |
| 426 | Pittman | Welmon | 02/07/1903 | 07/04/1981 | mason |
| 427 | McArthur | Thomas J | 10/29/1841 | 07/12/1892 | |
| 427a | McArthur | Matilda | 09/22/1847 | 11/11/1915 | |
| 428 | Johnson | Addie E | 1886 | 1946 | |
| 428a | Johnson | Sidney J | 1877 | 1940 | |
| 429 | Smith | Raymond P | | 01/15/1941 | age 9? |
| 431 | McArthur | Lott | 02/25/1873 | 02/14/1960 | |
| 431a | Schallers | Jessie McArthur | 07/19/1910 | 12/10/1937 | |
| 431b | McArthur | Mary Wheat | 04/17/1880 | 10/28/1957 | |
| 432 | Reck | William C | 06/22/1867 | 02/17/1945 | |
| 433 | Johnson | Fred Jordan | 12/13/1912 | 07/28/1985 | Pfc US Army WWII |
| 434 | Smith | Oscar F | | 1952 | dob hidden |
| 436 | Reck | Annie Mae | 07/25/1918 | 01/21/1938 | m. James P. Pittman |
| 436a | Ladner | Florence | 06/04/1864 | 10/10/1954 | |
| 437 | Johnson | Mary V | 03/18/1883 | 09/26/1922 | |
| 437a | Spiers | Elridge | 09/26/1922 | 08/11/1923 | |
| 439 | Johnson | Sarah Ann | | 08/30/1926 | age 72 |
| 440 | Reck | Jesse Calhoun | 08/02/1907 | 03/17/1996 | |
| 441 | Brown | (baby boy) | | | twin brother of Annie |
| 442 | Johnson | J J | 06/19/1849 | 06/06/1917 | |
| 443 | Bryant | Elizabeth P | 1924 | 1996 | |
| 443a | Palmer | Henry | | | no dates; same stone as E.P. Bryant |
| 444 | Fuentes | Wilma Loechel | 12/17/1939 | 09/07/2003 | |
| 445 | Ladner | David Wilmon | 04/27/1939 | 06/24/2011 | |
| 447 | Smith | Lott | | 02/01/1916 | age 83 |
| 447a | Smith | Mary Ann | 07/24/1844 | 02/27/1913 | |
| 449 | Willis | Edward | | | dates buried |
| 450 | Thames | William C | 10/22/1868 | 02/16/1941 | |
| 450a | Thames | Ruth M | 01/17/1886 | 10/25/1956 | |
| 452 | Williams | Robert | 01/24/1912 | 08/02/1913 | |
| 453 | Willis | Sidney Albert | 1898 | | dates buried; WWI |
| 453a | Willis | William | | | dates buried; WWI |
| 456a | Frierson | Bonita D | 08/31/1924 | | res |
| 457 | Willis | Margrette | 12/18/1867 | 03/01/1924 | |
| 458 | Willis | (infant) | | 1915 | son of John & Savilla |
| 460 | Landrum | Elsie | 02/01/1878 | 08/20/1902 | dau of T Landrum & Mary Brown |
| 461 | McCarty | Louis | | | dates buried |
| 461a | Thames | Bonie Marie | 09/22/1922 | 04/08/1923 | |
| 462 | Frierson | Thomas Lloyd | 12/04/1937 | | res |
| 462a | Frierson | Elizabeth Lusco | 08/27/1944 | | res |
| 464 | Willis | Jack | 02/12/1906 | 11/02/1906 | |
| 465 | Estain | Dylan Thomas | 03/19/2006 | 02/04/2008 | |
| 466 | Garrotte | Helen Pauline Williams | 03/11/1937 | 08/11/1907 | |
| 467 | (Illegible) | | | | |
| 467a | (Illegible) | | | | |
| 467b | (Unknown) | | | | stone says 'Unknown' |
| 468 | Brown | Nancy Jane | 02/14/1864 | 08/26/1881 | dau of T & M.A. |
| 468a | Brown | Leonard Wilson | 01/21/1880 | 12/15/1881 | son of T & M.A. |
| 468b | Brown | (two sons) | | | unnamed sons of T & M.A. in grave with 468a |
| 469 | Thames | Wilmer L | 04/25/1927 | 04/24/1928 | |
| 469a | Thames | Lora Pittman | 05/14/1904 | 03/04/1929 | |
| 469b | Thames | William E | 01/16/1900 | 04/12/1929 | |
| 470 | Williams | Louis | 01/24/1903 | 05/04/1973 | |
| 470a | Williams | Annie E | 10/20/1908 | 05/15/1980 | |
| 472 | Joles | James O'Neal | 03/19/1961 | 05/23/1987 | 'Mushie' |
| 472a | (Illegible) | | | | |
| 473 | (Illegible) | | | | |
| 475 | (Illegible) | | | | |
| 476 | Williams | Eliza | 12/25/1906 | 06/09/1977 | dau of Calvin Buck & Reba Williams |
| 478 | (Illegible) | (infant) | | | old stone |
| 478a | (Illegible) | (infant) | | | brick coping |
| 479 | Burks | Mrs L | | | dates illegible |
| 481 | (Illegible) | | | | |
| 482 | Whitfield | Albert or Robert | 1850 | 1874 | |
| 482a | McCarty | Mary Louisa | 09/10/1890 | 05/26/1967 | |
| 483 | Williams | Debbie Ann | 07/18/1957 | 01/02/1958 | |
| 483a | Seal | (infant) | 08/1887 | 08/1887 | son of Andrew & Berther |
| 484 | Williams | Calvin | 08/24/1876 | 01/27/1950 | |
| 485 | Willis | (Illegible) | 10/29/1874 | 11/03/1884 | dod not certain |
| 485a | Willis | J B | 08/18/1882 | 08/18/1882 | |
| 486 | Willis | (Illegible) | | | |
| 487 | (Unmarked) | | | | broken stone |
| 488 | Brown | (baby) | | | infant of T & M Brown |
| 488a | Whitfield | Luther | 05/03/1883 | 01/09/1947 | |
| 489 | McCarty | James Thomas | 01/25/1877 | 02/09/1940 | |
| 490 | Williams | W L 'Pete' | 1914 | 1978 | |
| 490a | Williams | Ruby E | 1919 | 2010 | |
| 492 | Willis | Clara L | 11/12/1881 | 07/05/1921 | |
| 493 | (Illegible) | | | | |
| 493a | Willis | (infant) | | | son of W.J.?; 1/29/05? |
| 494 | Carroll | Clemency | 1835 | 1922 | |
| 494b | Carroll | B T | 1855 | 1937 | |
| 494c | Carroll | B W | 1833 | 1863 | |
| 495 | Willis | Thomas | 09/02/1788 | 09/26/1865 | m. Anna Fleming |
| 495a | Fleming | Anna | 12/14/1787 | 10/17/1875 | m. Thomas Willis |
| 497 | Carver | Myrtis Alinda | 08/12/1945 | 09/10/1999 | |
| 498 | (Unmarked) | | | | sand |
| 498a | Carver | Mildred J | 01/05/1916 | 06/25/2011 | |
| 498b | Carver | Conley A | 07/08/1916 | 08/15/1976 | |
| 499 | Williams | Aubrey | 1921 | 1948 | WWII |
| 500 | Whitfield | Lawrence E | 04/03/1911 | 07/07/1938 | |
| 500a | Whitfield | Mary C | 09/25/1885 | 12/20/1957 | |
| 501 | Whitfield | Warren | 02/21/1890 | 02/21/1982 | |
| 502 | Stewart | Sarah Bilbo | 08/12/1852 | 06/15/1937 | m. J.J. |
| 503 | Stewart | J J | 07/08/1849 | 11/19/1933 | m. Sarah Bilbo |
| 504 | Stewart | Sarah E | 1878 | 1965 | |
| 504a | Stewart | John M(atson) | 10/12/1870 | 12/17/1910 | same as 510 |
| 505a | Adams | Eva May | | | dates buried |
| 506b | Fleming | Arthur Daniel | 08/06/1853 | 08/22/1921 | |
| 508 | Blackwell | Morris | 11/20/1826 | 12/06/1911 | |
| 508a | Blackwell | Andrew M | 05/28/1876 | 03/16/1957 | |
| 509 | Burch | Emma | 09/23/1915 | 09/07/1995 | |
| 509a | Burch | Mose | 02/03/1915 | 03/23/1971 | |
| 510 | Stewart | John Matson | 10/12/1870 | 12/17/1910 | same as 504a |
| 510a | Stewart | Mary Ann | | 1899 | m. John Stewart; dates hidden |
| 510b | Blackwell | Rebecca | 1833 | 1914 | |
| 514 | Blackwell | William P | 06/02/1855 | 07/18/1935 | |
| 514a | Blackwell | Salena S | 03/26/1869 | 11/15/1974 | |
| 515 | Burch | William M | 11/08/1917 | 03/01/1980 | |
| 515a | (Illegible) | | | | |
| 517 | Blackwell | Ralph M | 01/31/1901 | 11/21/1993 | |
| 518 | Burch | Gladden Scott | 01/23/1953 | 09/02/2011 | 'Booker' |
| 518a | Burch | Joan Welch | 09/22/1944 | | res |
| 519 | (Illegible) | | | | broken headstone |
| 520 | Stewart | Lucy M | 02/11/1892 | 05/06/1892 | dau of John M. & Sarah E; surname not sure |
| 523 | Blackwell | Louis | 04/1923 | 05/1948 | |
| 524 | Kennedy | Barbara B | 05/05/1939 | | res |
| 524a | Blackwell | Robert | 09/19/1911 | 08/14/1973 | |
| 524b | Blackwell | Mary Alice | 08/12/1921 | 12/26/1999 | |
| 525a | Frierson | Onnie T | 12/07/1902 | | res |
| 525b | Frierson | Ommie Marie | 04/04/1933 | | dod on funeral marker, illegible |
| 526 | Steward | Malisa Ann | 1853 | 09/20/1870 | |
| 526a | Stewart | Laura E | 05/15/1880 | 10/14/1880 | dau of J.J. & Sarah |
| 526b | Stewart | Nancy J | | | dau of J.J. & Sarah; dates illegible |
| 526c | Stewart | Eliza A | 08/11/1881 | 08/19/1881 | dau of J.J. & Sarah |
| 529 | Mars | Esther | 03/03/1809 | 11/08/1884 | m. Albert |
| 529a | Mars | Florence D | 1929 | 1961 | |
| 530 | Mars | Susan Gail | 07/19/1954 | 03/05/2011 | |
| 531 | Tate | Gary W | 12/14/1958 | 07/21/1985 | |
| 532 | Smith | (infant) | | | son of J & ? Smith; illegible |
| 533 | Stewart | (baby) | 06/07/1897 | 06/07/1897 | dau of J.J. & Sarah |
| 533a | Smith | Rebecca | 12/22/1870 | 12/28/1881 | dau of James W Smith |
| 534 | Smith | Sarah E | 1866 | | dau of James W Smith; illegible |
| 537b | (Unmarked) | | | | slab, broken headstone |
| 538 | Carter | Maggie M | 06/22/1888 | 05/07/1945 | |
| 538a | Carter | Robert Connely | 10/30/1881 | 07/24/1965 | |
| 538b | Betuel | James Rene | 1963 | 2000 | |
| 539 | Smith | Thomas J | | | son of Thomas & Mae; 18 months |
| 540a | Smith | (baby girl) | | | dau of Jordan & Jane |
| 541 | Smith | (baby boy) | | | son of Jordan Smith |
| 545b | Burks | (baby boy) | 11/22/1988 | 11/22/1988 | son of Edward Burks |
| 546 | Weems | Prince Warren | 02/14/1867 | 10/31/1940 | |
| 546a | Weems | Julia Elizabeth | 05/12/1870 | 12/23/1942 | |
| 546b | Weems | Dora | 09/26/1901 | 03/31/1965 | |
| 547 | (Unmarked) | | | | old stone |
| 548 | Alsobrooks | Gracie | 02/06/1902 | 05/27/1918 | |
| 549 | Frierson | Elijah Jake | | 03/20/1907 | date not certain |
| 550a | Willis | (baby) | | | illegible |
| 550b | Willis | (baby) | | | illegible |
| 571 | (Unmarked) | | | | |
| 572 | (Illegible) | | | | old stone |
| 573 | Thigpen | Gracie May | 12/12/1898 | 02/12/1900 | dau of J.T. & S.C.; hard to read |
| 574 | Frierson | Harvey | 06/10/1895 | 02/12/1943 | |
| 575 | Thigpen | Ruther? | 12/28/1914 | 03/15/1915 | son of J? & S.J. |
| 576 | Frierson | Nancy | | 1906 | |
| 576a | Frierson | Willis | | | illegible |
| 576b | Frierson | Sullivan | | | illegible |
| 577 | Willis | Johnnie | 12/04/1893 | 03/11/1895 | |
| 577a | (Illegible) | | | | slab, missing headstone |
| 577b | Willis | (illegible) | 11/01/1902 | 09/28/1904 | possibly headstone for 577a |
| 578a | Mitchell | C C | 1858 | 1925 | 'Buddy'; m. Sarah J. |
| 579 | Mitchell | Eliza J | 02/14/1884 | 02/24/1912 | |
| 580 | Frierson | Amanda | 12/18/1889 | 04/15/1935 | m. A.C. Smith |
| 581 | Frierson | (baby) | | | otherwise unmarked |
| 582 | (Illegible) | Mary Angeline | 1873 | | dau of ---? |
| 583 | (Unmarked) | | | | slab, missing headstone |
| 585b | Jarrell | Louise L | 09/19/1897 | 10/01/1992 | |
| 586 | Smith | R G | 02/14/1907 | 10/20/1907 | |
| 587 | (Illegible) | | | | broken headstone |
| 587a | Welch | James Thomas | 01/06/1882 | 08/10/1908 | |
| 587b | Welch | James A | 01/07/1859 | 03/22/1914 | |
| 589 | Smith | Hester K | 1843 | 03/06/1888 | m. William Smith |
| 589a | Smith | William S | 04/16/1841 | 04/03/1926 | m. Hester |
| 590 | Frierson | Edward M | 1875 | 1875 | |
| 593b | McQueen | Gary Wayne | 12/17/1950 | 09/12/1974 | |
| 594 | Alsobrooks | Velmer | 05/19/1930 | 04/12/1941 | |
| 594a | Alsobrooks | Pearl C | 08/27/1914 | 11/11/1937 | |
| 594b | Alsobrooks | Elmer Enoch | 05/13/1907 | 07/02/1983 | |
| 595 | (Illegible) | Elizabeth? | | | dau of ---?; date 1800? |
| 595a | (Illegible) | | | | broken |
| 595b | Murphy | Emanuel M | | | Co A 1 La Inf SP AM War |
| 596 | Whitfield | Floyd | 03/12/1894 | 05/04/1895 | no image |
| 596a | Watson | Myrtle Lee | 01/21/1915 | 08/08/1916 | |
| 597 | Frierson | Emoline D | 09/14/1854 | 11/10/1887 | m. W.W. Frierson |
| 597a | Frierson | William W | 01/31/1848 | 02/22/1890 | |
| 600 | McQueen | James W | 11/03/1941 | 11/03/1941 | |
| 600a | McQueen | Roger D | 01/03/1944 | 01/03/1944 | |
| 601 | Stogner | Advell | 05/30/1925 | 12/27/1988 | |
| 601a | Stogner | Delma M | 07/13/1930 | | res |
| 602 | Alsobrooks | James Levi | 07/19/1904 | 11/24/1904 | |
| 603 | (Illegible) | Julia A | | | 'Our Mother'; wife of Da-- --oyer; dob Sept; dod March |
| 603a | Brown | Joseph | 05/28/1870 | 05/25/1891 | |
| 604 | (Illegible) | (infant) | | | old funeral marker |
| 605 | (Illegible) | | | | 'Our Brother' |
| 605a | Alsobrooks | Dolphas L | 04/06/1882 | 11/16/1905 | |
| 608 | Kellar | (baby) | 12/05/1921 | 12/05/1921 | Infant Of C.C. And Lola Kellar |
| 609 | Martin | Rebecca Virginia Brown | | 10/17/1910 | age 37 |
| 610 | Donalson | Arthur | 05/11/1907 | 10/09/1907 | |
| 611 | Alsobrooks | Zeno | 03/22/1878 | 06/10/1900 | |
| 611a | Alsobrooks | Mary M Patch | 11/13/1849 | 10/06/1905 | |
| 614 | McQueen | Lena Mae | 06/26/1922 | 08/30/1998 | |
| 614a | McQueen | Prentiss | 10/16/1916 | 08/20/1986 | |
| 616 | Alsobrooks | (twins) | 1882 | 1882 | twins of L.D. & Mary M. |
| 616a | (Illegible) | | | | slab, broken headstone |
| 618 | Woods | Lydia B | 01/07/1899 | 09/12/1991 | |
| 618a | Woods | George W | 04/01/1899 | 09/30/1968 | |
| 618b | (Unmarked) | | | | |
| 619b | Welch | Sylvia Frierson | 06/26/1918 | 10/31/1937 | |
| 620 | Irwin | Katherine Warden | 02/21/1932 | 06/04/2004 | |
| 620a | Barber | Antoinette M Carroll | 10/13/1965 | 11/16/2010 | |
| 620b | Henley | Rener Gasperian | 02/25/1902 | 10/24/1912 | son of Antoney H. & Silona |
| 622 | (Illegible) | | | | old funeral marker |
| 622a | (Illegible) | | | | old funeral marker |
| 622b | (Illegible) | | | | old funeral marker |
| 623 | Frierson | Stella | | 1911 | illegible |
| 623a | Frierson | Tom | 1887 | | dod illegible |
| 624 | Story | David Dwayne | 10/04/1977 | 11/08/1988 | |
| 624a | Marshall | Arthur Delane | 03/15/1950 | 07/02/1970 | 'Butch' |
| 625 | Marshall | J D | 10/05/1922 | 06/01/1992 | |
| 626 | Bennett | Nellie --? | | 07/15/1927 | dob illegible; dau of Mr & Mrs W. Bennett |
| 630 | Woods | Nancy Fleming | 08/20/1910 | 08/31/1944 | |
| 630a | Woods | James Monroe | 10/30/1905 | 10/13/1996 | |
| 630b | Woods | Geneva O | 01/15/1924 | 09/12/1991 | |
| 631 | Marshall | Johnie Lee | 05/05/1925 | 05/20/1979 | m. 12/1/1945 |
| 631a | Marshall | Josie Edna | 03/22/1929 | | res; m. 12/1/1945 |
| 631b | Marshall | Donnie Ray | 07/09/1956 | 04/10/1992 | |
| 631c | Marshall | Angel Lynn | 06/09/2011 | 06/09/2011 | dau of Donnie Jr & Bianca |
| 632 | Marshall | Edward M | 1891 | 1982 | |
| 632a | Marshall | Lily H | 1899 | 1980 | |
| 632b | Marshall | Deering Dorn | 08/03/1931 | 08/03/1931 | |
| 633 | Bennett | Vetta H | 01/28/1905 | 01/12/1996 | star |
| 633a | Bennett | William B | 04/16/1894 | 03/11/1954 | mason |
| 634 | Welch | (baby boy) | 01/09/1941 | 01/09/1941 | son of Roy Welch |
| 635a | Seale | Andra | 10/14/1954 | 10/15/1954 | |
| 635b | Seale | Theodore A | 10/14/1954 | 10/19/1954 | |
| 637 | (Illegible) | | | | funeral marker |
| 641 | Frierson | Hugh | 02/07/1921 | 02/08/1921 | son of D.H.? |
| 644a | Seal | Alan David | 09/21/1958 | 10/05/1958 | |
| 645 | Marshall | Jerry A | 08/14/1937 | 02/05/1988 | |
| 645a | Marshall | Terry Mark | 11/25/1963 | 09/03/1997 | |
| 645b | Verdin | Sidney Joseph | 11/16/1921 | 02/24/2005 | Sgt US Army WWII |
| 651 | Marshall | Booth E | 1917 | 1988 | |
| 651a | Marshall | Lorraine M | 1927 | | res |
| 652 | Scarbrough | Ophie | 03/29/1895 | 01/06/1948 | m. J.R. |
| 652a | Scarbrough | James Richard | 04/16/1889 | 08/29/1957 | wow; m. Ophie |
| 653 | Williams | Luther | 06/01/1935 | 11/04/2011 | |
| 655a | Wheat | Georgia Kay | 06/15/1953 | 04/08/1977 | |
| 656b | Frierson | Earl | | | dates hidden |
| 658 | Roach | Addie Henley | 03/31/1897 | 06/26/1962 | |
| 658a | Roach | Lankford | 08/26/1890 | 06/05/1973 | |
| 659 | Williams | Betty Rose | 05/13/1940 | 09/10/2002 | |
| 659a | Hyatt | Larry 'Fuzzie' | 01/22/1944 | 05/11/2000 | |
| 660 | Wheat | Norman Stanley | 05/05/1949 | 06/05/1988 | |
| 660a | Wheat | Clarence | 08/11/1913 | 11/15/2009 | |
| 661 | Frierson | Henry Jack | 1890 | 1968 | |
| 661a | Frierson | Katie A | 1899 | 1970 | |
| 664 | McQueen | Josephine Fleming | 08/20/1875 | 10/21/1957 | |
| 664a | McQueen | James Thomas | 03/12/1875 | 06/18/1947 | |
| 665 | Wheat | Myra I | 06/07/1920 | 08/28/2007 | |
| 666 | Keller | Shawline | 03/07/1942 | 03/07/1942 | dau of D.L. & L.L. Keller |
| 667 | Kellar-Guillot | Ryan Nolan | 02/17/2009 | 02/17/2009 | |
| 667a | Kellar | Johnny Frank | 04/04/1952 | 05/02/2007 | |
| 667b | Kellar | Jessica P | 01/21/1964 | 01/21/1964 | |
| 669 | Brown | Green Thomas | 1866 | 1947 | |
| 669a | Brown | Mary Elizabeth | 1868 | 1954 | |
| 670 | Kellar | Paul D | 01/18/1960 | 07/20/2006 | |
| 670a | Kellar | Evelyn Marshall | 10/26/1925 | 03/17/1997 | |
| 671 | (Unmarked) | | | | |
| 672 | (Illegible) | | | | funeral marker |
| 674a | Whitney | Leila Hazel | 02/13/1898 | 10/26/1974 | |
| 676a | Kellar | Dorothy H | 01/18/1911 | 04/19/1976 | |
| 677 | McPherson | Ray | 06/14/1959 | 09/20/2001 | |
| 677a | McPherson | Otis Jr | 10/21/1948 | 06/15/1981 | |
| 678 | McQueen | Harry H | | | dates buried; S Sgt US Army WWII |
| 678a | Frierson | Herbert Dale | 04/11/1957 | 10/12/1974 | |
| 679 | Lee | Leila Mae | 07/30/1919 | | dod hidden |
| 679b | Lee | Helen N | 10/13/1923 | 09/06/1995 | |
| 680 | (Illegible) | | | | funeral marker |
| 680a | Thigpen | Gary Edward | 01/22/1947 | 03/10/2002 | Sp5 US Army Vietnam |
| 681 | Croney | Floyd E | 08/17/1932 | | res |
| 681a | Croney | Ruby L | 04/06/1935 | | res |
| 681b | Croney | Steve | 07/30/1956 | 05/25/2004 | |
| 681c | Croney | Debbie N | 11/02/1957 | | res |
| 682 | Kellar | Oliver E | 04/16/1929 | | res |
| 682a | Lee | Sylvia Kellar | 01/20/1956 | | res |
| 682b | Lee | Henry Joe | 12/06/1950 | | |
| 683 | Frierson | Herbert | 10/07/1927 | 02/23/1990 | Pfc US Army Korea |
| 683a | Frierson | Jeffery Glynn | 04/12/1961 | 05/03/1985 | |
| 683b | Frierson | Dorethea Johnson | 09/23/1934 | 09/24/1979 | 'Rita' |
| 684 | Frierson | Elbert E | 01/05/1925 | 02/25/1945 | Ms Pfc 7 Cav Div WWII |
| 684a | Frierson | E Jake | 06/04/1903 | 07/05/1970 | |
| 684b | Frierson | V Elvira | 04/04/1920 | 04/19/1993 | |
| 685 | Frierson | Herman 'Tip' | 03/15/1931 | 03/18/1988 | |
| 686 | Daniels | Everett Monroe | 11/13/1930 | 02/05/1996 | |
| 687 | Rist | Travis James | 08/08/2001 | 09/10/2003 | |
| 687a | Rist | James Grant | 04/17/1911 | 03/10/1984 | |
| 687b | Rist | Alma Mae | 04/27/1910 | 04/18/1973 | |
| 688b | Lee-Blizzard | Annie Belle C | 07/23/1908 | 05/14/1993 | |
| 690 | Frierson | William (Rod) | 07/07/1887 | 11/29/1956 | |
| 690a | Frierson | Effie L | 02/01/1889 | 10/15/1970 | |
| 691 | Curry | Daisy L | 06/05/1895 | 04/28/1987 | |
| 692 | Thigpen | Landen Heath | 11/17/2009 | 12/13/2009 | |
| 694 | Frierson | Thomas J | | | no dates or buried |
| 695 | Durapau | Alvin | 1921 | 1996 | |
| 695a | Durapau | Opal Elaine | 1926 | 1977 | |
| 695b | (Unmarked) | | | | wood coping |
| 695c | (Unmarked) | | | | wood coping |
| 696 | Treat | John E | 12/17/1892 | 08/19/1980 | |
| 696a | Treat | Florence M | 07/14/1893 | 05/12/1981 | |
| 697 | Smith | Samuel E | 10/14/1896 | 03/19/1985 | |
| 697a | Smith | Sarah W | 03/23/1891 | 08/03/1983 | |
| 697b | Smith | Irene Elizabeth | 09/20/1933 | 04/05/2007 | |
| 698 | Frierson | Chester Arthur | 1889 | 1957 | |
| 698a | Frierson | Edwina Burks | 03/22/1897 | 06/16/1976 | |
| 699 | Smith | John Ira | 03/22/1977 | 06/16/1998 | son of Buddy & Diane |
| 700 | Crawley | Tony C | 04/11/1978 | 04/10/1999 | |
| 701 | Joles | Dashanna N | 2005 | 2005 | |
| 701a | Davis | Deloris | 07/18/1921 | 10/07/1985 | |
| 702 | Frierson | Viola S | 11/12/1926 | 04/14/1970 | |
| 702a | Frierson | Gary Wayne | 08/08/1947 | 07/29/1967 | Sp5 2 Woc Co Trp Brigade |
| 703 | Meitzler | Clyde W | 10/24/1910 | 09/02/1990 | |
| 703a | Meitzler | Lois T | 06/08/1919 | 05/13/2010 | |
| 704 | Christen | Robert 'Bert' III | 08/08/1986 | 11/01/2005 | |
| 705 | Frierson | Charlene | 03/02/1943 | 03/13/2001 | |
| 705a | Frierson | J L | 01/21/1935 | 03/28/2010 | |
| 706 | Frierson | Frank James | 05/07/1922 | 10/14/1979 | |
| 707a | Johnson | Eli Mason | 10/10/2007 | 10/20/2007 | |
| 708 | Frierson | D H | 03/14/1888 | 05/28/1969 | mason |
| 708a | Frierson | Daisy M | 09/01/1892 | 11/28/1971 | |
| 712 | Dickerson | Martha Jody | 1951 | 2008 | |
| 712a | Tarver | Steven Dakota | 10/20/1993 | | dod same or hidden? |
| 712b | Keller | Rufus | 08/20/1917 | 12/26/1989 | |
| 713 | Frierson | Horatio Jr | 07/13/1924 | 01/24/1986 | |
| 713a | Frierson | Barbara G | 05/03/1928 | 06/29/2008 | |
| 714 | Craft | Hubert | 11/18/1909 | | dod hidden |
| 714a | Craft | Myree | 09/16/1917 | 02/10/1997 | |
| 714b | Pittman | George W | 1904 | 1994 | |
| 717 | Anderson | Henry Joseph Jr | 09/09/1958 | 01/12/1984 | father of Wendy & April |
| 717a | Anderson | Rosalee | 09/11/1927 | 06/27/1984 | |
| 718 | Brannon | Melvin | 11/26/1908 | 04/10/1978 | |
| 718a | Brannon | Aline H | 11/09/1909 | 05/28/1984 | |
| 718b | McManus | Rudolph J. | 11/29/1909 | 05/02/1969 | |
| 718c | McManus | Mattie H | 08/03/1907 | 12/11/1990 | |
| 719 | Michot | Allen Paul | 03/14/1920 | | res |
| 719a | Michot | Dora Louise | 09/07/1915 | 08/25/1997 | |
| 719b | Pittman | Melton | 1870 | 1958 | |
| 719c | Pittman | Sarah | 1876 | 1948 | |
| 719d | Pittman | Harry V | 04/29/1915 | 03/09/1970 | |
| 720 | Ashmore | Yvonne | 07/12/1953 | 03/08/1956 | |
| 720a | Thigpen | Charles | 08/22/1895 | 08/24/1971 | mason |
| 720b | Thigpen | Rose K | 02/03/1895 | 12/05/1986 | |
| 721 | Frierson | Gus H | 06/03/1896 | 11/26/1974 | |
| 721a | Frierson | Ether A | 11/07/1898 | 06/08/1986 | |
| 722 | Fleming | Christopher M | 12/22/1976 | 05/20/1993 | |
| 723 | Nugent | James Ira Jr | 1942 | 01/27/2012 | |
| 723a | Nugent | Lora F | 1945 | | res |
| 724 | Fleming | George M | | | dates buried |
| 724a | Fleming | Eleanor T | | | dates buried |
| 724b | Adams | Shanna Nikole | 11/19/1989 | 08/14/2008 | |
| 724c | Fleming | Milford Mack | 10/14/1946 | 10/31/1958 | |
| 725 | Thigpen | Hubert M | 08/10/1907 | 10/15/1978 | |
| 725a | Thigpen | Estelle K | 08/30/1908 | 12/08/1988 | |
| 725b | Thigpen | Terrell Reed | 07/22/1951 | 08/19/1993 | |
| 726 | Phillips | Joseph F | 04/06/1932 | | res |
| 726a | Phillips | Carrie Susie | 07/03/1932 | 07/26/2009 | |
| 727 | Anderson | Henry Joseph Sr | 03/28/1905 | 12/27/1972 | |
| 727a | Phillips | Johnny Ray | 03/29/1970 | 03/30/1970 | |
| 730 | Frierson | Henry Joseph | 05/23/1910 | 01/24/1980 | |
| 730a | Frierson | Dorothy Marie | 10/24/1921 | 07/30/1951 | |
| 731 | Mitchell | Jodiy Janelle | 07/23/1950 | | res |
| 732 | Smith | Hursey Thomas | 03/03/1918 | 07/11/1978 | |
| 732a | Smith | Claire Boyle | 06/06/1920 | 02/01/1983 | |
| 732b | Starks | Bertha S | 1911 | 1960 | |
| 733 | Nunley | Forrest Lunsford | 09/24/1920 | 10/24/1989 | |
| 735b | Frierson | J C | 09/12/1942 | 05/10/1983 | |
| 736 | Craft | Eugenia 'Jean-o' | 04/10/1900 | 03/23/1995 | |
| 736a | Rousseaux | John H | 1926 | 2006 | |
| 737 | Halford | Hiram B | 09/13/1953 | 08/25/1995 | 'Lucky' |
| 737a | Halford | Gayle F | 07/28/1950 | 08/06/2003 | 'Bunny' |
| 738 | Smith | Charles R Sr | 1884 | 1964 | |
| 738a | Smith | Nellie McCarty | 1889 | 1979 | |
| 739 | Frierson | Lavell | 10/15/1921 | 12/14/2001 | |
| 739a | Frierson | Adell K | 06/27/1924 | 06/29/2009 | |
| 740a | Skelton | Zada Sproul | 05/10/1905 | 11/02/1980 | |
| 741 | Tarver | Richard E | 03/08/1930 | | res |
| 742 | Craft | Alan | 02/03/1896 | 02/14/1958 | |
| 742a | Rousseaux | Rosa Lee C | 08/14/1922 | 05/25/2005 | |
| 742b | Craft | S J 'Jack' | 10/03/1943 | 01/04/1992 | |
| 743 | (Unmarked) | | | | small granite slab |
| 743a | (Unmarked) | | | | small granite slab |
| 745 | Netto | David Bruce Jr | 11/19/1984 | 11/19/1984 | |
| 745a | Netto | Barbara Jean | 10/11/1959 | 10/11/1959 | |
| 745b | Netto | James L (Jimmie) | 11/14/1951 | 07/19/2010 | |
| 746 | Frierson | Nellie M | 1911 | 2003 | |
| 746a | Frierson | Eli | 04/14/1906 | 11/30/1960 | |
| 747 | Penton | Donald R | 11/30/1940 | 03/20/1996 | |
| 747a | Penton | Barbara C | 04/28/1947 | | res |
| 747b | Penton | Thornton Brown | 11/04/1942 | 12/30/2003 | |
| 748 | Merrifield | Constance Denise | 12/24/1964 | 12/28/1964 | |
| 749 | Frierson | Shane Lavelle | 08/06/1973 | 07/19/1991 | |
| 751 | Netto | Myles N | 05/12/1923 | 01/02/1995 | |
| 751a | Netto | Shirley Garcia | 02/26/1926 | 02/21/2010 | |
| 752 | West | William C | 10/23/1941 | | dod buried |
| 752a | West | Bessie G | 09/22/1948 | | res |
| 753 | (Unmarked) | | | | funeral marker |
| 753a | Watkins | Roger L | 08/15/1923 | 12/21/1980 | US Army WWII |
| 755 | Gerald | J D | 05/15/1926 | 07/28/1992 | |
| 755a | Gerald | Annie Mae | 09/17/1921 | 01/28/2002 | |
| 755b | Gerald | Michel Ray | 08/30/1956 | 11/02/1968 | |
| 756a | Spears | Debra Carol | 09/30/1951 | 05/22/1952 | |
| 757 | Penton | Columbus B | 04/05/1916 | 12/02/2011 | |
| 757a | Penton | Jackie O 'Mollie' Davis | 04/17/1919 | 06/23/1991 | |
| 758 | Frierson | Eric Trae | 05/01/1977 | 05/03/1977 | |
| 758a | Frierson | (baby boy) | 02/05/1971 | 02/05/1971 | son of Geneva & Houston |
| 760 | Windhorst | Johnnie Brewer | 08/09/1932 | 02/08/1981 | |
| 760a | Gerald | Jessie D | 01/05/1961 | 10/09/2010 | |
| 761a | Miller | M Jane Craft | 08/08/1891 | 01/10/1978 | |
| 763 | Frierson | Becky | 01/14/1973 | 01/14/1973 | |
| 764 | Frierson | Wilson W | 06/04/1917 | 08/13/1981 | |
| 764a | Frierson | Ethel K | 11/28/1920 | 09/04/2008 | |
| 765a | Kennedy | Rena J | 1911 | 1977 | |
| 766 | Kelly | Annie L | | | no dates |
| 766a | Kelly | Stephen C | | | no dates |
| 767 | Kellar | Beulah F | 03/13/1929 | 08/11/2010 | m. 3/15/1947 |
| 767 | Kellar | Alton A 'Dolph' | 10/05/1919 | 11/05/1997 | mason; m. 3/15/1947 |
| 768 | Pardo | Charles J | 03/18/1914 | | res |
| 768a | Pardo | Thelma K | 08/26/1919 | 03/04/1969 | |
| 769 | Frierson | Tommy D | 04/03/1945 | | res |
| 769a | Frierson | Joan Davis | 08/23/1947 | 09/14/2006 | |
| 773 | Smith | Nell K | 10/19/1930 | 05/23/2010 | |
| 773a | Smith | Morris W | 12/12/1922 | 04/13/2001 | mason |
| 774 | Frierson | Linda A | 12/17/1947 | 01/07/2011 | |
| 775 | Davis | Earl | 12/17/1918 | 07/28/2005 | |
| 778 | Frierson | Houston Sr | 10/29/1919 | 03/15/1995 | Pvt US Army WWII |
| 778a | Frierson | Jessie Mae | 05/19/1924 | 06/23/1983 | |
| 779 | Ruffin | Lillian Marie | 01/06/1964 | 11/09/2003 | |
| 779a | Snipes | Ruby M | 04/23/1921 | 06/14/1988 | |
| 781 | Johnson | Becky Kellar | 01/28/1950 | 09/15/2011 | |
| 782 | Craft | Doris K | 12/09/1938 | | res |
| 782a | Craft | Robert W 'Joe' | 09/18/1934 | | res |
| 782b | Craft | Lavon S | 10/23/1928 | 09/19/1982 | |
| 783a | (Illegible) | | | | funeral marker |
| 784 | Freeman | Dorothy G | 08/08/1925 | 08/18/1959 | |
| 784a | Freeman | Ralph | 08/07/1917 | 06/11/1964 | Tx S Sgt Army AF WWII |
| 785 | Coffman | Eli Lavoy | 1908 | 1988 | |
| 785a | (Illegible) | | | | funeral marker |
| 786 | (Illegible) | | | | funeral marker |
| 786a | (Illegible) | | | | funeral marker |
| 787 | Craft | Madge M | 1908 | 1995 | |
| 789 | Frierson | Lawrence Edmond | 11/25/1913 | 03/23/1993 | |
| 789a | Frierson | Maudie Elizabeth | 09/04/1920 | 02/13/2008 | |
| 789b | Frierson | Richard E | 09/04/1957 | 09/08/1957 | spelled 'Frieson' |
| 790 | Coffman | Kirk B | | | dates buried |
| 790a | Coffman | Judson L | | | dates buried |
| 790b | Coffman | Wilmer W | 02/15/1925 | | dod buried |
| 794 | Frierson | (baby boy) | 01/24/1948 | 01/24/1948 | son of L.E. Frierson |
| 795 | Brunson | C W 'Jack' | 10/12/1903 | 08/12/1988 | |
| 797 | (Illegible) | | | | funeral marker |
| 798 | Hall | Henry J | 1887 | 1969 | |
| 798a | Hall | Mintoria W | 1899 | 1979 | |
| 799 | Frierson | Linda Ann | 11/03/1949 | 06/11/1988 | |
| 800 | Miller | Thomas E 'Bud' | 10/09/1928 | 02/21/1998 | |
| 800a | Miller | Mary Helen | 02/14/1940 | 10/10/2007 | |
| 805 | Page | Levester | 11/22/1925 | 10/01/1978 | |
| 805a | Page | Dorothy Ida | 06/08/1926 | 08/01/1970 | |
| 807 | Evans | Yvonne Dolores | 03/27/1922 | 03/01/2012 | |
| 808a | Lowe | Ida Angeline Dean | 03/04/1926 | 06/01/2011 | |
| 809 | Dean | James Quitman | 09/01/1924 | | res |
| 811 | Terrell | Debra W | 04/13/1963 | 12/09/1995 | m. 12/9/1985 |
| 811a | Terrell | C Allen | 10/29/1959 | 04/10/1987 | m. 12/9/1985 |
| 812 | Davis | Beatrice D | 01/30/1939 | | res |
| 812a | Davis | Pedro W | 06/06/1933 | 10/19/1989 | |
| 813 | Pittman | Elaine Burlett | 03/10/1917 | 09/07/1998 | |
| 813a | Pittman | Haston Leo | 12/14/1907 | 02/10/1985 | |
| 816 | Johnson | Edward Earl | 05/21/1950 | 09/17/1985 | L Cpl US MC Vietnam |
| 817 | Davis | Walter A | 03/17/1924 | 03/08/1990 | |
| 818 | Davis | Donal B | 03/01/1934 | 05/14/1977 | |
| 819a | Bond | Laura | 1908 | 1998 | |
| 822 | Furr | W Otto | 02/19/1917 | 02/16/1968 | |
| 822a | Furr | Birdie J | 03/26/1921 | 12/09/1964 | |
| 824 | Smith | Richard A | 08/04/1945 | 06/01/1988 | |
| 824a | Smith | Lynda M | 12/13/1939 | 09/23/1985 | |
| 827 | Johnson | Charles N | 03/15/1940 | 05/08/1961 | |
| 827a | Johnson | Hazel L | 05/21/1926 | 04/03/1971 | |
| 827b | Johnson | John A | 03/10/1924 | 02/26/1982 | |
| 828 | Schultheis | Mary P | | | res |
| 828a | Schultheis | Charles A | 1902 | 1966 | |
| 829 | Gerber | Tommy S | 03/21/1921 | 01/11/1984 | |
| 829a | Gerber | E Albert | 05/02/1954 | 04/10/1972 | lost at sea |
| 830 | Davis | Donald Ray | 07/30/1975 | 08/01/1975 | |
| 832 | Johnson | Edmond J | 1887 | 1956 | |
| 832a | Johnson | Bessie C | 1900 | 1971 | |
| 833 | Schultheis | Alice | 10/02/1908 | | res |
| 833a | Schultheis | Arthur | 06/30/1908 | 12/25/1963 | |
| 833b | Schultheis | John Emil | 10/07/1904 | 05/11/1964 | |
| 834 | Scott | Myrtle S | 12/07/1898 | 07/05/1983 | no image |
| 834a | Scott | William Graham | 05/23/1892 | 12/01/1969 | no image |
| unk | Johnson | Rebecca Kellar | | 09/15/2011 | |
| unk | Miller | Ada Jones | 12/10/1911 | 08/08/1997 | |