Current cemetery of the city of Waveland.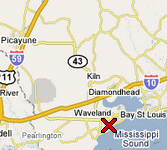 Directions:
Go west along the railroad track on Central Avenue. Turn right on Waveland Avenue, then take the first right on Dufour Street. The cemetery will be at the end of this (short) road. If coming from I-10, take the 603 south (= exit 13) and turn right on Hwy 90. After 1.2 miles, turn left on Waveland Avenue. Follow this street for about 1.4 miles, then turn left at Dufour Street, the last left before the railroad tracks.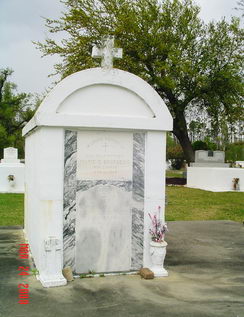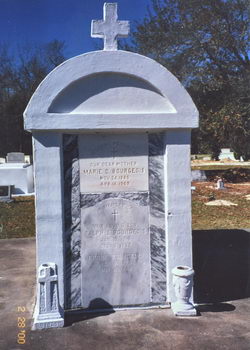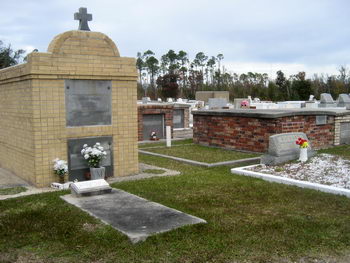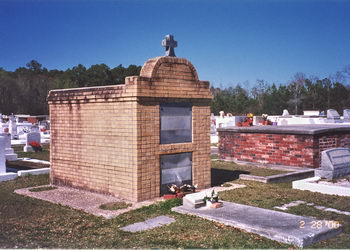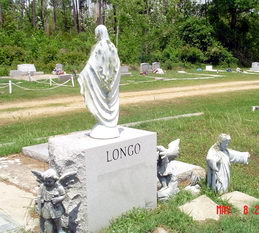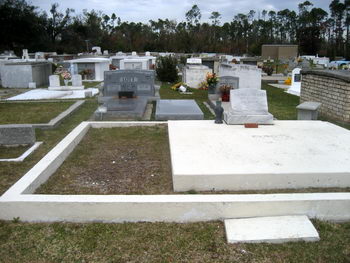 Cemetery layout:
Cemetery is divided into sections A through D. See diagram for the layout of row numbers. Grave numbers start where the row numbers are positioned.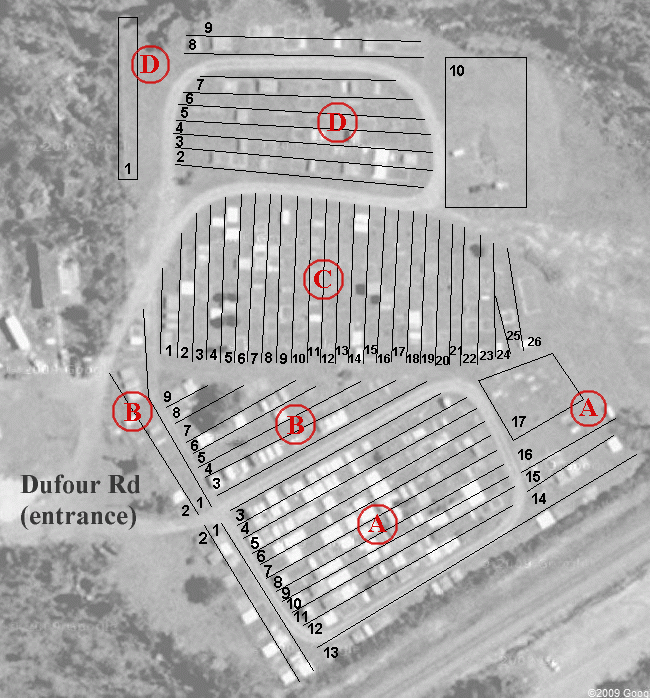 Graves (
1084

):
| # | Last Name | First Name | Birth | Death | Comment |
| --- | --- | --- | --- | --- | --- |
| A01-01 | Mayer | Catherine Bourgeois | 10/17/1927 | 07/20/1937 | |
| A01-02 | Ladner | Lottie Louise | 03/28/1927 | | reserved |
| A01-03 | Ladner | Alvin John, Sr. | 03/08/1922 | 10/20/2006 | |
| A01-04 | Morreale | Esther Elizabeth Yarborough | 09/11/1920 | 11/16/1987 | |
| A01-05 | Morreale | Benard John | 06/06/1918 | 11/03/1990 | |
| A01-06 | Bradford | Violette Cobb | 08/22/1913 | 12/07/1999 | |
| A01-07 | Zimmerman | Winona D. | 06/24/1906 | 04/25/2000 | |
| A01-08 | Zimmerman | Harold J. | 08/15/1902 | 02/08/1976 | |
| A01-09 | Bourgeois | Claire Clements | 04/28/1915 | 01/09/1986 | Waveland tax clerk & tax collector |
| A01-10 | Bourgeois | Frederick Joseph | 11/29/1909 | 09/10/1974 | Waveland City Marshall & tax collector |
| A01-11 | Schindler | Colette Zimmerman | 11/10/1953 | 06/23/2007 | m. Clarence 02/28/1975 |
| A01-12 | Schindler | Clarence Edmond | 09/02/1950 | 10/19/2009 | m. Colette 02/28/1975 |
| A01-13 | Embacher | Karl | 12/13/1904 | 06/09/1976 | |
| A01-14 | Webb | Gayle Develle | 06/17/1941 | 08/08/2008 | |
| A01-15 | LaFontaine | Roland Joseph | 08/06/1926 | 12/25/2004 | |
| A01-16 | Drott | June Lois Hava | 06/25/1921 | 11/04/1990 | |
| A01-17 | Hava | Mildred Booth | 08/19/1895 | 12/31/1982 | |
| A01-18 | Hava | Walter C. | 04/16/1894 | 01/26/1974 | La. Capt Dental Corps WWI |
| A02-01a | Favre | Milton | | | son of Victor & Octavie Favre |
| A02-01b | Favre | Edna | | | daughter of Victor & Octavie Favre |
| A02-02 | Ladner | Doris Boone | 02/07/1928 | 02/20/2006 | |
| A02-03 | Ladner | Raymond H. | 08/17/1909 | 01/05/1994 | Masonic emblem |
| A02-04 | Ladner | Alcide | 1873 | 1928 | |
| A02-05 | Ladner | Angelina | 1875 | 1914 | |
| A02-06 | Ladner | Galvez | 1895 | 1913 | |
| A02-07 | Bourgeois | Ruby M. Williams | 01/24/1924 | 05/26/1996 | |
| A02-08 | Bourgeois | Leroy R. | 12/20/1924 | 06/21/1993 | T SGT US Army Korea |
| A02-09 | (Unmarked) | | | | |
| A02-10 | Toomey | Catherine L. | 12/01/1933 | | m. 1950 |
| A02-11 | Toomey | Patrick Peter, Sr. | 03/17/1927 | 12/20/2002 | S1 US Navy WWII; m. 1950 |
| A02-12 | Toomey | Patrick Peter, Jr. | 07/05/1950 | 07/05/1950 | |
| A02-13 | Toomey | Herbert J. | 1923 | 1977 | AB US Air Force Korea |
| A02-14 | Zimmerman | Beverly Bourgeois | 09/17/1939 | | |
| A02-15 | Zimmerman | William B. | 09/04/1927 | 03/10/2000 | S Sgt USAF |
| A02-16 | Weigel | Marion Norton | 05/20/1907 | 12/31/1956 | |
| A02-17 | Weigel | George E. | 07/01/1895 | 11/09/1972 | |
| A02-18 | Frey | John Edward | 05/29/1956 | 07/14/1957 | |
| A02-19 | Develle | Gary M. | 05/22/1961 | 12/27/1964 | |
| A02-20 | Develle | Henry L, Jr. | 10/11/1915 | 02/11/1974 | |
| A02-21 | Develle | Emma Ann C. | 12/25/1919 | 12/27/1987 | |
| A02-22 | Hunter | Alexander B. | 06/03/1905 | 08/07/1964 | |
| A02-23 | Hunter | Laura P. | 04/05/1909 | 08/29/1983 | |
| A02-24 | Stromeyer | Fred W., Sr. | 05/10/1897 | 06/15/1982 | |
| A02-25 | Stromeyer | Ita Messmer | 12/17/1900 | 03/31/1988 | |
| A03-01 | Crysell | Mrs C. J. | 10/22/1903 | 06/26/1925 | |
| A03-02 | Favre | John B. | 12/22/1844 | 11/29/1945 | |
| A03-03 | Favre | Felecie Neceaise | 10/15/1853 | 02/26/1932 | tomb of John B. Favre and wife |
| A03-04 | Favre | Milton Joseph | 07/16/1920 | 08/13/1957 | MS S Sgt 48 Armd Inf Regt WWII BSM |
| A03-05 | Karl | Thomas, M., Jr. | 09/11/1937 | 06/28/1979 | |
| A03-06 | Ladner | Forrest Alphonse | 02/22/1910 | 08/01/1990 | |
| A03-07 | Ladner | Erma Bourgeois | 02/05/1915 | 10/15/2004 | |
| A03-08 | (Unmarked) | | | | tomb |
| A03-09 | (Unmarked) | baby | | | |
| A03-10 | Ladner | Charleston A. | 09/06/1901 | 09/23/1966 | masonic emblem |
| A03-11 | Ladner | Elizabeth C. | 08/10/1903 | 03/30/1971 | |
| A03-12 | Ladner | Vernon L. | 11/09/1932 | 01/21/1985 | US Marine Corps Korea |
| A03-13 | Favre | Julian Ruhr | 05/19/1905 | 06/03/1949 | MS Pfc 6 AAF Repair SO WWII |
| A03-14 | Dorn | Alphonse D., Jr. | 12/17/1930 | 12/14/2002 | Cpl US Marine Corps Korea |
| A03-15 | Favre | Ashton Dan | 02/02/1912 | 04/28/1980 | S Sgt US Army WWII |
| A03-16 | Favre | Florence L. Ruhr | 09/21/1879 | 12/01/1957 | |
| A03-17 | Favre | Jules August | 02/20/1879 | 10/01/1962 | |
| A03-18 | Favre | Wilbur O. | 02/08/1913 | 01/23/1976 | Pfc US Army WWII |
| A03-19 | Jensen | Charles C. | 04/13/1908 | 01/27/1958 | MS Tec4 Us Army WWII |
| A03-20 | Allen | Clarence E. | 08/05/1897 | 11/28/1955 | Ohio Pvt US Marine Corps WWI |
| A03-21 | Carver | Walter Leo | 12/29/1876 | 09/10/1956 | |
| A03-22 | Carver | Carmelite Favre | 02/03/1882 | 09/20/1956 | |
| A03-23 | Lyons | Olive B. | 1890 | 1957 | |
| A03-24 | Crawford | Erin McCall | 05/31/1911 | 08/24/1960 | daughter of Mr & Mrs William Pitt McCall |
| A03-25 | McCall | Charles B. | 1902 | 1962 | |
| A03-26 | Wright | Simon | | 1961 | MS Pvt 546 Svc BN Engr Corps WWI; dob obscured |
| A03-27 | Thomas | Will | 03/06/1877 | 03/01/1961 | |
| A03-28 | Thomas | Julia | 11/28/1876 | 06/23/1963 | |
| A03-29 | Murry | Fannie | 1899 | 1975 | |
| A03-30 | Conley | Mirget | | 01/04/1918 | 70 yrs. |
| A03-31 | (Unmarked) | | | | tomb |
| A04-01 | S. P. | | | | no other markings |
| A04-02 | Favre | Alphonse B. | 07/19/1886 | 08/14/1970 | |
| A04-03 | Favre | Lydia C. | 02/02/1896 | 10/10/1932 | |
| A04-04 | (Unmarked) | | | | |
| A04-05 | Bourgeois | Lydia L. | 10/03/1896 | 06/23/1977 | |
| A04-06 | Bourgeois | Alfred L. | 12/25/1890 | 01/08/1959 | |
| A04-07 | Drew | Guy I. | 12/25/1925 | 10/29/1977 | |
| A04-08 | (Unmarked) | baby | | | |
| A04-09 | Bourgeois | Lloyd A. | 03/08/1913 | 06/03/1998 | |
| A04-10 | Bourgeois | Irene A. | 08/26/1917 | 09/10/2004 | |
| A04-11 | Carvin | Frank A. | 07/22/1890 | 09/15/1969 | |
| A04-12 | Carvin | Wilhemina | 03/30/1896 | 05/01/1975 | |
| A04-13 | Favre | Lawrence J. | 07/13/1918 | 02/08/1967 | MS CM1 USNR WWII |
| A04-14 | Favre | Ursula O. | 01/20/1918 | 06/11/2000 | |
| A04-15 | Shaw | Ella Favre | 10/08/1921 | 12/30/2004 | |
| A04-16 | Shaw | Verne Wayne | 01/09/1913 | 01/31/2004 | S Sgt US Army Air Forces WWII |
| A04-17 | Favre | Virginia N. | 10/04/1972 | 02/25/1976 | |
| A04-18 | Wright | Maude | 08/08/1880 | 11/26/1972 | |
| A04-19 | Martin | Maurice A. | 09/28/1908 | 08/10/1973 | m. Mildred Carver |
| A04-20 | Carver | Mildred Jean | 10/12/1912 | 04/24/1003 | m. Maurice A. Martin |
| A04-21 | Winckelmann | Fritz (Pastor) | 02/29/1912 | 01/20/1991 | |
| A04-22 | Winckelmann | Ruth Fraenkel | 1886 | 1973 | |
| A04-23 | (Unmarked) | | | | slab |
| A04-24 | (Unmarked) | | | | slab |
| A04-25 | Garrett | Ora Lee Willingham | 12/22/1933 | 11/30/1990 | |
| A04-26 | Hawkins | Mary Bell Washington | 09/22/1919 | 02/19/1971 | |
| A04-27 | Hawkins | Reston | 02/04/1912 | 05/18/1967 | |
| A04-28 | Champine | John | 1989 | 04/16/1958 | |
| A04-29 | Hawkins | Barbara Ann | 10/31/1950 | 01/05/2007 | |
| A04-30 | Augustus | James A. | 03/17/1900 | 06/05/1968 | |
| A04-31 | Fry | Harry | | | Co G 84 US CLD INF; no dates |
| A04-32 | Hall | Rose L. | 10/23/1916 | 04/07/1976 | |
| A04-33 | Hall | Arthur Lee | 11/16/1917 | 10/02/1995 | Pfc US Army WWII |
| A05-01 | Ladner | Garfield John | 03/12/1899 | 12/11/1973 | Mayor of Waveland from 1942 to 1973 |
| A05-02 | Ladner | Lottie Bourgeois | 08/13/1901 | 01/30/1978 | |
| A05-03 | Wilson | Malvin Garfield "Buddie" | 01/05/1944 | 01/08/1992 | US Marine Corps Vietnam |
| A05-04 | Thomas | Grace Ann Ladner Bordages | 10/05/1923 | 08/04/2001 | |
| A05-05 | Ladner | Malvin G. | 10/24/1920 | 08/21/1967 | |
| A05-06 | Ladner | Eunice Moran | 09/04/1927 | 10/23/2005 | |
| A05-07 | Weigel | Salena | 05/14/1884 | 03/24/1960 | wife of Edgar Bourgeois |
| A05-08 | Bourgeois | Edgar | 04/11/1893 | 08/19/1959 | husband of Salena Weigel |
| A05-09 | Carver | Charles O., Sr. | 10/12/1922 | 11/05/1975 | Cpl US Army WWII |
| A05-10 | Leonard | Samantha Lynn | 03/10/1991 | 04/12/1991 | daughter of Richard & Heidi |
| A05-11 | Carver | Helen N. | 02/10/1927 | 02/06/2003 | |
| A05-12 | Carver | Charles O. | 10/12/1922 | 11/05/1975 | |
| A05-13 | Carver | Sylvian S. | 11/22/1908 | 12/29/1966 | |
| A05-14 | Carver | Bessie P. | 03/20/1907 | 09/13/1973 | |
| A05-15 | Asher | Andrew T. | 12/22/1890 | 05/11/1964 | |
| A05-16 | Asher | Corinne L. | 12/18/1890 | 10/26/1964 | |
| A05-17 | Longo | John S. | 1903 | 1959 | |
| A05-18 | Longo | Marie Nancy Cali | 1909 | 1990 | |
| A05-19 | Bourgeois | Emile B. | 01/05/1889 | 11/15/1959 | MS Pvt Co H 141 Inf WWI |
| A05-20 | Bourgeois | Marie T. | 01/16/1888 | 01/01/1978 | |
| A05-21 | Bourgeois | Emile Bernard, III | 1949 | 1976 | |
| A05-22 | Varnell | Margaret Zimmerman | 09/10/1917 | 02/20/1994 | |
| A05-23 | Varnell | Edgar A. | 11/25/1907 | 05/24/1961 | MS SC1 USNR WWII |
| A05-24 | Riley | Irene G. | 1883 | 1960 | |
| A05-25 | Riley | Frank | 1883 | | |
| A05-26 | Ruhr | William A. | 04/07/1885 | 08/26/1960 | |
| A05-27 | Ruhr | Eva D. | 08/10/1902 | 09/29/1985 | |
| A05-28 | Ruhr | Earline M. Fayard | 03/02/1936 | 05/05/1003 | |
| A05-29 | Ruhr | Roy M., Sr. | 08/19/1927 | 10/18/1985 | US Army WWII |
| A05-30 | DuFour | C. O. "Buddy" | 12/20/1903 | 06/28/1971 | |
| A05-31 | Ruhr | William Horace | 04/20/1924 | 06/26/2001 | m. 05/26/1956 Alma Sick |
| A05-32 | Ruhr | Alma Sick | 08/28/1926 | 03/25/1997 | m. 05/26/1956 William Horace |
| A05-33 | Bethea | Gladys Olene | 07/05/1914 | 02/07/1987 | |
| A05-34 | Bethea | Oscar Walter | 09/05/1905 | 05/16/1972 | MS Capt. 652 Engr Topo BN WWII |
| A05-35 | Duchkar | John Hubert | 10/25/1922 | 10/05/1972 | |
| A05-36 | Smith | Francis C. | 09/20/1942 | 05/09/1973 | |
| A05-37 | Smith | Mary Kathleen | 01/06/1945 | 06/06/1979 | |
| A06-01 | Bourgeois | Forest A., Sr. | 11/24/1908 | 10/22/1972 | |
| A06-02 | Bourgeois | Bonita F. | 03/02/1913 | 09/19/1959 | |
| A06-03 | Necaise | Simon, Jr. | 07/30/1895 | 09/08/1949 | |
| A06-04 | Necaise | Ledia Mary | 01/30/1874 | 02/24/1950 | |
| A06-05 | Necaise | Simon, Sr. | 09/15/1866 | 05/10/1951 | |
| A06-06 | Necaise | Lydia Carrie | 02/09/1897 | 11/12/1954 | |
| A06-07 | Necaise | Emile R. | 12/14/1908 | 06/12/1969 | |
| A06-08 | Sonier | Lauren J. | 12/19/1936 | 04/08/1997 | L Cpl US Marine Corps |
| A06-09 | Sonier | Lillian F. | 09/08/1915 | 01/11/2001 | |
| A06-10 | Sonier | Dominick | 01/13/1916 | 06/07/1984 | |
| A06-11 | Mazarakis | Bradley T. | 01/23/1918 | 04/03/2003 | WWII |
| A06-12 | Mazarakis | Catherine A. | 02/23/1919 | | |
| A06-13 | Woodcock | Auralee M. | 03/07/1922 | 01/03/1994 | m. 11/18/1942 James E. |
| A06-14 | Woodcock | James E. "Buck" | 08/14/1922 | | m. 11/18/1942 Auralee M. |
| A06-15 | Mazarakis | Sedonia | 08/01/1886 | 03/25/1952 | |
| A06-16 | Mazarakis | John | 09/17/1878 | 11/28/1962 | |
| A06-17 | Mazarakis | Herman John | 1915 | 1976 | M Sgt Army Air Forces WWII |
| A06-18 | (Unmarked) | | | | |
| A06-19 | Yarborough | Lois Marie | 03/01/1931 | 04/13/2002 | |
| A06-20 | Yarborough | Walter Francis | 02/25/1927 | 11/29/1979 | |
| A06-21 | Yarborough | Jefferson Herbis | 04/21/1954 | 03/16/1987 | |
| A06-22 | Riazza | Macaulay Joseph | 02/18/1991 | 05/12/1991 | |
| A06-23 | Yarborough | Isabel Emily Necaise | 09/03/1924 | 01/16/1981 | wife of Herman |
| A06-24 | Woodall | Patty Yarborough | 02/21/1959 | 03/29/2002 | |
| A06-25 | Garza | ? | | | funeral marker, illegible |
| A06-26 | Garza | John Gary | 01/29/1910 | 02/10/1973 | Tec5 759 STA HOSP WWII |
| A06-27 | Garza | Violet M. | 02/16/1888 | 07/18/1957 | |
| A06-28 | Garza | John A. | 06/19/1882 | 06/09/1964 | La. Pvt BTRY A LA LT Arty Spanish American War |
| A06-29 | Shores | Raymond H. | 03/11/1894 | 07/20/1971 | Michigan LCDR US Navy WWI & WWII |
| A06-30 | Necaise | Olivia | 05/25/1902 | 12/12/1973 | |
| A06-31 | Necaise | Frank | 12/13/1894 | 02/16/1984 | |
| A06-32 | Mayfield | James Lee | 10/14/1921 | 02/27/1973 | MS Flt O Army Air Forces WWII |
| A06-33 | Mayfield | Dorothy Yancey | 06/02/1923 | 07/13/1983 | |
| A07-01 | Ramond | Ferdinand J. | 09/13/1908 | 03/18/1977 | |
| A07-02 | Ramond | Cecile C. | 01/29/1911 | 11/20/1967 | |
| A07-03 | Ramond | Eugene Joseph | 09/22/1946 | 02/08/2004 | |
| A07-04 | Carver | Mary | 1873 | 1937 | |
| A07-05 | Carver | Ettien | 06/04/1868 | 03/06/1933 | husband of Mary Ladner |
| A07-06 | (Unmarked) | | | | |
| A07-07 | Ladner | Ettine | 01/12/1885 | 06/27/1926 | wow |
| A07-08 | Ladner | Eva L. | 01/12/1887 | 06/21/1954 | |
| A07-09 | Cuevas | | | | family marker |
| A07-10 | Bourgeois | Edwin | | 10/12/1919 | 37 yrs. |
| A07-11 | Lind | Honorine M. | 10/09/1887 | 04/22/1964 | |
| A07-12 | Lind | Hazel Emilia | 03/18/1922 | 02/03/1934 | |
| A07-13 | Lind | Emile Simon | 09/30/1881 | 07/15/1933 | husband of Norine Ladner |
| A07-14 | Bourgeois | T. C. | 10/28/1944 | 10/29/1944 | |
| A07-15a | Bourgeois | Jeremiah J. | 03/10/1977 | 03/11/1977 | twin brother Joshua |
| A07-15b | Bourgeois | Joshua C. | 03/10/1977 | 03/11/1977 | twin brother Jeremiah |
| A07-16 | Bourgeois | Edna Earl | 09/21/1912 | 05/26/1969 | |
| A07-17 | Bourgeois | Chester M. | 07/08/1912 | 04/27/1975 | |
| A07-18 | Bourgeois | Caroline | 02/25/1887 | 02/11/1832 | wife of James E. |
| A07-19 | Bourgeois | James Eugune | 03/21/1883 | 06/10/1949 | husband of Caroline |
| A07-20 | Bourgeois | Geneva P. Anthony | 04/24/1880 | 01/05/1950 | last wife of James E. |
| A07-21 | Yarborough | Andrew J. | 06/22/1914 | 02/06/1919 | |
| A07-22 | Yarborough | John J. | 07/05/1890 | 07/07/1932 | m. Ruth Roberts Cook |
| A07-23 | Cook | Ruth Roberts Yarborough | 12/14/1895 | 10/03/1960 | m. John J. Yarborough |
| A07-24 | Yarborough | Lawrence J. | 08/28/1918 | 11/05/1938 | |
| A07-25 | Yarborough | Barbara Ann | 08/11/1938 | 12/12/1938 | |
| A07-26 | Roberts | Andrew P. | 1854 | 03/22/1934 | |
| A07-27 | Cook | Willis N. | 06/29/1874 | 12/03/1943 | |
| A07-28 | Yarborough | Augustine N. | 02/11/1929 | 01/27/1990 | |
| A07-29 | Noto | Mary Leona | 10/04/1916 | 10/27/1990 | |
| A07-30 | Corr | Stephen A. | 12/14/1954 | 12/14/1954 | |
| A07-31 | Corr | Karen | 09/17/1960 | 09/17/1960 | |
| A07-32 | Noto | Peter | 12/11/1908 | 10/31/1997 | husband of Zona Yarborough |
| A07-33 | Yarborough | Zona A. | 03/11/1912 | 04/16/1962 | wife of Peter Noto |
| A07-34 | Noto | Henry J. | 07/21/1942 | 08/24/1973 | husband of Sandra Nixon |
| A07-35 | Nixon | Sandra J. Williams | 11/29/1946 | 11/17/1984 | wife of Henry J. Noto |
| A07-36 | Cook | Edward John, Sr. | 07/14/1922 | 06/01/2007 | Pfc US Army WWII; m Gloria N. Cook 01/22/1955 |
| A07-37 | Meilleur | Ruth Hughes | 11/12/1900 | 02/19/1990 | wife of Virgil Meilleur |
| A07-38 | Noto | Frank C., Sr. | 04/10/1913 | 06/14/1977 | |
| A08-01 | Johnson | John E. | 01/26/1911 | 01/04/1958 | |
| A08-02 | Ladner | Dolores M. Wo. | 11/20/1916 | 08/12/1996 | |
| A08-03 | Johnson | Gerald M. | 11/15/1932 | 05/31/1980 | |
| A08-04 | Ladner | John A. | 1917 | 1976 | Pvt US Army WWII |
| A08-05 | Burg | Balvina A. | 1906 | 2000 | |
| A08-06 | Burg | Edwin J. | 1895 | 1968 | |
| A08-07 | (Unmarked) | | | | |
| A08-08 | Bourgeois | Myrtle R. | 1898 | 1962 | |
| A08-09 | Bourgeois | Joseph D. | 1891 | 1958 | |
| A08-10 | Brown | Odum A. | 03/04/1900 | 06/12/1958 | MS Cpl US Army WWI |
| A08-11 | Dorn | Lucille Antoine | 02/06/1908 | 07/11/1961 | |
| A08-12 | Dorn | Alphonse D., Sr. | 08/11/1901 | 03/12/1985 | |
| A08-13 | Bourgeois | Joseph N. | 05/31/1909 | 05/10/1977 | US Army |
| A08-14 | (Unmarked) | | | | child |
| A08-15 | Bourgeois | Margaret G. | 02/02/1921 | 10/12/2005 | |
| A08-16 | Bourgeois | Arthur S. | 07/08/1911 | 07/14/1958 | |
| A08-17 | Brensike | Henry Erick | 08/27/1944 | 01/06/1959 | |
| A08-18 | Frierson | William C. | 01/26/1920 | 03/29/1995 | S Sgt US Army WWII |
| A08-19 | Frierson | Ruth Myrtle Deschamps | 08/23/1910 | 07/02/1994 | |
| A08-20 | Mollere | David E. | 05/25/1904 | 01/15/1961 | |
| A08-21 | Graham | Clara Mae Legendre | 10/11/1912 | 04/12/1961 | |
| A08-22 | Graham | William Cyrus | 08/12/1898 | 12/30/1976 | |
| A08-23 | Jessup | Vivian Voss | 08/05/1915 | | |
| A08-24 | Jessup | Owen A. | 06/05/1907 | 06/20/2000 | US Army WWII - purple heart |
| A08-25 | (Unmarked) | | | | |
| A08-26 | Bratton | Thomas A. | 10/15/1930 | | m. 03/26/1963 |
| A08-27 | Bratton | Audrey M. | 03/14/1930 | 11/26/2001 | m. 03/26/1963 |
| A08-28a | Serio | Anthony, Sr. | 04/16/1894 | 12/21/1973 | |
| A08-28b | Serio | Ethel M. | 11/13/1896 | 03/05/1992 | |
| A08-29a | Serio | Alfred | 11/29/1920 | 01/22/1987 | |
| A08-29b | Serio | Helen | 03/08/1928 | 01/22/1987 | |
| A08-30 | Arnold | William R. "Billy", Jr. | 09/12/1952 | 10/03/2008 | |
| A09-01 | Saucier | Santo Anthony, Sr. | 11/16/1925 | 09/18/1996 | m. 11/21/1945 |
| A09-02 | Saucier | Nieze Marie | 01/03/1927 | 02/22/1992 | m. 11/21/1945 |
| A09-03 | Turcotte | Louis B., Jr. | 03/01/1929 | 12/25/1950 | |
| A09-04 | Turcotte | Nieze | 11/27/1904 | 08/21/1948 | |
| A09-05 | Turcotte | Louis B., Sr. | 07/07/1879 | 12/26/1967 | |
| A09-06 | Bourgeois | Lelia Virginia | 02/17/1932 | 06/21/1933 | |
| A09-07 | Bourgeois | Rose B. | 11/16/1893 | 01/18/1977 | |
| A09-08 | Bourgeois | Anthony "Tony" C. | 08/27/1898 | 05/22/1967 | |
| A09-09 | Dufrechou | Audrey L. | 08/14/1928 | 09/30/2000 | |
| A09-10 | Geoffrey | Marion L. | 10/11/1926 | 04/17/1974 | |
| A09-11 | Silvestri | Yvonne L. | 12/10/1920 | 04/18/1980 | |
| A09-12 | Silvestri | James | 06/09/1919 | 12/19/1969 | Masonic emblem |
| A09-13 | Ladner | Augusta J. | 08/09/1914 | 09/15/1950 | wife of Luther O'Brien |
| A09-14 | McGuire | John F. | | | no dates |
| A09-15 | LaFontaine | Elise E. | 10/21/1935 | 11/27/1935 | |
| A09-16 | Ladner | Viola L. | 07/06/1911 | 01/08/1944 | wife of Eugene LaFontaine |
| A09-17 | LaFontaine | Eugene | 05/15/1907 | 04/12/1971 | |
| A09-18 | LaFontaine | Eloise Mary | 10/21/1935 | 07/11/1987 | |
| A09-19 | Ladner | Sidney J. | 1879 | 1947 | |
| A09-20 | Ladner | Ethel Agnes | 10/02/1911 | 01/30/2001 | |
| A09-21 | Ladner | Willie J. | 02/21/1883 | 12/27/1963 | |
| A09-22 | Ladner | Sidonia Morris | 06/20/1886 | 05/01/1948 | |
| A09-23 | Decker | | | | (reserved) |
| A09-24 | Decker | Estelle A. | 1923 | 1978 | |
| A09-25 | Bourgeois | William | 01/21/1895 | 07/07/1956 | MS Pvt Co E 310 Inf WWI |
| A09-26 | Bourgeois | Rosie | 07/16/1895 | 09/28/1970 | |
| A09-27 | Yarborough | Ricky C. | 10/22/1956 | 01/19/1957 | |
| A09-28 | Yarborough | Claude A. | 05/25/1928 | 01/23/1976 | Cpl US Marine Corps WWII |
| A09-29 | McKay | August W. | 1898 | 1982 | |
| A09-30 | McKay | Edna I. | 1898 | 1978 | |
| A09-31 | Lulei | Edward Joseph | 12/25/1904 | 07/12/1961 | La. Pvt 17 Hosp Cent US Army WWII |
| A09-32 | Jacobi | Louis J., Jr. | 01/29/1915 | 03/08/1972 | MS Tec5 HQ Co 411 Inf WWII |
| A09-33 | Jacobi | Virginia C. | 01/16/1917 | 03/28/1987 | |
| A09-34 | Riemer | Rose Rappold | 01/12/1916 | 07/28/1996 | |
| A09-35 | Riemer | Cornelius J. | 09/04/1908 | 12/19/1983 | US Army WWII |
| A09-36 | Fayard | Leona LaFrance | 08/08/1926 | 01/12/2000 | m. 11/23/1947 |
| A09-37 | Fayard | Asa J., Jr. | 05/19/1927 | | m. 11/23/1947 |
| A10-01 | (Unmarked) | | | | metal cross |
| A10-02 | (Unmarked) | | | | wooden cross |
| A10-03 | Bourgeois | Laura M. | 04/08/1886 | 08/10/1967 | |
| A10-04 | Bourgeois | Ernest V. | 1878 | 1935 | |
| A10-05 | Bourgeois | Harry A. | 08/22/1885 | 03/10/1959 | |
| A10-06 | Bourgeois | Myrtle M. | 02/12/1915 | 10/17/1918 | |
| A10-07 | Ladner | Pauline M. | 05/20/1892 | 03/04/1953 | |
| A10-08 | Ladner | Calvin S. | 03/30/1882 | 02/28/1952 | |
| A10-09 | Ladner | James C. | 09/13/1922 | 08/24/1942 | |
| A10-10 | Ladner | Ralph T. | 09/19/1926 | 12/11/1932 | |
| A10-11 | Caro | Inez L. | 07/10/1921 | 09/28/1995 | |
| A10-12 | Caro | Joseph M. | 09/09/1918 | 04/08/1972 | |
| A10-13 | Ladner | Jules Albert | 02/12/1888 | 05/10/1926 | |
| A10-14 | (Unmarked) | | | | White slab |
| A10-15 | Ladner | Julia A. | 12/24/1891 | 03/21/1956 | |
| A10-16 | Ladner | Henry L. | 03/21/1892 | 06/24/1924 | |
| A10-17 | Chadwick | Charles W. | 1872 | 1939 | |
| A10-18 | Chadwick | Josephine L. | 1875 | 1939 | |
| A10-19 | Chadwick | John Leland | 1900 | 1908 | |
| A10-20 | Russell | Hilda Dorothy | 10/03/1906 | 11/22/1958 | |
| A10-21 | Russell | Adam David | 09/06/1900 | 03/19/1977 | |
| A10-22 | Dahlgren | Adam Joseph | 04/13/1984 | 10/20/1993 | |
| A10-23 | Chagnard | Lilian Russell | 02/06/1931 | 04/17/1990 | |
| A10-24 | Chagnard | Adrien J. | 06/24/1925 | 12/14/1991 | Pfc US Army WWII |
| A10-25 | (Unmarked) | child | | | |
| A10-26a | Page | Roy | 04/01/1911 | 04/06/1987 | |
| A10-26b | Page | Alma | 10/20/1918 | 10/31/1981 | |
| A10-27 | Bourgeois | Albert F. | 08/30/1879 | 02/07/1951 | |
| A10-28 | Bourgeois | Theresa C. | 05/29/1880 | 01/20/1959 | |
| A10-29 | Bourgeois | Willie M. | 06/09/1887 | 08/21/1969 | |
| A10-30 | Bourgeois | Alice I. | 12/02/1894 | 10/22/1969 | |
| A10-31 | Carver | Ernest S., Sr. | 12/01/1902 | 07/11/1972 | |
| A10-32 | Carver | Elvira Bourgeois | 09/09/1917 | 04/12/2005 | |
| A10-33 | Bourgeois | James T. | 08/08/1912 | 01/29/1964 | MS Pvt 504 Training GP AAF WWII |
| A11-01 | Miller | Arthur | 08/05/1914 | 11/10/1976 | |
| A11-02 | Miller | Hazel Bourgeois | 10/24/1914 | 03/25/1989 | |
| A11-03 | Bourgeois | | | | family marker |
| A11-04 | Bourgeois | Paul A., Sr. | 08/27/1921 | 11/03/1997 | Tec5 US Army WWII |
| A11-05 | Bourgeois | Harold J. | 09/29/1910 | 09/27/1966 | MS SF2 USNR WWII |
| A11-06a | Bourgeois | Willie S. | 12/19/1933 | 12/29/1999 | |
| A11-06b | Bourgeois | Harold J., Jr. | 11/13/1961 | | |
| A11-07 | Villere | Melvin Rod, Sr. | 10/01/1917 | 05/15/1995 | |
| A11-08 | Villere | Isabell Tucker | 09/20/1915 | 05/01/2003 | |
| A11-09 | Bourlet | Theresa | 08/11/1892 | 04/11/1958 | wife of W.E. Tucker |
| A11-10 | Tucker | W. E. | 06/07/1891 | 05/31/1967 | husband of Theresa Bourlet |
| A11-11 | Bourgeois | Jerry M. | 06/22/1927 | 10/14/1970 | |
| A11-12 | Bourgeois | Evarae Usher | 01/25/1916 | 05/23/1956 | |
| A11-13 | Bourgeois | Thoma J., Jr. | 11/04/1908 | 02/16/1954 | MS Tec5 1448 Svc Comd Unit WWII |
| A11-14 | Bourgeois | Stanley R. | 06/18/1921 | 06/16/1962 | MS Tec3 US Army WWII SM |
| A11-15 | Jorns | Walter Buck | 06/22/1904 | 08/28/1955 | |
| A11-16 | Jorns | Larry W. | 02/21/1943 | 09/04/1959 | |
| A11-17 | Jorns | Rita B. | 03/29/1920 | 01/10/1005 | |
| A11-18 | Jorns | Al | | | |
| A11-19 | Lott | Herman F. | 02/11/1929 | 12/18/2001 | A3C US Air Force Korea |
| A11-20 | Lott | Ethel Lee | 02/03/1933 | | |
| A11-21 | (Unmarked) | | | | new slab |
| A11-22 | Lott | Morris | 11/24/1953 | 08/26/2002 | |
| A11-23 | Jenkins | Arvel Russell "Slim" | 12/11/1906 | 09/07/1984 | |
| A11-24 | Jenkins | Gladys Bourgeois | 09/08/1908 | 10/22/1990 | |
| A11-25 | Carco | Joseph M. | 09/06/1884 | 06/03/1970 | |
| A11-26 | Hood | Joyn Jay Dardar | 06/21/1973 | 06/04/2000 | |
| A11-27 | Hood | Jack | 10/03/1920 | 08/05/1998 | |
| A11-28 | Hood | Anne G. | 10/21/1926 | 05/27/1982 | |
| A11-29 | Ladner | Paul J. | 02/28/1937 | 10/17/1991 | |
| A12-01 | Jones | Father of Albert, Sr. | | | no dates |
| A12-02 | Richard | Charles F. | 03/23/1909 | 10/04/1967 | |
| A12-03 | Richard | Rose B. | 12/31/1911 | 02/09/2005 | |
| A12-04 | (Unmarked) | baby | | | |
| A12-05 | Hernandez | Elsie E. | 1917 | | |
| A12-06 | Hernandez | William J. | 1913 | 1981 | |
| A12-07 | T. J. B. | | | | next to Johanna & Edward |
| A12-08 | T. J. B. | | | | next to Johanna & Edward |
| A12-09 | Bourgeois | Johanna S. | 03/14/1884 | 09/10/1932 | |
| A12-10 | Bourgeois | Edward J. | 03/03/1878 | 04/20/1948 | |
| A12-11 | M L B. | | | | next to Johanna & Edward |
| A12-12 | Condon | Robert J. | 03/31/1904 | 12/10/1948 | |
| A12-13 | Bourgeois | Leland H., Jr. | 01/12/1943 | 02/03/2008 | US Navy Vietnam |
| A12-14 | Bourgeois | Margaret Rabito | 09/01/1921 | 11/22/1996 | |
| A12-15 | Bourgeois | Leland H., Sr. | 08/15/1918 | 08/21/1995 | Pfc US Army WWII |
| A12-16a | Bourgeois | Woodrow R. | 1916 | 1940 | |
| A12-16b | Bourgeois | Roy Thomas | 1902 | 1944 | |
| A12-16c | Bourgeois | Thomas J. | 1876 | 1952 | |
| A12-16d | Bourgeois | Hayward A. | 1920 | 1953 | |
| A12-16e | Bourgeois | Felton J. | 1899 | 1955 | |
| A12-17 | Bourgeois | Jennie L. | 05/08/1882 | 06/08/1966 | |
| A12-18a | Bourgeois | Placide W. | 03/04/1906 | 05/30/1982 | |
| A12-18b | Bourgeois | Josephine | 1866 | 10/29/1919 | |
| A12-19 | Bourgeois | Lucille M. | 05/02/1910 | | |
| A12-20 | Clay | Pearl Mary | 08/22/1906 | 01/15/1976 | |
| A12-21 | Planchard | Noel R. | 11/02/1928 | 04/03/1991 | US Army WWII |
| A12-22 | Bourgeois | Alvin S. | 08/11/1927 | 08/20/1927 | |
| A12-23a | Reyer | Stella | 01/29/1929 | 01/30/1929 | |
| A12-23b | Reyer | Ella | 01/29/1929 | 01/30/1929 | |
| A12-24 | Necaise | Maurice J. | 04/20/1900 | 03/12/1949 | |
| A12-25 | Necaise | Margaret | 01/26/1908 | 04/23/1991 | |
| A12-26 | Bourgeois | Arvel Joseph | 01/24/1933 | 04/02/1933 | |
| A12-27 | Bourgeois | Joseph D. | 08/22/1871 | 07/25/1923 | |
| A12-28 | Bourgeois | Christina | 1875 | 1947 | |
| A12-29 | Cobb | Audrey B. | 12/13/1930 | 09/17/1969 | |
| A12-30 | Bourgeois | Ducre W. | 05/31/1906 | 11/09/1988 | |
| A12-31 | Bourgeois | Mazie E. Carco | 11/14/1912 | 04/17/1991 | |
| A12-32 | Campbell | William R. | 09/26/1893 | 03/29/1971 | NY Sgt Maj 20 Ambulance Co WWI |
| A13-01 | Carvin | Stanley N. | 04/09/1898 | 10/23/1972 | Pfc US Army WWII |
| A13-02 | Carvin | Kathleen | 10/11/1896 | 09/18/1976 | |
| A13-03 | Nuber | Una F. | 12/24/1901 | 06/11/1989 | |
| A13-04 | Nuber | Charles Edward | 03/21/1894 | 03/14/1967 | La. Co K US Navy WWI |
| A13-05 | Christensen | John Gregory | 11/26/1936 | 02/17/2001 | |
| A13-06 | Vanden | Julius W. | 1906 | 1962 | |
| A13-07 | Bourgeois | Lydia | 04/10/1908 | 12/12/1908 | |
| A13-08 | Egert | | | | family tomb |
| A13-09 | Culbreth | Wm T. | 01/02/1912 | 12/16/1965 | |
| A13-10 | Culbreth | Louella Bourgeois Schultz | 04/12/1920 | 01/24/1998 | |
| A13-11 | Schultz | Joseph Calvin, Sr. | 09/10/1950 | 10/05/1988 | |
| A13-12a | Aiken | John Gayle, Jr. | 08/21/1887 | 02/21/1966 | |
| A13-12b | Aiken | Charlotte Rankin | 02/01/1890 | 08/21/1977 | |
| A13-13 | Kennedy | Jerry Richard | 02/08/1968 | 02/09/1968 | |
| A13-14 | Mays | Madeline "Bobbie" | 01/07/1906 | 12/11/2000 | |
| A13-15 | Mays | William | 02/28/1902 | 02/16/1968 | |
| A13-16 | Archer | Georgette | 01/06/1933 | 12/20/1990 | |
| A13-17 | Archer | Charles Henry Dabney, III | 04/24/1952 | 10/22/1997 | |
| A13-18 | Weidman | Stanley Edward, Jr. | 10/24/1947 | 08/13/2003 | |
| A13-19 | Weidman | Dorothy B. | 01/07/1920 | 09/20/2008 | |
| A13-20 | Bourgeois | Anthony C. "Tony", Jr. | 04/15/1925 | 01/27/1997 | |
| A13-21 | Duehr | Bernard E. | 09/21/1897 | 08/28/1968 | Ill. Pvt US Marine Corps WWI |
| A13-22 | Duehr | Irene | 1898 | 1980 | |
| A13-23 | (Unmarked) | | | | |
| A13-24 | Burnett | William Winters | 10/15/1902 | 12/10/1969 | |
| A13-25 | Horn | Frederick F. | 11/28/1909 | 03/24/1988 | US Army WWII |
| A13-26 | Horn | Frances V. | 10/28/1926 | 05/27/1999 | |
| A13-27 | (Illegible) | | | | |
| A13-28 | Auderer | John F., Jr. | 01/02/1916 | 08/25/2004 | |
| A13-29 | Auderer | Margie Doclar | 02/06/1917 | 10/25/1985 | |
| A13-30 | Vogt | | | | family tomb |
| A13-31 | Guidry | Thelma K. | 05/05/1919 | 07/17/1999 | wife of Gillis E. |
| A13-32 | Guidry | Gillis Everace | 10/26/1917 | 01/30/2006 | Tec5 US Army WWII |
| A13-33 | Guidry | ? | | | illegible |
| A13-34 | Bremer | Justin Taylor | 08/03/1998 | 08/03/1998 | |
| A13-35 | (Unmarked) | baby | | | |
| A13-36 | Lagasse | James A., Jr. | 02/12/1922 | 12/25/1986 | Pfc US Army WWII |
| A13-37 | Lagasse | Phil | 09/19/1919 | 03/05/1999 | |
| A13-38 | Bell | Doris Patricia | 12/28/1907 | 04/07/1984 | |
| A13-39 | (Unmarked) | | | | wooden cross |
| A14-01 | (Unmarked) | | | | |
| A14-02 | Fairley | Mary Elizabeth Garrett | 03/04/1920 | 06/25/1997 | |
| A14-03 | Dorn | Donald August | 09/02/1932 | | |
| A14-04 | Dorn | Betty Gene Lafontaine | 11/22/1933 | 03/31/1984 | |
| A14-05 | Gallagher | David Michael | 09/23/1953 | 01/16/1995 | |
| A14-06 | Gallagher | Christine Dorn | 07/16/1952 | | |
| A14-07 | Dorn | Wesley J. | 02/17/1929 | 01/08/1992 | Cpl US Army Korea |
| A14-08 | LaFontaine | Gerald J. "Jerry", Sr. | 03/19/1943 | 06/13/1998 | m. 09/05/1965 |
| A14-09 | LaFontaine | Roberta "Fay" Poolson | 07/16/1943 | | m. 09/05/1965 |
| A14-10 | Wheeler | Audrey Ann LaFontaine | 09/21/1941 | 01/31/2008 | |
| A14-11 | Glass | R. Patrick | 01/01/1912 | 08/30/1985 | US Navy WWII |
| A14-12 | Glass | Lois H. "Mawsie" | 09/13/1913 | 04/06/2007 | |
| A15-01a | Garrett | Rev D. Sr. | 1890 | 1958 | |
| A15-01b | Peters | Rev M. | 1913 | 1958 | |
| A15-01c | Garrett | Josephine | 1890 | 1958 | |
| A15-01d | Peters | Comeail | 1916 | 1958 | |
| A15-01e | Walker | Lillie B. | 1897 | 1958 | |
| A15-01f | Walker | Ben | 1896 | 1958 | |
| A15-02 | (Unmarked) | | | | |
| A15-03 | De Bender | Mrs. Jimmie | 09/29/1925 | 06/25/1999 | |
| A15-04 | Barnes | Collis | 01/19/1938 | 01/08/2000 | US Navy |
| A16-01 | Collins | Ruth Johnson | 03/29/1920 | | |
| A16-02 | Collins | Andrew Lee | 10/08/1912 | 06/18/2003 | |
| A16-03 | Vince | Leon, Jr. | 04/16/1960 | 11/10/1963 | |
| A16-04 | Parker | Reverend Ozzie | 03/15/1919 | 10/20/1982 | |
| A16-05 | Parker | Ada Lee | 04/30/1911 | 10/31/1993 | |
| A16-06 | Gieseler | Thomas H. | 05/04/1952 | 11/01/2008 | |
| A16-07 | Daniels | Mary Alice | 11/10/1949 | 06/03/2000 | |
| A16-08 | Nelson | Johnnie B. | 03/17/1902 | 04/05/1978 | |
| A16-09 | Nelson | Herman L. | 12/04/1897 | 04/30/1979 | |
| A16-10 | Harrington | Pauline Jackson | 10/25/1937 | 05/13/1984 | |
| A16-11 | Carter | Ida T. | 10/25/1910 | 01/08/2000 | |
| A16-11 | Sekinger | Robert J | 03/18/1941 | 03/20/2003 | |
| A17-01 | Dorsey | Sarah | | 01/30/1928 | 44 yrs; dod not certain, hard to read |
| A17-02a | Dorsey | Ruby L. | 03/29/1913 | 06/03/1913 | |
| A17-02b | Dorsey | Andren | 07/24/1916 | 07/24/1916 | |
| A17-03 | (Unmarked) | | | | |
| A17-04 | (Unmarked) | | | | |
| A17-05 | Summers | Alonzo | 09/23/1946 | 06/02/1975 | |
| A17-06 | Hargett | Infant son | 04/30/1968 | 05/05/1968 | Son of Rev & Mrs Robert L Lee Hargett |
| A17-07 | Hargett | Robert E. Lee (Rev.) | 12/08/1941 | 11/12/1981 | |
| A17-08 | (Unmarked) | | | | |
| A17-09 | Williams | Nathaniel C. | 03/06/1918 | 05/31/1979 | Tec4 US Army WWII |
| A17-10 | (Unmarked) | | | | |
| A17-11 | Dorsey | A. C. | 1886 | 1886 | |
| A17-12 | Goldsmith | Anthony | 03/27/1908 | 08/18/1968 | |
| A17-13 | (Unmarked) | | | | |
| A17-14 | Brown | Thomas | | 07/08/1926 | 50 yrs.; lodge 4740 |
| A17-15 | (Unmarked) | | | | |
| A17-16 | Watkins | W. | 08/28/1875 | 07/28/1948 | |
| A17-17 | Peters | Roy | 06/15/1964 | 02/06/1994 | |
| A17-18a | Antoine | Joseph | 03/29/1854 | | m. Ms. Bolman; dod illegible, 1901? |
| A17-18b | Bolman(?) | (??) Antoine | | 06/30/1956 | m. Joseph, dob and first name illegible |
| A17-19 | (Unmarked) | | | | cross |
| A17-20 | (Unmarked) | | | | slab |
| A17-21 | (Unmarked) | | | | small stone |
| A17-22 | (Unmarked) | | | | |
| A17-23 | (Unmarked) | | | | small stone |
| A17-24 | Morris | Odeal Harris | 11/02/1924 | 05/08/1994 | |
| A17-25 | (Unmarked) | | | | slab |
| A17-26 | (Unmarked) | | | | slab |
| A17-27 | (Unmarked) | | | | child |
| A17-28 | (Unmarked) | | | | |
| A17-29 | (Unmarked) | | | | baby |
| A17-30 | (Unmarked) | | | | |
| A17-31a | (No last name) | Willie | 08/01/1933 | 10/14/1946 | |
| A17-31b | (No last name) | Herbert | 07/25/1927 | 12/20/1935 | |
| A17-32 | (Unmarked) | | | | thick stone |
| B01_01 | Carver | Mary Shubert | 04/24/1898 | 03/17/1984 | |
| B01_02 | Carver | Henry R. | 04/08/1897 | 01/09/1975 | |
| B01_03 | Favre | Carl Milton | 07/18/1907 | 08/29/1977 | Tec4 US Army WWII |
| B01_04 | (Unmarked) | | | | |
| B01_05 | Smith | Christopher T.E. | 10/15/2004 | 12/02/2004 | |
| B01_06 | Bolden | Lovarryahna amapola | 03/09/2004 | 03/09/2004 | |
| B01_07 | Penrose | Helen Chapman | 05/30/1911 | 06/15/1998 | |
| B01_08 | Penrose | Norvin H. | 05/08/1911 | 10/22/2006 | |
| B01_09 | Dodson | Dulcie May | 08/20/1974 | 08/20/1974 | born: Liverpool, England |
| B01_10 | M. G. | | | | family plot |
| B01_11 | (Unmarked) | | | | crypt |
| B02_01 | Shubert | Charlotte Nixon | 12/24/1867 | 01/15/1909 | |
| B02_02 | Shubert | William | 12/24/1866 | 01/15/1901 | |
| B02_03 | Roberts | Richard Lee | 01/08/1930 | 06/23/1969 | La Pfc 1903 Engr Avn Bn Korea |
| B02_04 | Roberts | Rosalee Shubert | 09/08/1892 | 03/31/1964 | |
| B02_05 | Johnson | Edgar Louis | 02/15/1893 | 12/23/1973 | |
| B02_06 | Johnson | Annie Payne | 03/23/1889 | 03/11/1984 | |
| B02_07 | Johnson | Blair | 1913 | 1970 | |
| B02_08 | Penrose | Clement B., Sr. | 05/21/1881 | 05/19/1969 | |
| B02_09 | Penrose | Belle Harris | 10/27/1887 | 08/24/1976 | |
| B02_10 | Banach | Franz | 01/24/1901 | 01/07/1967 | |
| B02_11 | Guenard | Hamilton E. | 12/17/1913 | 07/02/1985 | |
| B02_12 | (Unmarked) | | | | tomb |
| B02_13 | Villere | Oswald L. | 06/15/1913 | 08/21/1969 | |
| B02_14 | Karger | Clarisse | 01/29/1913 | 03/21/1994 | |
| B02_15 | Karger | Ken | 06/27/1922 | 02/19/2005 | |
| B02_16a | Carrio | Laura M. | 1860 | 1907 | |
| B02_16b | Carrio | Samuel L. | 1887 | 1910 | |
| B02_17a | Carrio | Samuel | 1859 | 1893 | |
| B02_17b | Carrio | Stella F. | 1895 | 1898 | |
| B02_18 | Hughes | Eugene | 12/25/1898 | 02/22/1975 | PVT US Army |
| B02_19 | Hughes | Eugene "Bubba" | 08/12/1935 | 10/05/1997 | |
| B03_01a | Bourgeois | Wallace J., Sr. | 09/28/1905 | 08/07/1970 | |
| B03_01b | Bourgeois | Mary Grace Cucurullo | 05/04/1907 | 11/02/2007 | |
| B03_01c | Bourgeois | Joseph C. | 06/14/1933 | 10/22/2001 | |
| B03_02 | Bourgeois | Wallace J., Jr. | 07/18/1946 | 03/17/1961 | |
| B03_03a | Bourgeois | Marie D. | 11/14/1885 | 04/14/1969 | |
| B03_03b | Bourgeois | Ralph S. | 01/15/1918 | 12/03/1937 | |
| B03_03c | Bourgeois | Frank | 02/06/1876 | 05/10/1940 | |
| B03_04 | Mapp | Walter A. | 03/27/1873 | 01/07/1947 | native of Norfolk, Va. |
| B03_05 | Mapp | Estelle Marie | 06/15/1891 | 03/28/1977 | |
| B03_06 | Ladner | Mary Helen Bourgeois | 08/11/1923 | 08/06/1990 | |
| B03_07 | Bordages | John J. | 01/25/1863 | 12/30/1942 | |
| B03_08 | Bordages | Sarah Lena Tucker | 04/19/1893 | 01/15/1962 | |
| B03_09 | Bordages | Roger C. | 09/20/1891 | 12/26/1967 | husband of Sarah L. Tucker |
| B03_10 | (Unmarked) | | | | |
| B03_11 | Carrio | Laura Tucker | 11/09/1888 | 06/06/1986 | |
| B03_12 | Carrio | Sidney F. | 10/14/1888 | 12/16/1948 | |
| B03_13 | Carrio | Francis Sidney | 1921 | 1930 | |
| B03_14 | Carrio | Henry J. | 02/17/1914 | 01/06/1960 | |
| B03_15 | Carrio | Henry W. | 10/11/1893 | 09/24/1962 | husband of Lillie Bourgeois |
| B03_16 | Carrio | Lillie B. | 02/02/1893 | 03/30/1974 | |
| B03_17 | Carrio | Louis S. | 09/14/1917 | 02/22/2000 | |
| B03_18 | Greene | Hal | 04/13/1974 | | no other date |
| B03_19 | Greene | Frances Trigg | 02/23/1983 | | no other date |
| B03_20 | Duvernay | Pearl M. | 10/02/1888 | | reserved |
| B03_21 | Duvernay | Moliere B. | 08/20/1886 | 04/03/1962 | |
| B03_22 | Smiley | John | 09/15/1873 | 11/17/1959 | |
| B03_23 | Smiley | Carrie | 10/12/1890 | 10/15/1930 | |
| B03_24 | (Unmarked) | | | | |
| B03_25 | Crutcher | Joseph Wayne | 11/25/1914 | 11/18/1931 | |
| B04_01 | Favre | Alphonse B., Jr. | 01/14/1918 | 11/26/1969 | US Marine Corps WWII |
| B04_02 | Favre | Eunice Tucker | 10/07/1921 | 04/28/2000 | |
| B04_03 | Carrio | Marlaine Ava | 08/24/1947 | 08/29/1947 | |
| B04_04 | Socola | Edwin August, M.D. | 09/10/1899 | 04/09/1969 | |
| B04_05 | Socola | Bessie Magruder | 11/19/1899 | 02/01/1993 | |
| B04_06 | Ali | Ella | 1871 | 1927 | |
| B04_07 | Ali | Moksad | 1860 | 1926 | |
| B04_08 | (Unmarked) | | | | broken headstone |
| B04_09 | (Unmarked) | | | | cross |
| B04_10 | Richardson | Isabella | 05/19/1861 | 11/05/1925 | wife of W. N. Richardson |
| B04_11 | (Unmarked) | | | | "John" |
| B04_12 | (Unmarked) | | | | |
| B05_01 | Piazza | Clarence J., Sr. | 06/23/1929 | 05/04/1987 | Sgt US Marine Corps Korea |
| B05_02 | Turcotte | Mary C. | 11/03/1933 | 10/12/1989 | |
| B05_03a | Hooper | Justine Marie | 03/27/1997 | 07/27/1997 | |
| B05_03b | Hooper | Dorian Chastaine | 08/18/1999 | 08/18/1999 | |
| B05_04 | Soldinie | Roland Anthony | 04/08/1934 | 10/06/2001 | |
| B05_05 | Soldinie | Helen Willette | 03/24/1942 | | reserved |
| B05_06 | O'Gwin | Van James | 12/30/1925 | 03/27/1971 | La SC3 Us Navy WWII |
| B05_07 | McIntyre | Pauline "June" McConnell O'Gwin | 02/10/1919 | 08/27/2006 | 1st m. Van O'Gwin; 2nd m. 2/10/1972 Don McIntyre |
| B05_08 | McIntyre | Donald M. | 03/12/1928 | 03/02/2005 | S1 US Navy WWII |
| B05_09 | McConnell | James N. | 03/31/1892 | 02/20/1964 | La 2nd LT 67 Art. CAC WWI |
| B05_10 | McConnell | Pauline Hammond | 06/28/1892 | 02/16/1983 | |
| B05_11 | Byrne | Suzanne Myrthe McConnell | 02/09/1927 | 08/06/1969 | |
| B05_12 | McConnell | S. Logan | 10/28/1894 | 06/15/1979 | 2nd LT US Army WWI |
| B05_13 | McConnell | Suzanne Bringier | 07/16/1898 | 11/07/1981 | |
| B05_14 | Faris | Warren M. | 08/29/1921 | 07/23/2006 | Capt. US Army WWII |
| B06_01 | Bourgeois | Sidney L. | 04/10/1911 | 02/01/1970 | husband of Beulah Rossignol Bourgeois |
| B06_02 | Turcotte | Edna A. | 12/22/1913 | 02/25/1953 | wife of Sidney Bourgeois |
| B06_03 | Turcotte | Walter F., Sr. | 12/07/1888 | 07/10/1967 | |
| B06_04 | Turcotte | Cecil E. | 10/05/1890 | 03/28/1973 | |
| B06_05 | Turcotte | Marie E. | 09/14/1921 | 04/02/1994 | |
| B06_06 | Turcotte | Cecile E. | 06/28/1919 | 02/07/1998 | "Miss Dick" |
| B06_07 | Schwander | Stella Turcotte | 08/28/1916 | 11/20/1972 | |
| B06_08 | Schwander | Jacob Lawrence, Jr. | 02/27/1919 | 12/25/1961 | |
| B06_09 | Turcotte | Robert J. | 09/04/1877 | 05/04/1964 | |
| B06_10 | Soldinie | Paul Stanley | 10/11/1926 | 04/20/1957 | |
| B06_11 | Soldinie | Cora Ladner | 04/14/1907 | 12/06/1979 | |
| B06_12 | Soldinie | William T., Sr. | 11/05/1900 | 06/22/1988 | |
| B06_13 | Soldine | William T., Jr. | 02/03/1924 | 03/31/1994 | US Marine Corps WWII |
| B07_01 | McAvoy | Charles D., Ill | 05/21/1928 | 01/17/2004 | S1 US Army WWII |
| B07_02 | McAvoy | Leslie M. | 08/25/1956 | 09/18/1998 | |
| B07_03 | Riggs | Katherine F. | 08/25/1908 | 08/28/1990 | |
| B07_04 | Riggs | Rupert Willis | 03/21/1893 | 04/15/1976 | Cpl US Army WWI |
| B07_05 | Hicks | Harold John | 09/18/1896 | 07/17/1965 | Ark. 21 Balloon Co Air SVC WWI |
| B07_06 | Walker | Addie Shipp | 06/14/1876 | 09/13/1966 | |
| B07_07 | Hicks | Gladys Walker | 02/03/1899 | 03/15/1984 | |
| B07_08 | Sauer | Laurence A., Jr. | 1916 | 1972 | |
| B07_09 | Sauer | Gertrude J. | 1918 | 2003 | |
| B07_10 | Champagne | Allen Joseph | 1911 | 02/18/1987 | |
| B07_11 | Champagne | Ethel M. | 1911 | 1973 | |
| B07_12 | Jennings | Alma M. | 1913 | 1999 | |
| B07_13 | Jennings | Harry L. | 1903 | 1976 | |
| B07_14 | Boyd | Mary | 03/09/1900 | 08/13/1993 | |
| B07_15 | Boyd | John | 09/24/1894 | 08/04/1972 | |
| B08_01 | Favre | Woodrow W. | 02/05/1914 | 12/16/1988 | Pfc US Army WWII |
| B08_02 | Favre | Mamie C.. | 04/18/1919 | 01/09/1999 | |
| B08_03 | Rials | Ernest C. | 05/20/1924 | 03/06/1972 | |
| B08_04 | Rials | Constance K. | 01/27/1920 | 12/10/1989 | |
| B09_01 | Carver | John W. "Tody" | 02/08/1912 | 01/14/1982 | |
| B09_02 | Carver | Antonia A. "Tonia" | 12/04/1910 | 11/13/1987 | |
| B09_03 | Carver | Charlotte, L. | 10/18/1943 | 11/10/1998 | |
| B09_04 | Carver | Charles E. "Charlie" | 03/25/1948 | | reserved |
| B09_05 | Veillon | Carolyn Suzette Carver | 05/03/1938 | 11/28/2003 | |
| B09_06 | Veillon | Earl John | 09/12/1940 | | reserved |
| C01-01 | (Unmarked) | | | | |
| C01-02 | (Unmarked) | | | | |
| C01-03 | (Unmarked) | | | | |
| C01-04 | (Unmarked) | | | | family tomb |
| C01-05 | Bourgeois | Louis | 07/21/1946 | 04/16/1979 | |
| C01-06 | Bourgeois | Larry Ory | 03/09/1940 | 04/16/1979 | |
| C01-07 | Johnston | Eunice Necaise | 02/29/1920 | 11/02/1996 | |
| C01-08 | Necaise | Arthemise Ruth | 11/05/1912 | 12/02/1989 | m. Rena |
| C01-09 | Necaise | Rena M. | 01/09/1916 | 11/05/1992 | US Army WWII |
| C02-01 | (Unmarked) | | | | |
| C02-02 | (Unmarked) | | | | |
| C02-03 | Thibodeaux | Austin J. | 07/20/1909 | 09/07/1974 | 11th airborne ; father of Dolores Ann |
| C02-04 | Kern | Dolores Ann Thibodeaux | 11/10/1937 | | m. 11/10/1980 Donald |
| C02-05 | Kern | Donald Eugene | 04/08/1929 | | m. 11/10/1980 Dolores |
| C02-06 | Smith | Allen B., Sr. | 09/09/1911 | 09/08/1975 | |
| C02-07 | Revere | Robert J. | 12/02/1909 | 08/30/1993 | |
| C02-08 | Revere | Eunice S. | 10/24/1915 | 05/06/1998 | |
| C02-09 | Probst | Earl A. | 1904 | 1976 | Masonic emblem |
| C02-10 | Probst | Edith K. | 1907 | 1995 | |
| C02-11 | Schwall | Julius G. | 03/01/1907 | 01/14/1983 | |
| C02-12 | Schwall | Anita M. | 11/16/1912 | 06/20/1977 | |
| C02-13 | Mitchel | Arnold H. | 1905 | 1983 | |
| C02-14 | Mitchel | Henrietta M. | 1906 | 2004 | |
| C02-15 | (Unmarked) | | | | family plot |
| C03-01 | Bourgeois | Kate Caroline | | 11/11/1928 | 58 yrs. |
| C03-02 | Bourgeois | Sam | | 01/12/1932 | 58 yrs. |
| C03-03 | Smith | Olige | 10/14/1908 | 02/16/1974 | |
| C03-04 | Smith | Frances | 01/22/1909 | 10/13/1985 | |
| C03-05 | Breland | Kermit Theodore "Ted" | 10/30/1914 | 12/17/1974 | |
| C03-06 | Breland | Hazel Magee | 02/28/1913 | 09/08/1998 | |
| C03-07 | Heath | | | | reserved |
| C03-08 | (Unmarked) | | | | family plot |
| C03-09 | Fricke | Mary V. | 02/18/1918 | 05/19/2004 | |
| C03-10 | Garcia | George A., Sr. | 06/07/1913 | 08/14/1984 | |
| C03-11 | (Unmarked) | | | | crypt |
| C03-12 | Cripple | Merlin G. | 11/12/1931 | 12/17/2006 | marked: Cripple & Odham |
| C04-01a | Breaux | Emile | 09/15/1864 | 07/15/1934 | |
| C04-01b | Breaux | Anna Victoria | 10/01/1874 | 03/17/1965 | |
| C04-02 | Roberts | Samuel (Rev.) | 06/15/1885 | 07/02/1964 | |
| C04-03a | Breaux | Harry W. | 11/04/1903 | 03/21/1923 | |
| C04-03b | Breaux | Hillder L. | 10/23/1915 | 05/20/1946 | |
| C04-04 | Kennedy | Emmett | 03/21/1916 | 01/12/1977 | Pvt US Army WWII |
| C04-05 | Kennedy | Rose V. | 11/22/1913 | 01/25/1980 | |
| C04-06 | Barrere | Robert W., Jr. | 03/02/1919 | 07/10/1988 | US Army |
| C04-07 | Dormain | Ethel | 03/30/1909 | 06/09/1995 | |
| C04-08 | Dormain | Eugene J. | 02/02/1922 | 03/12/1992 | US Army WWII |
| C04-09 | Bourgeois | Mary M. | 03/03/1910 | 12/15/1979 | |
| C04-10 | Bourgeois | William J., Sr. | 07/15/1899 | 01/25/1991 | Pvt US Army Air Corps WWI & WWII |
| C04-11 | (Unmarked) | | | | family plot |
| C04-12 | (Unmarked) | | | | crypt |
| C05-01 | Stewart | Bobby Wayne | 08/12/1937 | 05/28/1981 | US Marine Corps |
| C05-02 | Baum | Lee B. | 01/04/1936 | 01/02/1975 | |
| C05-03 | Stewart | Lloyd Travis | 02/21/1964 | 08/23/1981 | |
| C05-04 | Graham | Beverly Jane Miller | 06/16/1941 | 04/06/2008 | |
| C05-05 | Bourgeois | Charles Ronald, Sr. | 05/17/1940 | 12/28/2002 | Sgt US Army |
| C05-06 | Bilbo | Frances Hazel Garcia | 12/16/1930 | 01/31/2008 | |
| C05-07 | Parker | William G. | 12/04/1919 | 09/08/1997 | Sgt US Army WWII |
| C05-08 | Peterson | David Arthur | 02/19/1942 | 05/14/2004 | Pfc US Army Vietnam |
| C06-01 | Jordan | Alicia Rochelle | 11/19/1976 | 06/28/1999 | |
| C06-02 | Hart | Lewis Warren | 02/19/1922 | 10/17/1974 | |
| C06-03 | Nolan | James W. "Dotsie" | 02/15/1910 | 06/18/1983 | |
| C06-04 | Nolan | Laurentine R. | 09/04/1904 | 02/12/1990 | |
| C06-05 | Harris | Terry E. | 02/28/1948 | 12/04/2004 | |
| C06-06 | Peterson | John Edgar "Pete" | 02/14/1935 | 02/27/1982 | |
| C06-07 | Peterson | Gracie Lou | 01/13/1930 | 03/14/2000 | |
| C06-08 | Bernard | Paul Henry, Sr. | 08/14/1920 | 03/31/1985 | US Army WWII |
| C06-09 | Bernard | Margaret | 09/20/1918 | 11/19/2008 | |
| C06-10 | Peterson | Sylvia J. | 10/19/1942 | | |
| C07-01 | Mondy | Albirta | 1887 | 1929 | |
| C07-02 | Collins | James Leonard | 05/06/1914 | 01/20/2002 | |
| C07-03 | Hubbard | R. G. Manny | 10/21/1907 | 12/10/1974 | |
| C07-04 | Hubbard | Dorothy T. | 09/11/1912 | 06/29/1993 | |
| C07-05 | (Unmarked) | | | | family plot |
| C07-06 | (Unmarked) | | | | family plot |
| C07-07 | Caddell | William F., Sr. | 05/09/1909 | 03/21/1978 | T Sgt US Army |
| C07-08 | Fayard | Kenneth G. | 11/27/1937 | 10/30/1981 | |
| C07-09 | Sotak | Karen F. | 02/07/1962 | 03/22/1996 | |
| C07-10 | Noonan | Gladys S. | 09/17/1910 | 02/20/1983 | Waveland secy. treas. |
| C07-11 | Fayard | Lucille M. | 08/06/1910 | 06/07/1984 | wife of Edward G., Sr. |
| C07-12 | McLain | Michael B. | 04/27/1978 | 07/25/1994 | |
| C07-13 | Fayard | Linda M. | 04/30/1943 | 12/20/2004 | m. 6/17/1960 |
| C07-14 | Fayard | Richard J. | 05/23/1941 | 07/15/2005 | m. 6/17/1960 |
| C07-15 | Minton | Jacqueline D. | 01/30/1942 | 08/16/2007 | |
| C07-16 | Fayard | Mary Catherine DeRoche | 05/08/1937 | 07/06/2002 | m. 1/10/1954 |
| C07-17 | Fayard | Reginald Anthony, Sr. | 01/05/1935 | 12/28/2008 | m. 1/10/1954 |
| C08-01 | (Illegible) | | | | stone |
| C08-02 | (Unmarked) | | | | small stone |
| C08-03 | Wymer | Joseph L. | 07/31/1915 | 01/08/2003 | |
| C08-04 | Wymer | Louise A. | 11/19/1909 | 10/20/1975 | |
| C08-05 | (Unmarked) | | | | family plot |
| C08-06 | Housey | Joseph V., Jr. | 05/26/1912 | 01/07/1992 | |
| C08-07 | Housey | Irene | 07/30/1916 | | |
| C08-08 | Moore | Robert Edward | 03/23/1931 | 05/10/1992 | DC2 US Navy |
| C08-09 | Belsome | James L. | 09/24/1923 | 02/10/1999 | Pvt US Army WWII |
| C08-10 | Belsome | Ada Marie | 02/13/1920 | 08/03/1996 | |
| C08-11 | (Unmarked) | | | | family plot |
| C09-01 | Lyons | William | 1882 | 1939 | |
| C09-02 | Lyons | Lottie | 1882 | 1969 | |
| C09-03 | Tracey | Clause W. | 07/16/1919 | 01/21/1975 | M Sgt US Air Force |
| C09-04 | Tracey | Hazel M. | 07/18/1927 | | reserved |
| C09-05 | Larntz | Terry Dean | 05/22/1982 | 05/22/1982 | |
| C09-06 | Adams | Saima | 03/21/1909 | 01/05/1997 | |
| C09-07 | Adams | George H. | 08/10/1929 | 02/28/1976 | A1C US Air Force |
| C09-08 | Sellers | John J. | 08/02/1925 | 12/29/1993 | |
| C09-09 | Sellers | Lolita M. | 09/18/1925 | 08/05/1984 | |
| C09-10a | Cater | Clare R. | 1898 | 1986 | |
| C09-10b | Cater | Carl L. | 1900 | 1979 | |
| C09-11a | Moore | Reuben G. | 1906 | 1979 | |
| C09-11b | Moore | Ann E. | 1912 | | reserved |
| C09-11c | Moore | Mark S. | 1960 | | reserved |
| C09-12 | Ledet | Joseph R. | 04/25/1928 | 01/25/1993 | US Navy WWII |
| C09-13 | Doyle | C. A. Jack | 08/28/1924 | | |
| C09-14 | Doyle | Beatrice M. | 08/20/1924 | 10/01/1996 | |
| C09-15 | Peterson | Angelina D. Triana | 05/17/1931 | 11/15/2001 | |
| C09-16 | Peterson | Leroy A. | 03/14/1932 | 02/08/2008 | US Army Korea |
| C10-01 | Jonson | James, Rev. | 12/25/1861 | 01/19/1924 | husband of Carry M. Johnson |
| C10-02 | Smith | Robert F. | 1908 | 1975 | |
| C10-03 | Clayburn | Edward | 07/10/1894 | 02/14/1976 | SFC US Army WWI |
| C10-04 | Clayburn | Grace R. | 11/05/1900 | 10/29/1978 | |
| C10-05 | Roudane | Irene A. | 1894 | 1978 | |
| C10-06 | Peirce | Thelma F. | 12/09/1912 | 08/06/2003 | |
| C10-07 | Peirce | Rufus Causey | 03/07/1903 | 08/31/1987 | Pfc US Army WWII |
| C10-08 | Lottman | Segrave | | | no other markings |
| C10-09 | Cox | | | | family plot |
| C10-10a | Mahan | Henry G. | 08/31/1910 | 03/28/1981 | |
| C10-10b | Mahan | Bertha F. | 01/16/1911 | 02/18/1997 | |
| C10-10c | Mahan | John T. | 10/14/1945 | 05/23/1949 | |
| C10-10d | Mahan | James M. | 10/14/1945 | 12/13/1998 | |
| C10-10e | Mahan | Frances A. | 09/15/1971 | 09/15/1971 | |
| C10-11 | (Unmarked) | | | | family plot |
| C10-12 | Peterson | Joshua Daniel | 11/14/1991 | 05/03/2008 | |
| C11-01 | (Unmarked) | | | | small stone |
| C11-02 | Klein | Gerald, J. | 01/10/1927 | 01/04/1996 | |
| C11-03 | Klein | Hedwig "Hedy" Kemen | 11/09/1936 | 04/18/1994 | |
| C11-04 | Carroway | William D. | 08/04/1904 | 03/09/1977 | |
| C11-05 | De Sakhnoffsky | Joan S. | 1918 | 1975 | |
| C11-06 | Gipson | Jane Ann | 06/17/1955 | 08/19/2005 | |
| C11-07 | Blanchard | Geraldine S. | 04/24/1931 | | |
| C11-08 | Blanchard | Samuel L. | 02/08/1930 | 12/23/1978 | |
| C11-09a | Richardson | Oreader, Sister | 04/04/1913 | | |
| C11-09b | Anteny | Rosie, Sister | | 05/18/1993 | |
| C11-10 | Singleton | Alice C. | 04/02/1926 | 11/23/1985 | |
| C11-11 | Taranto | Peter P. | 01/16/1899 | 04/09/1980 | US Army |
| C11-12 | Ford | William J. | 07/27/1892 | 12/30/1981 | US Navy WWI |
| C11-13 | (Unmarked) | | | | slab |
| C11-14 | Brady | Michelle Ann | 11/03/1982 | 04/24/1986 | |
| C11-15 | Hawkins | Elvy | 06/18/1918 | 10/29/1991 | |
| C12-01 | (Unmarked) | | | | |
| C12-02 | Bruns | Charles Wesley | 06/11/1883 | 10/07/1977 | |
| C12-03 | Bruns | Bearice Davis | 01/19/1900 | 10/21/1994 | |
| C12-04 | Courtault | Walter Joseph, Jr. | 11/15/1924 | 11/15/2000 | S1 US Navy WWII |
| C12-05 | Courtault | Simona "Elba" Morel | 06/01/1928 | 10/14/1975 | |
| C12-06 | Meshell | Floyd James, Sr. | 11/19/1948 | 06/04/1976 | |
| C12-07 | Champine | Hattie | 02/20/1889 | 10/21/1988 | |
| C12-08 | Champine | Johnny | 04/17/1909 | 01/21/2002 | US Army WWII |
| C12-09 | Champine | Irene | 05/05/1920 | 10/09/1991 | |
| C12-10 | Fiorella | Evelyn | | | family plot ; hard to read - carved by hand |
| C12-11 | Springer | Henry | | | family plot ; hard to read - carved by hand |
| C12-12 | Springer | Margaret | | | family plot ; hard to read - carved by hand |
| C12-13 | Cook | Arley Lorain | 02/04/1904 | 04/19/1980 | |
| C12-14a | Nilsen | Oskar R. | 1922 | 1986 | |
| C12-14b | Nilsen | Margie E. | 1913 | 2000 | |
| C12-15 | Richardson | J. | | | coping |
| C13-01 | (Unmarked) | | | | |
| C13-02 | Williams | Leon "Speedy" | 01/24/1966 | 10/28/2003 | |
| C13-03 | Stafford | Shelton | 01/12/1910 | 05/10/1978 | |
| C13-04 | Stafford | Lorraine | 02/28/1923 | 05/23/2002 | |
| C13-05 | D'Aquin | Carmen Marie "Mi-Mi" | 01/10/1906 | 11/16/1987 | |
| C13-06 | (Unmarked) | | | | |
| C13-07 | Penrose | Clement B., VI | 12/22/1909 | 07/01/1981 | |
| C13-08 | Penrose | Elizabeth C. | 06/17/1912 | 04/21/1997 | |
| C13-09 | Favre | Linda Jane Penrose | 05/23/1945 | 05/20/2004 | |
| C13-10 | (Unmarked) | | | | family plot |
| C14-01 | Mallushan | Harrett | 12/04/1884 | 08/20/1919 | |
| C14-02a | James | Albert | 12/16/1901 | 05/16/1988 | |
| C14-02b | James | Phillis | 03/25/1900 | 04/18/1953 | |
| C14-03 | Crudden | Eunice | 11/06/1917 | 03/23/1979 | |
| C14-04 | Crudden | Edwin F., Jr. | 03/07/1916 | 09/24/2003 | |
| C14-05a | Smith | Alexander G. | 07/18/1893 | 01/07/1958 | |
| C14-05b | Smith | Hazel A. | 03/11/1894 | 08/01/1988 | |
| C14-05c | Smith | Geraldine E. | 07/09/1933 | | |
| C14-06 | Wrensted | John, Jr. | 11/07/1924 | 12/05/2003 | m. 10/6/1968 |
| C14-07 | Wrensted | Judy Poolson | 05/13/1941 | | m. 10/6/1968 |
| C14-08 | Gustafson | Carl S., Sr. | 11/29/1912 | 02/04/1987 | Masonic emblem |
| C14-09 | Gustafson | Inez R. | 10/23/1909 | 07/24/1997 | |
| C15-01 | Collins | William, Sr. | 03/30/1909 | 04/25/1985 | |
| C15-02 | (Unmarked) | | | | |
| C15-03a | Collins | Florence Bruns | 06/14/1893 | 03/16/1974 | |
| C15-03b | Collins | Charley | 1910 | 1937 | son of Florence |
| C15-04 | LeBlanc | Harry | 05/18/1913 | 08/29/2005 | |
| C15-05 | LeBlanc | Rose C. | 09/11/1911 | 01/18/1988 | |
| C15-06 | Mattison | Shirley Beauchamp | 01/04/1910 | 11/09/1977 | |
| C15-07 | Tenney | Earl J. | 1918 | 1978 | US Navy |
| C15-08 | Stoltz | Melvin V. | 01/08/1914 | 03/09/1991 | |
| C15-09 | Stoltz | Mildred Zeller | 09/02/1913 | 07/23/2007 | |
| C15-10 | Whitlow | Earl | 05/06/1912 | 08/05/1986 | US Coast Guard WWII; mason |
| C15-11 | Whitlow | Geneva D. | 01/06/1913 | 09/07/1986 | |
| C15-12 | Duplantis | William J. | 09/04/1921 | | |
| C15-13 | Duplantis | Irene | 08/19/1916 | 02/19/1987 | |
| C16-01 | Gould | John J., Sr. | 1896 | 1966 | |
| C16-02 | Gaddy | Beatrice E. Gould | 1918 | 1996 | |
| C16-03 | Bruns | Lucille Delilah | 04/18/1886 | 04/11/1954 | |
| C16-04a | Spadoni | Albert F. | | | reserved |
| C16-04b | Spadoni | George F. | 08/19/1924 | 05/17/1980 | |
| C16-04c | Spadoni | Albert F. | | | reserved |
| C16-05a | Rogers | Lawrence W., Sr. | | | reserved |
| C16-05b | Rogers | Lawrence W., Jr. | | | reserved |
| C16-05c | Rogers | Edna H. | 06/12/1907 | 12/26/1983 | |
| C16-06 | Richardson | Edward M. | 08/19/1895 | 08/24/1985 | US Navy WWI |
| C16-07 | Hayward | Margaret Parker | 08/18/1917 | 10/01/1992 | |
| C16-08 | Hayward | John Reuss | 12/18/1912 | 08/21/1999 | |
| C16-09 | Guenard | Hamilton John | 01/09/1961 | 05/17/1982 | |
| C16-10 | Garcia | Milton J. | 03/13/1926 | 07/20/1980 | US Navy WWII Korea |
| C16-11 | Garcia | El G. | 07/04/1926 | 12/29/1985 | |
| C16-12 | Boehm | Walter J. | 02/06/1914 | 11/27/1985 | |
| C16-13 | Boehm | Valerie M. | 02/08/1920 | 08/08/1986 | |
| C16-14 | Nicolosi | Chris | 10/26/1916 | 09/1985 | |
| C16-15 | Richardson | Barry E. | 06/04/1947 | 11/30/2003 | mason; m. 4/28/1999 |
| C16-16 | Richardson | Jo E. | 11/09/1959 | | m. 4/28/1999 |
| C16-17 | Frommeyer | Rosanne Marie | 09/12/1958 | 09/21/2003 | |
| C17-01a | Whitfield | James E. | | | |
| C17-01b | Whitfield | Blanche E. | | | |
| C17-01c | Denman | Hattie L. | | | |
| C17-01d | Moore | Evelyn I. | | | |
| C17-02 | (Unmarked) | | | | |
| C17-03 | Bruns | ? Dillard (?) | | | illegible |
| C17-04 | Bruns | C. | | 06/29/1910 | 49 yrs. |
| C17-05 | McClain | Helen R. | 1897 | 1990 | |
| C17-06 | Mankopf | William J. | 06/12/1926 | 03/30/2002 | |
| C17-07 | Mankopf | Alene Jacks | 09/20/1925 | | |
| C17-08 | Oakes | Emma Summers | 03/22/1920 | 11/24/2003 | |
| C17-09a | Chiarello | Catherine | 04/21/1879 | 09/24/1980 | |
| C17-09b | Von Antz | Geraldine | 05/16/1915 | 06/20/2000 | |
| C17-10 | Diebold | Georgiana B. | 04/05/1907 | 07/09/1983 | |
| C17-11 | Diebold | Archie D. | 03/23/1911 | 08/16/1980 | |
| C17-12 | May | Margaret J. | 12/15/1916 | 02/05/1983 | |
| C17-13 | May | Otto J. | 07/12/1914 | 06/02/1983 | |
| C17-14 | Parrish | Helena Burke | 08/29/1902 | 10/22/1983 | |
| C17-15 | Adams | Lisha M. | 08/31/1985 | 08/31/1985 | in otherwise unmarked family plot |
| C18-01 | (Illegible) | | | | |
| C18-02 | Hawkins | Elmer | 07/02/1917 | 05/25/1978 | US Army WWII |
| C18-03 | (Unmarked) | | | | tomb |
| C18-04 | Hawkins | James, Jr. | 11/10/1913 | 01/07/1990 | |
| C18-05 | Hawkins | Rachel Bernice | 11/19/1920 | 02/10/2003 | |
| C18-06 | Bolling | Carol D. | 02/21/1950 | 02/21/2001 | SP5 US Army |
| C18-07 | Hawkins | Burlin | 03/25/1951 | 10/15/1998 | |
| C18-09 | (Unmarked) | | | | small stone cross |
| C18-10 | Passarella | Robert Thomas | 01/28/1951 | 07/15/1982 | |
| C18-11 | Kern | Nancy Lentine | 06/20/1930 | 03/15/2005 | |
| C18-12 | (Unmarked) | | | | family plot |
| C18-13 | Dupeire | Janet | 12/15/1912 | 01/23/1987 | |
| C18-14 | Smith | Billy Edward, Jr. | 10/25/1900 | 12/25/1990 | |
| C18-15 | Stoltz | | | | family plot |
| C18-16 | Stoltz | ?? Ernest, Sr. | 12/21/1933 | 11/22/1994 | illegible funeral marker |
| C18-17 | Lee | George W., Jr. | 09/28/1923 | 10/17/1987 | |
| C19-01 | Antoine | Aristile | 08/02/1916 | 04/12/1967 | MS Tec4 US Army WWII |
| C19-02 | Murry | Edna | 10/14/1988 | 07/28/1964 | is illegible from C19-02?? |
| C19-03 | Dawson | Jonnie | 06/26/1941 | 07/04/1978 | Sgt US Army Vietnam |
| C19-04 | Hargett | Viola C. | 10/15/1909 | 01/14/1992 | |
| C19-05 | Hargett | Judge | 06/09/1903 | 12/07/1984 | |
| C19-06 | (Unmarked) | | | | family plot |
| C19-07 | Firmin | Sadie | 1926 | 1982 | |
| C19-08 | Stinler | Sadie Marie | | 07/04/1988 | 36 yrs. |
| C19-09 | Bush | Ester Bourgeois | 05/09/1915 | 04/04/1996 | |
| C19-10 | Martello | Hubert Albert, Sr. | 07/26/1909 | 06/06/1995 | |
| C19-11 | Tait | Elizabeth Blam | 08/10/1913 | 03/12/1986 | |
| C19-12 | Ming | Harvey Elvin, Jr. | 11/13/1932 | | |
| C19-13 | Ming | Georgette Stelz | 12/25/1943 | | |
| C20-01 | Murry | Edna | 10/14/1888 | 07/28/1964 | |
| C20-02 | Bradley | Elizabeth "Sue" | 02/02/1912 | 12/13/1996 | |
| C20-03 | Luhrsen | Sue J. | 12/08/1919 | 07/13/1987 | |
| C20-04 | Luhrsen | William F. | 02/21/1912 | 02/15/1983 | |
| C21-01a | Antoine | Father | 1855 | 1922 | |
| C21-01b | Antoine | Mother | 1862 | 1907 | |
| C21-02 | (Unmarked) | | | | |
| C21-03 | Davies | Annie Mae B. | 10/15/1896 | 09/05/1979 | |
| C21-04 | (Unmarked) | | | | |
| C21-05 | Williams | Walter | 1916 | 1979 | Tec5 US Army WWII |
| C21-06 | Luhrsen | Sue Dorher | 12/08/1919 | 07/13/1987 | M Sgt US Army WWII |
| C21-06a | Schmiege | Mary R. Zimmerman | 01/09/1926 | 05/20/1983 | |
| C21-06b | Schmiege | Frank | 03/24/1923 | | |
| C21-07 | King | Lavelle R. "Larry" | 11/18/1908 | 04/22/1983 | US Navy WWII; mason; m. 10/4/1936 |
| C21-08 | King | Alice O. | 1914 | 1995 | m. 10/4/1936 |
| C22-01 | Dove | Charlie | 03/18/1858 | 06/06/1940 | |
| C22-02 | Dove | Agnes Haynes | 03/18/1896 | 02/10/1985 | |
| C22-03 | Dove | James | | | no dates |
| C22-04 | Johnson | Emley | 06/23/1857 | 06/04/1924 | |
| C22-05 | Bridges | Bennett | 02/24/1945 | 05/24/2005 | |
| C22-06 | Moore | Henry D. | 09/15/1915 | 10/08/1984 | Pfc US Army WWII |
| C22-07 | Barns | Alma Moore | 04/21/1913 | 12/10/1993 | |
| C22-08 | Eustis | Scott Hellwege | 1908 | 1984 | |
| C22-09 | Eustis | Billie Riggs | 1920 | 2007 | |
| C22-10 | Kennedy | Rebekah T. | 11/06/1915 | 09/17/1986 | |
| C22-11 | Kennedy | Gerald, S., Jr. | 01/07/1914 | 03/05/1990 | |
| C22-12 | Briant | William A. | 07/11/1917 | 06/08/1993 | 1st LT US Army WWII |
| C22-13 | Lucas | Robert Benjamin | 12/31/1924 | 11/30/1987 | |
| C22-14 | Lucas | Frances Maud Wilson | 01/29/1927 | | |
| C23-01 | (Illegible) | | | | |
| C23-02 | Troy | Sump L. | 03/20/1894 | 05/28/1965 | MS Pvt US Army WWII |
| C23-03 | Moore | Elvina | 10/10/1889 | 01/17/1996 | |
| C23-04 | (Unmarked) | | | | coping |
| C23-05 | Albrizze | Andrew J. | 02/07/1912 | 06/21/1986 | |
| C23-06 | Albrizze | Aline L. | 07/18/1917 | 12/31/1994 | |
| C23-07 | Schiro | Windy Lynn | 10/21/1960 | 04/26/2000 | |
| C23-08 | Acosta | Sylvia | 10/02/1911 | 08/11/1987 | |
| C23-09 | Acosta | Effie Maria | 03/06/1941 | 03/17/1995 | |
| C24-01 | (Unmarked) | | | | slab |
| C25-01 | Smith | Pinkey L. | 02/21/1936 | | m. 12/30/1971 |
| C25-02 | Smith | James S. | 06/06/1926 | 05/16/1996 | m. 12/30/1971 |
| C25-03 | Thomas | Lrnell | 10/27/1907 | 09/10/1999 | |
| C25-04 | Thomas | Julius | 02/26/1929 | 11/13/2000 | |
| C25-05 | Thomas | Eloise H. | 03/03/1934 | 11/21/2006 | |
| C25-05 | Thomas | James Clyde | | 10/28/2004 | S1 US Navy WWII |
| C26-01 | Hall | Clarence "Clicker, Sr. | 06/08/1949 | 12/15/2003 | |
| C26-02 | Hall | Jeanette "J. J" | 11/16/1997 | 05/01/2000 | |
| C26-03 | Serio | Anthony, Jr. "Peewee" | 08/12/1927 | 04/13/2003 | m. 12/30/1950 |
| C26-04 | Serio | Eunice M | 03/01/1932 | | m. 12/30/1950 |
| C26-05 | Geoffrey | Susan Serio | 11/17/1958 | 08/05/2004 | |
| C26-06 | Geoffrey | Dennis A. | 07/06/1950 | 02/03/2006 | |
| D01-01 | Radford | Merrill N. | 09/25/1935 | 01/14/2007 | |
| D01-02 | (Unmarked) | | | | |
| D01-03 | Spoon | Olen M. | 01/07/1947 | 03/25/2007 | AB US Air Force Vietnam |
| D01-04 | Garrett | Stacy L. | 10/19/1966 | 10/22/2007 | |
| D01-05 | Smith | Thomas D. | 11/17/1967 | 10/17/2008 | |
| D01-06 | Lombardo | Francis "Frank" Joseph, Jr. | 08/12/1961 | 04/01/2008 | |
| D01-07 | Van Dyke | Kathleen Louise | 06/23/1953 | 07/16/2008 | |
| D01-08 | (Illegible) | | | | |
| D01-09 | Skinner | Virginia Rae | 04/07/1952 | 09/22/2008 | "mousey" |
| D02-01 | Jones | Mary Mae | 02/28/1926 | 04/03/2008 | |
| D02-02 | Jones | Lemuel Thomas | 07/12/1924 | | reserved |
| D02-03 | Perkins | Daniel Walter | 09/01/1956 | 11/25/1994 | |
| D02-04 | Bourgeois | Benedict Francis | 11/15/1913 | 12/18/1989 | |
| D02-05 | Bourgeois | Vernell Ada | 08/02/1918 | 02/13/2003 | |
| D02-06 | Zimmerman | Harold J., Jr. | 12/02/1924 | 01/23/1988 | Cpl US Marine Corps WWII |
| D02-07 | Zimmerman | Dorothy D. | 10/28/1926 | | reserved |
| D02-08 | Ladner | Shirley Favre | 08/23/1934 | 09/22/1988 | |
| D02-09 | Di Salvo | Joseph E., Sr. | 12/21/1931 | 02/16/1998 | |
| D02-10a | Sterling | L. D. | | | no dates |
| D02-10b | Sterling | Mrs. L. D. | | | no dates |
| D02-11 | Dobson | Robbie M. | 10/15/1942 | 10/25/2004 | |
| D02-12 | (Unmarked) | | | | family tomb |
| D02-13 | Sevin | Tilman W. | 10/12/1919 | 02/04/2007 | |
| D02-14 | Sevin | Delta L. | 07/13/1931 | | reserved |
| D02-15 | Adams | Davy A., Sr. | 04/18/1950 | 03/25/2007 | |
| D02-16 | Adams | Joyce C. | 08/22/1952 | | reserved |
| D02-17 | Adams | | | | family marker; white cross on coping |
| D03-01 | (Unmarked) | | | | crypt |
| D03-02a | Gagliano | Joseph Alfred | 03/27/1921 | 09/23/1997 | |
| D03-02b | Gagliano | Aleathea "Lee" | 01/30/1922 | 04/18/1991 | |
| D03-03 | (Illegible) | | | | |
| D03-04 | Lindsey | Michaela Heather Elleen | 08/19/1987 | 01/15/1990 | |
| D03-05 | Griffin | Joseph U. | 02/05/1921 | 07/24/1990 | |
| D03-06 | Griffin | Lillian S. | 11/02/1923 | 01/17/2002 | |
| D03-07a | Armstrong | Carolyn | 1972 | | |
| D03-07b | Armstrong | Charles II | 1980 | | |
| D03-07c | Armstrong | Catherine M. | 1965 | | |
| D03-07d | Armstrong | Catherine D. | 1941 | 2011 | |
| D03-07e | Armstrong | Lois | 1921 | 1991 | age 69 |
| D03-07f | Armstrong | Charles, Sr. | 1942 | 2007 | |
| D03-09 | Bourgeois | Bernard, Jr. | 08/27/1929 | 06/21/1988 | |
| D03-10 | Bourgeois | Darryl J. | 01/13/1952 | 12/15/1996 | US Marine Corps |
| D03-11 | Sims | baby | 04/27/1989 | 04/27/1989 | |
| D03-12 | Carver | John W. "Zuzu" | 07/05/1942 | 06/20/1998 | |
| D03-13 | Bonvillian | Clifton Nolan | 11/08/1929 | 09/20/1992 | US Army Korea |
| D03-14 | Gallagher | John M. | 07/23/1921 | 10/30/2008 | |
| D03-15 | Gallagher | Evelyn J. | 06/05/1923 | 12/29/2007 | |
| D04-01 | Delcuze | Brennan Scott | 10/16/1986 | 10/03/2009 | |
| D04-02 | (Unmarked) | | | | family plot |
| D04-03 | Meggs | Bernice | 04/27/1909 | 04/25/1993 | |
| D04-04 | Meggs | Irvin | 07/04/1912 | 07/26/2003 | |
| D04-05 | (Unmarked) | | | | |
| D04-06 | Bourgeois | P. | | | family plot |
| D04-07 | Bourgeois | R. | | | family tomb |
| D04-08 | Stelz | George F. | 01/25/1915 | 01/26/1993 | US Navy WWII |
| D04-09 | Stelz | Zelma Carver | 11/30/1906 | 01/13/1994 | wife of George Stelz |
| D04-10 | Young | April A. | 05/09/1957 | 02/03/1997 | |
| D05-01 | Grass | Albert J. | 04/04/1940 | 11/05/1988 | US Army |
| D05-02 | Henry | Dianne Grass | 08/19/1943 | 11/27/2000 | |
| D05-03 | Grass | Lillian G. | 09/30/1915 | 06/03/1969 | |
| D05-04 | Grass | Al | | | no dates |
| D05-05 | Grass | Helen | | | no dates |
| D05-06 | Grass | Bill | | | family plot |
| D05-07 | (Unmarked) | | | | part of Longo plot of D07 |
| D05-08 | (Unmarked) | | | | Gaughey family tomb |
| D05-09 | Gaughey | James R. (Capt) | 10/07/1935 | 10/13/2007 | |
| D05-10 | M J G. | | | | family plot |
| D05-11 | Garcia | James | | | metal pole |
| D05-12 | Page | Denise L. Muse | 11/15/1964 | 10/20/1991 | |
| D05-13 | Borne | Frank H., Jr. | 02/22/1962 | 03/17/1992 | |
| D05-14 | Meshell | Robert Paul, Sr. | 09/22/1959 | 12/29/1997 | |
| D05-15 | Penton | Frank E., Sr. | 06/27/1951 | 09/30/1996 | |
| D05-16 | Penton | Susan S. | 11/21/1956 | | |
| D05-17 | (Unmarked) | | | | family plot |
| D05-18 | Thomas | Erica Rene | 06/08/1990 | 11/22/1995 | |
| D05-19 | Hargett | Alton | 12/22/1925 | 02/08/2005 | US Navy WWII |
| D05-20 | Stoltz | Christopher L. "Piggy" | 03/29/1989 | 09/29/1998 | |
| D05-21 | Gralyn | | | | no other markings; next to Henry A. Spurlock |
| D05-22 | Spurlock | Henry A.,III | 12/11/1982 | 10/19/1997 | |
| D06-01 | Lulei | Jeremie L. | 01/30/1939 | 02/18/2001 | |
| D06-02 | Le Gros | Grace F. S. | 06/23/1926 | 10/16/1996 | |
| D06-03 | Zimmerman | Charles E. | 05/14/1926 | 12/06/2000 | Cpl US Marine Corps WWII |
| D06-04 | Hawkins | Addie Hargett | 05/29/1908 | 04/20/1992 | |
| D06-05 | Antoine | Phyllis Marie | 02/17/1949 | 01/05/2005 | |
| D06-06 | Andrews | Christopher Lee | 01/20/1997 | 01/20/1997 | |
| D06-07 | McIntosh | Christine Marie | 05/24/1969 | 03/15/1997 | |
| D07-01 | Snider | Rennie E. | 07/07/1950 | 08/29/1992 | |
| D07-02 | Longo | Motie Jean Crump | 06/17/1928 | 08/17/2000 | |
| D07-03 | Longo | John, Jr. | 07/28/1929 | 06/18/1992 | city of Waveland Alderman 1962-1974, Mayor 1974-1990 |
| D07-04 | Holden | Maryetta F. | 12/03/1923 | 08/31/2009 | |
| D07-05 | Bingham | Arthur Lynn, Jr. | 05/06/1985 | 10/15/2008 | |
| D07-06 | Gilbort | Magdalena R. | 07/27/1913 | 09/05/1997 | |
| D07-07 | Gilbort | Frank | 01/22/1918 | 08/06/1992 | |
| D07-08 | Bourgeois | Joyce Domangue | 12/15/1925 | 06/13/2002 | |
| D07-09 | Yarborough | Herman Leo | 07/01/1926 | 10/07/2002 | EM3 US Navy WWII |
| D07-10 | Gambino | Catherine Yarborough Villere | 11/08/1922 | 04/29/1993 | |
| D07-11 | Lemke | Henry "Hank" | 09/08/1929 | | reserved |
| D07-12 | Lemke | Edith "Edie" | 08/15/1941 | 08/11/1993 | |
| D07-13 | Ladner | Christopher Lawrence | 07/19/1970 | 06/24/1996 | |
| D08-01 | De Grushe | Otis | 06/01/1912 | 09/01/1991 | |
| D08-02 | Clark | Henry C. Jr. | 09/10/1940 | 11/14/1988 | US Navy |
| D08-03 | Costella | Charles F. | 06/05/1922 | 04/07/1994 | Tec4 US Army WWII |
| D08-04 | Costella | Edith Fisher | 03/23/1942 | 09/03/1999 | |
| D08-05 | Spurlock | Scott O. | 09/28/1964 | 10/08/1993 | |
| D08-06 | Cleek | Alice J. | 08/15/1929 | 12/08/1993 | |
| D08-07 | Farrell | Lonnie M., Sr. | 11/14/1952 | 01/31/1994 | US Army |
| D08-08 | Galivan | John L. | 08/12/1908 | 06/03/1994 | |
| D08-09 | Galivan | Cecile M. | 12/08/1907 | 02/01/2000 | |
| D08-10 | Hawkins | Ruth "Bit" Hargett | 09/03/1929 | 08/11/1994 | |
| D08-11 | Oakley | Lynda Ann Couvillion | 03/06/1943 | 11/08/1994 | |
| D08-12 | White | Alice | 08/09/1947 | 10/04/2008 | |
| D08-13 | (Unmarked) | | | | concrete slab |
| D08-14 | White | Henry Louis, Jr. | 08/24/1928 | 04/07/1995 | Cpl US Army |
| D08-15 | White | Doris Buddendorff | 04/09/1932 | 05/19/2008 | |
| D08-16 | Santalla | Vincent T., Sr. | 10/14/1937 | 06/12/1995 | |
| D08-17 | Schultz | Inez V. Thompson | 10/24/1928 | 07/25/1997 | |
| D08-18 | Fabella | | | | family plot |
| D08-19 | (Unmarked) | | | | family plot |
| D09-01 | Carswell | John Howard, Sr. | 06/03/1929 | 08/07/2000 | US Army Korea; m. Gloria 07/15/1951 |
| D09-02 | Carswell | Gloria V. Necaise | 05/14/1931 | 08/16/2004 | m. John Howard 07/15/1951 |
| D09-03 | Louviere | Harold John | 06/20/1921 | 09/01/1994 | US Coast Guard; m. 01/20/1962 |
| D09-04 | Louviere | Rita Regan | 12/19/1921 | 10/26/1997 | m. 01/20/1962 |
| D09-05 | Scanlan | William Edward | 08/04/1998 | 08/04/1998 | |
| D09-06 | Humble | Andrew A. | 11/21/1930 | 09/03/1994 | US Army Korea |
| D09-07 | Scanlan | Edward W., Jr. | 02/22/1940 | 05/19/1994 | Sgt US Army |
| D09-08 | Fayard | Edward G. Jr. | 07/22/1930 | 08/22/2002 | |
| D09-09 | Fayard | Marion A. | 01/09/1931 | | |
| D09-10 | Loftin | Vesta Mae | 10/23/1944 | 08/04/1994 | m. 06/23/1969 |
| D09-11 | Loftin | Chuck S. | 03/07/1942 | | m. 06/23/1969 |
| D09-12 | Gillum | Ivory James, Jr. | 03/12/1950 | 12/26/1999 | US Army Vietnam |
| D09-13 | Woodfin | Edward Morison | 12/28/1943 | 08/01/1995 | Atty at Law |
| D10-01 | (Unmarked) | | | | |
| D10-02 | Stakelum | Gladys Sbisa | 01/28/1935 | | |
| D10-03 | Stakelum | Ivo Joseph, Jr. | 09/29/1935 | 05/30/2003 | |
| D10-04 | Dugas | Felix Joseph, III | 10/02/1943 | | |
| D10-05 | Bourgeois | Linda Necaise | 05/28/1949 | 09/10/2007 | |
| D10-06 | (Unmarked) | | | | crypt |
| D10-07 | Marsh | Herbert J., Jr. | 08/23/1927 | 11/29/2002 | MMR2 US Navy Korea |
| D10-08 | Taylor | Grace G. | 04/22/1929 | 02/14/2003 | |
| D10-09 | Butsch | Robert M., Jr. | 08/08/1944 | 05/08/2006 | Mason; m. 01/03/1970 |
| D10-10 | Butsch | Genitte T. | 04/30/1951 | | reserved; m. 01/03/1970 |
| D10-11 | Nicolosi | Chris | 10/26/1915 | 09/30/1985 | |
| D10-12 | Nicolosi | Lena Page | 02/17/1948 | 08/13/2006 | |