Wolf Creek Baptist Church Cemetery
Cemetery of the Wolf Creek Missionary Baptist church. It was established ca. 1908.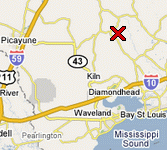 Directions:
From I-10 take the 603 North (= exit 13). Follow this road for about 15 miles, then turn right on Wolf River Road. After 2.1 miles, take a slight right on Vidalia Road. After 1.3 miles, turn left on Wolf Creek Road. You should see the church on the left hand side after about a mile. Take the dirt road just past the church to get to the cemetery.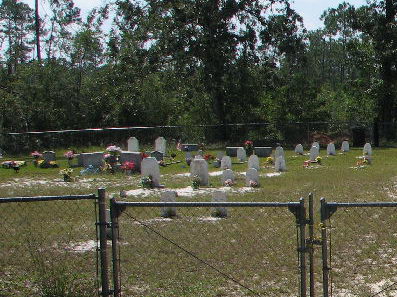 Cemetery layout: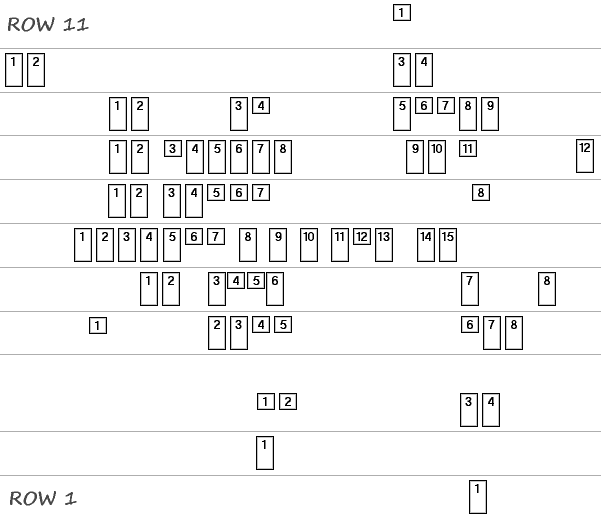 Graves (
72

):
| # | Last Name | First Name | Birth | Death | Comment |
| --- | --- | --- | --- | --- | --- |
| 01-01 | Binzer | Birdie (Etheridge) | | | unmarked; sister of Allie Pearl (Etheridge) Brown; died in childbirth |
| 02-01 | (Unmarked) | Adult | | | unknown man, known as the "crippled pauper" |
| 03-01 | (Unmarked) | Child | | | believed to be the child of a mill or railroad foreman. |
| 03-02 | Jones | Child | | | unmarked, but believed to be the child of Louis N. Jones, Sr. |
| 03-03 | Cuevas | Treselee | 02/25/1930 | 01/05/1963 | wife of Horten Cuevas, d/o Burdic & Emma (Perkins) Rester. |
| 03-04 | Ceuvas | Horten | 02/25/1927 | 10/25/1986 | husband of Treselee (Rester) Cuevas, son of Albert & Rachel (Deschamp) Cuevas. |
| 04-01 | Ladner | Joshua Vert | 08/19/1977 | 08/19/1977 | Jessee & Eileen (Bounds) Ladner. Stillborn. |
| 04-02 | Rester | Wilson | 10/17/1874 | 07/25/1963 | husband of Martha (Smith, Miller) Rester, son of Hezekiah & Jeanette (Hickman) Rester. |
| 04-03 | Rester | Martha | 06/12/1874 | 02/01/1931 | wife of Wilson Rester, daughter of of Thomas & Aimee (Ladner) Smith. |
| 04-04 | Rester | Martha | 10/1899 | | unmarked; believed to be Martha Rester, daughter of Wilson & Martha (Smith) Rester. She died before 1910. |
| 04-05 | Jones | infant | | | unmarked; believed to be a child of Joseph & Malissa (Rester) Jones. |
| 04-06 | Cuevas | Jackie Wayne "Tex" | 09/10/1952 | 12/09/2005 | husband of of Charlene (Allen) Cuevas, son of Dorty John & Vernelee (Rester) Cuevas. |
| 04-07 | Cuevas | Karen Fay | 11/17/1956 | 11/17/1956 | daughter of Dorty John & Vernelee (Rester) Cuevas. |
| 04-08 | Cuevas | Vernelee | 05/11/1921 | 01/12/1981 | wife of Dorty John Cuevas, daughter of Burdic & Emma (Perkins) Rester. |
| 04-09 | Cuevas | Dorty | 10/01/1928 | | (not dead 06/2006); husband of Vernelee (Rester) Cuevas, son of Albert & Rachel (Deschamp) Cuevas. |
| 05-01 | Ladner | Vert | 10/27/1911 | 05/26/1989 | husband of Bernettie (Perkins) Ladner, son of Ulman Jefferson & Annie (Smith) Ladner. |
| 05-02 | Ladner | Bernettie | 12/17/1921 | 06/13/1990 | wife of Vert J. Ladner, daughter of Charlie Woodard & Ella (Rester) Perkins. |
| 05-03 | Hickman | Catherine | | | wife of George W. Hickman. |
| 05-04 | Hickman | son | | | unmarked; believed to be the son of George W. & Catherine Hickman. |
| 05-05 | Hickman | child | | | unmarked; believed to the child of George W. & Catherine Hickman. |
| 05-06 | Hickma | George W. | | | unmarked; believed to be George W. Hickman, husband of Catherine Hickman. |
| 05-07 | Cuevas | Dennis D. | 09/02/1916 | 08/25/1944 | 1st husband of Vernelee (Rester) Cuevas, son of of Sebastian & Cornelia (Ladner) Cuevas. |
| 05-08 | Necaise | Bobby Joseph | 10/02/1941 | 08/27/1979 | husband of Susan Annette (Cuevas) Necaise. |
| 06-01 | Saucier | Edward, Jr. | 04/04/1923 | 04/04/1988 | husband of Roberta (Perkins) Saucier, son of of Ed & Ella Saucier. |
| 06-02 | Saucier | Roberta Perkins | 08/27/1924 | 05/21/1996 | wife of Edward Saucier, Jr, daughter of Charlie Woodard & Ella (Rester) Perkins. |
| 06-03 | Perkins | James Monroe | 11/23/1927 | 01/17/2005 | son of Charlie Woodard & Ella (Rester) Perkins. |
| 06-04 | Perkins | Charlie W. | 09/21/1894 | 03/29/1972 | husband of Ella (Rester) Perkins, son of Ruben & Elizabeth ?Lizzie? (Woodward) Perkins. |
| 06-05 | Perkins | Ella Rester | 12/25/1895 | 06/11/1949 | wife of Charlie W. Perkins, daughter of Wilson & Martha (Smith) Rester. |
| 06-06 | Perkins | Margaret Yvonne | 03/03/1931 | 03/03/1931 | daughter of Charlie W. & Ella (Rester) Perkins. |
| 06-07 | Perkins | Edith Mae | 11/19/1936 | 11/19/1936 | daughter of Charlie W. & Ella (Rester) Perkins. |
| 06-08 | Perkins | Austin Dlose | 11/06/1897 | 11/20/1916 | son of Ruben & Elizabeth "Lizzie" (Woodward) Perkins. |
| 06-09 | Perkins | Elizabeth "Lizzie" (Woodward) | 01/22/1864 | 10/19/1942 | wife of Ruben Perkins. |
| 06-10 | Perkins | Ruben | 01/02/1861 | 10/20/1907 | husband of Elizabeth "Lizzie" (Woodward) Perkins, son of Joseph Ralphel/Rayford & Clarison (Carter) Perkins. |
| 06-11 | Perkins | Clarison A. | 04/28/1816 | 08/16/1916 | wife of Joseph Ralphel/Rayford Perkins, daughter of Seals & Nillie Carter. |
| 06-12 | Martin | infant daughter | | | Infant daughter of Mr. & Mrs. Lance |
| 06-13 | Martin | Alice | 08/04/1892 | 09/07/1977 | wife of Lance Martin, daughter of John & Mary Rosella (Rester) Perkins. |
| 06-14 | Martin | Oras | 12/25/1924 | 09/10/1993 | husband of Eunice (Krohn) Martin, son of Lance & Alice Z. (Perkins) Martin. |
| 06-15 | Martin | Eunice | 12/03/1910 | 01/05/1997 | wife of Oras Martin, daughter of Charley & Mary Krohn. |
| 07-01 | Melton | Shelby | 04/11/1917 | 07/19/1989 | husband of Mary (Gonzales) Melton, son of Jack & Acenith Crecy (Perkins) Melton. |
| 07-02 | Melton | Arthur | 05/12/1922 | 10/21/1952 | husband of Mary Melton, son of Jack & Acenith Crecy (Perkins) Melton. |
| 07-03 | Melton | Jack | 06/14/1879 | 09/1944 | husband of Acenith Crecy (Perkins) Melton. |
| 07-04 | Melton | Acenith Crecy (Perkins) | 02/02/1890 | 07/22/1951 | wife of Jack Melton, daughter of Ruben & Elizabeth ?Lizzie? (Woodward) Perkins. |
| 07-05 | Melton | Nola Mae | 10/28/1916 | 10/28/1917 | daughter of Jack & Acenith Crecy (Perkins) Melton. |
| 07-06 | Melton | Herbert | 11/24/1928 | 05/19/1929 | son of Jack & Acenith Crecy (Perkins) Melton. |
| 07-07 | Melton | Oscar | 05/12/1922 | 07/09/1927 | son of Jack & Acenith Crecy (Perkins) Melton. |
| 07-08 | Deschamp | Verlean | 05/05/1926 | 05/05/1926 | daughter of John & Laura (Perkins) Deschamp. |
| 08-01 | Perkins | John | 06/23/1857 | 12/19/1933 | husband of Mary Rosella (Rester) Perkins, son of Joseph Ralphel/Rayford & Clarison A. (Carter) Perkins. |
| 08-02 | Perkins | Mary Rosella (Rester) | 08/16/1872 | 11/13/1937 | wife of John Perkins, daughter of Hezekiah & Jeanette (Hickman) Rester. |
| 08-03 | Ferrill | Howard | 04/18/1931 | 04/19/1931 | son of Herbert & Martha Jane (Perkins) Ferrill. |
| 08-04 | Ferrill | Martha Perkins | 02/13/1897 | 02/03/1982 | wife of Herbert Ferrill, daughter of John & Mary Rosella (Rester) Perkins. |
| 08-05 | Ferrill | Herbert | 05/16/1891 | 03/18/1978 | husband of Martha Jane (Perkins) Ferrill. |
| 08-06 | Phelps | adult | | | unmarked; believed to the grave of [--?--] Phelps, sister of Rosa (Phelps) Gonzales. |
| 08-07 | Gonzales | Rosa (Phelps) | 1895 | | unmarked; believed to be the grave of Rosa (Phelps) Gonzales, wife of of Charlie Gonzales, m/o Rosie Gonzales. |
| 08-08 | Gonzales | Charlie | 1877 | | unmarked; believed to be the grave of Charlie Gonzales, husband of Rosa Gonzales, f/o Rosie Gonzales. |
| 08-09 | Castilow | H. C. (Harry) | 07/18/1926 | 03/17/1977 | husband of Carolyn Ann (Rester) Castilow, son of Azline Castilow. His first name is Harry. |
| 08-10 | Castilow | Carolyn Ann | 10/15/1938 | | (not dead 06/2006); wife of Harry C. Castilow, daughter of Burdic & Emma (Perkins) Rester. |
| 08-11 | Castilow | Rachel Ann | 11/15/1972 | 11/16/1972 | daughter of H. C. & Carolyn Castilow. |
| 08-12 | Rester | Glen Dale Bryon | 10/22/1987 | 05/16/2006 | son of Glen Dale & Kim ([--?--]) Rester. |
| 09-01 | Perkins | William Wilson, Sr. | 05/26/1895 | 09/07/1971 | husband of Lula Mae Perkins, son of John & Mary Rosella (Rester) Perkins. |
| 09-02 | Perkins | Rayford H. | 01/21/1894 | 01/08/1988 | son of John & Mary Rosella (Rester) Perkins. |
| 09-03 | Gonzales | Rosie | 1924 | | unmarked; believed to be the grave of Rosie Gonzales, daughter of Charlie & Rosa (Phelps) Gonzales. |
| 09-04 | (Unmarked) | infant | | | unmarked; believed to be a niece or nephew of Rosie Gonzales. |
| 09-05 | Rester | Burdic | 10/25/1897 | 12/09/1965 | husband of Emma (Perkins) Rester, son of Wilson & Martha (Smith) Rester. |
| 09-06 | Rester | Willard Wilson | 10/20/1925 | 03/06/1927 | son of Burdic & Emma (Perkins) Rester. |
| 09-07 | Rester | Ernest Ruben | 08/14/1923 | 06/20/1924 | son of Burdic & Emma (Perkins) Rester. |
| 09-08 | Rester | Emma Line (Perkins) | 11/28/1903 | 08/13/1968 | wife of Burdic Rester, daughter of Ruben & Elizabeth ?Lizzie? (Woodward) Perkins. Her leg had to be amputated and is buried at the head of Willard and Ernest. Her headstone reads 14 AUG 1968 as her death date but her death certificate has 13 AUG 1968. |
| 09-09 | Powe | Jannie Marine (Rester) (Bobinger) | 08/05/1944 | 03/25/2006 | daughter of Burdic & Emma (Perkins) Rester, ex-wife of Elvin L. Bobinger and James W. Powe. |
| 10-01 | Cuevas | Melton J. | 10/02/1934 | 03/24/2003 | husband of Lorena (Ladner) Cuevas, son of Renelder Joseph & Mable Louise (Lowery) Cuevas. |
| 10-04 | Cuevas | Barney | 09/16/1932 | | (not dead 06/2006); husband of Lunnie Mae (Rester) Cuevas, son of Albert & Rachel (Deschamp) Cuevas. |
| 10-02 | Cuevas | Lorena L. | 03/17/1943 | | (not dead 06/2006); wife of Melton J. Cuevas, daughter of Vert J. & Bernettie (Perkins) Ladner. |
| 10-03 | Cuevas | Lunnie Mae | 08/15/1933 | 11/30/1998 | wife of Barney Cuevas, daughter of Burdic & Emma (Perkins) Rester. |
| 11-01 | Ladner | Baby | 05/14/2003 | 05/14/2003 | infant of Billy Joe & Melinda Fay (Peterson) Ladner. |