Today's events are tomorrow's history! For a historical society, that means the work never stops. History needs to be recorded in order to be preserved, and the Hancock County Historical Society is continuously gathering new records and updating existing ones. At the same time, we are digitizing our entire collection so it can be made available on this website.
That's a lot of work.
Work that is all done by volunteers.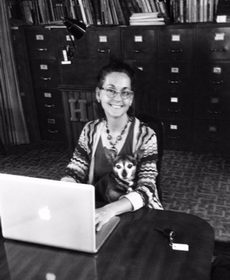 Volunteer Ana with Maxwell.
If you are interested in helping us preserve history, let us know! Whether you want to scan documents, take pictures, type, help index, fold newsletters, or do anything else you can think of. All talents are welcome. No experience required.
Call us at (228) 467-4090.
Or visit:
Hancock County Historical Society
108 Cue Street
Bay Saint Louis, MS 39520