Glen Oak (Kimbrough House)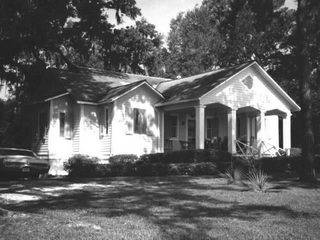 Glen Oak (Kimbrough House)
No longer standing and de-listed on 7/16/2008
National Register ID: 86003271
Area Of Significance: Architecture
Architectural Classification: Shingle
Period Of Significance: 1820, 1890
Date Listed: 11/21/1986
Location: 806 North Beach Boulevard, Bay St. Louis, MS
Statement of Significance
Glen Oak at 806 N. Beach Boulevard is believed to have been constructed circa 1820, but is primarily significant because of its Shingle Style renovation. It is the only example of this architectural style in Bay St. Louis. This is rather unusual because the popularity of the Shingle Style coincided with the community's peak as a seaside resort. In fact, the only other Shingle Style buildings on the Mississippi Gulf Coast that have been identified to date are in Ocean Springs at the other end of the state's coastline.
Architectural Description
Ca. 1820, altered Ca. 1890. 1-story 3x3-bay shingled house with gable roof. Front gabled portico. Polygonal bays added to corners of the original rectangular plan.
(Details and text copied from National Register nomination form)