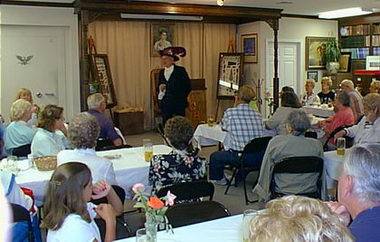 Members listening to a guest speaker at one of our monthly luncheon meetings at Lobrano House
The Hancock County Historical Society is one of the largest civic organizations on the Gulf Coast. Membership in the Society has grown from fewer than a dozen to more than a thousand people during the past twenty years.
Members receive the newsletter, The Historian of Hancock County, every month and also receive discounts on books and other items sold by the Society. 8x10 copies of photographs from a selection of over 30,000 are available to members for $5.00 each.
The Society also sponsors tours to historic places and offers monthly luncheon meetings at the Lobrano House. These meetings are popular and require reservations. Check the Upcoming Events in the sidebar for the schedule.
Dues
Annual dues are $30.00. Business memberships are $100.00.
All memberships are due in January. Rates are prorated for new members who join during the year.
Please call us at (228) 467-4090 if you are interested in becoming a member.
Or send a check to:
Hancock County Historical Society
Post Office Box 3356
Bay Saint Louis, MS 39521