There are currently eight Directors on the Board. They are elected annually by our members during the November luncheon and installation takes place at the Christmas party in December. Any member can be elected. Nominations from the floor are accepted.
Each Director holds office for two years. The President, Second Vice President, Historian, and Publicity Chairman start their term on even years, while the First Vice President, Secretary, Treasurer, and Board Member at Large start their term on odd years.
Charles H. Gray has been appointed Executive Director For Life.
The 2017 Board of Directors are: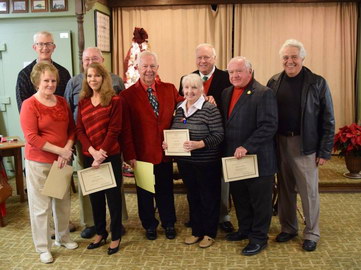 2017 Board of Directors
President, Jackie Allain
First Vice President, Jim Thriffiley
Second Vice President, Ronald Ladner
Secretary, Lana Noonan
Treasurer, Georgie Morton
Historian, John Gibson
Publicity Chairman, James Keating
Member at Large, Ames Kergosien
The Corporation Officers are:
Executive Director, Charles Harry Gray - Assistant to the Director, Eddie Coleman