Architectural Styles - French Colonial
Constructed as plantation houses from the early 1700s to the early 1800s, these rectangular structures were raised above ground-level cellars with the main floor of the second level and storage below. A gallery on the second level was on at least two sides and sometimes all four. A steep hipped roof was generally pierced by dormers on either two two sides or on all four. The number of rooms varied, but the floor plan never included hallways.
The smaller houses often had three rooms positioned side by side, while the larger houses might have two parallel rows of three rooms each. Small rooms called cabinets - commonly used for storage - were usually positioned at the rear outer corners of the house. Each room on the second level had French doors opening onto the gallery.
This house type was influenced by the buildings of the West Indies and represents a blending of French and Spanish influences.
The above description was taken from "New Orleans Houses, a House-Watcher's Guide" by Lloyd Vogt.
---
Some Examples of French Colonial Houses at the Bay
(Past and Present)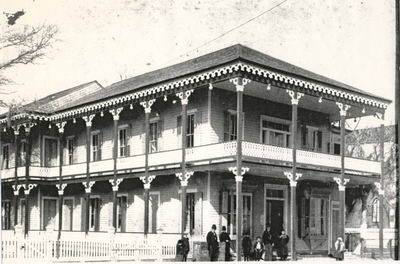 230 South Beach Boulevard
Planchette's Store with family living accommodations above. Our Lady Catholic Church is visible on right side of photo. This building was completely burned in the great fire of 1907 and was replaced by a house of similar size and a small store which stood on the corner of Beach Boulevard and Union Street.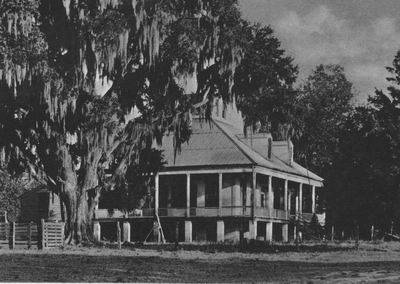 Claiborne Plantation
"Laurelwood" Ca 1800. It is a planter's type house with broad galleries and two gable dormers on the front façade. The gallery is reached by a single flight of steps and its roof is supported by slender hand-hewn columns across the front. There is a wide central hall with high ceiling rooms. There was a square observatory overlooking the swamps. This mansion was demolished by L&N Railroad company who owned the land.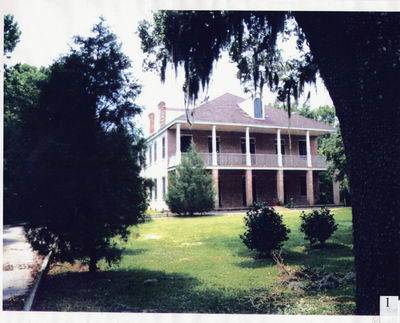 900 North Beach Boulevard
National Register # 1 (Elmwood District)
Elmwood Manor was begun before 1812, completed in 1829. 2½-story 5x5-bay brick dwelling with pyramidal hip roof, front and rear undercut galleries, and gabled dormers enriched with colonettes. Door with transom located in middle bays provided access to gallery on each of three floors.
(Destroyed by Katrina in 2005)