Private cemetery of the Fayard family, with about 100 people buried there. Oldest grave dates back to 1885.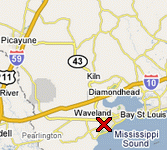 Directions:
If coming from I-10, take the 603 south (= exit 13) and turn right on Hwy 90. After 1.2 miles, turn left on Waveland Avenue. Follow this street for about 0.9 miles, then turn right at Dicks Street. Look for the cemetery on the right hand side of the road.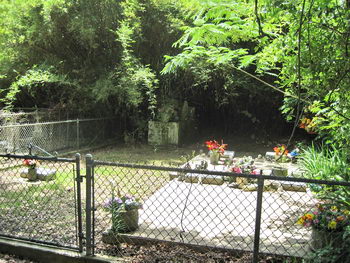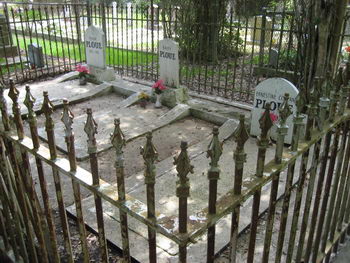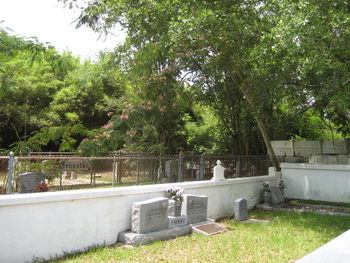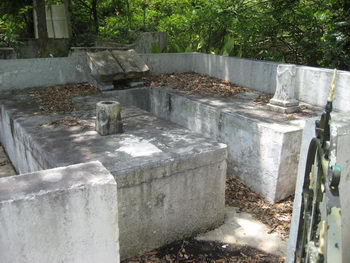 Cemetery layout:
Rows - not numbered as such - go from left to right, and graves are counted from front to back.


Graves (
101

):
| # | Last Name | First Name | Birth | Death | Comment |
| --- | --- | --- | --- | --- | --- |
| 00 | (unmarked) | | | | |
| 01 | (unmarked) | | | | |
| 02 | Fayard | Roy P., Sr. | 04/26/1933 | 05/27/1991 | |
| 03 | Cornett | Evelyn Louise Fayard | 11/19/1963 | 06/18/1999 | |
| 04 | Hannaghan | David Mark | 11/11/1936 | 12/11/2004 | |
| 05 | Hannaghan | Patricia Glynn | 12/18/1941 | 10/13/2000 | |
| 06 | Stieffel | Donna Simpson | 08/27/1946 | | reserved; married Emile 04/23/1977 |
| 07 | Stieffel | Emile L., II ("E.L.") | 04/12/1928 | 01/10/2008 | Sgt. US Marine Corps WWII; married Donna 04/23/1977 |
| 08 | Fayard | Veronica Ronnie Rushing | 01/09/1945 | 11/24/1991 | |
| 09 | Self | Henry Clay, Jr. | 06/24/1951 | 06/19/2006 | |
| 10 | Self | Mary Elizabeth | 12/16/1949 | | reserved |
| 11 | Ulschak | Maurice D. | 1933 | 1984 | US Army Korea |
| 12 | Ulschak | Whilmena J. | 12/17/1935 | 06/10/2005 | |
| 13 | Johnston | John E. | 12/13/1933 | 06/30/1995 | Cpl US Army |
| 14 | Hollis | Aubrey | 02/28/1906 | 04/27/1981 | |
| 15 | (unmarked) | | | | |
| 16 | (unmarked) | | | | |
| 17 | Langston | John E. | 11/24/1882 | 10/12/1953 | |
| 18 | Langston | Mary U. | 02/24/1878 | 10/12/1955 | |
| 19 | Johnston | William David | 02/27/1902 | 11/09/1943 | |
| 20 | Fournier | Raymond | 11/28/1839 | 10/05/1903 | |
| 21 | Fournier | Mary | 03/23/1845 | 08/12/1913 | |
| 22a | Fournier | Frank A. | | 04/09/1920 | aged 48 |
| 22b | Fournier | Elizabeth Hackett | | 09/06/1934 | aged 64 |
| 23 | Fournier | Henry | 1905 | 1958 | |
| 24 | Fournier | Malvina | 04/13/1872 | 05/27/1928 | |
| 25 | Utsmon | John J. | 07/30/1903 | 07/04/1916 | |
| 26 | Stieffel | Deborah | 1954 | | reserved |
| 27 | Stieffel | Robert | 1944 | 2007 | |
| 28 | Stephens | Richard L., Jr. | 12/04/1944 | 01/04/1995 | |
| 29 | Stieffel | Ray H., Sr. | 02/11/1910 | 12/04/1959 | husband of Myrtle Bishop Stieffel |
| 30 | Stieffel | Myrtle Bishop | 12/20/1910 | 04/22/1994 | wife of Ray H. Stieffel, Sr. |
| 31 | Johnston | Edwin Preston | 03/07/1903 | 08/12/1955 | |
| 32 | Bonie | Armond Jerome Roy | 08/16/1917 | 09/20/1977 | U.S. Navy |
| 33 | Favre | Francois | 1797 | 09/18/1873 | |
| 34 | Ladnier | Eulalie | 1797 | 05/23/1887 | |
| 35 | (unmarked) | | | | |
| 36 | Bourgeois | Catherine Nell | 03/30/1939 | 12/06/2002 | |
| 37 | Stieffel | Kenneth J. | 10/06/1940 | 04/15/1996 | |
| 38 | Stieffel | Margaret Z. | 1912 | 1978 | |
| 39 | Stieffel | Alton J. | 1904 | 1978 | |
| 40 | Kothmann | Henry Paul | 04/15/1912 | 05/05/1975 | US Navy WWII |
| 41 | Kothmann | Lois F. | 01/14/1920 | 10/26/1982 | |
| 42 | Ploue | Ernestine Cobean | 03/11/1859 | 03/07/1922 | |
| 43 | Ploue | Baby | | | |
| 44 | Ploue | Frank | 05/12/1855 | 04/19/1900 | |
| 45 | Fayard | Alma Mitchell Richardson | 09/26/1927 | 09/27/1987 | |
| 46 | Ranson | Eleanor Bourgeois | | 07/11/1969 | one date only |
| 47 | Ranson | Raymond C. | 08/21/1896 | 03/20/1959 | Miss. Oiler US Navy WWI |
| 48 | Bentel | Rosie Necaise Henley | 07/18/1908 | 08/29/1971 | |
| 49 | Henley | Harry E. | 05/24/1894 | 07/14/1944 | |
| 50a | Carrio | Joseph | 1856 | 1899 | |
| 50b | Carrio | Mathilda Fayard | 1863 | 1939 | |
| 50c | Englander | Cora Carrio | 1882 | 1925 | |
| 51a | Englander | Frank F. | 1870 | 1945 | |
| 51b | Lizana | Ellis Vincent, Sr. | 1892 | 1960 | |
| 51c | Lizana | Florence Englander | 1923 | 1998 | |
| 52 | Lizana | Leo Paul | 07/02/1950 | 11/17/1957 | |
| 53a | Fayard | Dan'l, Sr. | 1922 | | reserved |
| 53b | Kreider | Elizabeth B. | 03/21/1880 | 03/19/1936 | wife of Dan'l Fayard Sr. |
| 53c | Fayard | John Irvin | 08/04/1907 | 05/01/1958 | |
| 53d | Fayard | Daniel R. | 04/15/1878 | 10/29/1960 | |
| 53e | Fayard | Al Dillon W. | 01/22/1904 | 03/16/1919 | |
| 54 | Fayard | Emma Rita | 10/22/1870 | 10/19/1885 | |
| 55 | Johnston | Elenor | 06/22/1848 | 06/30/1889 | wife of Emile Fayard |
| 56a | Bourgeouis | Ella Udoria | 03/10/1876 | 02/08/1948 | |
| 56b | Bourgeouis | Daniel | 11/05/1871 | 06/24/1955 | |
| 57 | Henley | Baby | | 09/08/1956 | |
| 58 | Henley | Victoria Fayard | 03/08/1900 | 12/11/1974 | |
| 59 | Fayard | Mamie Necaise | 04/29/1869 | 12/20/1947 | wife of Emile Fayard, Sr. |
| 60 | Fayard | Emile, Sr. | 04/24/1848 | 04/18/1922 | husband of Mamie Necaise |
| 61 | Fayard | Pierre, Sr. | 07/25/1820 | 07/08/1906 | |
| 62 | Fayard | Estelle | | 10/22/1910 | aged 89 years; widow of Peter Fayard |
| 63 | Fricke | Baby | 10/01/1956 | 10/03/1956 | |
| 64 | (unmarked) | | | | |
| 64 | Henley | Robert F. | 01/18/1889 | 05/07/1931 | |
| 65 | (unmarked) | | | | |
| 66 | Ladner | Christian L., Jr. | 02/18/1931 | 01/30/2002 | US Army Korea |
| 67 | Ladner | Christian L. | 04/06/1907 | 10/29/1986 | |
| 68 | Ladner | Marietta F. | 11/22/1896 | 08/07/1969 | |
| 69 | Fayard | Edna H. | 04/30/1884 | 09/08/1961 | |
| 70 | Fayard | Peter G. | 11/12/1894 | 03/07/1961 | Miss Pvt. Co. A 9 inf 2 Div WWI PH |
| 71 | Ladner | Paula Jean | 01/14/1953 | 01/25/1953 | |
| 72 | Bourgeois | John L. | 02/07/1883 | 06/13/1927 | husband of Marietta Fayard |
| 73 | Ladner | (no first name) | | | no first name or dates |
| 74 | Ladner | Charles L. | 07/08/1932 | 07/09/1998 | |
| 75 | Ladner | Mary F. | 05/08/1931 | 09/27/1966 | wife of Charles Ladner |
| 76 | Henley | Paul R. | 10/09/1920 | 12/31/1970 | |
| 77 | Henley | Thelma L. | 10/09/1921 | 05/28/1967 | |
| 78 | Fayard | Baby | 02/11/1954 | 02/11/1954 | |
| 79 | Fayard | William R., Sr. | 12/24/1882 | 09/09/1948 | |
| 80 | Bourgeois | Helen B. | 09/27/1907 | 04/03/1983 | |
| 81 | Bourgeois | Emile L. | 04/10/1899 | 02/12/1972 | |
| 82 | Fayard | Marguerite R. | 12/17/1919 | | reserved |
| 83 | Fayard | John Joseph, J. | 04/03/1921 | 01/24/2004 | AMM3 US Navy WWII |
| 84 | Fayard | David Allen | 02/18/1957 | 02/21/1957 | |
| 85 | Fayard | Loretta A. Johnston | 09/18/1897 | 08/13/1967 | |
| 86 | Fayard | John Joseph, Sr. | 04/28/1899 | 11/19/1975 | |
| 87 | Fayard | Estelle Florence | | | Infant; no dates |
| unk | Langston | John | 1874 | 1959 | Reinterred from Gainesville #016 |
| unk | Langston | Samuel | | | Reinterred from Gainesville #028 |