Fenton SandHill - Alphonse G. Malley Cemetery
Fenton, a ghost sawmill town, was established on a road leading through the Jordan River Swamp about four miles east of Kiln. The town's early settlers were largely of French descent, but among the pioneers were some of the Cuevas, originally from Spain.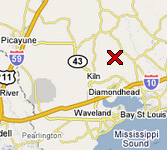 Directions:
From I-10 take the 603 North (= exit 13). Follow this road for about 7.4 miles, then turn right at Firetower Road. The cemetery is on the left hand side of the road after 4.6 miles, which is approximately 0.4 miles past the Fenton-Dedaux intersection.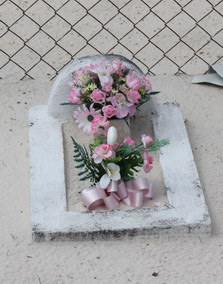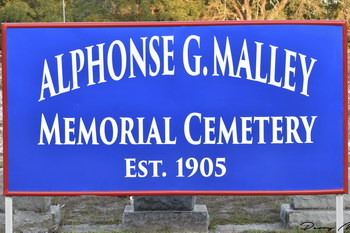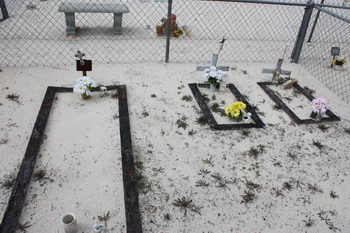 Cemetery layout:
See sketch below: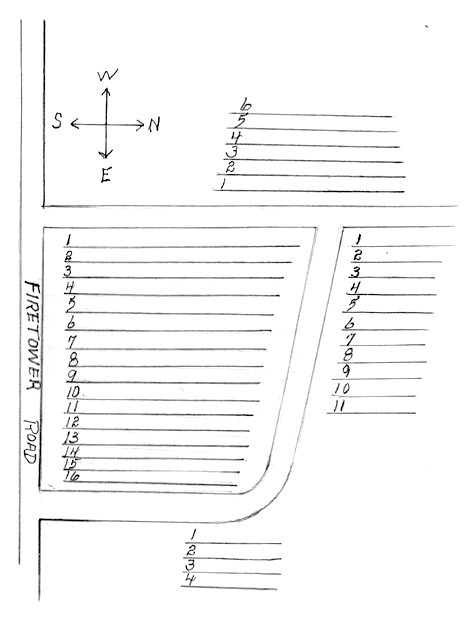 Graves (
585

):
| # | Last Name | First Name | Birth | Death | Comment |
| --- | --- | --- | --- | --- | --- |
| E01-01 | Ladner | Robbie C. | 02/14/1969 | 02/14/1969 | |
| E01-02a | Ladner | Cecil H. | 03/30/1948 | 10/04/2003 | m. 11/20/1965 Patsy |
| E01-02b | Ladner | Patsy E. | 09/05/1949 | | (reserved); m. 11/20/1965 Cecil |
| E01-03a | Ladner | Renelder G. | 09/09/1921 | 01/09/2000 | m. 7/3/1945 Irene |
| E01-03b | Ladner | Irene M. | 06/18/1929 | 04/21/2006 | m. 7/3/1945 Renelder |
| E01-04 | Randall | Ryan D. | 05/14/1977 | 02/14/1998 | |
| E01-05 | Mercer | Thomas Roy | 06/10/1962 | 01/27/2004 | FR US Navy |
| E01-06 | Stephenson | William Harrison Jr. | 07/28/1957 | 02/25/1989 | "Bardeaux" |
| E01-07 | Lafferty | Eddy D. | 11/19/1959 | 04/25/2003 | |
| E01-08a | Lafferty | Darlene | 01/03/1943 | 07/14/2004 | |
| E01-08b | Lafferty | Joel | 09/30/1937 | | (reserved) |
| E01-09 | Lafferty | Angela | 06/05/1961 | 12/10/2008 | |
| E01-10 | Necaise | Gidget Ann | 04/18/1965 | 02/16/2003 | |
| E02-01 | Ladner | Tanae L. | 01/24/1995 | 03/19/2008 | daughter of Julie & Terry |
| E02-02a | Ladner | Julie A. | 09/02/1973 | | (reserved) |
| E02-02b | Ladner | Terry J. | 09/29/1972 | | (reserved) |
| E02-03 | Trimble | Jonathan Thomas | 11/17/2003 | 02/11/2004 | baby brother to Joseph & Timmy |
| E02-04a | Cuevas | James L., Jr. | 11/18/1922 | | (reserved); m. 1/22/1944 Luvy |
| E02-04b | Cuevas | Luvy A. | 01/23/1926 | 10/23/1993 | m. 1/22/1944 James |
| E02-05a | Ladner | John Vernon | 04/19/1932 | 10/02/1999 | Sgt US Army Korea |
| E02-05b | Ladner | Eula Mae | 04/03/1934 | | (reserved) |
| E02-06 | Poole | Michael Timothy | 10/21/1956 | 01/15/2001 | |
| E02-07 | Herndon | Barney Lee | 12/17/1950 | 06/02/2001 | |
| E02-08 | Ainsworth | Ernie Ree | 07/31/1938 | 05/13/2002 | |
| E02-09 | Browder | Mundel Danny | 09/29/1947 | 07/24/2003 | |
| E02-10 | (Unmarked) | | | | wooden cross |
| E02-11a | Parrish | John W. | 02/22/1957 | | (reserved); m. Connie Necaise |
| E02-11b | Necaise Parrish | Connie S. | 04/24/1959 | 07/06/2006 | m. John W. |
| E03-01a | Brown | Grady J. Sr. | 10/18/1936 | 02/18/2004 | |
| E03-01b | Brown | Sylvia Reed | 11/28/1938 | | (reserved) |
| E03-02a | Parker | Hiram E. | | | (reserved) |
| E03-02b | Parker | Glenda E. | 03/19/1953 | 01/31/2006 | |
| E03-03 | Boudreaux | Sandra H. | 10/08/1952 | | (reserved) |
| E03-04 | Boudreaux | Derek Philip | 12/20/1980 | 10/02/2008 | |
| E03-05 | Boudreaux | William P. | 06/03/1946 | | (reserved) |
| E03-06 | Boudreaux | Jeremy (infant) | 1984 | 1984 | |
| E04-01 | Ladner | John Sr. | 11/01/1948 | 02/04/2009 | |
| N01-01 | Malley | Arthur Eugene Jr. | 11/25/1942 | 10/29/2003 | |
| N01-02 | Malley | Clifton Charles | 01/02/1936 | 02/09/1973 | |
| N02-01a | Deschamp | Ruford | 08/15/1931 | 12/20/2000 | |
| N02-01b | Deschamp | Dorothy Mae | 01/08/1933 | 11/26/2002 | |
| N02-01c | Deschamp | Timothy P. | 10/30/1960 | 03/03/1976 | |
| N03-01 | Accana | Albert | 04/29/1930 | 10/16/1995 | |
| N04-01a | Ladner | Ollis Joseph | 10/27/1918 | 11/11/1976 | |
| N04-01b | Ladner | Gracie Marie | 07/24/1924 | 04/16/1989 | |
| N05-01 | Shiyou | Kendall A. | 11/04/1959 | 05/23/1977 | |
| N06-01a | Ladner | Russell H. | 04/17/1916 | 01/19/1990 | m. 12/23/1936 Hazel |
| N06-01b | Ladner | Hazel L. | 07/15/1917 | 03/04/2003 | m. 12/23/1936 Russell |
| N06-02 | Ladner | Haley Brianna | 09/27/1991 | 07/11/2000 | |
| N07-01 | Ladner | Nicholas James | 12/24/1983 | 01/03/1996 | |
| N07-02a | Long | Gerald Lee Jr. | 12/10/1922 | 09/17/1982 | US Marine Corps WWII |
| N07-02b | Long | S. Frances M. | 10/07/1921 | 12/26/1994 | |
| N08-01 | Shaw | Stephanie Hoda | 12/03/1963 | 08/09/1996 | |
| N09-01a | Ladner | Vester J. | 11/27/1935 | 02/17/1992 | |
| N09-01b | Ladner | Mildred N. | 05/25/1935 | | (reserved) |
| N10-01 | (Unmarked) | | | | |
| N11-01 | Whitfield | Brenda Banks | 07/16/1950 | 10/08/2005 | |
| S01-01 | Lucco | Joel Patrick | 12/15/1948 | 01/14/2006 | |
| S01-02a | Ladner | Nancy E. | 12/21/1938 | | (reserved); m. 6/1/1972 Winton |
| S01-02b | Ladner | Winton J. | 02/08/1933 | 10/18/1997 | US Navy; m. 6/1/1972 Nancy |
| S01-03a | Necaise | Renee | 09/23/1960 | | (reserved); m. 8/1/1981 Stevie |
| S01-03b | Necaise | Stevie | 09/22/1958 | 09/19/1992 | m. 8/1/1981 Renee |
| S01-04a | Favre | Tommy | 09/04/1956 | 10/25/1995 | m. 6/24/1979 Jan |
| S01-04b | Favre | Jan | 01/26/1962 | | (reserved); m. 6/24/1979 Tommy |
| S01-05 | Hearley | Ace C. | 07/25/1967 | 04/09/1987 | name and dates hard to read |
| S01-06 | Campbell | Thomas Edward | 09/07/1928 | 07/19/1986 | |
| S01-07 | Malley | James D. | 01/23/1933 | 09/29/1976 | |
| S01-08 | Malley | Geraldine B. | 09/06/1939 | 10/23/1962 | |
| S01-09 | Necaise | Kateria Rose | 07/06/1980 | 11/28/1998 | |
| S02-01 | Hotard | Howard Lee | 11/04/1925 | 03/24/2008 | |
| S02-02 | Besse | Isabelle | 04/19/1911 | 07/28/1983 | |
| S02-03 | Besse | Ashton J. Sr. | 07/19/1912 | 06/13/1985 | PFC US Army |
| S02-04 | Sanchez | Mary | 1889 | 1988 | |
| S02-05 | (Unmarked) | | | | |
| S02-06a | Malley | Cordelia Q. | 05/20/1912 | 03/26/2007 | m. 1/25/1952 Nathanial |
| S02-06b | Malley | Nathanial M. | 09/05/1918 | 11/21/1992 | m. 1/25/1952 Cordelia |
| S02-07a | Peterson | J. P. | 1922 | 1985 | |
| S02-07b | Peterson | Luby M. | 1926 | | (reserved) |
| S02-08a | Gros | Guy J. | 06/17/1914 | 05/22/1991 | m. 12/14/1939 Theresa |
| S02-08b | Gros | Theresa G. | 03/05/1923 | 08/23/1998 | m. 12/14/1939 Guy |
| S02-09 | Leake | James Earl | 07/02/1963 | 07/09/1963 | |
| S02b-01 | Ladner | Joey Wesley | 06/24/1976 | 06/24/1978 | |
| S02b-02 | Ladner | Josie Ann | 08/16/1973 | 08/17/1973 | |
| S02b-03 | Luwisch | Donald | 05/01/1959 | 01/15/1996 | |
| S02b-04 | Luwisch | John F. Sr. "Freddie" | 06/08/1932 | 07/31/2006 | |
| S02b-05 | Shaw | Joy C. | 04/23/1936 | 02/04/1994 | |
| S02b-06 | Ladner | Britani Dynea | 12/27/1985 | 01/07/1986 | |
| S02b-07 | Peterson | Vernon Joseph | 12/20/1934 | 04/30/2002 | "Joe Pete" |
| S02b-08 | Peterson | Randy Keith | 12/13/1960 | 09/14/2007 | |
| S03-01a | Ladner | James C. | 10/13/1932 | 05/16/2002 | |
| S03-01b | Ladner | Betty M. | 01/07/1933 | | (reserved) |
| S03-02 | Lee | Desti Billiemarie | 04/23/1993 | 01/02/2000 | |
| S03-03 | Moran | Harrison Paul I | | 02/05/2006 | |
| S03-04a | Necaise | Forrest H. | 09/17/1905 | 05/23/1973 | |
| S03-04b | Necaise | Evelyn L. | 08/05/1912 | 11/26/2005 | |
| S03-05 | Wilkes | Richard Allen Sr. | 01/13/1956 | 02/21/2007 | |
| S03-06a | Bennett | Samuel R. | 11/09/1921 | | (reserved) |
| S03-06b | Bennett | Marci E. McAvoy | 09/28/1924 | 01/26/1965 | |
| S03-07 | Ireland | Mary C. | 01/20/1898 | 08/04/1972 | |
| S03-08 | Bennett | James Troy | 03/19/1928 | 11/22/2004 | "Papa Jim" |
| S03-09 | (reserved) | | | | reserved for Bennett |
| S03-10 | (reserved) | | | | reserved for Bennett |
| S03-11a | Ladner | Lveda M. | 05/25/1942 | | (reserved) |
| S03-11b | Ladner | Joseph V. | 03/27/1939 | 01/09/1995 | |
| S03-12a | Randall | W. M. | 08/11/1926 | 10/23/1982 | |
| S03-12b | Randall | Louise V. | 08/01/1927 | 05/11/1971 | |
| S03-13 | Randall | William M. Jr. | 07/31/1953 | 08/20/1989 | Pvt US Army Vietnam |
| S03-14a | Santinelli | Edward J. | 03/12/1916 | 10/30/1984 | |
| S03-14b | Santinelli | Cordelia M. | 07/13/1914 | 11/09/1995 | |
| S03-15a | Strohauer | Paul W. | 1898 | 1973 | |
| S03-15b | Strohauer | Dolene P. | 1903 | | (reserved) |
| S03-16a | Malley | Larry L. | 09/04/1940 | 12/17/2001 | |
| S03-16b | Malley | Linda E. | 11/20/1942 | | (reserved) |
| S03-17 | (Unmarked) | | | | reserved plot |
| S03-18 | (Unmarked) | | | | reserved plot |
| S04-01a | Ladner | Jimmy J. | 02/11/1934 | 01/23/1991 | |
| S04-01b | Ladner | Alice | 01/09/1938 | 10/29/1999 | |
| S04-02a | Arnold | Rudolph V. | 01/05/1927 | 06/13/1982 | |
| S04-02b | Arnold | Betty L. | 08/29/1930 | | (reserved) |
| S04-03 | Dedeaux | Clinton J. | 04/19/1927 | 02/12/1984 | US Navy |
| S04-04 | Ladner | Myra | 09/28/1924 | 02/07/1926 | |
| S04-05 | Ladner | infant son | 1932 | 1932 | son of Dan & Nettie Ladner |
| S04-06 | (Illegible) | | | | |
| S04-07 | Lee | Linda(?) | | 01/03/1990 | hard to read |
| S04-08 | (Illegible) | | | | |
| S04-09 | Galin | Russell L. | 06/17/1892 | 09/09/1947 | |
| S04-10 | Galin | Beatrice R. | 12/29/1891 | 10/30/1973 | |
| S04-11 | Peterson | Elgin Francis | 06/04/1940 | 02/26/1965 | |
| S04-12 | Peterson | Ellen Felishia | 06/09/1911 | 03/31/1999 | |
| S04-13 | Ladner | Josephine Mary | | 01/20/1966 | 59 yrs. |
| S04-14 | Ladner | Culver F. | 01/29/1906 | 08/18/1969 | |
| S04-15 | Ladner | Marcelina | | 04/09/1977 | 73 yrs. |
| S04-16 | Bentz | Donald Louis | 12/28/1979 | 06/28/2008 | SSGT US Marine Corps |
| S04-17 | Malley | Diane V. | 05/02/1949 | 01/07/1950 | |
| S04-18 | Garriga | Jeanette M. | 09/21/1932 | 11/15/2001 | |
| S04-19 | Malley | Ellie Lynn | 05/05/1969 | 05/05/1969 | aged 45 minutes |
| S05-01 | Cooper | Doris J. Ladner | 09/30/1945 | 12/04/1996 | |
| S05-02a | Ladner | Esther L. | 12/14/1918 | 07/23/1994 | |
| S05-02b | Ladner | Percy S. | 05/31/1915 | 03/04/1981 | |
| S05-03 | Necaise | Helen Ladner | 07/27/1944 | 08/17/1995 | |
| S05-04 | Ladner | Ray B. | 1925 | 1969 | |
| S05b-01 | Malley | Kerry Wayne | 09/14/1960 | 09/02/1977 | |
| S05b-02 | Malley | Glenda Jean | 11/08/1956 | 11/08/1956 | |
| S05b-03a | Brown | George O. | 09/01/1882 | 02/01/1959 | |
| S05b-03b | Brown | Pearl E. | 09/15/1891 | 12/23/1977 | |
| S05b-04 | Brown | Oliver J. | 04/16/1916 | 11/05/1938 | |
| S05b-05a | Brown | Peter | 05/1947 | | |
| S05b-05b | Brown | William | 07/19/1951 | 03/23/2004 | |
| S05b-06a | Cameron | Jesse | 1851 | 1941 | |
| S05b-06b | Cameron | Philictia | 1857 | 1922 | |
| S05b-07 | Ladner | Raymond | 02/24/1956 | 01/07/1988 | |
| S05b-08a | Peterson | Margaret R. | 02/29/1904 | 02/21/1988 | |
| S05b-08b | Peterson | Florian J. | 07/04/1898 | 02/24/1968 | |
| S05b-09a | Ladner | Margie P. | 02/14/1928 | | (reserved); m. 9/22/1944 |
| S05b-09b | Ladner | Clayton J. | 06/11/1921 | 06/04/1995 | m. 9/22/1944 |
| S05b-10 | (Unmarked) | | | | reserved plot |
| S05b-11a | Cuevas | Ervin J. | 02/27/1942 | 05/29/1973 | |
| S05b-11b | Cuevas | Eldora M. | 12/18/1938 | 04/01/2000 | |
| S05b-12 | King | Stacy Cheyenne | 08/20/1999 | 08/20/1999 | |
| S05b-13 | Seal | Jerry Joseph | 02/02/1949 | 03/21/1975 | |
| S05b-14a | Malley | Leander P. | 10/22/1909 | 12/02/1979 | |
| S05b-14b | Malley | Jerry | 08/27/1942 | 08/22/1943 | |
| S05b-15a | Malley | Julie M. | 03/03/1914 | 06/18/1987 | |
| S05b-15b | Malley | Michael | 08/05/1939 | 08/29/1939 | |
| S05b-16a | (Unmarked) | | | | |
| S05b-16b | Malley | Laura | 04/23/1930 | 04/23/1930 | |
| S05b-17 | Shiyou | Melissa Kay | 05/04/1974 | 08/01/1989 | |
| S06-01a | Peterson | Lucille M. | 03/03/1926 | | (reserved) |
| S06-01b | Peterson | Horace J. | 10/02/1926 | 11/11/1985 | Pvt US Marine Corps WWII |
| S06-02a | Peterson | Iduma | 1905 | 1934 | |
| S06-02b | Peterson | Ralph J. | 1905 | 1959 | |
| S06-03 | Peterson | Lemas J. | 05/10/1901 | 05/10/1987 | |
| S06-04 | Netto | Mary Marciline | 03/05/1900 | 09/28/1928 | |
| S06-05a | Rogers | Joseph | 1896 | 1943 | |
| S06-05b | Ladner | Arcelle R. | 1901 | 1964 | |
| S06-06 | Peterson | Bruno | 07/30/1875 | 01/09/1953 | |
| S06-07 | Peterson | Adeline | 04/25/1882 | 01/14/1943 | |
| S06-08 | (Unmarked) | infant | | | Inside coping with Bruno & Adeline Peterson |
| S06-09 | (Unmarked) | infant | | | Inside coping with Bruno & Adeline Peterson |
| S06-10 | Garriga | Kenneth John | 12/16/1945 | 01/14/2009 | |
| S06-11a | Garriga | John Redis | 02/08/1913 | 11/04/1978 | |
| S06-11b | Garriga | Virginia M. | 02/26/1918 | 08/29/1988 | |
| S06-12a | Garriga | baby boy | | | no dates |
| S06-12b | Garriga | baby girl | | | no dates |
| S06-13a | Malley | Francis | 1896 | 1972 | |
| S06-13b | Malley | Ledia | 1901 | 1968 | |
| S06-14 | (Unmarked) | infant | | | inside fence with Francis & Ledia Malley |
| S06-15 | (Unmarked) | infant | | | inside fence with Francis & Ledia Malley |
| S06-16 | Malley | Leonis Valetine | 02/14/1890 | 11/10/1946 | |
| S06-17 | Malley | Joseph Allen | 01/17/1939 | 01/17/1939 | |
| S06-18 | Carter | Cora P. | 05/13/1913 | 02/12/1967 | |
| S06-19 | Carter | Carroll | 01/31/1905 | 08/06/1976 | |
| S06-20 | Malley | Harold J. | 11/13/1943 | 09/05/1972 | |
| S06-21 | Malley | Harold Jr. | 08/29/1967 | 08/29/1967 | |
| S06-22 | Malley | Barbara A. | 09/12/1966 | 11/29/1966 | |
| S06-23 | (Unmarked) | | | | |
| S06-24 | Naquen | Velva Z. | 10/09/1917 | 06/11/1981 | |
| S06-25a | Cuevas | Harmon A. | 07/07/1928 | 11/26/1993 | |
| S06-25b | Cuevas | Vire Lea | 01/08/1927 | 05/19/2006 | |
| S06-26 | Seal | Paul J. | 04/25/1947 | 12/15/1962 | |
| S06-27 | Seal | James E. | 12/13/1954 | 12/14/1954 | |
| S06-28a | Hoda | Melvin J. | 07/31/1911 | 03/11/1985 | m. 6/9/1938 Gracie |
| S06-28b | Hoda | Gracie M. | 06/03/1920 | 07/10/1992 | m. 6/9/1938 Melvin |
| S06-29 | Hoda | Jenell Mae | 05/23/1939 | 09/15/1939 | |
| S06-30 | Hoda | Geraldine L. | 12/07/1942 | 12/31/1942 | |
| S06-31a | Deschamp | Purvis Paul | 09/08/1907 | 02/09/1971 | m. Verina 1931 |
| S06-31b | Deschamp | Verina Mary Moran | 06/07/1912 | 05/10/2006 | m. Purvis 1931 |
| S06-32a | Hoda | James M. | 11/12/1935 | 04/05/1974 | |
| S06-32b | (Reserved) | | | | |
| S07-01a | Peterson | Baby | | | no dates or first name |
| S07-01b | Moran | Baby | | | no dates or first name |
| S07-02 | Peterson | Thomas A. | 03/17/1909 | 08/28/1940 | |
| S07-03 | Criss | Vera Moran | 02/15/1914 | 07/03/1975 | |
| S07-04a | Ferguson | J. D. | 03/20/1923 | 04/01/1989 | m. 7/18/1942 Cora L. |
| S07-04b | Ferguson | Cora L. | 06/24/1926 | | (reserved); m. 7/18/1942 J.D. |
| S07-05a | Ferguson | Alice Virginia | 01/25/1944 | 01/25/1944 | |
| S07-05b | Ferguson | Donald James | 04/01/1946 | 04/02/1946 | |
| S07-06 | Ladner | Floyd A. | 04/22/1918 | 04/26/1918 | |
| S07-07 | Ladner | Richard James | 08/28/1919 | 10/12/1969 | |
| S07-08a | Ladner | Henry | 07/13/1890 | 09/29/1935 | |
| S07-08b | Ladner | Lucretia Peterson | 10/11/1898 | 05/07/1986 | |
| S07-09a | Ladner | Claude L. | 1894 | 1963 | |
| S07-09b | Ladner | Mag L. | 1898 | 1974 | |
| S07-10 | (Unmarked) | Infant | | | |
| S07-11 | (Unmarked) | Infant | | | |
| S07-12 | Peterson | Percell | 04/15/1919 | 07/03/1932 | |
| S07-13 | Peterson | Noreen | 06/03/1882 | 05/26/1965 | |
| S07-14a | Holley | Gerald E. Sr. | 05/29/1936 | | (reserved) |
| S07-14b | Holley | Patsy R. | 10/12/1941 | 01/14/1997 | |
| S07-15 | Malley | Baby | | | wooden cross next to Emma |
| S07-16 | Malley | Emma | 04/28/1884 | 04/25/1916 | |
| S07-17 | Malley | Alphonse G. | 04/08/1884 | 06/20/1962 | located directly under sign |
| S07-18 | Malley | Leontine Mary | 01/20/1900 | 09/14/1945 | |
| S07-19 | Malley | Lugis | 11/1918 | 05/1919 | |
| S07-20a | Malley | Oswald F. | 07/08/1907 | 1968 | |
| S07-20b | Malley | Hilda J. | 05/09/1910 | 04/11/1967 | |
| S07-21 | (Unmarked) | | | | |
| S07-22 | Malley | James Franklin | 12/28/1935 | 05/31/1945 | |
| S07-23 | (Unmarked) | | | | wooden cross |
| S07-24 | (Unmarked) | | | | wooden cross |
| S07-25 | (Unmarked) | | | | wooden cross |
| S07-26 | Necaise | Kent Louis | 10/10/1965 | 10/11/1965 | |
| S07-27a | Necaise | Harry L. | 07/18/1908 | 12/03/1909 | |
| S07-27b | Necaise | Louis | 03/28/1884 | 10/13/1930 | |
| S07-28a | Malley | Octavia M. | 1892 | 1967 | |
| S07-28b | Malley | Eugene H. | 1885 | 1968 | |
| S07-29a | Comfort | Frank J. Sr. | 04/17/1936 | 06/26/1997 | m. Pearline |
| S07-29b | Comfort | Pearline A. | 03/25/1934 | 07/12/1993 | m. Frank J. Sr. |
| S07-30a | Strief | Gene E. | 07/05/1936 | | (reserved); m. 3/4/1957 Ella A. |
| S07-30b | Strief | Ella A. | 02/07/1939 | 08/24/2002 | m. 3/4/1957 Gene E. |
| S07-31 | Strief | Yvonne Jean | 08/08/1957 | 03/06/1958 | |
| S07-32 | Deschamp | Thurman | 04/01/1940 | 01/24/1990 | |
| S07-33 | Deschamp | Orvell | 06/14/1937 | 12/26/1939 | |
| S07-34a | Deschamp | Mavrin M. | 11/23/1909 | 03/14/1977 | |
| S07-34b | Deschamp | Van N. | 09/15/1909 | 03/14/1945 | |
| S07-35 | Deschamp | Joseph | 10/13/1862 | 10/25/1946 | |
| S07-36 | Deschamp | Pearl | 01/27/1905 | 05/29/1957 | |
| S07-37 | Deschamp | Theofannie | 02/06/1881 | 06/14/1960 | |
| S07-38 | Deschamp | Lurster J. | 02/24/1919 | 11/18/1960 | MS Pfc 748 Mil Police BN WWII |
| S07-39 | Deschamp | Lester J. | 10/17/1913 | 02/09/1986 | |
| S07-40 | Deschamp | Elvis J. | 02/28/1924 | 05/04/1988 | |
| S08-01 | Ladner | Brian Patrick | 04/07/1961 | 09/02/1977 | |
| S08-02 | Ladner | Clifton Wallace | 1921 | 06/09/1972 | |
| S08-03 | Ladner | Gloria Grace | 05/12/1943 | 10/25/1943 | |
| S08-04 | Gambill | Wanda Mae | 1945 | 1963 | |
| S08-05 | Ladner | Moise Joseph | 02/23/1929 | 04/25/1952 | MS Cpl 15 Inf 3 Inf Div Korea PH |
| S08-06a | Ladner | Ceville M. | 1891 | 1945 | |
| S08-06b | Ladner | Emma G. | 1897 | 01/24/1961 | |
| S08-07a | Dedeaux | C. P. | 02/17/1898 | 08/25/1941 | |
| S08-07b | Dedeaux | Mae | 12/03/1900 | 09/18/1992 | |
| S08-08 | Dedeaux | Elliot | 03/26/1922 | 10/19/1973 | |
| S08-09 | Garriga | Monroe | | 10/27/1918 | no d.o.b. |
| S08-10 | Garriga | Richard | | | no dates; small stone in between Monroe & Elsie |
| S08-11 | Garriga | Elsie | | 10/13/1918 | no d.o.b |
| S08-12a | Garriga | Joseph B. | 04/26/1864 | 09/21/1920 | |
| S08-12b | Garriga | Melissa C. | 08/30/1869 | 05/05/1950 | |
| S08-13 | Garriga | Gaston | 03/13/1895 | 02/04/1960 | |
| S08-14 | Necaise | Mavin Alphonse | 02/11/1925 | 02/25/1990 | US Navy WWII |
| S08-15a | Necaise | Maggie D. | 07/01/1889 | 11/19/1926 | |
| S08-15b | Necaise | Alphonse J. | 06/04/1886 | 09/05/1943 | |
| S08-15b | Necaise | Estelle Marie | 05/29/1910 | 02/08/1991 | |
| S08-16 | Necaise | John H. | 09/30/1937 | 12/03/1943 | |
| S08-17a | Necaise | Ella Bergeron | 11/04/1906 | 08/31/1981 | |
| S08-17b | Necaise | Funston Joseph | 10/19/1908 | 07/10/1953 | |
| S08-18 | Necaise | Elvie | 1943 | 1943 | |
| S08-19 | (illegible) | | | | funeral marker |
| S08-20 | Necaise | Jack Elroy | 05/11/1935 | 05/19/1997 | |
| S08-21 | Hoda | Heather Ann | 09/18/1989 | 09/18/1989 | |
| S08-22a | Deschamp | Edith C. | 02/23/1912 | 01/10/1998 | m. 12/12/1953 |
| S08-22b | Deschamp | Hilbert J. | 02/06/1920 | 07/05/1998 | m. 12/12/1953 |
| S09-01 | Ladner | Murthon A. | 06/22/1938 | 02/04/2002 | |
| S09-02a | Ladner | Izetta M. | 03/21/1908 | 09/17/1973 | |
| S09-02b | Ladner | Horace E. | 10/17/1906 | 12/09/1975 | |
| S09-03 | Ladner | Jerome | 07/17/1887 | 11/09/1943 | |
| S09-04a | Ladner | Evariste | 11/11/1861 | 10/19/1941 | m. 10/15/1885 |
| S09-04b | Ladner | Sylvania Peterson | 12/18/1868 | 01/02/1933 | m. 10/15/1885 |
| S09-05 | Carver | Inez Ladner | 06/02/1895 | 09/03/1923 | |
| S09-06 | Moran | Warren Joseph | 04/25/1921 | 06/06/1944 | MS Coxswain US Coast Guard Res WWII |
| S09-07a | Moran | Edna L. | 10/26/1901 | 09/08/1963 | |
| S09-07b | Moran | Damis V. | 12/12/1893 | 11/21/1978 | US Army WWI |
| S09-08 | (Unmarked) | | | | family plot with coping |
| S09-09 | (Unmarked) | | | | tombstone |
| S09-10a | (Unmarked) | infant | | | tombstone |
| S09-10b | (Unmarked) | infant | | | tombstone |
| S09-11 | Peterson | Sullivan L. | 06/03/1900 | 01/07/1960 | |
| S09-12 | Peterson | Mary P. | 03/13/1909 | 02/29/1992 | |
| S09-13 | (Unmarked) | | | | family plot with chainlink fence |
| S09-14 | (Unmarked) | | | | family plot wooden posts |
| S09-15 | Cameron | Nancy Waters | 1835 | 1921 | |
| S09-16a | Cameron | Randolph | 1851 | 1948 | |
| S09-16b | Cameron | Tabitha Reyer | 1876 | 1948 | |
| S09-17 | Cameron | George O. | 08/29/1897 | 01/18/1978 | mason |
| S09-18 | Deschamp | Tearziah Mary | 11/06/1978 | 11/26/2003 | |
| S09-19 | Ladner | Oswald F. | 06/04/1916 | 12/21/1981 | |
| S09-20a | (Unmarked) | infant | | | small cross + baby shoe |
| S09-20b | (Unmarked) | infant | | | small cross + baby shoe |
| S09-21a | Ladner | Chester C. | 09/07/1937 | 10/25/1994 | |
| S09-21b | Ladner | Genevie M. | 03/23/1938 | 01/01/1971 | |
| S09-21c | Ladner | Eddie J. | | | buried with mother; age 6 |
| S09-22 | Ladner | Chester C., Jr. | 01/11/1956 | 01/11/1956 | |
| S09-23 | Ladner | Alquie J. | 03/26/1946 | 06/03/1967 | |
| S09-24a | Ladner | Pomlone | 08/10/1906 | 07/29/1957 | |
| S09-24b | Ladner | Luvenia | 02/19/1911 | 11/18/1984 | |
| S09-25 | Ladner | Weston J., Sr. | 05/25/1942 | 08/08/1986 | |
| S09-26 | Mauffray | Lucille V. | 02/21/1944 | 04/11/1995 | |
| S09-27a | Herrmann | Charles G., Jr. | 08/27/1924 | 12/01/2007 | S1 US Navy WWII |
| S09-27b | Herrmann | Johnnie May | 10/18/1928 | 01/17/1999 | |
| S09-28a | Herrmann | Charles George, III | 10/05/1955 | 09/03/2002 | m. 2/29/1992 |
| S09-28b | Herrmann | Ruby Frances | 04/10/1953 | | reserved; m. 2/29/1992 |
| S09-29 | Gambill | De-Ahna | 07/10/1983 | 02/07/2008 | |
| S10-01 | Shiyou | Clarence | 06/11/1928 | 08/15/1992 | |
| S10-02 | Shiyou | Volker | 10/03/1896 | 01/11/1954 | MS Pvt 162 Depot Brigade WWI |
| S10-03 | Shiyou | Theresia Mary | 10/16/1901 | 06/15/1976 | |
| S10-04 | Shiyou | babies | | | |
| S10-05 | (Unmarked) | | | | |
| S10-06a | Ladner | Jules Ernest | 07/05/1885 | 07/03/1931 | |
| S10-06b | Ladner | Celia Cuevas | 09/19/1891 | 09/17/1987 | |
| S10-07 | Ladner | Vian | 06/06/1919 | 07/06/1919 | |
| S10-08 | Hoda | Ana | 12/08/1918 | 05/13/1924 | |
| S10-09 | Hoda | Ella Mae | 04/09/1837 | 07/15/1928 | |
| S10-10a | Hoda | Zeno A. | 06/23/1892 | 02/26/1978 | |
| S10-10b | Hoda | Catherine M. | 04/30/1894 | 10/26/1967 | |
| S10-11 | (Illegible) | Donald Wayne | | | |
| S10-12 | Farve | Oscar Jr. | 12/23/1927 | 12/24/1927 | |
| S10-13 | Farve | Clearence | 11/08/1931 | 04/05/1932 | |
| S10-14a | Farve | Oscar | 02/20/1907 | 01/22/1956 | |
| S10-14b | Farve | Averine | 05/09/1912 | 01/03/1996 | |
| S10-15 | Ladner | Margette A. | 03/22/1952 | 03/30/1952 | |
| S10-16a | Necaise | Merlena Ladner | 04/18/1925 | | reserved |
| S10-16b | Necaise | Ceville "Bill" F. | 08/31/1908 | 03/03/1985 | |
| S10-17 | Ladner | Louis | | 10/29/1968 | 67 yrs. |
| S10-18 | (Illegible) | | | | funeral marker |
| S10-19 | (Unmarked) | | | | |
| S10-20 | (Unmarked) | | | | |
| S10-21a | (Unmarked) | infant | | | |
| S10-21b | (Unmarked) | infant | | | |
| S10-22 | Cameron | baby boy | 08/16/1974 | 08/16/1974 | stillborn |
| S10-23 | Boudreaux | Jeremy Brent | 01/19/1984 | 01/19/1984 | |
| S10-24a | Hoda | Ava Mary | 02/15/1914 | 03/07/1997 | |
| S10-24b | Hoda | Clemence J. | 08/24/1908 | 12/25/1975 | |
| S10-25 | Hoda | Victorine J. | 12/06/1911 | 06/23/1981 | |
| S10-26 | (Unmarked) | | | | metal stick |
| S10-27a | (Unmarked) | | | | funeral marker |
| S10-27b | (Unmarked) | | | | funeral marker |
| S10-28a | Hoda | Alcide C. | 04/19/1901 | 01/13/1959 | |
| S10-28b | Hoda | Viola | 02/10/1905 | | reserved |
| S10-29 | Peterson | Lavander J. | 02/28/1912 | 09/08/1964 | MS S2 USNR WWII |
| S10-30a | Peterson | Victor J. | 02/22/1918 | 06/22/1966 | |
| S10-30b | Peterson | Ofelia | 04/24/1927 | | reserved |
| S10-31 | Herrmann | Donna S. | 12/12/1960 | 01/29/2002 | |
| S10-32 | Peterson | ? | | | illegible funeral marker |
| S10-33a | Saucier | Mearl D. | 06/10/1943 | 09/05/2001 | m. 6/18/1958 |
| S10-33b | Saucier | Verine J. | 11/21/1937 | 01/28/2004 | m. 6/18/1958 |
| S10b-01a | Bennett | Albert P. | 05/30/1919 | 04/05/1971 | MS ARM3 US Navy WWII; m. 11/22/1947 |
| S10b-01b | Bennett | Kathryn E. | 07/14/1929 | 08/14/2002 | m. 11/22/1947 |
| S10b-02 | Bennett | baby boy | 09/18/1949 | 09/18/1949 | |
| S10b-03 | Bennett | baby boy | 04/1950 | 04/1950 | |
| S10b-04 | Mauffray | Myrlin, Jr. | | 05/20/1953 | infant |
| S10b-05a | Mauffray | Myrlin J. | 02/04/1930 | 10/02/2008 | "Big John"; m. 10/28/1951 |
| S10b-05b | Mauffray | Ona Mae | 11/30/1928 | 06/03/2002 | m. 10/28/1951 |
| S10b-06 | Hatfield | baby girl | 01/1977 | 01/1977 | |
| S10b-07 | Hatfield | baby boy | 04/1981 | 04/1981 | |
| S11-01a | Ladner | Ferdinand, Sr. | 05/19/1911 | 07/01/1988 | |
| S11-01b | Ladner | Exie | 06/29/1913 | 01/14/1969 | |
| S11-02 | (Unmarked) | | | | infant |
| S11-03 | Saucier | Alphonse | 06/16/1911 | 06/14/1989 | |
| S11-04 | (Unmarked) | | | | infant |
| S11-05 | Saucier | Paverine Josephine Ladner | | 08/16/1971 | 60 yrs. |
| S11-06 | Necaise | Myrtle | 1918 | 1936 | |
| S11-07 | (Unmarked) | | | | child; same type slab as Myrtle Necaise |
| S11-08a | Necaise | Ira J. | 03/26/1913 | 01/27/1955 | |
| S11-08b | Necaise | Etha Brown | 02/16/1913 | 10/27/1996 | |
| S11-09 | Necaise | James W. | 03/22/1941 | 05/07/1947 | |
| S11-10a/d | (Unmarked) | | | | in Necaise plot |
| S11-11a | Ladner | Macy | 12/05/1917 | 01/22/1984 | |
| S11-11b | Ladner | Everita | 03/27/1921 | 06/30/1987 | |
| S11-12a/e | (Unmarked) | | | | in Ladner plot |
| S11-13a | Ladner | Suzane D. | 05/08/1885 | 03/24/1961 | |
| S11-13b | Ladner | Forestal | 08/07/1891 | 03/13/1929 | |
| S11-13c | Ladner | Mary A. | 12/23/1926 | 06/17/1927 | |
| S11-14 | Ladner | Loja(?) | 12/13/1880 | 06/02/1956 | |
| S11-15 | (Unmarked) | | | | wooden cross, right next to Lillie |
| S11-16 | Ladner | Lillie | 10/25/1943 | 10/25/1943 | |
| S11-17 | Ladner | Earon Paul | 01/31/1925 | 04/24/1983 | US Army WWII |
| S11-18 | Saucier | Obey Woods | 06/26/1916 | 07/11/1931 | |
| S11-19 | Woods | baby girl | | | |
| S11-20 | Saucier | Alphonse, Jr. | 07/08/1931 | 07/23/1931 | |
| S11-21a | Woods | Richard | 02/1865 | 10/13/1931 | |
| S11-21b | Woods | Bessie Hickman | 07/15/1883 | 02/10/1972 | |
| S11-22a | Woods | Otis | 03/04/1922 | | reserved; m. 12/22/1945 |
| S11-22b | Woods | Pearl Malley | 10/16/1924 | | reserved; m. 12/22/1945 |
| S11-23 | Ladner | Lawrence Joseph | 04/26/1909 | 06/13/1986 | |
| S11-24 | (Unmarked) | | | | funeral marker |
| S11-25 | (Unmarked) | | | | funeral marker |
| S11-26 | Peterson | Lutenia J. | 03/31/1922 | 06/16/1988 | US Army WWII |
| S11-27 | Gunn | Sidney Allen | 12/27/1921 | 12/28/1988 | US Army Korea |
| S11-28 | Brown | Wilma H. | 04/06/1917 | 01/18/1990 | |
| S11-29a | Anderson | Agnes Mae | 04/20/1929 | 12/11/1997 | |
| S11-29b | Anderson | Forest P. | 11/30/1925 | 07/26/2005 | |
| S12-01a | Ladner | Elmer J. | 07/14/1925 | 10/05/1977 | |
| S12-01b | Ladner | Ethelyne H. | 03/24/1924 | 04/07/2005 | |
| S12-02a | Cameron | Ovelia | 01/05/1914 | 09/15/1935 | |
| S12-02b | Cameron | Rozy | 07/04/1914 | 07/22/1977 | |
| S12-03a | Cameron | Sylvester | | 02/1934 | |
| S12-03b | Cameron | Katherine | | 01/18/1955 | |
| S12-04a | Cameron | Stanley J. | 12/04/1909 | 04/03/1958 | |
| S12-04b | Cameron | Verina V. | 06/22/1914 | 03/10/1992 | |
| S12-05a | Cameron | Gerald P. | 07/08/1948 | | (reserved) |
| S12-05b | Cameron | S. J. "Blue" Jr. | 10/24/1942 | 06/03/1973 | |
| S12-06 | Necaise | Sandra Marie | 09/10/1963 | 09/11/1963 | infant of Butch & Betty |
| S12-07a | Necaise | Betty J. | 01/18/1940 | | (reserved) m. 2/19/1960 Louis E. |
| S12-07b | Necaise | Louis E. "Butch" | 04/11/1942 | 03/28/2007 | m. 2/19/1960 Betty |
| S12-08 | Udinsky | Israel | 12/25/1892 | 05/13/1949 | La. PVT Dev. BN 1 WWI |
| S12-09 | Strohauer | Dolene Peterson | 11/15/1903 | 12/30/1993 | |
| S12-10 | Peterson | Violene | 06/27/1919 | 06/07/1920 | |
| S12-11a | Peterson | Theresa Ladner | 1874 | 1941 | |
| S12-11b | Peterson | John Lamar | 1863 | 1950 | |
| S12-12a | (illegible) | | | | |
| S12-12b | (illegible) | | | | |
| S12-12c | (illegible) | | | | |
| S12-12d | (illegible) | | | | |
| S12-13 | (unmarked) | | | | |
| S12-14 | Bates | Viola Bates | 08/03/1903 | 12/12/1954 | |
| S12-15a | Bennett | Willie Andrew | 02/25/1884 | 05/16/1952 | |
| S12-15b | Bennett | Ida L. | 10/05/1895 | 04/16/1981 | |
| S12-16a | Bennett | Samuel Marion | 02/28/1897 | 05/24/1938 | |
| S12-16b | Bennett | Ollie L. Cameron | 04/23/1903 | 04/18/1988 | |
| S12-17 | Bennett | Sam M. | | 05/24/1938 | Miss. PVT 119 INF 30 DIV |
| S12-18 | Bennett | Louis Hollis | 01/06/1924 | | (reserved) USAF M/SGT ret. |
| S12-19a | Lott | Rubin Joseph | 01/27/1910 | 02/26/1958 | |
| S12-19b | Lott | Etha Cameron | 10/29/1913 | 01/28/2001 | |
| S12-20 | Ladner | Wesley A. | | 01/28/1942 | aged 5 mo 14 days |
| S12-21a | Ladner | Armadee D. | 04/16/1897 | 11/20/1971 | |
| S12-21b | Ladner | Anastasia | 07/01/1897 | 10/25/1974 | |
| S12-22a | Vance | Cecil V. | 1882 | 1961 | |
| S12-22b | Vance | Calista A. | 1887 | 1963 | |
| S12-23 | Tomasich | Robert Joseph | 11/10/1940 | 06/07/1995 | |
| S12-24 | Tomasich | Bonnie | 08/07/1947 | 10/10/1979 | |
| S12-25 | (illegible) | | | | |
| S13-01 | (unmarked) | | | | |
| S13-02 | Ladner | Alexia J. | 12/30/1900 | 07/12/1986 | |
| S13-03 | Ladner | Walter E. | 02/12/1885 | 12/28/1960 | |
| S13-04a | Ladner | Francis John | 08/21/1912 | 08/10/1957 | |
| S13-04b | Ladner | Ada Moran | 12/12/1916 | 01/02/1967 | |
| S13-05a | Ladner | Ray S. | 10/1939 | 11/1939 | |
| S13-05b | Ladner | Ethel M. | 07/1937 | 09/1937 | |
| S13-06a | Ladner | Mary | 01/16/1870 | 10/29/1951 | |
| S13-06b | Ladner | Delmas | 01/01/1868 | 05/26/1941 | |
| S13-07 | (unmarked) | | | | in same plot as Mary & Delmas |
| S13-08 | Ladner | Palmer Cornelia | 11/04/1891 | 05/08/1943 | |
| S13-09 | Ladner | Roman G. | | 1969 | 9(?) yrs |
| S13-10a | Ladner | infant | | | otherwise unmarked |
| S13-10b | Ladner | infant | | | otherwise unmarked |
| S13-10c | Ladner | infant | | | otherwise unmarked |
| S13-10d | Ladner | infant | | | otherwise unmarked |
| S13-10e | Ladner | infant | | | otherwise unmarked |
| S13-10f | Ladner | infant | | | otherwise unmarked |
| S13-11 | Ladner | (illegible) | | 11/1978 | age 57 |
| S13-12 | (illegible) | child | | | |
| S13-13 | Bennett | Willie G. | 1923 | | Minn. cpl US Marine Co. Res WWII |
| S13-14 | Necaise | Albert | | | |
| S13-15 | Necaise | Zelina | | | |
| S13-16 | Necaise | Juanita | | | |
| S13-17a | Elsworth | Thomas Roy | 10/25/1945 | | (reserved) |
| S13-17b | Elsworth | Shirley Andrew | 09/18/1947 | 12/19/1968 | |
| S13-18 | Wildowsky | Cy Tyron | 1958 | 2006 | |
| S13-19 | Mayfield | Ruby Elaine | 1944 | 1944 | |
| S13-20 | Mayfield | Lucille Ladner | 07/05/1914 | 04/17/1990 | |
| S13-21 | Mayfield | James Howard | 09/24/1906 | 12/15/1999 | |
| S13-22 | (unmarked) | | | | |
| S14-01a | Cameron | Ramsey P. Sr. | 03/17/1912 | 07/31/1979 | |
| S14-01b | Cameron | Evelyn M. | 11/04/1916 | | (reserved) |
| S14-01c | Cameron | Ramsey P. Jr. | 07/10/1944 | | (reserved) |
| S14-02 | (unmarked) | infant | | | |
| S14-03 | (unmarked) | infant | | | |
| S14-04a | Necaise | Luvella | 02/26/1914 | 07/18/1981 | |
| S14-04b | Necaise | Vieza | 01/30/1915 | 04/27/1989 | |
| S14-05a | Ladner | Eileen Kay | 07/11/1944 | 07/08/2004 | |
| S14-05b | Ladner | Juanita C. | 1904 | 1993 | |
| S14-06a | Ladner | Desire M. | 1888 | 1971 | |
| S14-06b | Ladner | Mary P. | 1892 | 1935 | |
| S14-07 | Ladner | Hilda G. | 02/19/1915 | 01/20/1999 | |
| S14-08a | Garriga | Asa J. | 09/08/1903 | 09/08/1973 | |
| S14-08b | Garriga | Beatrice J. | 09/24/1912 | 04/26/1974 | |
| S14-09 | Garriga | infant babies | | | |
| S14-10a | Garriga | Joseph Asa | 12/04/1930 | 10/17/1991 | |
| S14-10b | (unmarked) | | | | |
| S14-11 | White | Tonia Gwen | | 11/10/1962 | |
| S14-12 | (unmarked) | | | | |
| S14-13 | Ladner | Adrian V. | 05/08/1910 | 05/11/1987 | |
| S14-14 | (unmarked) | infant | | | |
| S14-15a | (unmarked) | | | | |
| S14-15b | (unmarked) | | | | |
| S14-15c | (unmarked) | | | | |
| S14-15d | (unmarked) | | | | |
| S14-16a | Necaise | Ollie R. | 02/07/1906 | 09/09/1959 | |
| S14-16b | Necaise | Loraine G. | 09/13/1903 | 07/08/1937 | |
| S14-17a | Necaise | Bernard D. | 06/16/1873 | 10/16/1947 | |
| S14-17b | Necaise | Lena P. | 07/16/1875 | 09/14/1942 | |
| S14-18a | Malley | Steven G. | 08/14/1927 | 05/28/1994 | |
| S14-18b | Malley | Edice B. | 12/17/1926 | | (reserved) |
| S15-01a | (unmarked) | | | | |
| S15-01b | (unmarked) | | | | |
| S15-02a | Hoda | Rozenia Ladner Necaise | 08/22/1910 | 07/30/1999 | |
| S15-02b | Hoda | Leroy J. | 05/01/1929 | 07/21/1987 | |
| S15-03 | Ladner | Emmett J. Sr. | 06/26/1923 | 06/17/1981 | Us Army WWII |
| S15-04 | Ladner | Ethelene Mary | 07/29/1916 | 05/10/2004 | |
| S15-05a | Bennett | Robert O. Sr. | 09/12/1927 | 07/20/1977 | US Army |
| S15-05b | Bennett | Florence G. | 10/30/1935 | 09/13/1990 | |
| S15-06a | Stinson | Thomas G. | 02/04/1940 | 06/06/1988 | US Air Force |
| S15-06b | Stinson | Mildred L. | 06/02/1937 | | (reserved) |
| S15-07 | Necaise | Norris Joseph | | 04/12/1972 | 54 yrs |
| S15-08 | Necaise | Julian Sr. | 02/25/1932 | 06/22/2001 | Sgt US Army Korea |
| S15-09 | Necaise | Ron Keith | 12/10/1973 | 12/02/1976 | |
| S16-01a | Ladner | Amata Alphonsina | 04/20/1888 | 08/04/1954 | |
| S16-01b | Ladner | Armogene | 09/02/1884 | 05/12/1965 | |
| S16-02a | Ladner | Hattie Woods | 09/02/1923 | 02/03/2001 | m. Wesley 9/18/1948 |
| S16-02b | Ladner | Wesley J. | 06/01/1919 | 11/17/1995 | m. Hattie 9/18/1948 |
| S16-03 | Wade | Christopher A. | 11/01/1978 | 11/29/2000 | |
| S16-04 | Ladner | Monroe(?) | 06/05/1899 | 05/04/1984 | |
| S16-05 | Ladner | Wilton Joseph | | 04/15/1975 | 54 yrs |
| S16-06 | Ladner | Azaline | | 06/14/1978 | 73 yrs |
| S16-07 | (illegible) | | | | |
| S16-08a | Ladner | James E. | 02/25/1937 | | (reserved) |
| S16-08b | Ladner | Colena M. | 07/03/1931 | 12/02/1993 | |
| S16-09a | Ladner | Lugenia | 12/25/1913 | 09/18/1996 | |
| S16-09b | Ladner | Thomas | 05/27/1903 | 11/20/1986 | |
| S16-10a | Ladner | Varnadaire | 10/29/1912 | 05/05/1995 | |
| S16-10b | Ladner | Elvina S. | 08/30/1918 | 04/26/1990 | |
| S16-11 | Ladner | Clinard | 04/27/1948 | 01/05/1983 | |
| W01-01 | Malley | Florence Ruth | 05/01/1943 | 02/05/1994 | |
| W01-02 | Sebe | Loretta M. | 06/1930 | 01/1984 | |
| W02-01 | Heirsch | Gerald R. Jr. | 04/17/1970 | 11/06/2007 | |
| W02-02a | Conant | Arlene F. | 05/07/1936 | 04/13/2000 | |
| W02-02b | Conant | Lora L. | 09/09/1957 | 01/10/1992 | |
| W02-03 | Loar | John P. | 04/04/1956 | 05/01/2002 | |
| W02-04a | Brackett | Wendy | 12/08/1952 | 03/14/2003 | "sister" |
| W02-04b | Parker | Timothy S. | 02/13/1973 | 03/12/2008 | "son" |
| W02-05 | Ford | Wesley R. | 05/20/1932 | 04/28/1996 | US Merchant Marine |
| W02-06 | Quave | Kermit L. Jr. | 04/22/1939 | 01/20/1972 | "Buried at Crossroads MS" |
| W02-07a | Quave | Kermit L. Sr. | 01/19/1914 | 04/21/1991 | |
| W02-07b | Quave | Hazel M. Necaise | 08/15/1917 | 03/18/1996 | |
| W02-08 | Niolet | Carolyn Hoda | 09/22/1944 | 01/31/1984 | |
| W03-01a | Necaise | Laurie M. "Sally" | 03/07/1941 | 03/13/2007 | |
| W03-01b | Necaise | James J. "Jimmy" | 12/29/1939 | 12/06/2005 | |
| W03-02 | Hoda | Steven Patrick Jr. | 08/11/1991 | 09/13/2008 | son of Steven & Leslie, brother to Donovan |
| W03-03a | Hoda | Alva A. | 1914 | 1993 | |
| W03-03b | Hoda | Lillian L. | 1914 | 2002 | |
| W04-01 | Long | Tamiko L. | 03/19/1963 | 04/29/2008 | |
| W04-02 | Reynolds | Ruby E. | 05/29/1925 | 10/19/1995 | |
| W04-03a | Reynolds | Richard D. | 02/15/1960 | | (reserved) |
| W04-03b | Reynolds | Judy L. | 05/01/1951 | | (reserved) |
| W04-04 | Ladner | Venetha L. | 09/27/1927 | 08/14/2000 | |
| W04-05a | Necaise | Randy | 04/11/1956 | 05/10/1998 | m. 4/9/1976 Beverly |
| W04-05b | Necaise | Beverly | 12/22/1959 | | (reserved); m. 4/9/1976 Randy |
| W04-06a | Necaise | Denise M. | 03/05/1956 | | (reserved) |
| W04-06b | Necaise | Jonathan R. | 02/05/1984 | 08/06/2000 | |
| W05-01 | Jones | Mary Evelyn | 08/25/1939 | 04/27/2006 | |
| W05-02a | Koenenn | John C. | 02/08/1909 | 01/27/1988 | |
| W05-02b | Koenenn | Hilda C. | 01/01/1912 | 12/22/1986 | |
| W05-03 | Necaise | Raymond L. | 10/23/1933 | 07/04/2008 | |
| W05-04 | Necaise | Thomas J. Hebert | 11/13/1977 | 10/13/2008 | |
| W06-01 | Lanne | Marguerite D. | 10/23/1921 | 09/06/2005 | |
| W06-02a | Woodcock | Buddy | 12/11/1933 | 08/01/2008 | m. 3/11/1968 Sue |
| W06-02b | Woodcock | Sue | 12/16/1945 | 08/01/2008 | m. 3/11/1968 Buddy |