Originally the Garcia Family Church and cemetery. That building is no longer there.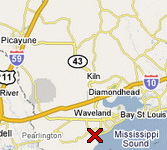 Directions:
Head west on Highway 90. Approximately 2 miles after the intersection with the 603 turn left on Lower Bay Road. Follow this road for about 4.1 miles, until you get to the intersection with Lakeshore Road. Turn left. The Lakeshore Baptist Church will be on the left after 1/2 mile. The cemetery is located behind the church.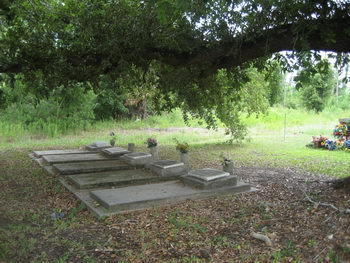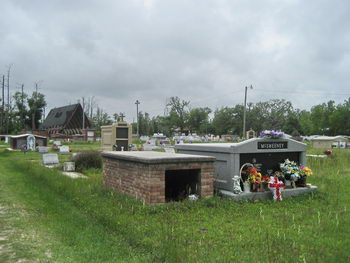 This cemetery has only been partially indexed.
Graves (
107

):
| # | Last Name | First Name | Birth | Death | Comment |
| --- | --- | --- | --- | --- | --- |
| 001 | Anselmo | David Philip | 08/31/1976 | 02/02/1987 | |
| 002 | Benigno | Geraldine Green | | 09/13/2009 | |
| 003 | Bourgeois | Della Amanda | 12/11/1908 | 01/13/1984 | |
| 004 | Bourgeois | John Ory | 07/28/1915 | 06/18/1978 | |
| 005 | Brown | Mable Louise | 06/08/1915 | 06/30/2000 | |
| 006 | Capdepon | Catherine Joyce Favre | | 07/01/2009 | |
| 007 | Davis | Joyce Lee Ladner | | 08/09/2008 | |
| 008 | Erskine | John "Big John", III | | 08/02/2011 | |
| 009 | Fucich | Jessie Yarborough | 10/10/1891 | 01/06/1966 | |
| 010 | Fucich | Vladimir T, Sr | 05/23/1892 | 02/21/1964 | |
| 011 | Garcia | Albert E | 03/27/1882 | 06/06/1960 | |
| 012 | Garcia | Alden J | 07/09/1927 | 10/28/1973 | |
| 013 | Garcia | Alice L | 06/21/1895 | 11/17/1956 | |
| 014 | Garcia | Aristide | 02/05/1878 | 03/20/1951 | |
| 015 | Garcia | Armand O | 08/01/1884 | 09/01/1959 | |
| 016 | Garcia | Arthur Pat | 09/23/1899 | 10/31/1988 | |
| 017 | Garcia | Arvine Joseph "Viney" | 03/31/1926 | 06/11/2011 | |
| 018 | Garcia | Azalia | 12/22/1911 | 01/06/1912 | |
| 019 | Garcia | Carolyn | 11/01/1942 | 12/19/1964 | |
| 020 | Garcia | Clarence E | 01/29/1907 | 12/10/1981 | |
| 021 | Garcia | Claud | 06/30/1910 | 11/12/1916 | |
| 022 | Garcia | Daniel | 03/10/1877 | 08/01/1932 | |
| 023 | Garcia | Doyle M, Sr | 01/25/1921 | 09/22/1997 | |
| 024 | Garcia | Earl S | 08/27/1910 | 06/12/1987 | |
| 025 | Garcia | Emily Magnolia | 12/15/1896 | 11/16/1970 | |
| 026 | Garcia | Emma Estelle | 05/27/1885 | 03/11/1915 | |
| 027 | Garcia | Ernest, Jr | 09/06/1916 | 05/02/1976 | |
| 028 | Garcia | Ernest Ignace | 1875 | 1958 | |
| 029 | Garcia | Esther Josephine | 11/11/1915 | 06/10/1989 | |
| 030 | Garcia | Eugenie Antoinette Roth | 08/19/1888 | 12/16/1961 | |
| 031 | Garcia | Eva Ladner | 11/15/1896 | 04/07/1982 | |
| 032 | Garcia | Floyed Gerald | 06/28/1931 | 10/25/1989 | |
| 033 | Garcia | Frank Edward | 06/26/1910 | 09/13/1974 | |
| 034 | Garcia | Frank Leopold | 10/07/1877 | 09/28/1916 | |
| 035 | Garcia | Harry F | 1894 | 1977 | |
| 036 | Garcia | Horace A, Jr | 08/10/1956 | 07/25/2009 | |
| 037 | Garcia | Irone Rebecca | 1884 | 1951 | |
| 038 | Garcia | Jasper | 1899 | 1935 | |
| 039 | Garcia | Jeff J | 02/01/1892 | 11/23/1972 | |
| 040 | Garcia | John | 1851 | 1936 | |
| 041 | Garcia | John Dan | 10/28/1957 | 12/07/1999 | |
| 042 | Garcia | Joseph Jasper | 09/16/1883 | 03/23/1966 | |
| 043 | Garcia | Joyce Ladner | 11/01/1934 | 08/11/1994 | |
| 044 | Garcia | Lillian G | 11/17/1914 | 12/15/1992 | |
| 045 | Garcia | Lloyd George | 07/18/1918 | 07/22/1997 | |
| 046 | Garcia | Martha E | 10/06/1883 | 03/16/1962 | |
| 047 | Garcia | Mary | 1859 | 1946 | |
| 048 | Garcia | Mary D | 1842 | 1933 | |
| 049 | Garcia | Mildred Ryan | 1914 | 1991 | |
| 050 | Garcia | Myrtle P | 01/07/1909 | 12/01/1973 | |
| 051 | Garcia | Natalie Rita Favre | 10/05/1923 | 05/04/2004 | |
| 052 | Garcia | Nellie Stoufflet | 04/20/1906 | 02/23/1995 | |
| 053 | Garcia | Nora | 01/12/1912 | 08/02/1983 | |
| 054 | Garcia | Olevia L | 03/12/1899 | 04/24/1973 | |
| 055 | Garcia | Philis Jean "Phi Phi" | | 11/02/2010 | |
| 056 | Garcia | Ray Harold | 04/16/1928 | 06/30/1995 | |
| 057 | Garcia | Robert Andre | 1889 | 1966 | |
| 058 | Garcia | Troy Dale | 06/15/1971 | 11/12/1971 | |
| 059 | Garcia | Violia | 08/12/1886 | 04/16/1968 | |
| 060 | Garcia | William A | 07/26/1885 | 05/10/1968 | |
| 061 | Garcia | William | 1879 | 1947 | |
| 062 | Gill | Camella Garcia | 03/22/1914 | 01/20/2006 | |
| 063 | Green | Leona A Schwartz | 02/01/1919 | 07/19/2003 | |
| 064 | Green | Olevia L | 03/12/1899 | 04/24/1973 | |
| 065 | Green | Willie | 10/13/1894 | 02/24/1949 | |
| 066 | Hale | Beulah Delores Ladner | | 01/29/2008 | |
| 067 | Helwick | Maggie Yorbrough | 12/22/1882 | 06/07/1964 | |
| 068 | Hote | Aurelie Ockman | 10/20/1909 | 03/24/2008 | |
| 069 | Klein | Frank B., Jr | | 10/19/2011 | |
| 070 | Ladner | Christopher Carlos "Chris" | 03/24/1912 | 05/20/1972 | |
| 071 | Ladner | Curtis Matthew | 06/27/1914 | 09/12/1975 | |
| 072 | Ladner | Elva Chouest | 04/02/1919 | 05/18/2008 | |
| 073 | Ladner | Irene I | 1904 | 1986 | |
| 074 | Ladner | June Lillian Vallory | | 08/08/2011 | |
| 075 | Ladner | Marie Evelyn Bourgeois | 07/13/1910 | 06/08/1966 | |
| 076 | Ladner | Wesley M | 1900 | 1978 | |
| 077 | Lohman | Bertha Yarborough | 11/26/1888 | 09/11/1963 | |
| 078 | Morris | Hertha Eugenia Garcia | 05/22/1913 | 01/01/1987 | |
| 079 | Necaise | Marion Joseph "Buck" | | 12/17/2008 | |
| 080 | O'Farrell | Aimie Eleonor Dubuisson | 09/20/1909 | 12/18/1980 | |
| 081 | O'Farrell | Angelle | 11/07/1946 | 11/08/1946 | |
| 082 | O'Farrell | Mrs Corrie Lee Vest | 01/15/1889 | 09/02/1919 | |
| 083 | O'Farrell | William Harvey | 11/29/1911 | 08/13/1972 | |
| 084 | O'Farrell | William Commer | 04/10/1876 | 05/12/1950 | |
| 085 | Orrte Little | Yvonne Cecile Garcia | 03/21/1915 | 12/16/1984 | |
| 086 | Osbourn | Eula Mae Ladner | | 04/27/2011 | |
| 087 | Schwartz | David F. | | 01/20/2011 | |
| 088 | Smith | Betty Jo | | 04/04/2008 | |
| 089 | Stoufflet | Felecia Marie | 12/10/1870 | 01/01/1960 | |
| 090 | Tartavoulle | Erin LaFontaine | 11/18/1924 | 03/07/1995 | |
| 091 | Tartavoulle | Norman A. | 12/16/1924 | 04/20/1996 | |
| 092 | Vest | Joseph | 09/02/1853 | 02/11/1926 | |
| 093 | Vest | Mary F. Methes | 04/16/1853 | 07/04/1926 | |
| 094 | Yarborough | Charles Elijah | 05/03/1881 | 02/16/1972 | |
| 095 | Yarborough | Edward J | 12/02/1909 | 03/19/1975 | |
| 096 | Yarborough | Effie Garcia | 07/03/1915 | 11/10/2001 | |
| 097 | Yarborough | Elnora Hurlburt | 05/14/1894 | 02/09/1961 | |
| 098 | Yarborough | Jasper | 1899 | 1935 | |
| 099 | Yarborough | Jeff | 07/05/1853 | 08/27/1930 | |
| 100 | Yarborough | John | 1851 | 1936 | |
| 101 | Yarborough | John H | 07/18/1879 | 09/11/1958 | |
| 102 | Yarborough | John W | 03/05/1927 | 11/30/1928 | |
| 103 | Yarborough | Mary | 1859 | 1946 | |
| 104 | Yarborough | Victoria | 12/20/1856 | 05/21/1940 | |
| 105 | Yarborough | William | 1879 | 1947 | |
| 106 | Yarbrough | Bessie L | 03/14/1882 | 09/15/1975 | |
| 107 | Yarbrough | Wesley W | 12/19/1876 | 05/31/1947 | |