Gainesville Cemeteries: Nasa Reinterment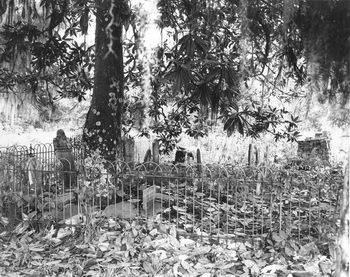 Gainesville Baptist Church Cemetery
In spite of the title of this web page, there are no cemeteries in Gainesville, MS. In fact, there's not even a town of Gainesville any more.
On October 25, 1961, Nasa announced the decision to establish a national rocket testing site in Hancock County. Some 13,500 acres were acquired, mainly to serve as an acoustical buffer zone. Five small towns, Gainesville, Logtown, Napoleon, Santa Rosa and Westonia, had to be evacuated. Because Gainesville was located in the construction zone, its two cemeteries were moved as well.
Nasa reinterred 306 graves from the Gainesville Baptist Church Cemetery (site "A"), and 177 graves from the Gainesville Colored Cemetery (site "B").
Below is a list of all persons, their birth and death date (if known), the Nasa site and reinterment number, and the cemetery they were moved to. If the cemetery is located in Hancock County, you can click on the name to go to that particular cemetery.
A total of 224 graves were unmarked at the time. Of those, 110 were reintered to Spring Branch Church Cemetery and 114 were reintered to New Hope Baptist Church Cemetery.
| | | | | | |
| --- | --- | --- | --- | --- | --- |
| Last Name | First Name | Birth | Death | Site-# | Reinterred to |
| Acker | Carolina | | 1931 | B-122 | New Hope Baptist Church |
| Acker | Charles Sr. | | 04/06/1932 | B-016 | New Hope Baptist Church |
| Acker | Claudis | | 1916 | B-108 | New Hope Baptist Church |
| Acker | Emma Douglas | 01/16/1961 | 02/05/1961 | B-002 | New Hope Baptist Church |
| Acker | Evelina | | 1910 | B-071 | New Hope Baptist Church |
| Acker | Floyd Jr. | 01/17/1960 | 01/17/1960 | B-001 | New Hope Baptist Church |
| Acker | Henry | 03/15/1875 | 1897 | B-024 | New Hope Baptist Church |
| Acker | Juston | 1873 | 1960 | B-069 | New Hope Baptist Church |
| Acker | Louisa | | 1912 | B-017 | New Hope Baptist Church |
| Acker | Lucinda Williams | | 1945 | B-070 | New Hope Baptist Church |
| Acker | Luther | 05/13/1893 | 1953 | B-015 | New Hope Baptist Church |
| Acker | Maeretha | 02/13/1941 | 04/01/1942 | B-022 | New Hope Baptist Church |
| Acker | Mildret | | 1911 | B-109 | New Hope Baptist Church |
| Acker | Philomena | | 1932 | B-023 | New Hope Baptist Church |
| Acker | Simon | 11/01/1891 | 1930 | B-019 | New Hope Baptist Church |
| Acker | Viola George | | 1939 | B-025 | New Hope Baptist Church |
| Anthony | Infant | | | A-037 | New Palestine, Picayune |
| Arnold | Charles | | | A-025 | Spring Branch Cemetery |
| Arnold | Jane | | | A-026 | Spring Branch Cemetery |
| Baker | James O. | 05/31/1833 | 10/06/1905 | A-196 | Spring Branch Cemetery |
| Baker | Mrs. | | | A-195 | Spring Branch Cemetery |
| Batte | Philander Chase | 06/20/1831 | 06/13/1853 | A-068 | Logtown Cemetery |
| Beans | Charles W. | 09/17/1884 | 03/21/1946 | A-087 | New Palestine, Picayune |
| Beans | Charles Jr. | 1942 | 1942 | A-088b | New Palestine, Picayune |
| Beans | Lillian | 1915 | 1942 | A-088a | New Palestine, Picayune |
| Benjamin | Clark | | 1914 | B-021 | New Hope Baptist Church |
| Benjamin | Emma | | 1911 | B-020 | New Hope Baptist Church |
| Bilbo | Ellen | | | A-036 | New Palestine, Picayune |
| Bilbo | James | | | A-034 | New Palestine, Picayune |
| Bilbo | Mary | | | A-033 | New Palestine, Picayune |
| Bilbo | Mrs James | | | A-035 | New Palestine, Picayune |
| Bradford | Gabriel | 1795 | 12/19/1867 | A-188 | Spring Branch Cemetery |
| Bradford | Mary E. | 1805 | 09/19/1867 | A-189 | Spring Branch Cemetery |
| Carbonette | James J | 10/24/1854 | 12/07/1937 | A-225 | Turtleskin Cemetery |
| Carr | Harry | 1858 | | A-174 | Evergreen Cemetery, Gulfport |
| Carre | Mrs. | | 10/05/1878 | A-187 | Spring Branch Cemetery |
| Carre | Robert B. | | | A-186 | Spring Branch Cemetery |
| Clark | Edwin | 01/12/1930 | 07/29/1995 | 2 | Spring Branch Cemetery |
| Coffman | Ely | | | A-094 | New Palestine, Picayune |
| Coffman | William | | | A-095 | New Palestine, Picayune |
| Connley | Mary Virginia Acker | | 1911 | B-018 | New Hope Baptist Church |
| Crask | Henry | 12/23/1861 | 03/31/1887 | A-029 | Franklin Cemetery, LA |
| Davidson | Mary E. | 01/25/1807 | 08/28/1833 | A-129 | Spring Branch Cemetery |
| Davis | (infant) | | | A-213 | Turtleskin Cemetery |
| Davis | (infant) | | | A-212 | Turtleskin Cemetery |
| Davis | (infant) | | | A-211 | Turtleskin Cemetery |
| Davis | Amile | | | A-209 | New Palestine, Picayune |
| Davis | Fred | | | A-208 | New Palestine, Picayune |
| Davis | Myrtle | | | A-207 | New Palestine, Picayune |
| Davis | Stella E. | 10/24/1883 | 07/29/1959 | A-086 | New Palestine, Picayune |
| Davis | Walter Boyed | 08/08/1884 | 10/11/1913 | A-206 | New Palestine, Picayune |
| Davis | William A. | 03/17/1881 | 08/29/1956 | A-197 | New Palestine, Picayune |
| Dawsey | Annie Ruth | 1919 | 1919 | A-009 | Turtleskin Cemetery |
| Dawsey | Chester Putnam | 06/08/1917 | 06/08/1917 | A-007 | Turtleskin Cemetery |
| Dawsey | Cynthia | 1918 | 1918 | A-008 | Turtleskin Cemetery |
| Dawsey | Jeanett Hill | 04/13/1881 | 11/25/1957 | A-006 | Turtleskin Cemetery |
| Dawsey | Putnam Randle | 01/18/1874 | 03/18/1958 | A-005 | Turtleskin Cemetery |
| Dawsey | Rufus | 08/20/1837 | 05/11/1913 | A-003 | Spring Branch Cemetery |
| Dawsey | Susan Elizabeth Painter | 08/09/1850 | 02/06/1923 | A-004 | Spring Branch Cemetery |
| Dean | Whitney | | | A-030 | New Palestine, Picayune |
| Duxworth | Mrs. Joseph | | | A-217 | Metarie Cemetery, LA |
| Faezell | Magnus | | | A-226 | Spring Branch Cemetery |
| Faezell | Virginia Poitevent Clark | 10/03/1882 | 01/12/1929 | A-155 | New Palestine, Picayune |
| Farley | Frances C. | 1891 | 1961 | A-193 | Cedar Grove Cemetery, Nicholson |
| Farley | Mary Ann Sharp | 04/01/1865 | 01/15/1922 | A-193 | Cedar Grove Cemetery, Nicholson |
| Farley | May | 05/14/1906 | 07/13/1906 | A-191b | Cedar Grove Cemetery, Nicholson |
| Farley | Nancy Virginia | 07/23/1899 | 07/28/1903 | A-190 | Cedar Grove Cemetery, Nicholson |
| Farley | Reba | 10/18/1892 | 06/30/1899 | A-191a | Cedar Grove Cemetery, Nicholson |
| Farley | Shelton C. | 1868 | 1926 | A-194 | Cedar Grove Cemetery, Nicholson |
| Farley | Theodore Marshall | 09/11/1896 | 06/30/1900 | A-192 | Cedar Grove Cemetery, Nicholson |
| Favre | Elizabeth | 10/25/1835 | 12/29/1874 | A-134 | Evergreen Gardens, Gulfport |
| Favre | Forrest P. | 07/19/1870 | 12/27/1890 | A-132 | Evergreen Gardens, Gulfport |
| Favre | Infant | | | A-136 | Evergreen Gardens, Gulfport |
| Favre | Infant | | | A-137 | Evergreen Gardens, Gulfport |
| Favre | Infant | | | A-138 | Evergreen Gardens, Gulfport |
| Favre | S. T. | 1830 | 1904 | A-131 | Cedar Grove Cemetery, Nicholson |
| Favre | Samuel L. | 1867 | 07/15/1890 | A-133 | Evergreen Gardens, Gulfport |
| Folsom | Amey Josephine | 1853 | 05/18/1855 | A-142 | Spring Branch Cemetery |
| Folsom | Sarah | 1825 | 10/20/1853 | A-143 | Spring Branch Cemetery |
| Frazor | Jane M. | 1917 | 08/24/1951 | A-135 | Evergreen Gardens, Gulfport |
| Fulton | Ella | | 1898 | B-142 | New Hope Baptist Church |
| Fulton | Mary | | 1951 | B-139 | New Hope Baptist Church |
| Fulton | Robert C. | 09/21/1901 | 09/23/1924 | B-141 | New Hope Baptist Church |
| Fulton | Robert | | 1900 | B-143 | New Hope Baptist Church |
| Fulton | William | | 1952 | B-140 | New Hope Baptist Church |
| Gaines | Ambrose | | 1910 | A-079 | Spring Branch Cemetery |
| Gause | ?? | | | A-182 | Logtown Cemetery |
| Gause | ?? | | | A-181 | Logtown Cemetery |
| Gause | Alice Olivia | 07/19/1873 | 04/24/1875 | A-176 | Logtown Cemetery |
| Gause | Amelia L. P. | 03/01/1814 | 12/04/1886 | A-179 | Logtown Cemetery |
| Gause | Dougherty | | | A-180 | Logtown Cemetery |
| Gause | Eugene | 08/23/1867 | 02/14/1881 | A-178 | Logtown Cemetery |
| Gause | Rosa | 03/31/1854 | 05/17/1855 | A-175 | Logtown Cemetery |
| George | Ernest | | 1908 | B-029 | New Hope Baptist Church |
| George | Evangeline | | 1906 | B-027 | New Hope Baptist Church |
| George | Jashua | | 1920 | B-047 | New Hope Baptist Church |
| George | Magnolia | | 1907 | B-028 | New Hope Baptist Church |
| George | Phyllis | 1902 | 1903 | B-026 | New Hope Baptist Church |
| George | Phyllis | | 1924 | B-046 | New Hope Baptist Church |
| Glover | Ed | 1872 | 1945 | A-059 | Spring Branch Cemetery |
| Griffin | Julia | 04/21/1842 | 01/26/1872 | A-184 | New Palestine, Picayune |
| Hall | Nonie Mae | 09/23/1931 | 10/11/1937 | A-084 | New Palestine, Picayune |
| Handy | Wingate | | | B-149 | New Hope Baptist Church |
| Hann | Charles | 1914 | 1914 | A-205 | New Palestine, Picayune |
| Hann | Isac | 1849 | 1915 | A-203 | New Palestine, Picayune |
| Hann | Walter | 1902 | 1902 | A-202 | New Palestine, Picayune |
| Hann | Walter | 1911 | 1915 | A-204 | New Palestine, Picayune |
| Harte | Sarah A. | | 03/30/1851 | A-069 | Spring Branch Cemetery |
| Henley | Susie | 09/16/1861 | 03/26/1957 | A-097 | Evergreen Cemetery, Gulfport |
| Hoffman | Florence Louise | 10/30/1852 | 07/09/1853 | A-170 | Logtown Cemetery |
| Hogan | John J. | 03/20/1878 | 05/28/1958 | A-001 | Spring Branch Cemetery |
| Hogan | Nellie E. Dawsey | 02/18/1886 | 11/17/1923 | A-002 | Spring Branch Cemetery |
| Holden | Louretta J. Moye | 07/16/1871 | 04/13/1896 | A-119 | New Palestine, Picayune |
| Holden | Mrs. William | | | A-032 | New Palestine, Picayune |
| Holden | William | | | A-031 | New Palestine, Picayune |
| Holleman | Corrine | | | A-128 | New Palestine, Picayune |
| Holleman | George W. | 02/16/1826 | 10/28/1885 | A-124 | New Palestine, Picayune |
| Holleman | J. | 10/20/1824 | 09/11/1877 | A-127 | Petal Presbyterian Church, Petal |
| Holleman | Margaret | | | A-125 | New Palestine, Picayune |
| Holleman | Moody | | | A-126 | New Palestine, Picayune |
| Jackson | Iris Denise | 07/06/1958 | 07/06/1958 | B-138 | New Hope Baptist Church |
| Johnson | Amanda Sophia | 1855 | 11/14/1856 | A-144 | Spring Branch Cemetery |
| Johnson | Amelia Z. | 1829 | 01/16/1857 | A-147 | Spring Branch Cemetery |
| Johnson | Bennett | 1853 | 12/08/1853 | A-145 | Spring Branch Cemetery |
| Johnson | Joseph | 1850 | 07/11/1851 | A-146 | Spring Branch Cemetery |
| Jopes | Christine | 1857 | 1860 | A-041 | New Palestine, Picayune |
| Jopes | H. S. | 01/21/1828 | 04/06/1866 | A-040 | New Palestine, Picayune |
| Jopes | Harriet Marson | 02/04/1834 | 12/24/1910 | A-038 | New Palestine, Picayune |
| Jopes | Infant | | | A-157 | New Palestine, Picayune |
| Jopes | Samuel | 1859 | | A-039 | New Palestine, Picayune |
| Langston | Ellen R. | 04/03/1874 | 09/20/1959 | A-014 | New Palestine, Picayune |
| Langston | Forest J. | | | A-015 | New Palestine, Picayune |
| Langston | John | 1874 | 1959 | A-016 | Fayard Cemetery |
| Langston | Samuel | | | A-028 | Fayard Cemetery |
| Leblance | Mildred | | | A-229 | Antioch Cemetery, Picayune |
| Leonard | J. W. | 01/14/1862 | 10/24/1908 | 66 | Antioch Cemetery, Picayune |
| Mars | Criss | | | A-218 | New Palestine, Picayune |
| Mars | Emiline | 01/30/1882 | 10/10/1900 | A-077 | New Palestine, Picayune |
| Mars | George | | | A-075 | New Palestine, Picayune |
| Mars | Hazel | 07/04/1913 | 12/29/1958 | A-022 | New Palestine, Picayune |
| Mars | John | | | A-076 | New Palestine, Picayune |
| Mars | Mary | | 04/19/1921 | A-011 | New Palestine, Picayune |
| Mars | William | | | A-012 | New Palestine, Picayune |
| Mays | Infant | | | A-098 | New Palestine, Picayune |
| McCann | Cora Willis | | 1909 | B-032 | New Hope Baptist Church |
| McGehee | Edward | 1871 | 1876 | A-224 | New Palestine, Picayune |
| McGehee | Effie | 1867 | 1869 | A-223 | New Palestine, Picayune |
| McGehee | Infant | 1862 | 1862 | A-222 | New Palestine, Picayune |
| McGehee | Nancy M. Stanford | 05/18/1839 | 05/15/1881 | A-220 | New Palestine, Picayune |
| McGregor | Martha Eloise (Larkin) | 02/27/1825 | 10/16/1869 | A-185 | Spring Branch Cemetery |
| McMullen | Rose | | | A-228 | Antioch Cemetery, Picayune |
| McMullen | Sammy | | | A-227 | Antioch Cemetery, Picayune |
| Mead | ?? | | | A-160 | Pearlington Cemetery |
| Mead | Adeline | 06/30/1816 | 12/15/1896 | A-165 | Pearlington Cemetery |
| Mead | Amelia R. | 02/05/1849 | 06/18/1909 | A-166 | Pearlington Cemetery |
| Mead | Asa S. A. | 01/21/1843 | 10/30/1853 | A-163 | Pearlington Cemetery |
| Mead | Monroe H. | | | A-173 | Pearlington Cemetery |
| Mead | Stephen Artemis | 05/21/1844 | 10/30/1845 | A-162 | Pearlington Cemetery |
| Mead | Stephen | 06/25/1808 | 06/02/1870 | A-164 | Pearlington Cemetery |
| Miller | Infant | | | A-106 | New Palestine, Picayune |
| Miller | Abby Lee | 1825 | 06/23/1902 | A-062 | Turtleskin Cemetery |
| Miller | Albert | | | A-111 | New Palestine, Picayune |
| Miller | Alfred H. | 12/26/1874 | 08/06/1929 | A-101 | New Palestine, Picayune |
| Miller | Cora Adline | 06/28/1881 | 05/02/1961 | A-100 | New Palestine, Picayune |
| Miller | Gussie Adelle | 07/12/1914 | 03/05/1918 | A-102 | New Palestine, Picayune |
| Miller | Infant | | | A-148 | New Palestine, Picayune |
| Miller | James Earl | 10/12/1904 | 06/19/1914 | A-103 | New Palestine, Picayune |
| Miller | Luther | | | A-115 | Spring Branch Cemetery |
| Miller | Mary Arnold | | | A-027 | Spring Branch Cemetery |
| Miller | Mary J | 12/27/1852 | 01/27/1901 | A-061 | Turtleskin Cemetery |
| Miller | Mrs. William Y. | | | A-104 | New Palestine, Picayune |
| Miller | Sylvester | 12/22/1846 | 01/08/1877 | A-060 | Turtleskin Cemetery |
| Miller | William Y. | | | A-105 | New Palestine, Picayune |
| Moolekamp | Frank | 03/31/1848 | 04/09/1902 | A-073 | Turtleskin Cemetery |
| Moolekamp | Lou | | | A-074 | Turtleskin Cemetery |
| Moolekamp | Molinda | 07/15/1848 | 12/08/1912 | A-072 | Turtleskin Cemetery |
| Moreland | Beadie | | | A-123 | New Palestine, Picayune |
| Moreland | Delaney M. | 1839 | 02/05/1891 | A-056 | Spring Branch Cemetery |
| Moreland | Henrietta | 01/20/1888 | 06/20/1889 | A-057 | Spring Branch Cemetery |
| Moreland | James | 1816 | 01/14/1876 | A-055 | Spring Branch Cemetery |
| Moreland | Lois Adline | 07/06/1871 | 10/18/1872 | A-054 | Spring Branch Cemetery |
| Moye | David | 01/05/1826 | 05/29/1906 | A-120 | New Palestine, Picayune |
| Moye | Earnest | 08/25/1893 | 02/19/1895 | A-122 | New Palestine, Picayune |
| Moye | Loretta Holleman | 03/04/1837 | 08/14/1889 | A-121 | New Palestine, Picayune |
| Nicaese | Casemire | 03/05/1840 | 05/21/1919 | 2 J | New Palestine, Picayune |
| Nicholson | Leonard Kimball | 01/11/1881 | 10/19/1952 | A-306 | Spring Branch Cemetery |
| Nicholson | Lois Poitevent | 08/15/1886 | 12/21/1945 | A-158 | New Palestine, Picayune |
| Norman | William | | 1958 | B-104 | Pilgrim-Brown Cemetery, Picayune |
| Ott | Deborah Lynn | 12/25/1954 | 01/25/1956 | A-021 | New Palestine, Picayune |
| Paiton | Irene Norman | | | B-107 | Pilgrim-Brown Cemetery, Picayune |
| Peterman | Leo Eugene | 12/12/1914 | 12/18/1914 | A-219 | Turtleskin Cemetery |
| Peters | Charles | | 1925 | B-113 | New Hope Baptist Church |
| Peters | Elizabeth | | 1914 | B-112 | New Hope Baptist Church |
| Peters | Ruth | | 1903 | B-111 | New Hope Baptist Church |
| Poitevent | Earl Smith | 12/06/1881 | 10/09/1959 | A-150 | New Palestine, Picayune |
| Poitevent | Isabelle Carbonett | | | A-154 | New Palestine, Picayune |
| Poitevent | Mary A. | 06/10/1819 | 10/23/1873 | A-151 | New Palestine, Picayune |
| Poitevent | S. R. | 06/04/1852 | 06/08/1904 | A-156 | New Palestine, Picayune |
| Poitevent | W. J. | 06/30/1814 | 05/14/1890 | A-152 | New Palestine, Picayune |
| Redmond | Albert | 1858 | 1876 | A-109 | New Palestine, Picayune |
| Redmond | Mrs. | | | A-112 | New Palestine, Picayune |
| Roberts | Artimetia A. | 11/10/1836 | 08/04/1881 | A-139 | Logtown Cemetery |
| Roberts | Joseph W. | 06/26/1827 | 03/20/1875 | A-140 | Logtown Cemetery |
| Russ | John W. | 03/10/1805 | 02/19/1857 | A-183 | New Palestine, Picayune |
| Russ | Lucy A. | 1831 | 09/10/1859 | A-159 | Pearlington Cemetery |
| Russ | Mary Elizabeth | 07/08/1810 | 12/11/1810 | A-161 | Pearlington Cemetery |
| Russ | Mrs. Amelia | 1876 | 01/12/1951 | A-172 | Pearlington Cemetery |
| Russ | Sempronius | 1810 | 09/14/1843 | A-171 | Pearlington Cemetery |
| Russaw | (Indian) | | | B-130 | New Hope Baptist Church |
| Savage | Luke | 05/08/1831 | 11/08/1853 | A-177 | Logtown Cemetery |
| Schultheis | Jacob Oliver | 08/04/1895 | 04/17/1955 | A-210 | New Palestine, Picayune |
| Schultheis | John A. | 03/13/1863 | 11/08/1958 | A-215 | New Palestine, Picayune |
| Schultheis | Ophelia B. | 01/26/1876 | 10/12/1929 | A-214 | New Palestine, Picayune |
| Schultheis | Roy Alvin | 04/03/1910 | 11/07/1959 | A-216 | New Palestine, Picayune |
| Simmons | John W | 09/03/1920 | 03/28/1952 | A-023 | Turtleskin Cemetery |
| Sims | Asaline Young | | | B-159 | New Hope Baptist Church |
| Sims | Eula Acker | | | B-160 | New Hope Baptist Church |
| Smith | Virginia P. Poitevent | 02/11/1850 | 03/12/1883 | A-153 | New Palestine, Picayune |
| Snow | Amanda J. | 12/04/1858 | 02/18/1916 | A-116 | New Palestine, Picayune |
| Snow | Daniel Howard | 07/09/1855 | 08/14/1929 | A-117 | New Palestine, Picayune |
| Snow | Thomas R. | 1893 | 1948 | A-099 | New Palestine, Picayune |
| Stanford | Mr. | | | A-221 | New Palestine, Picayune |
| Starling | Charlie | | | B-054 | New Hope Baptist Church |
| Starling | Harriet | | 1912 | B-055 | New Hope Baptist Church |
| Stroyewski | George A. | 1907 | 1948 | A-010 | New Palestine, Picayune |
| Tatenhorst | Allie | 03/31/1871 | 02/27/1948 | A-108 | New Palestine, Picayune |
| Tatenhorst | Theodore Paul | 08/01/1871 | 08/01/1954 | A-107 | New Palestine, Picayune |
| Telhiard | Raoul Louis | 12/03/1850 | 1903 | 231 | New Palestine, Picayune |
| Warren | Edna | | 1922 | B-121 | New Hope Baptist Church |
| Warren | James Ellery | | 1951 | B-124 | New Hope Baptist Church |
| Warren | Minervia | | 1932 | B-123 | New Hope Baptist Church |
| Wenner | Villa | | | A-110 | New Palestine, Picayune |
| Whitfield | Olevia Ada | 01/10/1867 | 01/23/1924 | A-070 | Turtleskin Cemetery |
| Whitney | P. D. | 01/19/1907 | 01/27/1933 | A-024 | New Palestine, Picayune |
| Whitney | Pedro | 09/18/1870 | 05/08/1926 | A-071 | New Palestine, Picayune |
| Wilkinson | Sarah A. | 1824 | 09/05/1848 | A-078 | Spring Branch Cemetery |
| Williams | Fred | | 1960 | B-037 | New Hope Baptist Church |
| Williams | Joe | | 1938 | B-035 | New Hope Baptist Church |
| Williams | Maggie | | | B-120 | New Hope Baptist Church |
| Williams | Myra Willis | | 1911 | B-033 | New Hope Baptist Church |
| Williams | Rosa | | 1927 | B-114 | New Hope Baptist Church |
| Williams | Stillborn Child Of Rosa | 1917 | 1917 | B-115 | New Hope Baptist Church |
| Willis | Charlie | | 1958 | B-036 | New Hope Baptist Church |
| Willis | Henry | | 1934 | B-030 | New Hope Baptist Church |
| Willis | Louisa Louis | | 1932 | B-034 | New Hope Baptist Church |
| Willis | Patsy | | 1933 | B-031 | New Hope Baptist Church |
| Wingate | Beline | | | B-162 | New Hope Baptist Church |
| Wingate | Frank | | | B-161 | New Hope Baptist Church |
| Wingate | Minerva | | 1913 | B-150 | New Hope Baptist Church |
| Wingate | Victoria | | | B-163 | New Hope Baptist Church |
| Wingate | Washington | | 1916 | B-151 | New Hope Baptist Church |
| Wood | Annie | | | A-091 | New Palestine, Picayune |
| Wood | Charles | 1897 | 05/10/1950 | A-093 | New Palestine, Picayune |
| Wood | Christine A. | 1881 | 1962 | A-118 | New Palestine, Picayune |
| Wood | Eddie | | | A-092 | New Palestine, Picayune |
| Wood | Frances | | | A-080 | New Palestine, Picayune |
| Wood | George | | | A-090 | New Palestine, Picayune |
| Wood | Henry | | | A-083 | New Palestine, Picayune |
| Wood | Henry D. | 10/15/1866 | 11/14/1943 | A-085 | New Palestine, Picayune |
| Wood | Joe | | | A-082 | New Palestine, Picayune |
| Wood | Maggie | | | A-089 | New Palestine, Picayune |
| Wood | Mary | | | A-081 | New Palestine, Picayune |
| Wood | William W. | 12/1885 | 12/16/1936 | A-096 | New Palestine, Picayune |
| Younce | Wayne | | | A-018 | New Palestine, Picayune |
| Young | Courtney C. | | 1945 | B-157 | New Hope Baptist Church |
| Young | Mosley | | 1900 | B-158 | New Hope Baptist Church |